Twitter monitor – Social Media monitoring
In this post we will speak about monitoring Twitter. Social Media monitoring is what we breathe here at Tweet Binder. We really think that to create a good Twitter monitor report is a main task for any Social Media manager. Do not only focus on tracking twitter followers, go beyond! To monitor a Twitter account is something that can seem easy. There several things you can monitor in a Twitter account besides tweets:
Followers
Following
Likes
Mentions
Of course monitoring the tweets of a Twitter account is the most common type of analysis, but tracking also followers and likes for example, you can get a lot of information. In the next picture you can see the likes of Elon Musk the day Twitter announce he finally will purchase Twitter: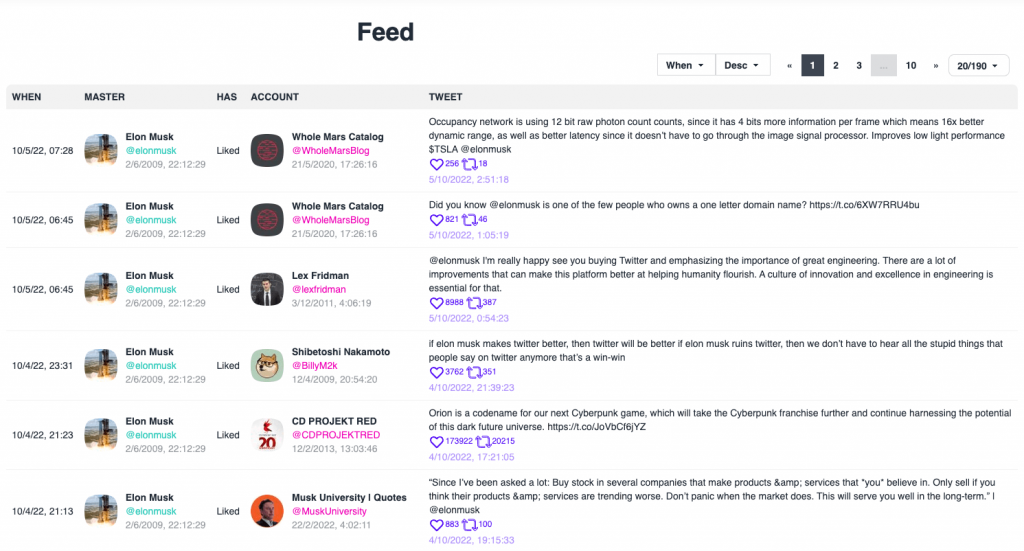 How to track the likes of a Twitter account: Twitter likes monitor
Tweets people like on Twitter are a great source of information. So, if you want to know what tweets a person is liking you can go to its Twitter profile and check, but in Tweet Binder we can do it better. Let's say you want to see all the tweets that the Soccer Teams from Spain liked in the past days, the result will be this one: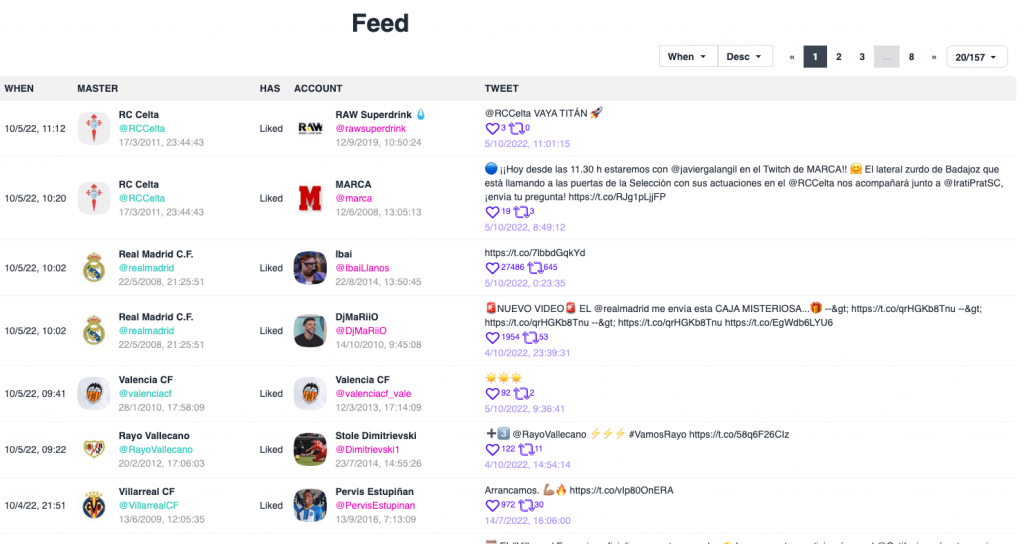 To track likes from Twitter accounts you have to follow these simple steps:
Access to the private likes dashboard by Tweet Binder: request access.
Go to "new account" and insert the list of accounts and tag them.
Wait for the results to start appearing on the dashboard.
Track Twitter likes with an API
You can also create your own dashboard or integrate this service into one you have already created. Tweet Binder's API gives you access to this functionality and it can be combined with other Tweet Binder features. If you are a programmer don't doubt to contact us to start using our API.
Tracking other metrics on Twitter
In fact, we must say, it is easy if you count with the right tools (not trying to sell you anything here don't worry). There are many things and KPIs that we must know. As you can see from our posts, Tweet Binder is a very useful hashtag counter (again, don't trying to sell you anything). It can be used to monitor Twitter accounts and today you will learn how to do it with our FREE version, or PRO version if you want.
From Twitter analysis to custom projects and many other functionalities, Tweet Binder always wants to offer real solutions to real problems. If you feel like you can add value to our tool please contact us to suggest new features or metrics. Also important: here we will refer to a post we recently shared about the Twitter advanced search and how to use it in Tweet Binder. If you want to skip this post and start monitoring twitter, type your keyword in the following search box. It will give you a report of up to 500 tweets from the past 7 days. You can start by typing Twitter, for example.
Monitor the activity of a Twitter account using the advanced search
Imagine that we want to know absolutely everything that is shared related to our account. In this case, we will use the example of @TweetBinder. If we want to monitor the activity, we will have to use one of the advanced search commands on Twitter. The command that we will use is the following: from:TweetBinder. Remember! It is important to know that we do not use the @ symbol.
This type of search is really useful to know the history of an account. This way, we will have all the tweets sent by an account in a single report. Please, keep in mind that we offer a free version of our Twitter monitoring tool. This version allows you to create as many reports as you need to of up to 500 tweets from the last 7 days. You will always be in time to upgrade your report and obtain complete stats and rankings.
The Tweet Binder report will be done in 1 minute. It is exactly the same as those we created to monitor the activity of a hashtag or term. We'll obtain the same rankings and data. However, if we want to monitor the activity of a Twitter account 7 days ago is a very short time, isn't it? Perhaps we are more interested in making a more complete report with all the stats an main rankings. A Twitter account is active from the day it is created, maybe since 2006. And we may be interested in having a report showing the activity since that day. How do we do that?
Twitter activity – Monitoring Twitter old data
Well, at this point we must say that this is something that you only have to do if you really need it, it can be a bit creepy (try looking for political topics on Twitter). Monitoring someone's tweets can be useful to check past trends or events. With our Twitter monitoring tool you can see this data. You can search someone's tweets in a very easy way and you have to use the same commands we used in the Twitter Advanced Search and follow these simple steps:
Go to Tweet Binder
Log in (it is mandatory by Twitter)
Write this in the search box if for example you want to see the tweets from Katy Perry: from:katyperry (do not include the @)
Check the results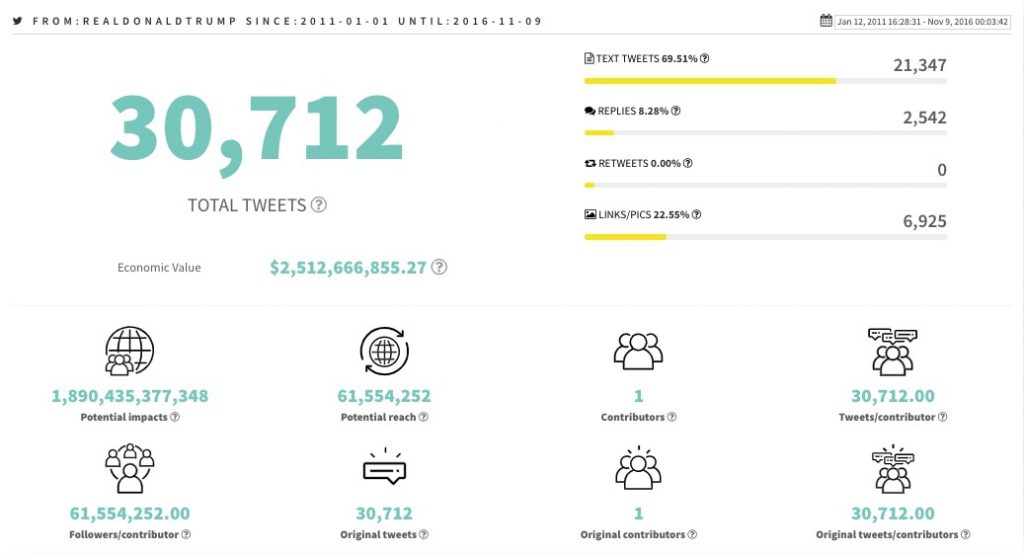 Tweet Binder will give just the last 7 days for free. You can purchase a PRO report to have all that info. However, if you just don't want to pay and you need to search someone's very old tweets you can follow the next steps:
Go to Twitter Search page
Log in if you are not already.
In the search box write the same command we did before: from:katyperry (do not hit "search" yet)
Also in the search box, write the dates. If you need tweets from the 4th of Feb. 2014 to the 3rd of April add this to your query: since:2014-02-04 until:2014-04-04 (hit "search" now)
Check the results
As you can see, the final query would be: from:katyperry since:2014-02-04 until:2014-04-04. The final result will be a Twitter analytics report with her tweets and the public RTs to those tweets.
How to monitor the activity of a Twitter account from the beginning with Tweet Binder
For this you have two options. You will need to check the types of reports that Tweet Binder offers in order to know the differences. If you are a free user you will have the option to choose between four different types of Twitter reports. The first one, it is an advanced Twitter report that allows you to analyze up to 20,000 tweets during a 7-day period. We also have the option of creating real time Twitter reports. This would allow us to analyze what happens from now on.
But it doesn't allow us to go back in time. We also have the 30-day reports. This option gives us data from the last 30 days up to 35,000 tweets (if you need more tweets, you can purchase them). If the account we want to monitor is that old, then it's perfect for us. We also have historical Twitter reports that collect analytics with no limits so you only have to choose the perfect report for you.
Tweet Binder Twitter historical data are available in our plans and they also can be purchased separately. Either way, once you run your Twitter historical search, Tweet Binder includes two online reports: an advanced and very complete one and the basic one to get a quick glimpse of the Twitter statistics. With a Tweet Binder report you can also discover who has the most followers on twitter. And if you have any doubt about what report will cover your needs, one of our agents will be more than happy to help you. Tweet Binder is here to help you with all your stats.
Twitter monitoring of Historical data
However, the best option is the historical report of Tweet Binder. This type of report will allow us to obtain up to 140,000 tweets without a time limit. However, if that is not enough, the number of tweets in our report can also be increased. Thanks to this report, you will have all the tweets stored. You will be able to investigate everything any user has shared on Twitter, for example Twitter politicians account. You will be able to analyze all that information directly in the Excel document. In the Excel document, you will have all the transcripts sorted by the date and time.
How to monitor the real engagement of a Twitter account
Well, time now to talk about Twitter engagement. Engagement in Twitter can be expressed in three different ways or by three different metrics: Retweets, Likes and Replies. Tweet Binder created a tool that combines all of those in something we called Twego (it is free, do not worry, not trying to sell you anything again). To calculate the real engagement of a Twitter account follow this steps:
Go to Twego.tweetbinder.com
Log in (again, mandatory by Twitter)
Insert the user name in the search box you want to check the engagement from and hit "search"
You will see two results:

Economic Value (this will tell us how much a Twitter account is worth)
Engagement Value (this is the metric we will be focusing on)
The engagement value will give us a economic valuation and there are two scenarios that will tell us if the engagement of the account is ok or not:
If the engagement value is higher than the market value it means the engagement of that account is higher than expected, it is a very good thing actually.
If the engagement value is lower than the market value it means the engagement of that account is lower than expected, it is not good.
The engagement value is a figure that comes from one algorithm we developed at Tweet Binder, it is a very complex formula that combines many factors. If you want to know more check our post on how to valuate Twitter accounts.
How to
monitor Twitter activity and mentions

since the beginning

You will have to choose the option of the Historical Tweet Binder Report and click on the "Buy" button. After paying, a new screen will be opened. You will have to indicate the Twitter account you want to monitor and the time period. All this information will be sent to both of us via a confirmation email. Throughout all these lines, it has been proven that Tweet Binder is a solid alternative to Topsy com. If you want to know the number of tweets in a hashtag, you can count on us.

After this, a member of our team will contact you to let you know that we are working on your report. It will take a while to get the report ready because a lot of data will probably have to be analyzed. This time will depend on the volume of tweets the report has. You can analyze a very interesting case study that we released analyzing all the tweets sent by Donald Trump. However, as soon as it is ready we will send the complete report. Finally, you will have your historical Tweet Binder report available and you will be able to take advantage of it as much as you want. You will also receive the excel document. It is the best solution to make out the most of the tweets.

Now it is your turn to create your own report. You can choose between the tweets sent mentioning an account, hashtag, term or maybe a combination of many criteria. It is free and it is really useful so feel free to contact us if you need more information or you need your own quote. Tweet Binder is open 24/7 so contact us!
How to measure Twitter hashtags
This post is about monitoring Twitter accounts but now we will be talking about Twitter hashtags because a very good way to monitor Twitter users is by analyzing Twitter hashtags. Twitter monitoring can start from a user directly or from a hashtag (or keyword). This looks like a mystery when we are using a hashtag on Twitter or a campaign. Okay, fine, we know you might just launched your campaign and you have many things in your mind, but… Now what?
The first thing after launching our hashtag or campaign is to know how users are reacting to it. Are they using my hashtag? Is it going beyond? Who is using it? A classic Twitter marketing doubt.  At first sight ir might seem difficult to answer these questions. However, it is easy to answer the question "How to measure Twitter hashtags?". Using a monitoring tool. In this post we are going to discover what are these tools and how helpful they are in order to make the most out of our hashtags or campaigns.
Useful Twitter monitoring tools
That's a great question and let us be honest here, we will always recommend Tweet Binder because it is the tool we use and the one we have created, but the best tool brand will be the one that gives you the metrics you are looking for. Here at Tweet Binder we know this and we have always been very open with our clients and users letting them send suggestions to improve the tool and that has made us better. There are many Twitter monitoring tool in the market, we know personally the owners of several and they are great people, our recommendation here will be to try all the Twitter monitoring tools that you can, many of them are free.
What is a Twitter monitor tool?
We have already said that a monitoring tool is the answer to the question: "How to measure Twitter hashtags?". So, a monitoring tool will provide us important information to know everything that happened around the hashtag and also what users participated. This information is related to our hashtag or campaign and to all the activity around it. It will give us different data that will allow us to know what has happened with our hashtag. However, as we have mentioned in many occasions, there are many monitoring tools out there in the market. That is why it is really important to choose correctly.
Important aspects of a Twiter monitoring tool
It seems clear that, somehow, it will depend on our needs.There will be some tools that will adapt more or less to what we, as users, need. However, there are some characteristics that a good monitoring tool must have. Let's see the ones that, from Tweet Binder, we consider essentials:
It has to be easy to use.
You have to be able to choose between a free and a PRO option.
The PRO options have to be flexible, adapting to every type of user.
The results have to give us every single detail about what has happened.
A part from complete, they have to give wide range of information.
A good monitoring tool has to let us work with the information
Probably we all look for different characteristics when looking for a monitoring tool. Maybe you don't need a PRO version, or you don't care about being able to freely manage the Twitter dataset. But, what it's clear is that it has to be intuitive y has to provide a wide range of information. This fact will allow us to get as close as possible to reality. So, if we know what has happened with our hashtag we will be able to focus much better our next campaign.
Is Tweet Binder a good monitoring tool?
It is, indeed, what can we say!. It is today and it will be. We are experts when it comes to measure Twitter hashtags. However our team is able to deal with everything and we love to challenge ourselves. Our main aim is to give good service to our clients. We do that by offering a monitoring tool which has the mentioned characteristics and many others. Furthermore, with Tweet Binder you can know the sentiment of the hashtag you are monitoring. We have written a twitter sentiment analysis tutorial to help you during all the process. And that's not all, Tweet Binder also can create Twitter maps which display from where accounts are tweeting from. Or you can even look for the most retweeted tweet of a hashtag.
Why do we say that it is a good and useful monitoring tool Because it is intuitive, easy-to-use, fast and very complete. That is why we want to encourage you to use it and to share with us your experience and your thoughts. This will help us to improve!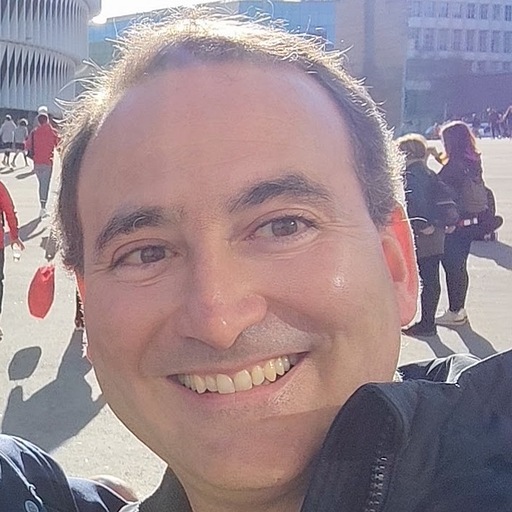 Javier is the founder and CEO at TweetBinder. With more than 10 years of experience in Twitter Analytics space, he is on the mission to build best-in-class Twitter marketing tools helping X community to thrive.