This post is also available in: Français (French)
Top Twitter accounts in the world in 2020
Twitter is the place where we all go to express our opinions on any topic (always trying to do it will respect) and also the place we go to talk to our celebrities. They are the Top Twitter accounts. Twitter is also the place where we get inform on the latest news. In fact, Twitter has grown a lot as a way to get informed and the great news channels are quite popular on Twitter getting a lot of followers who want to be informed. This is also how Twitter trending hashtags are created.
Fans can express their love for their favorite artist latest record. And artists can react to those tweets by replying to it, retweeting it or liking it. Musicians and artists tend to be the most popular accounts on Twitter, let's go through a list and see the account with the highest amount of followers. Get ready to know who are the most popular Twitter users.
Popular Twitter accounts highlights
In this post we will analyze the popularity on Twitter from two different points of view:
Number of followers: this number has been using traditionally to express popularity, however, there are many ways of faking this number: you can buy followers or follow a lot of users to get follow-backs. Nowadays, anyone can find a Twitter follower tracker that helps keeping track of the ups and downs in the number of followers.  This is an important number, but not the only one.
Economic value: the economic value of one user's tweet expresses how much that tweet would be in the market. In Tweet Binder we have developed this new influence metric to complete the number of followers, the Top Twitter accounts doesn't have to have a high number of followers, they can have a high economic value. The higher the economic value the more influence the user will have. It combines a lot of metrics, you can learn more about the economic value of a hashtag or user.
To measure the number of followers we will just use the website of Twitter, you can go there and check the number of followers of these Top Twitter accounts. For the economic value we will use Twego for influencers, a new tool from Tweet Binder's family. So, if you want to analyze Ellen's or Katy Perry's tweets and accounts just keep reading and enjoy!
Top 10 most followed Twitter accounts
The number of followers is the perfect metric to measure if an account is popular or not, but remember that it is not the only one. Most followed Twitter accounts are important, however it is true that followers can be easily bought nowadays so be careful with those account with a lot of followers but little engagement. Most followed on Twitter is like being the richest at Monopoly (Hello Hasbro!). However, there are some accounts that have millions of followers because they have honestly earned them and in the first positions we always find celebrities, so we don't think they actually bought followers. These are accounts from musicians, soccer players, TV shows and even presidents and ex-presidents, most followed accounts on Twitter are always famous people. We are sure that, a few years ago the bitcoin Twitter community was one of the most followed ones.
We are going to focus on the Top 10 accounts by number of followers (top 10 most followed Twitter accounts):
| | | |
| --- | --- | --- |
| Name | Twitter Handle | Followers* |
|  Barack Obama | @BarackObama | 112,190,349 |
| Katy Perry | @katyperry | 108,354,079 |
| Justin Bieber | @justinbieber | 108,212,210 |
| Rihanna | @rihanna | 95,508,842 |
| Taylor Swift | @taylorswift13 | 85,540,031 |
| Cristiano Ronaldo | @Cristiano | 82,190,512 |
| Lady Gaga | @ladygaga | 80,690,581 |
| Ellen DeGeneres | @TheEllenShow | 79,335,957 |
| YouTube | @YouTube | 72,223,496 |
| Donald J Trump | @realDonaldTrump | 71,275,392 |
*Info updated the 20th January 2020
It is very common for very popular Twitter accounts to follow a small number of users but here we can see some exceptions to this norm. For example, Barack Obama follows 609,570 users and Justin Bieber follows 300,638 accounts. This is something not very common as it is very difficult to keep track of what that amount of accounts are sharing. Of course, it doesn't make sense to follow 0 accounts. That is the case of Taylor Swift. We are huge fans of this artist, we have written several posts about Taylor Swift on Twitter, but following zero accounts is not something very recommendable. However, we have to say that she interacts a lot with all her swifties. Not only with her own account but also with the @taylornation13 account as well.
In this case we see that the number of followers and economic market value place the accounts in the same position. We will see after how to even complete this influence formula with the engagement value, be patient.
Analyze any Twitter account now
Analyzing Twitter popular accounts with Tweet Binder
Every gift comes with its responsibilities, being a Top Twitter account too. Having such a big amount of followers makes it necessary to keep track of what they are saying. Those followers might be saying good things about the account in particular but maybe they are saying bad things. That is when Tweet Binder comes in handy. With our reports you can track anything on Twitter. How? Easy peasy lemon squeezy! For these type of actions you can activate two different Twitter types of reports:
Twitter historical report: To track what has been said about the account. ⏪ Twitter Historical Reports!
Twitter real time report: To start analyzing form now on. ⏩ Real Time Twitter Reports!
If you have an army of followers, it is important (not to say mandatory) to have at least some knowledge of what they are saying. Of course, the artist should not read everything being said about them on Twitter. Users tend to be kind of cruel when expressing their opinions and this can negatively affect the artist. This is the duty of the account managers. They are the ones who should keep track of what is being said.
Mentions to @BarackObama – January 2020
As Barack Obama is the most popular account on Twitter, we are going to see how many mentions she has received during January 2020. In order to run this report, we have created a Twitter historical report. This analysis will give back the tweets sent mentioning @BarackObama during the first days of January 2020.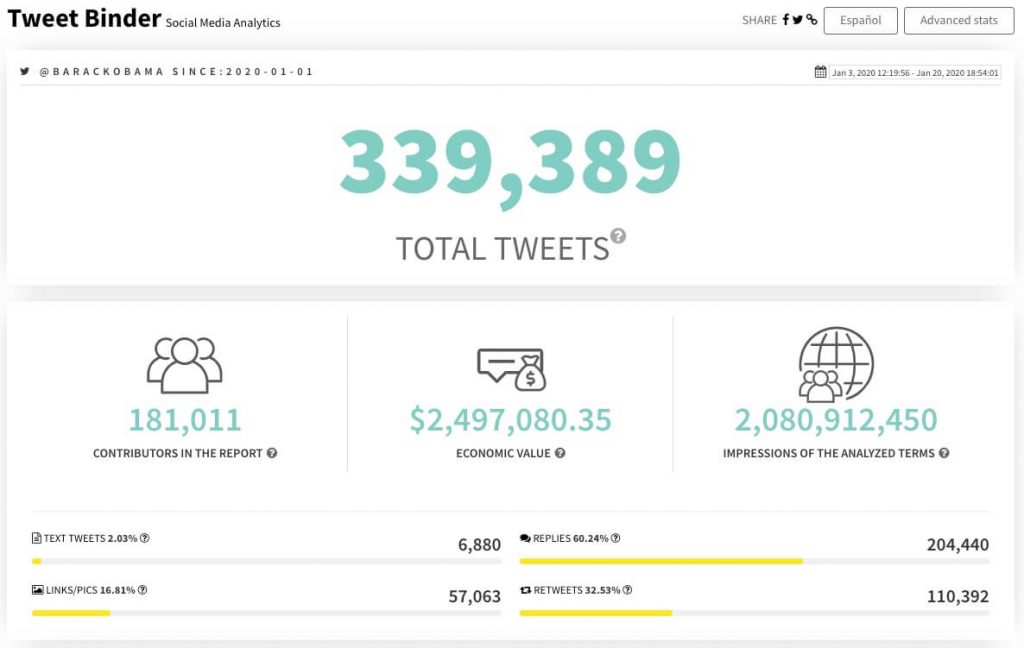 The first thing we see after creating a Twitter analytics report with Tweet Binder is the section with the general stats. We know that the difference between impacts and reach can sometimes be tricky, that is why we have written several posts about it. You can learn more about those metrics in this blog and know what Twitter impressions and tweetreach are. Let's analyze these numbers more closely. During the month of January, @barackobama has generated:
339,289 total tweets. These tweets are classified in 228,997 original tweets and 110,392 retweets.
2,080,912,450 potential impacts
690,598,209 potential reach
181,011 contributors
With Tweet Binder reports the user does not only get general stats but also rankings of users. These rankings are perfect to know which kind of users are tweeting content about the analyzed account. In the case of Barack Obama, we could use these reports to find out his supporters or, even, haters.

The upper rankings show the most active users. It is important to differentiate between the users who sent original content and those who retweets what other users have said. From our perspective, those who send more original content are the true fans. We have a deeper analysis and post about how Obama uses Twitter and the mentions he receives.
Most mentioned users along with @barackobama
Another clever thing to do when analyzing these accounts is to see which other accounts are mentioned along with this artist. The artist will be the most followed Twitter account for sure, however the mentions will unveil some popular Twitter accounts as well. This way, you can discover which people users relate with the analyzed one. In the case of @barackobama, these are the other popular accounts that are mentioned with her:
| | |
| --- | --- |
| Account | Mentions |
| @michelleobama | 51,089 |
| @realdonaldtrump | 22,264 |
| @speakerpelosi | 10,449 |
| @potus | 9,209 |
| @whitehouse | 7,157 |
| @olivermcgee | |
| @hillaryclinton | 5,656 |
| @joebiden | 5,390 |
| @johnkerry | 2,331 |
Real

top Twitter accounts – T

op 10
Ok, here we go, we are going to get a bit controversial, we like trouble sometimes. Who is the most important account in Twitter? For us it will be the account who generates the highest engagement. Engagement in Twitter is:
If a Twitter account gets 1 million followers but no retweets or likes that will look suspicious to say the least. We have developed a new formula that completes the afore mentioned market economic value, it is called: the Twitter engagement value and it is just perfect to analyze the real value of the most followed accounts on Twitter. It is also expressed in money (US Dollars) and the higher the better. However there is a little comment here, let us ask you a question: would you be "happy" if you get 100 retweets to one of your tweets? We are sure that you would. Now, ask the same question to Katy Perry, 100 retweets in a tweet from Katy seems little, right? So, to calculate the engagement value we have had that in consideration: 100 retweets for your tweet are ok, 100 retweets for Katy's tweets are not ok.
If the engagement value is lower than the economic value, it will mean that the account has less engagement than expected.
Let's review the top 10 most followed Twitter accounts and let's add the engagement value:
| | | | | |
| --- | --- | --- | --- | --- |
| Name | Twitter Handle | Followers* | Economic value | Engagement value |
| Barack Obama | @BarackObama | 112,190,349 | $146,801.03 | $1,718,198.126 |
| Katy Perry | @katyperry | 108,354,079 | $141,833.44 | $78,783.152 |
| Justin Bieber | @justinbieber | 108,212,210 | $144,175.85 | $605,131.568 |
| Rihanna | @rihanna | 95,509,301 | $126,344.42 | $806,308.492 |
| Taylor Swift | @taylorswift13 | 85,540,231 | $114,467.81 | $744,352.816 |
| Cristiano Ronaldo | @Cristiano | 82,190,512 | $110,221 | $867,066.133 |
| Lady Gaga | @ladygaga | 80,690,581 | $111,764.72 | $521,484.36 |
| Ellen DeGeneres | @TheEllenShow | 79,335,957 | $110,053.83 | $36,692.69 |
| YouTube | @YouTube | 72,223,496 | $101,526.84 | $66,299.22 |
| Donald J. Trump | @realDonaldTrump | 71,277,043 | $93,553.67 | $670,081.35 |
Isn't it amazing?! We have a few accounts that are getting a HUGE ton of engagement, specially Justin Bieber and Barack Obama. Their engagement value is more than 10 times higher than the market value. That means that they are getting a lot more engagement than expected by our algorithm. On the other hand, there are two accounts that have lower engagement values: Youtube, Katy and Ellen (we love you Ellen, it's ok). So if you want to check the real influence of someone at Twitter check Twego and compare the engagement value with the market value.
The real influence metric would be the relation between the engagement value and the economic value. If higher than 1 then it is positive, if less than 1 it will mean the engagement of that account is low and should be higher.
Analyzing popular Twitter accounts
As you can see, keeping track of popular accounts on Twitter is very easy with Tweet Binder. You can track the most followed Twitter accounts quite fast. In less than five minutes you can know everything that is being said about any account. We have run this example with @barackobama, the most popular account on Twitter by number of followers. Do you need to get stats from a different account? What are you waiting for?
Looking for top tweets
Tweeting is all about expressing your opinion, we know that. But it is also important to impact as many people as possible. That is why when someone sends a tweet the main thing he is looking forward is to someone clicking on RT or Like. Popular accounts on Twitter get much impact and the Top Twitter accounts are always getting a lot of engagement. Marketing campaigns aim nowadays to being viral, that's at least something the social media managers wish for. We are living the era of the viral phenomenon and top tweets are part of that. A top tweet is not a tweet sent by a popular person or a top Twitter accounts, it is just a tweet that got a unexpected engagement: retweets and likes mostly.
Actually, the culture of influencers is partly based on this. When an influencer sends a post, he knows that it is going to be seen by hundreds of thousands of people, at least that's what they told us. In some way this can be considered as viral. So, how can marketing managers detect the top tweets that have been sent during their campaign? With Tweet Binder this is very easy! The Twitter advanced search will help you finding those tweets.
Twitter advanced search with Tweet Binder
Tweet Binder allows you to use the Twitter advanced search from our homepage and in the top search box in the dashboard. We have talked about Twitter advanced search many times and now we will use it to find the right content. With just one click you can seek for only pics or just RTs, for example. You can also sort tweets by language or by date. Let's see some examples before we start looking for Top tweets:
Tweets by dates: 
#Brexit since:2020-01-01
@realdonaldtrump until:2020-01-01
"Social Media" since:2019-01-01 until:2020-01-20
By language:
English – #NBAFinals lang:en
Spanish – #NBAFinals lang:es
Italian – #NBAFinals lang:it
French – #NBAFinals lang:fr
As you can see, Tweet Binder can helping you to run a very deep analysis on your hashtag, term or keyword. But, as this information is really valuable this does not help you detecting top tweets within a campaign. Reports created from our homepage give back up to 500 tweets from the last 7 days. Those are the free reports, if you are a PRO user these reports give up to 10,000 tweets or 140,000 depending on your plan. These commands can be used in any type of campaign you are running on Twitter. For example, they come in very handy for Twitter chats as they will help to detect relevant tweets sent during the tweetchat.
Conclusion
Everyone is on Twitter in one way or another and we always follow one of those Top Twitter accounts. You can have you own personal account or you can have a fake one just to scroll up and down and read tweets. No one escapes from the blue bird Social Network, whose name is Larry by the way. Thanks to Twitter, artists and fans have a place where they can get closer.
By typing that in the search box we will generate a report of the last 7 days containing only tweets that have had at least 1,000 retweets. On the advanced report or in the classify panel, the user can read those tweets. This is a very fast way of detecting not only top tweets but also influential users. As these reports can later be exported to an excel document the user obtains the complete list of contributors that have sent those tweets.