Want to build your X / Twitter audience and create a community around your business or personal brand—but can't figure out how to grow Twitter followers? With nearly 400 million users and tools for increasing awareness, cultivating community, and selling products, Twitter/X has plenty of potential for creators, influencers, and brand marketers.
Yet for most X / Twitter accounts, attracting followers isn't something that happens overnight or by accident. Building an audience requires a clear strategy and consistent work. So where should you start?
I asked eight Twitter marketing experts to share what's working now for X / Twitter growth. By the end of this guide, you'll know how to get more Twitter followers, and you'll have a X / Twitter growth strategy you can implement instantly.
Use the search bar below to analyse any X / Twitter profile (@mention), keyword or hashtag for free. Just use the search bar below.
Do Twitter follower numbers matter?
On Twitter, audience size absolutely matters. As your Twitter following grows, your X posts can reach more potential customers and influence a bigger community. In contrast, a small audience naturally limits your reach and influence.
On X, reach averages 0.01%, while engagement rates are about 0.05%, according to a report by Socialinsider. Since only a fraction of your audience will see or interact with your posts, getting followers on Twitter can help you achieve more of the results you care about.
Is a bigger Twitter audience always better? Not necessarily.
In some cases, Twitter audience size can be a vanity metric. An X / Twitter profile with millions of followers may look impressive. But if the account has little engagement or gets few clicks, then the audience won't provide much value.
Focusing only on how to gain Twitter followers can lead to a big audience—but little else. As a result, growing your Twitter account is just one part of the equation. Building an audience, creating a community, and publishing great content are all key steps in the process.
Use the search bar below to analyse any X / Twitter profile (@mention), keyword or hashtag for free. Just use the search bar below.
Who can you reach with an X / Twitter growth strategy?
X has about 400 million users, which makes it far from the largest social media network. In terms of monthly active users (MAU), it ranks 14th, according to Statista. But while it has fewer MAU than networks like Facebook, Instagram, TikTok, and YouTube, X still has a massive global audience.
It comes down to who you want to reach. If your target audience aligns with the X user base, then it's worthwhile to optimize your Twitter marketing strategy and learn how to get more followers on Twitter.
X is most popular in countries like the United States, Japan, India, Brazil, and Indonesia, which account for nearly 240 million users. X also has tens of millions of users across Europe, especially in the United Kingdom, Germany, and France.
It's also important to consider the age range of Twitter users. Nearly 40% of X users are 25 to 34 years old, while about 20% of users are 35 to 49 years old. A much smaller percentage is between 18 and 24 (17%) or under 18 (7%).
Use the search bar below to analyse any X / Twitter profile (@mention), keyword or hashtag for free. Just use the search bar below.
Should you buy Twitter followers?
Whether you find it challenging to build your audience or you want to reach a certain number faster, you might have thought about buying Twitter followers. Although this approach may seem like a quick fix, it's never a good idea.
Most importantly, buying followers is against X terms and conditions. The platform considers this "account metric inflation," which can result in a ban.
But it's about more than just following current X rules. Purchased followers are almost always low quality, making them a bad investment.
They're unlikely to become engaged members of your community or loyal customers for your business. That means they'll actually decrease your Twitter engagement rate while providing basically no value to your Twitter profile.
If you need to grow your audience quickly, the only paid tactic you should consider is running ads. And in most cases, when you want to get Twitter followers, free or organic tactics should be your main focus.
How to grow Twitter followers: 14  Proven tactics
What are some realistic ways to get more Twitter followers? Here are 14  proven tactics, complete with step-by-step walkthroughs, real examples, and expert insights.
1. Optimize your Twitter profile
The first step to growing your account is creating a Twitter profile that attracts and engages followers. To maximize your account's visibility, use all the tools that X provides.
Choose a distinctive profile picture
Select your profile picture carefully by picking an image that captures either your brand or your business. Make it an image that followers and potential customers can recognize instantly.
If you're a creator or a marketer, you'll likely want to upload a photo of yourself. Using a headshot is ideal for creating a personal connection with followers while establishing your own brand.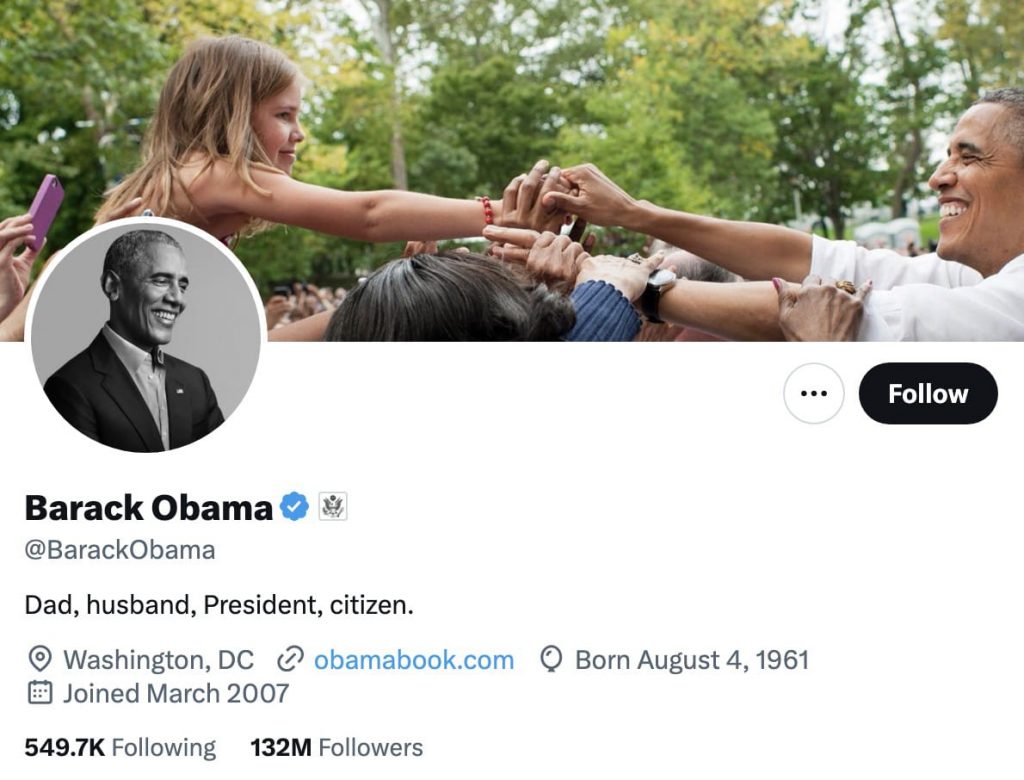 Let's take a look at some examples from the most followed Twitter accounts. Above, @BarackObama uses a distinguished black and white profile photo. Below, @Cristiano uses a celebratory photo to establish his brand.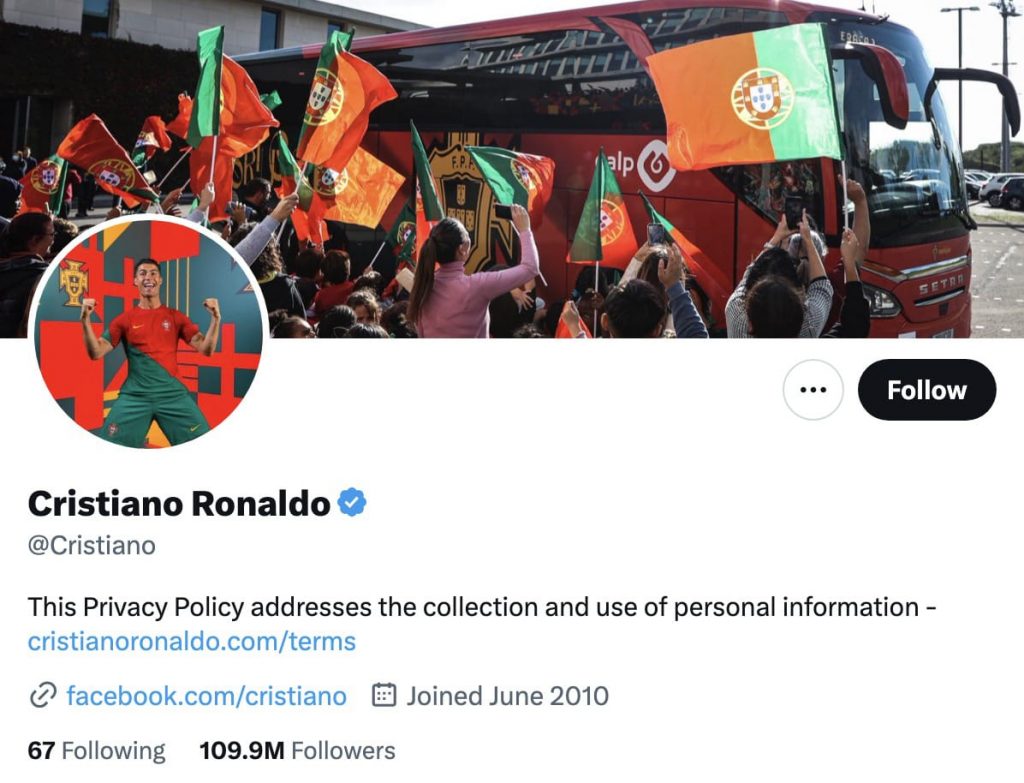 Keep in mind that marketer and creator profile pictures display as a circle. You'll need to upload a photo that measures at least 400 x 400 pixels. Then you can preview the circle crop and adjust as necessary.
If you manage Twitter marketing for a brand or business, a logo tends to be a better choice for a profile photo. Logos are easy to spot on the X timeline, which can improve brand awareness.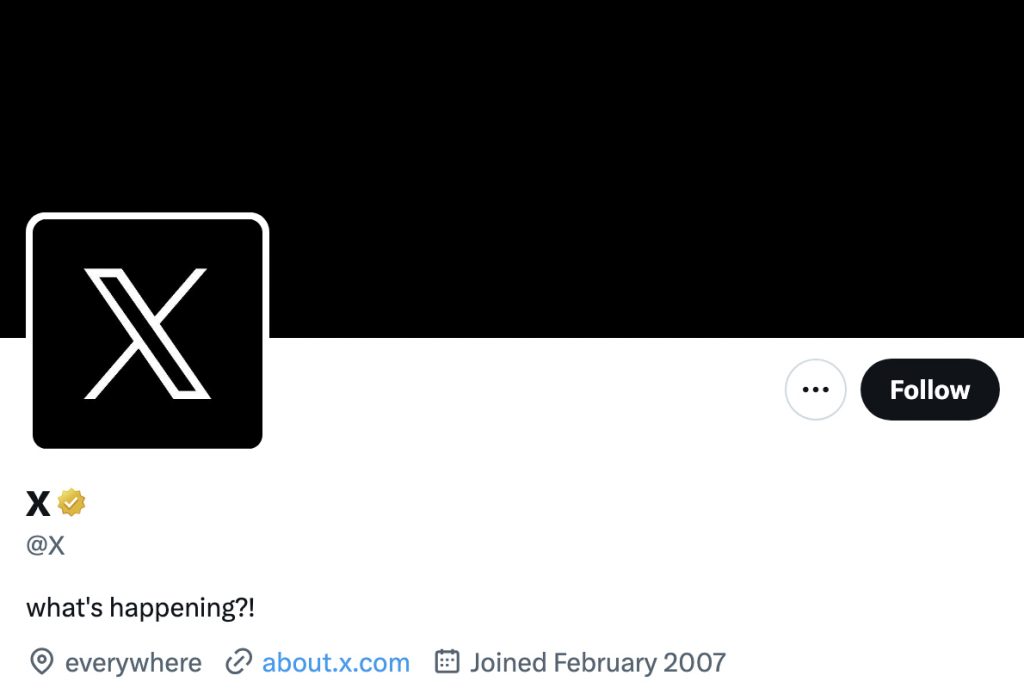 For example, @X (above) and @NASA (below) both use distinctive logos. Note that these Twitter accounts both have square profile pictures. Profile images display as squares for verified organizations like X and government organizations like NASA.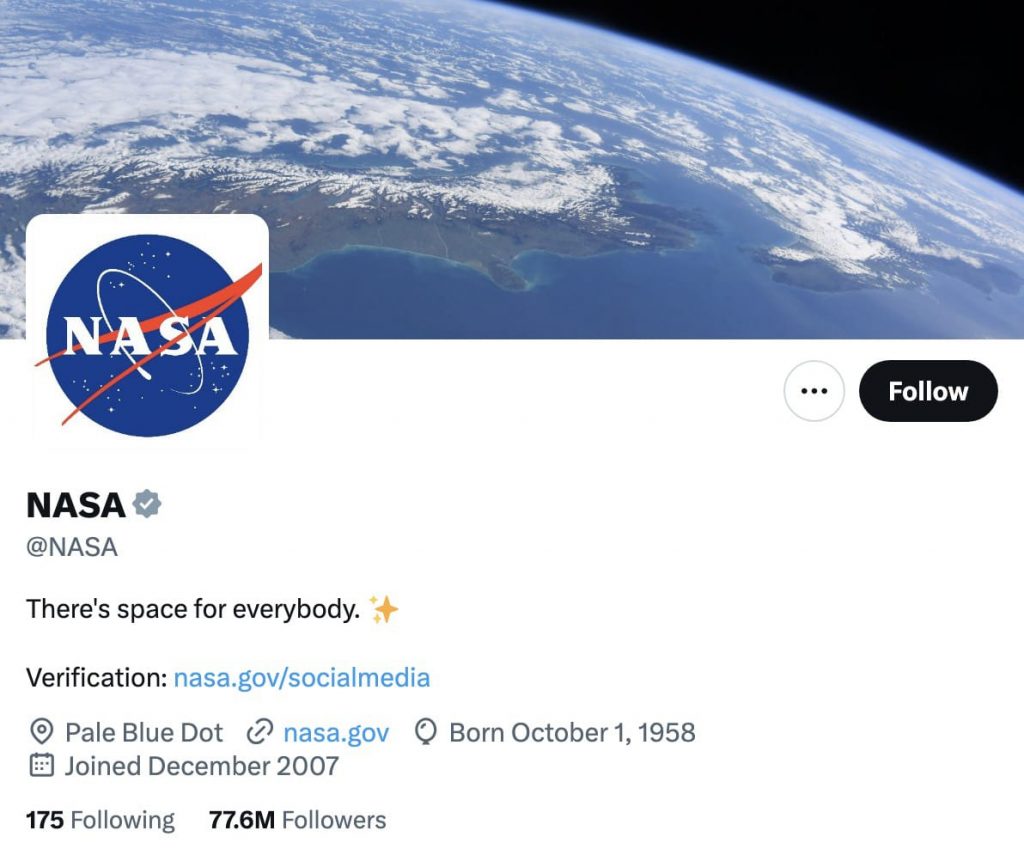 If your brand isn't either of these organization types, your profile photo will display as a circle. Either way, make sure to choose an image with staying power. Change your profile photo as infrequently as possible to make your account easy to recognize and avoid having to reverify.
Add an eye-catching cover image
Next, add a cover image to your profile. Unlike profile photos, cover images can be changed much more frequently. As a result, you can use this space to promote launches, limited-time specials, or upcoming campaigns.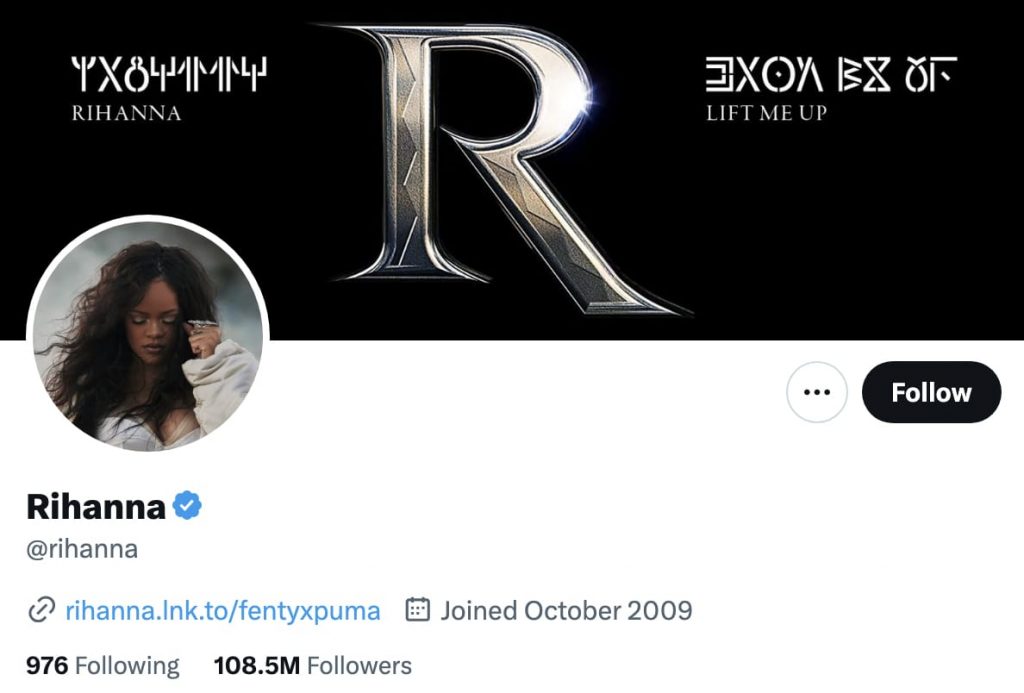 For example, @rihanna (above) uses her cover image to promote a recent song. Below, the @YouTube cover image showcases the network's current cultural initiatives and highlights some top creators.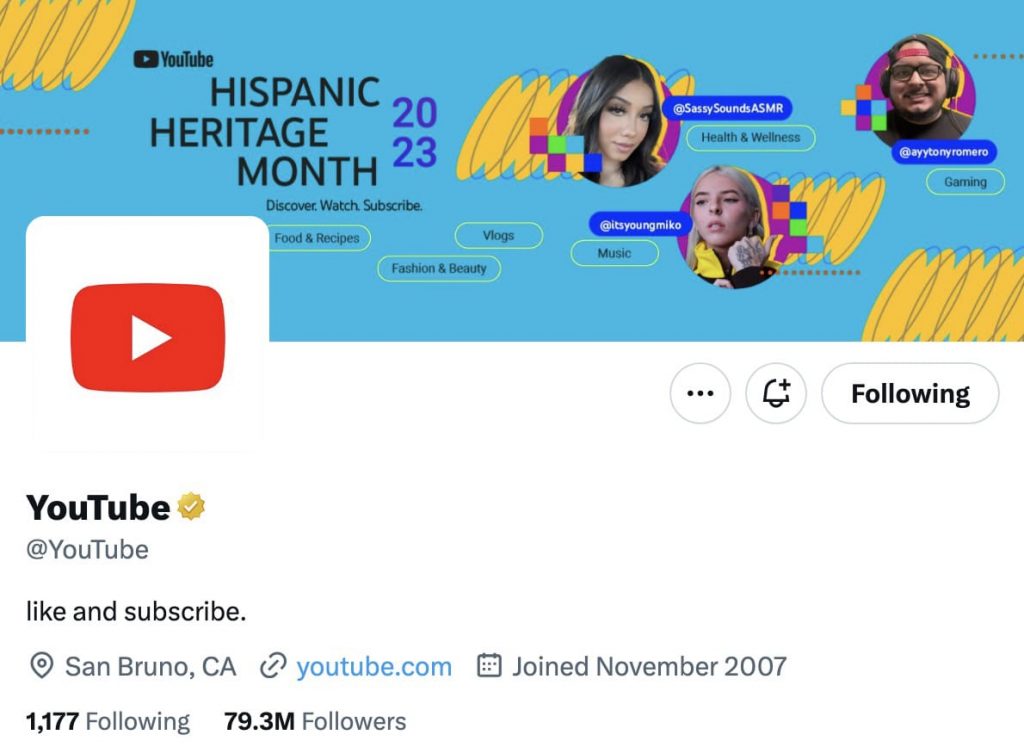 With cover images, you can also invite followers to interact with your account. Below, @tibo_maker uses graphics to point users to the follow button, where he adds the call-to-action "Let's learn from each other." In addition, the cover image automatically displays the profile photos of the account's most recent followers as a thank you.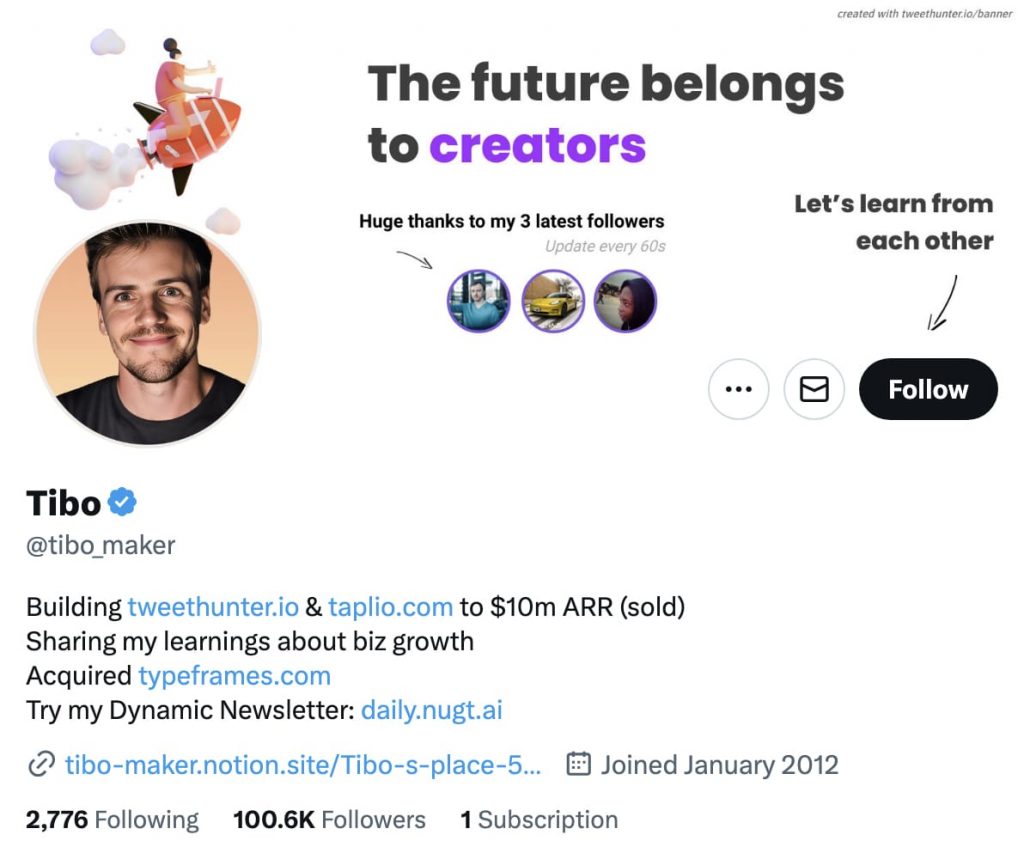 X cover images should measure 1500 x 500 pixels. Note that the top and bottom 60 pixels of your cover image may appear cropped in some browsers or on some devices. When designing a cover image, keep these limits in mind.
Write a compelling Twitter bio
A good Twitter bio should do more than just introduce your brand to new followers. It should also include keywords that relate to your brand and industry. Using the right keywords can help your X profile appear in search, which can lead to more followers.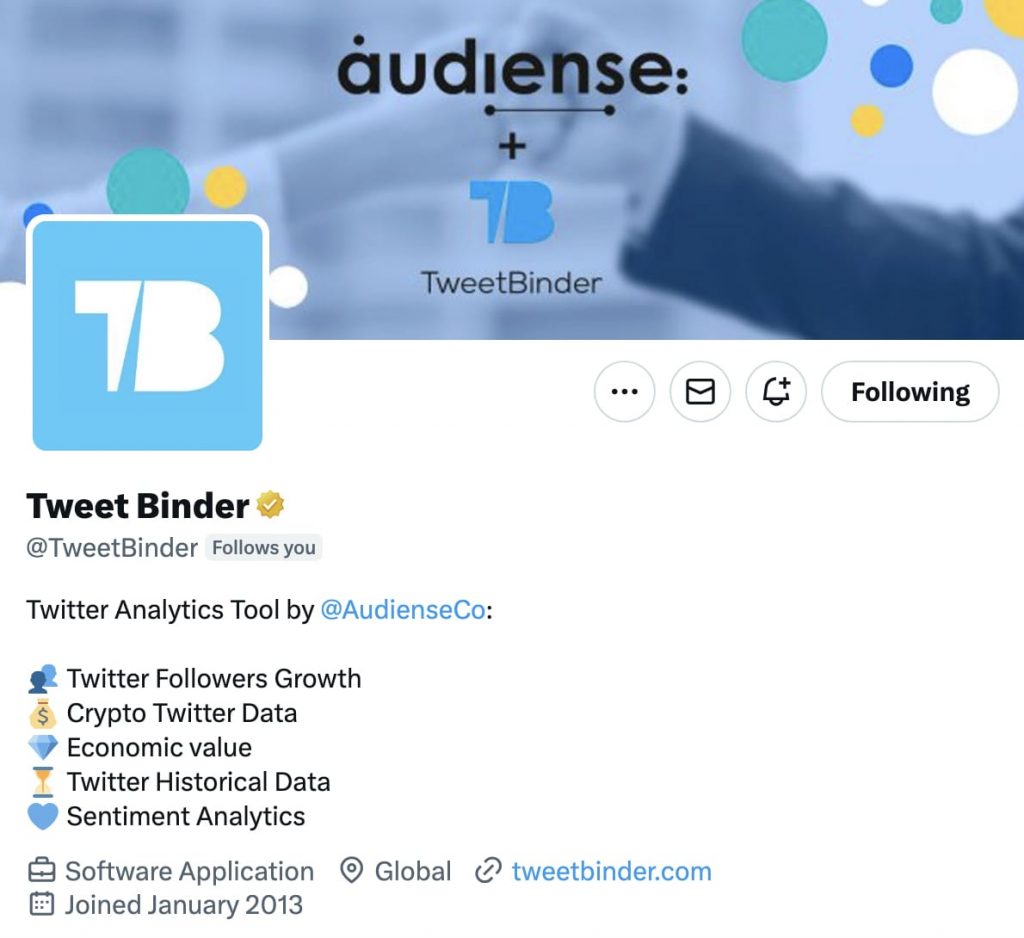 For example, the @TweetBinder bio (above) includes keywords like "Twitter analytics tool" and "Twitter followers growth." As a result, the Tweet Binder profile appears at the top of search results for these keywords.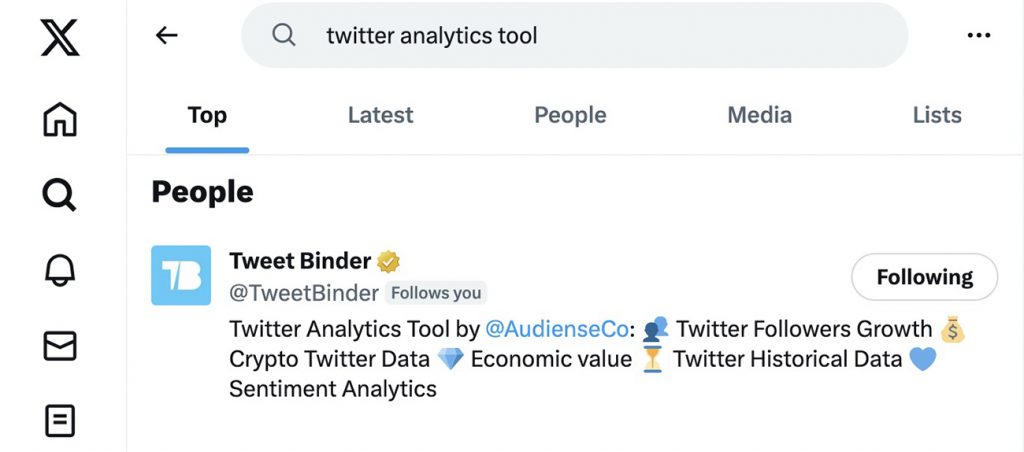 Adding hashtags to your bio can give you even more opportunities to appear in search. To improve visibility, @janetmachuka_ uses both broader hashtags like #SpacesHost and her own branded hashtags like #AfricaTweetChat.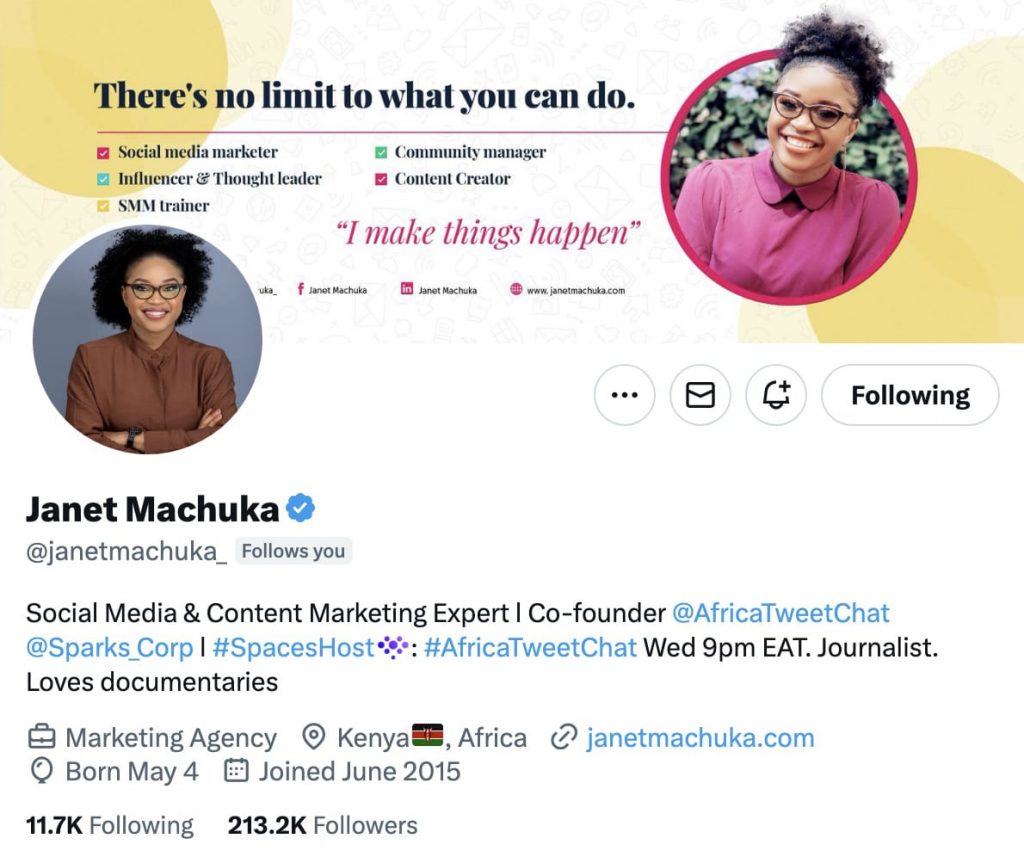 Remember that getting users to visit your X /Twitter profile is just the first step. To get them to tap the Twitter follow button, feature your best content at the top of your profile. All X accounts can pin a single tweet to the top of their profile.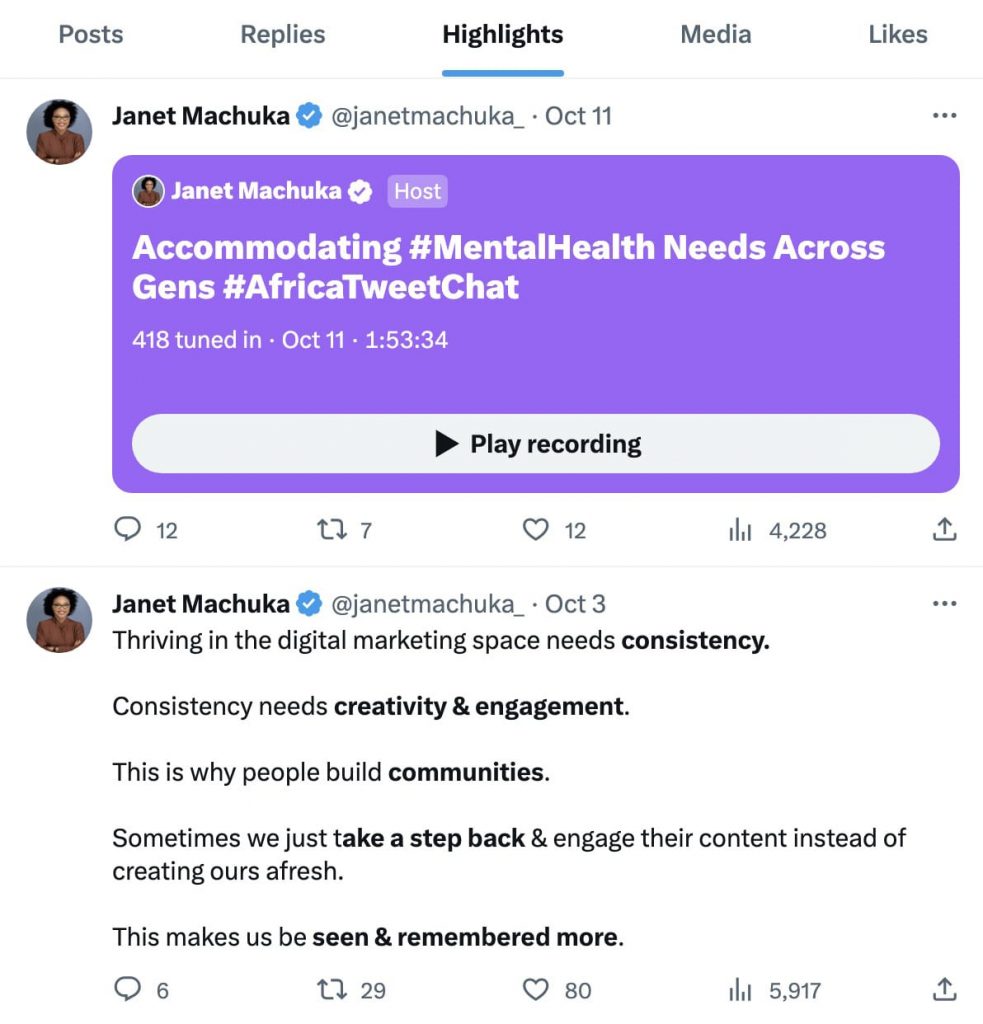 Premium users can add several of their most recent or most popular Twitter posts to the highlights tab. This tab is the ideal place to create a portfolio of your best content. Above, Janet Machuka's highlights tab features recent X spaces and thought leadership posts.
2. Post engaging content consistently
One of the most important things you can do to increase Twitter follower count is to post regularly. How many times a day should you tweet on Twitter? Sprout Social recommends three to four posts per day, while Hootsuite suggests one to two.
Be consistent
To see what works best for your Twitter account, start by creating a content calendar with one to four posts per day. But keep in mind that the most important part is publishing consistently.
"You might wonder if there was a specific moment when I gained a lot of followers in a single day. The answer is no. I have maintained consistency with content and interactions on X," shares Janet Machuka.
"This consistency isn't limited to the #AfricaTweetChat community conversations every Wednesday or the weekend list of documentaries I share every Friday," Janet elaborates. "It also extends to posting content, showing up for others, collaborating with brands as an influencer, providing social media marketing training, engaging in speaking engagements, and managing campaigns. That's how you attract new followers over time."
"Some creators publish irregularly, and this is the biggest mistake you can make on Twitter / X," cautions Alek Asaduryan. "Consistency is key here, and I can prove it with myTwitter  account. I've been posting 3-4 times per day for the last 322 days." As a result, Alek's X account @Ldnbox (pictured below) has attracted over 20,000 followers.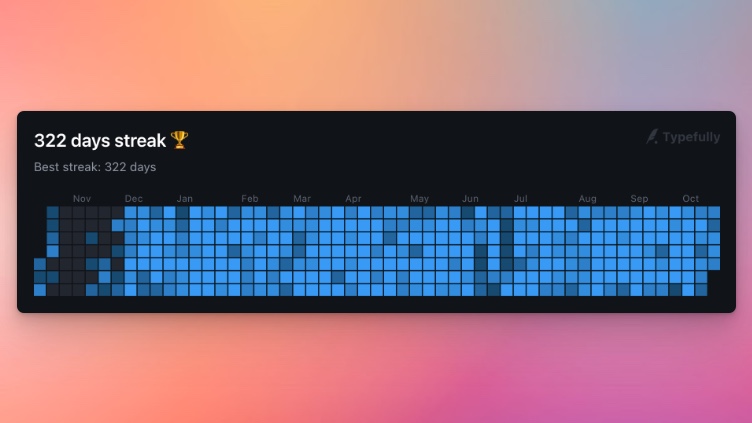 Aim for variety
What kind of content should you post on Twitter / X? 
"I usually treat my X / Twitter account as a media house," Janet Machuka explains. "People follow me for various reasons. Some want to be part of the chat conversations and spaces, be informed, and be educated, while others seek entertainment."
"This understanding helped me structure the way I engage with different audience tastes and preferences. I share trends in the industries I represent, educational tips to help solve social media marketing problems, feature others on my timeline, and share entertaining content such as documentaries to watch every weekend."
Publish videos and photos
To maximize engagement on Twitter / X, prioritize visual content. "Based on the latest social media benchmarks, we noticed that media posts with videos and photos perform better than GIFs or text posts across all platforms," explains Adina Jipa, Founder of Socialinsider.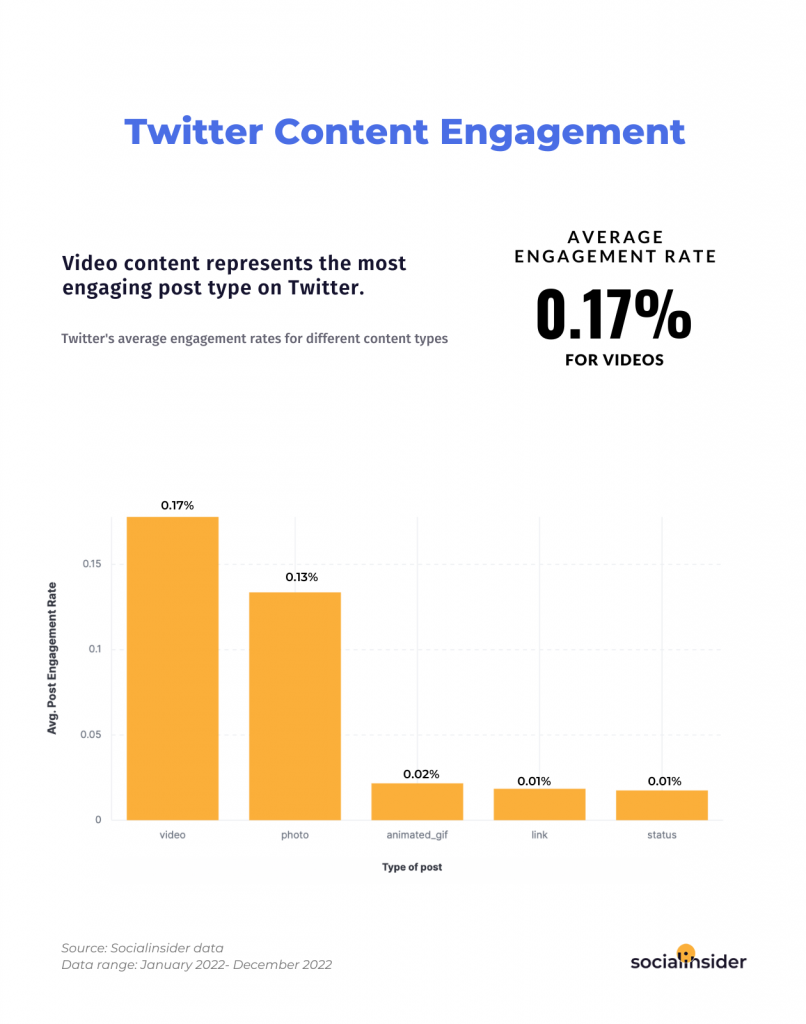 "For instance, we post videos to @socialinsiderio when we have a big launch to announce and, from time to time, we spice up our content planning with meme posts," Adina elaborates. "However, things may be different depending on the industry you activate in."
What should your photos and videos feature? Kevon Cheung of @MeetKevon shares, "I'm active in the entrepreneur circle so there are a few types of content that work better to attract true fans:
Success stories—what you're doing to win

Emotional moments in your journey—the more open, vulnerable, specific you are, the more people resonate with you

Doing the real work—content alone can attract fans, but real show & tell attract true fans"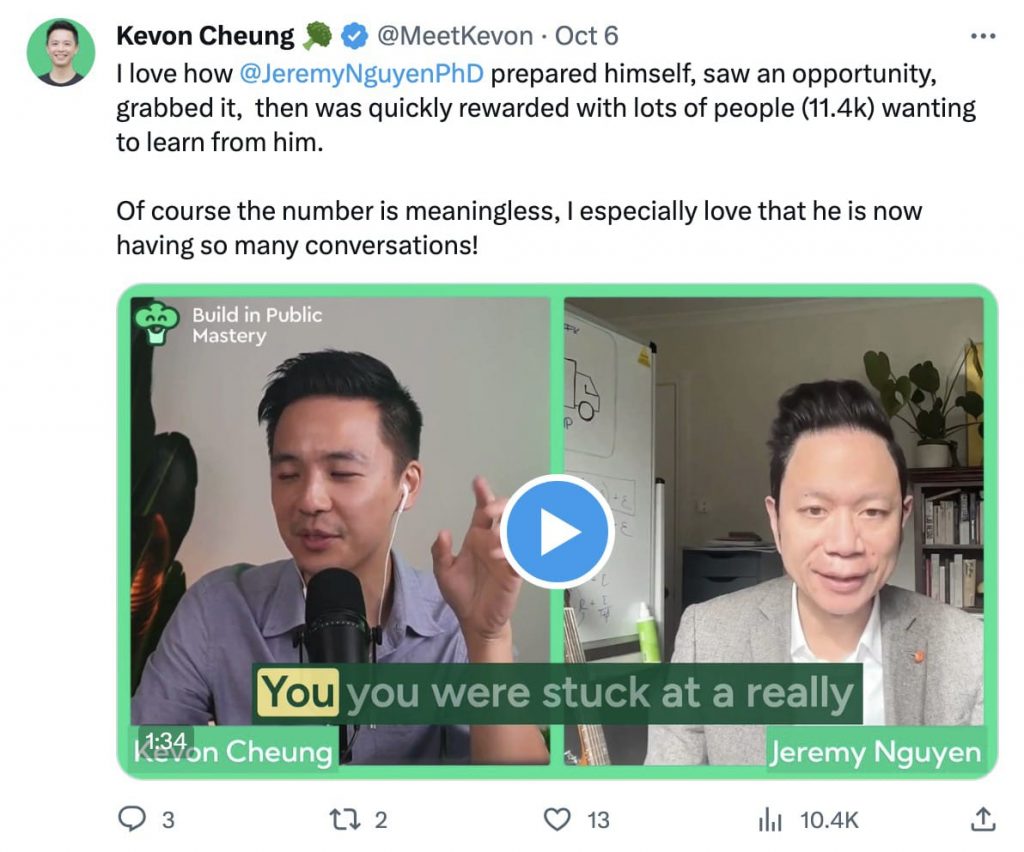 Above, Kevon's video features an interview with a student who struggled to get started posting on Twitter / X. Their conversation reveals the real work that goes into learning how to gain followers on Twitter.
Create Twitter threads
Should all of your X content include photos or videos? Not necessarily. Threads are ideal for sharing complex thoughts or multiple resources in a single post.
"Why are threads effective? They capture attention, showcase my knowledge, and start conversations," explains Assim of @heyassim. "They can also guide readers to take a specific action, like visiting a website or checking out a service. One of my most popular posts is actually a thread about the best resources for Notion formulas."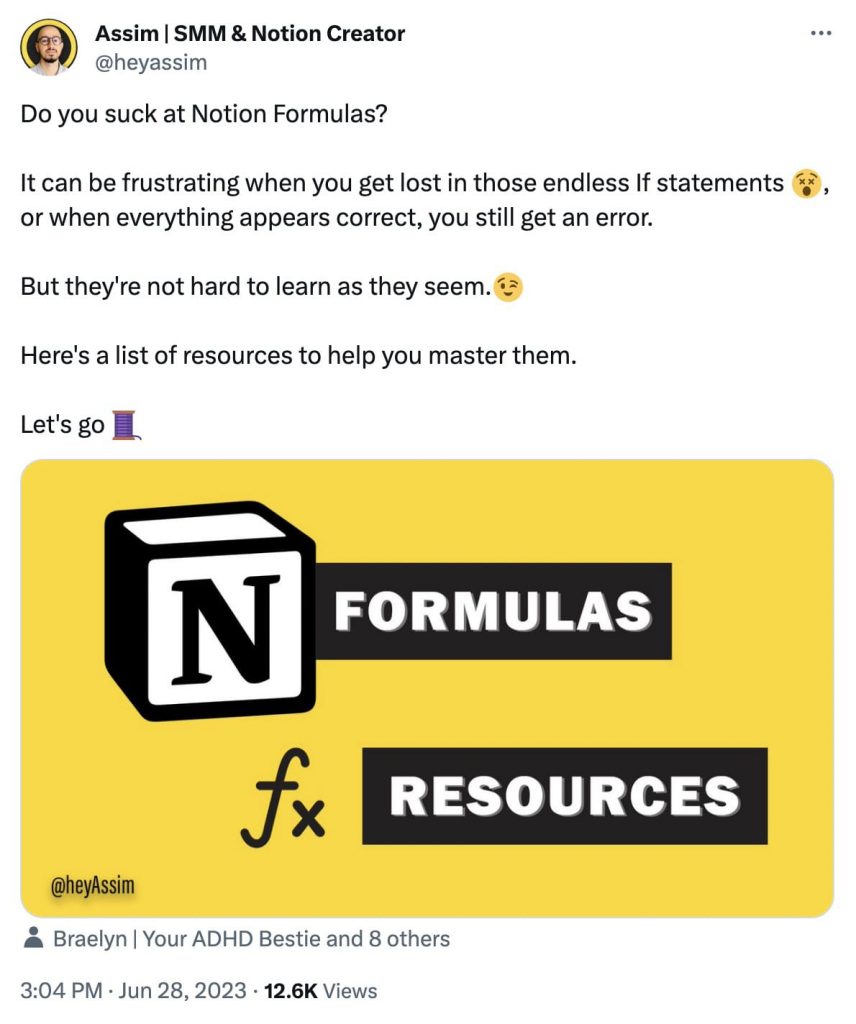 How long should your threads be? As a general rule, most threads include around 10 posts. To find the ideal length for your audience, test threads with more or fewer posts. Then check the engagement and find a happy medium.
Post long-form content
X Premium subscribers have another option for posting complex ideas on Twitter / X. As of September 2023, long-form content generates more than 3 billion views per day.
Yet creating long-form content like Alek Asaduryan's post can be the equivalent of writing a blog post. Is it worth the extra time and effort?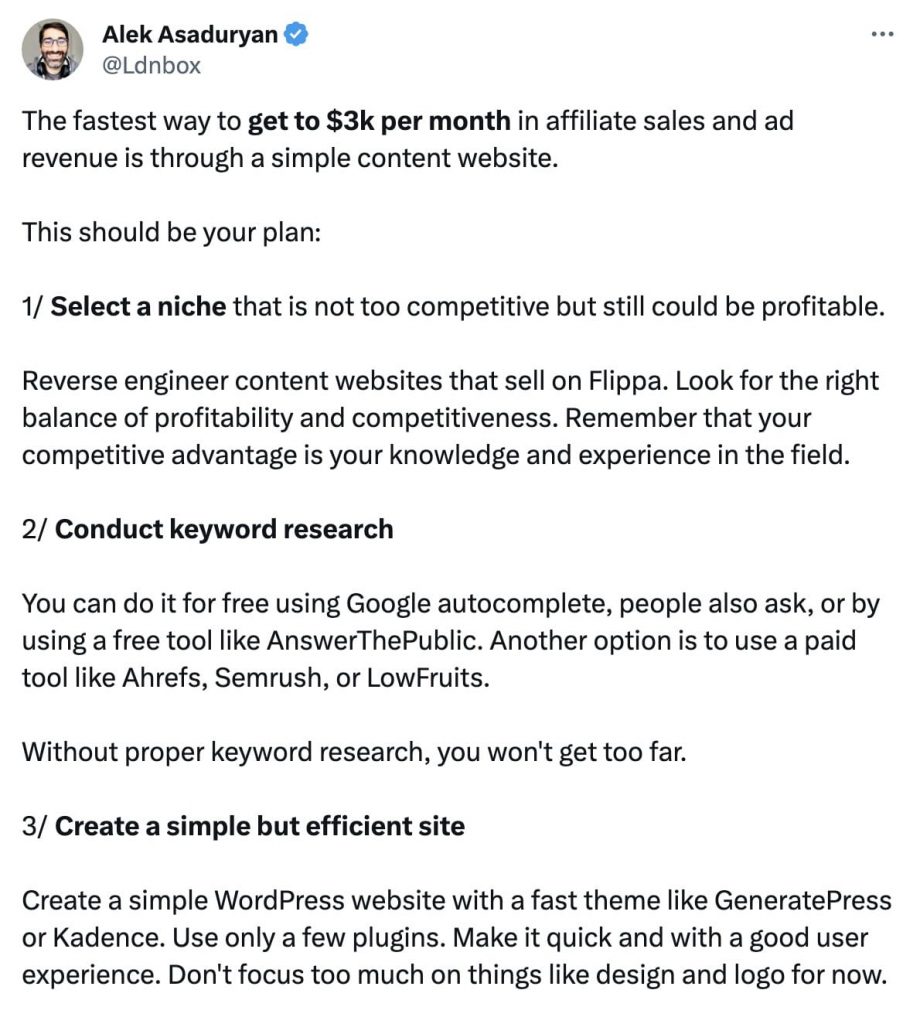 "I noticed that recently the algorithm has been rewarding long-form content," Alek shares. "The main reason for that is that people click on 'Show More' to see the whole piece which is definitely a ranking factor. Honestly, I even stopped publishing threads and I'm focusing on long form content."
Collaborate with other Twitter accounts
You don't always have to create content independently. Instead, consider partnering with others in your Twitter community to create threads, host spaces, or get featured. The more you work with other influential accounts on Twitter, the more you can elevate your own.
"Collaborate in content creation, a strategy that has worked wonders for not only me but also, my mentees," Janet Machuka suggests. "Occasionally, team up with thought leaders to create content and have them feature your work on their platforms, giving you a mention."
One way to find potential collaborators is to find the accounts that are most engaged with a topic you are about. As @Eli_Krumova suggests, you can use Tweet Binder to create a hashtag report featuring the "Top 10 Contributors" or the highest impact accounts.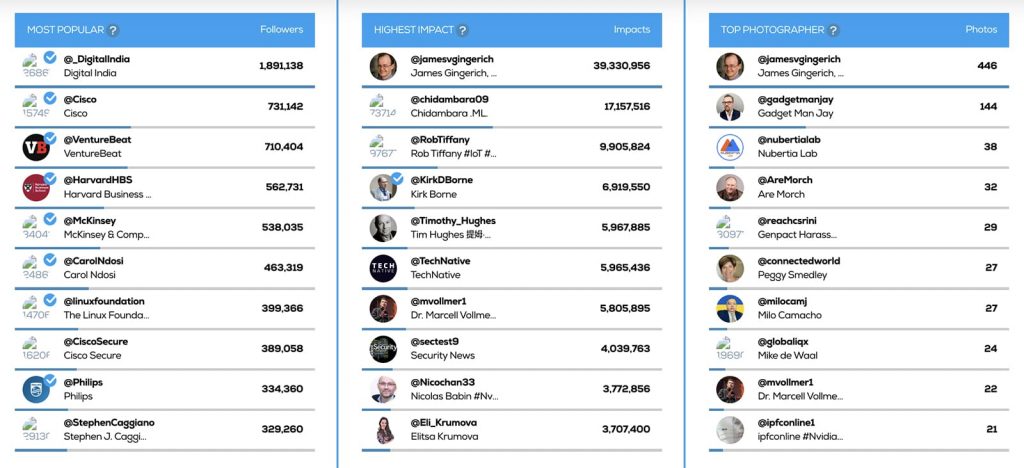 From your Tweet Binder dashboard, create a new report for a hashtag that's important to your brand or industry. Look for the contributor rankings panel, which lists the top 10 most popular accounts and those with the highest impact.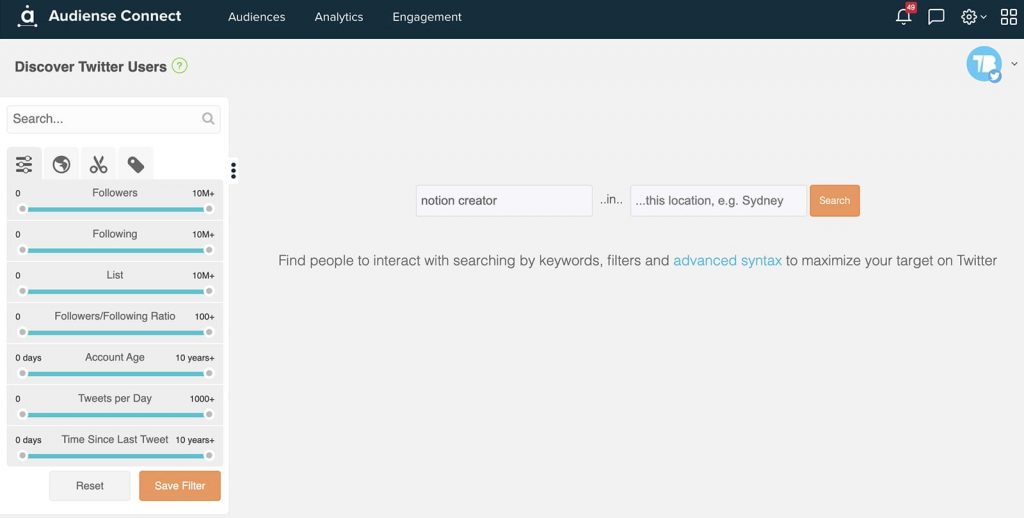 To find potential collaborators, use the Audiense Connect user search. From the dashboard, open the "Audiences" menu and select "Discover Twitter Users." Then enter keywords, a location, or both.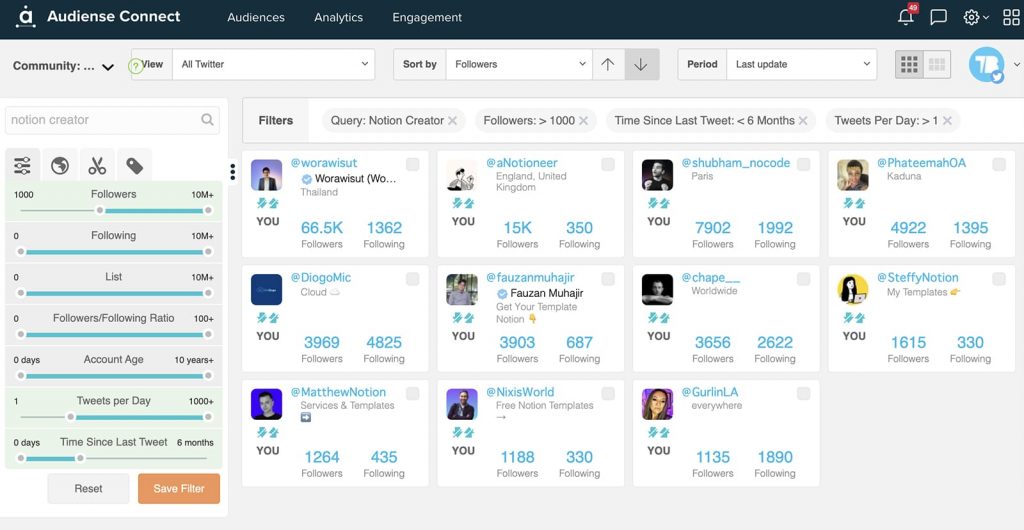 Once the list of accounts displays, you can use the filters to narrow your search. Adjust for account size, activity, followers/following ratio, location, or language. From the dashboard, you can follow any of these accounts or add them to lists so you can engage strategically.
Join X chats and spaces
Another option is hosting or joining Twitter chats and spaces. "X chats, previously known as tweet chats, are a great way to bring people with similar interests together to share their ideas, responses, ask questions, and engage with one another. Such engagements encourage people to learn about each other and follow for future interactions," Janet explains.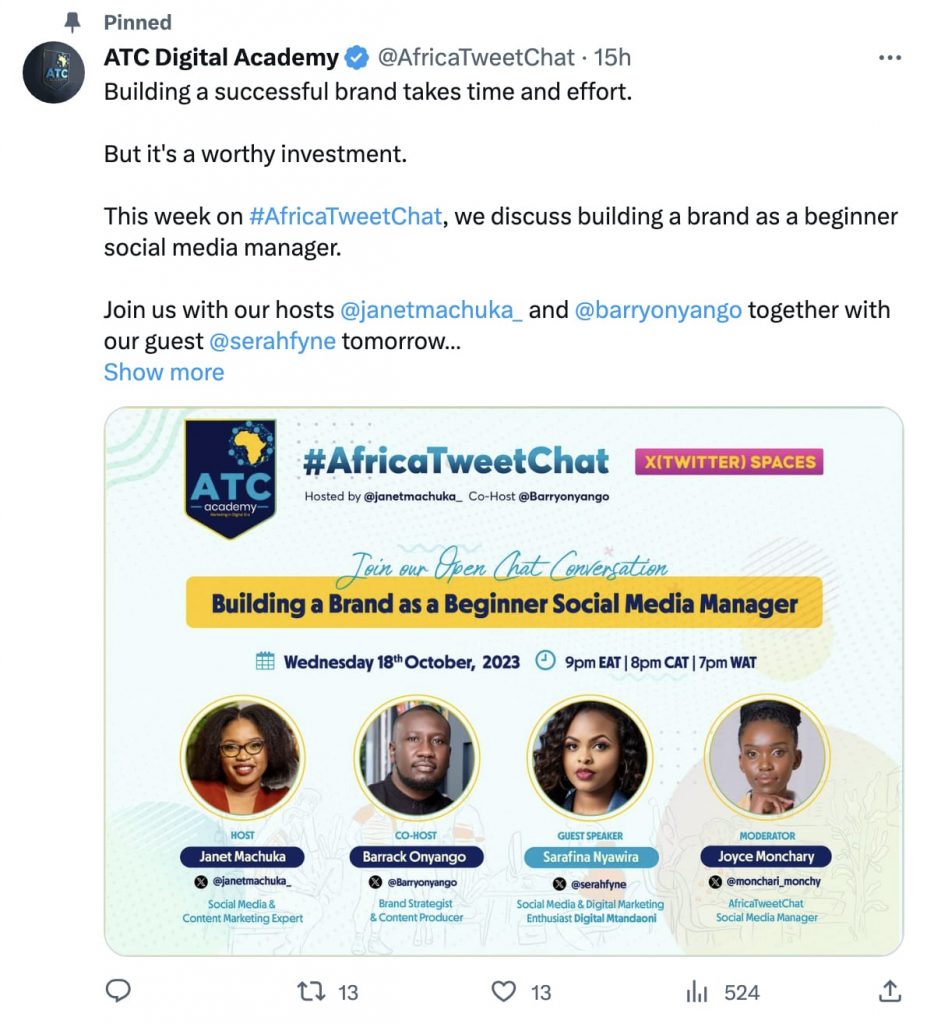 "Before X spaces were launched, we engaged with others through #AfricaTweetChat. This community helped me create connections and gain followers over time." The @AfricaTweetChat post above is an example of this kind of community event.
Create content that's relevant to your audience
Whether you tend to post videos, produce threads, or join X chats, focus on creating content that's relevant to your Twitter audience. In other words, share your journey in a way that's relatable to your audience.
"The growth 'tactic' that worked for me wasn't really a growth tactic whatsoever, I just shared EVERYTHING I was doing with my solopreneur and creator journey. Every win, every fail, every new discovery, I shared on Twitter," Milo of @Notion4Ts shares.

How can you find topics your audience cares about? The Audiense Connect bio tag cloud is a good place to start to check your followers' interests. Located on your dashboard, this tag cloud automatically displays the most popular keywords in your followers' Twitter bios.
Read this guide to learn how to check your Twitter followers demographics.
Avoid viral hacks
Are there any kinds of content you shouldn't post to Twitter / X? "A mistake creators make is to use hacks to grow," Kevon Cheung cautions.
"They engineer viral growth by following what's trendy, e.g. meme posts, or they do giveaways like 'I have this guide. Usually I'd sell it for $99, but today it is free for you.'"
"Things like these attract a lot of low-value followers who will never buy anything from you or play a part in your work. This means you're working hard to get all the wrong people. What's the point?" Instead, focus your efforts on high-value content.
3. Find the best time to post on Twitter / X
Choosing the best time to tweet is more important than you might think. If you post when your audience is offline, your content probably won't get much reach. X may also be less likely to recommend it.
In contrast, if you post when your audience is online and engaged, you're likely to see better results. When you know the best time to post on Twitter, you can schedule content in advance. Then you can spend more time interacting with your audience.
Not sure when is the best time to post on Twitter? Audiense Connect can help you find the optimal times for your Twitter followers. From your dashboard, select "My Followers." Filter out inactive followers using the "Time Since Last Tweet" setting.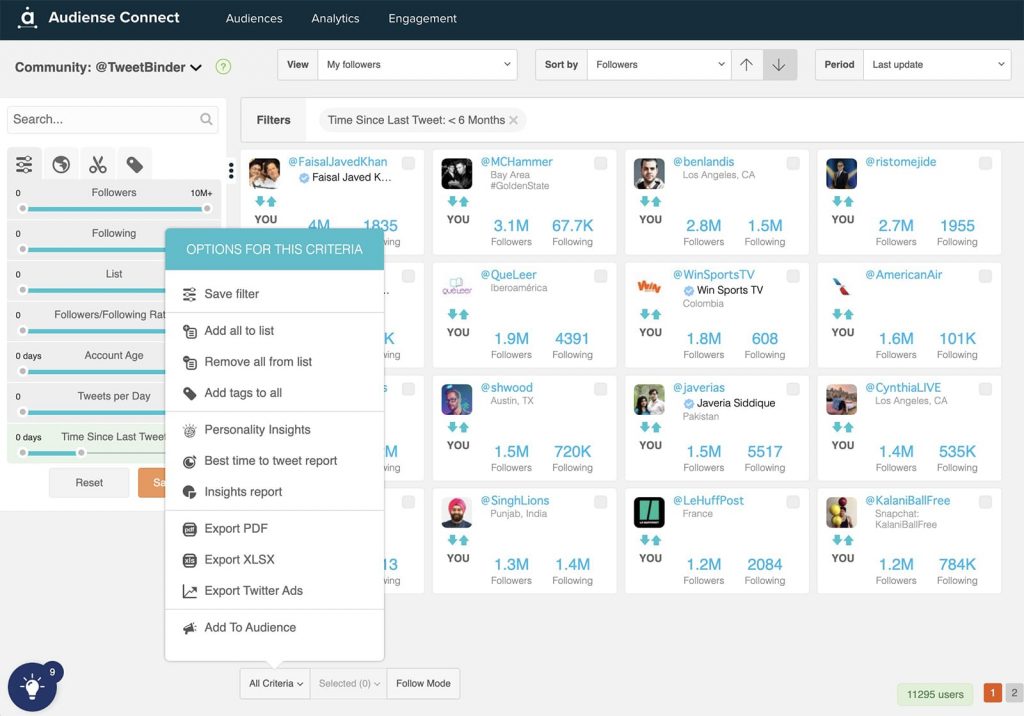 Then open the menu at the bottom of the dashboard and select "Best Time to Tweet Report." You'll get a chart showing the best times to post every day of the week.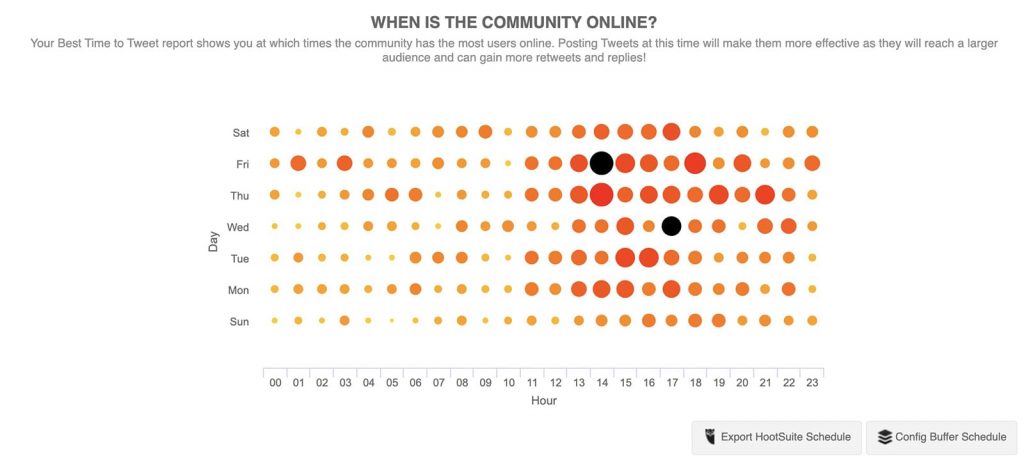 If you're a Buffer or a Hootsuite user, you can plug these times directly into your social media publishing calendar. Then you can start scheduling content at the right times for your Twitter followers.

For additional insight, check the "Potential Exposure by Hour" chart. This chart considers the reach of your followers. When more influential followers are active, your potential reach increases—making these ideal times to post on Twitter.
Sign Up for Audiense Connect today! It is free.
4. Create a hashtag strategy
Hashtags originated on Twitter as a way to group content, add context, and simplify search. For the same reasons, they're still important for building community on Twitter / X.
"Using and tracking hashtags on Twitter is imperative to cluster content into buckets and help you propel the content you've created on a certain topic," Adina Jipa explains. "I'd say it's important to include hashtags in your Twitter marketing strategy every time you promote a new campaign that uses a branded hashtag or your take on a specific topic."
Many successful hashtag strategies also include trending hashtags that are relevant to your brand or niche. Adding trending or newsworthy hashtags to your Twitter posts allows your brand to join conversations. Naturally, posting about popular topics and connecting them to your brand can attract more followers.
Use TweetBinder to track and analyze hashtags on Twitter / X. With Tweet Binder hashtag analytics reports, you can instantly identify the top voices in the conversation, find top tweets to engage with, and assess the sentiment around the topic.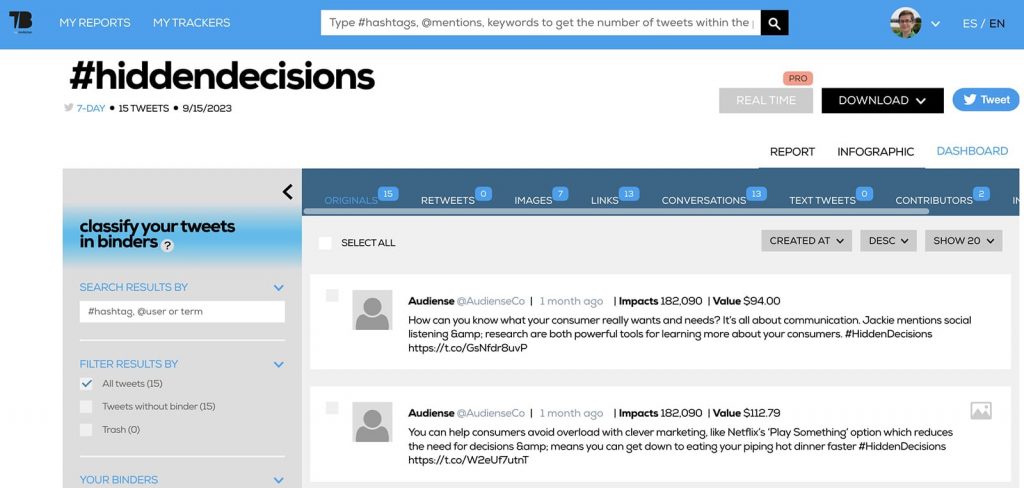 With real-time reports, Tweet Binder can monitor conversations as they happen. That way you can jump in and share your thoughts or engage with trending content when it's likely to make the biggest impact.
5.  Monitor X / Twitter followers
Use the search bar below to track and analyse any X / Twitter profile (@mention), keyword or hashtag for free. Just use the search bar below.
Is your X / Twitter growth strategy working? By monitoring your account analytics, you can make sure your audience size keeps moving in the right direction.
Which X / Twitter metrics should you track? If audience size and consistent growth are top priorities, start by tracking followers.
Technically, you can track followers from your X / Twitter account dashboard. But the native analytics dashboard only shows your total number of followers, not growth over time.
For deeper insights into your X / Twitter growth, use a tool like Audiense Connect. With this tool, you can see your total number of followers, along with a chart showing progress over time.
Remember that your followers are more than just a number. With Audiense Connect, you can easily learn more about your recent followers or unfollowers.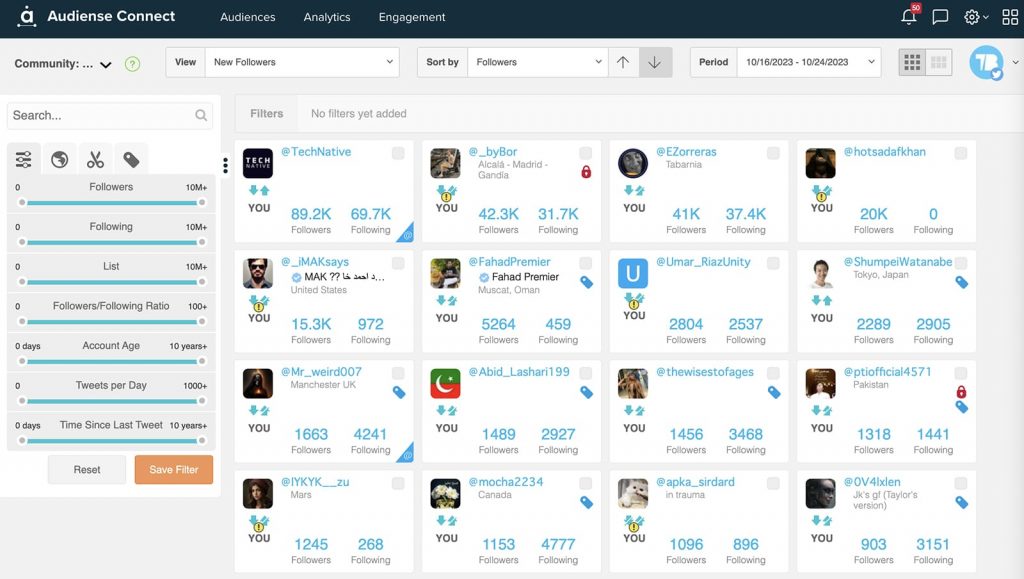 For example, you can click to view a list of all the new followers you've gained over the past week. Use the filters in the left menu to hone in on what defines your audience. Do they have anything in common, such as location, language, or activity level?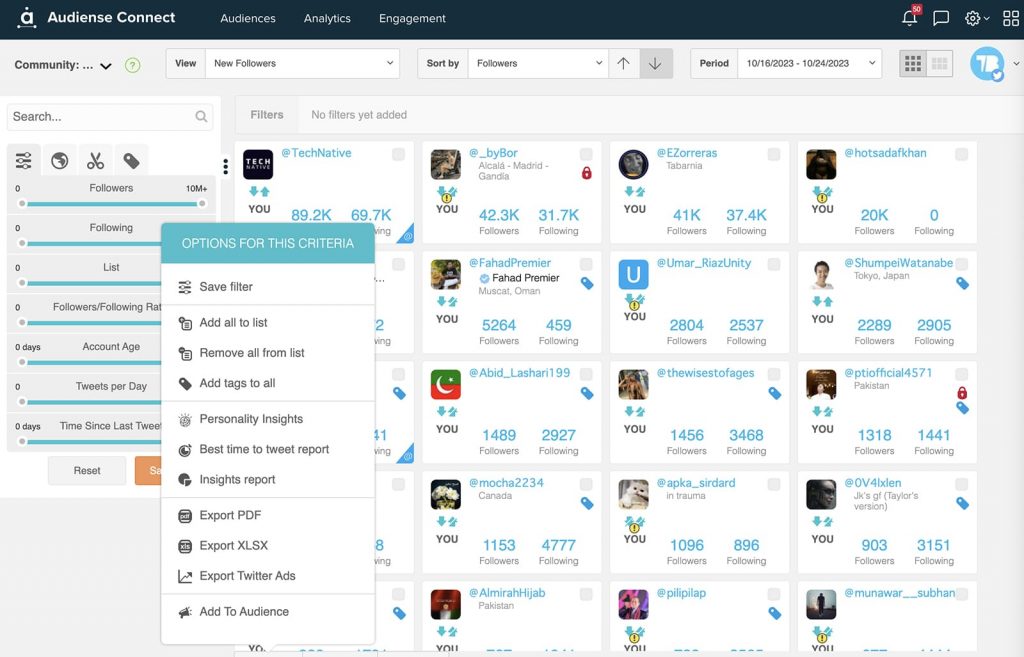 To learn more about your followers, create a "Personality Insights" report from the Audiense Connect dashboard. This way, you can learn how best to connect with your new audience.
You can do a similar analysis of your X / Twitter unfollowers with Audiense Connect. Pay attention to whether they have anything in common. For example, did you lose several followers with shared characteristics or interests?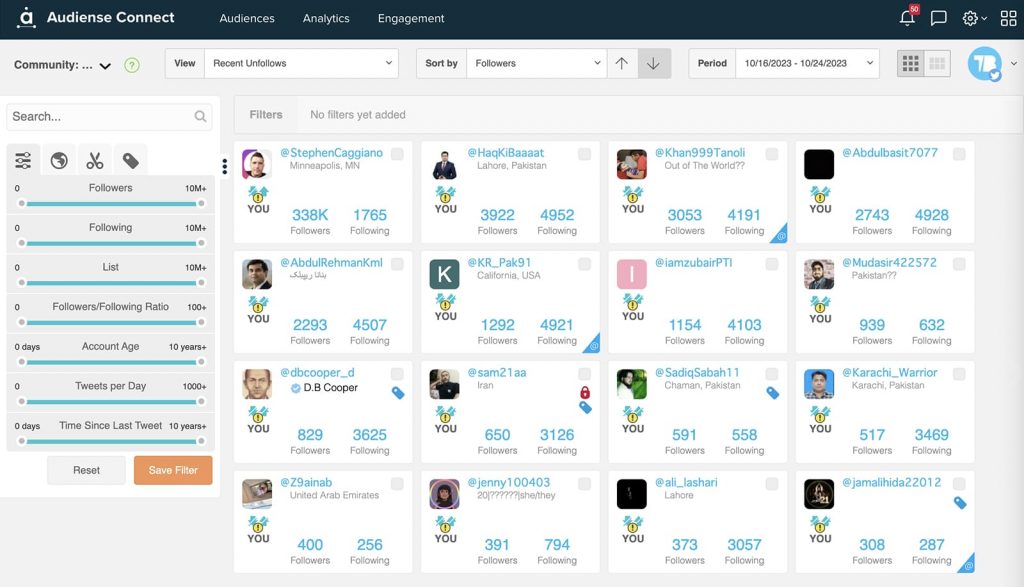 Tweet Binder also makes it easier to monitor X / Twitter followers more easily. With an X / Twitter follower tracker, you can see growth over time.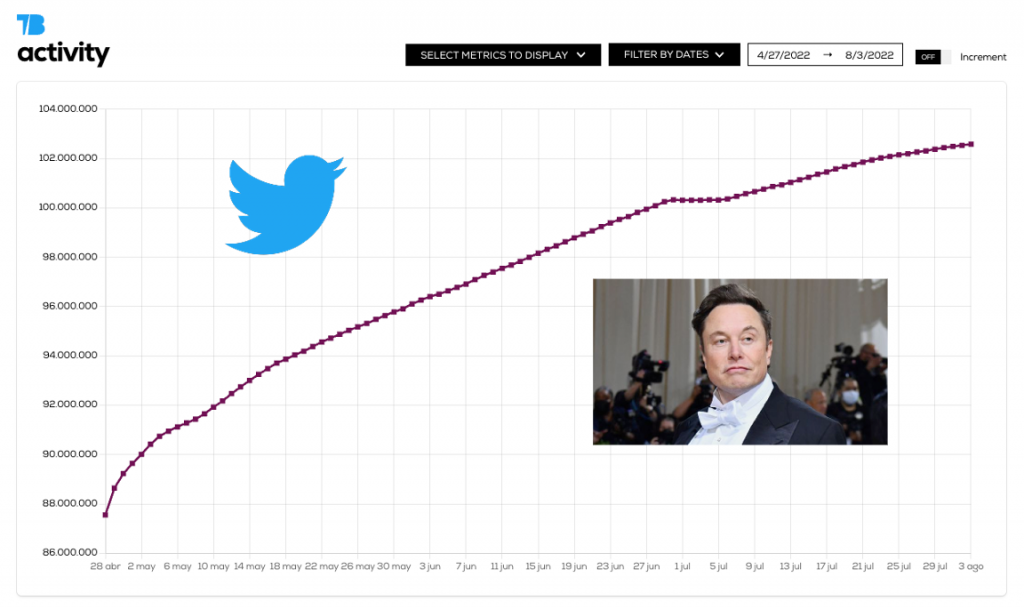 Once you set up a tracker, you can get daily stats on followers and unfollowers. With this data, you'll be able to spot unusual follower patterns so you can leverage growth opportunities.
Sign Up for Audiense Connect today!
6. Review Twitter post performance
Most X / Twitter marketers, creators, and influencers use content to attract more followers. Check your X / Twitter post performance regularly to find what type of content works best.
As Shushant Lakhyani explains, "I analyze each and every post and comment of mine to understand what do people like and what they don't."
Make sure to choose your analytics tool wisely. Most X / Twitter experts find the native analytics dashboard lacking. Instead, most use one or more of these third-party tools:
No matter which tool you choose, use it to identify your top posts. Then use these insights to understand why the posts were so successful—and create more like them.
For example, did the message resonate with followers and generate a lot of reposts? Did the content type speak to your audience and result in a lot of high-quality comments?
7. Track mentions and hashtags
When you want to grow your audience, expand your reach, and improve your visibility, then it's also important to track X / Twitter mentions and hashtags. Why? Mentions reflect your level of influence, while hashtags indicate your brand or campaign visibility.
Use the search bar below to track analyse any X / Twitter profile (@mention), keyword or hashtag for free. Just use the search bar below.
To track mentions and hashtags, you'll need a third-party tool. "Native X analytics help but they don't give detailed data, especially when it comes to demographics and the content that works," Janet Machuka shares. "If I am tracking hashtags, Tweet Binder is the go-to tool."
With Tweet Binder's hashtag reports, you can monitor your own branded or campaign hashtags. These reports show the total number of tweets and contributors, which are helpful for measuring impact.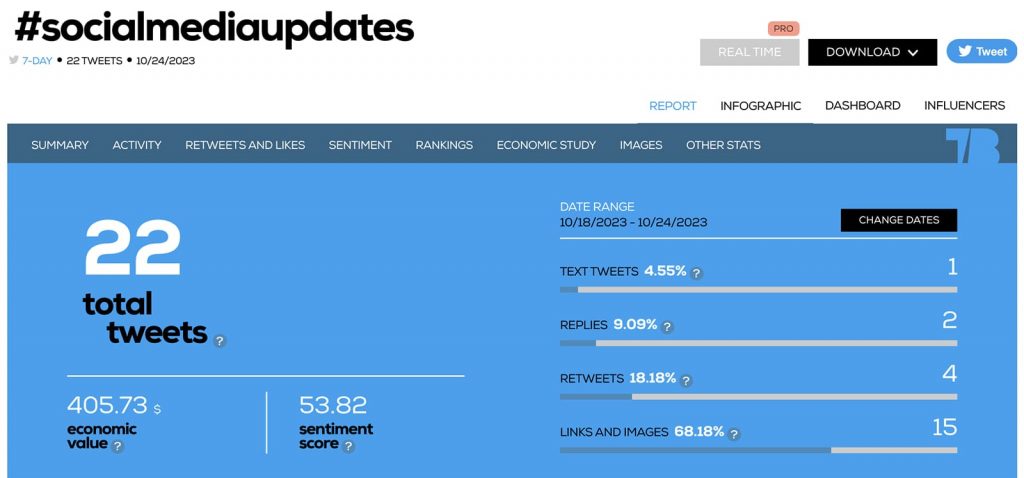 They also chart tweet activity and sentiment over time. These insights are crucial for understanding how your audience feels about your brand or campaign, which can affect follower growth.
Use the search bar below to analyse any X / Twitter profile (@mention), keyword or hashtag for free. Just use the search bar below.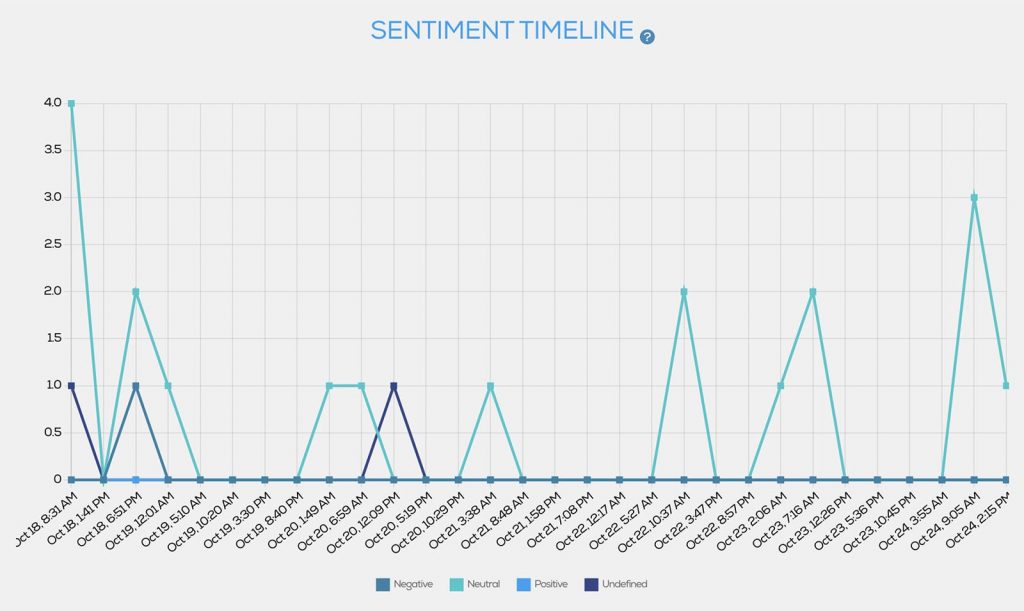 Tweet Binder mention reports can help you accomplish similar goals. With these reports, you can see when mention activity spikes or drops to understand when and why other accounts talk about you.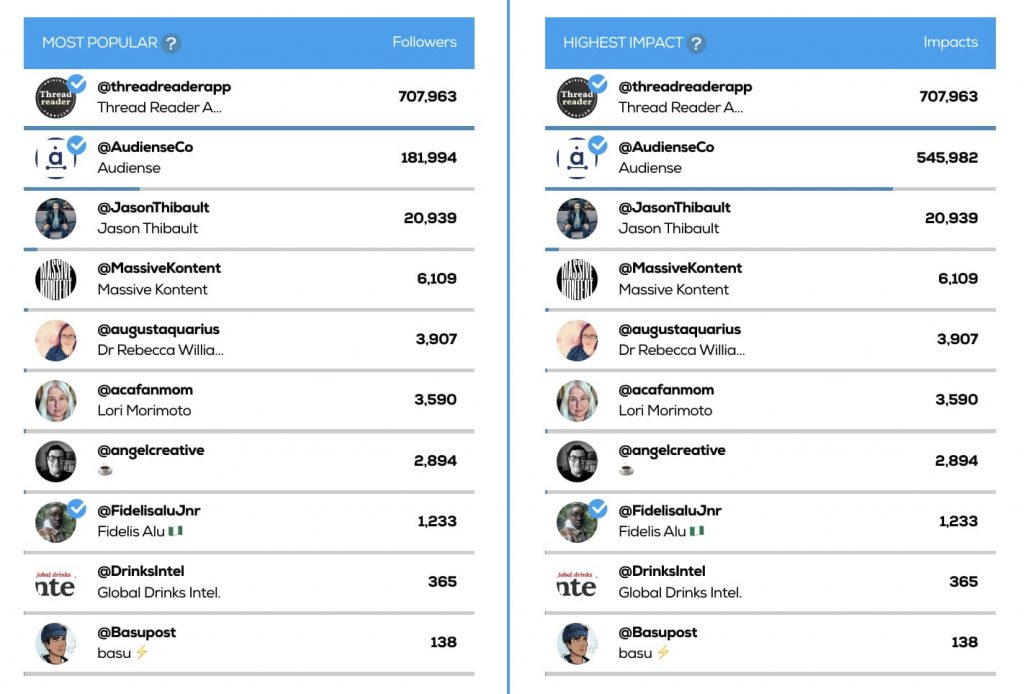 Mention reports also reveal the top accounts posting about you. Using these insights, you can measure the influence of your biggest supporters and plan engagement more strategically.
Use the search bar below to analyse any X / Twitter profile (@mention), keyword or hashtag for free. Just use the search bar below.
8. Find your niche and develop a brand identity
No matter what type of content you post on X, you need a well-defined niche and a strong brand identity. 
"Being authentic in a sea of millions of voices is key. This means being able to communicate and share content that is uniquely your own even if it's repurposed. The main thing is this 'being you' is what builds a tribe of followers who care deeply about what you have to say and more importantly trust your view points on a myriad of issues," shares Moses Kemibaro of @MosesKemibaro.
"If you don't build a brand that has its own identity, set of values, and sense of uniqueness, then you will get lost in the crowd," Adina Jipa cautions.
"All your content, products and services have to align with your unique brand voice and values," Adina elaborates. "Having your own identity and standing out for the things you believe in will help you build a loyal Twitter community around your brand."
If you're marketing an established business, your niche and brand voice will already be decided. But if you're building a community as a creator, you have a choice to make. How do you decide?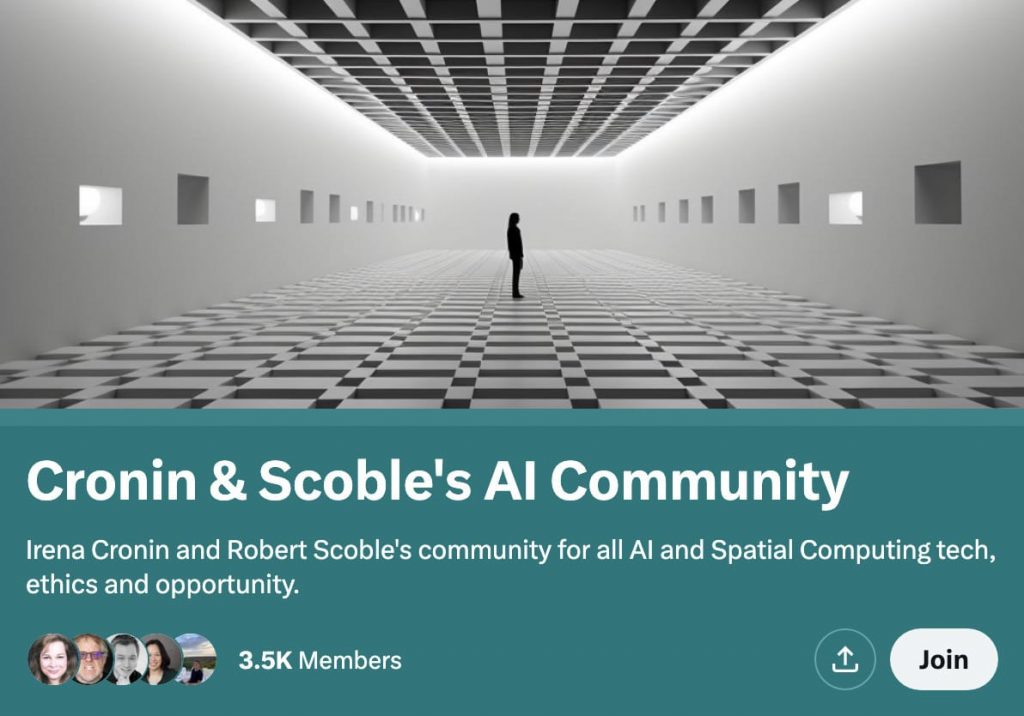 "Pick a niche that is growing fast and own it," Robert Scoble of @Scobleizer recommends. His focus on AI has allowed him to become a pioneer in this niche and establish the thriving AI community pictured above.
For Shushant Lakhyani, developing a brand identity around curated content was key to building authority in a new niche. "I got into content creation after working a year in Goldman Sachs, so I knew that I don't have a high credibility in any industry and I couldn't create high-authority content," he explains.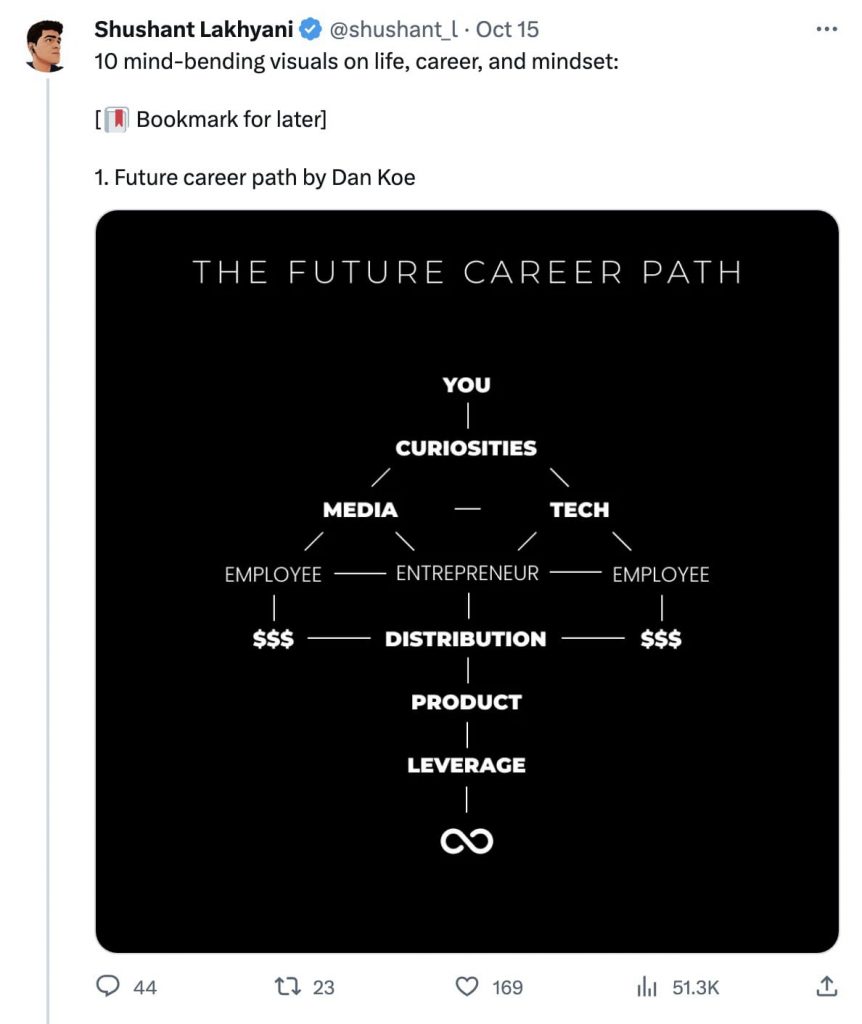 "This is what made me switch to borrowed credibility, in which you curate high quality content to ensure that it performs well in social media. Hence, content curation became my brand identity here." Above, the post by Shushant is an example of how he compiles other accounts' content into helpful threads.
9. Engage with replies, quotes, and mentions
When you want to get Twitter followers, Twitter content should be a key part of your strategy. But if you focus on publishing only, you risk broadcasting to your Twitter followers—or creating one-way conversation.
To build a community on Twitter, you need two-way conversations. 
"You don't need to trend to attract followers," Janet Machuka cautions. "You need to be in meaningful conversations that bring people together, to learn, have fun or share opinions."
The easiest way to engage your audience is to respond to their replies and quotes on your posts. To keep the conversation flowing, respond as quickly as possible. Shushant Lakhyani recommends replying within six hours to maximize reach.
Need a hand prioritizing replies as your account grows? With Audiense Connect, you can easily track mentions so you can respond efficiently and build deeper relationships.
You can find these insights by opening the "I Influence" dashboard in Audiense Connect. It automatically displays all the accounts that have mentioned or retweeted you during the selected time period.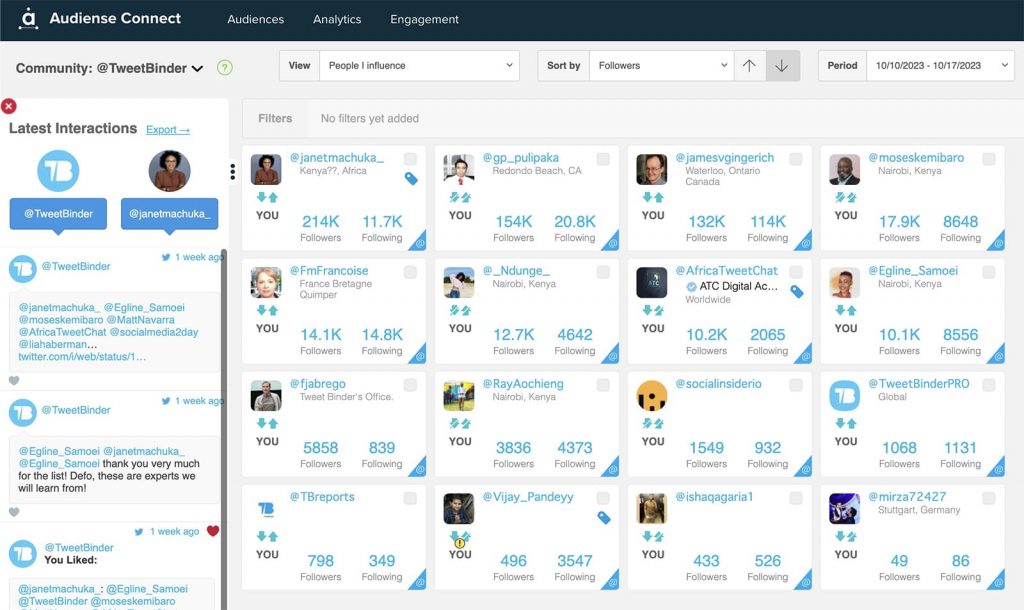 You can click any of the accounts to see a list of all your interactions. These insights can guide your replies and provide more context as you cultivate relationships with your community.
Sign Up for Audiense Connect today!
10. Engage with your community
If you're growing a small account or starting one from scratch, then you might not have many replies or mentions to engage with yet. That doesn't mean you should ignore engagement altogether. Instead, make engaging with other accounts' content a core part of your Twitter growth strategy.
"The first consideration when commenting on others' accounts, especially large ones, is speed," Assim shares. "Responding quickly, or, ideally, immediately after a new post is shared maximizes the chances of being seen by others and receiving a response from the account owner. This helps to get more profile visits and, eventually, new followers."
Assim recommends focusing on high-quality responses. "My goal is to contribute value, whether through insights, posing engaging questions, or sharing relevant experiences. Occasionally, I make somewhat controversial comments to attract attention and stimulate ongoing discussion."
One of the easiest ways to find accounts to engage with is reviewing your own Twitter followers. From the Audiense Connect dashboard, select the "Influential Followers" panel to see a complete list.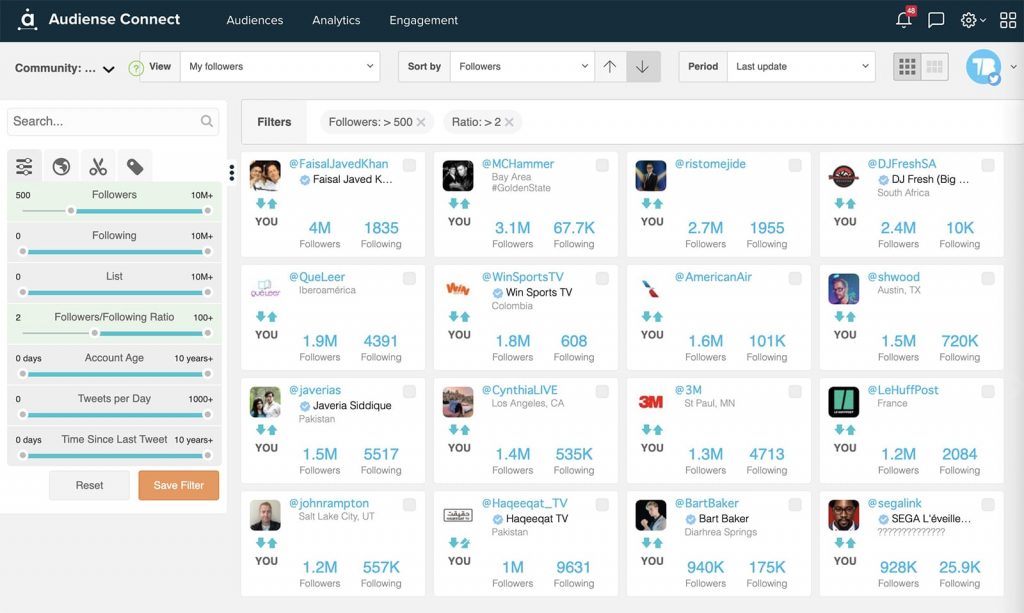 Here, you can see your audience, filtered by those who have at least 500 of their own followers as well as a followers/following ratio of at least 2. You can adjust these filters in the left sidebar to create your own definition of "influential."
Since these accounts already follow you, they won't directly contribute to follower growth. But engaging with their content can make your account more visible to their followers, which can help build your audience.
Sign Up for Audiense Connect today!
11. Connect with influential Twitter users
To accelerate your account growth even further, take a proactive approach to building your Twitter community. Many top creators devote as much as an hour each day to finding and interacting with influential users on Twitter.
"When I had like 30 to 1,000 followers, I would spend 30 minutes at the end of the night after dinner just engaging, commenting, replying, to 50+ people in my niche or similar fields," shares Milo of Notion4Teachers. "I would say that was the biggest driver of growth at the beginning."
Why is connecting with other users so important? "Building your social presence is like attending a new school where no one knows you," explains Kevon Cheung, who wrote Find Joy in Chaos, a book on building an active presence on X.
"You have to first connect with other students instead of going on stage to tell everyone how great you are," Kevon continues. "This is why engaging (replying to other people's posts) is always more important than posting."
Join X communities
What's the best way to start these conversations? "Join communities that engage in conversations you are interested in, and connect with people who interest you," recommends Janet Machuka. "For example, participate in #AfricaTweetChat community conversations that occur every Wednesday at 9 PM EAT."
Don't be a passive participant. "When you are part of these communities, ensure that you are visible and your contributions are read," Janet advises. "Engage by asking questions in the chat section and adding your thoughts. You can also request to be a speaker."
Search Twitter users
What's the best way to find who to follow on Twitter? "Utilize advanced search and targeted topics. This approach helps you connect with other people's content and bring new followers who can significantly enhance your personal and professional growth," Janet suggests.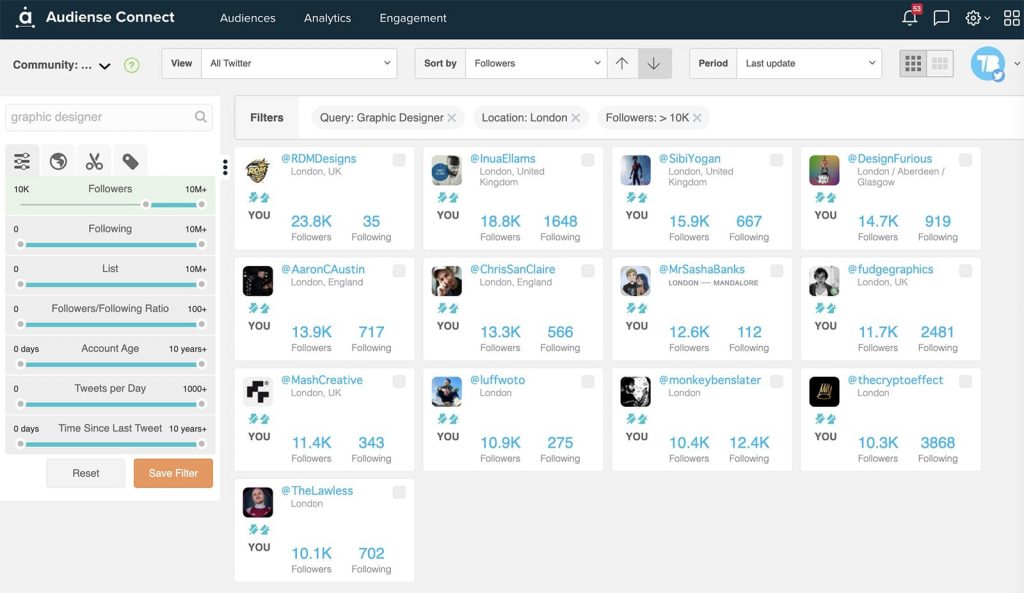 You can use Audiense Connect to do similar advanced searches. Once you've entered keywords and locations that match your ideal follower, you can use the filters to adjust the X accounts that display. For example, you may want to engage with accounts that have 10,000 or more followers or those that tweet in certain languages.
From your Audiense Connect dashboard, you can follow accounts directly. You can also add them to lists so you can find and engage with them more efficiently.
Sign Up for Audiense Connect here.
12. Promote your @name outside of X
If you already have a large audience on another social network, leverage it to get followers for Twitter. How? Promote your X username and share your best Twitter posts across networks.
In the Crocs Instagram post above, the shoe brand uses a viral tweet to engage followers and promote its Twitter content. Since the brand has over 2 million Instagram followers and 172,000 Twitter followers, cross-promoting on Instagram is a smart growth tactic.
In the Airtable Instagram post above, the software company publishes a screenshot of a customer tweet. The Instagram post easily accomplishes two goals: sharing social proof and increasing awareness of the brand's Twitter account.
13. Subscribe to X Premium
Technically, you can build an X audience and attract a large following without paying a fee. However, subscribing to X Premium (formerly Twitter Blue) gives you access to perks that can boost your growth.
"Premium definitely helps," Milo confirms. "My posts get seen by more people and I have more flexibility with DMs."
As a Premium subscriber, your replies automatically get prioritized in conversations. If you engage with other accounts' content, then becoming a Premium user can help your replies stand out and attract more followers.
With X Premium, you also unlock long-form content and longer video uploads. If you want access to this type of content to grow your audience, subscribing to X Premium is essential.
14. Run Twitter ads
In many cases, organic campaigns can help you reach your Twitter follower goals. But if you need to accelerate your progress, you can grow faster with Twitter ads.
The reach objective can get your content in front of more people, while the engagements and video views objectives can get people to interact with your content.
No matter which objective you choose, build your target audience carefully. Using Twitter Ads targeting options, you can reach your ideal followers using keywords, interests, conversation topics, or even follower lookalikes.
Remember that running an ad campaign can help attract followers. But you have to continue to post engaging content to maximize the value of these new followers.
Grow your Twitter followers today
As your audience grows, it's more important than ever to get to know your followers. With Audiense Connect, you can analyze followers, create target audiences, and find the best time to post content.
Sign up for Audiense Connect and start analyzing your Twitter followers at no cost.
Use the search bar below to analyse any X / Twitter profile (@mention), keyword or hashtag for free. Just use the search bar below.
Anna Sonnenberg is a social media marketer for B2C CPG brands and a B2B SaaS writer specializing in product-led and strategic content marketing for martech, sales automation, and productivity platforms.