This post is also available in: Español (Spanish) Français (French)
What is Twitter sentiment analysis?
Tweet Binder is offering now a new metric called Sentiment for English, Spanish and Italian (more languages to come). It shows if the analyzed tweets have been positive, negative or neutral. So, if you are running a campaign and you got 1,000 tweets we will be able to tell you if the users participating in it like it or not. Or we can now know if the Twitter mentions to a brand are positive or negative, or just neutral. This new metric, the Twitter sentiment analysis, is a strategic step forward. In addition, it is something users and clients demand heavily. It implies big consequences for our Twitter hashtag tracker as well.
We love Twitter analytics and hashtags analytics, we really do and it was about time to develop Sentiment Analytics, that's the truth. It is very important to have a correct understanding of this Twitter stat, we have worked hard for it and we hope you like it. Along with Twitter sentiment analytics, a new metric is ready! It will measure how positive or negative a report or hashtag is. This is the "Sentiment Score" and it is given in a score from 1 to 100. This way, a report with a Sentiment Score of 90 will be very positive whereas a report with a score of 10 will be quite negative. So, from now on Tweet Binder clients will be able to get Twitter sentiment analytics.
Try Tweet Binder sentiment analysis
When the FIFA Women World Cup is about to start (when you read this it will be over), let's analyze how Twitter feels about it. We search for #FIFAWWC  to run the twitter sentiment analysis and check the Sentiment stats tab. There, we can see how the Twitter sentiment is really positive for the football tournament. This is how it looks: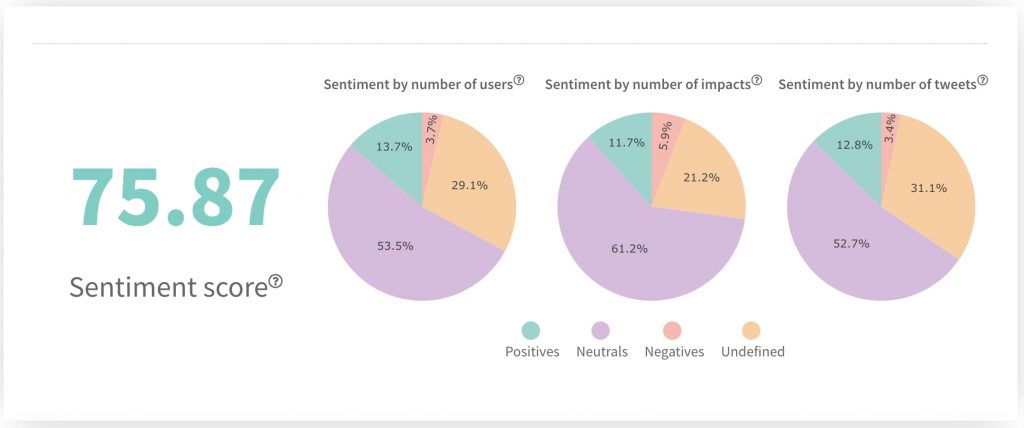 In the next picture you can see also the twitter sentiment analysis on the search for the president of Mexico: (why? why not)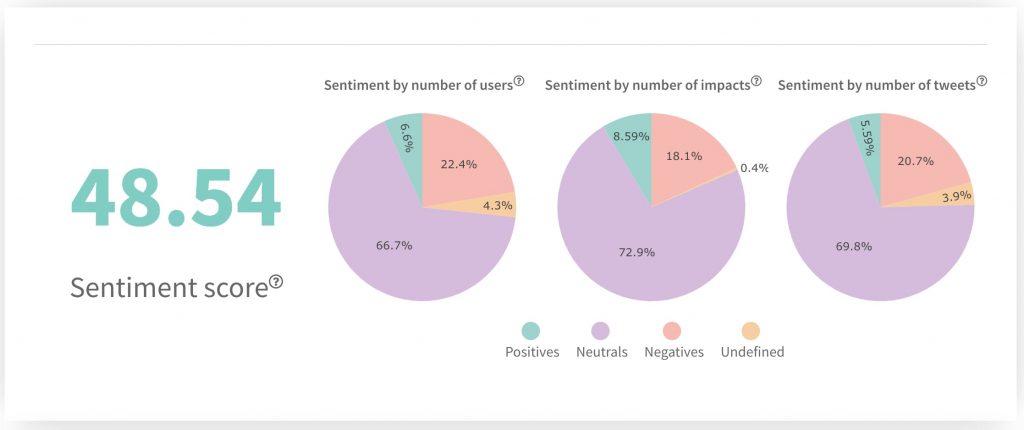 The Sentiment Score tells us how positive or negative a hashtag or campaign has been. Twitter sentiment analysis is not only about number of positive and negative tweets, that's how we feel, it is about knowing the general feeling of the users. Sentiment analysis tools analyze many aspects but many just focus on the number of tweets. At Tweet Binder we believe that things are not just positive, negative or neutral but that there are different scales inside each of those categories. As we always say, all the metrics get even more importance when they get a comparison with the same stats of other hashtag related to yours. If you analyze always with Tweet Binder, you will have the same patterns to compare. So, stay with us, always 🙂
Positive, negative and neutral tweets
The difference between these types of tweets might seem easy, but it is a bit more complex but easy to understand. A positive tweet is a tweet that throws a positive sentiment after having analyzed all its words. Sentiment analytics in Twitter is an amazing science because the system that analyzes Twitter information has to be so accurate in just a few words and in a network where irony plays an important role. Each word of the tweet has its own score that can vary depending on the context. For example: the word "amazing" has a high score, but if it is around the words "piece of sh**" like "amazing piece of sh**" then it is not as good. You can understand why this is so exciting.
To have positive tweets in your campaign is great, but it is more important to have more positive impacts. This is what twitter sentiment analysis is all about. This will be explained in the next section, but imagine this: you're running a campaign, what would you prefer: 10 positive tweets from 1 person with 5 followers or 1 positive tweet sent by @LadyGaga about your campaign. The Twitter impressions generated by Lady Gaga will be huge. In this posts we will explain how we have played around with all this Twitter sentiment analytics and we hope you feel proud of our work.
How to get a Twitter qualitative analysis
The aim of the Sentiment Score is to calculate how positive or negative a report is in general. This is calculated by taking into account a greater number of variables than just the number of positive and negative tweets. For Tweet Binder it is important to consider the number of Twitter impacts (or impressions) and users that have tweeted in a positive, negative or neutral way. Therefore, the Sentiment Score takes into consideration, in general lines, the following variables as we saw before:
Number of positive, negative or neutral tweets
Amount of users that have participated in the report
Number of positive, negative or neutral Twitter impressions (impacts)
Why have we chosen these variables? Because Tweet Binder Twitter sentiment analytics consider "more positive" that more users tweet in a positive way rather than just one. Meaning that if 500 users have tweeted positively about our hashtag, it is better than if just 1 user sends 500 tweets. For example:
500 positive tweets sent by 1 user = bad (probably spammer or someone associated to the Twitter campaign or event)

500 positive tweets sent by 100 users = better (it means that a lot of people agree that hashtag is great)
Same thing happens with negative tweets. Many times, the commonly named trolls will try to sabotage an event or campaign. These users usually send tons of tweets but they are not a big group of users. Meaning that a little amount of users will send a big amount of tweets (and probably they have a little number of followers). It is not very negative for the report that this little amount of users sends tons of tweets rather than if they were sent from a huge amount of accounts. For example:
500 negative tweets sent by 500 users = bad

500 negative tweets sent by 20 users = not that bad, probably someone trying to undermine the hashtag
Are Twitter impressions and followers considered to calculate the Twitter sentiment score?
In line with the above mentioned, the influence of those accounts is considered to calculate the Sentiment Score and to see how positive or negative our report has been. So yes, we have taken in consideration the impressions of the tweets to calculate the Sentiment Score. The influence is measured in this case by the number of followers having a greater impact in the Sentiment Score those accounts that have a greater number of followers. This way, if a user with tons of followers tweets in a positive way about our event, it will have a greater impact in the Sentiment Score. For example:
Positive tweet sent by a user with 10 followers = little impact

Positive tweet sent by a user with 30,000 followers = greater impact
Tweet Binder has created an equation that normalizes the values of the Twitter sentiment analysis. Reports can be classified in five different ways depending on their Sentiment Score:
From 0 to 20 points: Very negative report

Out of 21 to 40 points: Negative report

From 41 to 60 points: Neutral report

Starting from 61 to 80 points: Positive report

From 81 to 100 points: Very positive reports
So, from now on, Tweet Binder's PRO reports will show this score next to the main stats. This score, as mentioned above, will be from 0 to 100.
Positive and negative Twitter sentiment about Pepsi and Coca Cola
We are Tweet Binder and we love examples, what can we do? We really like to explain things with examples. In this case we have chosen two of the major soda brands in the world: Coca Cola and Pepsi and we have calculated their Twitter mentions since 4th of June until now. Twitter sentiment analytics are very interesting when analyzing top twitter accounts such as these ones.  Surprisingly, they have almost the same number of mentions, around 6.000. Now we will see how users think about them, if positively or not. For that we will use the Sentiment score that combines number of tweets (positive, negative and neutral) impressions and users.
| | | |
| --- | --- | --- |
| Brand | Number of tweets | Sentiment score |
| Coca Cola | 6,371 | 61.48 |
| Pepsi | 6,138 | 80.77 |
Pepsi is winning in this case, almost 20 points difference. We have run the sentiment analysis for these accounts but you can have it for anything that you need to analyze. Can you imagine having a Twitter sentiment report for all the bitcoin Twitter buzz that was generated some years ago? Well, with Tweet Binder you can! Discover the sentiment of the tweets that were sent during 2015 by requesting a Twitter historical analysis.
Sentiment analysis tool: Tweet Binder
The incorporation of this new metric, increases the value of a Tweet Binder report. Tweet Binder is now a sentiment analysis tools and we are proud of it. Twitter sentiment analysis with python or whatever technology is a great way to enrich your reports. With this new release, more new Twitter metrics have been added to the reports. For example, users are now ranked by the average number of Twitter likes they get per tweet. This helps to identify users who are engaging with the hashtag. As was aforementioned, the Twitter sentiment analytics is a PRO feature, but users can still get Twitter analytics for free. Stay tuned because Tweet Binder will be releasing new features!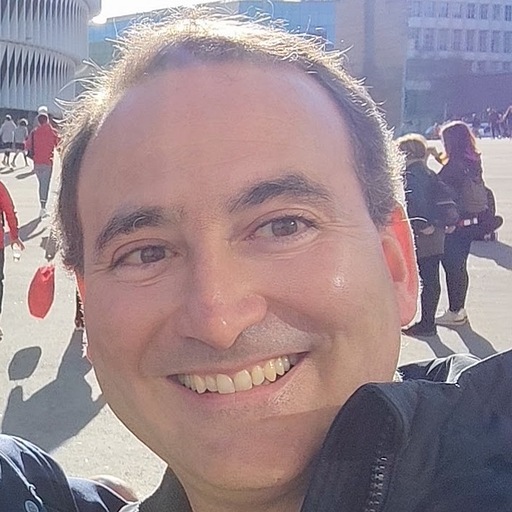 Javier is the founder and CEO at TweetBinder. With more than 10 years of experience in Twitter Analytics space, he is on the mission to build best-in-class Twitter marketing tools helping X community to thrive.