Whether you have 100 X followers or millions, you need to know your audience. Twitter follower demographics reveal who your community is and what type of content they like. So, you can improve tweets performance.
In this article, we'll cover how to find Twitter audience demographics. In addition, we explain what you can learn from them. And how you can use this data to improve your Twitter marketing strategy.
What are X / Twitter follower demographics for? 
Twitter follower data help you understand the characteristics of your audience. This data can answer questions like:
Are you attracting the right followers for your brand?

Are you creating the right content for your audience?
With the right Twitter analytics tool (see our recommendations below), you can access data like:
Location:

Which countries and cities do your followers come from?

Gender:

Are your followers mostly male or female?

Language:

Which primary languages do your followers speak?

Interests:

What topics does your audience care about?
How to find audience demographics on Twitter / X
Wondering where and how to find audience insights on Twitter? Here's how to get follower data with Audiense Connect.
Find gender demographics of Twitter followers
What's the gender breakdown of your X (Twitter) audience? Is it similar to the gender of your customer base?
Audiense Connect charts male, female, and followers with unknown gender. The graph shows percentages and total counts.
Curious where these Twitter audience analytics come from? X infers user gender based on account activity, including self-reported pronouns.
Get locations of your Twitter followers incl. countries
Are your followers from countries where you do business? Are they based in cities where you're thinking about expanding?
Audiense Connect maps your followers around the world. Hover over any country to see a percentage and a total number.

Curious how to find Twitter follower demographics with more detailed location data? Check the "Cities" panel. The tag cloud shows followers' cities, displaying the locations that are most popular with your community the largest.

View languages of your Twitter audience
Does the language you use to tweet match your followers' main language? Or are other primary languages more common for your audience?

Audiense Connect charts your followers' main languages. Hover over any language to see which are most popular among your community. Then use the ideas in the next section to act on these analytics.
What is the best time to post on Twitter / X 
Do you choose the best time to post on Twitter? Can you get more impressions and higher engagement rate if you choose the best time to tweet on X?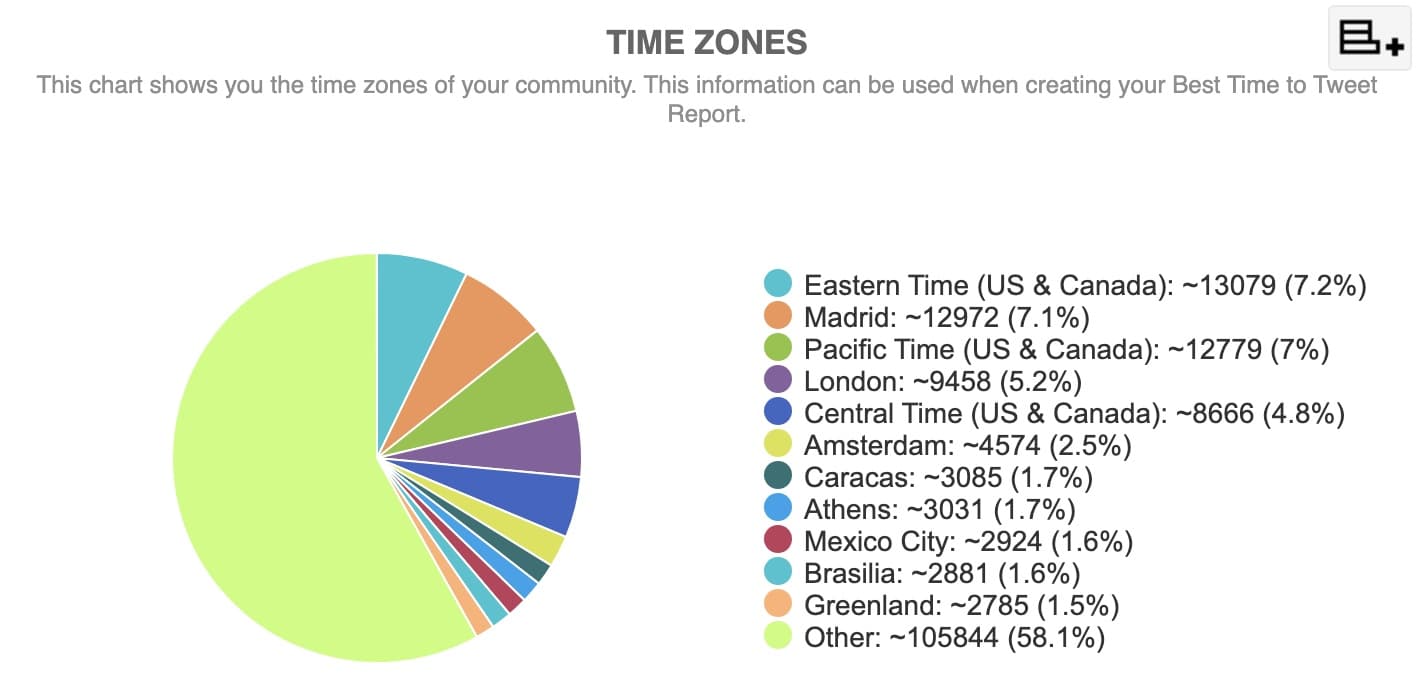 Audiense Connect shows the time zones where your followers are based. With this data, you can get an idea of the best time to post on Twitter. But you don't have to guess.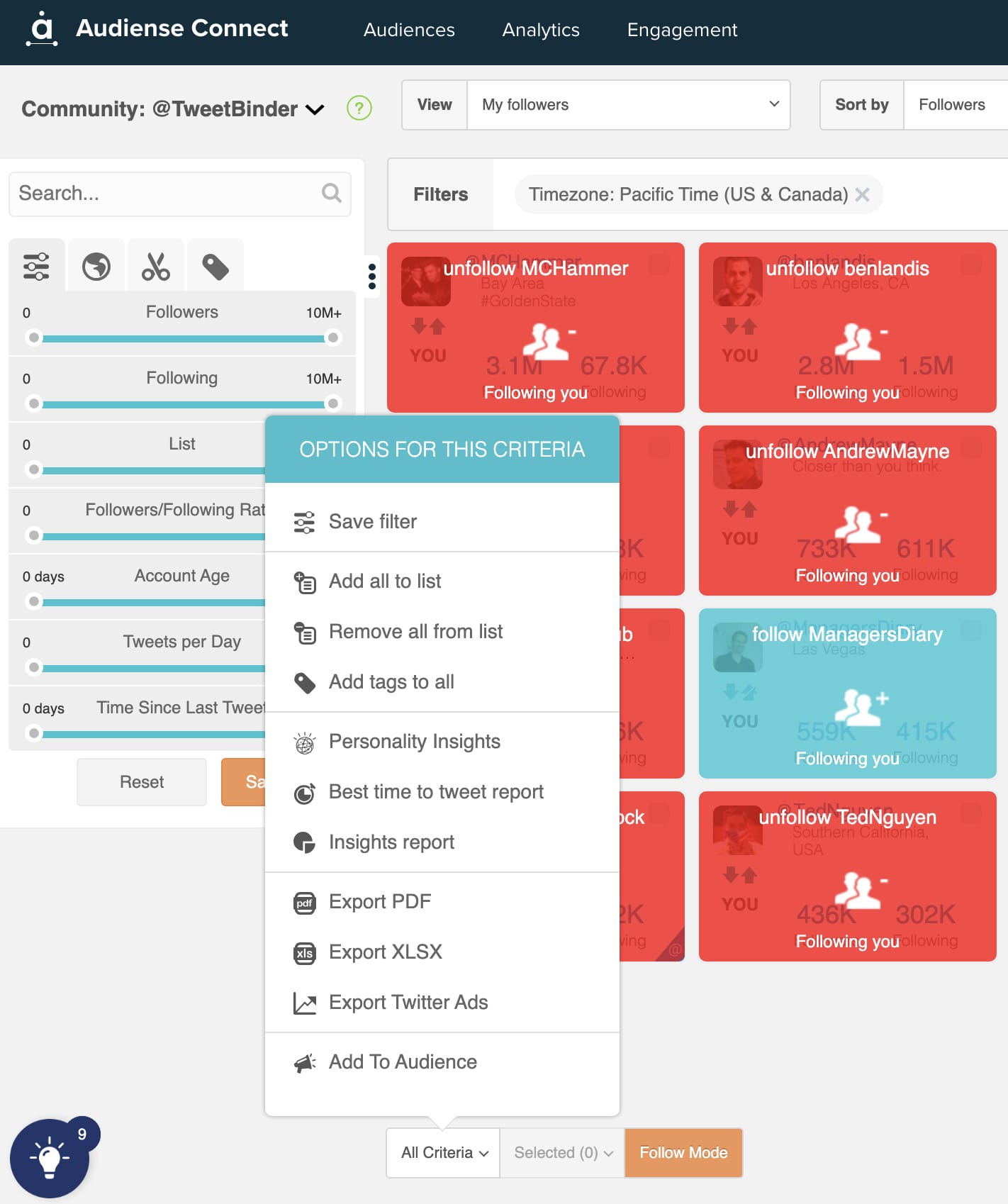 If you select any time zone, you'll see a complete list of all the followers based on that time. From there, you can create a custom best time to tweet report.

Get X audience insights on followers interests
What topics does your audience care about most? Do your followers' interests align with your brand?

Audience Connect's bio tag cloud shows the most popular keywords from your followers' X bios. Hover over any of them to see how many followers use that keyword in their bios.
Can I get age demographic info on my Twitter followers?
No, it isn't possible to access Twitter age demographics for organic followers. You won't find this data in your X analytics dashboard or in third-party tools.
Are audience insights available in the Twitter analytics dashboard?
When it comes to follower demographics, Twitter stopped providing these Twitter stats years ago. The Twitter Audience Insights dashboard launched back in 2015. However, the platform removed audience analytics data in January 2020.
If you check your Twitter analytics, followers is the only audience data that displays now. In fact, all you can see is your total followers and the number you lost or gained over the past 28 days.
How X follower demographics can help you 
Now you know how to see your Twitter follower demographics analytics. The next step is using this Twitter follower analysis to guide your strategy.
Best time to tweet
To keep your Twitter profile engaged, you likely tweet several—or even dozens—of times per day. But are you posting when your followers are active and likely to engage with your content?
The timing of your tweets matters more than you might think. The X algorithm aims to display recent, relevant posts on users' "For You" timelines. Since recency is a factor, it's important to tweet when your audience is active.

To make sure you post at the right time, create custom reports for the time zones that are most common for your audience. Use the potential exposure and online users reports to gauge the likely impact.

Instead of posting the same content for each time zone, use the best time to tweet report to see which topics to focus on. This report also shows popular topics and hashtags for each audience.

Remember, you don't necessarily have to tweet in real time. Optimize your content for various time zones. Then schedule it to publish at the best times for your audience.
Discover what to post about on Twitter / X
Maybe your recent tweets underperformed, getting much less engagement than you expected. Or perhaps you're out of content ideas and need inspiration for your next campaign.
You can get plenty of ideas from Twitter analytics demographics. Use the bio tag cloud to identify topics your audience cares about. Then put these topics at the center of your X content strategy.

For example, the bio tag cloud above features keywords like marketing, social, and content. But terms like founder and business are also popular for this audience, offering new angles for the account's tweets.
Tailor tweets to your target audience
It's easy to assume you know who your followers are. But when you check your Twitter analytics, audience location and gender balance data might surprise you.
When you know where your followers are based and whether they skew male or female, you can create much more relevant content. You can essentially localize your content and post about places, events, and issues your audience cares about.
If you successfully tailor tweets to your target audience, a couple things can happen:
Your content may resonate more with your audience, giving you a better chance to build an engaged, loyal community.

Your content may appear on the "For You" tab of X users who don't follow you yet—but who fit your target audience.
Use the languages of your followers
Do your followers mainly speak languages that your X account doesn't? Your audience can always use the "Translate" button to understand your tweets.
But speaking your audience's language is key to building an engaged community. It's also critical to getting your marketing messages across.

For example, the account above tweets mainly in English. However, almost 30% of its audience speaks Spanish.
Once you know which languages your audience speaks, you can test some tweets for them. You might also consider creating separate brand accounts for each main language so you can customize the content for each audience.
Best Twitter follower demographic tools
X doesn't provide audience analytics, so you need a third-party tool instead. Here's how to see Twitter follower demographics using three top tools.
Audiense Connect
Audiense Connect is a Twitter marketing and audience research tool. It's designed to help you find new followers and understand your audience so you can build a community on X more effectively.
Twitter audience demographic and interest data is just the beginning. Audiense Connect also monitors changes in your audience, including new follows and unfollows as well as inactive followers.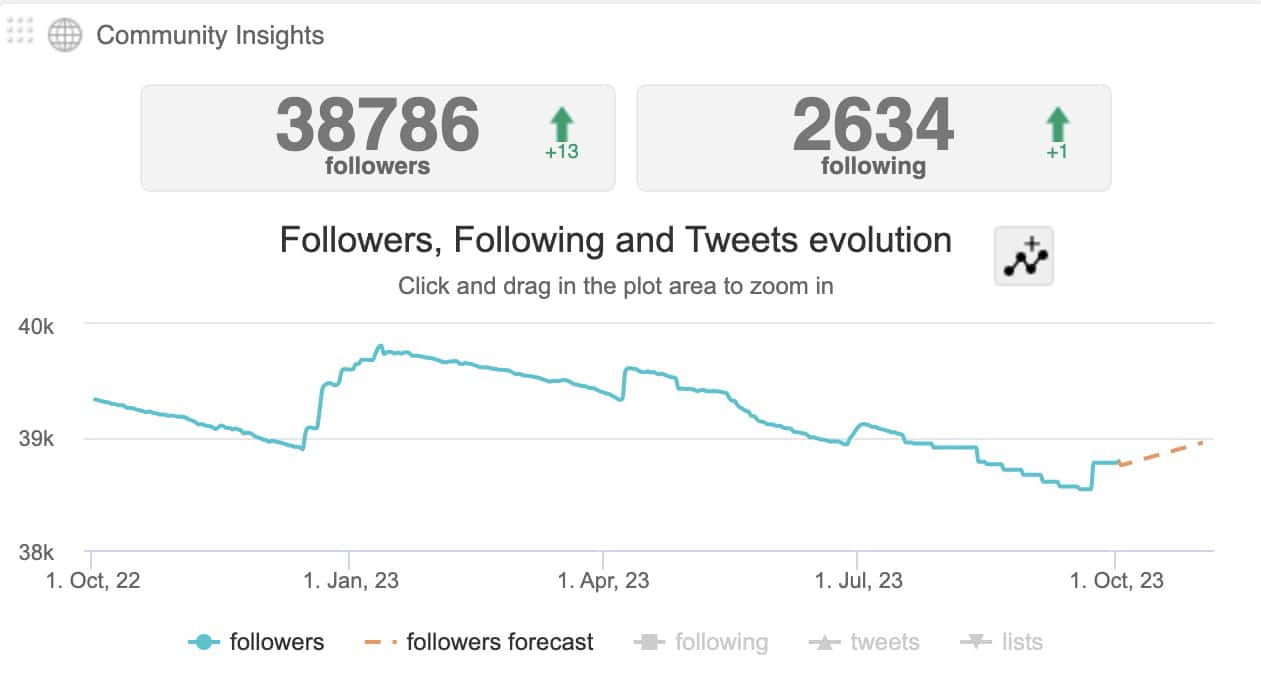 You can use it to find your influencers and your most famous followers, which can help you expand your reach. Audiense Connect can even track engagement stats so you can make sure your tweets resonate.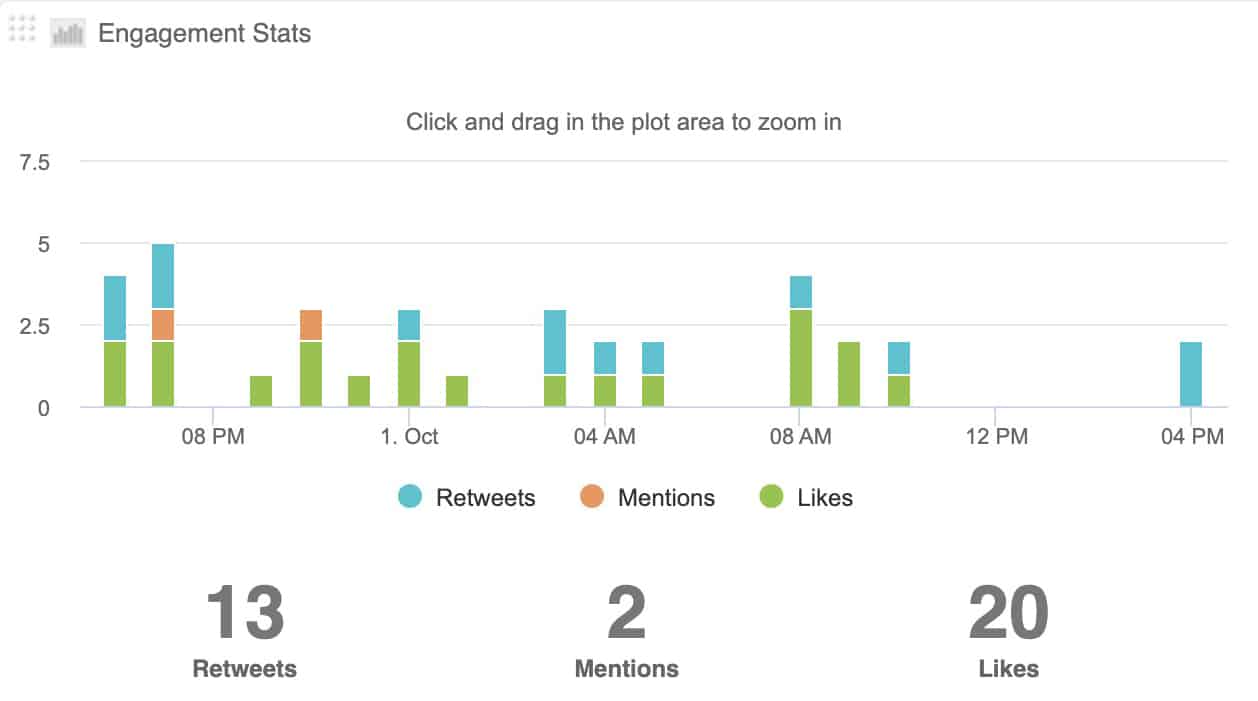 In addition, Audiense Connect can also analyze competitors' audiences so you can keep an eye on their growth. And with custom audiences, you can monitor events and listen in on conversations in real time.
Fedica
Fedica (formerly Followerwonk) is a social media publishing and analytics tool. You can also use it to find accounts based on locations and interests in users' bios.

With Fedica's analytics, you can evaluate your brand's X account or competitors. In addition to providing Twitter follower demographics, this tool can also compare accounts to find common followers.
Circleboom
Circleboom is a Twitter management tool that provides follower insights, audience tracking, and X account analytics. It provides X audience demographic data and can help you find fake accounts.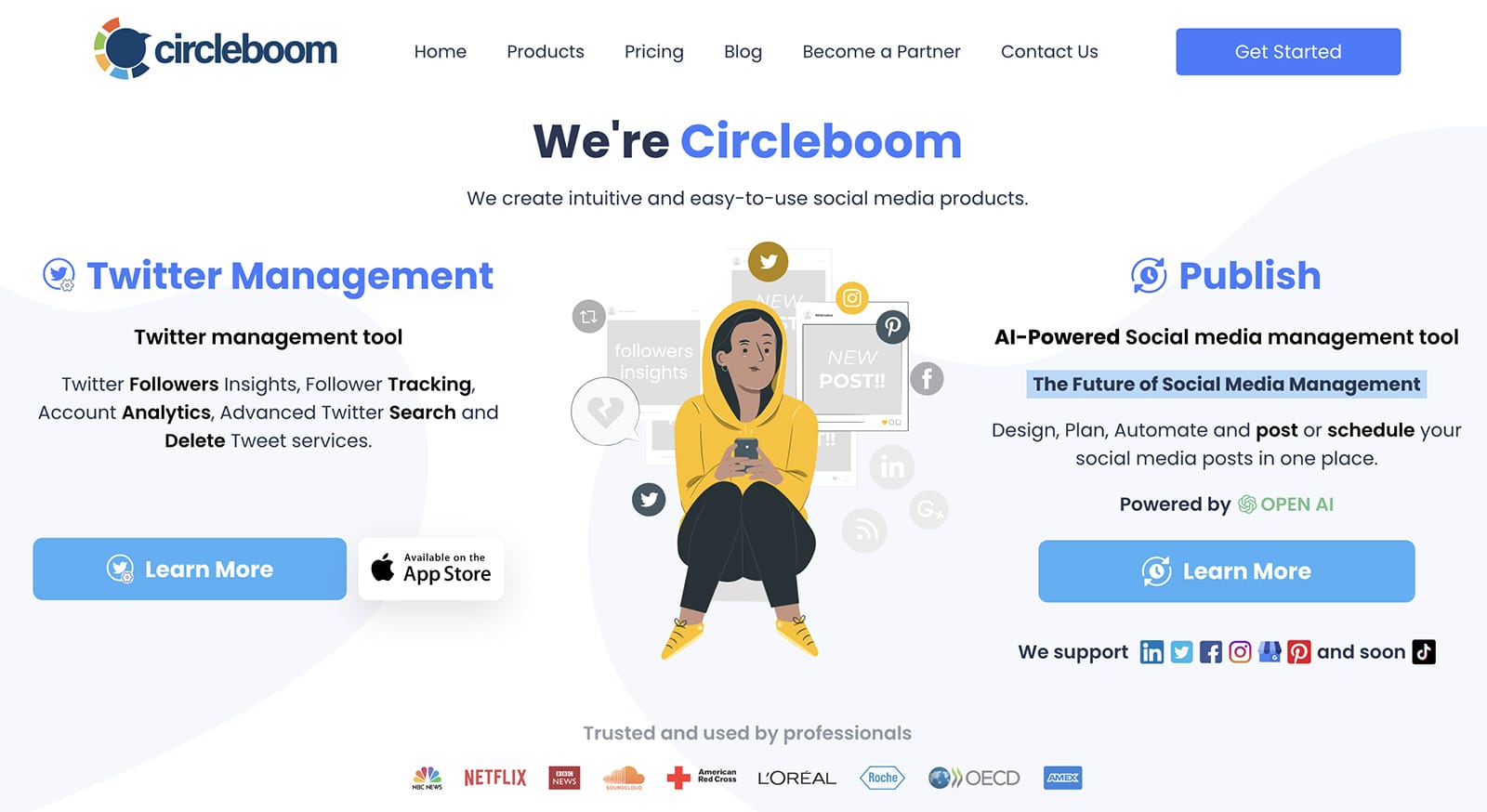 Circleboom can also manage your Twitter engagement and archive. With this tool, you can unlike likes, delete reposts, and give your account a new start.
Use X follower demographics for your benefit
Knowing your X audience is crucial for creating relevant content and building a community. With Twitter analytics follower demographics, you can improve your tweets, refine your campaign strategy, and post at the ideal time.
Sign up for Audiense Connect and access your Twitter audience demographics today. You can start analyzing your X followers at no cost.
Anna Sonnenberg is a social media marketer for B2C CPG brands and a B2B SaaS writer specializing in product-led and strategic content marketing for martech, sales automation, and productivity platforms.