This post is also available in: Español (Spanish) Français (French) العربية (Arabic)
Everyone from small businesses to individuals aspire to build a following community on Twitter. This is tricky. But, it's possible, if your strategy is informed by Twitter analytics and data. That is to say, X analytics is crucial for fostering engagement, increasing reach, and building a thriving community on Twitter. 
Launched in 2014, Twitter analytics provides valuable insights into key metrics.  For instance, you can analyze follower growth, tweet impressions, engagement rates, profile visits and more. Twitter analytics dashboard helps to gain a deeper understanding of your audience's preferences, identify the most engaging content, and tailor your strategies accordingly. 
However, if you want to go beyond native X analytics, take a look at free X / Twitter analytics tools and their capabilities. They allow you to delve deeper into your own account analytics as well as analyze data for other Twitter accounts. 
In this X analytics guide you will learn:
The power of advanced Twitter analytics.

How it is different from Twitter's own analytics.

How to use X analytics to optimize a content strategy, improve engagement and grow followers on Twitter.
Read on to learn more or get instant Twitter stats and insights about any keyword, hashtag or account out there. Simply put it into the search bar below. Example: @tweetbinder.
What is X (Twitter) Analytics?
The X analytics dashboard allows you to track and understand various metrics. This is essential for building and nurturing a community on Twitter. 
You can check the number of followers you have, the reach and impressions of your tweets. In addition, check the engagement rates of tweets (likes, retweets, replies), and track performance over time.
These metrics are incredibly helpful for community builders, social media marketers or marketing agencies. They provide a deeper understanding of your Twitter audience and help you make data-driven decisions to foster engagement and growth.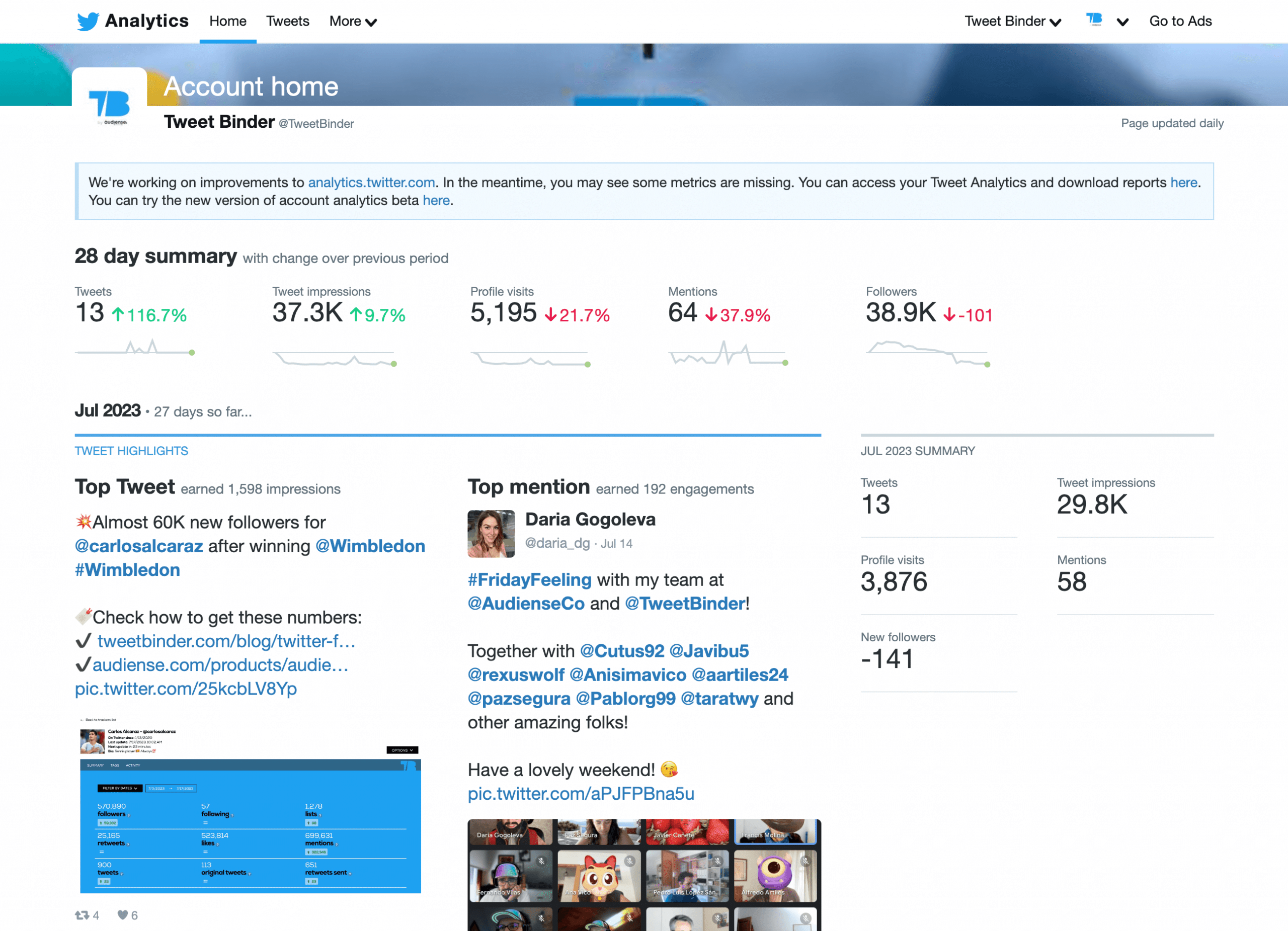 For example, engagement rates of your tweets give you an insight into the type of content that resonates the most with your community. Moreover, you can also track your follower count over time to measure your community's growth and the effectiveness of your strategies.
In addition, you can dive even further into the metrics in X analytics using third-party Twitter tools. These can help you:
Monitor hashtags that generate the most engagement.

Discover the best time to tweet.

Find topics to write about.

Analyze the demographic information of your followers.

Analyze other Twitter accounts.
Uncover Twitter following demographics for your own or any other account on Twitter. Signup for Audiense Connect – free Twitter community analytics and management tool.
Use the search bar below to analyse Twitter profile (@mention), #hashtag or keyword for free. Up to 200 tweets in the last 7 days. 
Benefits of tracking X (Twitter) analytics
So what are the benefits of tracking Twitter analytics? Simply put, tracking analytics on Twitter can help you:

Track your Twitter growth.

Identify the content your audience enjoys most.

Get insights into your Twitter community.
Let's dive into this a little further to really reap the benefits.
Track your Twitter growth
Monitor the Followers metric to track follower growth patterns over longer periods. The Followers metric displays the total number of followers and the follower evolution over previous periods.

In addition, if you scroll to the Analytics dashboard, you will see the total number of New followers month by month.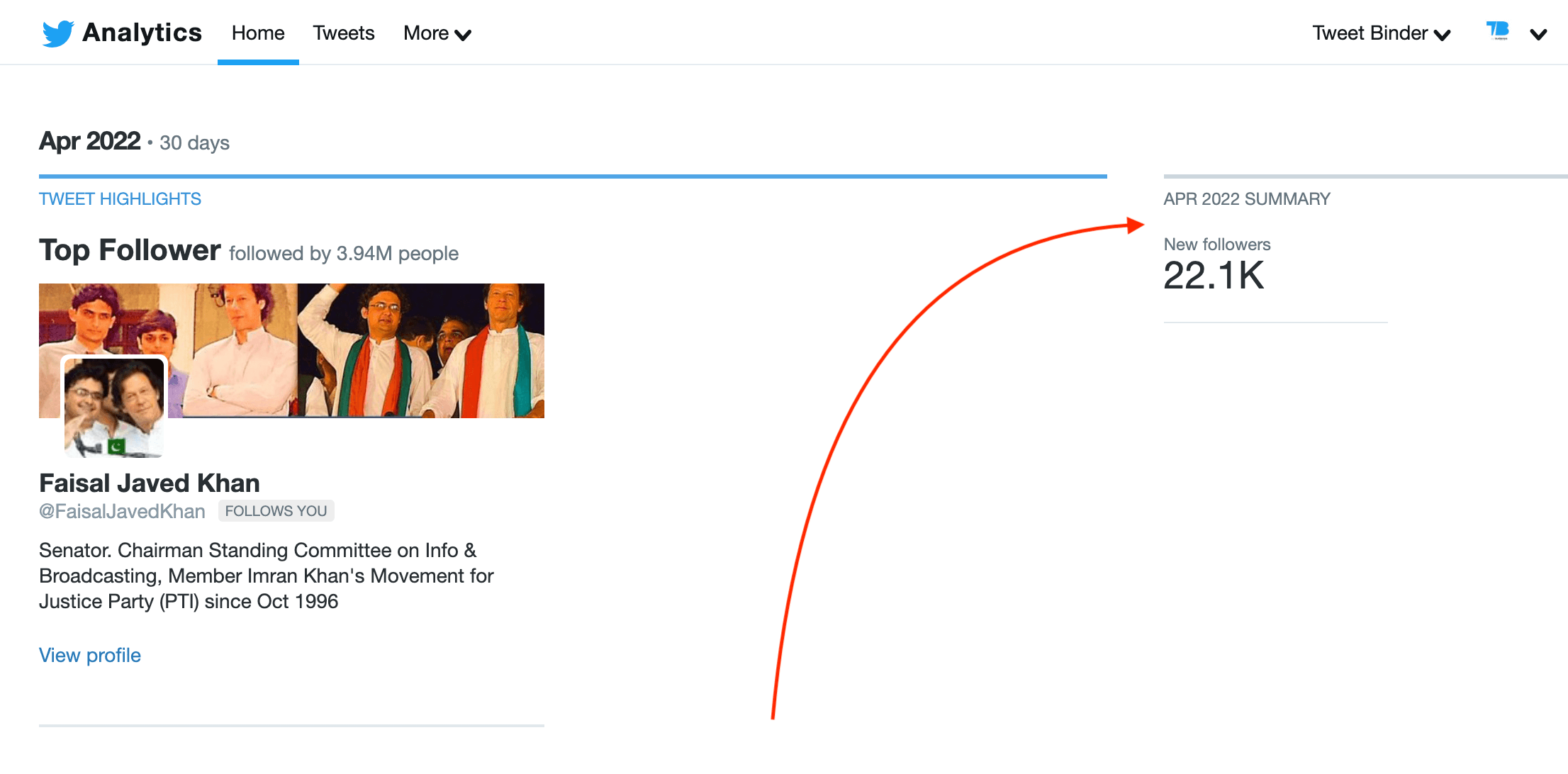 On the other hand, if you want to track follower growth in a more advanced way you can leverage the capabilities of free third-party tools.
For example, in Audiense Connect you can access detailed Twitter stats. The following metrics are available:

detailed follower growth graph,

numbers of recent follows and unfollows,

and more.
Moreover, if  to click on the numbers you can discover the Twitter accounts behind these numbers.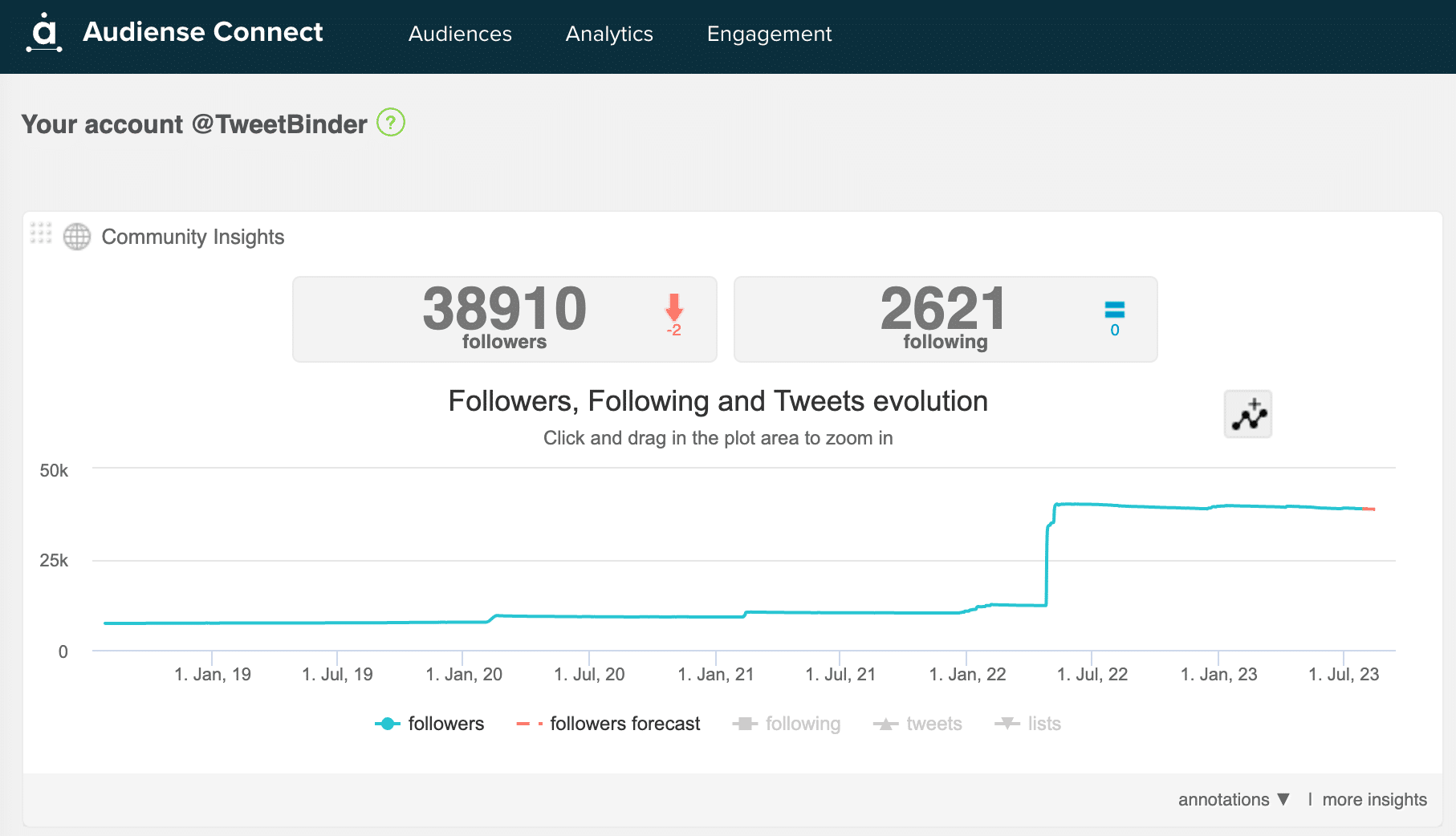 Signup for Audiense Connect and track followers growth on Twitter over time.
Relative reading – How to Grow Twitter Followers: 14 Expert Tips Get More Followers.
Identify the content your audience enjoys most
In X (Twitter) analytics you can access detailed information about each of your tweets. This metrics help to find content that drives engagement and resonates most with your audience.
To do that, look at various metrics related to your tweets' performance over time period in a chart form:
Impressions – number of times users saw the tweet on Twitter.

Engagements – total number of times a user interacted with a tweet (it includes any links, retweets, replies, follows and likes).

Engagement rates – the number of engagements divided by the total number of impressions.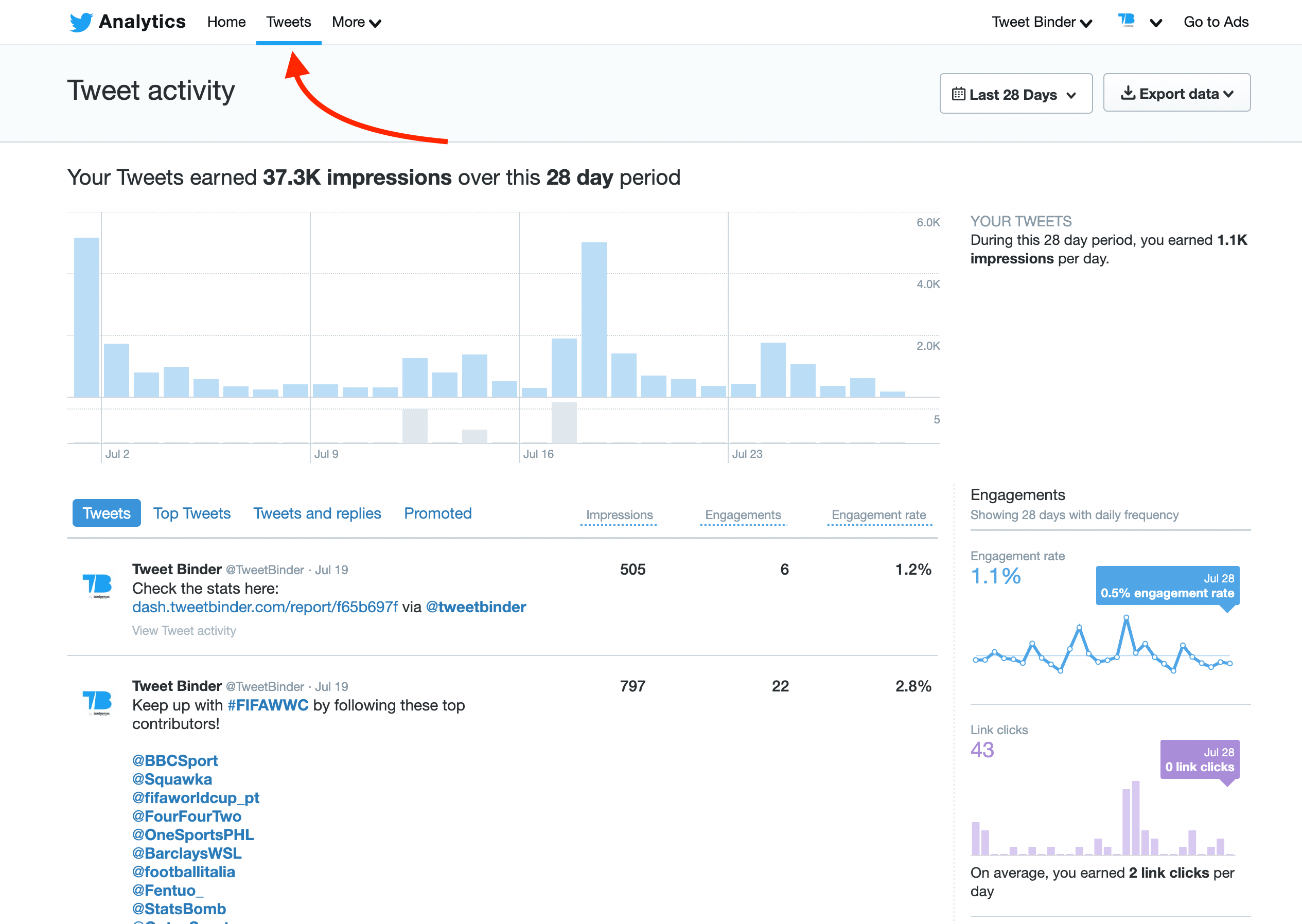 Click on a particular tweet to access the "Tweet Activity" popup with more detailed performance data.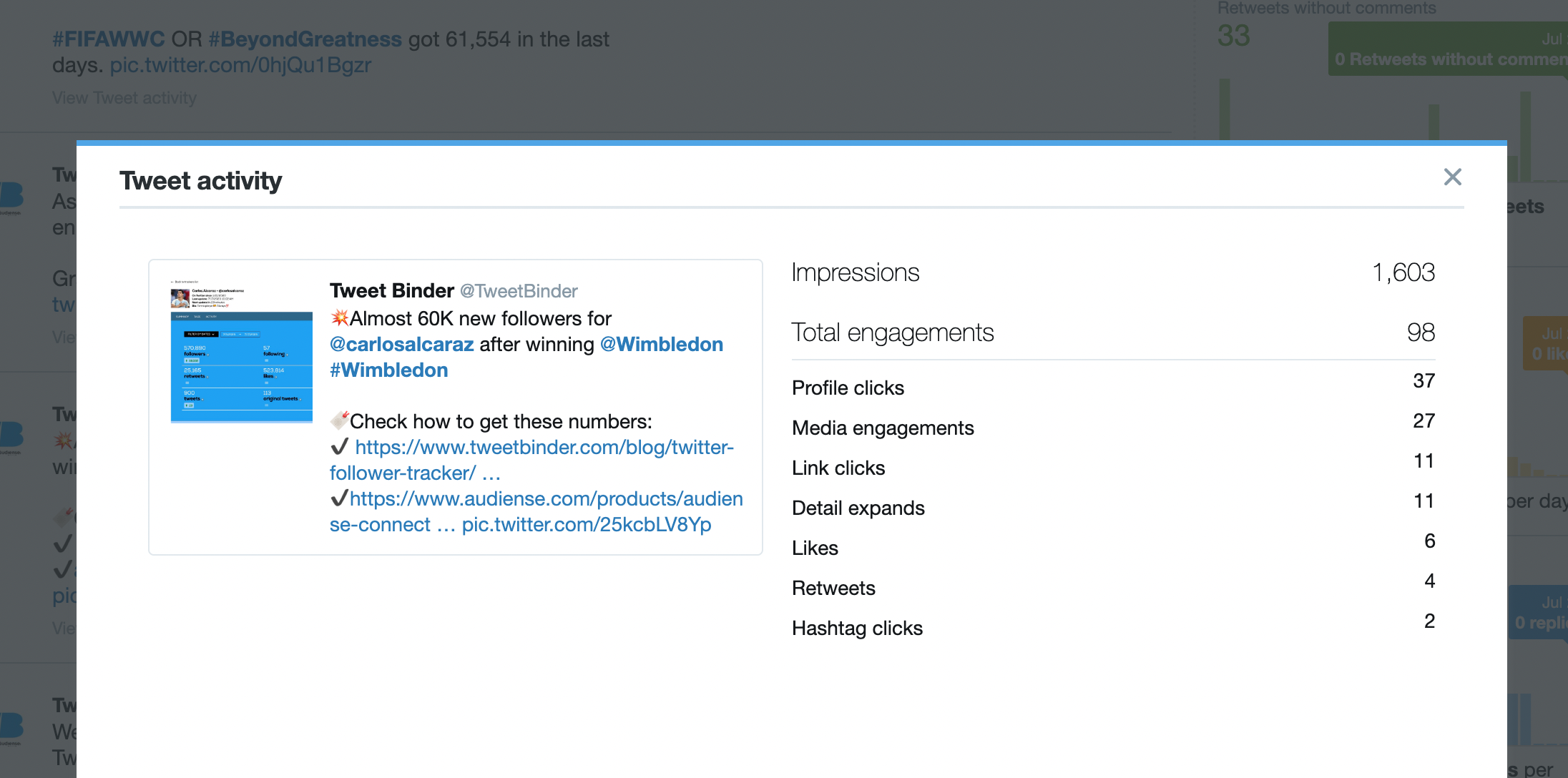 In addition to accessing basic metrics, you can compare performance metrics for different tweets. This way, you can understand what drives most impressions and what drives the most community engagements.  
However, if metrics are not satisfying, you should think of changing your strategy. Conduct topic ideation research to find new content ideas and reach new and wider audiences. You can analyze hashtags, keywords, and mentions related to your desired topic. Most importantly, this analysis will help you determine whether the topic is in demand and identify the existing contributors and conversations surrounding it. 
Use the search bar below to conduct your topic ideation research.
Twitter audience analysis 
The content you produce should bring value and community engagement. The better you do Twitter audience analysis, the better you know your Twitter audience, the better content you post. So, it is important to know your community well. 
For instance, by looking at impressions and engagement rates you can assume whether your community is active, loyal and engaged.
But that's just the tip of the iceberg. Who are these people? How have they identified themselves in their bio? What languages do they speak? What are they interested in and talking about that you could tap into?
Answers to these questions help you to put a face to the Twitter data.

However, pure metrics won't give you the answers. To understand Twitter audiences behind just the number of followers you can use third-party X analytics tools like Audiense Connect.
Keep in mind that you can analyze owned Twitter accounts as well as other Twitter accounts. For example, look at the best time to tweet, audience demographics, activity rates, search in bios and more. 
With this kind of insight, you can steadily build a thriving community that will benefit your business. 
How to access Twitter analytics dashboard
Twitter provides its own reporting dashboard for all accounts that are at least 14 days old. 
To access Twitter analytics on web:
Either click the link

or 

Navigate to the left-hand side menu and click on

More

, then select

Creator Studio

, and finally click on

Analytics

.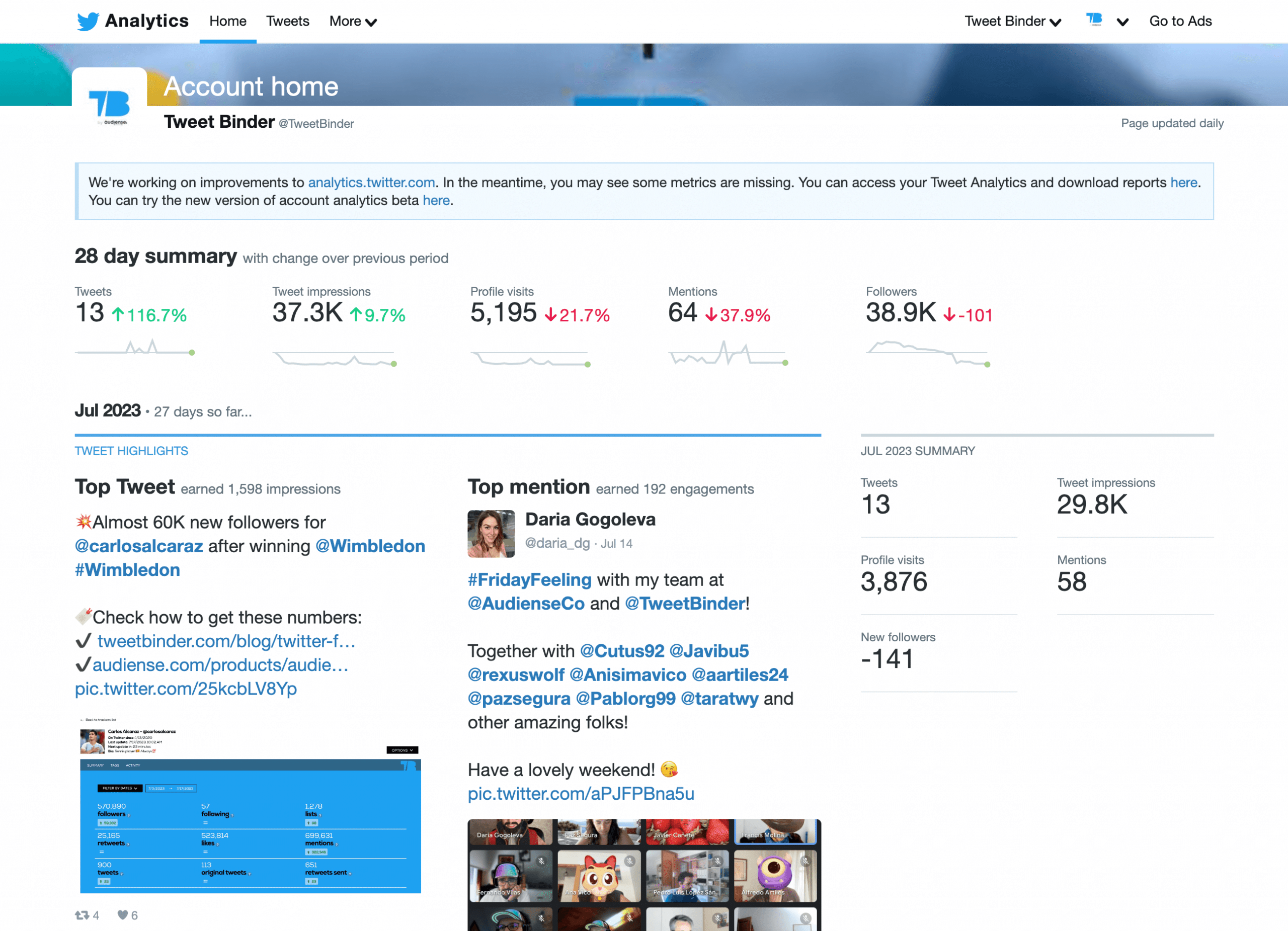 Bear in mind that Twitter is working on a new version of account analytics. You get beta access to it from the blue notification from the X (Twitter) analytics Home page here. 
Alongside the Analytics header on the top menu, you will find several main tabs to explore. 
Be sure to check out:
Home

tab for an account summary.

Tweets tab

to check individual tweets performance.

Click More, then

Videos

to check the performance of your videos. 

Check

Conversion Tracking

and

Events Manager

if you run ads on Twitter.
Please be aware that the complete X/Twitter analytics is not accessible through the mobile app. 
However, you can still check the performance of individual tweets:
On a mobile device go to the tweet you want to gather data on.

Click on the graph icon in the bottom right-hand corner of that tweet.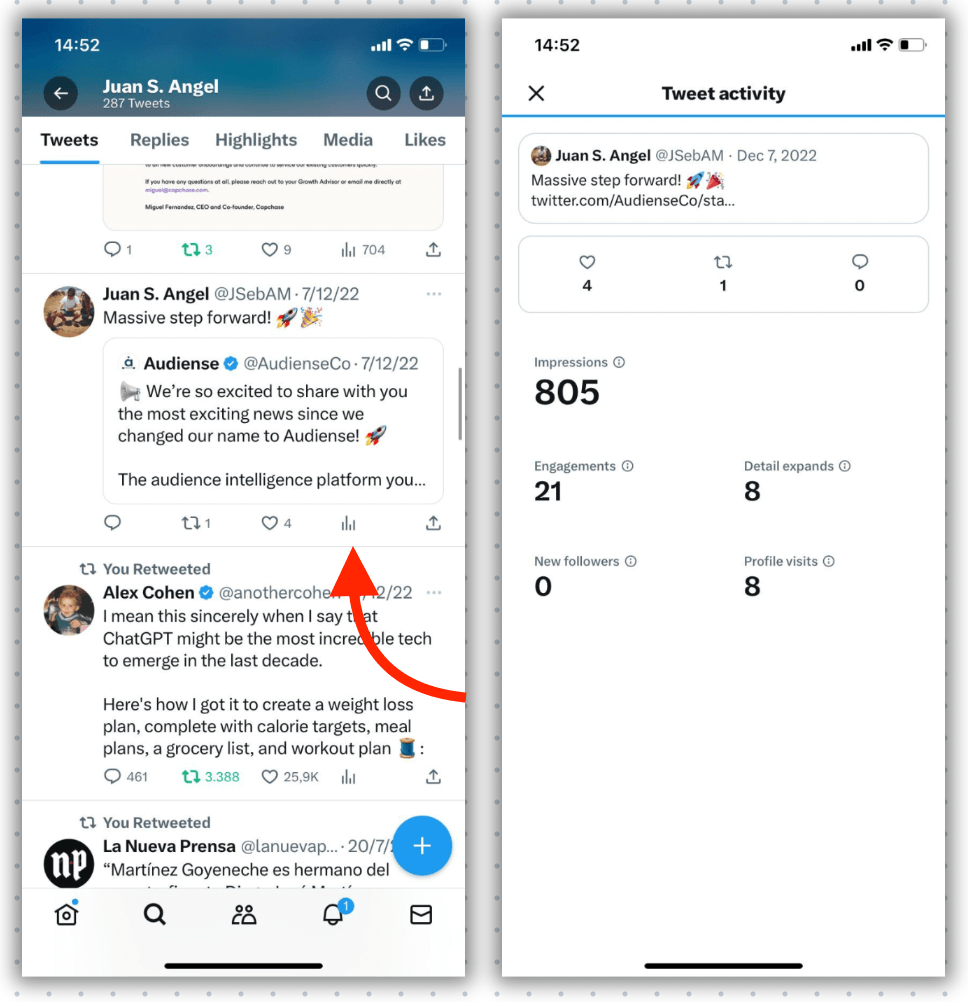 If you can not access Twitter analytics dashboard read these Twitter requirements for more information.
Maximize X (Twitter) analytics – Explore Beyond the Native Options
If you don't leverage Twitter analytics beyond native options, you leave your Twitter success on the table. 
If you want to take your Twitter presence to the next level, you need to go beyond the native data available in the tool. While the in-built X analytics tools can be a useful resource if you're just starting out, they offer fairly limited insights.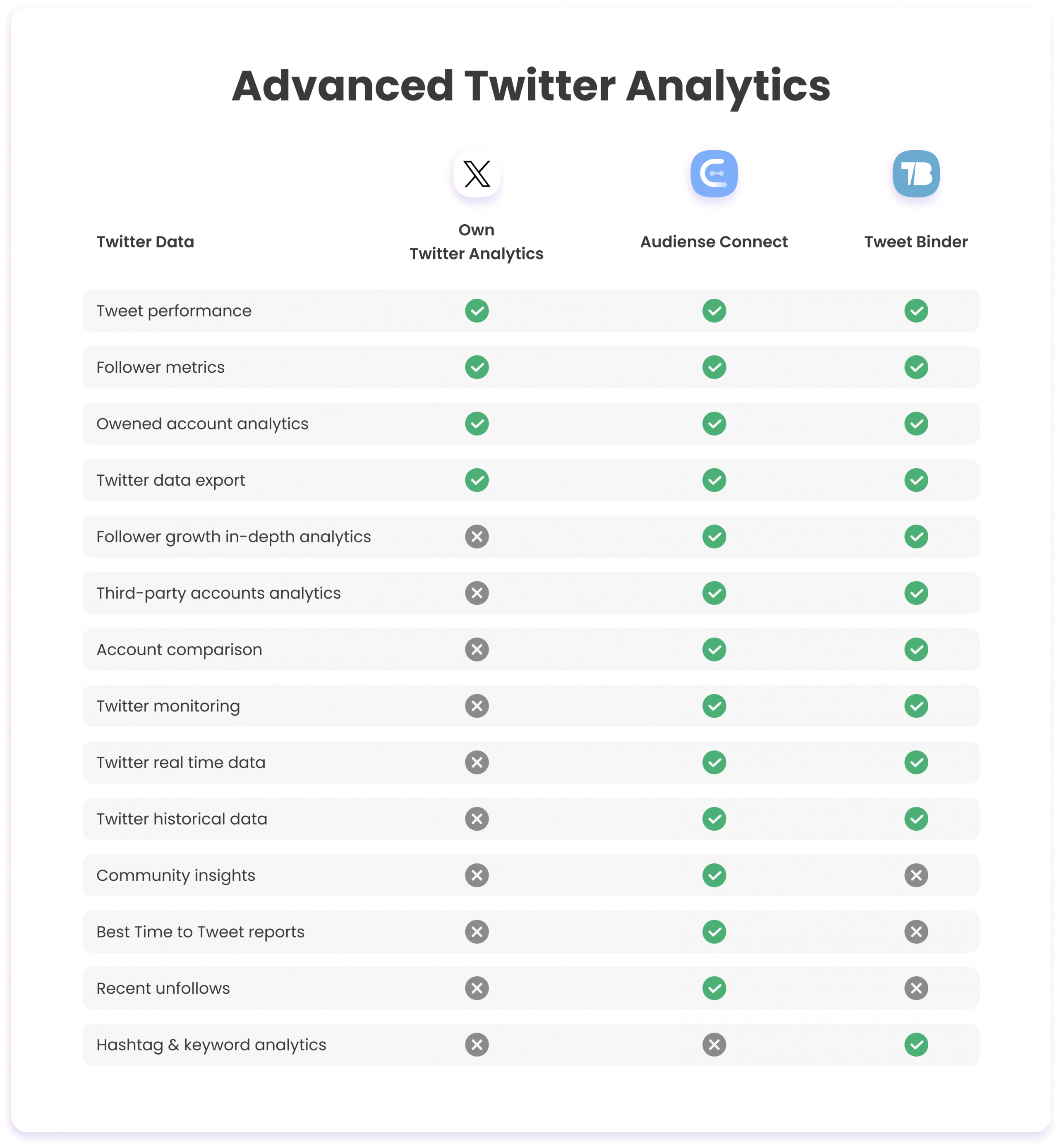 Now let's dive into what other metrics are available to community builders beyond Twitter's own analytics dashboard. 
Track your Twitter followers growth
The only question marketers have about followers – what drives its growth and how to drive more of that? 
But the 1st thing to do is to become able to match spikes or drop-offs in followers count to particular factors like campaigns, account mentions, posts publications, retweets, etc.
It will be hard to get such specific insight with native X/Twitter analytics data because it does not provide a detailed follower acquisition graph.
For example, look at the graph provided by Audiense Connect. It provides the evolution of an account's followers, tweets, lists and followings on a daily basis.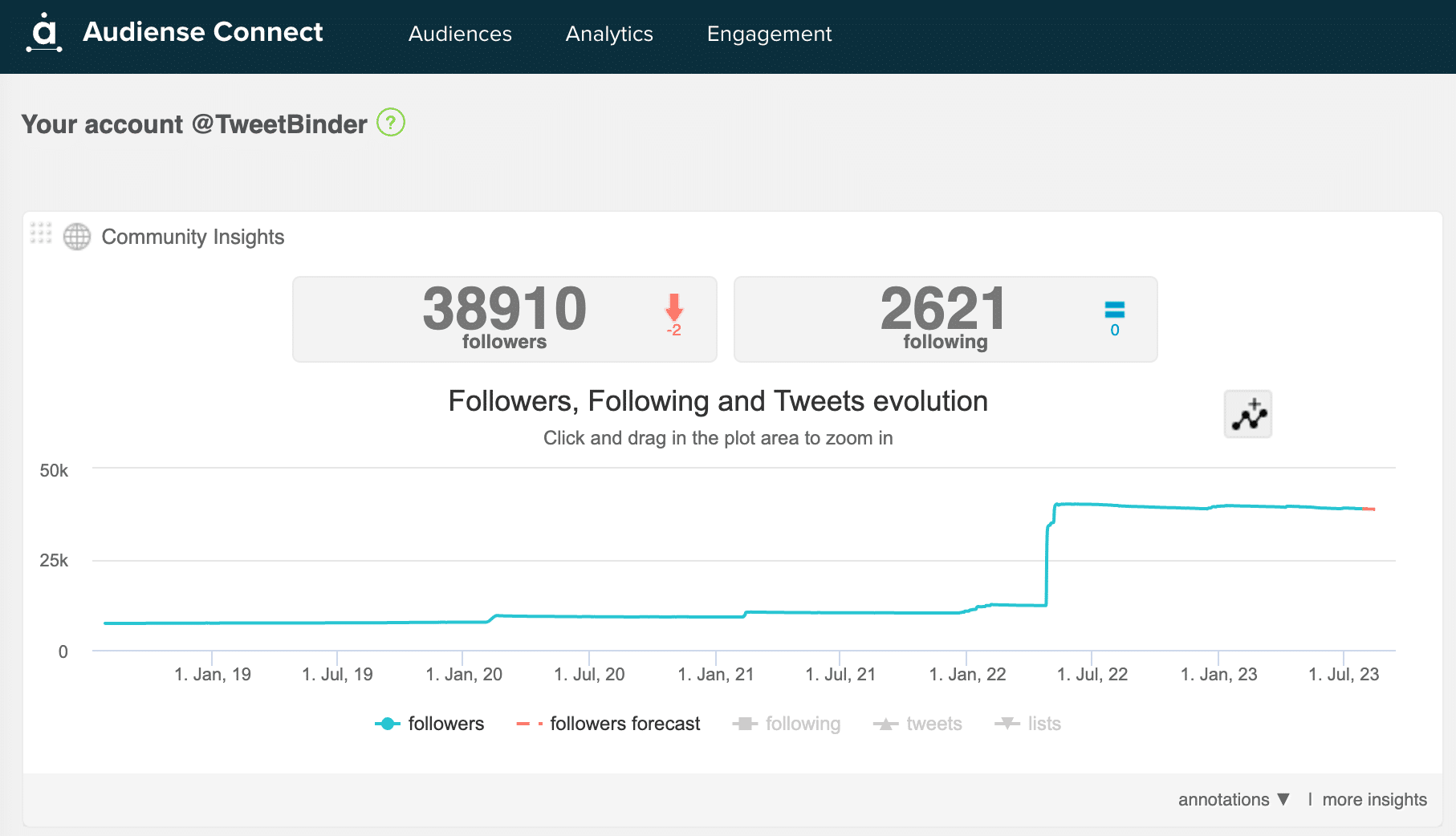 With such in-depth Twitter follower analytics, you can drive assumptions of what activity of your Twitter account has driven changes in followers count. 
Keep in mind that followers growth is not only about new followers, right? You would not want to create content that makes your Twitter audience unfollow. 
Use Twitter follower tracker by Audiense Connect to check recent unfollows on Twitter as well. Beyond just the number, Audiense Connect gives you particular handles that started to follow and unfollow your account over the chosen period. This feature is called twitter unfollow tracker.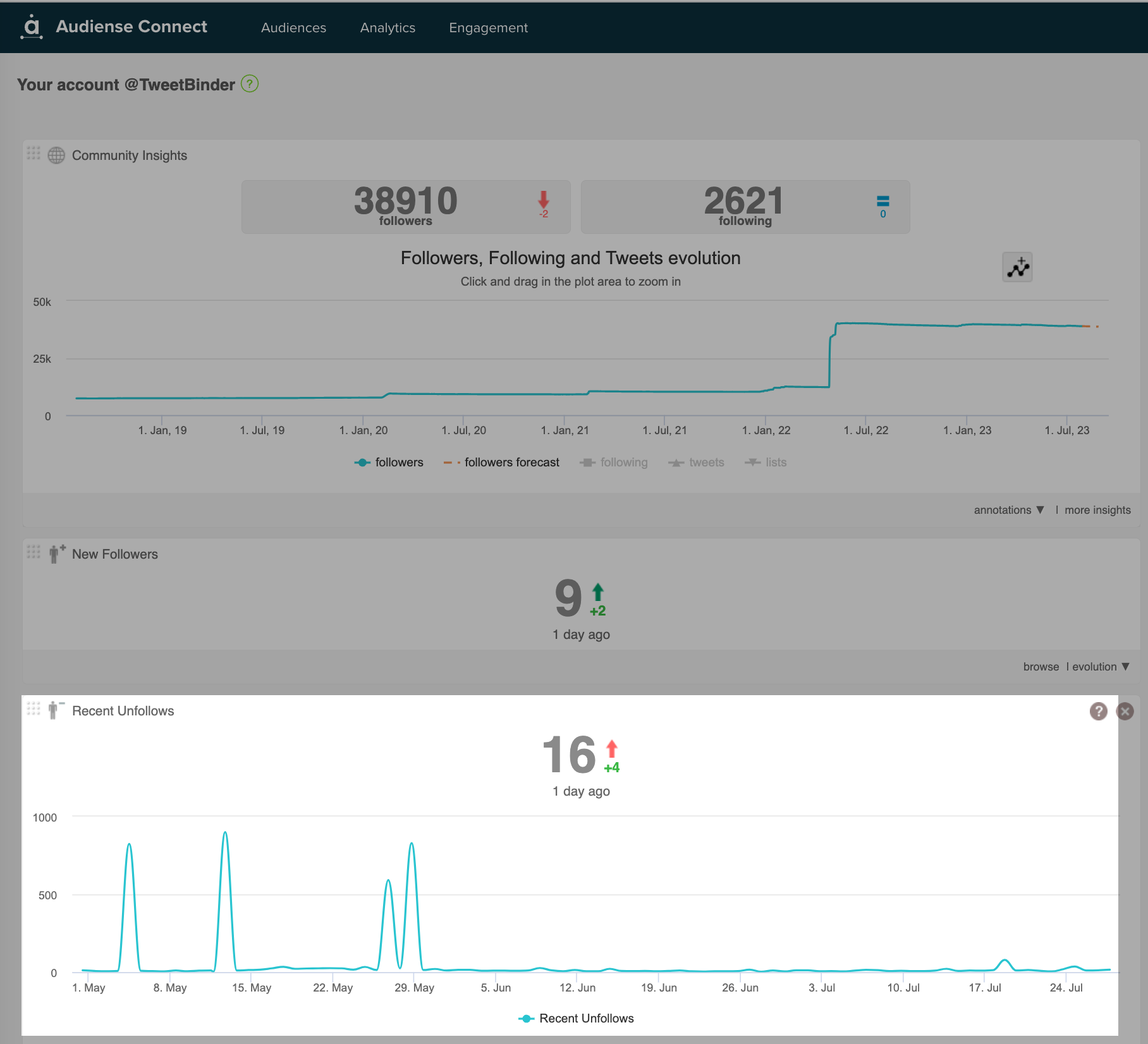 Make sure you benefit from all the data available to you for free in Audiense Connect.
Conduct Twitter followers audit
A user on Twitter has an average of 707 followers. But imagine 50% of your followers are bot accounts or fake twitter accounts. Would you be inspired to create content for such an audience? We guess, no. This is where twitter fake followers audit comes in handy. 
Obviously, manual twitter check requires a ton of time. Fortunately, Audience Connect's twitter fake follower checker helps to do Twitter fake followers audit at scale and in no time.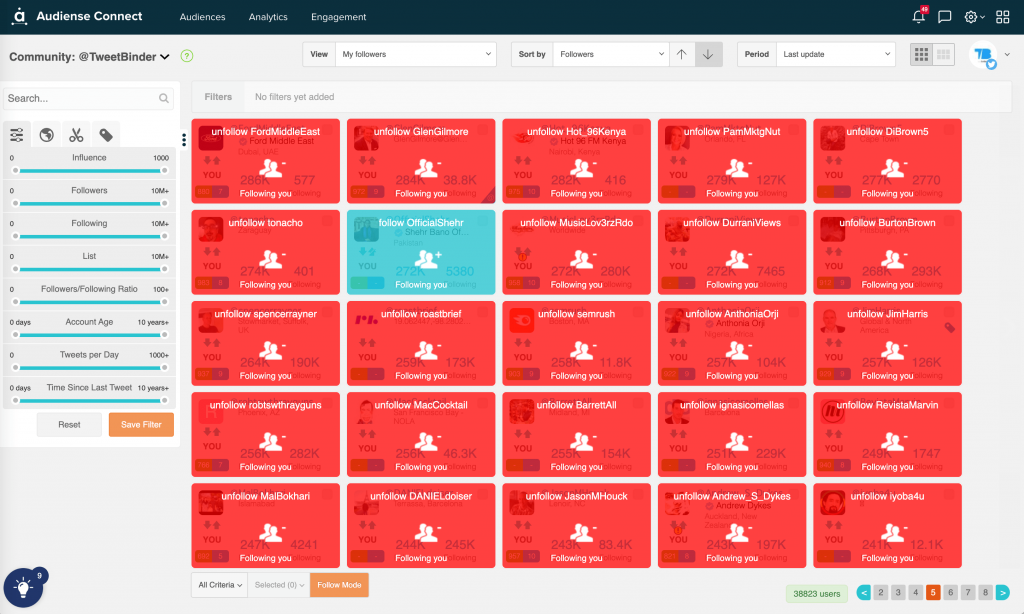 With this tool you can simply run the twitter account audit. This include:
Check fake followers or bot accounts.

Spot twitter inactive accounts.
You can check and clean not only the following community but also mass unfollow inactive accounts.
Read this guide to find and remove fake or inactive accounts on Twitter or use the link to explore Audiese Connect.
Discover hashtags, keywords and trending topics on Twitter
Hashtags are used to organise content around specific topics. Like for any content creator for you, it is important to conduct research on topics, keywords and hashtags to create content on demanding topics. 
Specific hashtags and keywords in your posts will help your account to get in front of a relevant audience. But which ones to use?
This is where advanced X (Twitter) analytics come in. With the help of tools like Tweet Binder you can get stats on any given hashtag, keyword or handle out there. Access metrics such as:
Hashtag reach and engagement

–

This gives you insight into whether the community surrounding a topic is big, active and engaged or not.

Existing contributors of the topic

– Check them for content ideas, inspiration or collaboration.

Most retweeted and most liked tweet

– Check them to find out what has worked best in the past.

The sentiment score

– The

sentiment analysis

gives you insight into how positive or how negative the tweets are in our report have been.

Hashtag count over a period of time

– This gives you an insight into whether it is trending or not, in demand or not.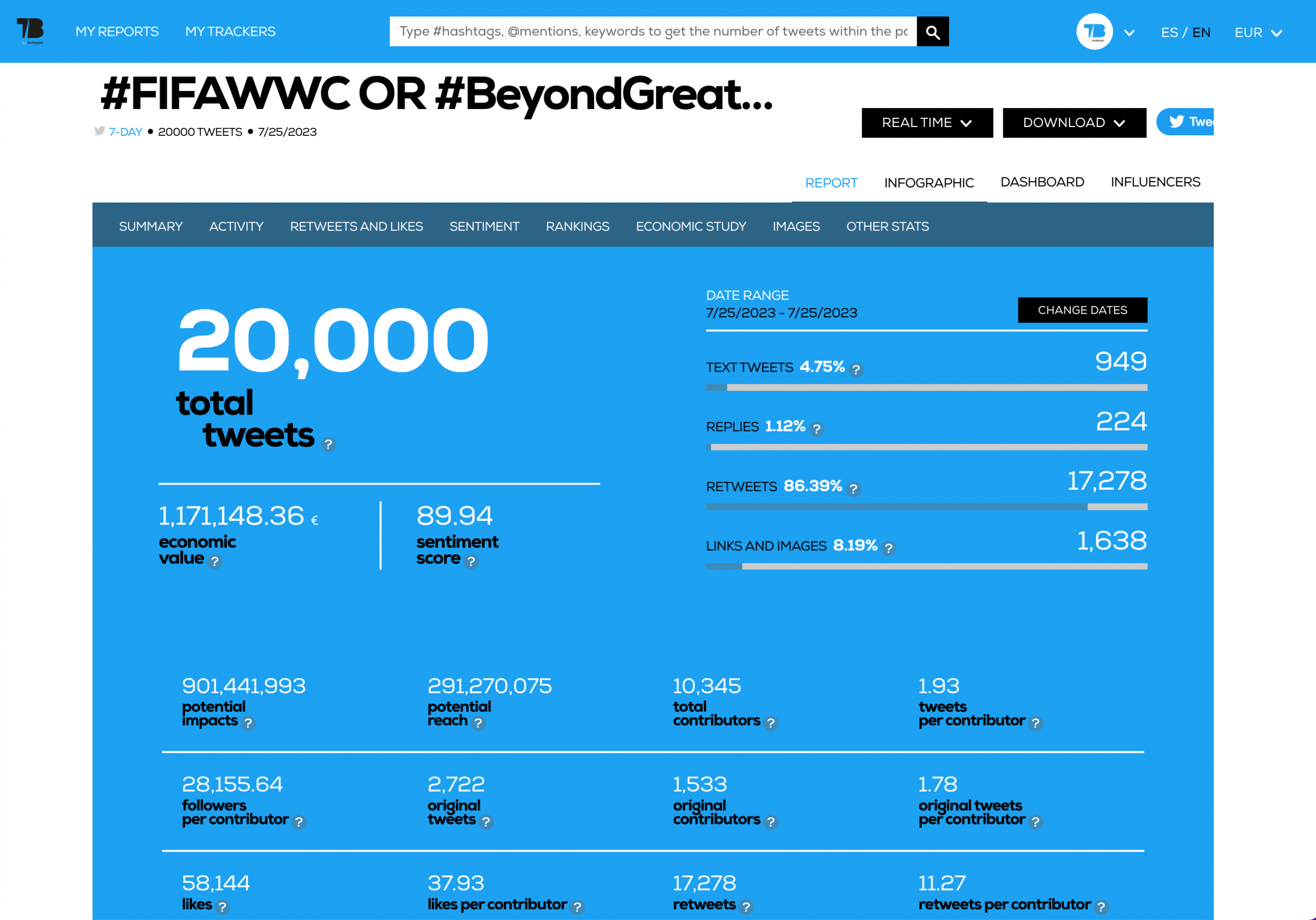 Maximize reach with strategic hashtag selection. Just use the search bar below to launch your first analysis for free.
Find the Best time to Tweet
Twitter is a crowded place. No matter how good your tweets are, they might have gone unseen, if they are posted at the wrong time.
Of course, you can find the best time to tweet by running your own A/B testing to understand when people are most likely to engage. Or you can make use of tools such as Audiense Connect and let us do the hard work for you.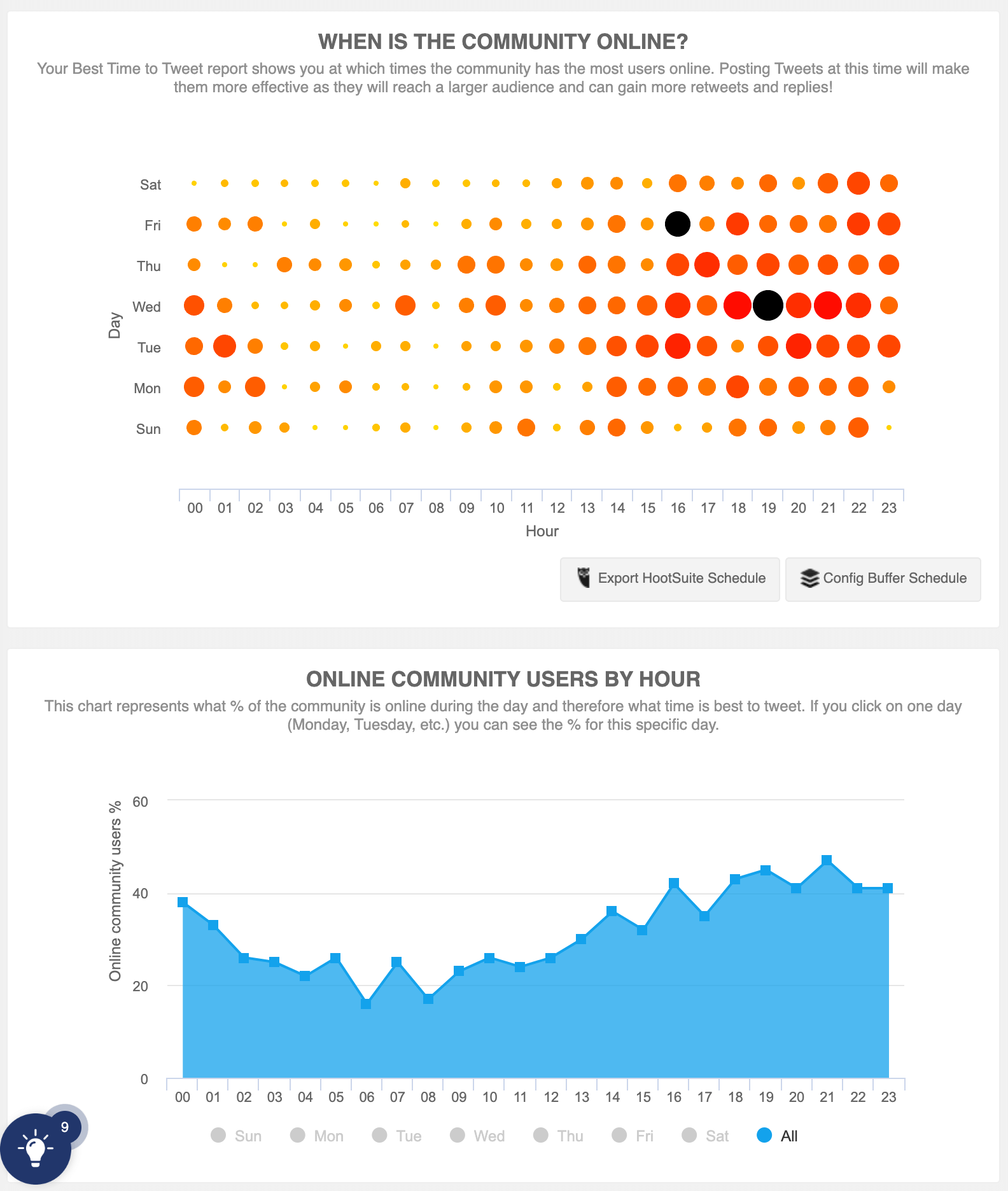 Keep in mind that you can create the best time to tweet report for any other Twitter account out there. Signup for free Audiense Connect to get your best time to tweet report.
Get Twitter Audience Insights
As a marketer building a community on Twitter you would want to create a truly engaged audience that trusts and engages with your brand. Above all, your main goal is not only grow the number, but also the quality of followers and engagement with your community.
To do this, it is vital to get to know the existing Twitter communities for each account you own. 
Answer the following questions.
Is the community consistent with the goals you have for a Twitter account?

Is the account attracting the right type of followers?

Are you followed by influential people in your industry, famous Twitter users etc.?

Where is the community located? 

Which languages do they speak?

Are they active on Twitter? Do they tweet regularly?

How much do they engage in the "Follow me back" game?
With Twitter native analytics platform, it's not possible to extract truly useful Twitter insights and get to know your followers on a personal level. However, tools such as Audiense Connect can help you answer these questions.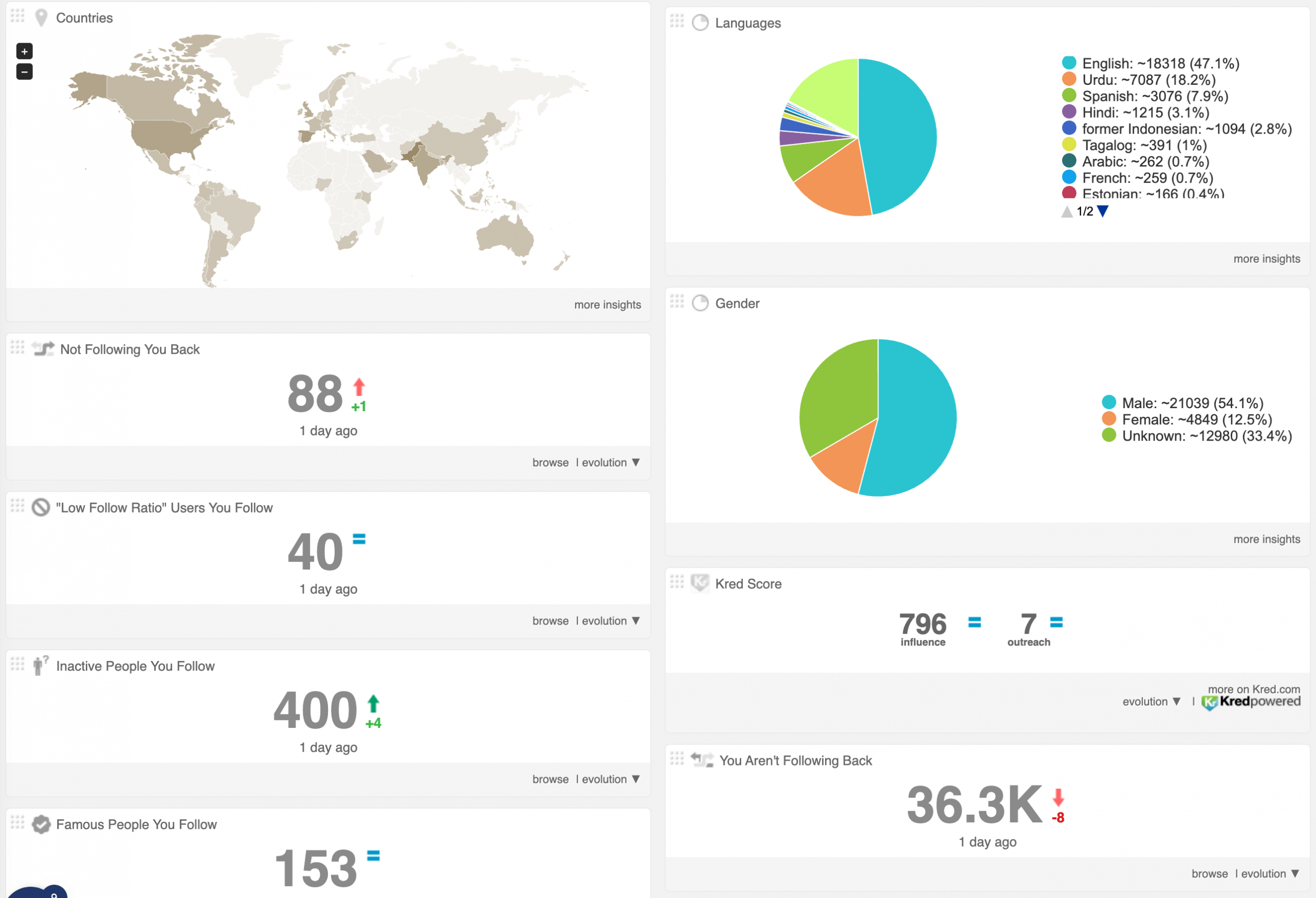 Analyse your Twitter competitors
Competitors are a huge source of actionable insights if you know how to conduct Twitter competitor analysis.
Analyse competitors on Twitter for:
Content ideation and creative inspiration. 

Effective community building and engagement tactics.

Twitter benchmarking

: compare your Twitter growth to competitors.

Get insight into the community they build.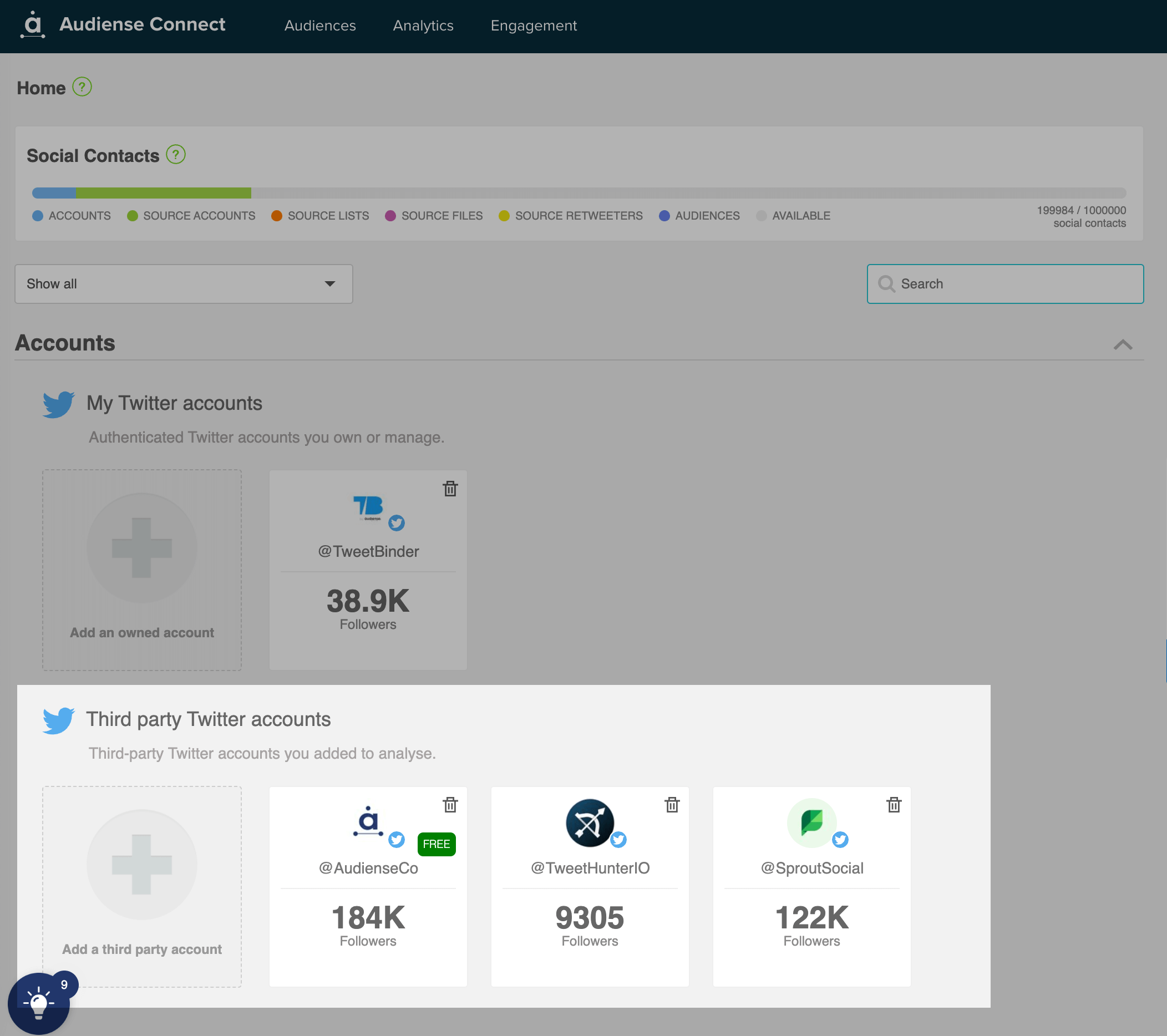 Dive deeper: How to conduct a competitive analysis on Twitter
If you want to track competitor hashtags with Twitter analytics use this search bar below:
Use Tweet Binder follower tracker tool to compare Twitter accounts followers growth and build comparison leaderboards like this.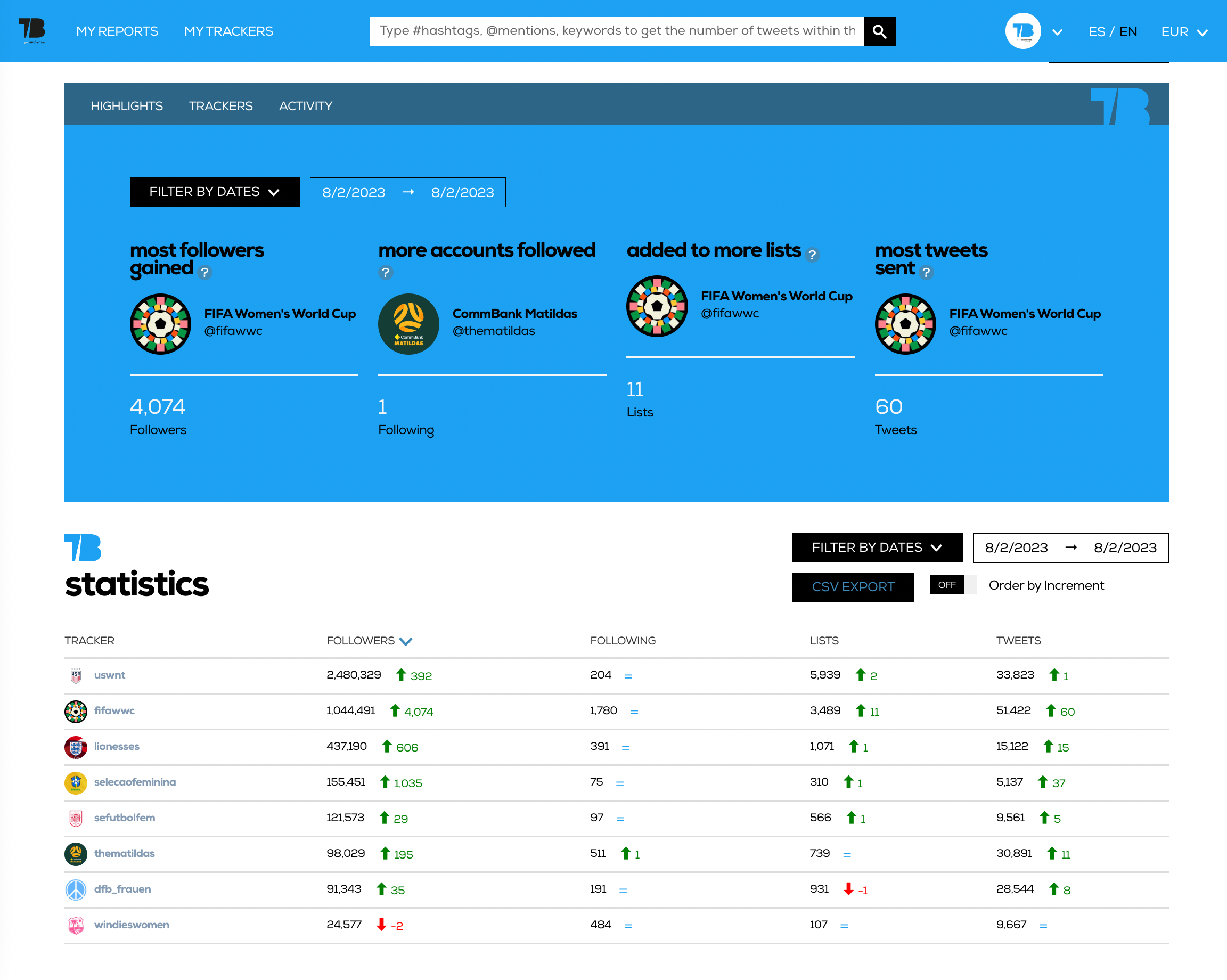 Analyze historical Twitter data
As a marketer you use data to analyse the performance of your campaigns and Twitter marketing strategy performance.
If you run a community building campaign on Twitter in the past but have not collected Twitter stats to measure performance, no worries.
You can still access historical Twitter data to analyze a hashtag, keyword or account performance over time. The Twitter data is available for your own account and for competitors' Twitter handles.
Moreover, if you need historical data for an academic research or any other more in-depth analysis you can download historical Twitter data. 
With Tweet Binder you can run several types of Twitter analytics reports to get Twitter data from the past:
7-day report: it analyses the past 7 days and gives you the tweet count of the search (up to 20k tweets)

30-day report: this report analyses the last 30 days and gives up to 35,000 tweets. The tweet limit can always be increased by purchasing extra tweets

Twitter historical report: this report analyses Twitter with no time limitation. Standard reports give back up to 35,000 but by purchasing extra tweets the limit can be increased
Historical reports are not accessible for free. If you're are interested in purchasing Twitter data, check this page. 
Dive deeper into influencers on Twitter
Working with influencers has proven be a successful strategy for many brands. Certainly, it helps to get in front of relevant audiences and expand reach without needing to grow an own audience overnight.  
But be careful. There are some Twitter influencers out there with inactive or irrelevant audiences. It's definitely not worth spending your time on influencer marketing campaigns that reach a low-quality audience. 
With Audiense Connect, you can analyze Twitter accounts and understand how many of their followers are bots, fakes or inactive accounts. In other words, it shows the kind of influencer you don't want to work with. You can also access stats such as demographics and engagement rates to help you make informed decisions for your influencer campaigns.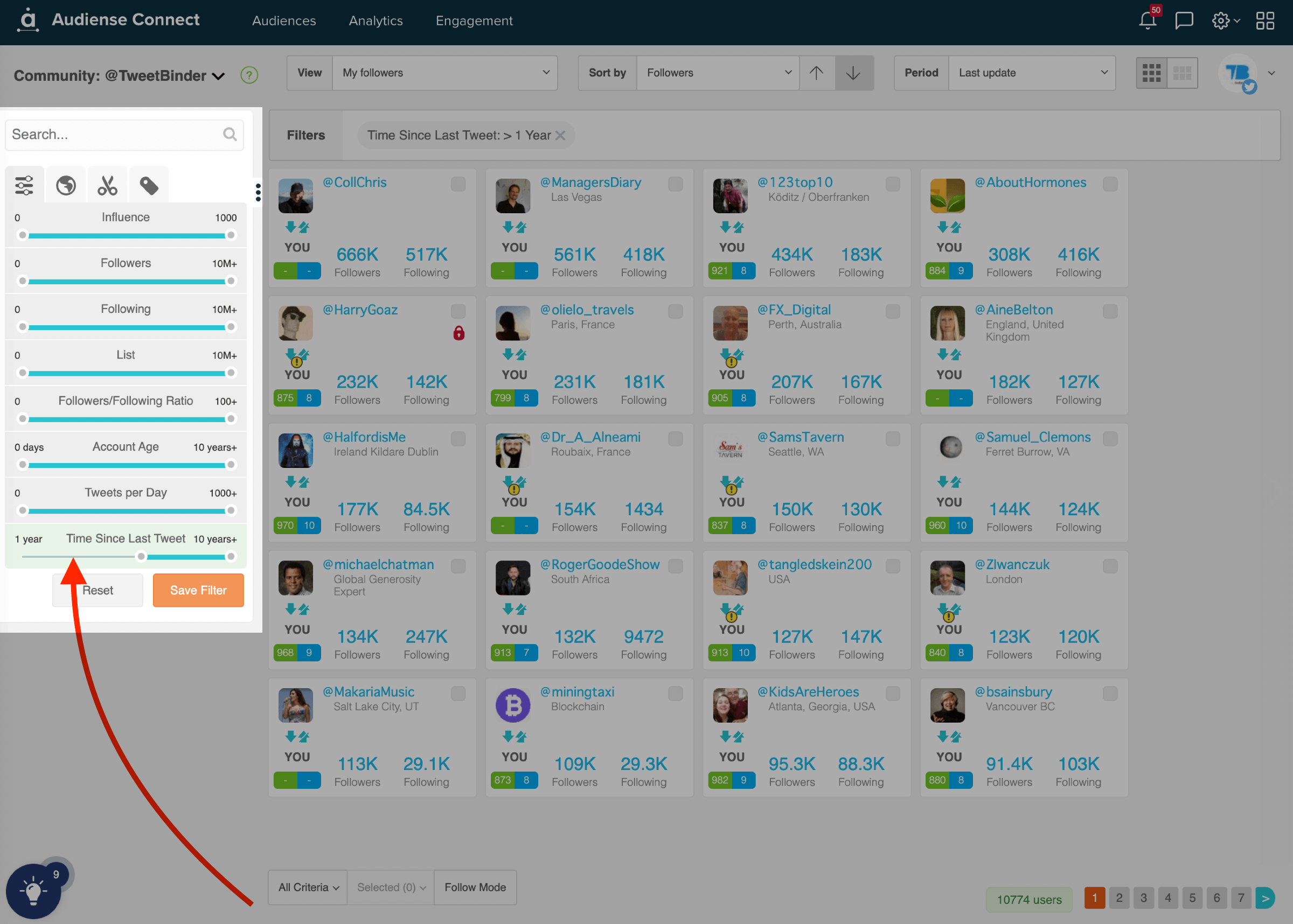 Monitor and track hashtags and keywords over time
Twitter hashtag campaign is an essential part of marketing on Twitter. It helps to involve people in bigger movements and helps to get attention of wider communities.
Another reason to use and track hashtag for a Twitter campaign is that you can then analyze its performance in real-time and act accordingly.
For instance, look at metrics such as.
How many tweets mention a hashtag.

Who contributors are.

Who retweets original tweets.

What the most liked and retweeted tweet is.
Above all, this data allows to engage with an active community surrounding your hashtag campaign. 
In order to monitor the Twitter campaign in real time, launch the report with Tweet Binder monitoring Twitter hashtag, keyword or handle. 
The report tracks Twitter in real time. Standard reports are active during one month and give up to 35,000 tweets. This limit can be increased by purchasing more tweets.
Analyze first-party data with Advanced Twitter analytics 
If you ever run an advertising campaign on Facebook, you have created the look-a-like audiences and retargeting campaigns. It is doable by uploading first-party data from your CRM into the Facebook ads manager. 
Likewise, you can do the same for Twitter. If you have a list of email addresses or a list with Twitter handles you want to analyze or engage with, use Audiense Connect to do that.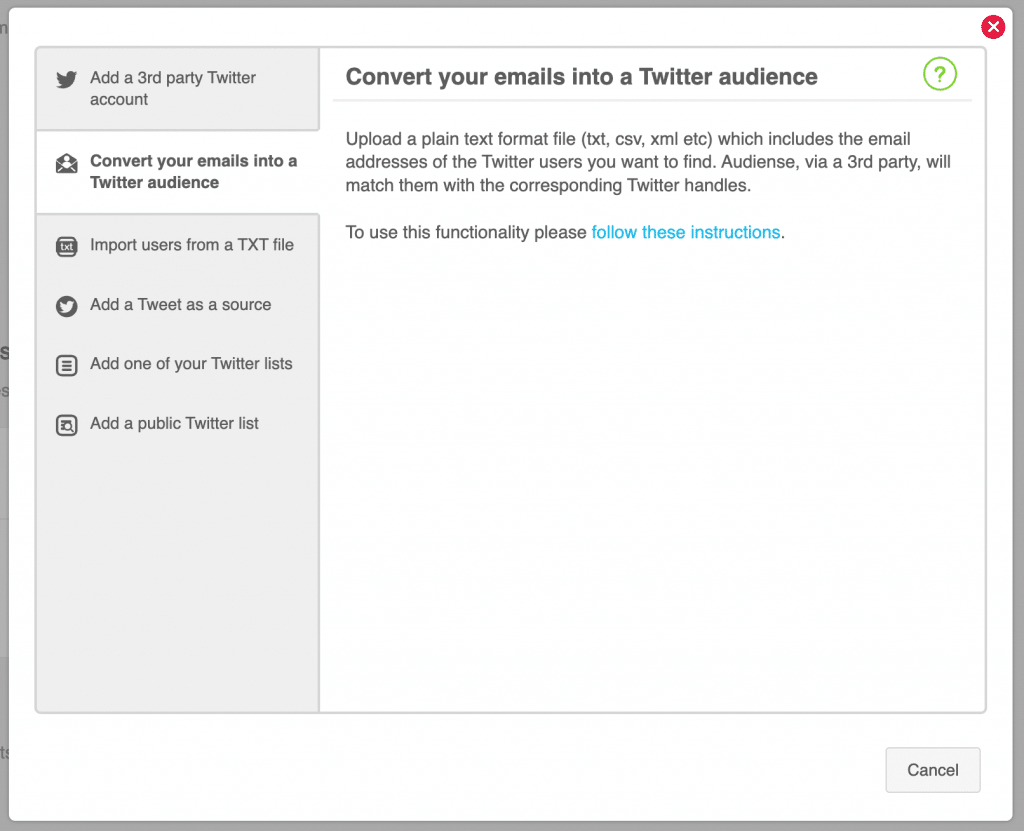 Once uploaded, you can engage with the audience on Twitter. Check demographics and the time they active on Twitter. In addition, create retargeting campaigns based on this data.
5 Most Useful Native X/Twitter analytics Metrics
Impressions & reach
Twitter impressions shows the number of times users saw the tweet on Twitter.
Unlike impressions, Twitter doesn't provide the Reach metric out-of-the-box. Despite that, calculating Reach on Twitter can help you understand the impact a tweet has on Twitter and your following community. 
There are two approaches to measure reach on Twitter.
First, you can think of Twitter reach as unique Impressions. Then reach counts the number of unique users who have seen your tweet.
Second, at Tweet Binder we calculate Reach as the potential number of people who could see your tweet.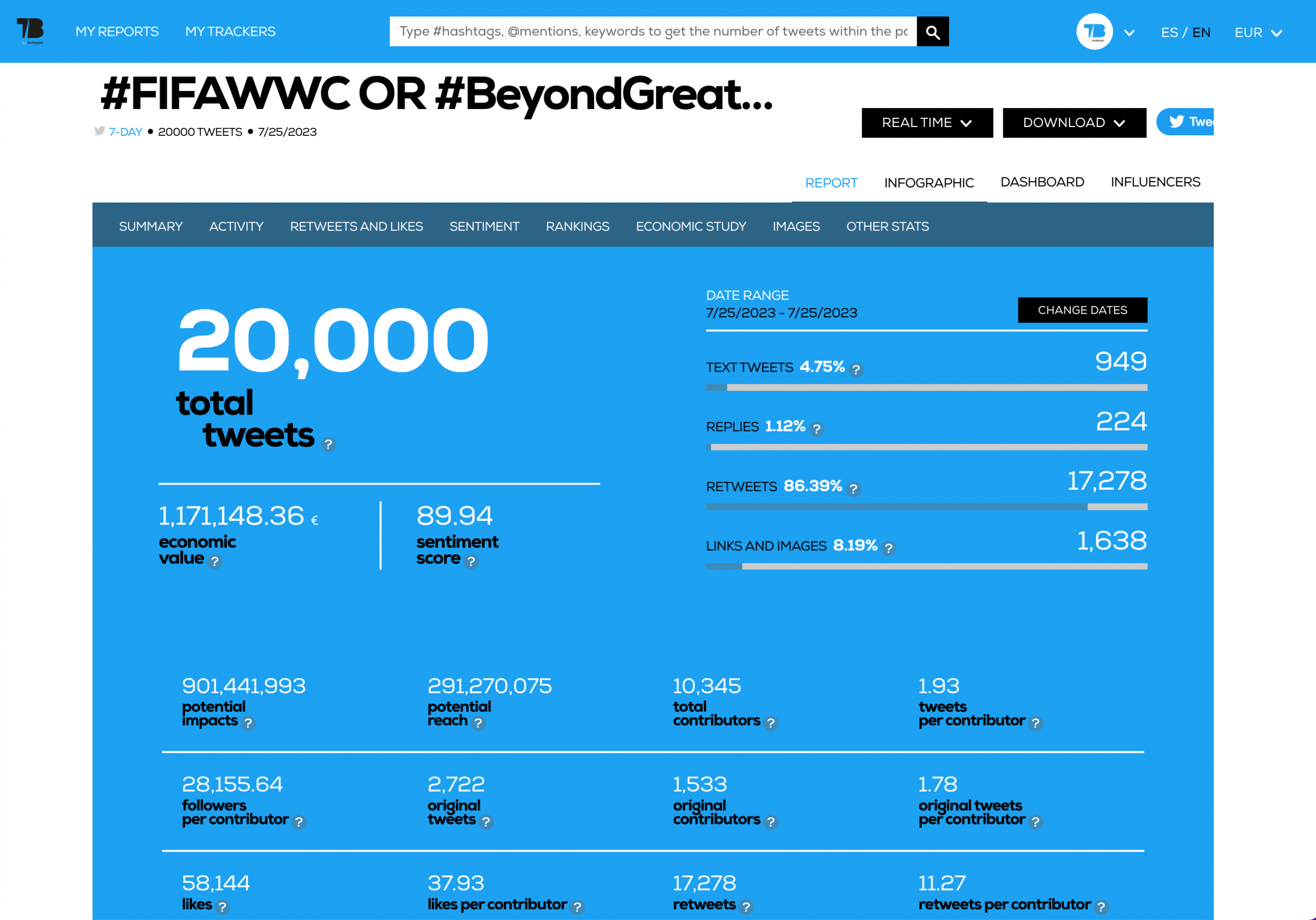 Read more about impressions and reach in this blogpost.
Profile views 
Twitter profile visits show the total number of profile views by Twitter users. You can access the total number of Profile visits from the Home screen of Twitter analytics dashboard.

Moreover, you can check Profile clicks from every single tweet you post. To check that go to the Tweets tab and then click a tweet to access detailed engagement stats.
Number of profile visits gives you insights into whether people want to learn more about you by reading your bio and other tweets in your timeline.
Engagements
Engagements on Twitter is the total number of times a user interacted with a tweet. The interactions are the following:
Media engagement

includes all clicks anywhere on the tweet including hashtags, mentions, clicks on media (images, videos).

Detail expands

shows the number of clicks to expand the invisible part of the tweet.

Profile clicks

show all links on your avatar or username.

Hashtag clicks

show all links on hashtags a tweet contain.

Retweets

are the total number of retweets.

Replies

are the total number of replies.

Follows

are the total number of new followers from a tweet.

Likes

are the total number of likes.

Link clicks

are the total number of link clicks.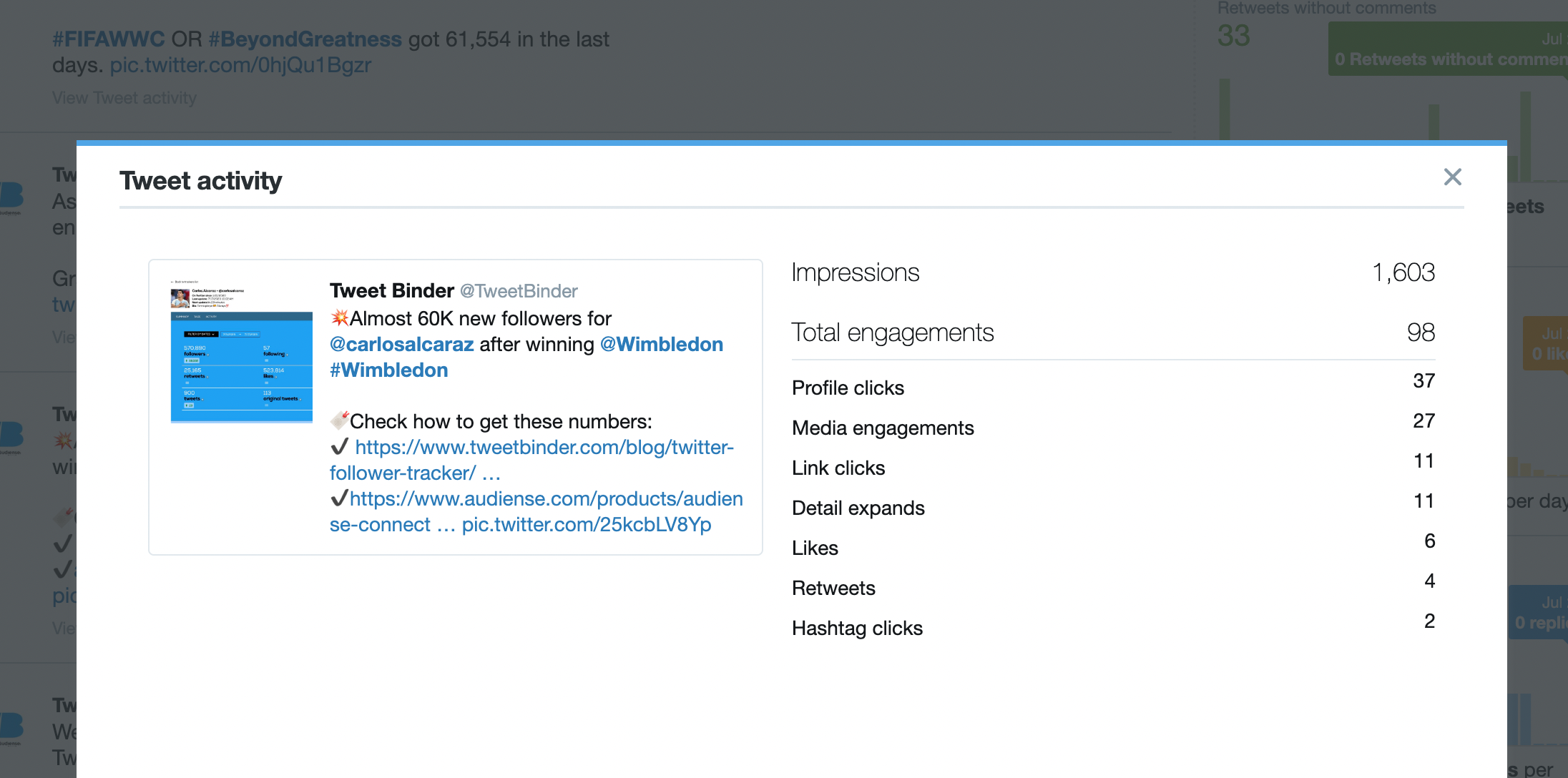 To clarify, if you don't see some of these engagements for a tweet, it simply means that there was not a particular activity for a given tweet. 
When you know exactly what engagement is on Twitter you understand how to drive more of it. Give your community more reasons to engage with your content by diversifying plain text tweets by adding hashtags, links and media to foster engagement.
Engagement rates
Engagement rates show the number of engagements divided by the total number of impressions.
To check that go to the Tweets tab. The Engagement rate is available for every single tweet you have.
However, if you believe your content deserves higher engagement rates, but it does not happen for some reason, perhaps, the following stats about Twitter performance benchmark will calm you down.
The median Twitter engagement rate across every industry on Twitter is 0.046%.
Use this as a point of comparison when measuring your own X analytics to determine how your tweets are performing.
Otherwise, compare engagement rates of different tweets to analyze what works better for your audience.
Original Tweets VS Retweets
First, Tweets are the original tweets of a user.
Second, retweets are reposts of other users' tweets showing on your timeline with the stats for the original tweet.
Third, quoted retweets are original tweets of a user with a retweeted tweet attached to it.
But, what is better: original tweets or retweets? 
To sum up, you definitely should use both as they serve different purposes. Use original and quoted tweets to showcase your expertise, opinion or personality. Use retweets to engage with other creators and authors, and help your community to get wider perspective and news. Also you can use retweets to have tweets with decent stats on your timeline if your original tweets still get low engagement numbers.
Keep in mind that tweets analytics is not accessible for retweets but only for original and quoted tweets.
Using a Twitter analytics tool
Twitter stats reports are an essential part of any marketing campaign or event. Measuring the tweets our community sends is a key part of any strategy we launch. 
In this section, we will show how to create an analytics report using the free tool Tweet Binder. 
To create an instant Tweet Binder Twitter analytics report use the search bar below.
Twitter reports allows to analyze anything contained in a tweet. Tweet Binder allows you to track any hashtag, term, or account, even a combination of any of them. 
For example, our search could be:

Hashtag: #MakeNarniaGreatAgain

Keyword: Hogwarts

User account: @BarackObama

Link: www.VisitMordor.org
All those things can be inside a tweet and we can get analytics for them. Getting analytics from hashtags is the most common one. Hashtags are used in campaigns, events, TV Shows, etc. 
However, it is important to know that we can get Twitter stats out of anything contained in a tweet. It is really useful, for example, if you want to analyze a specific topic or you need to avoid one hashtag (under your own analysis).
Conclusion
Thanks for reading before the end. To sum up, now you know what owned Twitter metrics are available to you and how they can inform the creative and content decisions. 
In addition to that you know that you can go beyond the native stats and gather more data with other free tools out there.
You can analyze other accounts on Twitter, track your followers growth, know exactly who started to follow or unfollow you, learn your community demographic and much more. 
Sign up for Audiense Connect to manage and analyze communities on Twitter.
Sign up for Tweet Binder for hashtag analytics and Twitter monitoring. 
Use this data to create a powerful Twitter marketing strategy to build a thriving and engaged community.