This post is also available in: Español (Spanish) Français (French) العربية (Arabic)
Twitter analytics tools and metrics in a Marketing Strategy
Welcome to our Twitter analytics and stats page. We guess you want to learn about how to measure a hashtag, your Twitter activity or how to create a Twitter statistics free report, in this page we will explain the most important metrics we can get out of Twitter and hashtags. We at Tweet Binder provide a platform to analyze any hashtag or term on Twitter. You probably have an active campaign on Twitter or you have had one in the past, you will learn here how to create a Twitter analytics report to monitor everything and get to know your twitter audience. As we always say, you can read the whole page to learn or you can go to Tweet Binder to create your first Twitter stats report by using the following form.
It is undeniable that hashtags are everywhere in our daily lives, when we open our Twitter accounts or when we watch a commercial, they are always there are they are used to group tweets around a topic, a campaign or event. It is important to know how to monitor the elements of a Twitter hashtag and get Twitter analytics in order to obtain the right information and understand the users. Social Media tracking tools help users to reach valuable conclusions.
Get your Twitter analytics report
Twitter Analytics for accounts
Tweet Binder offers also a tool to track the number of followers of any account. Try our Twitter analytics tool for twitter users:
Sometimes, the hashtag counters provide a lot of information and users can get lost among all those stats. That is why they need to keep in mind exactly what they need to get from the report. Is the total number of tweets relevant to my analysis? Well, then you should be focussing in the number of tweets and Twitter impressions and reach. Is it relevant who has posted and what they have posted? Then try having a look to the rankings of users. In this post we will explain basic Free Twitter analytics that are indispensable in any hashtag analysis. These concepts are key to any event or campaign that we launch and it is important to take them into account.
Original tweets and retweets
This is a very important concept for marketing online experts. Since Twitter has this unique feature called "retweets", we must separate the retweets from the original tweets. If we are want to run a good Twitter analytics report we must first know the difference from an analytical point of view. Knowing Twitter's typification of tweets is very important to understand the results a hashtag counter gives us. Twitter stats can be tricky and this is the perfect example to start with. The general classification of tweets is: original tweets and retweets.
What are original tweets?
Original tweets are those that provide content. This means that are tweets written from scratch by users. These type of tweets add content a value to the hashtag or term that is being analyzed. Original tweets can also be classified in three different groups:
Text tweets: those tweets that contain nothing but text
Replies: conversations between users
Links and Pictures: tweets that contain either a link or a picture.
Has was aforementioned, these tweets are important because they are adding new value to the hashtag. It is content that has not been sent until the moment the user posts his tweet.
If you want to get a Twitter analytics report of only original tweets, try the following search box. Just type, for example, @realdonaldtrump -RT:
What are retweets?
Retweets are a repetition of tweets that have already been sent. They don't add new information to the hashtag. It does not matter if the retweet is made to a picture or to a link, it will always be a retweet. They are just a repetition of another tweet.
What is better? Twitter original content or retweets?
This is a tricky question and there is only one answer: it depends. Both types of tweets make an impact on our hashtag, we may be interested in retweets at some point and in others, in the originals tweets. It can be thought that the more original tweets the better content a report has. But this is not always true, marketing online is like that. Sometimes people post meaningless tweets lots of time, but a retweet made from an account with high influence can have huge impact in a report. Either way, the important thing is to know how to distinguish them to define what happened in our marketing campaign.
It is also important to be conscious that Twitter considers both the original tweets and the retweets as "Tweets". Therefore, when hashtag counters give us a total number of tweets, what they are really giving back is a mix of both types of tweets. The advanced search can also help us with this matter. If we want to search all the tweets with a hashtag that contain a picture, you can do it! Just type in the search box #YouHashtag PIC. This will display all the tweets that are pictures and that contain the hashtag. Besides the typology of tweets, what is crucial is to understand if our marketing campaign is engaging with the users or if it is only generating RTs to the tweets of the brand or main account.
Original users and retweeters
After revising the difference between types of tweets it is also important to see who generates each type of content. The original users share the content, they are the ones who "work it hard" so to speak. In my event or campaign I am interested in that, in addition to RTs, there is original content that reaches the followers' timelines of those who tweet. Then we must analyze the content. Summing up, we must identify the accounts that send the original content and our marketing online strategy will get better. We need to know who they are to talk or thank them. Tweet Binder's users rankings would be totally helpful to analyze and list those relevant accounts. For further social media marketing campaigns this is a good method to get prescribers and ambassadors of our brand or event. Analyze and select the most important accounts.
Twitter impressions VS Twitter reach
Measuring impact and reach on Twitter is a recurring and very important issue. In traditional advertising these two concepts have always been perfectly understood, in marketing online it works very similar. Free twitter analytics tool like us offer the number of impressions and reach. By defining them in a short way:
Impact: number of times the hashtag has been seen. Hashtag impressions
Reach: number of people who have been able to see the hashtag. Audience
Why are these metrics important? They give us a very good approximation to how popular our hashtag has been. If our boss asks us how many people have seen the "hashtag of that marketing campaign"? We should respond with the reach figure. Both metrics are potential, it is always important to emphasize this fact. Our recommendation is to always use them in a comparative way with other Twitter campaigns or similar events. This way we will have a much better idea of whether we are succeeding or not.
Twitter analytics take time
Twitter is not something that is done in a minute.In fact, Twitter tracking tools will give you data but you need to take time to analyze the info. Many companies and users look at the number of publications in each hashtag and that's it. No. That's not right, there are many other factors. We recommend you to dive into the pool of Twitter stats and discover all they have to offer. With Tweet Binder any user can obtain free Twitter analytics. It is really important to analyze the main stats of our hashtag analysis but we also have to go further.  If we only look at the main stats we will have a poor Twitter hashtag analysis. We need to go beyond those general numbers and look into the rest of information Tweet Binder Twitter reports give back.
General Twitter stats
When running a Twitter hashtag analysis with a free twitter analytics tool (or paid one) it is important to see how many tweets have been published with the analyzed hashtag by the Twitter audience. It is as important to know the potential impacts and reach it has had. Tweet Binder offers a module that displays all this data in a same place.
With these stats we can have a general overview of how the hashtag has evolved on Twitter. These are the main stats we can find in this module:
Total tweets with their typification
Economic market value
Potential impacts and reach
Twitter audience
Original tweets
Original contributors
Twitter user rankings
Every Tweet Binder report includes up to 10 Twitter user rankings. Usually free twitter tools give you 2 or 3 users rankings. Each user ranking is important but in each marketing campaign because you need to analyze your Twitter audience, we will give greater importance to those which give us the necessary information for the valuation of the campaign or event. For example,  we will be interested in the ranking of users with more impact if we are looking for impressions. If we want to know the activity of our influencers, we will check out the ranking of more original users. In these lines we detail each of the user rankings and their recommended use. Tweet Binder offers rankings of users to get to know your audience.
Activity rankings
– Most active users: Users who have sent the largest number of tweets (including original tweets and retuits). In this case, we can value those users who have contributed the most. This is a really useful ranking if, for example, we want to detect "lovers" of your brand or just users who are interested in our topic or brand. In addition, it can help us to analyze the users who tweet the most and recognize them through our communication and loyalty programs.
– Ranking of retweeters: Users who have sent the largest number of retuits. This ranking helps us to value those accounts that have helped to make our campaign or hashtag viral. Moreover, it is also used in competitions when it is necessary to choose winners.
– Most original users: Users who sent the highest number of tweets (not including retuits). It is important to separate the most active from the most original users. In this case, we are emphasizing those users who have created their own content, they have published their own tweets. Thanks to this ranking, we can assess the activity of our influencers. We have the opportunity to see if they are really generating good content.
– Top photographers: Users who have sent the highest amount of photos. It is also very useful when it comes to detecting attractive content.
– Top engagers: This ranking shows the users ranked by the average number of retweets they receive per each original tweet they send with the analyzed hashtag. It is important to notice that these number are calculated within the numbers inside the report. So this is not the average number of RTs this user always gets per each original tweet. It is within the original tweets they have sent in this particular report.
– Top repliers: Here users are ranked by the number of replies they have sent in the report with the analyzed hashtag. This ranking is useful to detect those users who are engaging with your audience.
Popularity user rankings
– Most popular users: Most popular users according to the number of followers. The ranking of the most popular users is used to detect big accounts that have interacted with us or our hashtag. It is important to have these accounts monitored for future marketing campaigns. On the other hand, we can establish direct communication to extend that relation throughout time.
– Highest impact: Users who generate the most impacts. This ranking is really important if we want to get more impacts and reach more users. It is necessary to differentiate impact and reach.
– Certified users: This ranking shows the users in the report that have been verified by Twitter. They are ranked by the number of followers they have.
Get your Twitter analytics report
Twitter hashtag analytics
After going through the most relevant Twitter user rankings we provide, we see the importance of doing an in-depth analysis of a Twitter hashtag. If we just stick with the general stats we end up having a very poor analysis. However, if we dive into the advanced stats our Twitter tracking tool provides, we will be able to get more detailed conclusions.
With Tweet Binder you can run several types of Twitter hashtag analysis. You can choose between analytics from the past or real time reports:
Using a Twitter analytics tool
Twitter stats reports are an essential part of any marketing campaign or event. To measure the tweets our community sends is a key part of any strategy we launch and it should be carried out professionally. In this post we will show how to create a Twitter analytics report using the FREE tool Tweet Binder. If you are in a hurry and want to create your report now just click the next button. If you need (or want) more information, just keep reading this amazing post.
Twitter reports analyzing anything contained in a tweet. Tweet Binder allows you to track any hashtag, term or account, even a combination of any of them. To sump up, our search can be a:
Hashtag: #MakeNarniaGreatAgain
Keyword: Hogwarts
User account: @BarackObama
Link: www.VisitMordor.org
All those things can be inside a tweet and we can get analytics out of them. To get analytics from hashtags is the most common one. Hashtags are used in campaigns, events, TV Shows, etc. However, it is good to know that we can get Twitter stats out anything contained in a tweet. It is really useful, for example, if you want to analyze a specific topic or you need to avoid one hashtag (under your own analysis).
Twitter analytics free
Tweet Binder is a Social Media tracking tool that will give us FREE Twitter analytics of any hashtag or term. It shows results from the last 7 days and up to 500 tweets per search. We will have to go to the site: www.TweetBinder.com and log in using our Twitter account. Why does Tweet Binder need access to my Twitter account? This is a mandatory request from Twitter actually, we need to access your account so we can ask Twitter for tweets. Do not worry! Tweet Binder will never post tweets in your name and will never send you DMs asking for anything. It won't force you to follow anyone either. It is just a formality. Moreover, we do not keep the information related to your account.
Once we have logged in using our Twitter account we can start creating our first reports. Twitter analytics can be pretty addictive so use them wisely. To create our first Twitter report just enter the term you want to analyze in the big search box at the home page and click "Create your report!". In that case, you will create the free Twitter report that analyzes up to 500 tweets from the past 7 days. However, remember that you can upgrade your report anytime. It is possible to analyze the last 30 days directly from the site or, even better, create the full report. 
Running a free Twitter search with Tweet Binder is very easy. As was aforementioned, the user just need to enter the term, keyword or account that needs to be analyzed and they will get a complete Twitter analytics report. Most of the best Twitter analytics are included in this Social Media tracking tool reports. If right now you are having questions such as What is a Twitter impression? or How can I report a Twitter account? Do not worry! In the following lines and in the next posts we will find the answer to those questions and much more.
Types of Twitter statistics reports
The process of getting the stats can take up to one minute depending on the amount of tweets Tweet Binder finds. This Twitter analytics tool will give us up to 500 for FREE of the last 7 days that will work perfectly to understand your twitter audience. When the search is finished we will see the first report. This first report is called the advanced report and it shows all the main stats of the term or hashtag we have analyzed. There are three types of reports:
Basic report: it shows the main stats and rankings
Advanced report: it shows deeper stats of the hashtag. In the PRO version of Tweet Binder it comes with even more analytics and rankings. You will learn about the economic value
Excel report: only available in the PRO version
PDF report: a version of the advanced report in PDF format.
These reports are a very important part of any campaign we run on Twitter. That is why we need to study them carefully so we can obtain valuable conclusions. In other posts of Tweet Binder we explain how to read all these Twitter stats, now that we know how to create a Twitter analytics report we have to learn how to take advantage of these stats. 
Your Free Twitter report in just one page
Both the basic and advanced reports offer statistics about your hashtag in a clear and easy-to-interpret way. Although it is true that the free version does not include all the metrics, you can discover the most relevant. Let's delve into the Twitter statistics included in the free Twitter report. Remember that if you need to export to Excel, you had to upgrade your report into a PRO report.
Total tweets: Total of original tweets and retweets shared under the hashtag (the free version includes up to 2,000 tweets)
Twitter audience: Number of users that have tweeted using the hashtag during the time analyzed. Not the twitter audience, that'd be the reach.
Economic Value: Amount of money the hashtag is worth in the market. 
Types of tweets: We can make the difference between text tweets, replies sent using the hashtag, retweets made to tweets that contain the hashtag.
and Links/Pics. Thanks to this, you will be able to discover if your campaign has been based on original content or retweets
Potential impressions: The potential number of times somebody could have seen the hashtag
Moreover, the basic free Twitter report includes two user rankings. These are: the five most active users and the most popular. We think that these are the most important to highlight. The first ranking allows us to detect the users that have participated the most using the hashtag. The second one helps us to detect significant accounts. This is a huge opportunity to locate influencers or big accounts. This basic analysis may be enough to give you the highlights of your campaign but do not forget that the Advanced report offers more statistics. For example, you will be able to discover many more user rankings or the timeline of your hashtag's activity. This temporary graph is dynamic so you can choose the metrics to show or hide. Moreover, it is possible to download the graphic as a PNG file.
Useful and easy, isn't it? Now it is your turn to create your first free Twitter report. Once you create the first one, you won't be able to stop.
Annual plans for Social Media analytics
With Tweet Binder you can activate your plan for a whole year and do not worry about making monthly payments. This way you will be able to make all the reports you need for Twitter and Instagram. Depending on the plan you purchase, you get one or two months of discount. Annual plans are the best option for big agencies that manage lots of campaigns from many different clients. Our annual plans for Twitter give you access to many PRO features at Tweet Binder. These PRO features go from customized infographics to a 24/7 support or discounts in custom projects.
However, as we were saying before, some of our clients do not use all the reports their plan include. This way, their plan expired and those remaining reports as well. After giving it a thought, we launched the reports packages.
Twitter analytics with Tweet Binder
We were saying before that we care very much about our clients' experience. We want you to make the most out of the product that you purchase. These packages of reports are very useful when you know you are going to need X reports but you don't exactly know when you will need to user them. If you purchase a monthly plan because you only can use those reports within that month. Whereas with the package of reports you will be able to spread those reports thought the time you need to.
Hashtag metrics can be a little bit confusing if we do not know where to start looking. We are not only speaking about the quantitative stats, but also about a hashtag sentiment analysis. But let's go step by step.
If you want to know the activity of a hashtag has had on Twitter, the first thing you have to do is go to www.tweetbinder.com and type the term you want to track. After doing this, you will run into a complete report on the hashtag/term/keyword/account you want to track. Our advanced report provides very complete insights on how the hashtag has behaved on Twitter. Let's use as an example the hashtag #FIFAWWC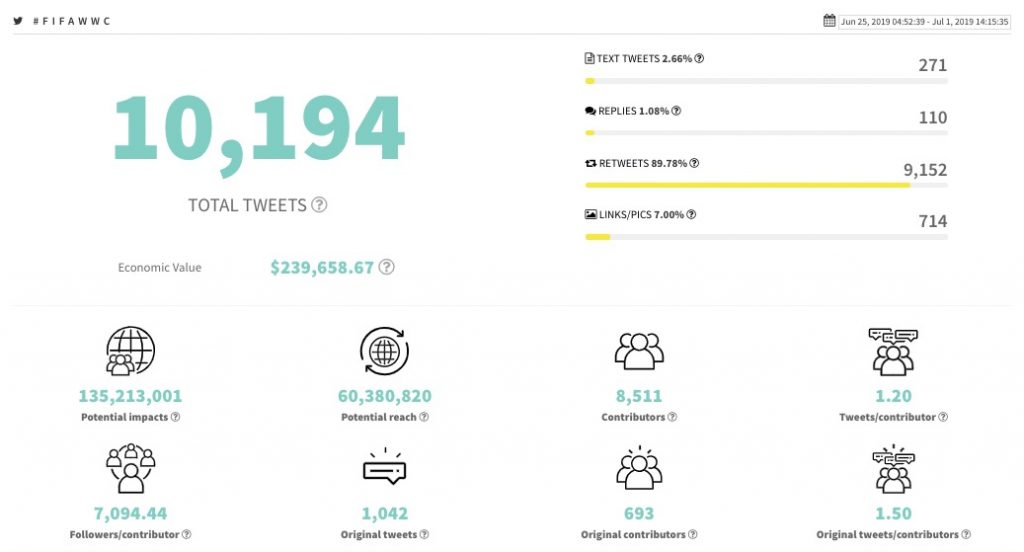 General overview
10,194 tweets: This number includes all the text tweets, RTs, replies, links and pictures the hashtag has received.
135,213,001 Twitter impressions: This stands for the potential number of times somebody could have seen the hashtag.
60,380,820 Potential reach: Meaning the number of unique users that could have seen the hashtag
8,511 contributors have participated with the hashtag
Those contributors have on average 7,094.44 followers
Users rankings
Tweet Binder provides a wide range of rankings and, depending on the kind of actions you are analyzing, ones may be more useful than others. For example, if you want to identify the most relevant users that have tweeted with your hashtag, you may want to give a look to the most popular ranking. Also, the ranking of the users that have had a highest impact can be interesting as well. The difference between those two rankings is that the first one counts the users and the second one multiplies the number of followers with the number of posts sent by the user.
On the other hand, if want you are looking for is to reward those users that have tweeted the most, you will have to look to the first three rankings:
Most active: Counts tweets and Retweets
Retweeters: Just counts the RTs sent by the users
Original tweets: Count the tweets (not the RTs) sent by the user.
Event though our online reports provide rankings of 10 users, with the Excel exportation of the report you will obtain a complete list of contributors were you can sort them by impact, reach, activity, twitter audience and much more.
It is important to know what do users relate to your brand, that's why we created the top 10 hashtags ranking. This analyzes every tweet and sees which are the most mentioned hashtag among all those. This way, you gain insights on what your customers think and which thing they associate with your campaign. If you are looking into hashtag metrics for Twitter and you end up having trouble reading them, you can always contact us. We could schedule a quick Skype call were we would solve your questions related to Social Media stats.
Why should you use a Twitter Analytics Report Tool
Analyzing campaigns launched on Twitter is indispensable in Social Media and online Marketing to analyze the twitter audience of any brand. It is true that there are many tools to create this kind of analysis but in this case, we are going to focus on Twitter Analytics to discover our account's stats and on Tweet Binder for the hashtag analysis. Measuring the impact of our actions on Twitter is essential for planning future strategies. For that reason, it is important to analyze the data and statistics through a Twitter platform and with your own Twitter report.
Discovering Twitter analytics
First of all, we have to admit that Twitter Analytics is the best way to have an overview of our account's performance. The panel offers the main stats and the most relevant content related with our user. By visiting your own Twitter page, you will have the summary just on the top part. Twitter shows us the total amount of tweets, impressions, visits, mentions and followers. What is more (and better), the stats are updated daily and you will discover the change over the previous period. It is really easy to identify the growth or decrease in green or read. Is there anything more intuitive? You also have available the summary of the previous months showing the same stats.
On the other hand, Twitter Analytics shows the Twitter highlights of the currently month and the previous ones. Thanks to this analytic tool you will be able to discover the top tweets and mentions. Moreover, you will find out your top follower and top media tweet. This information is really useful to analyze the impact reached by your publications and see which content works better.
Create the perfect Twitter analytics report
What about the hashtag analysis? It is really important to have all the tweets shared under a hashtag and its statistics. Tweet Binder goes into action at that point. It is the perfect analytics tool to run any hashtag analysis with no limits. Thanks to Tweet Binder you will be able to analyze any hashtag, no matter when it has been used.
Free Twitter report: You will get a Twitter report with data from the last 7 days and up to a maximum of 200 tweets. The excel exportation is NOT included.
PRO reports: You will get a Twitter report with data from the last 7 days and up to 20,000 tweets. Excel exportation included.
Live campaign: Monitor any hashtag, term or account in real time with not data limit.
Historical report:  Tweet Binder offers reports for the last 30 days and, if you need it, also for previous date ranges. There are no limits because we can access data since 2006.
How to create your Twitter Analytics report
Getting a Twitter report with Tweet Binder is really easy. You can purchase it directly from our site or, if you prefer, you can ask for it via email. Once you get the Twitter report, you will obtain the most complete hashtag analytics. The report includes the main stats (total number of tweets, users, impacts and reach…), more than 8 rankings of users, top related hashtag, most retweeted accounts… Countless information!  On the other hand, you will receive the excel file to get a deeper and significant approach to the obtained results. Are you convinced now? If you need more arguments, we will be more than happy to help you with your hashtag analytics. Getting a Twitter report is super easy. In fact, the reports are better (and more complete) now. Feel free to contact us!