This post is also available in: Français (French) العربية (Arabic) 日本語 (Japanese) Português (Portuguese (Brazil))
How to track a hashtag on Twitter
This question is very common when analyzing information on Twitter. Since every campaign or event has its own hashtag, it is important to learn to track them properly. Tweet Binder offers a FREE Twitter hashtag tracker that helps users to know how many tweets the hashtag has and get twitter hashtag analytics or what users are the most active or popular. In this post we will explain how to properly track a hashtag using Tweet Binder.
To start creating your own Twitter hashtag tracker, type yours in the next search box, this will give you a a tweet count with the exact number of tweets the hashtag or term has received in the past 7 days. After that, you can create a free Twitter report of up to 500 tweets. Try, for example, by typing Marketing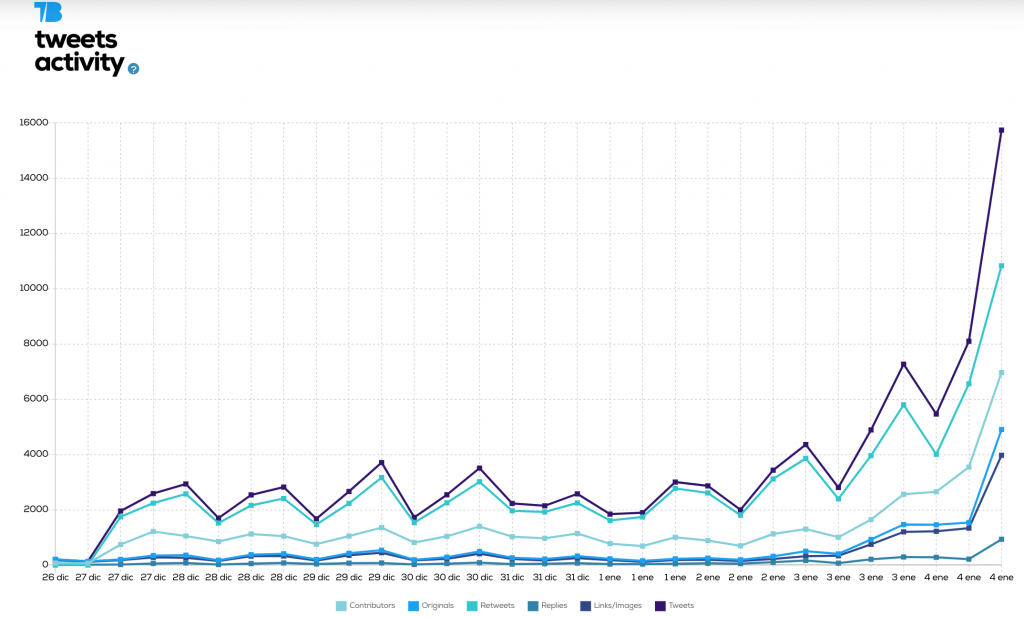 How to analyze a hashtag in 2023 (FREE)
Tweet Binder has its own way of analyzing a hashtag giving you traditional stats (impacts, reach, tweets, rankings, etc.) and other own metrics (sentiment, economic impact, etc.). You can analyze a hashtag for FREE following these simple steps:
Go to www.TweetBinder.com and write your hashtag in the search box
After clicking "create FREE report" you will be shown a "processing page", wait a few seconds
Then you will arrive to your report, which will show all the stats. If your hashtag has less than 200 tweets, it will be FREE.
You can also start step number 1 in the next search box:
Twitter Hashtag Tracker easy: Twitter hashtag analytics
Diving into the world of Social Media can be a little bit scary, but don't worry, it is easy and getting twitter hashtag analytics is something we will help you with. It even can be done with our  API service. Social Media mentions are a source of useful insights on your product, brand or company. Doing an analysis on a hashtag or account whether it's yours or of a competitor can help you gain knowledge about the market and the clients. If you combine the power of the Twitter advanced search with a good hashtag tracking you will become a master of Twitter analytics. For example, you can analyze the most retweeted tweet.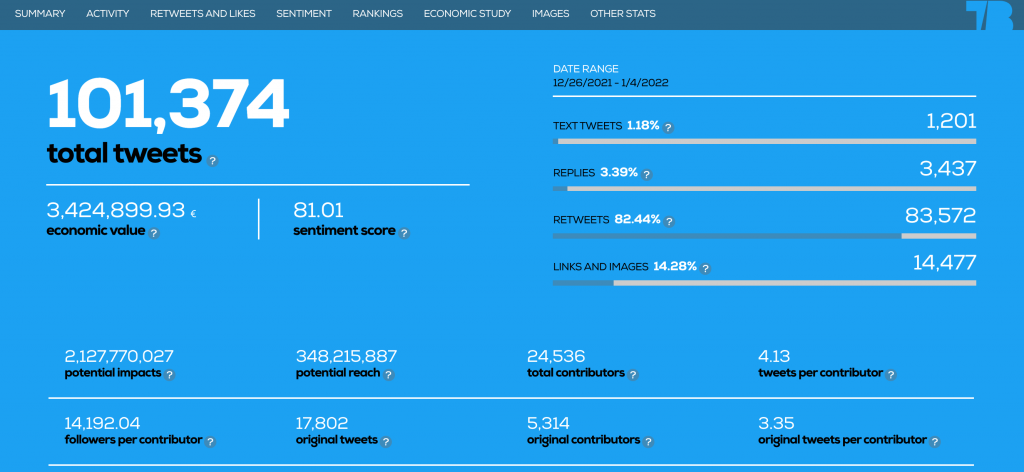 You can come along with lots of questions such as: How can I obtain all the Twitter hashtag stats? How can I track Instagram mentions? Are Social Media mentions as important as they seem? Well, the truth is that Tweet Binder and its Twitter hashtag tracker can help answer all those questions and much more. Our Social Media monitoring tool allows you to track social media hashtags in real time and run historical historical reports to analyze Twitter hashtags.
What can a Hashtag Tracker "track"
There are many "things" we can get twitter hashtag analytics out of. These are:
Hashtag
Keyword
Twitter Account
Link
Retweet
Phrase
Do you want to give it a try? Just type anything you want twitter hashtag analytics from  in the following box:
How to use the Twitter hashtag tracker tool to get twitter hashtag analytics
Let's see how you can do a hashtag tracking on Twitter to get twitter hashtag analytics, just by following three simple steps. These steps will create a Twitter report using the free Twitter hashtag tracker of Tweet Binder and it will give us some stats about the hashtag. The three steps are:
Access and log in www.tweetbinder.com with your Twitter account (mandatory by Twitter).
Type the hashtag/term/keyword you need to track into the big search box.
Click on the "Create Twitter report!" button and you will go to the report.
After that, you will arrive at your Twitter report. Tweet Binder offers several twitter hashtag analytics when using the Twitter hashtag tracker, basically they are:
General Twitter hashtag stats: number of tweets, Twitter impressions, reach, hashtag economic value and more.
Activity chart: a chart indicating the moments of more activity. This chart is great to see when people are tweeting the most.
Users rankings: up to 15 rankings that show information about the people tweeting in the hashtag.
Those stats are served by the FREE Twitter hashtag tracker of Tweet Binder, if you use the PRO one you will receive many more stats in different formats (Excel, PDF and web) but we will leave that for a different post.
Types of Twitter hashtag analytics
When analyzing a hashtag on Twitter and getting twitter hashtag analytics there are several types of tweet trackers we can create and, although the Twitter hashtag stats will look the same, they are very different. The type of Twitter report that we choose will depend on the timeframe we want to analyze. Twitter analytics is a complete new world and there are basically two types of reports:
Historical Twitter reports: they gather information (tweets) from the past. Imagine having an historical report for analyzing Bitcoin on Twitter.
Real Time Twitter reports: they gather information (tweets) as they are tweeted, live.
Let's see in detail the details of these types of hashtag tracking. All of them are relevant for your Twitter marketing strategy.
Monitor historical Twitter activity
The Historical twitter hashtag analytics reports collect information from the past. Twitter establishes different "time access" to their API so when tracking a hashtag we have four types of historical reports (Wow, so many types):
The only difference between these reports is basically the price. An old tool called Topsy com used to give access to stats without time limitation but it closed down.
Monitor Twitter hashtags in real time
Real time tweet trackers collect tweets as they are posted. This type of analysis is great for analyzing Twitter campaigns, Twitter chats or for when we need stats right now like a TV Show or a live campaign or event. The report will update by itself and will show the latest stats. The look and feel of it will be the same as a historical report, the only difference is that it will update the stats in real time.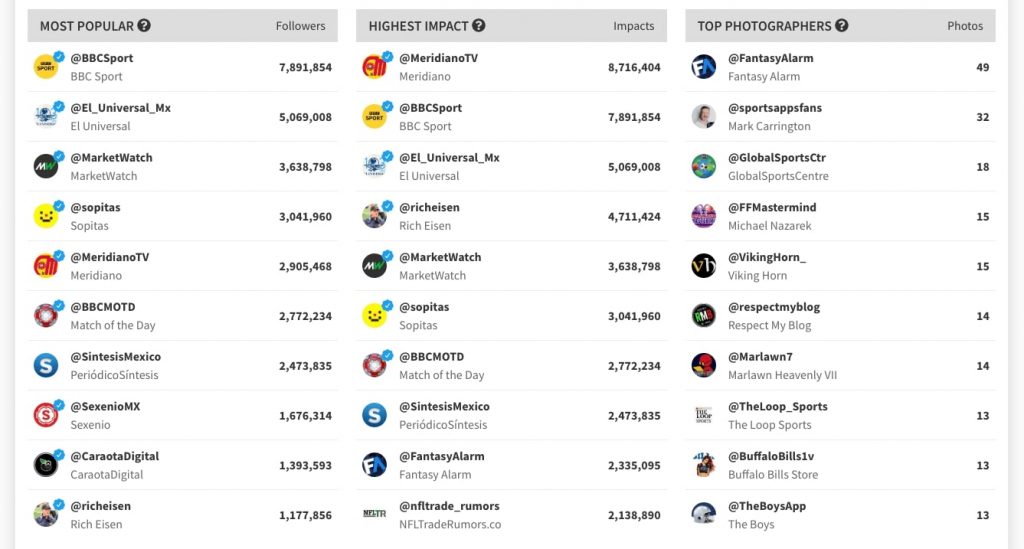 Extra features of a Twitter tracker
Tweet Binder is a powerful tool that allows users to track and analyze hashtags on Twitter. With Tweet Binder, users can easily see how many tweets have been sent with a particular hashtag, who is using the hashtag, and what kind of content is being shared. This makes it easy for users to keep track of specific hashtags and see how they are being used on Twitter.
One of the key features of Tweet Binder is its hashtag tracker for Twitter. This tool allows users to track multiple hashtags at once, so they can see how each one is performing and compare their popularity. The hashtag tracker for Twitter also provides detailed analytics, including the number of tweets and retweets, the reach and impressions, and the top users and influencers.
Overall, Tweet Binder is a valuable tool for anyone looking to track and analyze hashtags on Twitter. With its hashtag tracker for Twitter and other powerful features, Tweet Binder makes it easy for users to stay on top of the latest trends and engage with their audience on the social media platform. Whether you are a business, a marketing professional, or just a Twitter enthusiast, Tweet Binder is a valuable tool to have in your toolkit.
If, after reading this post, you still have doubts about what insights you can obtain with  Twitter or Instagram reports, please feel free to contact us at any moment. Tweet Binder's doors are open 24/7 and our team will gladly help you with any inquiries you may have.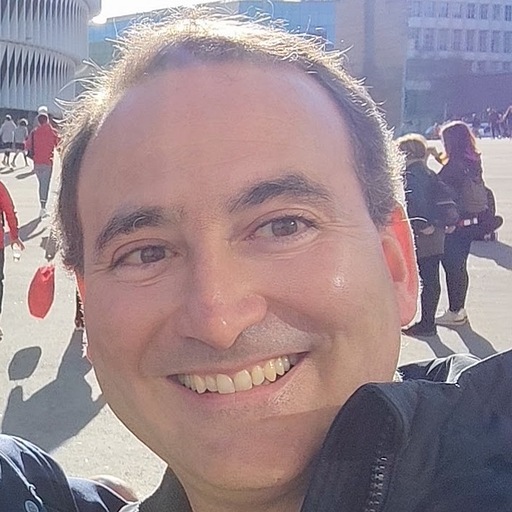 Javier is the founder and CEO at TweetBinder. With more than 10 years of experience in Twitter Analytics space, he is on the mission to build best-in-class Twitter marketing tools helping X community to thrive.