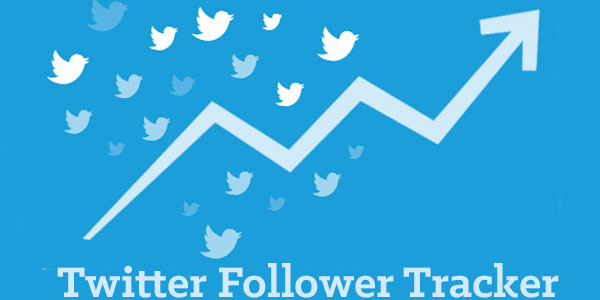 This post is also available in: Français (French) العربية (Arabic)
Tracking followers on Twitter
If you have clients who have a presence on Twitter (your own company is also valid), you will need to know how they are doing and what's the evolution of their main KPIs (followers, following, list, etc). We like to start our posts like that, with an obvious or impactful sentence, in this case we will add another obvious one: you need to track your client's information on Twitter. Have you presented any report to your client/boss showing Twitter metrics and followers' growth was the most important KPI?
In this post we will talk about Twitter follower tracking and how you can use a Twitter follower tracker to present the info to your client and compare it with its competitors. Disclaimer: Followers are important, there is now doubt about it, but we will also talk about other metrics that are very important too, for example the number of mentions the account received. Tracking Twitter users is as important as tracking and following Twitter hashtags, but it has its peculiarities. Continue reading to learn more or just add your search on the following box to analyze Twitter accounts now:

Twitter Tracking users and having a clear Twitter follower history is one of the most important things on Twitter. By that we don't only mean "followers" but other metrics that are important as well (Had we said that already?). Many times our client/boss thinks that the most important thing is to grow followers on Twitter, our job will be to explain why followers growth is not the only metric. And yes, again, we have news for you, followers are not the most important metric.
But since clients consider it important we must learn how to track Twitter followers too in this post. Clients look especially at the number of followers of its competitors, so when its Twitter followers are lower than its competitors you will surely receive a call. Followers analysis is something that every social media manager should be doing, it seems obvious as well. As well as you perform a followers analysis you should be doing the same for other important metrics.
Twitter user statistics
Ok, now you are convinced (hopefully) that the number of Twitter followers is not the most important metric. But setting a Twitter follower tracker is important as well. We will see now other stats that we have considered important here at Tweet Binder. All these stats will help us see how the user is doing on Twitter. Of course, these dynamic metrics change everyday and we need to track them everyday then: the number of Twitter followers will (hopefully) increase, as well as other metrics.
We need to control these everyday and check the evolution being able to compare it with the competitors of the user. Now you will have to convince your client that these other metrics are also important. As important as the Twitter followers. Tracking Twitter accounts is important, remember, we consider it important but we also consider other metrics as important. Follower analysis is important, but not that important (Have we said that already?)
There are many Twitter analytics we need to consider when tracking Twitter users. At Tweet Binder we have developed a new tool that focuses on these Twitter metrics:
Followers: This one is easy, it indicates how many Twitter followers the account has. Followers analysis is what the majority of people look at. Once you start tracking you will have a good twitter follower history.
Following: Following refers to the number of people the account follows. Celebrities for example follow only a few people (Justin Bieber or Barack Obama is the exception).
Ratio Followers/Following: Ok, this one is good. This one indicates how many followers you have for each account you follow. The higher the ratio the more influence the user will have because people follow it despite the fact that it doesn't follow back.
Economic Market Value: This is one unique metric from Tweet Binder. It indicates how much one tweet from the users is worth in the market, how much is worth in online advertising. This one combines many metrics, not only the followers. The higher this metric the more influencer the account will be.
Economic Engagement Value: The economic engagement value is like the market value but taking the engagement of the account into consideration. Tweet Binder expects a certain amount of retweets and likes depending on the number of followers. If your engagement value is lower than the market value it will mean that you are not getting enough engagement. This is actually a very complex calculus that we are very proud of.
Received Retweets: Easy one, it means how many retweets the account has received.
Likes obtained: Another easy one, how many likes the tweets from the analyzed account got.
Received Replies: How many replies/mentions the account got. (In the future we could talk about Twitter Sentiment analytics when it comes to replies)
Lists: These metrics are quite important and we don't pay enough attention to it. It shows how many list the user is in, it is like a "far relative" of the Twitter followers
Certified user: If the account is certified or not. The blue ribbon.
Age of the account: How old is the account on Twitter. How many years passed since the user opened the account.
How to get your Twitter follower history?
It is very important to know that Twitter does not have a log of your followers' growth. In Twitter Analytics you can see how it went for the last 30 days, but your complete twitter follower history is something you will have to build yourself. The best moment to do it is right now, there is no way of getting your followers evolution since the beginning, so the best will be to start right now so you will have a clear twitter follower history.
What are the most important Twitter user stats?
As you just saw there are many stats we can analyze from a Twitter user, not only its followers, which actually can be bought you know. To choose the most important or the two most important Twitter user stats from the list will be difficult. However, since you asked we must say:
Economic value of the account (market and engagement) and the ratio between both
Age of the account: these days, the older the account the better, it means that person has been on Twitter a while and has seen "things"
How to track someone else's followers
There are many ways of tracking these user stats, of course we have our own tool for that, but let's see all the options here:
Manual track: the old fashion way, just grab a pen and a paper (Excel please) and get the main KPIs periodically (each week is ideal), then write them down and build some nice Excel charts. If you don't have excel you can always use Google Sheets.
Build your own tracking system: if you like to code you can create a system that periodically gets the main KPIs of a Twitter account and stores them in a database. Once you do that you can build your own reports. We did!
Use a twitter follower tracker app: we have our own one and it works fantastically. There are many tools out there in the market and we are friends of many.
Use our FREE Twitter tool now!
Do inactive Twitter followers count?
Inactive twitter followers are one of the things that we "do not like" the most. They stay there in the shadow doing nothing and luckily they will read maybe a tweet from you. They are people who opened their accounts back in the day and they either forgot about it or just didn't understand Twitter. Those inactive twitter followers do count on the metrics and many times they ruin the engagement figures because they make us look bigger than we are (they "follow" us) but they will never interact with any of our content. Don't be an inactive follower. We love real twitter followers, they are normal people like you and us, they follow and comment and like and more, they do more than just nothing. So if you want to track twitter followers you will have to know that the inactive followers will count.
Twitter followers growth VS Twitter economic value
What metric is more important when tracking users on Twitter? This is a very tricky question. In fact, all those metrics are important and sometimes some will be more significant than others. For example, if the goal of our client is to grow its followers base, we'd need to check the "followers" metric, followers analysis will be the main focus then. However, if the Twitter user just launched a campaign, we'd need to focus on the engagement received since we want people to get involved in the campaign. Remember that inactive twitter followers will make your engagement get lower, so it is ok to clean from time to time the figure of followers.
The influence of one account is not determined by the number of followers, or real twitter followers. This is something that every social media manager knows (or should know). Because having many followers does not guarantee sales or engagement. This can be known by setting a Twitter follower tracker. We need to mix those metrics to value the performance of the account. That's where the economic values of the Twitter user's tweets have a very important role. The economic values are created based on one unique algorithm created by Tweet Binder that focuses on two important aspects:
How much is one tweet from one Twitter user worth in the online advertising market
How much should one tweet from one Twitter user be worth, taking the engagement of the user in consideration
When one company starts a campaign of paid media on Twitter (Via Twitter ads or pay-per-tweet platforms), it is not promised any engagement, it will pay based on the audience it wants to reach. However, Tweet Binder developed the Engagement Value, that will be the amount of money you should really pay that account to tweet about your brand. Why? Because we take the engagement of the Twitter user in consideration. You can calculate your engagement value from this new Twitter users tracking tool.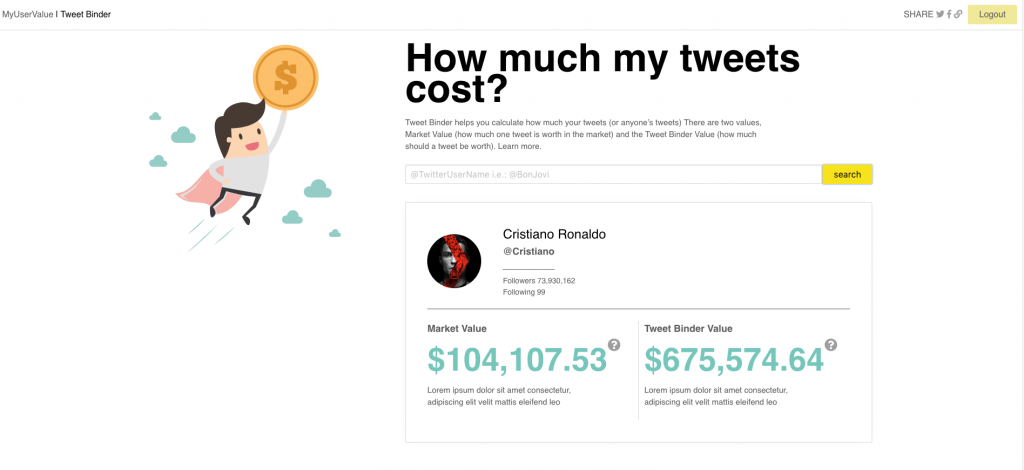 So, when somebody asks about the most important metric when tracking Twitter users, we must say "it depends", but for us the engagement value will be one of the best. However, we are developing a new one that mixes all these standard metrics in one. We will release it by the end of 2018.
How do we start tracking Twitter users?
Setting a Twitter follower tracker is very easy with our new tool and it will be great to manage your twitter followers. Tweet Binder is releasing a new tool that will track Twitter users easily. The most important thing is that this new tool will focus on the two major aspects we talked about before:
Evolution of the metrics of a users
Comparison of the user with its competitors (inactive twitter followers will be bad for all, not just for you)
The steps to start will be very easy:
Add user to the tracking system
Tag user as "client" or "competitor of your client"
Once we set these easy steps, the system will start gathering the data everyday and will be showing the info on a private dashboard. The Twitter follower tracker is set in just a few steps! Evolution and comparison, that's the key, not only for followers analysis but for all the other metrics. We will be able to present a 360 degrees dashboard that tracks all the important KPIs.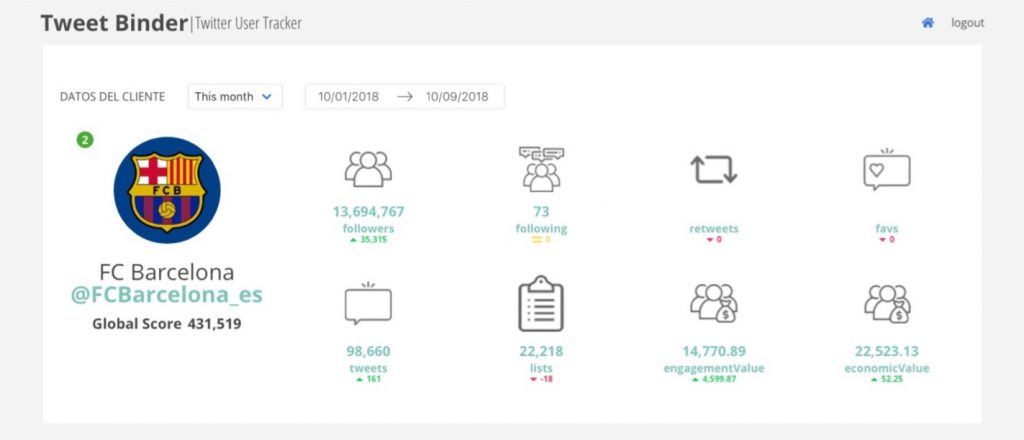 Once we have seen how to analyze users and set our Twitter follower tracker, we must learn how to detect those accounts that we want to track. It is very simple to find our competitors, the ones we already know, but what about those accounts that can be competitors and we don't know them. There are millions of users who use social media every day to share content and publications, many of those are worth tracking. At Tweet Binder we analyze millions of tweets, images or opinions creating very complete reports. Both on Twitter and on Instagram we can analyze what is shared and obtain complete data and statistics.
We are able to monitor without limit, but we can also obtain very valuable information from users who have participated in the analysis. In addition, it is essential to know what is shared, to discover and study those who are part of our report. This is why our user rankings are so relevant and important. From here is where we can obtain very rich information on what users can be interesting to track in our Twitter dashboard.
Twitter users rankings
On Twitter we can analyze absolutely everything. Once we carry out a search, first we offer a visually attractive infographic report in which, in addition to general statistics, we can see two main user rankings. These are: the five most active users and the five most popular based on the number of followers. We consider that it is important to highlight them. The first one allows us to quickly detect the accounts that have most participated in the analysis. The second let us detect influencers or relevant accounts that we could or may not know that have shared content about what we have analyzed.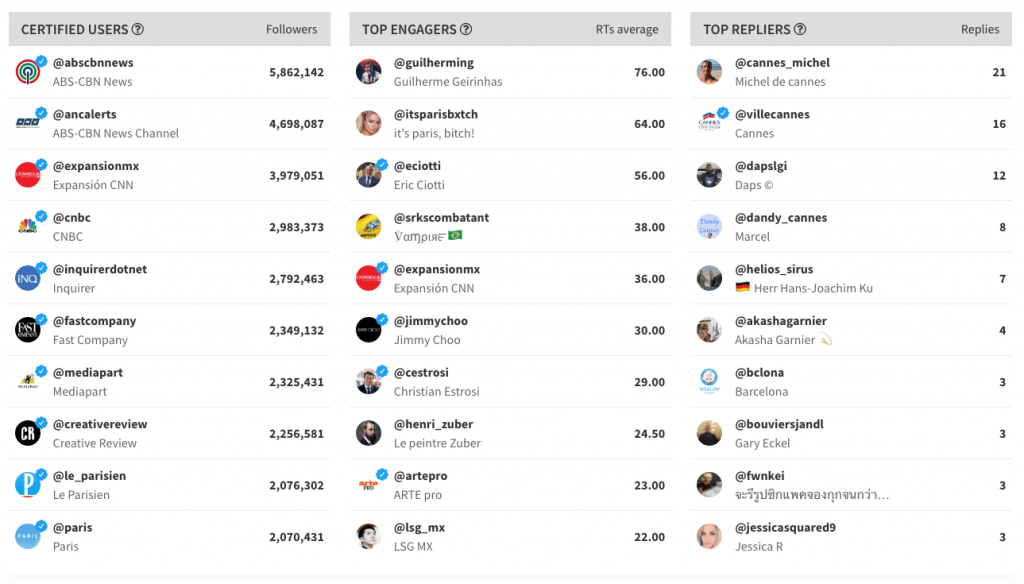 These rankings are accessible to all those who make a report in Tweet Binder. To the users who make free reports and to those who have a plan or buy specific reports.
In the case of the second report that is included in Tweet Binder, the advanced report, we will have more rankings with more number of accounts per ranking. In fact, with the PRO version (plans or specific reports), we will have the opportunity to check up to fourteen rankings: more active, more RTs have sent, those that have shared more original tweets (very interesting to detect prescribers), accounts with more followers , those that have generated the highest impact, those that have shared the most photos, the most mentioned users, and those that have been most retweeted.
These user rankings, besides being available in  the reports that we have just seen, can be consulted in the Excel file generated with the PRO reports. This document includes a tab with the complete list of accounts that have tweeted. It also offers several parameters that allow us to sort the results according to what we want to know.
Instagram users rankings
In this post we are talking about Twitter followers tracking, but let's make a little room for Instagram as well. Besides having a Twitter follower tracker, we are also working on a tool for Instagram followers. When we analyze Instagram hashtags we also generate a very complete and attractive report. We can consult statistics of the publications. Also we can quickly know which ones have been the most commented or those that more likes have received. Besides, we can check the locations where the publications have been shared and six rankings of users are also included. These rankings are:
The rankings of users are not simple lists. They are valuable information to be able to know better those who interact with our campaign or brand. Thus, to be able to treat them better. Whether it is rewarding more active users with contests, or if it is mentioning them in a publication. We have to take advantage of those who help us to make ourselves known or those who talk about us. Because they are not just users or a number, they are very valuable. And, as we have seen, discovering them is very simple with Tweet Binder.