This post is also available in: Français (French) العربية (Arabic) 日本語 (Japanese) Português (Portuguese (Brazil))
Everyone who has ever tried to grow followers on X / Twitter knows how painful it might be. However, once the efforts start to pay off, you cannot be more than happy to see the X / Twitter follower graph which is growing. 
If you have used owned X / Twitter Analytics you should have noticed that there is no detailed twitter growth chart there. This is where Twitter follower trackers come in handy. The good news is that you can use some Twitter follower tracking tools for free.
Before we dive into the tools part let us explain how you can benefit from tracking followers on Twitter / X.
Before we start use the search bar below to track and analyse any Twitter profile (@mention), keyword or hashtag for free. Just use the search bar below.
What is a X / Twitter follower tracker?
Have you ever asked the question: "how to track my Twitter followers?". If you did, you realise that just the monthly number of Twitter followers is not enough. The detailed follower graph allows you to link a particular Twitter activity to follower growth.
In other words, the analysis of this Twitter data gives an insight into how to grow followers on Twitter.
While the historical followers growth is not available, you can set up a Twitter follower tracker for your account to do historical Twitter analytics in a while. 
Twitter follower tracking tools allow you to track Twitter followers over time. Most importantly, it gives you daily follower gains and unfollowers stats. Apart from that you can track many more metrics that we cover later in this post.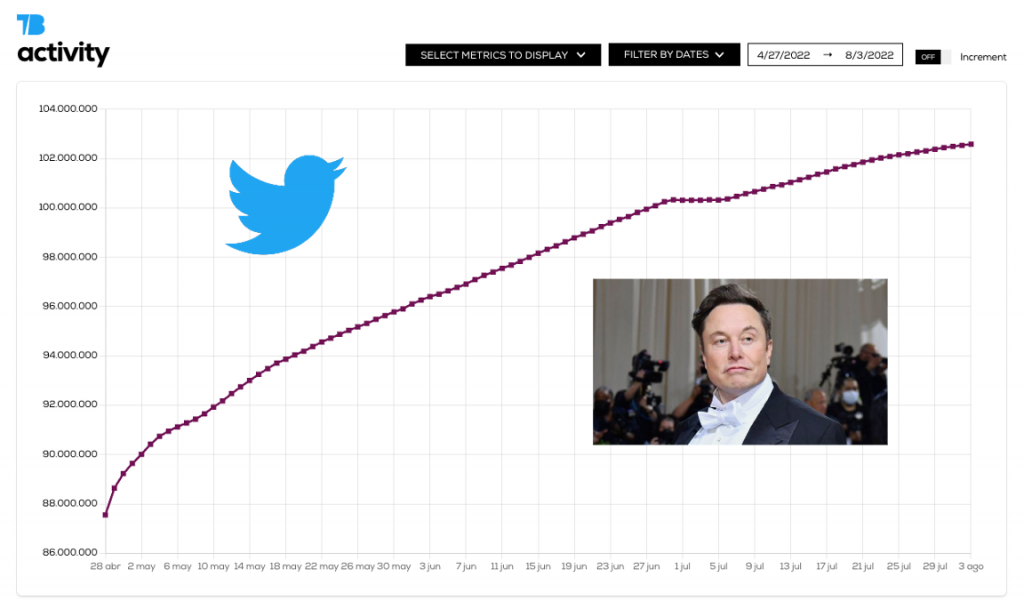 In addition to that, with third-party twitter follower tracker apps you can track any Twitter account. Doesn't matter if it is an owned one, or a competitive one. This way you can compare different Twitter accounts.
Relative reading – How to Grow Twitter Followers: 14 Expert Tips Get More Followers.
Look at how we compared followers growths of fan accounts during Women World Cup 2023 with the use of Tweet Binder. Keep in mind that Tweet Binder's trackers are available on paid plans.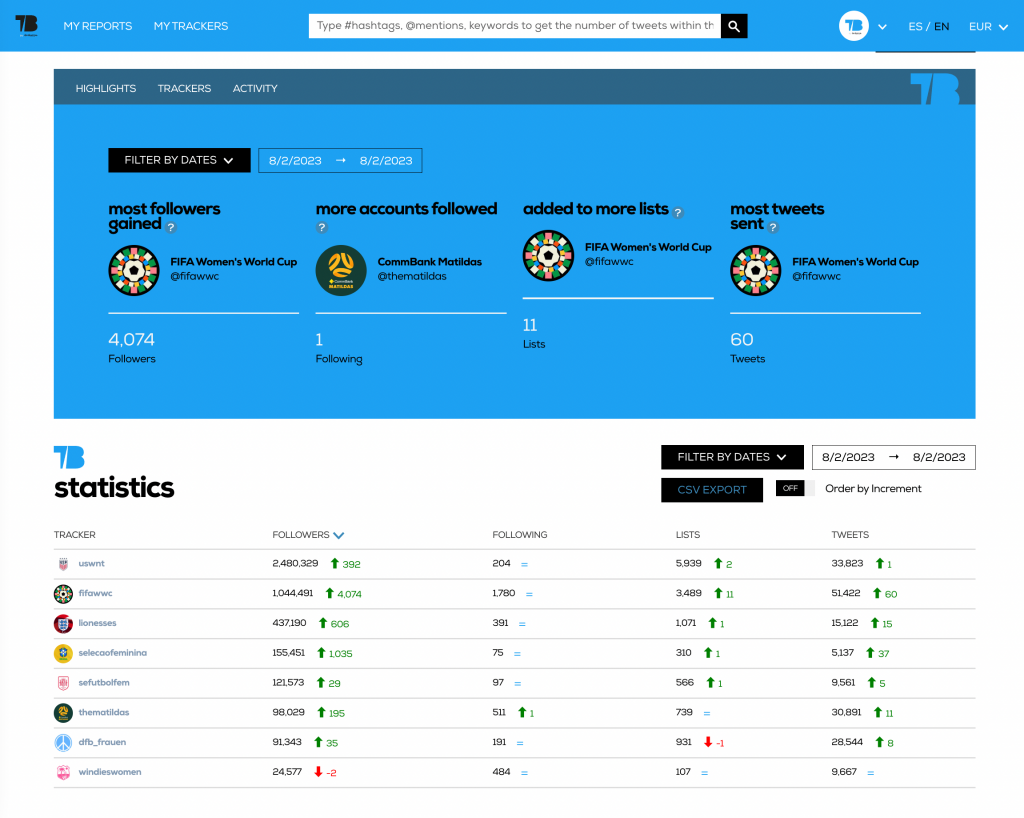 If you want to create a Twitter follower tracker with Tweet Binder use this link to login and get started. 
Tracking Twitter follower stats
Use the search bar below to get stats about any Twitter account (put @mention), keyword or hashtag for free. Just use the search bar below.
X / Twitter Follower Count Tracker
Follower count is calculated as a summary of your total followers, new followers and the number of unfollowers.
For example, imagine by the end of yesterday you had five followers. Today you've got five new followers and two unfollowers. So, your follower count for today = 5 + 5 – 2 = 8.
So, the X / Twitter followers check will let you know the following:
How many followers you are growing

Who followed or unfollowed you

Get real time twitter follower count
Unfortunately, X (Twitter) does not have a timestamp on followers so they cannot be tracked historically. To have a twitter follower count tracker is important to see if your actions engage with new people. 
On the screenshot below you can see how X / Twitter follower count is presented in Audiense Connect.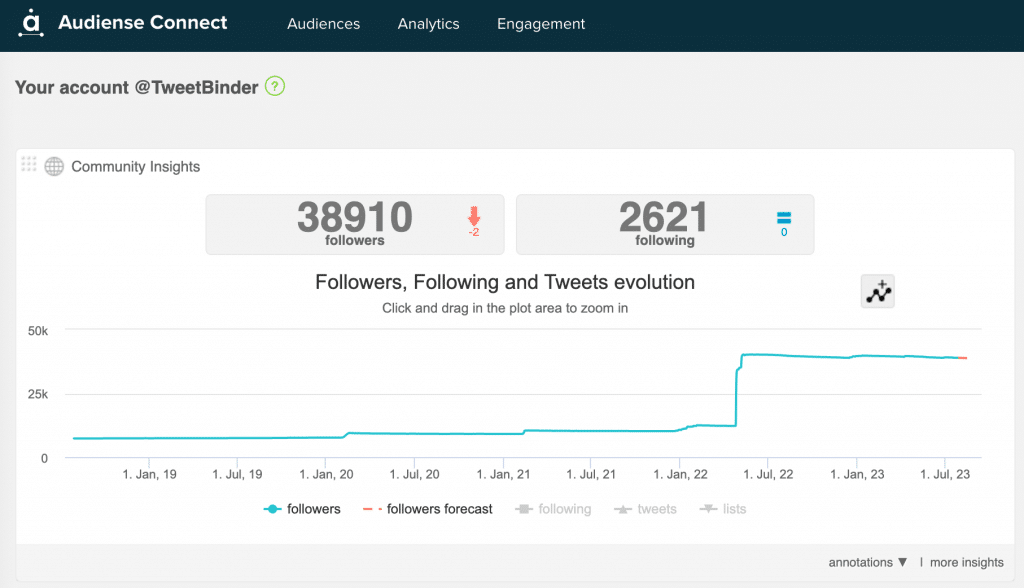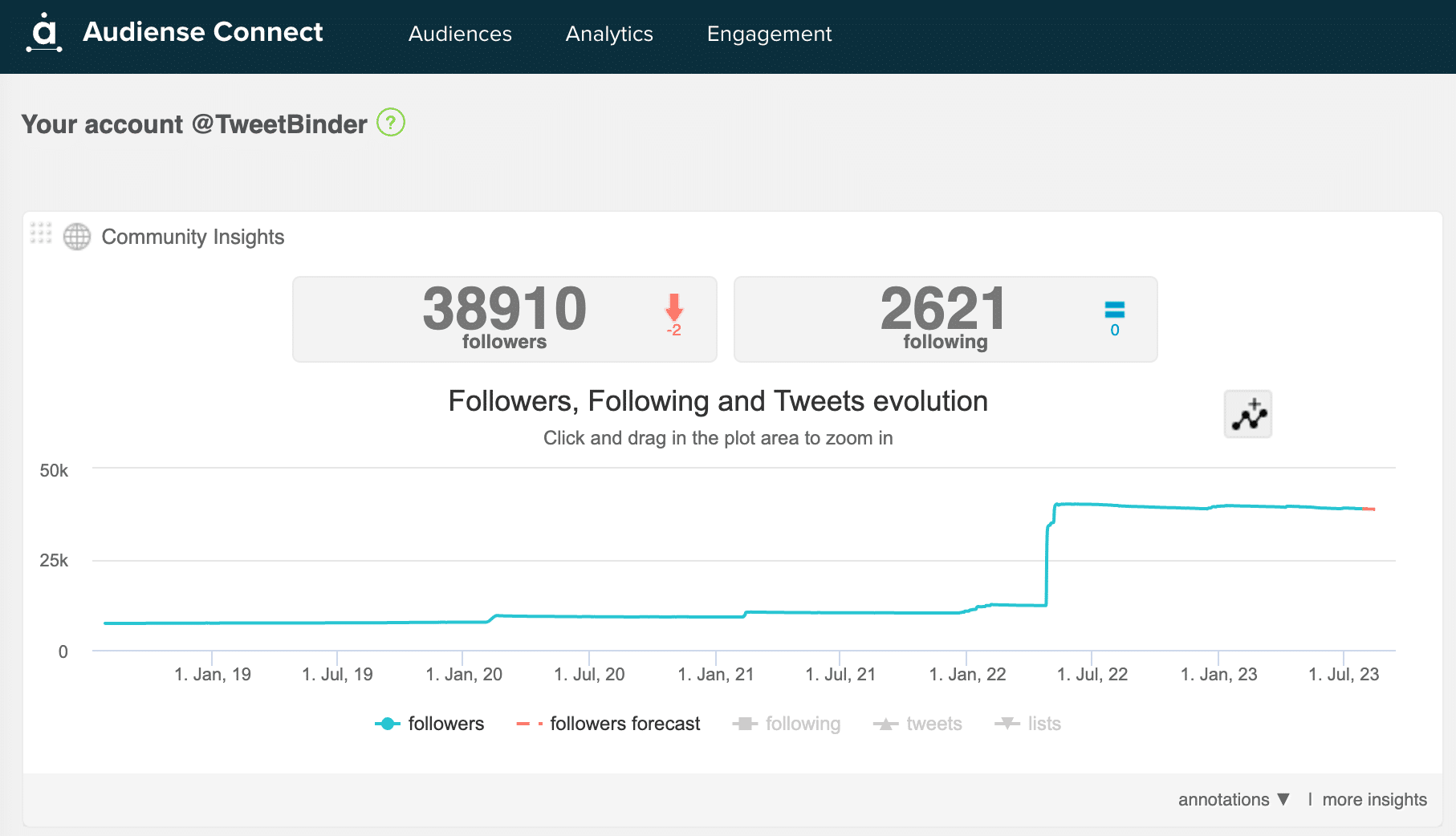 Remember that a tracker starts collecting data once it has been registered. In addition, you can change periods and check X / Twitter handles behind new followers and unfollowers. Once you set your follower tracker, you can add other Twitter accounts (competitors, clients, etc.) to compare its evolution and compare other metrics like Tweet activity or lists.
Sign up for a free Twitter followers check tool – Audiense Connect. 
Who unfollowed me on Twitter / X
Imagine you have no more than 20 followers. It will be relatively easy to comprehend who unfollowed you. As the number of followers grows, it becomes more time consuming to keep track of who unfollowed you on Twitter. 
Analysis of unfollowers stats provides insight into how your X (Twitter) activity resonates with your audience. If someone has never engaged with your content, why to keep that follower in the first place? So, it won't always be a big deal to lose followers.
Oppositely, if you see a Twitter handle losing valuable followers, it is time to reconsider a X / Twitter marketing strategy.
So, now it is more clear why one would want to go beyond just Twitter unfollowers metric and check accounts. Certainly, the analysis of these accounts will provide deeper insights.
You can use Audiense Connect to create a tracker for a Twitter account and start discovering unfollowers every day.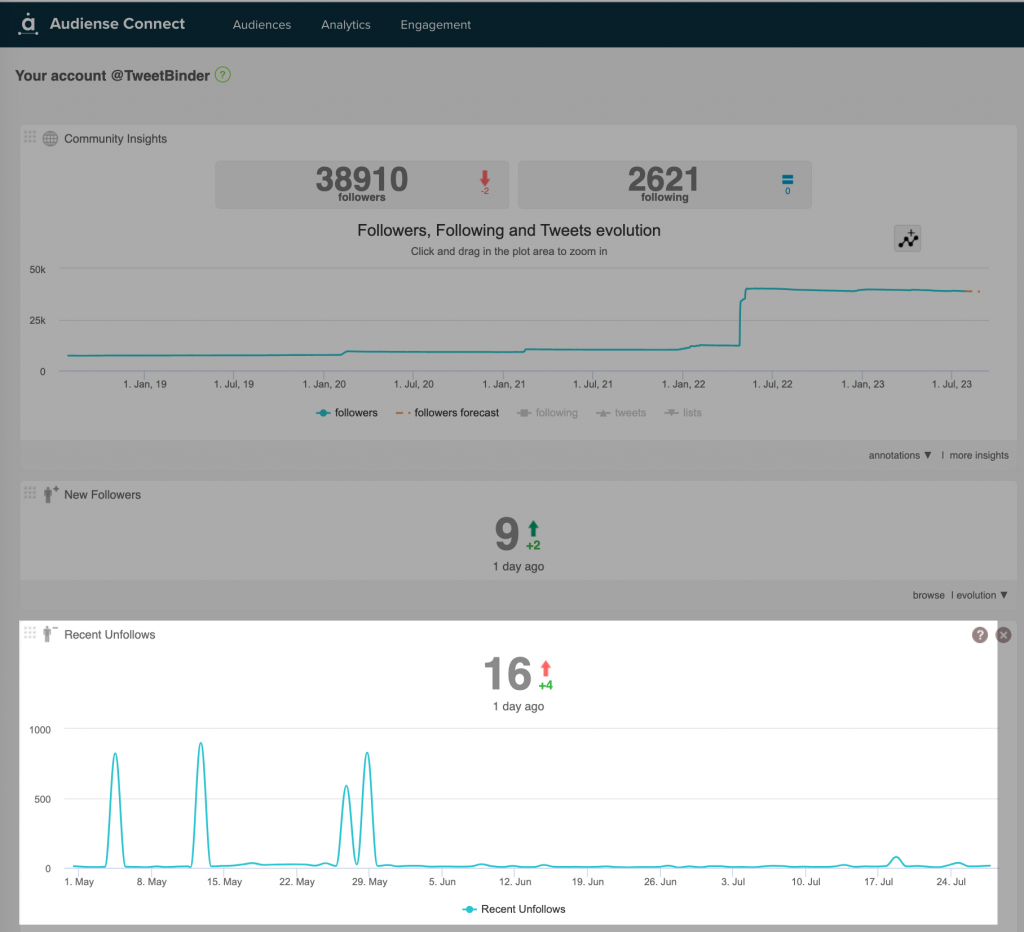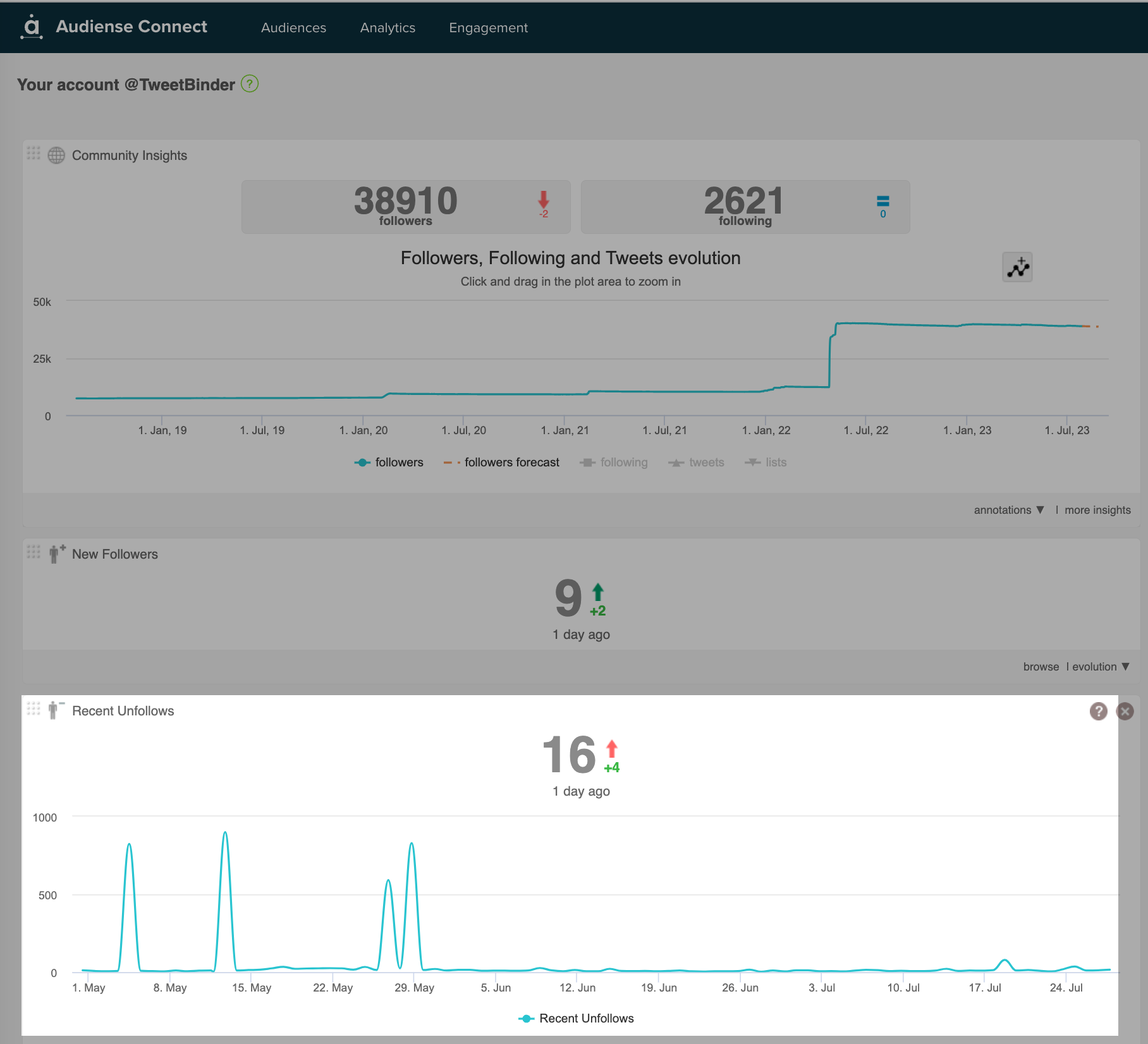 Fake or inactive followers
Many community builders are wondering how to remove fake Twitter accounts from their followers. Indeed, it does a lot of sense to have a relevant and engaged community. Certainly, why to have follower that have never seen and engaged with your content. 
So, you should clean up X  /Twitter community from bots, fakes, spam or inactive accounts. In other words, Twitter follower audit should become your regular quarter routine. 
Read this guide to learn how to do a Twitter followers audit including fake follower check.
Historical Twitter followers
As we already mentioned in this article it is impossible to get history of twitter followers instantly. However, once you create a follower tracker for a Twitter account, you will be able to check followers' evolution over time. You can set up a tracker in Audiense Connect for an owned account – this is free of charge forever. 
In addition, keep in mind that there is other historical Twitter data available via Tweet Binder reports such as hashtags counts, account mentions, etc. You can track other Twitter metrics such as:
Twitter account mentions;

Hashtag or tweet count;

List count.
If you want to scale Twitter users tracking and compare performance of Twitter  accounts – sign up for Tweet Binder or use the search bar below. Get historical Twitter data about any Twitter profile (put @mention), keyword or hashtag for free. Just use the search bar below.
Who do not follow you back
If you use a mass following strategy to get followers back, at some point you might want to find those who do not follow you back. Once they are detected you can unfollow them.
No doubt you could do it manually as X / Twitter shows you who follows you back. However, the manual check is hardly scaleable. 

With Audiense Connect you can sort those who don't follow you back with one click. Once you got them, you can mass unfollow them with the in the tool.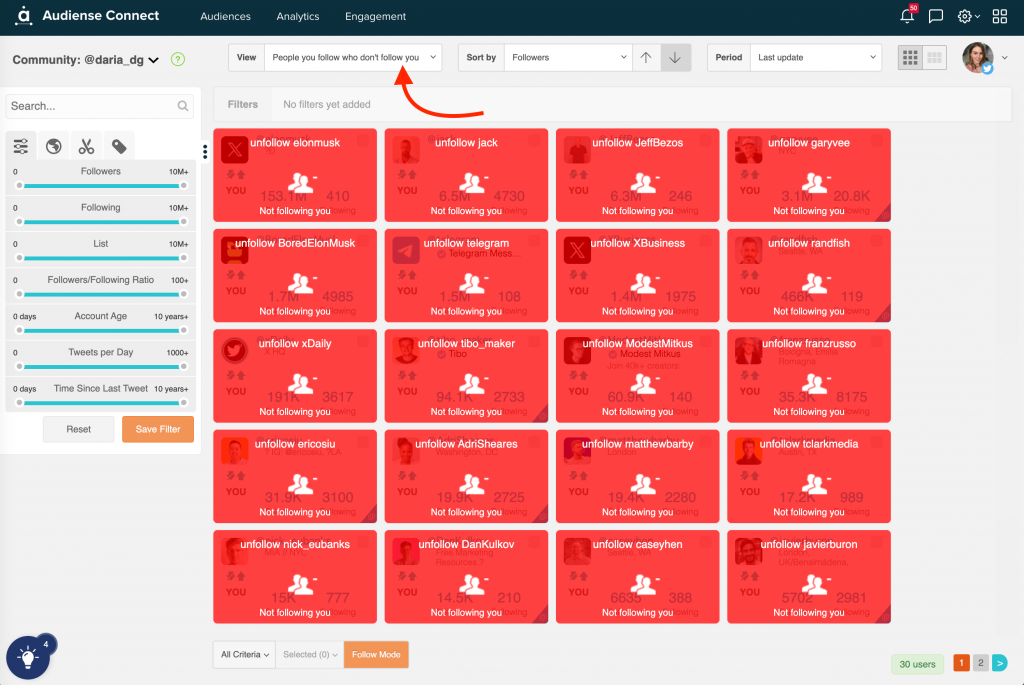 Keep in mind that the data will be available only from the moment you create a tracker. So, make sure you registered for Audinese Connect and created a tracker for Twitter data to start collecting. It is free.
Accounts you don't follow back
Similar to the previous one, you can easily detect these Twitter accounts with some third-party Twitter tracking apps. 
On the screenshot below you can check segments of Twitter followers available with one click on Audiense Connect.
Consider these accounts to identify quick opportunities for connecting. If someone already follows you, they already have an interest in your content/product/services. So, you could start engaging with them more to build mutual relationships.
Top accounts following you
Twitter users with massive followings are also humans. They have interests and people they follow. These ones represent great opportunities for collaborations and partnerships. With that being sad, if you have top Twitter accounts following you, they might have some interest in your Twitter account. If you go into partnership with them you can tap into their following community.
The top follower is the Twitter account with the highest follower count that started following you over time. This follower may also serve as a potential influencer or collaboration opportunity.
How to track Twitter followers over time
If you want to get Twitter following history, you need to start tracking Twitter followers as soon as possible. Fortunately, there are free tools that allow track follower count over time and get Twitter follower history eventially.
The Twitter User Tracker system is a unique tool included in  Audiense Connect and Tweet Binder. This feature allows users to get Twitter accounts' information to compare data between users and to keep data records about many key metrics. If you have found yourself wondering about "What a Twitter follower tracker app to use" or "how to track my Twitter followers", read on. In this section we will cover how to use Twitter follower tracker.
Twitter follower graph
There is a Twitter follower growth graphic included in the free Twiter tool – Audiense Connect. Once you add a tracker, the data is updated every hour and a Twitter chart displays all the available information. Data is available as a panel that gives numbers as well as a visual graph. Followers' growth is the one shown by default but you can select between all the stats in the chart (followers, following, tweets and lists). The date range of analysis is modifiable as well. This is a dynamic graph.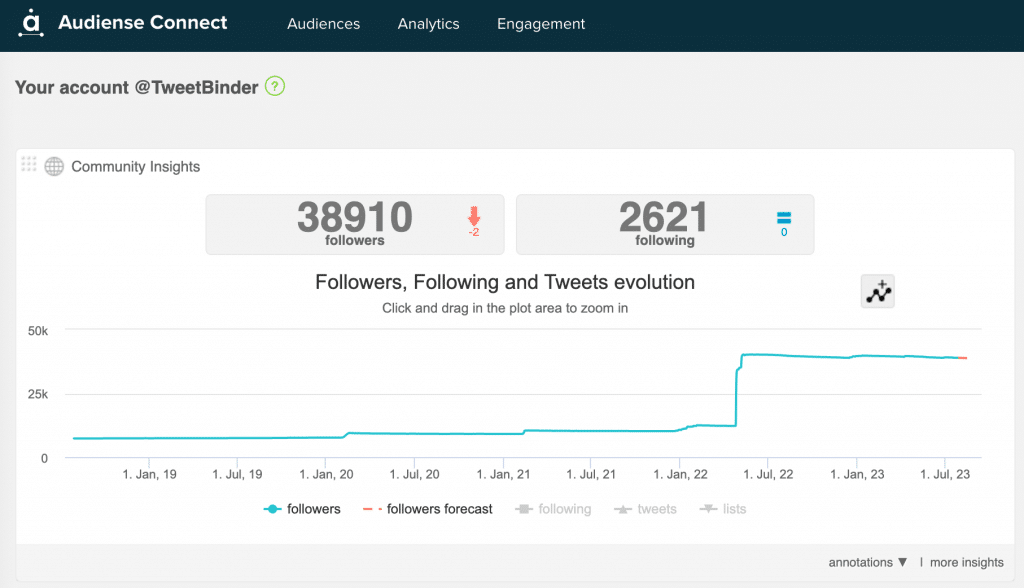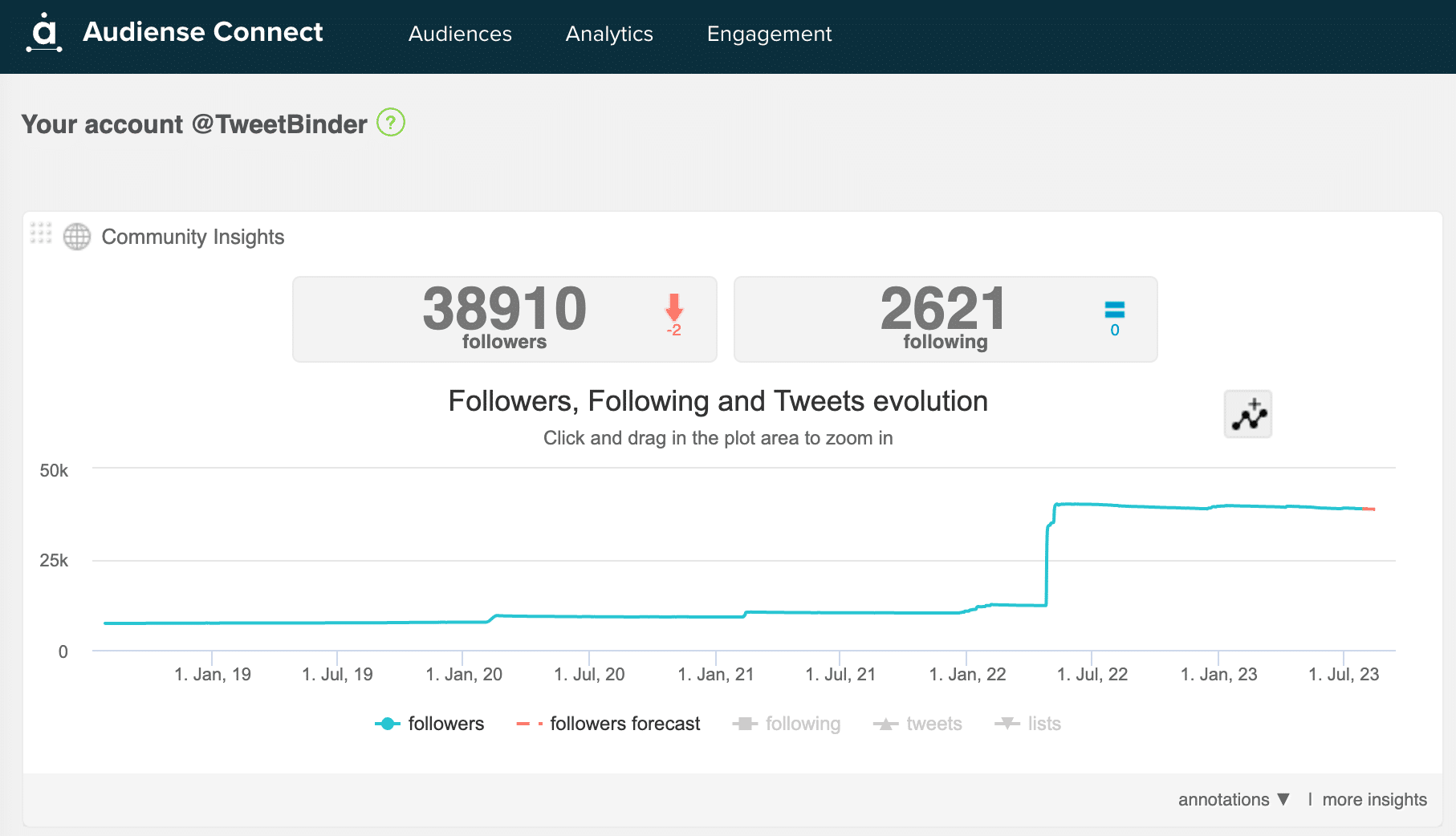 Twitter Follower Count Tracker
In addition to the graph view, it is important to have Twitter counters. Audiense Connect panel view offers a full range of different counters such as:
New followers
Recent unfollowers
Inactive people you follow
Now following you back
Famous people you follow
and others.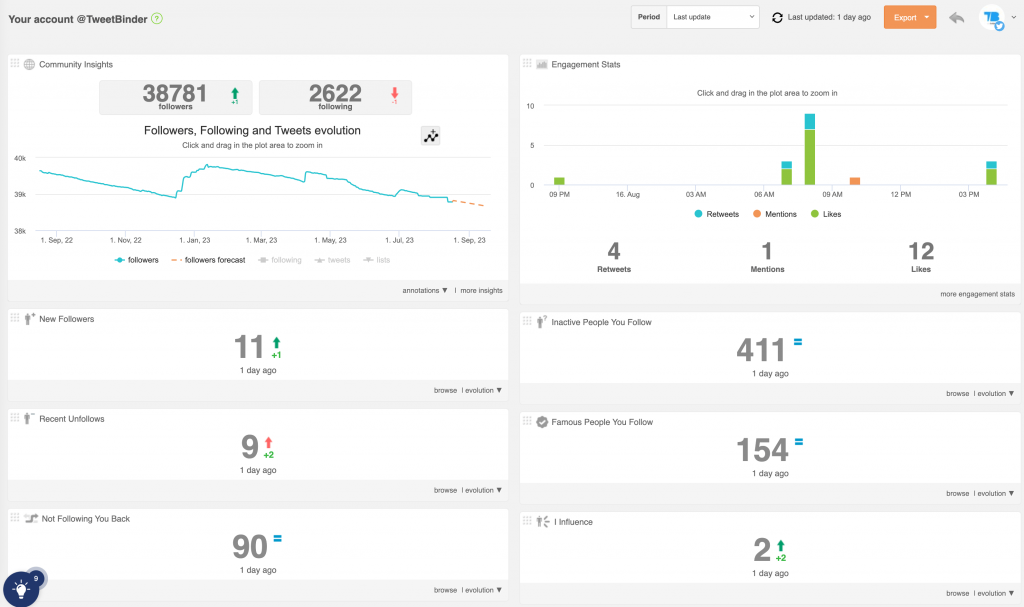 A twitter follower count tracker is useful to see how your actions are playing on Twitter. Try to track new followers once a week at least and compare them with your competitors.
Disclaimer: Followers are important, there is no doubt about it, but we will also talk about other metrics that are very important too, for example the number of mentions the account received.
Twitter Follower Analysis
Another interesting feature that complete the Twitter Followers counter and tracker is the twitter follower analysis. You can download all your Twitter followers and your competitors and analyze those followers by sorting them by:
Location's Bio
Number of followers
Number of following
Tweets per day
Account age
Days since last tweet
Number of tweets
and more.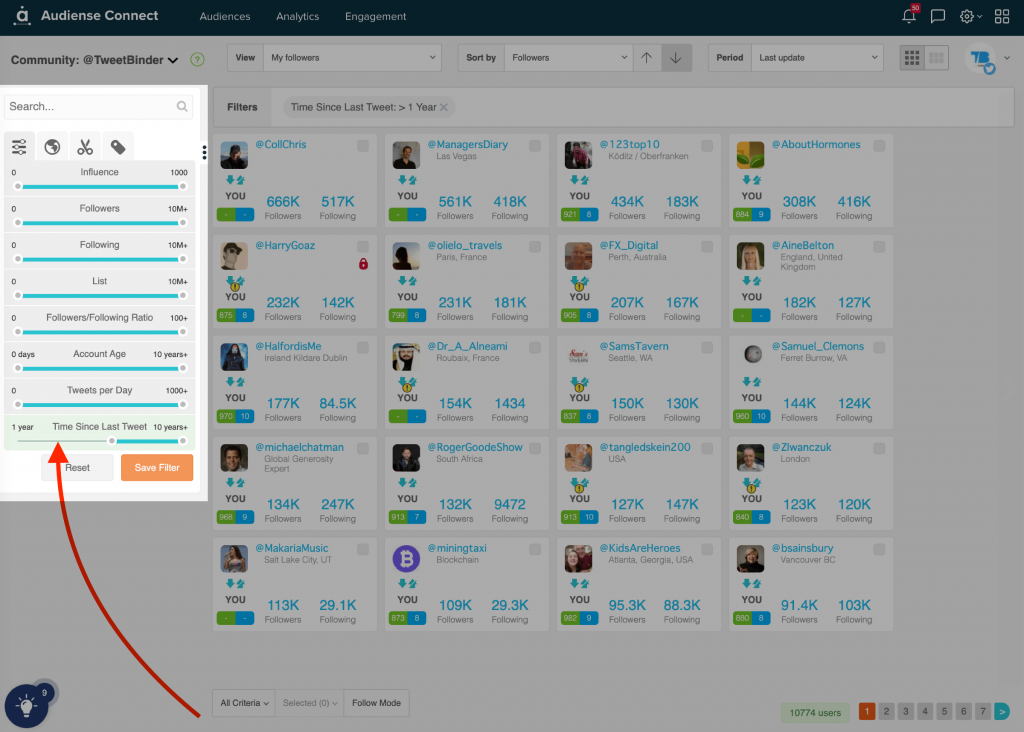 So if you are interested on knowing, for example, who's the most "popular" Twitter user that follows you or your competitor, you can do it with Audiense Connect.
How to track another Twitter account followers
If you wonder how to search someone's twitter followers, read on. This section will answer this question.
Use the search bar below to get Twitter account statistics (put @mention), keyword stats or hashtag analytics for free. Just use the search bar below.
Search someone's Twitter followers with Audiense Connect
With the free version of Audiense Connect it is possible to track a Twitter account of your own and one 3d-party account. The results you get will be shown in the same way. Use the screenshot below as a reference.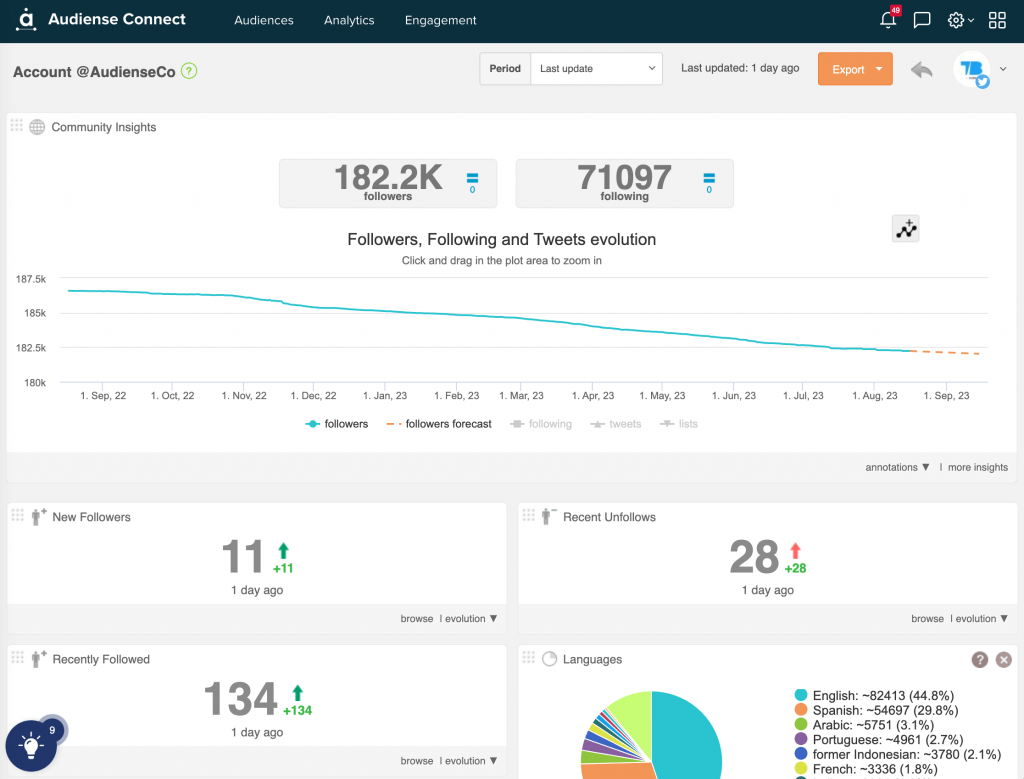 Even though you can compare Twitter accounts in Audiense Connect as well, there are some limitations. For example, you cannot compare more than three accounts in one report. 
Follow this step-by-step guide to compare Twitter handles in Audiense Connect.
Sign up for  Audiense Connect

here

.

Add your 1st X / Twitter account. 

Add any other X / Twitter handles you want to track and compare.

Wait for some time for a tracker to collect data.

Then go to "Analytics", then click "Account Comparison".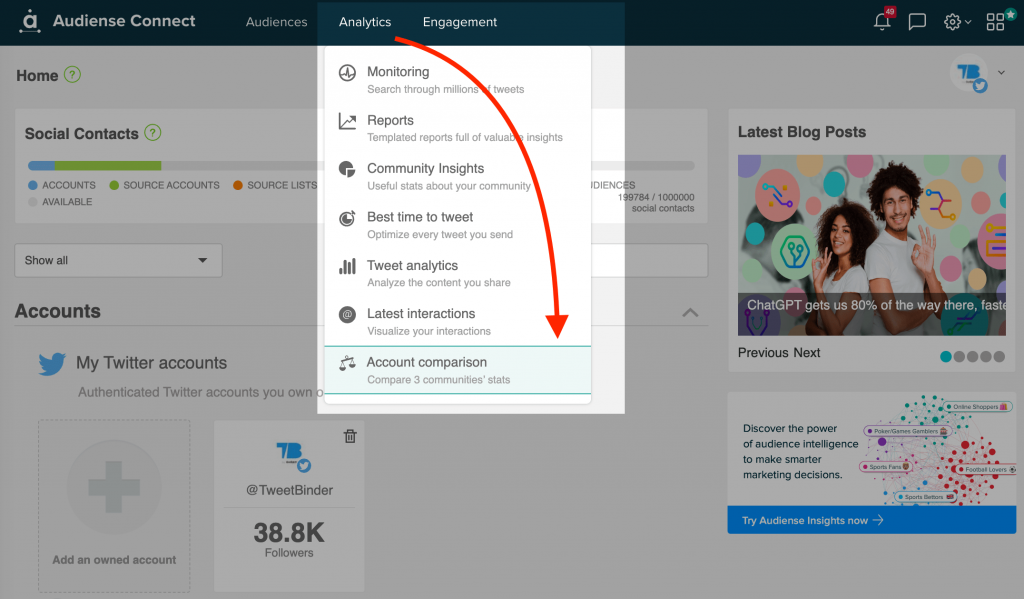 6. Then click the "New comparison" button on the right upper corner.
7. In the dialog box choose 3 accounts you want to compare.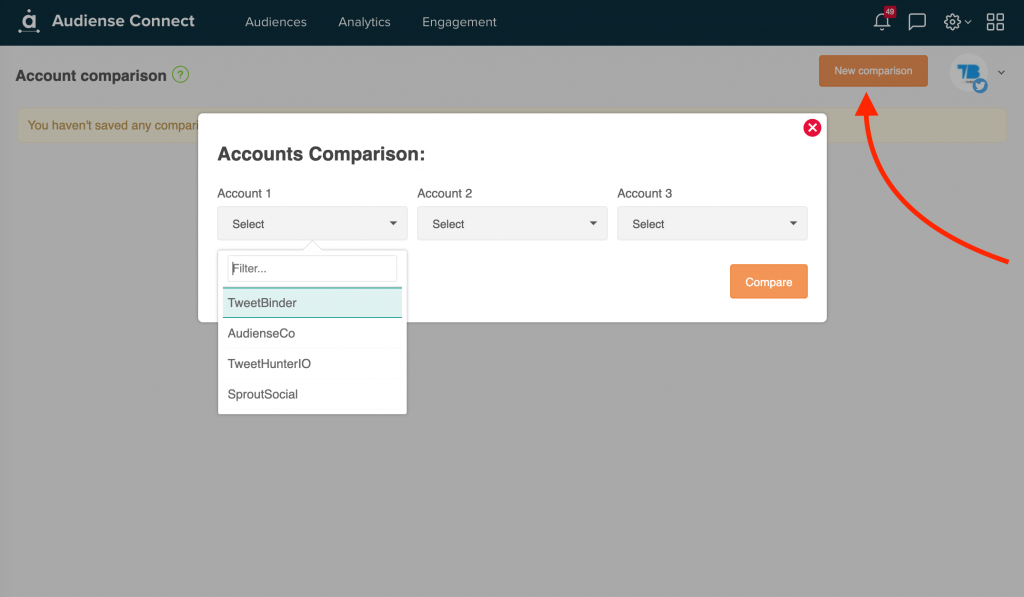 8. Analyze the report.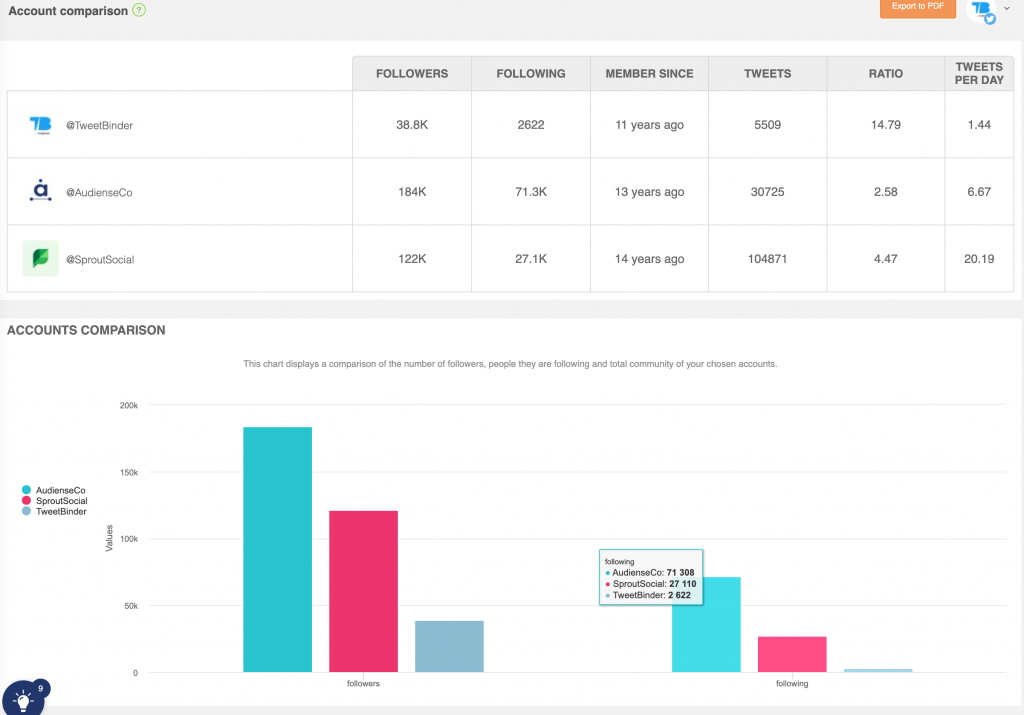 If you work for an agency and you need to keep lots of accounts tracked you might consider using Tweet Binder. On top of that, it allows you to easily compare performance over time in one single view. 
In addition, Audiense Connect offers a solution to see who unfollowed your Twitter account or who started following you besides to the Twitter follower analysis. We are able to deliver this information daily or monthly and the twitter followers check will notify you to tell you:
Who started following your Twitter profile
Who stopped following your Twitter account (unfollowers on Twitter)
You can receive this twitter new followers/unfollowers notifications by email. The twitter follower count tracker completes this service.
Track someone else Twitter followers with Tweet Binder
Use the search bar below to track and analyse any Twitter profile (@mention), keyword or hashtag for free. Just use the search bar below.
Tracking Twitter users and having a clear Twitter follower history is one of the most important things on Twitter. By that we don't only mean "followers" but other metrics that are important as well (Had we said that already?). To track someone else's twitter followers is easy with Tweet Binder, you just have to put them in the same TAG. A TAG groups different Twitter accounts. Many times our client/boss thinks that the most important thing is to grow followers on Twitter, our job will be to explain why followers growth is not the only metric. And yes, again, we have news for you, followers are not the most important metric. Do not get obsessed with the Twitter follower count, however the X (Twitter) follower count tracker can be addictive.
Well, now thanks to Tweet Binder Tracking Twitter Users is possible and easy. The are three aspects we have to clear before we continue:
 Trackers: these are the accounts we want to analyze. Setting up trackers is easy and each Tweet Binder plan includes a certain number of trackers.
Tags: also known as labels. Any tracker can be put into a tag in order to have data collected easily and with
The moment we set up a tracker is when we start collecting data. It is not retroactive. And our trackers are updated every hour.
These are the steps to track the followers of any Twitter profile over time with the twitter follower count tracker:
Add each profile as a tracker in Tweet Binder
Once you add the trackers group them in a tag and name the tag
Click save and wait for a few minutes until the system starts collecting the first info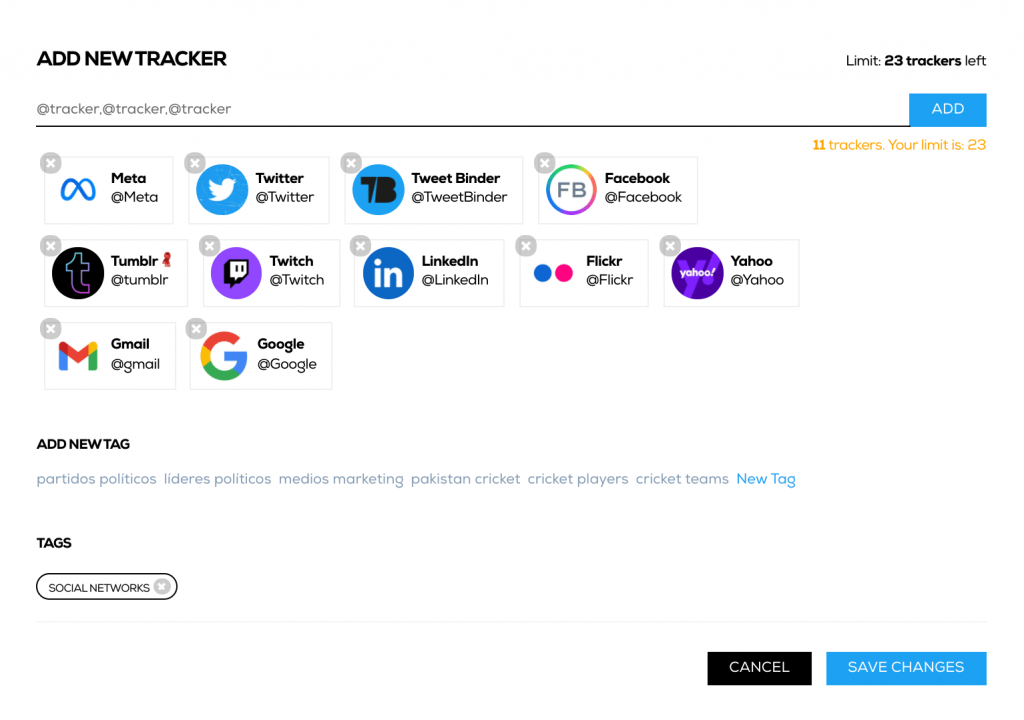 In the next picture you can see how to track someone else's twitter followers by grouping them in a TAG:

And you can take a deeper look by downloading the CSV of followers growth or accessing the Twitter followers statistics table:

But since clients consider it important we must learn how to track Twitter followers too in this post. Clients look especially at the number of followers of its competitors, so when its Twitter followers are lower than its competitors you will surely receive a call. Followers analysis is something that every social media manager should be doing, it seems obvious as well. As well as you perform a followers analysis you should be doing the same for other important metrics.
Use the search bar below to track and analyse any Twitter profile (@mention), keyword or hashtag for free. Just use the search bar below.
Best Twitter follower tracker apps
In this section we will cover best free Twitter follower tracker apps.
Audiense Connect
Audiense Connect is the all-in-one Twitter analytics and community management tool. There is a free version available. 
Audiense Connect provides the following functionalities.
Twitter user analytics

Track followers growth.

Discover who is behind a Twitter community, recent follows and unfollows.

Tap into in-depth followers analytics & insights: demographics, best time to tweet, and more.

Analyze tweet performance.

X / Twitter third-party accounts analytics

Learn what drives success of 3d party accounts.

Analyze competition on

Twitter / X.

Twitter community management and building.

Filter, search, segment Twitter accounts

Clean community from bots, inactive or fake accounts

Identify influential accounts to follow and engage with

Manage Twitter lists at scale

Create chatbots to automate X (Twitter)

Export data into a CSV or Excel file

Twitter users search

Browse, segment, discover & explore any Twitter accounts

Find who to follow on Twitter / X

Upload first-party data to discover Twitter users behind
Watch the video below for more details.
Signup for Audiense Connect. It is free. 
Tweet Binder
Tweet Binder is the X / Twitter historical analytics & Twitter monitoring tool. In addition to that it also provides Twitter users tracking features.
With Tweet Binder you can start tracking new followers with any of our subscriptions and get real time Twitter follower count. You can also compare yourself with other accounts. Once you set your follower tracker, you can add other Twitter accounts (competitors, clients, etc.) to compare its evolution and compare other metrics like Twitter mentions or engagement.
Get advanced analytics of any hashtag, keyword or handle.

Find creators surrounding particular topics.

Export Twitter historical data.

Discover a conversation mood by looking at sentiment scores.

Track and compare your growth to other accounts.
Create an instant free Twitter analytics report with Tweet Binder. Use the search bar below.
CircleBoom
Circleboom is a social media management and publishing tool. It helps users to strengthen their social circle. It has a free version.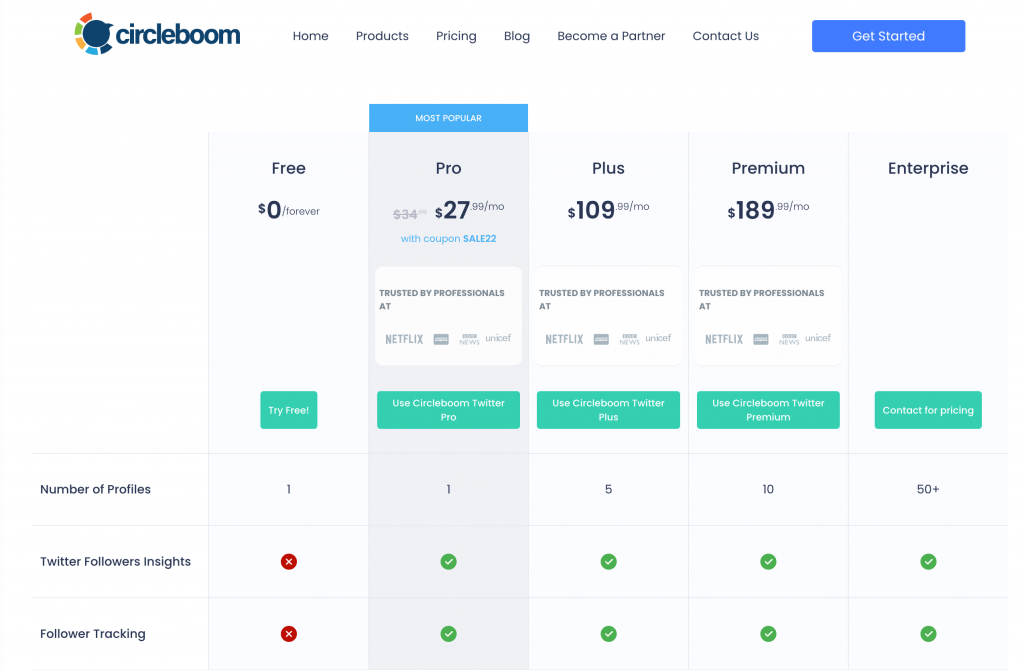 Learn more about the CircleBoom platform here. 
Detect when an account starts following another account
Another great service (only available through the API or by individual request) by Tweet Binder is to receive notifications when a Twitter account starts following a new account. For example, do you want to know when any baseball team starts following a new player? Or would you like to know when several crypto experts start following new accounts? In the next picture you can see the tool Tweet Binder has to detect new followings on Twitter. We are tracking several accounts and we tagged them (celebs, teams, investors, crypto, etc.) and you can filter by master tag to see all the new follows by, for example, celebrities: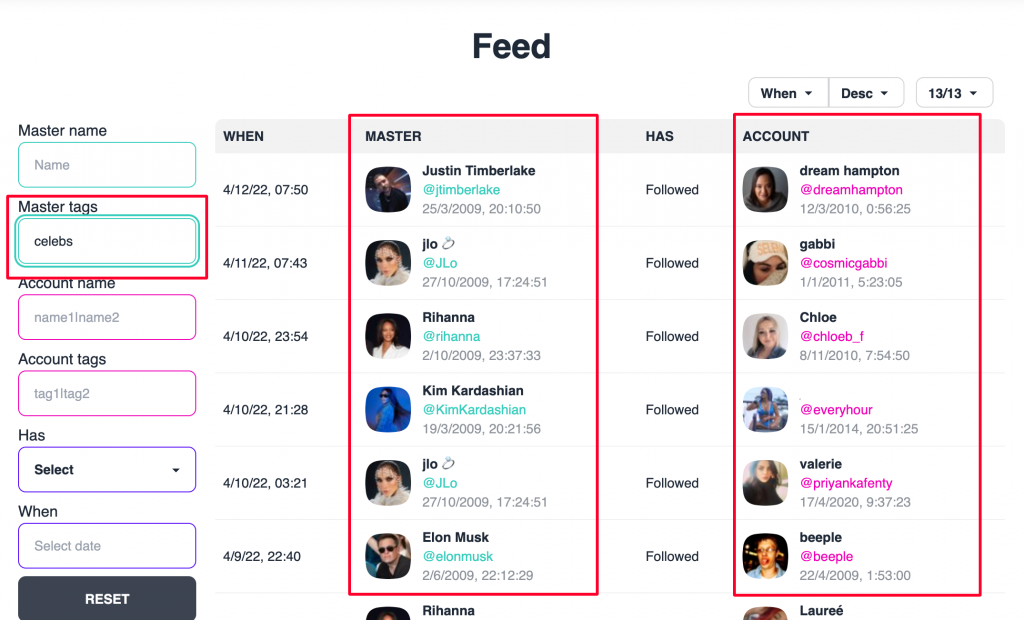 This is very useful to monitor your competitors and see what they are doing. And many other cases.
There is another tab where you can see all the followings (aka friends) accounts your master users follow. In this tab you can filter, see common following, etc. Did you know that Shakira (232 friends) and Gerard Pique (763 friends) have only 25 common following accounts? They both follow Obama, Neymar, Pontifex, etc.: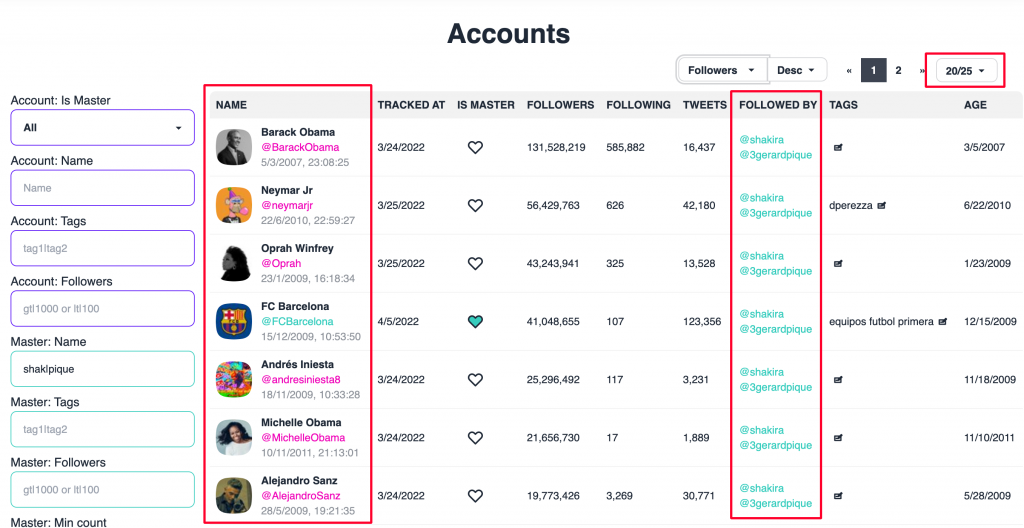 This service is very well explained in this post where we talk about Twitter following analytics.
What data do I have access to with the Twitter follower tracker?
There are many Twitter analytics we need to consider when tracking Twitter users. At Tweet Binder we have developed a new tool that focuses on these Twitter user metrics:
Twitter Followers: This one is easy, it indicates how many Twitter followers the account has. Followers analysis is what the majority of people look at. Once you start tracking you will have a good twitter follower history.
Following: Following refers to the number of people the account follows. Celebrities for example follow only a few people (Justin Bieber or Barack Obama is the exception).
Ratio Followers/Following: Ok, this one is good. This one indicates how many followers you have for each account you follow. The higher the ratio the more influence the user will have because people follow it despite the fact that it doesn't follow back.
Received Retweets: Easy one, it means how many retweets the account has received.
Likes obtained: Another easy one, how many likes the tweets from the analyzed account got.
Received Replies: How many replies/mentions the account got. (In the future we could talk about

X / Twitter

Sentiment analytics when it comes to replies)
Lists: These metrics are quite important and we don't pay enough attention to it. It shows how many list the user is in, it is like a "far relative" of the Twitter followers
Certified user: If the account is certified or not. The blue ribbon.
Age of the account: How old is the account on Twitter.

How many years have passed since the user opened the account?
What are the most important Twitter user stats?
As you just saw there are many stats we can analyze from a Twitter user, not only its followers, which actually can be bought you know. To choose the most important or the two most important Twitter user stats from the list will be difficult. However, since you asked we must say:
Economic value of the account (market and engagement) and the ratio between both
Age of the account: these days, the older the account the better, it means that person has been on Twitter a while and has seen "things"
Twitter Follower Stats
You can get different stats when tracking followers in Twitter or using a twitter follower count tracker. But the daily Twitter followers growth is probably the most demanded one; in Tweet Binder we offer that growth by different time ranges:
Twitter follower stats by hour
The Twitter follower stats by day
Twitter follower stats by week
Or custom period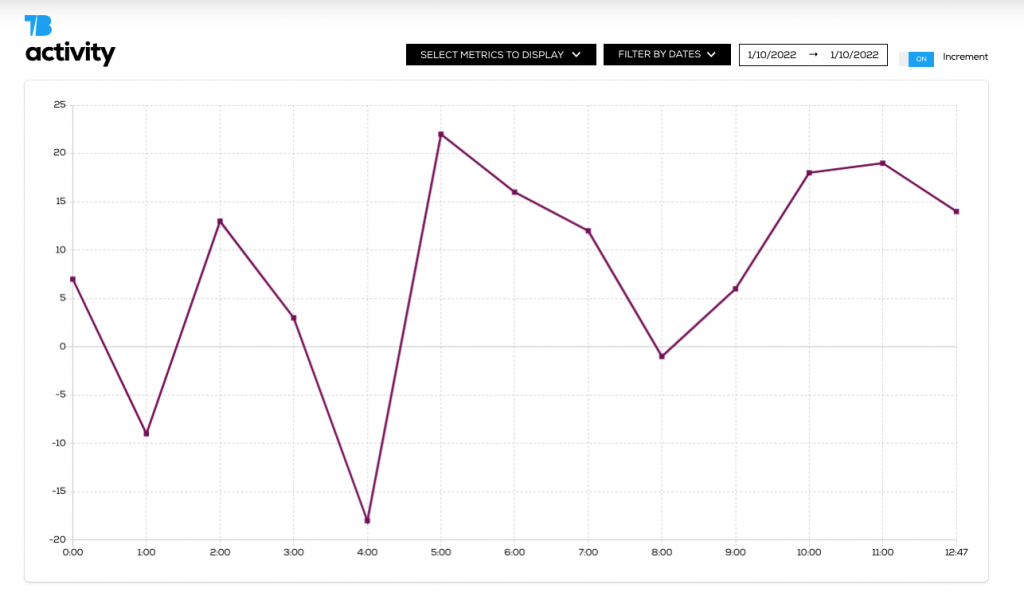 Tracking Followers on Twitter
If you have clients who have a presence on Twitter (your own company is also valid), you will need to know how they are doing and what's the evolution of their main KPIs (followers, following, list, etc) and their twitter follower stats. Tracking followers on Twitter is very important. With Tweet Binder you can track how your followers grow per day, per year, etc. This is a PRO service by Tweet Binder and it is included in our monthly plans.
Have you presented any report to your client/boss showing Twitter analytics and followers' growth was the most important KPI? In this post we will talk about how you can use a Twitter follower tracker to present the info to your client and compare it with its competitors. Also, keep in mind that you can have access to all the features that we mention in this post with Tweet Binder's API. You can create a real time twitter follower count in a matter of seconds, this is how the followers of Elon Musk have been growing for the past months:
This is how @ElonMusk has grown his Twitter communityIf you already know which Twitter accounts you want to track followers from, just write them in the form below and let the magic happen:
Start tracking other accounts followers with Tweet Binder. Log in and get started here.
If you what you want to get are real time twitter follower count notifications (email, slack or discord) when a Twitter Accounts starts following a new account check this following tracker post. When tracking the followers (and more) of a Twitter profile we storage every hour, all the stats of the account. If you ask "can I track my twitter followers"? Or "what does my Twitter analytics profile looks like"?, the answer is: "Like this":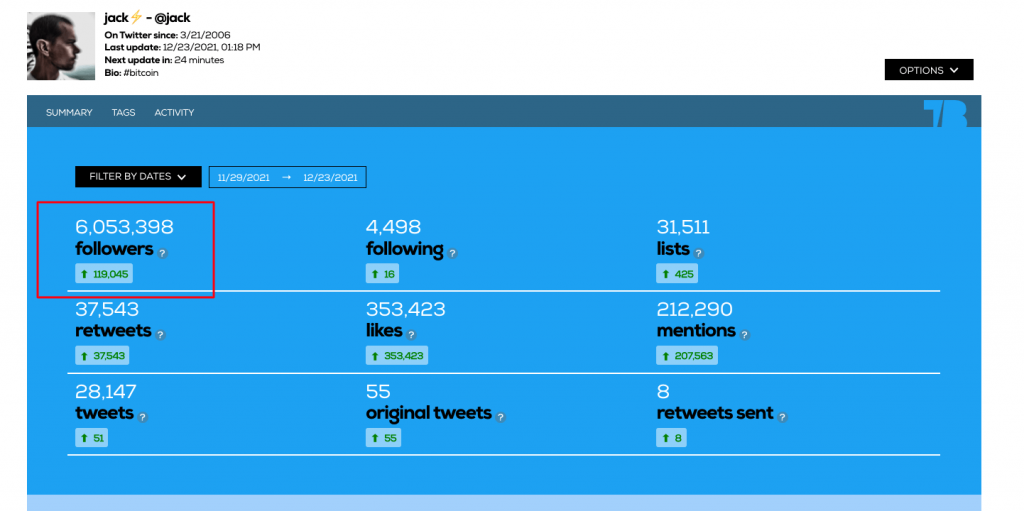 How to use the Twitter follower count
Download the list of follower of one account and set a tracker
With Tweet Binder you can download in Excel or CSV a list of all the followers of any account with different fields:
Username
Name
Location
Bio
Number of followers
Amount of followings
The number of lists
Economic value
Once you have all those followers, you can set a tracker. As we have aforementioned, a tracker is the name we give to each Twitter user we want to analyze. To set up a tracker we must follow these steps:
Click on the "New Tracker" button placed in the trackers' list

Type the Twitter handle of the users that are going to be tracked. If more than one tracker is needed, they have to be separated by commas ",". There is no need to add the "@" before each handle. You can also click on "add" after typing each handle.

Click on Add tracker. They will automatically appear below.

If you need to delete a tracker, you can just click on the upper right "x".

Select the Tag you want to include the trackers in. If the tag does not exist, it can be created from the "new tag" button. 

Click on save changes and the trackers will be up and running.
How can I create a tag?
A tag is like an identifier. Tags server to unify trackers into a common group. For instance, if we create trackers such as @netflix, @hbo, @primevideo… the tag we will use to unify them would be, for instance: "streaming platforms". We can create as many tags as we want and a tracker can be part of different tags.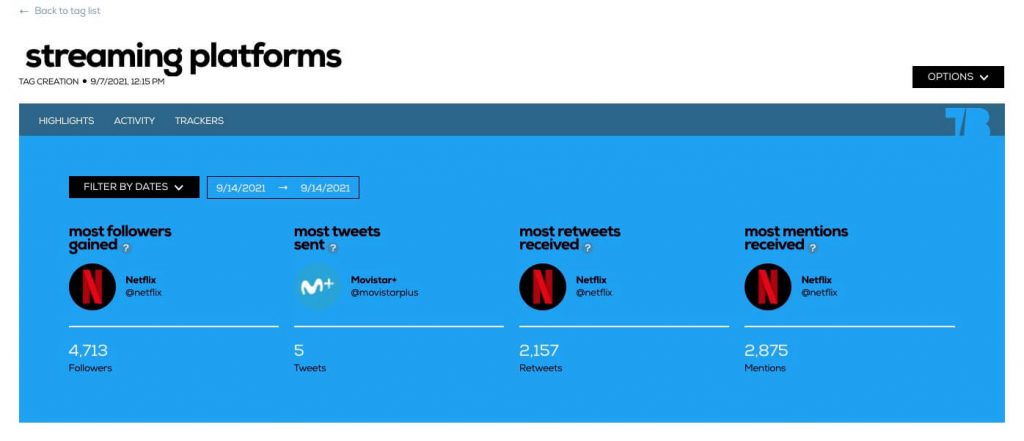 The Tweet Binder "My trackers" menu includes the option to create a "New Tag". By clicking it we can add a new one. The same applies to the "My trackers" button which is the one to create them.
How do we start tracking Twitter users?: Twitter follower tracker app
Setting a Twitter follower tracker is very easy with our new tool and it will be great to manage your twitter followers. Tweet Binder is releasing a new tool that will track Twitter users easily. The most important thing is that this new tool will focus on the two major aspects we talked about before:
Evolution of the metrics of a users
Comparison of the user with its competitors (inactive twitter followers will be bad for all, not just for you)
The steps to start will be very easy:
Add user to the tracking system
Tag user as "client" or "competitor of your client"
Once we set these easy steps, the system will start gathering the data everyday and will be showing the info on a private dashboard. The Twitter follower tracker is set in just a few steps! Evolution and comparison, that's the key, not only for followers analysis but for all the other metrics. We will be able to present a 360 degrees dashboard that tracks all the important KPIs.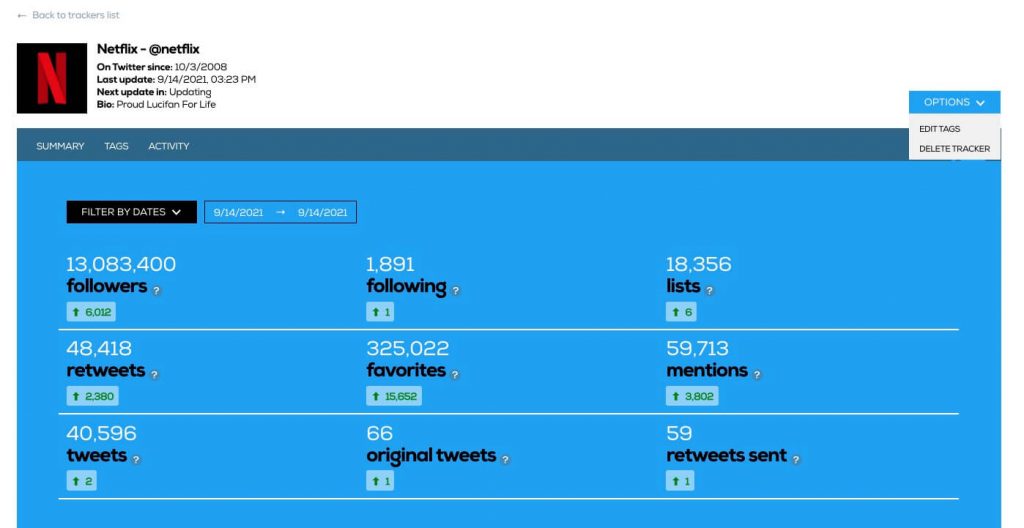 Start tracking other accounts followers with Tweet Binder. Log in and get started here.
Analyzing who shares the content
Once we have seen how to analyze users and configure our Twitter follower tracker, we must learn to detect those accounts that we want to analyze. It is very easy to find our competitors. However, what about those accounts that may be competitors and we do not know? At Tweet Binder we analyze millions of tweets, images or opinions creating very complete reports. Its data can help you detect possible new trackers and obtain very complete data. In fact, with the Tweet Binder API all of the before mentioned is also possible.
Among them, the Twitter users rankings stand out. They are valuable information to be able to better know those who interact with our campaign or brand. Even to assess whether we should have them closely watched. Not only by following them, now with a tracker you will have all the information accessible quickly and completely. Remember, Tweet Binder plans no longer only analyze tweets or hashtags, now they also allow monitoring accounts and data evolution of Twitter followers.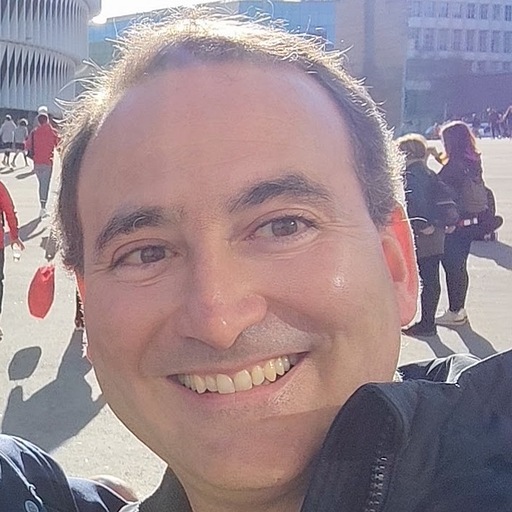 Javier is the founder and CEO at TweetBinder. With more than 10 years of experience in Twitter Analytics space, he is on the mission to build best-in-class Twitter marketing tools helping X community to thrive.