This post is also available in: Français (French) العربية (Arabic)
How to count the number of tweets in a Twitter Hashtag
One of the most common questions we have ever received (specially in the early days of Tweet Binder) is "how can I know how many tweets a hashtag has?". Hashtag counters (aka tweet counters or Twitter counters) are a great marketing tool and they are one of the most requested Tweet Binder features. The number of tweets with a hashtag is something everyone wants/needs to know when launching a campaign or event. Thus this post we will talk about hashtag counters and even how you can easily build one but first you can start playing around by creating your first report with our Twitter hashtag counter:
It is pretty easy but we need to know that the number of tweets is not the most important metric when analyzing a hashtag. Obviously, we have to keep it in mind but it is also important to analyze and measure more metrics such as impressions, Twitter reach, etc. Fortunately, you are in the right place, Tweet Binder has years of experience counting tweets. We offer complete Twitter reports and we have some metrics that are also relevant for your campaign. Nevertheless, let's start calculating the number of tweets in a hashtag, let's create our first hashtag counter.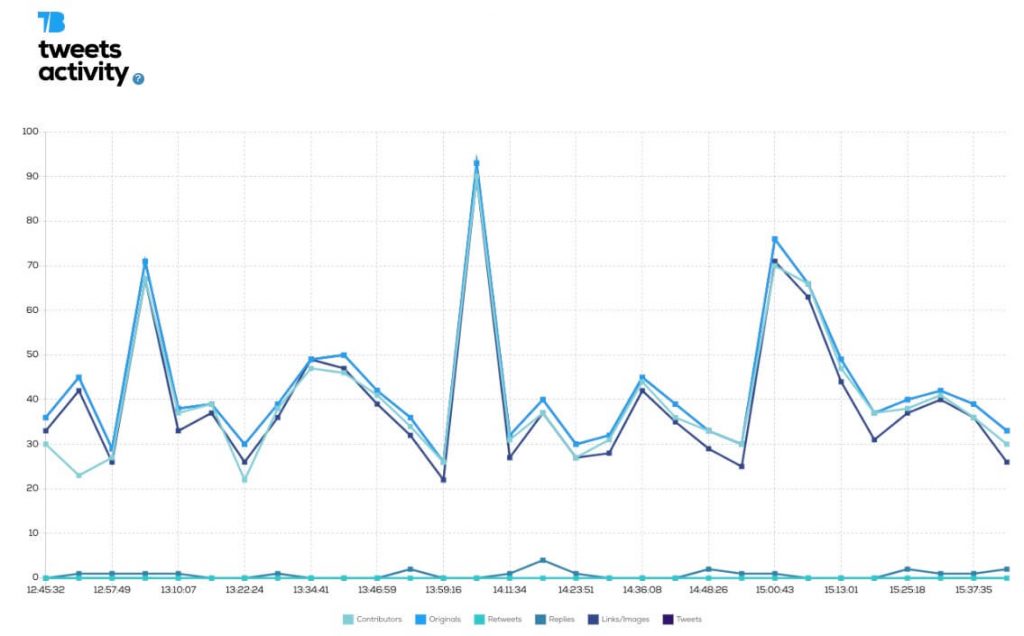 Twitter Counter – Counting tweets of a hashtag
If you want to know how to see how many tweets a hashtag has you need to use an external tool that can perform a Twitter hashtag search, like Tweet Binder. A Twitter hashtag counter will tell us how many tweets and retweets a given hashtag has. Twitter does not serve the number of tweets a hashtag contains unless it gets to the trending topics and still that number is not 100% correct (Sorry Twitter). So, if you need to find the number of tweets for a hashtag go and visit Tweet Binder. An old tool called Topsy used to give you the number of tweets of ANY hashtag historically, we all loved that tool and inspired us a lot. Also Tweet Binder will show you the most retweeted tweets which is important when counting tweets and retweets.
The are two ways of counting the tweets of a hashtag:
Purchase a PRO plan to create unlimited Hashtag Counters
It is a Twitter analytics tool that analyzes any hashtag or term creating visual reports. Thanks to Tweet Binder, you will be able to create as many Twitter reports as you need. But that's not all. Not only will you get the number of tweets for a hashtag. You will also have access to all the statistics on that search: impacts, scope, users, user rankings, Timeline… You can count the number of tweets of a hashtag and also get very interesting stats.
It is very easy to analyze any hashtag on Tweet Binder. No matter if you are a big agency or you are a freelancer. The Twitter reports will cover your needs regardless of the size of your campaign. In this post we will teach you how to do it and how analyzing Twitter information can help you in your daily work. What is more! You will discover all the stats included in our free reports. So come with us and enter this fascinating world! If you have a WordPress blog, download our Tweet Binder tweets counter and use it for free.
How many tweets does a hashtag have?
If you are running a campaign on Twitter, knowing how many tweets a hashtag has is really useful for inspiring our users, yes, to inspire because Twitter stats are sexy and the more tweets they know they are producing the more they will want to tweet. You may want to use the number of tweets a Twitter hashtag battle created for example. Note: a Twitter hashtag battle is one of the coolest ways to engage with your audience, let them fight to see who wins (who generates the most tweets). Also related to the battles, you can analyze the sentiment of a Twitter hashtag but that's a whole different story.
The sky's the limit if we talk about the hashtag battles powered by Tweet Binder. But this post is not about that, it is about Hashtag Counters and Twitter Counters. So forgive us if we get too excited about these battles. You will be able to confront two or more hashtags. As we know the total tweets each hashtag has, we can know in real time what hashtag is winning. Hashtag battles are a great way of increasing and encouraging Twitter engagement.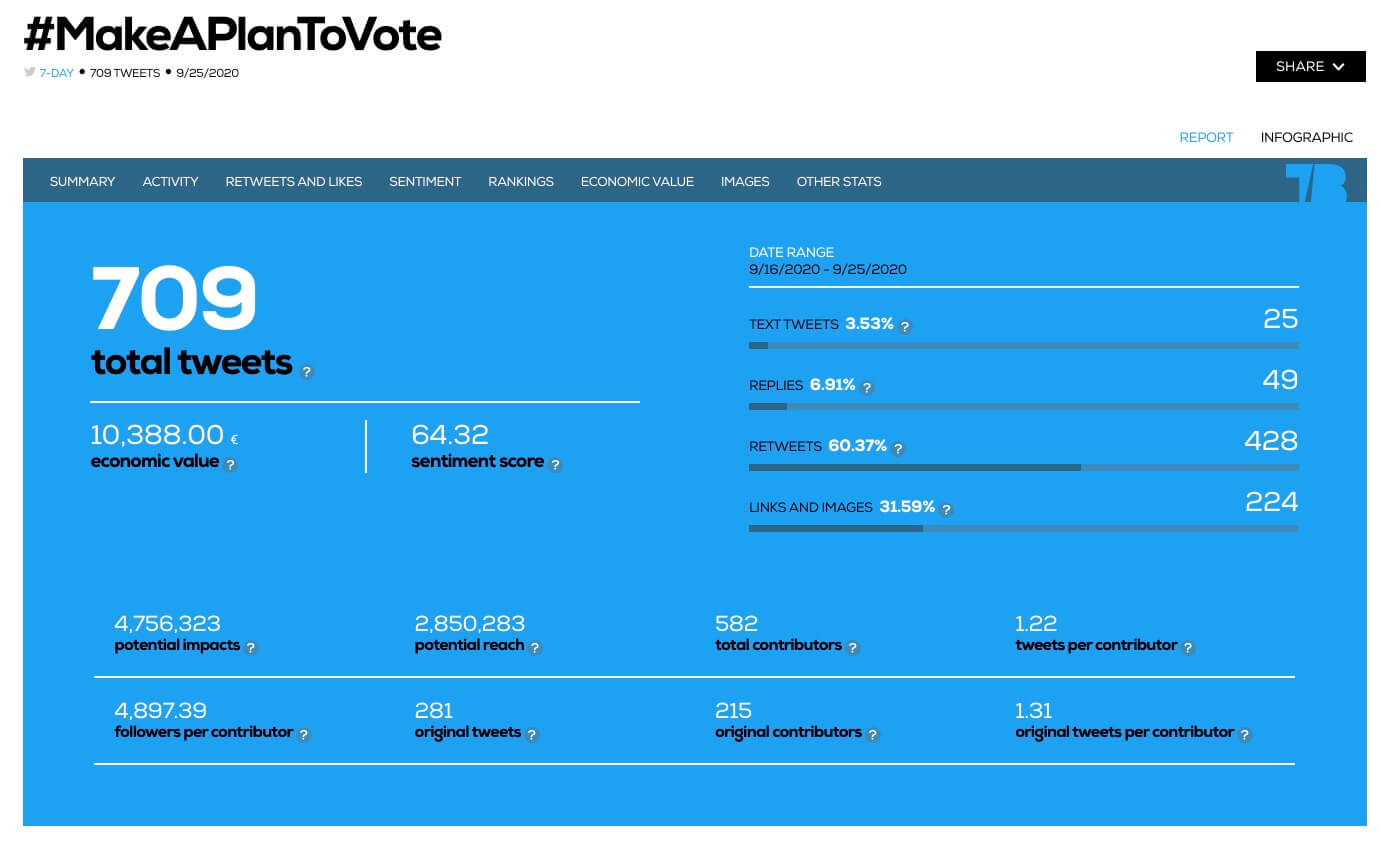 With a Twitter hashtag counter you will be able to see who has the most tweets: who won basically. This is one of the uses of a hashtag counter. Also with all the Twitter data charts, you will be able to understand better the content of your counter.
3 simple steps to count the number of tweets of a hashtag
Knowing the number of tweets a hashtag has is quite easy and also a Twitter Counter is one of the most used tools in the Tweet Binder suite. Here we will show in 4 simple steps how to set a hashtag counter for Twitter. Tweet Binder is fast and free so you can create as many reports as you need and even use the Twitter advanced search. We will just be following these simple 3 steps:
Go to www.TweetBinder.com
Enter the hashtag to track in the search box and press "Create Twitter Report"
You will arrive at an infographic report. The number of tweets is on the top left part of the page. It is the first metric but do not forget to take full advantage of the rest of the statistics. The combination of all of them will help you to have a global vision of your campaign or event
Use Tweet Binder's Hashtag Counter
Following those 3 simple steps we will be able to count the tweets of any hashtag or term, this Twitter counter can be used as many times as you want.
Twitter Counter and Twitter Trends count basic report with Tweet Binder
The first report Tweet Binder offers, known as "the basic report" contains the main metrics of the hashtag. You can access the infographic report if you are PRO in Tweet Binder, if not you will go directly to the advanced report which also is a perfect twitter trends count method. This report contains a much deeper display of the stats where you will find more metrics besides the number of tweets.
In addition, you will find the total amount of text tweets, retweets, replies and links and pics. We can use it as a twitter trends count. Moreover, our basic report also includes the number of users and impressions. But if you are just asking yourself "how many tweets do i have?" go to Tweet Binder and start counting. Know that if your account is old enough, you'd need a Twitter historical report. If you are analyzing popular hashtags like the ones related with Bitcoin and Twitter, you'd need a report and many (many) tweets, this happens when counting Twitter trends.
To know how many times a hashtag has been used is very useful when running campaigns, events and more because it will give us a "big number" to compare with other similar events or campaigns, however we always say that the number of tweets is not the most important metric in Twitter. You have to see the number of impressions, the reach, the rankings and so. You can use Tweet Binder for free to see the big amount of information you can get out of a hashtag or a term, not only the number of tweets.
Twitter hashtag counter
Hashtag counters can be used for Twitter or Instagram. In this post we have focused on Twitter. So, if you want to delve into your Twitter hashtag, you only have to scroll down in the Tweet Binder report and discover all the information about the users. Also, you will enjoy the new module of the economic value of the hashtag. This is a recently added value to our reports. Thanks to Tweet Binder, you can find out how much the market value of any hashtag is. We created a formula to know how much money would have been needed to reach those numbers (the tweets a hashtag has, impacts, reach…). You can calculate the economic value of a Twitter trending topic or a regular hashtag. Create your Twitter counter now:

A hashtag counter will give you not only the number of tweets of the hashtag, but also many other stats that will help you understand what happened with your hashtag. And also, Tweet Binder twitter hashtag counter is free.
One of the questions we get many times is "who has the most tweets?", that's something that we cannot calculate with our hashtag counter, but what you can know is who has the most tweets with a given hashtag. For sure Donald Trump tweets a lot, but we cannot know who tweets the most in general, what we can know is who was the most active user in a hashtag. Discovering who is the  most followed Twitter account is not easy but that is something we will explain in a different post.
What is the Economic market value?
This is a new metric that brings great value to the analysis. The Tweet Binder team has developed an algorithm that takes into consideration different data. First of all, we calculate the value of each one of the users who have participated in the hashtag. We consider his/her followers, follows lists, account verification… Then we calculate the value of a tweet sent by each user depending on the type of tweet. Finally, we add up all those values.
What is a Twitter impression?
When calculating the number of tweets of a hashtag we must also have in mind the Twitter hashtag impressions. In traditional advertising an impression of an "ad view", we count one impression every time an ad has been watched. In Twitter it works kind of similar, an impression of the hashtag would be when it has been seen.
How do we calculate how many impressions a hashtag has? To do that we take the number of followers of the user who sent the tweet in consideration. For example, if user A sends a tweet and he/she has 100 Twitter followers, we say that he created 100 impressions of the hashtag. If you count the number of tweets you should also count the number of impressions. All these impressions, also known as impacts, are always "potential impressions" because we cannot know if the Twitter followers of the user really saw the tweet containing the hashtag or not. The way we show it in Tweet Binder is this:

If you want to learn where to find Twitter trending topics you can go to Tweet Binder and start analyzing Twitter trends. However you must know that trending topics normally have thousands of tweets and the FREE version of the tool Tweet Binder only analyzes 500 tweets per search. If you really need to calculate the number of tweets in trending topics you would need to buy a report.
"How many tweets do I have?"
Very common question and very easy to solve. Being easy to get doesn't make the number of tweets less important. To count the number of tweets is one of the first things we must do when we start with Twitter analytics. The number of tweets of a hashtag is an important metric, not the only one, but it is key. Twitter includes under the name "tweet" the "original tweets" and the "retweets":
Original tweets: they are the tweets that add content. It can be a reply, a text tweet, a link, a picture or a mention. They add new content, they are original.
Retweets: they are just repetitions of a tweet. Twitter says they are re-postings of a tweet. Retweets do not add anything new, just amplify the impact of a hashtag or message.
Every hashtag has its own goals and, depending on those goals you will want original tweets or retweets. Retweets are always welcome, of course, but if your campaign is about adding content (pictures, contest, etc.) you will want more original tweets than retweets. Of course there are always exceptions, if a famous celebrity sends an original tweet or just retweets, the number of retweets generally increases.
Many people at this point want to know how to search your own tweets. Good question, we have other posts talking about it, but if you want to search your own sent tweets type this in the search box:
from:YourTwitterUser (you don't need to type anything else, just that: "from:" and then your Twitter user).
Counting tweets in 2022 – Create your own Hashtag Counter
We are not in 2010 anymore and the reports we create for our clients have to reflect the evolution Twitter has had. Back in the day we could count tweets even manually and present a report in Excel that contained the tweets and, maybe, the number of followers of each account. But now we are in 20219 and the reports cannot be only based on the number of tweets. We need to improve the way we report and evolve with the times. The Twitter chats have a very big influence, counting those tweets is a great exercise as well.
What we mean, as we said before, is that we can not only serve the number of tweets to our bosses or clients, we must be able to tell them if the hashtag was successful or not based on Twitter data. That's why we can not only count the tweets of a hashtag and tell them: "look, our hashtag got 250 tweets, congrats", we must go beyond and know the metrics very well in order to create  deeper reports.
Other statistics from the Twitter hashtag
The numbers around Twitter hashtags are many. When setting a tweets counter we must know that there are many pieces of information within a tweet that can be analyzed. In this post we specified how to count the number of tweets of a hashtag, however there are many other metrics we can track and that are very important such us:
Potential impressions or impacts of the hashtag
Potential reach of the hashtag
Devices used to tweet with the hashtag
Users rankings
Sentiment
Gender
Etc
You can see how many tweets per day a hashtag got using Tweet Binder, that's easy. However, if you want to deeply analyze a hashtag on Twitter you must know many other metrics because just the number of tweets is not enough. Imagine that we are only counting the number of tweets of the hashtag of a campaign and then we create a brand new Twitter user and send out thousands of tweets, that will make our report look "pretty" with many tweets, but that won't be correct.
More Twitter data for free
If you run a free report with Tweet Binder you will enjoy a new world full of metrics. You will discover the total number of tweets but you will also find out the total number of users that use the hashtag, the potential impacts (the number of times that the hashtag could have been seen) and reach and the average between tweets and contributors and followers per contributor. The report includes the timeline activity, up to six user rankings and the most important pics. We love the twitter trends count system we have created, we are truly in love.
All this information is more than enough to have a vision of the campaign or event that you have analyzed. However, we like to go one step further at Tweet Binder. Our free Twitter report also includes the economic value of your search. In other words, thanks to our tool, you will be able to calculate how much money you would need to pay to achieve this hashtag activity. This is a new metric that will surely enchant your customers. We are here to help if you have any doubt about this.