Real time tracking with Tweet Binder
If Twitter is about something it is about what's happening now. Here at Tweet Binder we work hard to help you to analyze and report all the tweets shared regarding a hashtag, a topic or a trend. Our Historical Reports and PRO Reports are great to check and collect all the tweets shared recently about a hashtag or topic. Real time tracking is really easy with our services for reporting and also for displaying content on screen or websites.
But what about "now"? It's important to know what was tweeted about a campaign or event but, nowadays, the present is also determinant. That's why we offer the option to collect the tweets and data on real time too. We offer complete solutions to display the tweets and data pretty amazingly.
Tracking on real time will allow you to be update immediately about your campaign and will let you to execute smarter and quicker decisions according to its evolution. We offer two links to follow the real time stats and data, it's a really easy but also complete way to be able to evaluate the activity of the analysis as it happens. The reports that we provide can be shared and can be tweeted, one of them is a infographic report where the main stats, users and pictures can be found and the second one is the PRO report with the complete data, rankings and transcripts.
Creating a live report it's really easy, just by clicking one button you will be able to collect all the tweets shared about the topic or hashtag on streaming. You can purchase a single campaign to follow the stats of what you need to track. Or in case you want to run more than one live report, you can check our Plans and with them you will be able to create and manager more than one streaming collection. You won't have to worry about anything as one of our agents will always be available first to teach you how to create your own reports and then to help you any difficulty that you may have.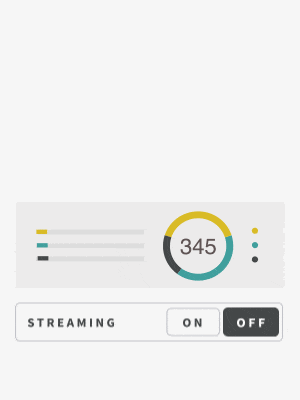 Analyzing on real time has no limits. Twitter analytics go beyond reporting, we can also display the tweets that we analyze on real time. We offer customized services to amaze your clients and your followers. We can create amazing sites to help you engage with your audience through challenges and visually attractive sites. Or we can also create a customized social walls where the tweets can be displayed under your guidance (you decide the design and the tweets that are shown on screen).
The most important thing is that no matter what you decide to do with the tweets analyzed, you can be sure that with our real time tracking services you won't miss a tweets and you could check the stats whenever you want. If you have any doubt or need any help, do not hesitate to contact us. Now, it's your time to create and control the trend.