This post is also available in: Español (Spanish) Français (French) العربية (Arabic)
Who unfollowed me on Twitter? How can I see who has unfollowed on Twitter? These are questions that many Twitter users ask themselves. Seeing how the follower count grows is very satisfying for a lot of people. However, seeing how that number decreases over time can be disappointing. In this post we explain how to detect if someone does an unfollow on Twitter. Having a Twitter follower tracker is what will help us to detect, among other things, the unfollows.
How to unfollow on Twitter
Twitter is a Social Network made to follow people who are saying things you are interested in. The moment an account starts tweeting about things you want to know nothing about, you unfollow them. Plain and simple. 
Twitter does not notify its users when an account has unfollowed another account. Only those users who keep a daily track of their followers will be able to know if someone has unfollowed them.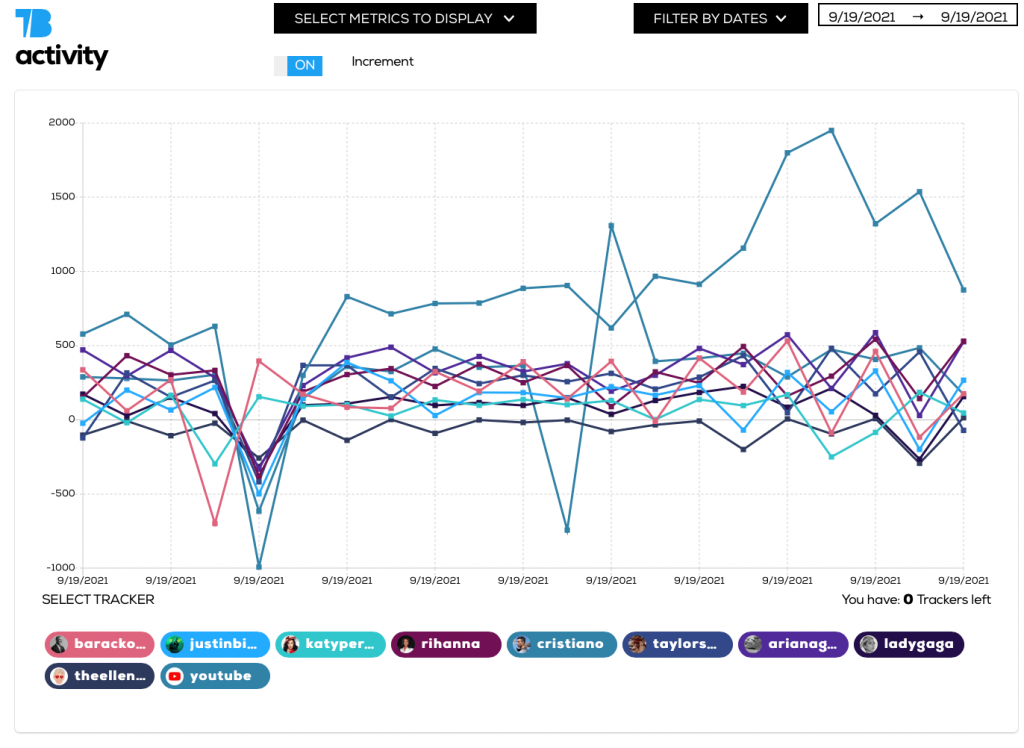 If you want to unfollow an account you just have to go to their profile and mouse over where it says "Following". The button will immediately change to "Unfollow". If you don't want to unfollow you can always mute that account and they won't know it.
Who unfollowed me on Twitter
The Twitter User Tracker tool Tweet Binder has for its clients can help with these Twitter unfollow issues. The only requirement is that you have to set a live tracker for that account. So, if you are looking for a Twitter unfollower tool, keep reading. Also, bear in mind that unfollower stats are as important as any other Twitter stat. That is why we don't recommend just focusing on followers growth but also on engagement.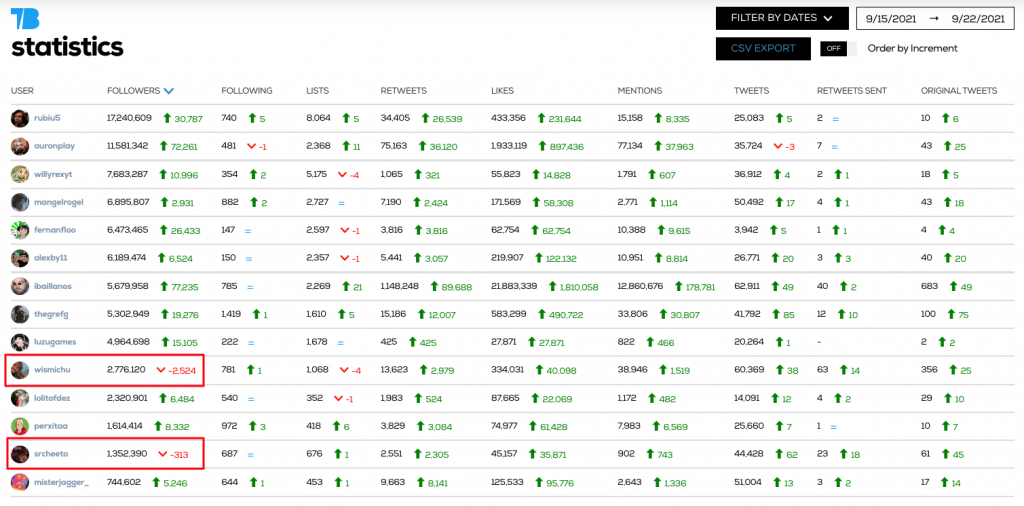 Twitter unfollow app
The Tweet Binder User tracker can be easily used as a Twitter follower tracker. Using this tool is very easy and intuitive. You just need to know which Twitter accounts you need to track and then create the trackers.
Once you have created a tracker, the system will start to collect data about that tracker. It is important to notice that data from before the tracker was created is not included in the tracker.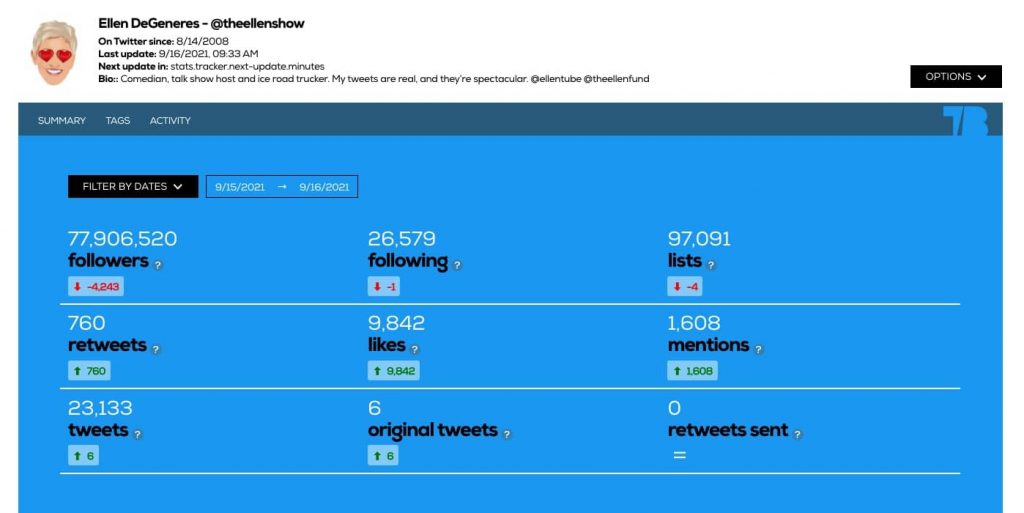 The image above shows a Twitter User Tracker made for @TheEllenShow. We can see that the show has received a mass unfollow on Twitter as it has lost over 4K followers in one day. Let's not forget about the Twitter unfollow bots, they can also be behind this. It is true that the account has over 77 million followers, but still, Four thousand accounts is a lot. Another warning sign is that it has been taken out from 4 Twitter lists. Ellen DeGeneres is one of the most followed Twitter accounts, we are sure she will get new followers in no time.
How to see who has done unfollow on Twitter
With the Twitter User Tracker you will be able to detect how many accounts stopped following another account. This tool does not say who has done a Twitter unfollow but it does tell us how many people have done it. So, if an account receives a mass unfollow on Twitter you will be able to detect it instantly.
Actually, if you are a marketing strategist or a social media manager this is very useful. Keeping track of all your account metrics in real time is necessary for any brand strategy. As these trackers are updated every hour, you will be able to detect 
What are Twitter unfollowers
The answer to the question above can seem obvious, but it is never bad to do a quick reminder. Twitter unfollowers are those accounts who stop following another account. The reasons a user can have to click on the "unfollow" button are multiple. That is why you want to keep an eye on your followers and the content you post.
How to get your Twitter unfollower history?
It is very important to know that Twitter does not have a log of your followers' growth. In Twitter Analytics you can see how it went for the last 30 days, but your complete twitter follower history is something you will have to build yourself. The best moment to do it is right now, there is no way of getting your followers evolution since the beginning, so the best will be to start right now so you will have a clear twitter follower history.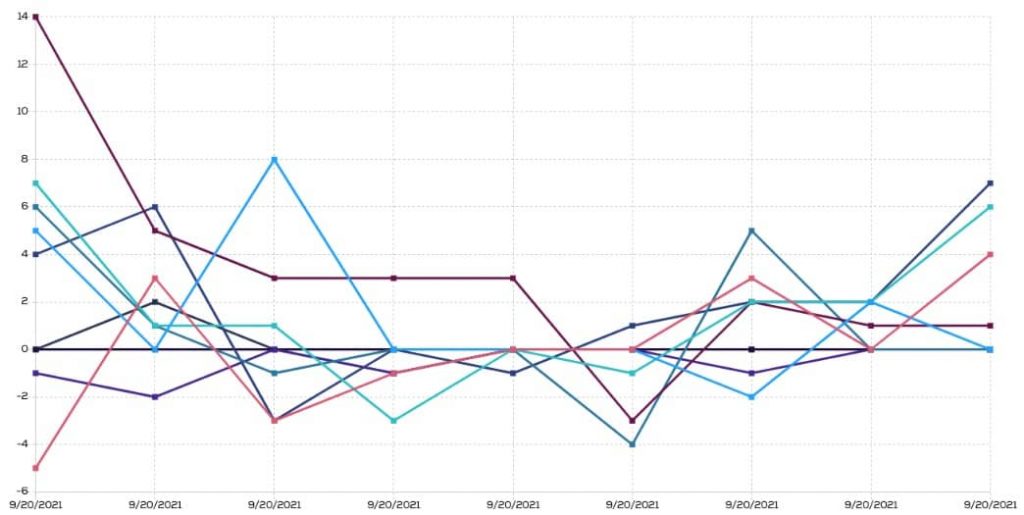 Do inactive Twitter followers count?
Inactive twitter followers are one of the things that we "do not like" the most. They stay there in the shadows doing nothing and luckily they will read maybe a tweet from you. They are people who opened their accounts back in the day and they either forgot about it or just didn't understand Twitter. Those inactive twitter followers do count on the metrics and many times they ruin the engagement figures because they make us look bigger than we are (they "follow" us) but they never interact with any of our content. Don't be an inactive follower. We love real twitter followers, they are normal people like you and us, they follow and comment and like and more, they do more than just nothing. So if you want to track twitter followers you will have to know that the inactive followers will count.
Twitter unfollow tracker and stats
There are many stats that can be used as a warning sign when we talk about Twitter unfollows and engagement. The main signs of an immediate unfollow on Twitter are:
Decrease on the number of mentions received

Decrease on the number of retweets received

Decrease on the number of likes received
All of the aforementioned warnings are doomed to end with someone doing a Twitter unfollow. So be sure that you are keeping an eye on those variables so that you don't miss any Twitter followers. If you want to set your own Twitter unfollower tracker, contact us and we will show you how.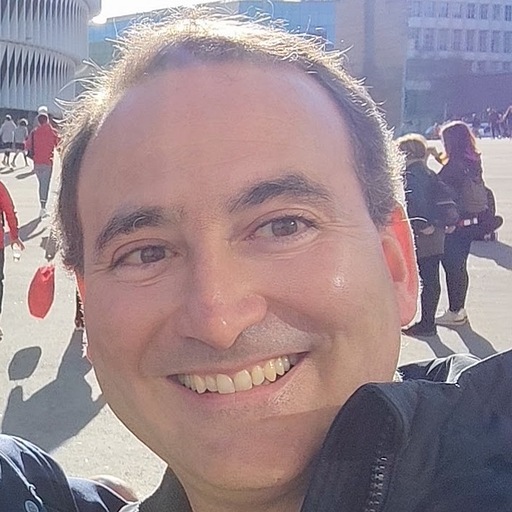 Javier is the founder and CEO at TweetBinder. With more than 10 years of experience in Twitter Analytics space, he is on the mission to build best-in-class Twitter marketing tools helping X community to thrive.