This post is also available in: Español (Spanish)
Would you like to track a hashtag on Twitter that took place months or years ago?
That simple question is key for so many social media marketers and events organizer. Many professionals need Twitter analytics of hashtags that happened months ago, can they be tracked? We were asked that question many times everyday for months. It was a common question because people need to have the analytics of past events or campaigns and maybe they forgot to run right after the end of them. The answer anyway is yes and it can be done fast. Thanks to the agreement Tweet Binder has with Twitter, we can run Twitter historical reports with no date limitation and give you a quote in a few minutes.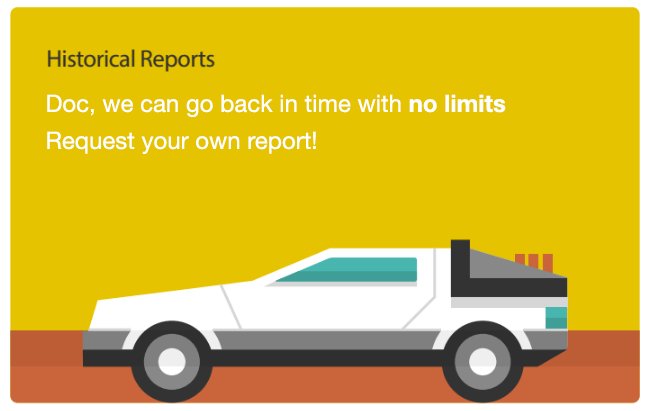 Price of Twitter historical reports depends on the number of tweets and the number of months we need to go back. That's why we cannot give a fix price price right away. It is important to know that the higher the number of tweets the more expensive the report will be. You can proceed directly from here to get your historical report, the minimum price will be $50. You need to know that this is not a cheap product but it is a great one.
In the past Tweet Binder could access only to the tweets 7 days older. Now it is a whole now world!
How to get a quote for a Twitter historical report (in 10 minutes)
To get a quote for a Twitter historical report you only need to visit the new website Tweet Binder created for that and fill the form. We have a commitment: we will reply in the next ten minutes, try us here. Once you access the website you will see the form you need to fill to get your quote. It is very important to know that there will be a person at "the other side of the form", a team member of Tweet Binder that will personally answer your questions. We do not like machines actually very much when we have to interact with you guys, so know that a person will be reading your email and replying. No automatic replies or "hello friend, thank you, your message is very important for us please wait" messages.
Make sure that you specify the starting and the end date of your tracking. We will need it in order to calculate the quote. Also, if you would like to track more than one hashtag let us know. We can track anything that fits into a tweet.
Twitter analytics of historical reports
The analytics you will receive in the report will be the same ones of a regular Tweet Binder report. Check the following link to see an example:
Example of a Twitter Historical Report.
Twitter analytics:
Number of tweets
Types of tweets: retweets, text tweets, replies, links and images.
Potential Twitter impacts
Potential Twitter reach
Number of contributors
Followers per contributor
Instagram pics shares on Twitter
Tweets per contributor
Activity chart
Users rankings:

Most active users
Retweeters
Original users
Most popular users
Highest impact users
Photographers

Binders stats
Languages chart
Most mentioned users ranking
Most retweeted users ranking
Related hashtags ranking
Sources chart
Engagement chart (tweets per contributor)
Influence chart
Timeline