This post is also available in: Español (Spanish) Français (French)
Export Twitter Data and Tweets to Excel
People usually want to export and download Twitter data to Excel so they can work in a software they feel comfortable with. When creating a Tweet Binder Twitter Analytics report, the first thing you will see is the Twitter stats in the online version. This report includes all the main stats of the hashtag, term or account you are tracking.
It is great to have a good overview of how the hashtag has evolved on Twitter. However, sometimes you can find yourself without an Internet connection and needing to check a report. So, what can you do then? First, you don't have to worry. And, second, you can check the offline versions of the Tweet Binder Twitter monitor reports. With a Tweet Binder report you get a PDF and Excel sheet. Therefore, you can now turn Twitter dataset to Excel.

Check our Twitter Excel dataset
How to export tweets to excel
To export your Twitter data into Excel you need to follow these steps:
Go to TweetBinder.com and insert the Hashtag or user you want to download the tweets from
Mouse over on 'Export' option
There click on "Excel" and the process of requesting the XLS file will start
Wait until the report is generated and you will be able to save it. This can take up to 1 minute if the report is big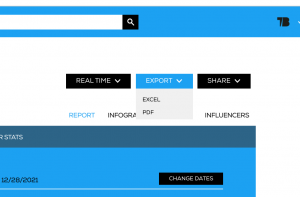 As was aforementioned, having Twitter analytics in an Excel sheet comes in handy when there is no Internet connection. Here we will learn about the kind of reports that can be exported to Excel. Also, we will go through all the stats the sheet contains and all the Twitter users that are included in the Excel file.
After reading this post you will become a PRO Twitter analyzer. Also, know that Excel exportations can be obtained after analyzing anything. It does not matter if you are analyzing Twitter trending hashtags or top Twitter accounts.
Twitter to CSV: export tweets in CSV
When you download the XLS Excel file you will have the option as well to save it as CSV. A CSV file is a bit more difficult to read but usually it is meant to be uploaded into some other softwares.

Which Twitter reports can be exported to Excel?
With Tweet Binder, the answer to these questions is pretty easy: every PRO Twitter report can be exported to an Excel sheet. That's right, by purchasing a PRO report you get the Excel exportation of your report. It is available for any type: Twitter real time and Twitter historical data. Also, Twitter hashtag trackers where the Twitter advanced search has been used can be exported as well. So, if you are analyzing tweets in real time or you are looking for old tweets, you can always generate an Excel sheet. Just to be sure, we will post here a list of the reports that can be exported:
7-day Twitter report
30-day Twitter report
Real time Twitter tracking
Check our Twitter Excel dataset
Twitter stats inside an Excel sheet
This is the most interesting part of this post. In fact, it is very interesting to know which stats are included in the Excel sheet in order to know which information you will be working on. The Excel sheet is divided into five pages:
Stats: It contains the main stats of the hashtag. In this page you will find the general stats, the activity chart, average number of tweets per contributor, the contributors influence, the top languages and the top sources.
Images: This page contains the list with all the links of the images shared.
Link: Here you will find all the links that have been shared in the report.
Contributors: This contains the list of all the users that have participated in the report. We will later go deeper on this.
Tweets: Here you will find the complete transcripts for all the tweets and retweets inside the report. This way, you will be able to keep track of all the Twitter mentions inside your report.
Most mentioned users: As it names says, here is displayed the complete list of the most mentioned users in the report.
Each one of these pages have been thought so that you, as a user, have all the information that you need. For example, in the page with the transcript of the tweets we give the number of likes and retweets each tweet has received. Actually, by sorting the tweets by likes, for instance, you will get all the tweets ordered by number of likes. Therefore, you will be able to see the tweets with the highest performance.
Check our Twitter Excel dataset
Twitter users in the Excel sheet
We have just mentioned that a Tweet Binder Excel for Twitter contains a complete list of users that have participated. This is, with the transcripts of tweets, the most valuable information inside the Excel document. Here you have all the information about the people who have joined the conversation with the hashtag, term or keyword that you are analyzing. The online report gives information about users, that's right. Though these online rankings only give up to 10 users per ranking. If you just need a general overview, this information is enough. But if what you need is to have a deeper look into the users, the Excel sheet is your place. A Twitter marketing task to boost your numbers.
In fact, users are listed in the page named contributors and the information there displayed is huge. Let's see the stats about each user and later we will see how to work with them:

Username
Name
Location
Total tweets

Retweets
Images
Links
Chats
Original tweets

Followers
User economic value
Economic value of the tweets sent by that user
So, as you can see, the info about users inside the Excel sheet is countless. With a correct use of Microsoft Excel, you can get really interesting and useful insights about the Twitter users in your analysis. And there are no limits, you can get an Excel report for large reports. For example, you could get an Excel for the Twitter activity of the MTV EMA awards. Or you can even create a report based on the most retweeted tweets of a hashtag.
Download tweets of a hashtag
Throughout this post we have talked about Twitter data in Excel. But you may be wondering: in which format can I export Twitter data? The truth is that with Tweet Binder you can also get Twitter stats in a PDF document. While the Excel document is for working with the data and reaching conclusions, the PDF document is to be presented to the final client.
The standard PDF is a static picture of the web report. It has the same design and colors. But these can be customized as well. If you want to give your client a PDF where your name is quoted instead of Tweet Binder's you can do it with our hashtag counter.
The world of social media is constantly evolving, and Twitter is one of the most popular platforms for businesses and individuals to share their thoughts and ideas. One way to measure the impact of a Twitter campaign is by tracking the use of a specific hashtag. Exporting tweets of a hashtag to Excel with Tweet Binder is an easy and efficient way to analyze the reach and engagement of a campaign.
Tweet Binder is a powerful tool that allows users to track and analyze Twitter hashtags. It offers a variety of features, including the ability to export tweets to Excel. This feature is particularly useful for businesses and organizations that want to measure the success of a Twitter campaign. Exporting tweets to Excel allows users to easily analyze the data and make informed decisions about future campaigns.
When exporting tweets to Excel, users have the option to include information such as the username, tweet text, location, and number of retweets and likes. This data can be used to identify influencers, track the spread of a hashtag, and measure the overall reach of a campaign. By analyzing this data, businesses can determine which aspects of a campaign were successful and which need improvement.
Another benefit of exporting tweets to Excel is that it allows for easy sharing and collaboration. The exported data can be shared with team members, partners, and stakeholders, allowing for a more comprehensive analysis of the campaign. Additionally, the data can be easily integrated into other tools, such as marketing automation software, to further analyze the results.
In conclusion, exporting tweets of a hashtag to Excel with Tweet Binder is a crucial step in measuring the impact of a Twitter campaign. The ability to easily analyze and share data allows businesses to make informed decisions and improve future campaigns. If you haven't already, consider using Tweet Binder to track your hashtags and see the impact of your campaigns.