This post is also available in: Español (Spanish) Français (French)
If you want to download tweets from Twitter for free, you can do it a few different ways.
For owned accounts, you can export a Twitter archive directly from Twitter. It is free.
However, if the goal is to analyse tweets from any other Twitter profile, you can use third-party tools like Tweet Binder. In addition, downloading tweets grouped by certain hashtags, keywords, or mentions is also possible.
Use the search bar below to get tweets from any account on Twitter / X. Simply put "from:@handle" in the search bar below. You will get up to 200 tweets from the last 7 days.
Keep in mind that tweets download is not available for free on Tweet Binder.
Disclaimer: We are Twitter compliant and we always follow Twitter's guidelines regarding data download. 
How to download tweets on Twitter / X
For an owned account, you can download all tweets from a user as a Twitter archive for the account through Twitter's archive feature.
If you want to download tweets from other users, you can do so with Tweet Binder, using a paid plan.
Export tweets from a user
Here's how to export posts from a Twitter user:
Use the search bar below or login to your Tweet Binder account, and type into the search bar.
To get all the tweets sent by a particular account use the "from:@handle" operator.
Review the web version of your report. Click "Download" to export tweets to excel or pdf format.
Note that if you create a report that includes "@TweetBinder" rather than "from:TweetBinder" you'll get a report with all tweets that mention the account.
This is helpful to run this type of report to get a sense of what and who is talking about a particular Twitter user.
For large reports, you can use additional advanced search operators to zero in on specific content. For example, you can use:
"has:geo" to see tweets from a specific country
"url:" to see posts that have links to a certain website
"has:images" to see content with graphics and photos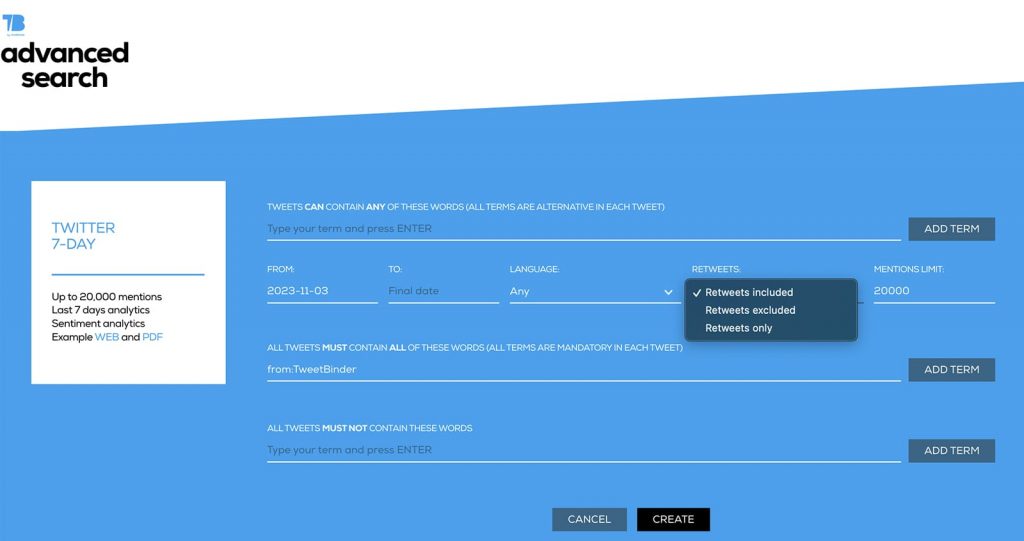 Check Twitter advanced search to find other Twitter search operators.
Tweet download based on hashtags and keywords
Exporting a Twitter archive for a user is helpful for analyzing content from a single account over a specific period of time. Read this step-by-step guide to learn how to download all your tweets for free from Twitter / X.
However, If you need to analyze tweets about a topic or from a campaign, create a report based on hashtags or keywords instead.
With Tweet Binder, the workflow for this type of Twitter export is the same:
Type a hashtag, keyword, or @mention into the search bar.
Press "Enter" to view the report. Click "Download" to download tweets as a PDF or XLSX file.
You can also use advanced search operators to narrow down the content that appears in the report. This step is helpful for popular keywords. For example, you can use:
"has:media" to see tweets with visuals attached
"is:verified" to see posts from verified accounts
"has:mentions" to see content that tags other accounts
Note that you can create a custom report with multiple hashtags or keywords. Make sure to use the search operator "OR" to structure your request.
Learn more about Twitter advanced search here.
What does a Twitter export include?
Tweet Binder's tweet archive as a downloadable XSLX and PDF file includes:
All tweets
The list of all users who sent or retweeted tweets in a given period
List of images
List of links in tweets
Different twitter stats, read more about this below
On the screenshot below you can see how the tweets tab looks like in an exported xlsx file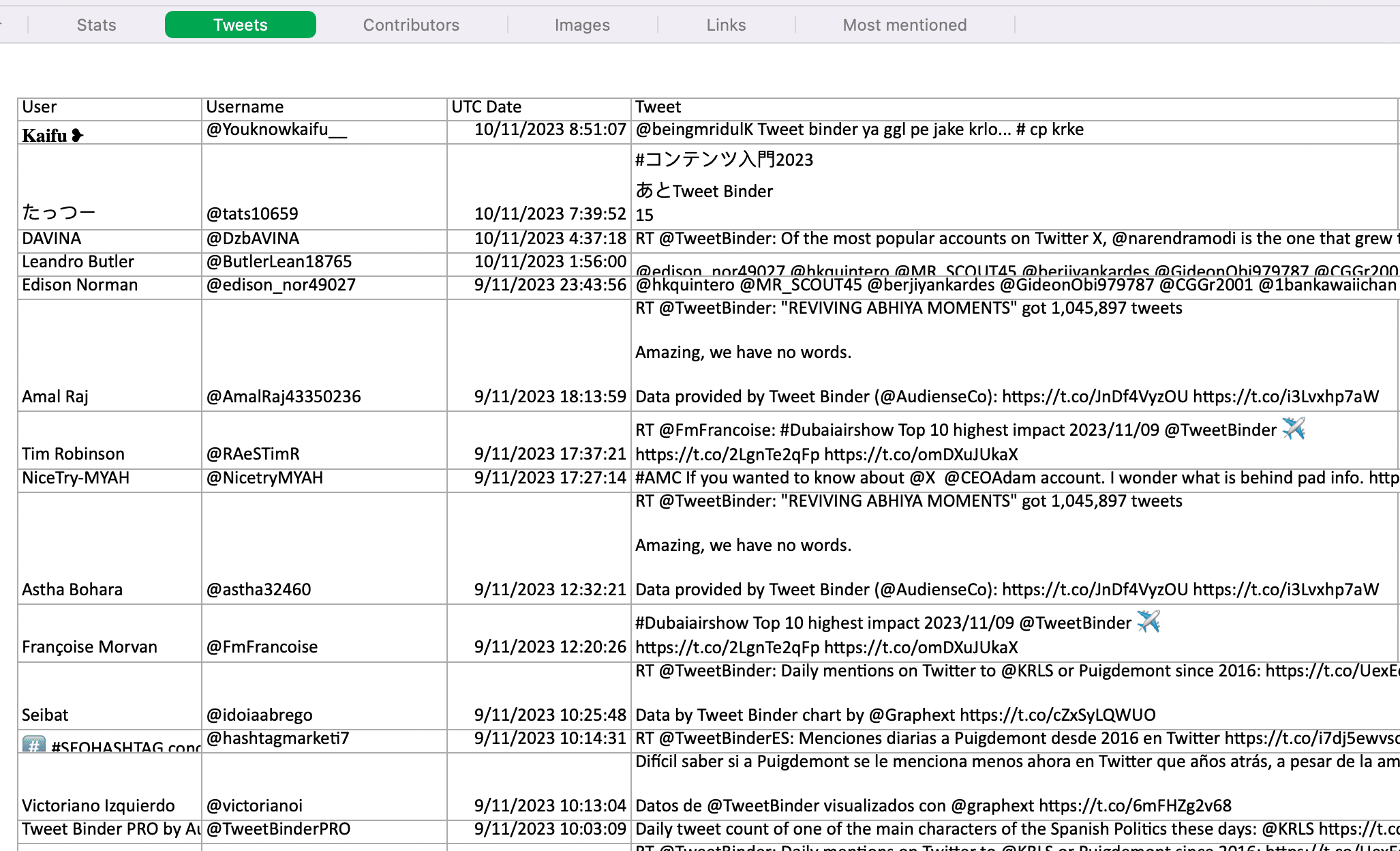 Check our Twitter Excel data set
Apart from the tweet text and valuable related lists described above, the XLSX export includes different Twitter stats, including:
Total tweets count
Count of original tweets
Number of retweets
Count of likes
Number of replies
Count of quotes
Number of bookmarks
Tweet value
etc.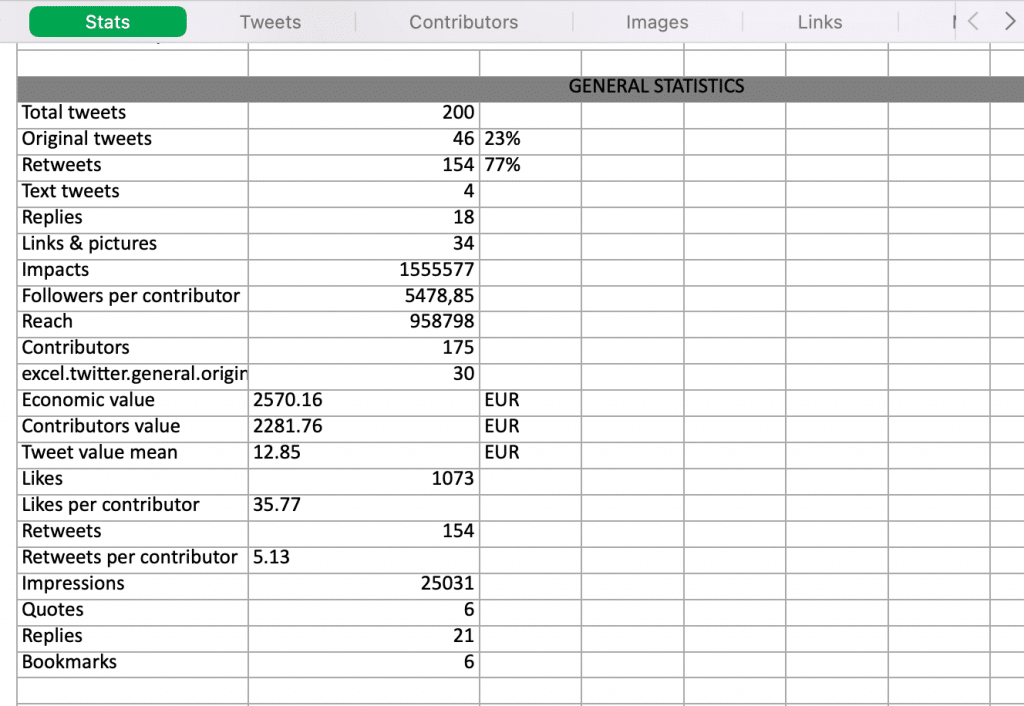 Create your 1st report for free. Use the search bar below.
How to analyze your tweets download
Tweet Binder exports can tell you a lot about a Twitter account, keyword, or hashtag in question. Let's look at a few ways to analyze the data.
Review tweet engagement
The biggest benefit of the XLSX export is that it's in a spreadsheet format, which means it's easy to sort and filter. Using these tools, you can easily find the best and worst performing content.
For example, you can find the tweet that
got the most impressions,
the most retweeted tweet,
or the most valuable tweet.
If you're analyzing a keyword or hashtag, this data can help you find trends and accounts worth paying attention to.

These analytics can help you find the top performing or most valuable posts for a hashtag or keyword. You can use these insights to decide which types of content to create more or less of.
Identify popular links
To analyze URLs, go to the "Links" tab. Here, you can see all URLs included in the report and sort by "Count."

This data is useful for diving deeper into the resources users are sharing. Are some links shared much more often than others? These insights can help you spot trends related to the hashtag, keyword, or mentioned user.
Check the most mentioned accounts
To learn more about the accounts featured in your Twitter report, check the "Most Mentioned tab. Then sort by "Count."

This data is helpful for finding new accounts to follow and engage with, especially if the report is for a Twitter campaign you ran or a hashtag that's important to your brand.
Find top contributors
Tweet Binder Twitter reports also show contributor rankings that rate the value of each user whose content is reflected in the report. This section is particularly useful for keyword and hashtag reports because it identifies influencers and users who can amplify your content.
Since you can sort the Excel report, you can review the data using the metric that matters most to you.
For example, you can sort by number of followers to find the biggest accounts that used the hashtag or joined the campaign.

In the web report, you can easily see the top 10 retweeters, top engagers, most mentioned accounts, and most popular accounts.
If you're reviewing a campaign report, for example, this section can show you which accounts to focus on building relationships with.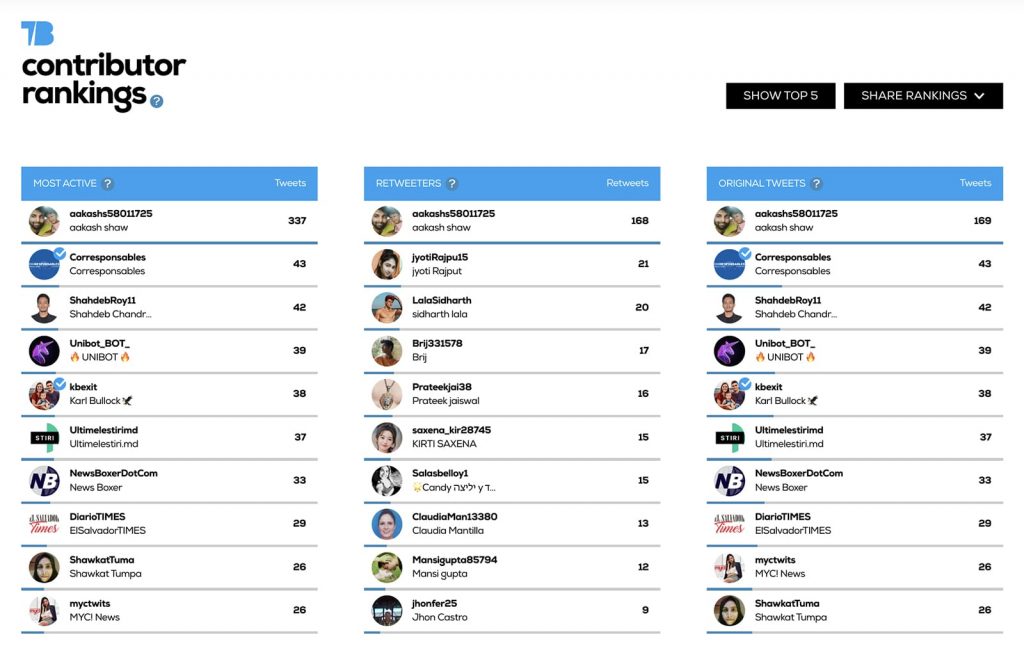 Read this guide to learn How to download your Twitter archive directly from Twitter / X.
How to download Twitter images
You can always download Twitter images with the right click and select "Save Image As" to download the JPG.
Whether you use Tweet Binder or X as Twitter pic downloader, you have a few options to do a Twitter image download.
Download Twitter Images with Tweet Binder
To download Twitter photos from Tweet Binder, open the report from your dashboard.
Go to the "Images" tab.
Here, you'll see a list of most liked or most retweeted images related to the account, hashtag, or keyword.

Select any image to open the original tweet.
Then right click and select "Save Image As" to download the JPG.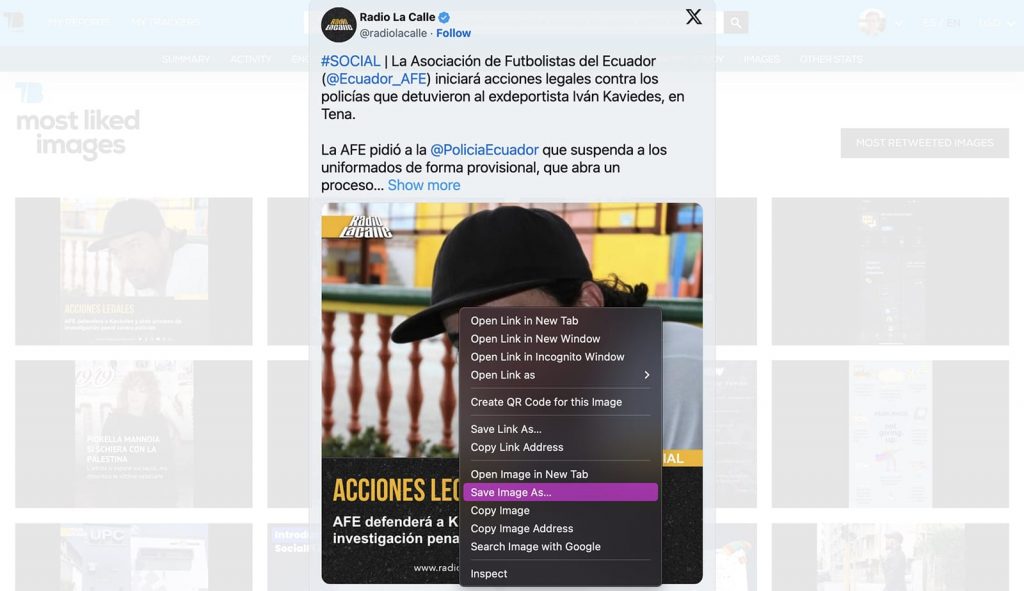 You can also download Twitter pictures using the downloaded XLSX version of any Tweet Binder report.
Go to the image tab and copy any of the URLs.


Paste the URL into a browser.
Replace the ".jpg" extension with "?format=jpg&name=large" to display the image.
Then right click and select "Save Image As".
Download Twitter Images on Twitter / X
Alternatively, you can download images directly from X. All images you've posted to your timeline automatically appear in the "tweets_media" folder in your archive.
If you want to save photos from Twitter directly, open your archive HTML file in a browser. Then use the advanced search functions to find a specific tweet and save the image.
Also, you can download images from your timeline with right button click and "Save Image As".
How to download Twitter profile pictures
You don't need a Twitter profile picture downloader to get this file. Open your profile or another account directly on Twitter. Click to view the profile picture and save with right button click and "Save Image As" from Twitter. You can do the same for the cover image.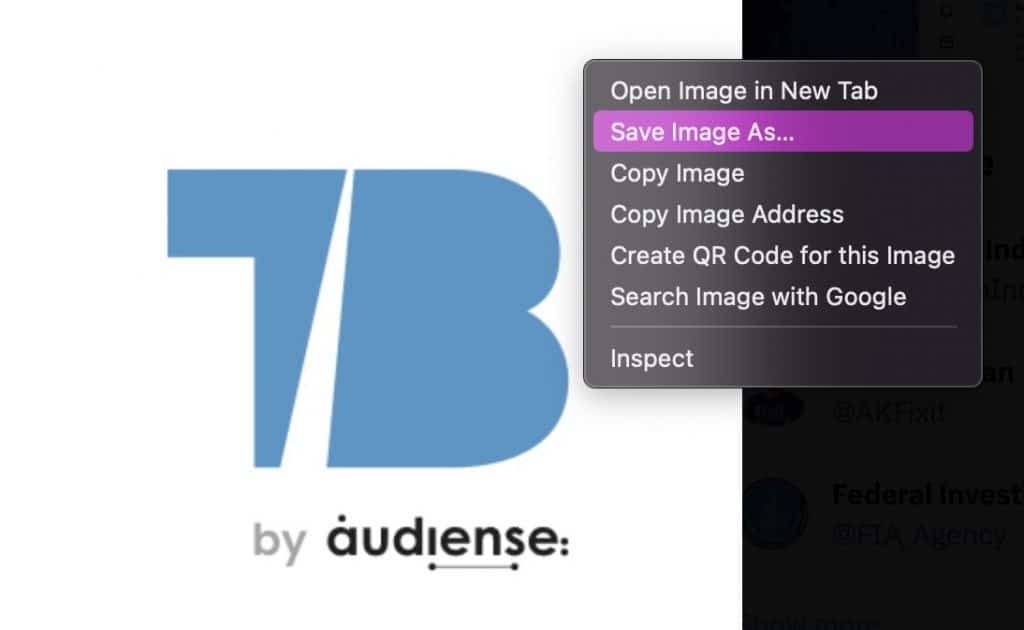 If you already exported your X archive, the Twitter profile picture download part is even easier. You can find your profile picture and cover image in the "profile_media" folder.
Twitter compliance
Twitter has very clear guidelines on how to download data (tweets). Tweet Binder is 100% Twitter compliant and always respects the rules issued by Twitter.
With Tweet Binder you will be able to download all the statistics and metrics that we generate and, in some cases, data that comes from Twitter, but only in some cases. You can download:
1,5M tweet ids per month from Tweet Binder's API along with the stats. You will need to get a Twitter pro subscription and rehydrate those tweet ids in order to get the text, user, etc.
50,000 tweets per day manually from Tweet Binder. You have to do this process manually, that is the maximum requirement. You can click on "download" in Tweet Binder to get those 50,000 tweets from your report. But you will never be able to get more than that.
Basically, if you want to download a large amount of Twitter data, contact Twitter directly, they will be very happy to help.
Check our Twitter Excel data set
Get started with a Twitter profile downloader
When you simply want a record of your X account, requesting your Twitter archive is a good idea.
But if you need to download tweets for other Twitter accounts or if you want to export posts, mentions, and engaged users in a format that's easy to analyze, Tweet Binder is a smarter choice.
Start at no cost. Create a free Tweet Binder report and start analyzing the tweets that matters most.
Check our Twitter Excel data set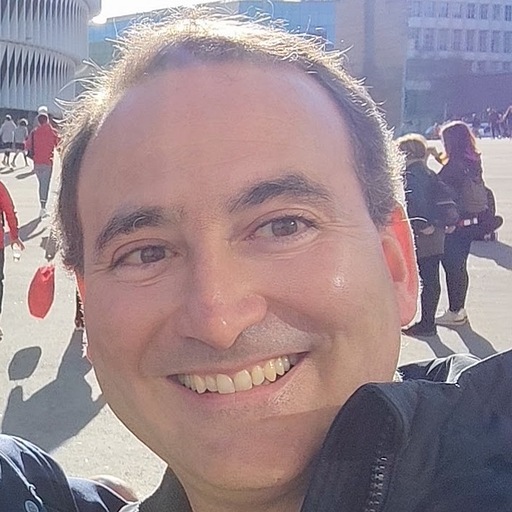 Javier is the founder and CEO at TweetBinder. With more than 10 years of experience in Twitter Analytics space, he is on the mission to build best-in-class Twitter marketing tools helping X community to thrive.