Obama and Twitter – A love story from the beginning
Twitter played a very important role in the two elections Barack Obama won and his Twitter activity has always been quite high. At this moment Barack Obama's Twitter account has more than 130M followers and it is one of the most followed Twitter accounts of all time. Thus, in this post we will analyze Barack Obama Twitter activity since he opened his account back in March 2007. We will only analyze the tweets he (or his team) sent, not the RTs he made. This is important as we are going to focus on the original tweets sent by Barack Obama. Our Twitter tracking report won't contain retweets.
If you want to see the recent tweets by Obama use our free Twitter search. Just type from:barackobama in the following search box:
That is a really used search command. Using Twitter Advanced Search is the best way to get the tweets we need to find.
How many tweets has Obama shared?
Barack Obama was the US President from January 20th 2009 to January 20th 2017 when Donald Trump took Office. He actively used the Presidential Twitter account @Potus. However, he also kept his personal account active. He has sent almost 11K original tweets until today (UPDATED October 2021) and the timeline looks like this: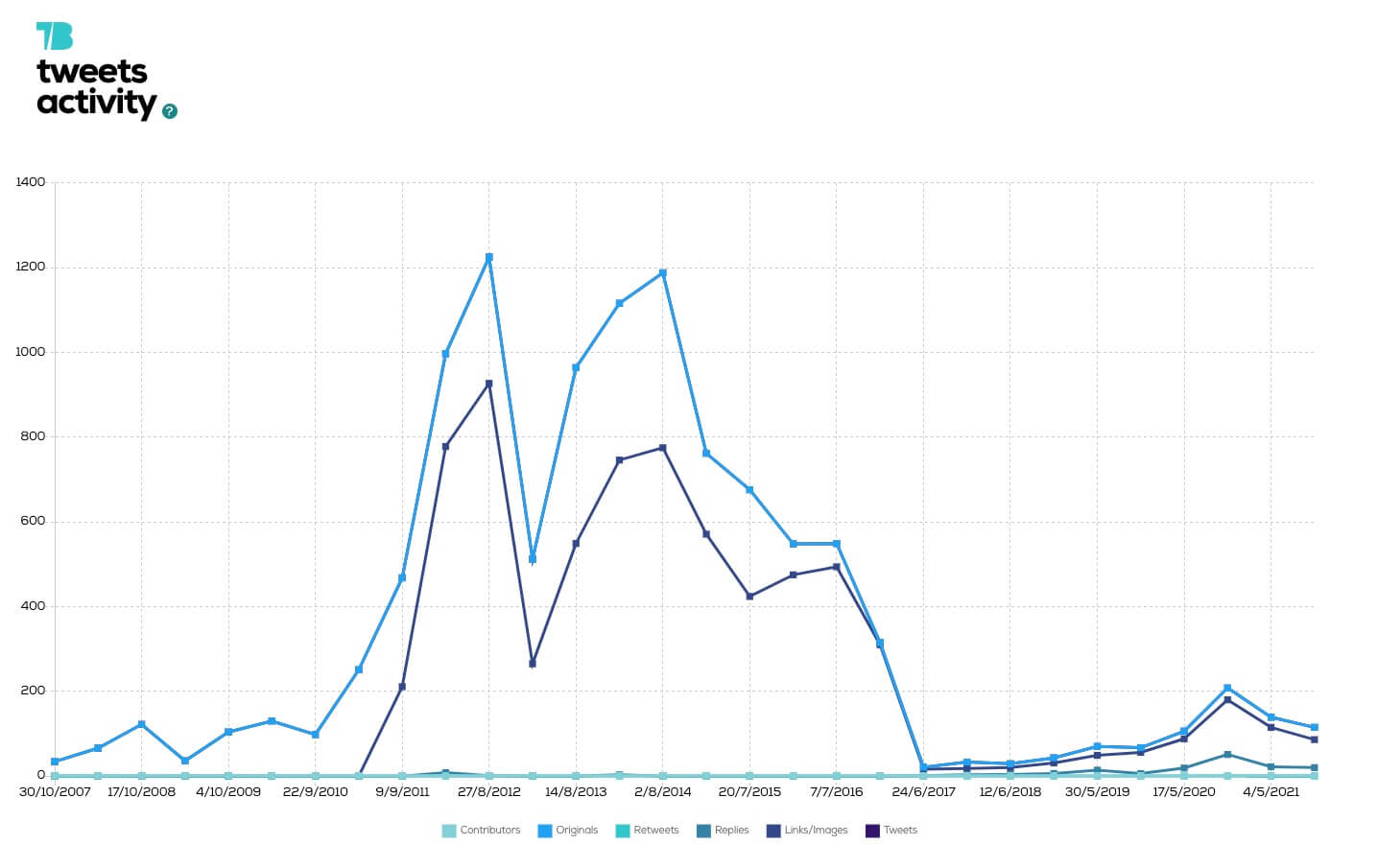 In addition, the following image shows the general stats of the tweets sent by Barack Obama. This is a screenshot of a Tweet Binder Twitter report.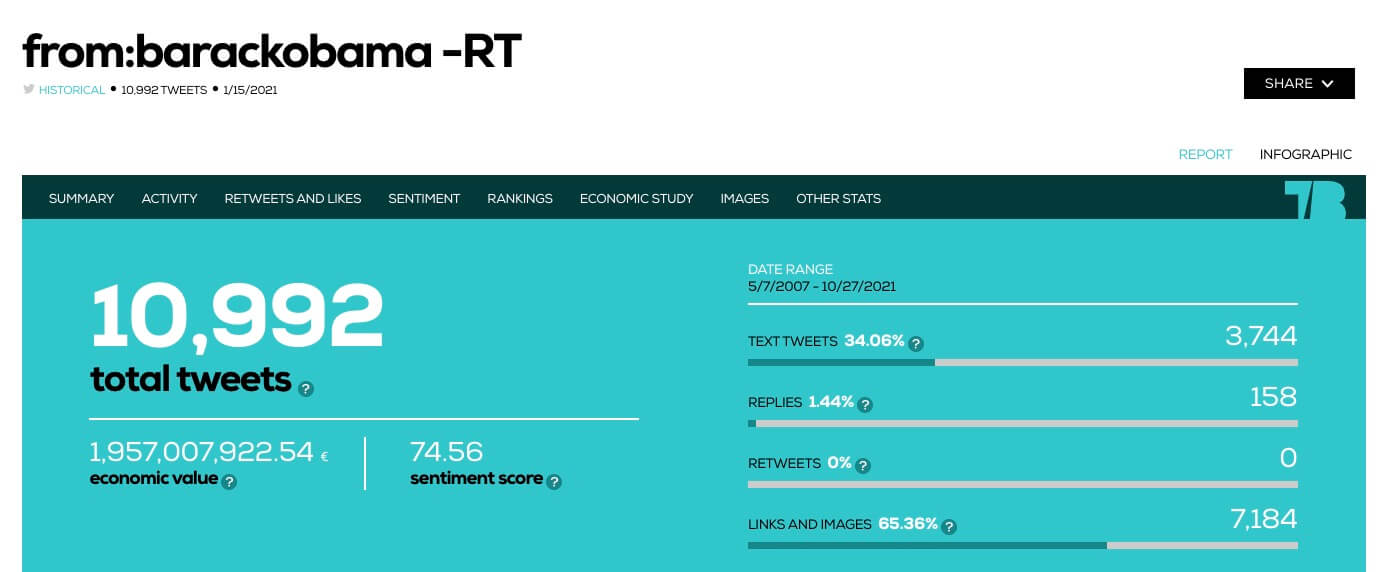 Obama's Twitter data
One recurring question we receive is how to check someone's first tweet. Also, Barack Obama's Twitter handle is quite interesting, in fact he is part of our Top 10 most followed Twitter accounts post. In addition, is quite asked how to get to know how much a tweet is worth, especially if we are analyzing popular accounts. We can even run a Twitter report based on a Twitter account.  Twitter gives lots of valuable information and so it does Tweet Binder. For instance, thanks to the Twitter Follower Tracker we can get all this valuable Twitter data based on his account.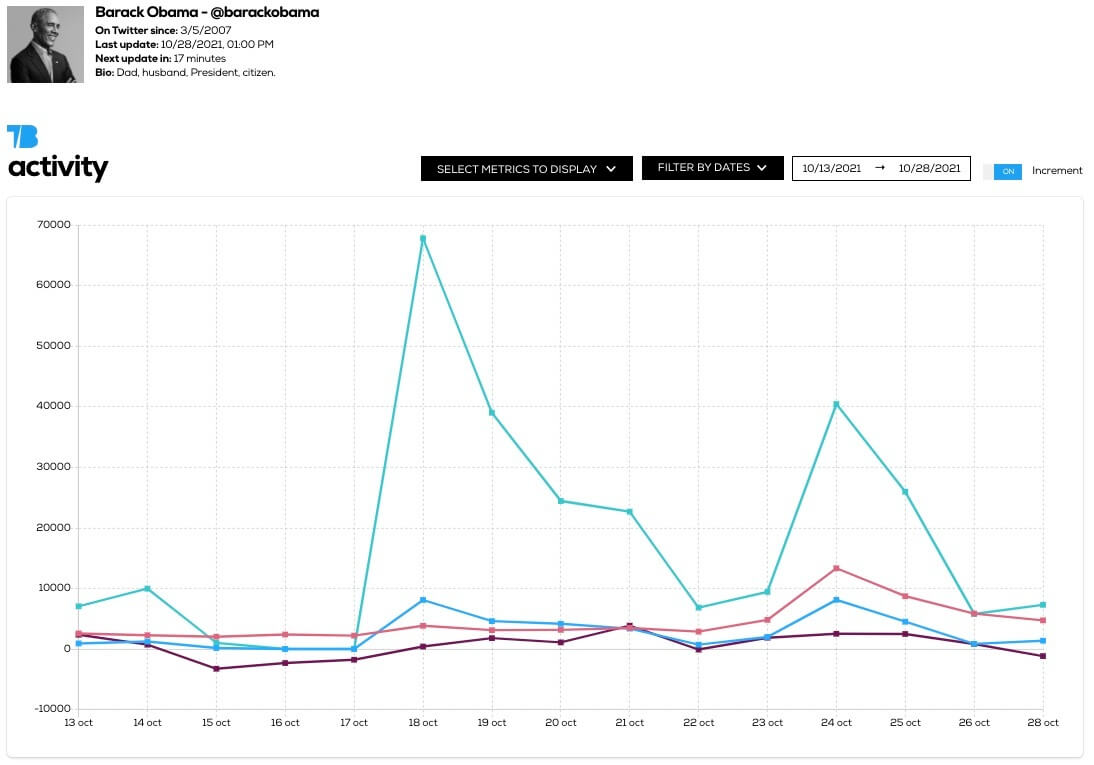 How many retweets and likes have Obama's tweets received?
Until this day, Barack Obama's Twitter account has received millions of likes and retweets, exactly:
Retweets: 34,722,020.
Likes: 117,938,817
This another frequently asked question: How to find the most retweeted tweets? That is something we can easily do thanks to that post.
What is the most retweeted tweet of Obama's?
Barack Obama has a tweet that until today has got almost 1.6M retweets and it is also his most liked tweet. He tweeted it after the Charlottesville car attack in August 2017:
"No one is born hating another person because of the color of his skin or his background or his religion…" pic.twitter.com/InZ58zkoAm

— Barack Obama (@BarackObama) August 13, 2017
Just as a comparison, former President at that time (Donald Trump) got 50k retweets when tweeting about the attack:
https://twitter.com/realDonaldTrump/status/896420822780444672
This post is about Barack Obama but we have analyzed as well the Twitter activity of Donald Trump and US President Joe Biden. There are some interesting facts on that analysis as well.
Here is a list of the TOP 10 tweets sent by Barack Obama
Date
Tweet
Permalink
Retweet count
Likes count
13/8/2017 0:06:09
"No one is born hating another person because of the color of his skin or his background or his religion…" https://t.co/InZ58zkoAm
https://twitter.com/BarackObama/status/896523232098078720
1543429
4289505
7/11/2012 4:16:18
Four more years. http://t.co/bAJE6Vom
https://twitter.com/BarackObama/status/266031293945503744
825397
555021
26/1/2020 21:56:16
Kobe was a legend on the court and just getting started in what would have been just as meaningful a second act. To lose Gianna is even more heartbreaking to us as parents. Michelle and I send love and prayers to Vanessa and the entire Bryant family on an unthinkable day.
https://www.twitter.com/BarackObama/status/1221552460768202756
645668
3948564
13/8/2017 0:06:27
"People must learn to hate, and if they can learn to hate, they can be taught to love…"
https://www.twitter.com/BarackObama/status/932685522820042754
440879
1461215
20/11/2017 19:02:11
ME: Joe, about halfway through the speech, I'm gonna wish you a happy birth–
BIDEN: IT'S MY BIRTHDAY!
ME: Joe.Happy birthday to @JoeBiden, my brother and the best vice president anybody could have. https://t.co/sKbXjNiEjH
https://www.twitter.com/BarackObama/status/966704319658647553
439580
1508138
22/2/2018 16:00:44
Young people have helped lead all our great movements. How inspiring to see it again in so many smart, fearless students standing up for their right to be safe; marching and organizing to remake the world as it should be. We've been waiting for you. And we've got your backs.
https://www.twitter.com/BarackObama/status/896523304873238528
400441
1518920
20/9/2017 2:30:52
Thinking about our neighbors in Mexico and all our Mexican-American friends tonight. Cuidense mucho y un fuerte abrazo para todos.
https://www.twitter.com/BarackObama/status/910330388219916290
389136
1361010
20/1/2017 21:04:08
Hi everybody! Back to the original handle. Is this thing still on? Michelle and I are off on a quick vacation, then we'll get back to work.
https://www.twitter.com/BarackObama/status/822550300942856193
381869
1702304
17/1/2020 14:13:19
In every scene, you are my star, @MichelleObama! Happy birthday, baby! https://t.co/hgMBhHasBj
https://twitter.com/BarackObama/status/896523357272911872
373355
2694670
13/8/2017 0:06:39
"…For love comes more naturally to the human heart than its opposite." – Nelson Mandela
https://twitter.com/BarackObama/status/887836712822558720
365431
1305657
What device is Obama using on Twitter?
These are the devices Obama uses to tweet:
| Source | Tweets |
| --- | --- |
| Twitter Web Client | 9818 |
| Twitter for iPhone | 448 |
| Hootsuite | 328 |
| Twitter Web App | 274 |
| Twitter Media Studio8 | 6 |
| Thunderclap | 13 |
| Instagram | 10 |
| Obama for America | 10 |
| Adobe® Social | 5 |
It is very interesting to see that most of the tweets from Obama's Twitter account have been sent from the website, from a computer and not from a mobile device. This is understandable because it is safer to do it from a computer. However, since he is no longer the US President, he mostly tweets from an iPhone.
What hashtag has Obama used the most on Twitter?
These are the hashtags Obama has used the most on Twitter. We use the past tense as he no longer uses hashtags in his tweets. Although if you need to get Obama's tweets for a custom project or research you count on us. It could be via Tweet BinderAPI or with a custom Twitter analytics custom service. You'd find out, for example, that  his most used hashtag is related with the Act on Climate:
| Hashtags | Tweets |
| --- | --- |
| #actonclimate | 389 |
| #obama2012 | 253 |
| #sotu | 233 |
| #raisethewage | 187 |
| #obamacare | 182 |
| #getcovered | 162 |
| #doyourjob | 150 |
| #opportunityforall | 113 |
| #immigration | 100 |
| #dinerwithbarack | 75 |
How many times has Obama mentioned Michelle Obama on Twitter?
Tracking Twitter mentions with Tweet Binder is really easy. If we analyze the Twitter accounts Obama has mentioned oves the years during his "Twitter life", we see something interesting. He mentions very few people, there is only one account he's been mentioning a lot: @ofa "Organizing For Action" which was founded right after Obama's re-election in 2013. His wife Michelle is mentioned 54 times, here are the accounts the President mentions:
| Account | Mentions |
| --- | --- |
| @ofa | 296 |
| @vp | 63 |
| @michelleobama | 44 |
| @whitehouse | 43 |
| @joebiden | 41 |
| @obamafoundation | 25 |
| @obama2012 | 22 |
| @obamacare | 22 |
| @speakerboehner | 21 |
| @nytimes | 18 |
That is something we can do thanks to a Twitter historical report. Also, being able to create binders in the report to check specific details on the analysis is really helpful. In addition, being able to export the data in our Twitter report is perfect to be able to work with all the tweets and statistics analyzed. In addition, we can set up a Twitter real time analysis in order to not miss what Obama has tweeted today.
Analyze the tweets sent by Barack Obama
If you want to have a quick look at what the former President Obama has tweeted these past days, you can. Just by typing the following command on the search box, you will get a free Twitter report with the tweets sent by Obama recently. The search is from:barackobama