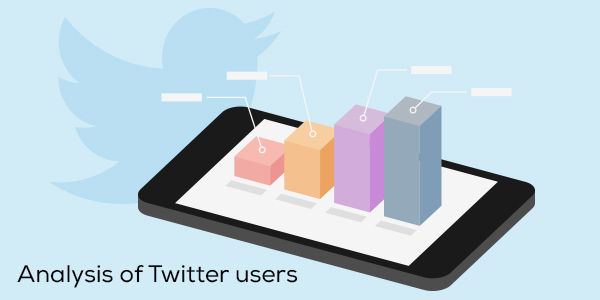 This post is also available in: Français (French)
A big part of Twitter comes with the amount of data anyone can get from it. Yes, our tweets, our profiles,… Anything can be turned into data. That is why getting to know the basics of Twitter Analytics is crucial for any marketer or anyone interested in statistics. Do you know how to run an analysis on a Twitter user?
In fact, we have already posted about how to get the most retweeted tweets out of a topic. Or even how to calculate Twitter impressions. What's more, Tweet Binder offers the sentiment analytics of Twitter hashtags the tool monitors. However, this post is going to be focused on the importance of the analysis of Twitter users. 
What is a Twitter user?
A Twitter user is the name anyone gives to its account. It starts with an "@" and it can contains letters, numbers and _ or -. Every Twitter user name is unique, there can not be two equal accounts. A Twitter account must have a name and a user name. 
The user name lets other users tweet you or look for you. It allows you to tweet. It is your identity within Twitter. The number of tweets or the followers you have are some of the details anyone can track. Well, that in case the Twitter account is not private (in that case nothing can be done). Let's focus our post using @jk_rowling as example. (Big Harry Potter fans over here).
How to see the Twitter account analytics
When analyzing a Twitter account, there are several factors that need to be considered. For example: do you need to see all the tweets sent by one account? Or do you just want to see its original tweets? Do you want to exclude the retweets from that analysis? Well, with Tweet Binder you can do all of the above.
The only thing you need to be a master of is of the Twitter advanced search. With its commands you can filter your search by type of tweet, by date or by language, So, imagine that we just need the original tweets sent by JK Rowling, we just need to type in the following search box this:
from:@jk_rowling -RT 
The search box above will give us a free report of up to 500 tweets from the past 7 days.  If you need a wider report, you can check our Twitter analytics reports. You can create a report that analyses the past 30 days or even a report that analyses the last
The easiest and fastest way to analyze a Twitter user is by checking its Twitter profile. It may seem obvious, but it gives a lot of information. Following the @jk_rowling example, these are the data we get just by visiting her Twitter profile: number of tweets, followers, following,… Even her birthday! That is a really complete Twitter user profile.

Analysis Twitter user: J.K. Rowling

Using a Twitter monitoring tool. With a Twitter tracking tool we can monitor the tweets a Twitter account shares or we can analyze the tweet that account receives. Meaning: the Twitter mentions received. For example, we can use the Tweet Binder and its search box to analyze @jk_rowling mentions. 

Checking its tweets, replies and interactions. Not just the number of tweets. A Twitter user that only tweets but doesn't interact with others may seem suspicious. Or even not retweeting anything. Starting a conversation with other users is not mandatory, but a user who is on twitter and does not engage with others is kind of suspicious. 
Tweets sent by JK Rowling
Following the example we have mentioned, we are going to run a report for the latest JK Rowling tweets. We hace created a simple 7-day Twitter report. However, we could create a Twitter historical report to see all the tweets sent by he Harry Potter writer.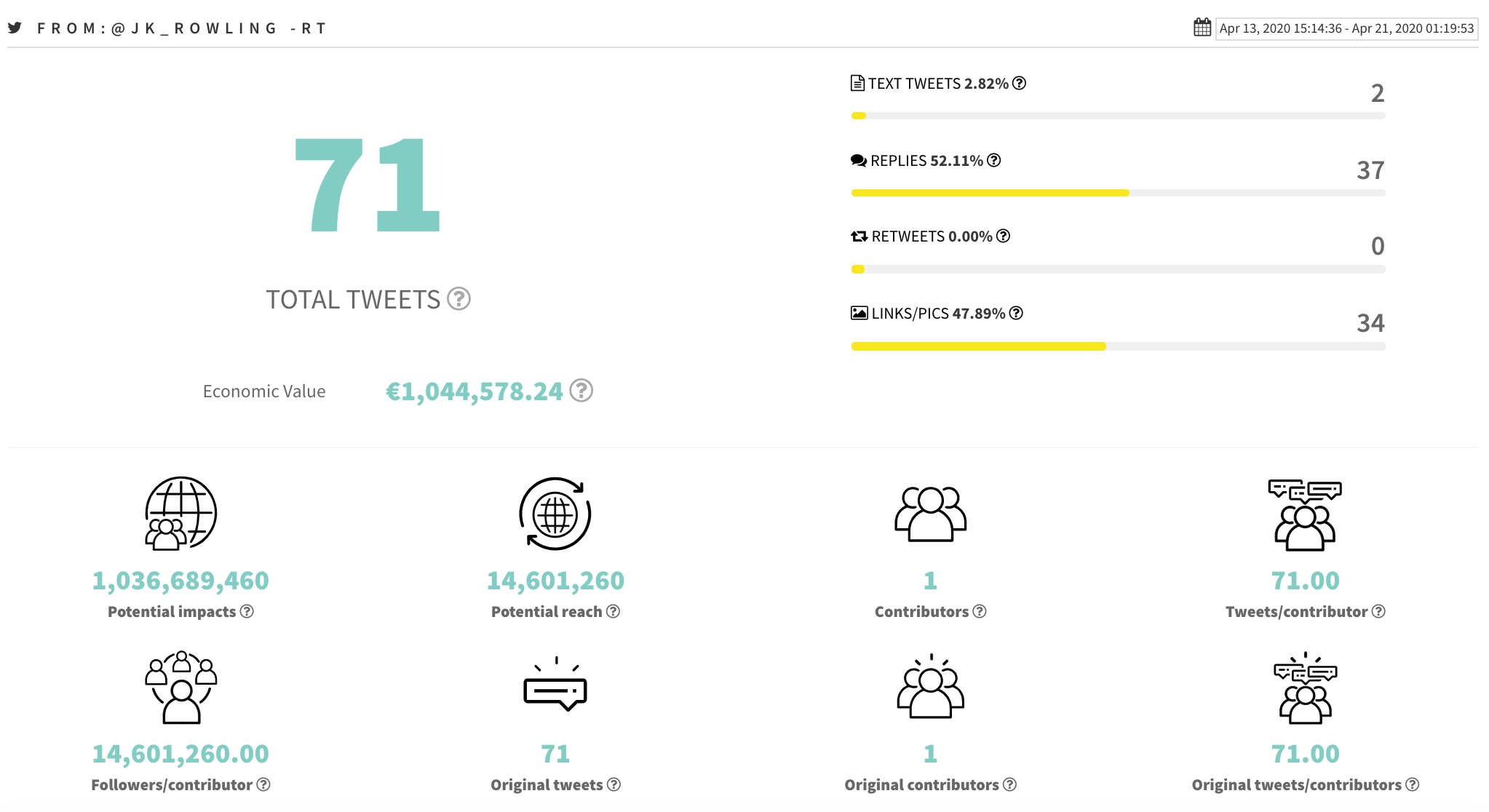 Following the upper image, we see that in the past 7 days JK Rowling has sent 71 original tweets. And it is important to keep that in mind. By adding the command -RT we are excluding from the analysis all the RTs she has made. Also, by adding the command from: we are excluding all the tweets sent by anyone who is not JK Rowling. Therefore, we are excluding all the RTs users make to her tweets.
When analyzing a Twitter account it is important to focus only in the tweets that account has sent. That way, we won't loose the focus on what we are analyzing. If we need to know how many RTs the user has received, we can do it with the Excel exportation. Tweet Binder is capable of turning Twitter data into Excel sheets. In that document, we give the number of retweets and likes each tweet receives.
If you want to see all the tweets sent by an account, retweets included, you just need to type this: from:@jk_rowling.
Main Twitter account analytics
There are mandatory details anyone who wants to join Twitter must follow. We need an email to link our Twitter account to. We have to include a name and a unique Twitter username to our account. Then, it's suggested to follow some accounts (what are we on Twitter for, right?).
Apart from the details that are required to join the social network, there are statistics and data to easily analyse a Twitter profile:
The blue mark: also known as the Twitter verification symbol. If we search for J.K Rowling in the Twitter search option we may come up with a lot of results. However, we know @jk_rowling is the good one because it has a verification mark. 

Description: It gives an idea of the content or the interest the user has. We could also say that it gives a glimpse of the personality of the person behind the account. In the case of J.K. Rowling she points out that she's a writer and that she also goes by the name of Robert Galbraith (which is her pseudonym).

The date when the Twitter user was created: this way we know if the user has been posting for a long time or if it's a new addition to the social network.

The number of followers: it's just a number but it gives a glimpse of how interesting the tweets are or how well-known the Twitter profile is. This works closely with when the Twitter account was created.

How many accounts the profile follows: it's ok to have followers but following other accounts it is crucial as well. Twitter is a platform to share information and to chat. Thus a balance between followers and following should exist.
There are additional facts that can be part of a Twitter profile such as the birthday or a link. But another important one is the profile picture. When we create a Twitter account picture of an egg is the image we get. We can say that those who remain with an egg as a Twitter profile picture are not really worth following. It also happens with those that don't really show themselves. 
Conclusion
In the era of Twitter bots, a Twitter profile with a good profile picture, a nice description and a relative balance between followers and followings give us a good analysis of a Twitter user.  Well, that's not applicable for popular accounts such as J.K. Rowling. For popular accounts always rely on the Twitter verification mark.
And if you want to dig in deeper in the Twitter analytics universe, start using Twitter tool to analyze tweets and Twitter accounts.