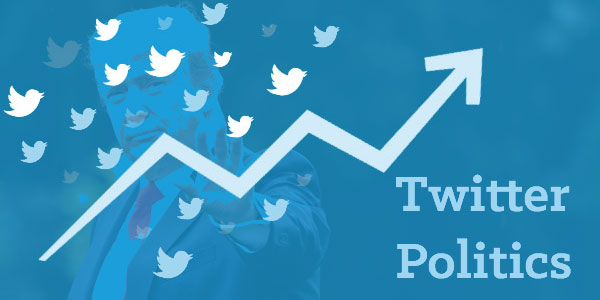 Donald Trump Twitter: How does the President uses Twitter?
President Donald Trump's tweets are a great way to know what the president is thinking, doing or thinking of doing. Donald Trump's tweets open News broadcast and Media have dedicated thousands of TV. Always that Donald Trump uses Twitter a newspaper writes a new article. They are also a great source of conflict and controversy, just read the replies to any tweet he sends. We have analyzed every tweet sent by Donald Trump since he became the president of the United States of America (and before) to see how he's doing. Can you imagine doing a hashtag tracking of all the hashtags he posts?
The dates of the analysis are since May 4th 2009 until today. We analyzed a lot of info and we can say: Trump + Twitter, what a combination! He is probably the president in the world that uses Twitter the most. And when we say "uses" it means he does it personally, he doesn't have a team of people managing the account for him. Trump's tweets are written by Donald Trump. If you want to see the last tweets from President Trump write from:realdonaldtrump in the following box:
Evolution of tweets sent by Donald Trump since 2009
Donald Trump Twitter's account was opened in 2009. Since then he has sent almost 42,000 tweets. In the next chart you will see how he has been using his official account @RealDonaldTrump since then. If we take a look at Trump's account since 2009, the year he opened his account, until today the evolution is quite interesting (Kind of crazy if you think about it):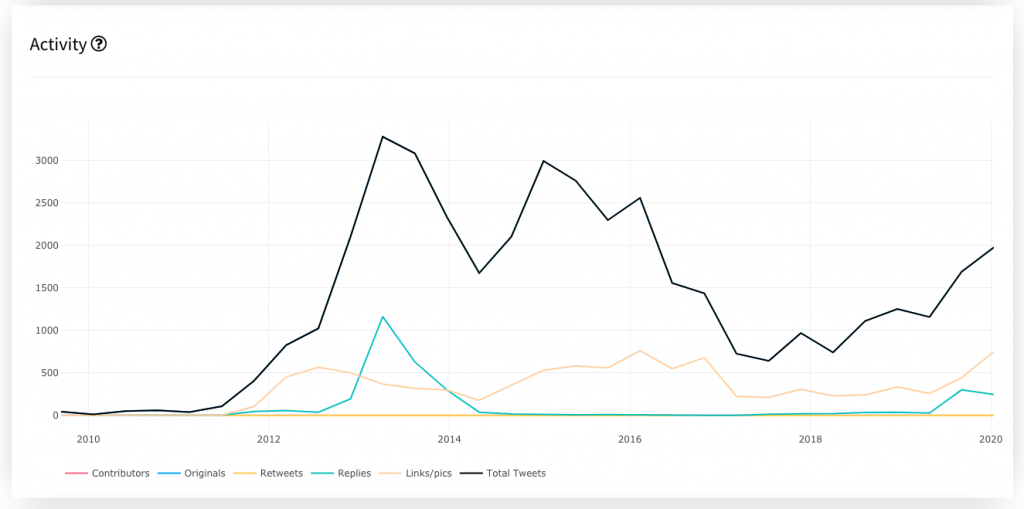 Donald Trump keeps using his official Twitter account @RealDonaldTrump heavily instead of the one from the presidency @Potus. President Obama used to have a team running his accounts. Whenever he sent a tweet personally, he added its signature to it so the audience would know. Trump tweets today are considered a great source of information. We have to say that this analysis is based on real trump tweets, they are not fake or made up, those are tweets sent by the president of the USA.
Donald Trump 2020 tweets
The new year started pretty busy for the U.S President. His tweets have become a source of information. For some Trump's tweets are crossing a line since he is using the platform to manifest official actions and decisions. For others, he keeps using the tweets as he has done always: as he pleases no matter what. However, data is data and these are the total original tweets Donald Trump has shared during the first month of 2020: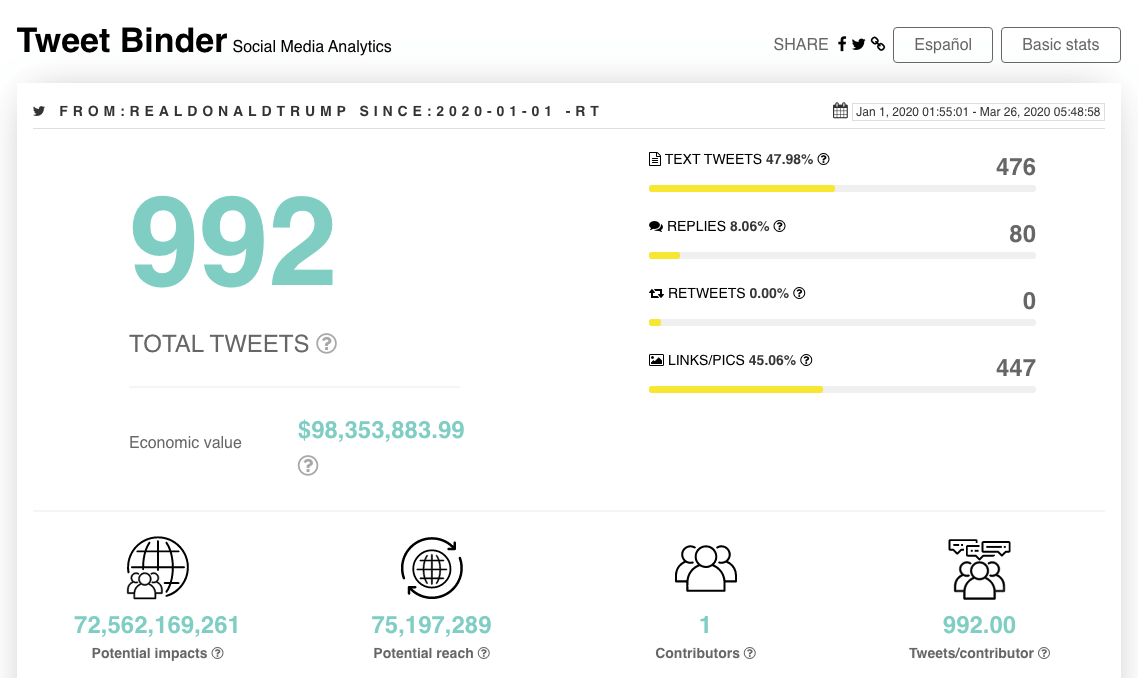 The Tweet Binder report about how Donald Trump tweets in 2020 also shows that this is the most liked and most retweeted tweet he has shared this year:
— Donald J. Trump (@realDonaldTrump) January 3, 2020
We are also analyzing all the tweets shared about the coronavirus pandemic. Our daily analysis involves keeping track of the most relevant tweets that are constantly feeding our timelines. Donald Trump tweets are receiving a lot of responses and retweets. This is the most retweeted tweet sent by @realdonaldtrump about the Covid-19:
….be put in use IMMEDIATELY. PEOPLE ARE DYING, MOVE FAST, and GOD BLESS EVERYONE! @US_FDA @SteveFDA @CDCgov @DHSgov

— Donald J. Trump (@realDonaldTrump) March 21, 2020
Access our the Google Sheet dataset about Twitter & Covid19 daily statistics
How many RTs and likes did Donald Trump generate?
Trump opened his Twitter account in March 2009, since then he has sent more than 47k tweets, some of them are just RTs. The number of original tweets he has sent are over 41k tweets(until August 12th 2019) and on Twitter only original tweets can generate RTs and likes. In all this time, Donald Trump has received millions of RTs and likes:
Donald Trump's tweets have received:

231 Million RTs
933 Million Likes
What has President Donald Trump tweet today?
That's a very interesting question and probably it has a different answer every hour because President Trump tweets quite a lot, Trump's tweets today will be on the news anyway for sure. If you want to see the last tweets from President Trump write from:realdonaldtrump in the following box:
Another good questions would be, what did Donald Trump tweet during Election day back in 2016. He sent many tweets during Election day but the one that got the highest engagement (retweets) was this one:
TODAY WE MAKE AMERICA GREAT AGAIN!

— Donald J. Trump (@realDonaldTrump) November 8, 2016
How many tweets did Trump sent about Hillary Clinton?
Hillary Clinton was Trump's rival in the 2016 election. He sent a lot of tweets during the campaign, that's for sure and that's understandable. The real interesting question will be how many were sent after Trump became President. The answer is 791, Donald Trump sent 791 tweets about Hillary Clinton after becoming president of the USA. And, by the way, he still calls her "Crooked Hillary Clinton".
Are any Democrat operatives, the DNC, or Crooked Hillary Clinton, blaming Russia, Russia, Russia for the Bernie Sanders win in Nevada. If so I suggest calling Bob Mueller & the 13 Angry Democrats to do a new Mueller Report, Democrat Edition. Bob will get to the bottom of it!

— Donald J. Trump (@realDonaldTrump) February 23, 2020
One interesting fact about Donald Trump on Twitter is that he mentioned Barack Obama 795 times (since 2009. He actually used Obama's official account @BarackObama). He mentioned Obama 4 times more than he mentioned Hillary.
Donald Trump Twitter archive and stats
Trumps latest tweets are always on TV, imagine all the news that are based just on his tweets. Well, Donald Trump has shared almost 42K original tweets since 2009. We do not count the RTs he makes, just the original tweets he has written and sent. 41,963 tweets divided in:
28,518 text tweets: tweets containing only text (no link, no pic, etc.).
3,319 replies: tweets where he replies to other users (however, in this case, he's also replying to himself when creating threads)
10,253 links or images. (some of these tweets are also replies, so we don't count them twice)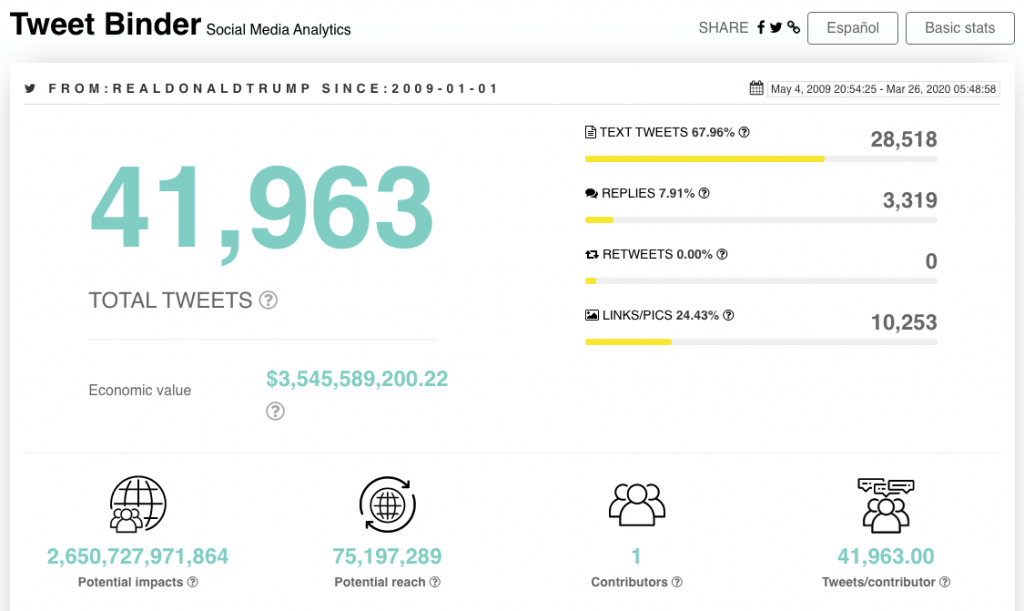 Does Donald Trump tweet from an iPhone or Android?
Since he is president, Donald Trump uses up to 6 ways to send the tweets, 6 different sources. Let's remember that Twitter consider "source" the software a person uses to tweet. In this case, these are the sources Donald Trump uses:
| | |
| --- | --- |
| Source | Number of tweets |
| Twitter for Android | 14,753 |
| Twitter Web Client | 12,952 |
| Twitter for iPhone | 12,367 |
| TweetDeck | 527 |
| TwitLonger Beta | 502 |
| Twitter Media Studio | 308 |
Not big surprise here, Donald Trump is using his campaign hashtags mostly: #MAGA (Make America Great Again) and #AmericaFirst
| | |
| --- | --- |
| Hashtag | Number of tweets |
| #trump2016 | 926 |
| #makeamericagreatagain | 558 |
| #celebapprentice | 301 |
| #maga | 299 |
| #celebrityapprentice | 165 |
The real surprise here would be that he doesn't use hashtags much, maybe he doesn't need them?
Fox news and Trump's tweets
We can say there is a bit of "love" between Fox News and Trump, they are the most mentioned news network in his tweets. We can say Donald Trump likes to talk about the media, most of the most mentioned users are media channels, that's a fact. 2% of Donald Trump tweets talk about Fox News. And also, 519 tweets (7% of the total) talk about Fake News.
In the next table you can see a distribution of the mentions from the President:
| | |
| --- | --- |
| Media | Number of tweets |
| Barack Obama | 795 |
| Fox News | 714 |
| Fox & Friends | 619 |
| CelebApprentice | 425 |
| Mitt Romney | 352 |
| CNN | 340 |
Fox News is the media that receives the highest number of mentions. It is also one of the only ones that talks "nice" about Donald Trump. That's why the president send tweets like these:
Thank you @FoxNews "Huge win for President Trump and GOP in Georgia Congressional Special Election."

— Donald J. Trump (@realDonaldTrump) June 21, 2017
However, the rest of the mentions to the media are not that nice. For example, CNN is receiving many tweets in 2017 from the president that are not that nice:
I am thinking about changing the name #FakeNews CNN to #FraudNewsCNN!

— Donald J. Trump (@realDonaldTrump) July 1, 2017
Let's remember that the one who sends these tweets is the president of the United States of America.
Trump's most retweeted and liked tweets
In 2017 Donald Trump sent his most retweeted tweet so far. The tweet where he shows a video making fun of CNN News is the one with the highest number of retweets and likes. So far it has 324,000 retweets and 529,000 likes, these figures keep growing. Tweets sent by Trump about the CNN are not quite delicate.
#FraudNewsCNN #FNN pic.twitter.com/WYUnHjjUjg

— Donald J. Trump (@realDonaldTrump) July 2, 2017
The second one has is from November 2016 and we already shared it before (a few lines above) where he said that "Today we make America great again". This tweets has now 307,000 retweets and 529,000 likes.
We also investigated the tweet TO Donald Trump with the highest number of mentions, it is from Jimmy Kimmel and it was sent in 2017 (Feb. 26th and got more than 235.000 retweets)
Hey @realDonaldTrump u up?

— Jimmy Kimmel (@jimmykimmel) February 27, 2017
Interesting facts about Donald Trump in Twitter
How many Twitter followers does Donald Trump have? At this moment Trump's Twitter account has over 73 million followers
How many mentions does Trump receive in Twitter? He gets 10,000 mentions in 20 minutes, can you imagine his phone?
Is there one fake Donald Trump in Twitter? Ummm, one? Not just one, thousands!
Trump only follows around 50 people and mostly his companies, family (Ivanka Trump or Donald Trump Jr.).
CNN Trump tweets are not very "nice".
How much is a tweet from Donald Trump worth? Right now the market value will be 82k USD. However, since Donald Trump's tweets get tons of engagement, its real value is 935k USD. Amazing.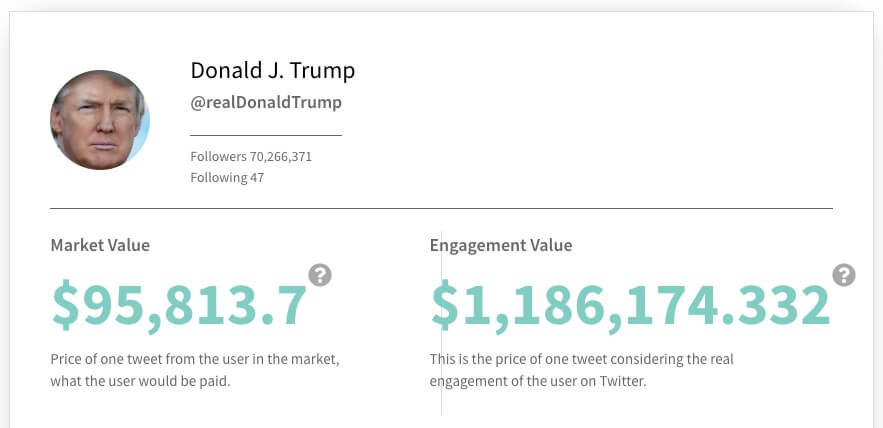 President Trump likes Twitter. Twitter Trump and Fox News is also a great source of information by the way, you can get a lot information from that and also great tweets. Twitter is the place where Donald Trump feels safe, independent and where he can say whatever he wants. We haven't tried to judge the content of the tweets, we don't care about that and we have more important things to do actually. Donald trump's use of Twitter is very peculiar because he is using it everyday and each of this tweets create a huge controversy. The way he addresses the media has not been seen before, he insults and make fun of them. When analyzing the mentions to Trump Russia twitter intervention has a special place: there are 10,000 tweets (no retweets) every 3 days than mention Donald Trump and Russia.
We will see where this goes, but it seems like Trump won't stop tweeting and that no one can stop him either. But let's compare the value of the President of the USA in 2020 with an ex-president: Barack Obama. A tweet from Barack Obama is work almost double than a tweet from Trump:

Sentiment analysis of Trump Twitter
Trump is sending, mostly, positive tweets. We analyzed the sentiment of the tweets written by Donald Trump and we saw that, most of the times, he tries to send tweets with a positive content.

Bonus: the U.S President is tweeting in Indonesian!
According to Twitter, the president sent 18 tweets in Indonesian. We must say this is according to Twitter, if we look for these tweets we can see that this is obviously an error in Twitter detection language, because the tweets are all that contain the words "PRESIDENTIAL HARASSMENT!"
PRESIDENTIAL HARASSMENT!

— Donald J. Trump (@realDonaldTrump) May 22, 2019
According to Twitter that's a tweet in Indonesian. Why? We have no idea.