This post is also available in: Español (Spanish)
Millions of tweets are shared on Twitter every minute. Sometimes keeping up with the rhythm and staying up to date can get complicated with so much message. In addition, many users have been on Twitter for a long time so viewing their first tweets can be interesting, but difficult. Or, at least, that is what we can think a priori. Twitter analytics can do this for us. This happens, for example, with politicians. Twitter is the network where politicians and their parties amplify their messages and importance. In fact, their Twitter profiles are very interesting sources of information. Especially to see how their messages have evolved over time.
How they tweeted before being candidates for public office, see who they mention or even what hashtags they use. Ultimately, this post is going to focus on how to see a person's first tweet. With the Twitter account report all those questions (and more) are answered. This report is kind of a newspaper or an archive of very interesting tweets. So much so that we have decided to analyze the Twitter accounts of the main British Royal family Twitter accounts.
UK Royal Family in Twitter
First, we are going to create a list of the main Twitter accounts of the British royal family. They are profiles, for the most part, that tweet little and with a high number of followers. These are the details of the institutional accounts of the UK royal family on Twitter:
We are going to try to discover the first message sent by those Twitter accounts. All Twitter accounts on the list include who they represent in their profile description. In addition, they are accounts verified by Twitter, except for the last one. That he doesn't have tweets on his timeline either. In addition, the first two include links in their profiles, but the Dukes and Duchesses do not.
Which Twitter accounts of British royalty have the most followers?
If we take the Twitter accounts from the previous list as a reference, as of March 15, 2021, these are the results:
| | | |
| --- | --- | --- |
| Twitter name | Twitter handle | Number of followers |
| The Royal Family | @RoyalFamily | 4,353,761 |
| The Prince of Wales and The Duchess of Cornwall | @ClarenceHouse | 947,213 |
| The Duke and Duchess of Cambridge | @KensingtonRoyal | 2,103,827 |
| Sussex Royal Foundation | @SussexRoyalF | 2365 |
Find anyone's first tweet
Whether from institutional accounts or from anyone, searching for the first post that a Twitter account has shared is possible. In fact, it is not only possible. Besides, it is simple. Tweet Binder has a Twitter report that allows you to analyze any Twitter account. But what does this mean? That includes all the tweets you have shared, the data of when you opened your account or who you mention the most. Lots of information from the Twitter profile.
In fact, thanks to the Twitter account report from Tweet Binder we know what the first message was from UK royal accounts in Twitter. Also, thanks to this data, we can see when they opened their Twitter account (or when they left their current first Twitter message visible). This is important to emphasize, as deleted tweets are impossible to analyze. What can be quantified is how many tweets someone has posted.
First tweets from the British royal family
For example, this is the first message that The Royal Family shared:
Latest images gallery http://tinyurl.com/crpeby

— The Royal Family (@RoyalFamily) April 28, 2009
If we have seen something after analyzing thousands of Twitter accounts, it is that this social network has changed a lot. The way it was tweeted before has nothing to do with the way it is tweeted now. Of course, now the use of hashtags has become standardized. In the early days of Twitter, we hardly even knew what a hashtag was. The accounts were limited to sharing content without necessarily mentioning other users. So much conversation was not sought but rather to show content. Letting yourself be seen, rather than talking.
Hello from Kensington Palace! Welcome to our new Twitter account.

— The Prince and Princess of Wales (@KensingtonRoyal) January 14, 2015
Welcome! @ClarenceHouse represents The Prince of Wales, The Duchess of Cornwall, Prince William and Prince Harry

— Clarence House (@ClarenceHouse) November 15, 2010
In both cases they have limited themselves to tweeting a few introductory greetings. However, on the part of the Duke and Duchess of Sussex there is no record of official tweets or tweets sent from their Foundation account.
Although, in a way, they all alluded to themselves. We see, then, that discovering how to see the first tweet ever of a person is very simple. Once the report is created, we have access to very interesting data about each of the accounts. What's more, we get the information from Twitter in an online report and you can also download the tweets and data in Excel. We can also use the Twitter Advanced Search commands to see this.
Most mentioned accounts by The Royal Family on Twitter
One of the rankings that the report of a Twitter account gives us is that of the most mentioned accounts. For example, these are the Twitter accounts most mentioned by @RoyalFamily among their almost 35,000 original tweets shared: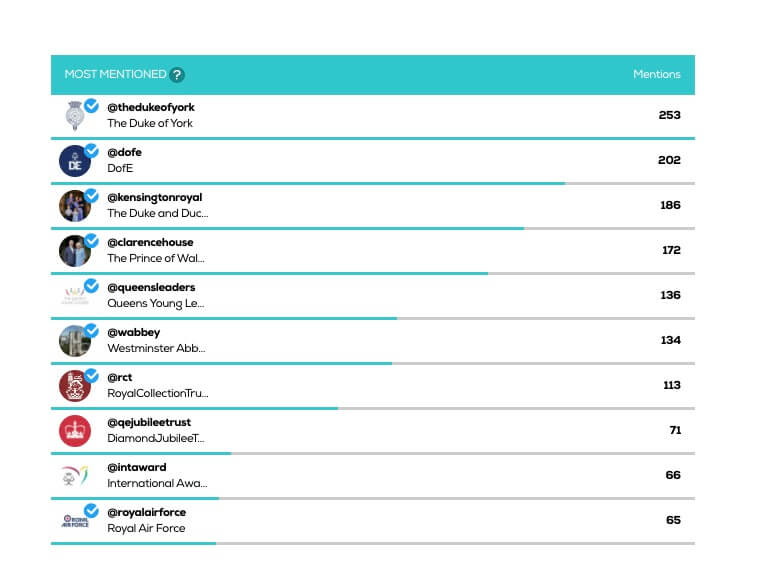 Compare the first tweet with the most popular tweet
Also, it is curious to look at the interactions that these accounts had when they emitted their first Twitter message. These are indicators of the influence of these institutions on Twitter that can give us very interesting data. For example, The Royal Family Twitter account is the one with the tweets with more Twitter likes and retweets. By generating a report from a Twitter account, we obtain a ranking with the most popular tweets issued by a Twitter user. And, in this case, we discovered that their most popular tweet reached 34,291 retweets and 139,298 likes:

How to see someone's deleted tweets
Something that everyone is asking is how to see the tweets an account has deleted. Even though we'd like to say that this is something possible, the truth is that it is not. However, it is possible to detect when an Twitter account has deleted their tweets. We can jump into this conclusion by having a look at the report for the Kensington Royal account. We could also create a Twitter historical report to see old tweets posted by that account.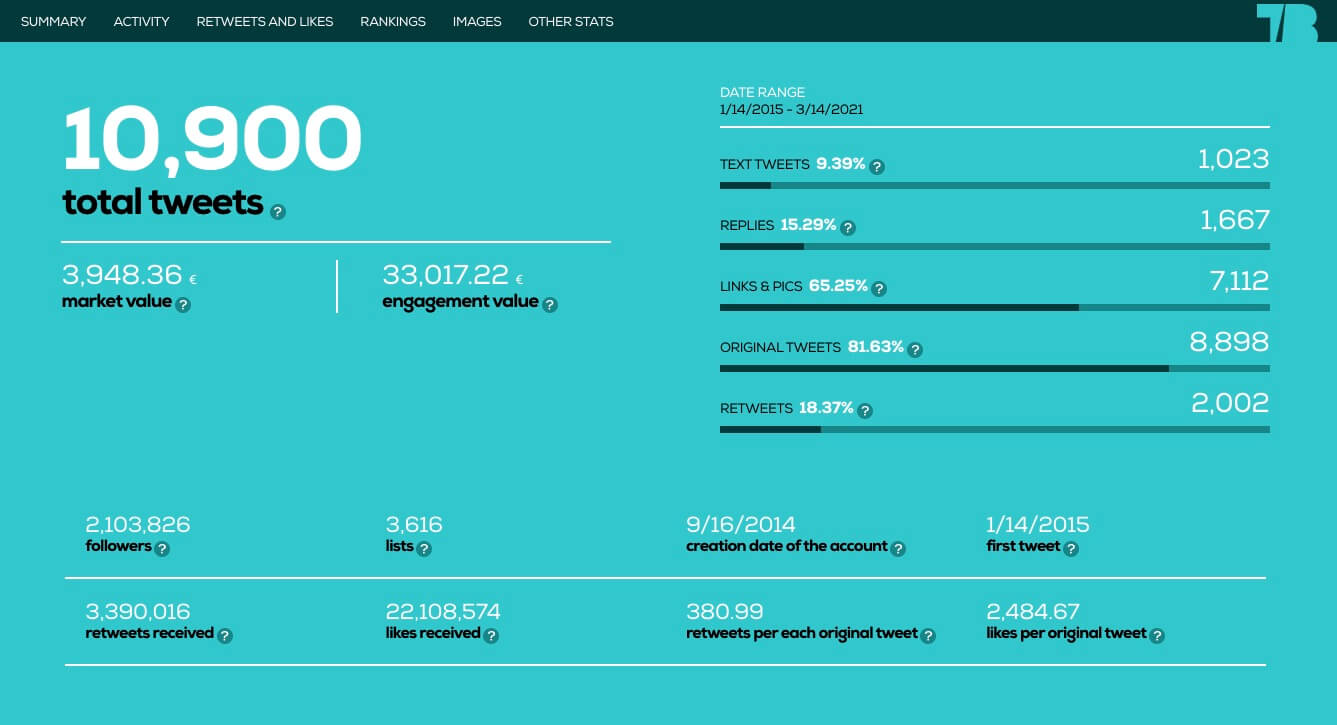 So, looking at the upper image: How can we conclude that Kensington Palace deleted their first Twitter messages? Easy, we just have to focus on the creation date and the first tweet date. It is very odd that an account was opened that that it waited four months to tweet. We are not saying that they have effectively deleted their tweets, we are saying that looking at those dates that is a logic conclusion. In fact, the Twitter Account for Kensington Palace posted a tweet on Jan 14th welcoming everyone to their Twitter account. So, the question is: did they decided to delete previous tweets and start then from scratch? Or they really waited four month to send their first tweet? That is something they only know.
Conclusion
As we have seen, it is possible to not only discover the first tweet ever of an account but also a lot of related Twitter information. Doing an analysis of a Twitter account is interesting to see their first tweets, to see if they have deleted tweets or just to see their engagement. This is valuable information for any social media strategy. Knowing how you or your competitors are tweeting is key to success.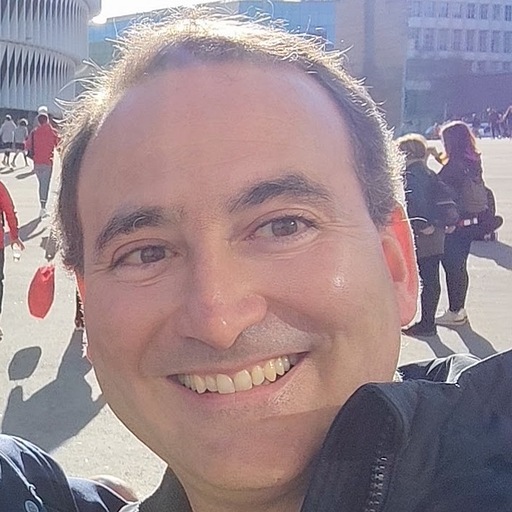 Javier is the founder and CEO at TweetBinder. With more than 10 years of experience in Twitter Analytics space, he is on the mission to build best-in-class Twitter marketing tools helping X community to thrive.