2020 was an awkward year. It almost seems hard to think about what it has left for us. And what 2021 brought was not less of an excepcional year… We were not only going through a global pandemic but there were heavy fires, film a-like explosions, exceptional events as well. In addition, major events have been and are being canceled or postponed. However,  Joe Biden's Inauguration day was impossible to be cancelled or delayed. Nor Joe Biden's Twitter activity. Thus, we can say 2021 had a lot to offer and so is 2022. For good or not.
As we already count with a post about Twitter and Trump, we are going to analyze how does Joe Biden uses Twitter. Also, some Biden's Twitter. statistics Of course, let's start from the beginning. Who is Joe Biden? You may be thinking (not all of us live constantly checking the news or Twitter). Let's get it short from Wikipedia:
Joseph Robinette Biden Jr.  born November 20, 1942) is an American politician who served as the 47th vice president of the United States from 2009 to 2017. A member of the Democratic Party, he served as a United States Senator for Delaware from 1973 to 2009. Biden is the Democratic presidential nominee for the 2020 election, running against the incumbent, Donald Trump.
Or to check his complete and well explained story, we have the main source: his official website.
Joe Biden and US Presidential Election Twitter data
The US Presidential Election Day arrived. Twitter was heavily used to comment it. But, did Joe Biden tweet about it? Of course, Twitter seems to be an accepted political "weapon" these days. And we are analyzing the tweets @JoeBiden is sharing constantly. Joe Biden tweeted 125 original tweets (RTs excluded) only in November. This is Joe Biden's most liked and most retweeted tweet from those days:
It's Election Day. Go vote, America!

— Joe Biden (@JoeBiden) November 3, 2020
And this one the most expensive one from that time:
Together, we can end the last four years of chaos.https://t.co/eoxT07d7QB pic.twitter.com/V2EMJnkqSC

— Joe Biden (@JoeBiden) November 1, 2020
However, @JoeBiden is not using any hashtag with his tweets. He tweeted the word "election" 12 times and "Trump" 34 times on the 125 tweets he shared since the 1st of November 2020.
Joe Biden Twitter story
There are numerous ways to search for the first tweet that Joe Biden put into Twitter. The hardest and probably the most tedious would be to scroll all the way down into his timeline. Another one could be by using the Twitter advanced commands. But, why not use a Twitter tool like Tweet Binder that allows you to analyze old tweets. So, thanks to a Twitter Historical report we are certain that Joe Biden's first tweet is from 2007. In fact, this was Joe Biden's first tweet:
Tune in 11:30 ET tomorrow for a live webcast of Families USA Presidential Forum on health care: http://presidentialforums.health08.org/

— Joe Biden (@JoeBiden) October 24, 2007
But, how many tweets has Biden posted since October 2007? As of today, December 1st 2022, the total original tweets in Joe Biden's Twitter timeline are almost 7.5K. From those tweets and thanks to our Twitter account report, we can find out which are the most liked and most retweeted ones from @JoeBiden's original tweets. Actually, this is the one tweet that has highest number of retweets:
America, I'm honored that you have chosen me to lead our great country.

The work ahead of us will be hard, but I promise you this: I will be a President for all Americans — whether you voted for me or not.

I will keep the faith that you have placed in me. pic.twitter.com/moA9qhmjn8

— Joe Biden (@JoeBiden) November 7, 2020
However, a complete Twitter analysis from @JoeBiden's activity shows up that practically all of his tweets are retweets. Against those 7.5K original tweets our Twitter complete report has tracked over 20K0 total tweets (retweets included) since Joe Biden opened his Twitter account. These are the hashtags he has ever shared most:
| | |
| --- | --- |
| Hashtag | Tweets |
| #DemConvention | 3664 |
| #DemDebate | 1313 |
| #SoulSaturday | 633 |
| #EarthDay | 544 |
| #WomensEquality | 172 |
And this is the second most liked picture Joe Biden has ever posted to Twitter:
I'm Joe Biden and I approve this message. pic.twitter.com/TuRZXPE5xK

— Joe Biden (@JoeBiden) September 20, 2020
Joe Biden 2022 Twitter data
Joe Biden's Twitter activity during 2022 has been quite interesting. There are over 700K original tweets sent from his Twitter account. In fact, there is a peak the 8th of November due to 2022 Midterm election.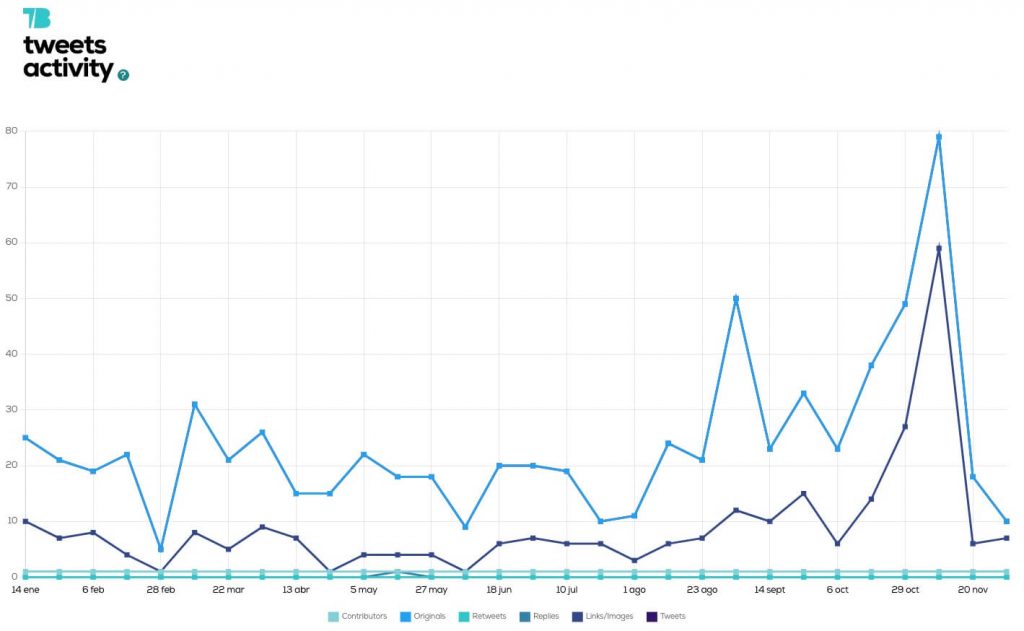 This is Joe Biden's most expensive tweet in 2022. This is a unique metric in Tweet Binder's PRO reports:
The fate of democracy is in your hands: https://t.co/Hy8C4n0lUk pic.twitter.com/46kWLv3357

— Joe Biden (@JoeBiden) November 4, 2022
In addition, something relevant we find while analyzing the data provided by the report is the sources he tweet from. Most of Joe Biden Twitter data is from Sprout Social and Twitter Web App. While Trump tweets were sent from an iPhone. There is something that may point out to a Communication management and Social Media plan from the Democratic side. Whereas Trump tweets were usually sent from an iPhone (probably sent by himself), Biden's tweets are likely to be more structured.
Conclusion
 Our Twitter reports include complete data. We can analyze any tweet Joe Biden has shared on Twitter or how many mentions his account receives. We can compare Donald Trump 2020 Twitter data (yes, we have Trump tweets archive) with Biden's Twitter statistics. There are no limits when using Tweet Binder.
If you need more information or you want to create a report analyzing what President Joe Biden has tweeted today, welcome to our search box: Please, write from:@POTUS