Twitter reports – Too much information?
You are reading this probably just after having purchased your first Tweet Binder pro report, thanks for that, we are happy that you have chosen us for your Twitter analytics. After analyzing your Twitter hashtag or keyword you may find yourself a bit confused. There are many Twitter stats you have to process: we have Twitter sentiment, impressions, etc. We have many metrics, we know, but all of them are important for your Twitter marketing strategy.
A report will give you lots of information and it's important to know everything you can do with it. When you get your Twitter report you will find different ways of analyzing the data: Infographic report, advanced report orPDF for example. In this post we will do a Twitter rundown of some of the things you can do with a Twitter report done with our tweet counter.
Click in the following button if you want to create another Twitter report or if you just came to this page by mistake:
Different versions but the same Twitter rundown
Tweet Binder has 4 types of reports. There is nothing on Twitter that can be left to analyze with Tweet Binder. Out tool can analyze from Twitter trending hashtags  to top Twitter accounts. We used to have only 2 and then 3 in the past, now we have 4:
Basic report: this one shows just the main stats of the hashtag or term, number of tweets, Twitter impressions, tweetreach, etc.
Advanced report: in this case we are showing more than 20 metrics, from Twitter sentiment analysis to 12 users rankings, sources, etc. This is the main part of the Twitter rundown.
PDF version of the report: also downloadable version with the main stats presented in a very "pretty" way.
How to classify tweets
There is no Twitter rundown that can be done without mentioning the classify tab. Classifying the tweets is quite important because it allows you to focus in the things that really matter in your report. Tweet Binder has a unique feature that lets you navigate trough the tweets creating binders of tweets (in fact, we are called Tweet Binder because of that). In the classification dashboard you will see all the tweets together but there are different sections in which all the data is divided by type.
We can decide to see the retweets, the images, the conversations… Also those tweets which exclusively contain text or a list of all the contributors who have spoken about the term that is being analyzed. It is important to notice here that a tweet can be classified in two different categories. For example, a tweets can contain a picture but also be a reply. This way, this tweet will only be counted once in the general counter but will fit two types of tweets. Remember that Twitter mentions can be classified as well.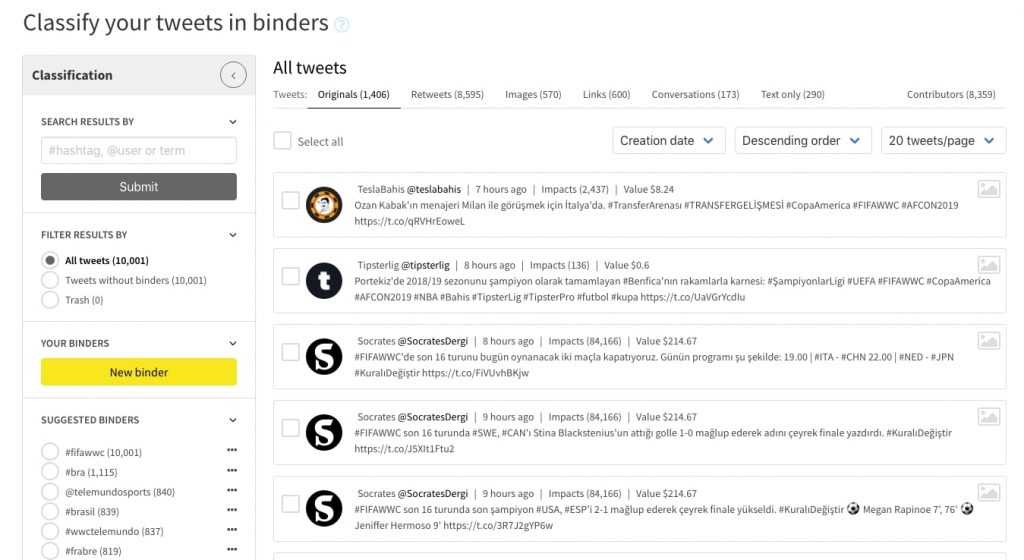 Once you get to the classify tab, you will be given the option to create binders, which are extremely helpful. The tool provides some suggested binders that are associated to the main topic. They can help you to sort the Twitter dataset. if not, you can decline them and new ones will be suggested. Also, you can create your own binders. How to do that? It is really easily. You only have to click on the "create binder" button. There you will be able to choose an image for your binder and its name. You will also be able to add as many filters as wanted in order to obtain the perfect information. And don't worry, if you want to edit your binder… You can do it anytime!
More Tweet Binder Services: Beyond the Twitter rundown
You can do many things! This is just a Twitter rundown. You can select all the tweets you want and erase the unnecessary ones. This way you will work just with the information you want. You can also move any tweet to a binder if needed. The Twitter services offered by Tweet Binder are countless. Also, know that in every Tweet Binder report you can use the advanced Twitter search to make the most out of your search. In fact, you can even easily search the most retweeted tweet of a hashtag.
Tweet Binder also gives the option of entering to someone's profile. There you can see their number of tweets, impacts and followers. You can select their tweets by your own, erase them if you want to or move them into a binder. It is also possible to preview all the images and many other things. You really need to try it yourself to discover all the features! In this section you will feel free to manage the information as you want. This way you can decide how you use all the Twitter stats that Tweet Binder provides you. You can select it, organize it, erase it and do many things that will help to develop your research or Twitter campaign successfully.
Create your report and try it!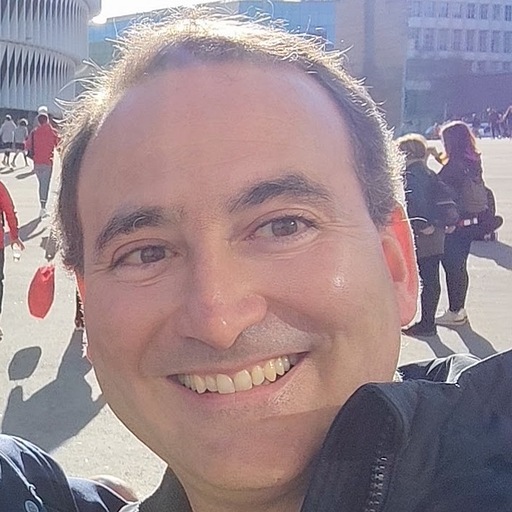 Javier is the founder and CEO at TweetBinder. With more than 10 years of experience in Twitter Analytics space, he is on the mission to build best-in-class Twitter marketing tools helping X community to thrive.