What is the Super Bowl?
The Super Bowl is the National Football League's (NFL) annual championship game, which pits the AFC and NFC conference champions against one another. It is one of the biggest sporting events ever. Drawing a sizable crowd and receiving copious media coverage. In fact, one of top places where the Super Bowl generated a huge amount of messages is Twitter.
The Super Bowl is important for several reasons.The two top teams in the NFL face off for the title as the American football season comes to a close. For football fans, this makes it a widely anticipated event. Second, the Super Bowl has expanded beyond merely football fans to become a cultural phenomenon and a big media event. One of the most viewed television events of the year, it attracts large audiences that watch for the halftime performance, the advertisements, and the opportunity to catch up with friends and family.
The Super Bowl also has a significant economic impact, bringing in billions of dollars for the NFL, sponsors, broadcasters, and host communities. It serves as a platform for corporate brands and is a significant booster of local commerce and tourism.
#SBL Twitter data
As fans use Twitter to debate the game, express their thoughts, and interact with one other in real-time, the Super Bowl creates a considerable volume of data on the social media platform. Fans utilize Twitter during the game to discuss significant events like scores, interceptions, and contentious calls as well as to offer their opinions on the game, players, and ads.
This sparks a live discussion that can show how fans are responding to the match and to certain plays or incidents. Several corporations release their advertisements during the Super Bowl, making it a significant advertising event in addition to the chatter among fans. Advertisers use Twitter to interact with consumers and track the effectiveness of their ads in real-time. An essential part of the Super Bowl finale is hashtags. There are official ones and those that arise during the event. All of them can be analyzed with Twitter monitoring tools like Tweet Binder. In fact, we have Twitter posts about: Super Bowl Twitter data for 2019 and 2020.
For example, with a tweet counter we can easily know the number of tweets from the official hashtags: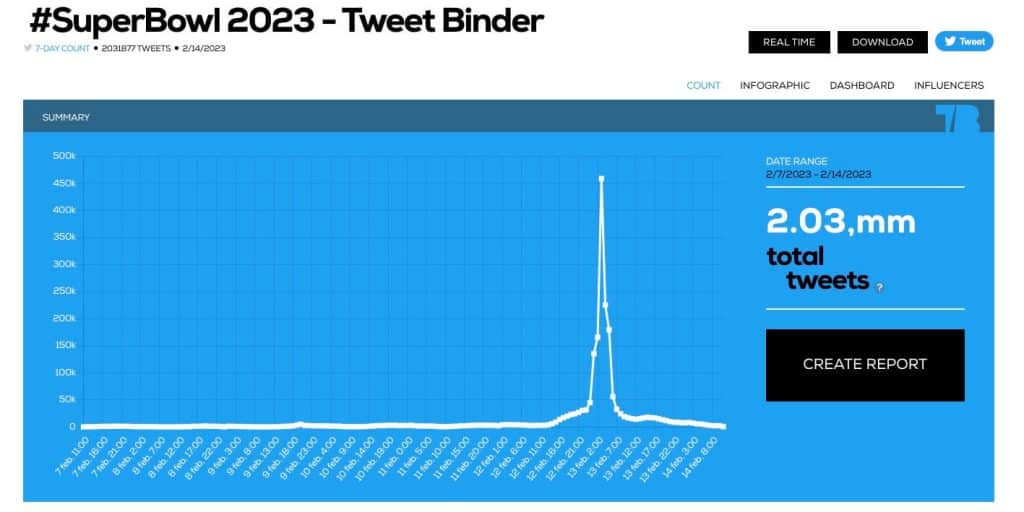 Another Super Bowl highlight that get huge attention and that is heavily commented is the half time show. This time the Super Bowl halftime show star has been Rihanna: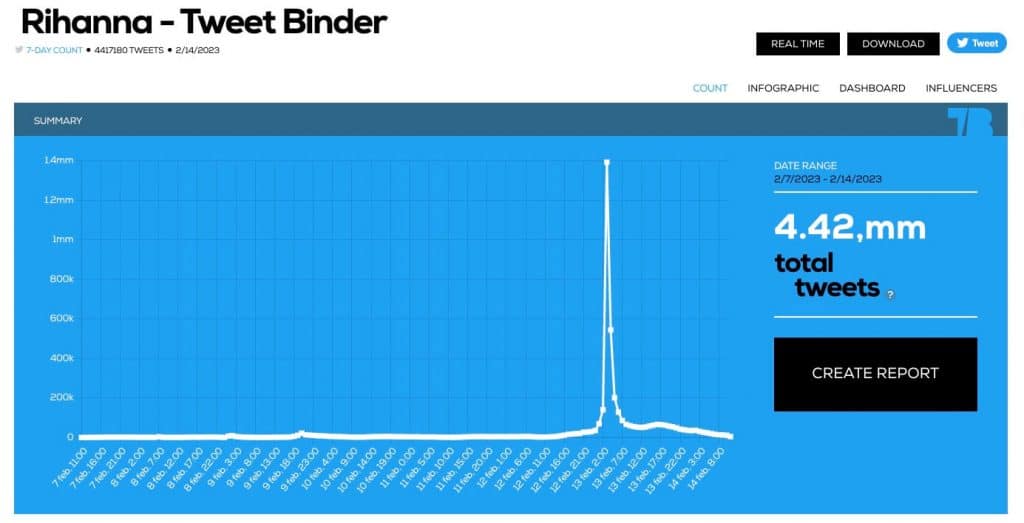 Super Bowl top tweets
Analyzing Twitter hashtags is very important. But it is also important to know how to locate the most important tweets of a hashtag or keyword. This can be done with Tweet Binder reports in a quick way. Since they are shown within the data they offer. Or, also, thanks to Twitter's advanced search commands. Thanks to this we know that this is the tweet with the most retweets of #AppleMusicHalftime:
SHE'S BAAAACK 👑 @Rihanna #AppleMusicHalftime pic.twitter.com/rH2G9r2RSc

— NFL (@NFL) February 13, 2023
And this is the tweet with the highest number of likes about the MVP @PatrickMahomes:
#champs pic.twitter.com/yTd4d8I9eg

— Patrick Mahomes II (@PatrickMahomes) February 13, 2023
Super Bowl final: @Chiefs VS @Eagles
Another important data that we can measure with tools like Tweet Binder is the performance of Twitter accounts. This is possible thanks to the Tweet Binder tracker system. In this case, we registered trackers for the teams in the final: @Chiefs and @Eagles. These are the data that their accounts have obtained on Twitter for the Super Bowl final.
This is the impact that the @Chiefs Twitter account has received since the 10th of February:
+18K new followers
+126K Twitter mentions
Almost 900K likes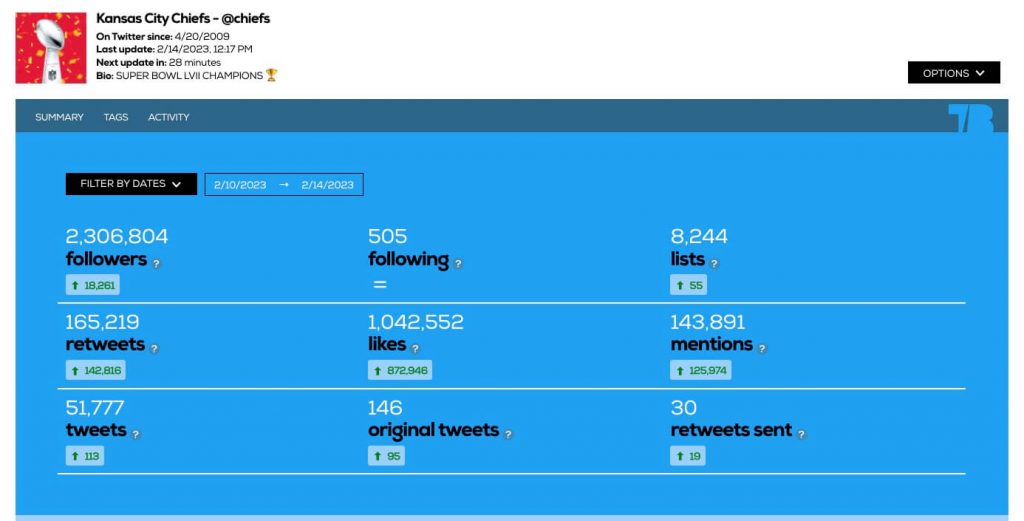 Conclusion
For a number of reasons, tracking Twitter data is crucial, including:
Understanding audience behavior: By monitoring Twitter statistics, you may learn more about how your audience interacts with material and when they are most active on the site.
Tracking brand or product mentions on Twitter allows you to keep tabs on your brand's reputation and quickly resolve any problems or unfavorable reaction.
Finding influencers: You can find influential users in your sector or specialty by keeping an eye on Twitter data and forming connections with them
Campaign success evaluation: You can evaluate the effectiveness of your social media efforts and modify your strategy by monitoring Twitter data.
We are on your team to track Twitter data. We offer features including influencer identification, engagement data, and real-time hashtag tracking. It also provides a variety of visuals to aid in your understanding of the data and insights from Twitter.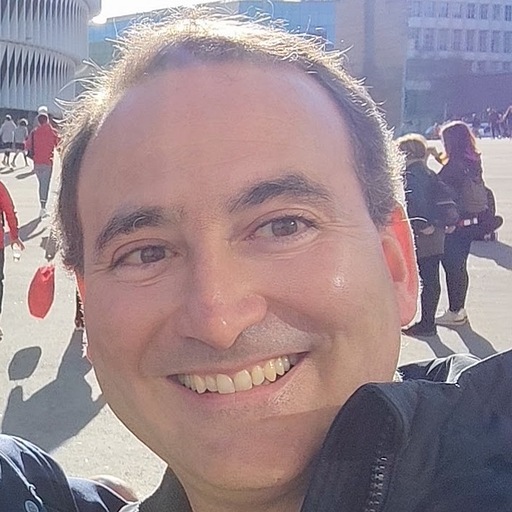 Javier is the founder and CEO at TweetBinder. With more than 10 years of experience in Twitter Analytics space, he is on the mission to build best-in-class Twitter marketing tools helping X community to thrive.