The day has come and the competition has already kicked off. This post is going to give you some advices and main data to follow the FIFA World Cup on Twitter. Be the real player by knowing how to access the Twitter data like a PRO. But first things first.
With Tweet Binder you can analyze any tweet and all the Twitter handles you may need. You can track Twitter mentions or even run combination of searches by using Twitter advanced search. In fact, you can also access the Twitter archive for any Twitter account. And, of course, you can get tweet counts for all the hashtags. For instance, we can check the #FIFAWorldCup Twitter count easily from here:
What teams are playing in the World Cup 2022?
There are 32 teams playing in Qatar since the 20th of November until the 18th of December. The teams are divided in 8 groups of 4. These are the #FIFAWorldCup's teams Twitter handles:
Although most of the team have their official hashtag that we can analyze with Tweet Binder, we also offer the chance to acquire the Twitter archive for any Twitter account. That being said, this is the link to get your team's Twitter data:
Get your @team Twitter Archive
FIFA's Twitter main accounts
There are few accounts you need to follow if you want to read informed tweets. In addition to the team's Twitter handles we have already posted, the FIFA Twitter accounts to follow are these:
Twitter handle
Bio
@FIFAWorldCup
The official Twitter account of the FIFA World Cup! All highlights and where to watch live matches on FIFA
@fifaworldcup_ar

الموقع الرسمي لكأس العالم FIFA المختص بتقديم آخر الأخبار، والصور، المقابلات والألعاب الخاصة بهذا الحدث الرياضي الأول فى العالم.

@fifaworldcup_es
Cuenta oficial de Twitter de la Copa Mundial de la FIFA™. Presentando #FIFAplus FIFA+: tu lugar para todo lo relacionado al fútbol. Míralo gratis
@roadto2022en
Official account for Qatar's FIFA World Cup 2022™ delivery and legacy organisation. Follow @roadto2022news and @roadto2022go

or the latest updates.
#FIFAWorldCup Twitter counts
Thanks to Tweet Binder tweet counter we have access to Twitter counts. In fact, we know the exact number of tweets the matches that already have been played have generated. Let see #FIFAWorldCup Twitter count and yesterday's counts:
| | | | |
| --- | --- | --- | --- |
| Matches – 21 Nov. | Hashtag | Tweet search | Tweet count |
| England – Iran | #ENGIRN | #ENGIRN since:2022-11-21 until:2022-11-22 | 550993 tweets |
| Senegal – Netherlands | #SENNED | #SENNED since:2022-11-21 until:2022-11-22 | 72669 tweets |
| USA – Wales | #USAWAL | #USAWAL since:2022-11-21 until:2022-11-22 | 61968 tweets |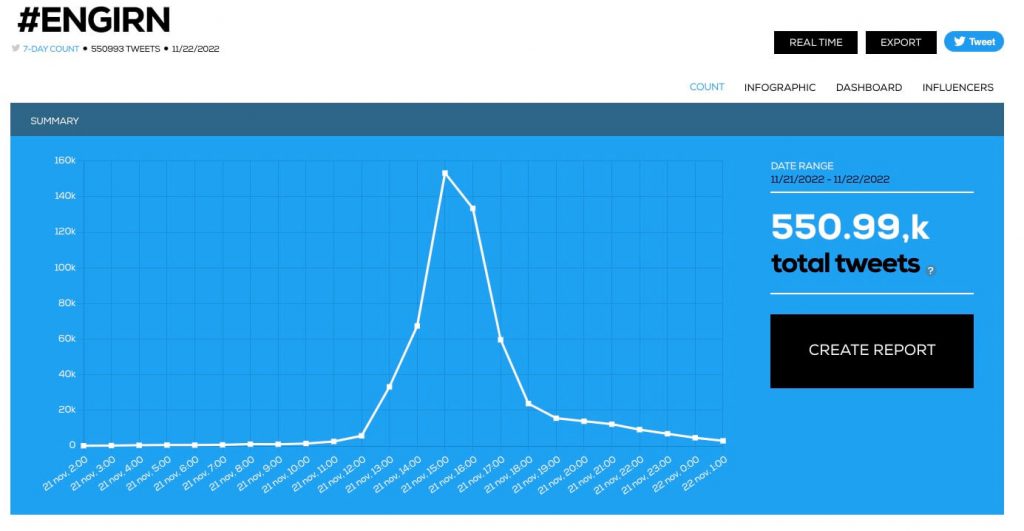 | | | | |
| --- | --- | --- | --- |
| Matches – 22 Nov. | Hashtag | Tweet search | Tweet count |
| Argentina – Saudi Arabia | #ARGKSA | #ARGKSA since:2022-11-22 until:2022-11-23 | 164819 tweets |
| Mexico – Poland | #MEXPOL | #MEXPOL since:2022-11-22 until:2022-11-23 | 65788 tweets |
| Denmark – Tunisia | #DENTUN | #DENTUN since:2022-11-22 until:2022-11-23 | 20806 tweets |
| France – Australia | #FRAAUS | #FRAAUS since:2022-11-22 until:2022-11-23 | 190938 tweets |
| | | | |
| --- | --- | --- | --- |
| Matches – 23 Nov. | Hashtag | Tweet search | Tweet count |
| Morocco – Croatia | #MARCRO | #MARCRO since:2022-11-23 until:2022-11-24 | 38198 tweets |
| Germany – Japan | #GERJPN | #GERJPN since:2022-11-23 until:2022-11-24 | 196598 tweets |
| Spain – Costa Rica | #ESPCRC | #ESPCRC since:2022-11-23 until:2022-11-24 | 36319 tweets |
| Belgium – Canada | #BELCAN | #BELCAN since:2022-11-23 until:2022-11-24 | 80669 tweets |
| | | | |
| --- | --- | --- | --- |
| Matches – 24 Nov. | Hashtag | Tweet search | Tweet count |
| Switzerland – Cameroon | #SUICMR | #SUICMR since:2022-11-24 until:2022-11-25 | 18699 tweets |
| Uruguay – Korea Republic | #URUKOR | #URUKOR since:2022-11-24 until:2022-11-25 | 26087 tweets |
| Portugal – Ghana | #PORGHA | #PORGHA since:2022-11-24 until:2022-11-25 | 123348 tweets |
| Brazil – Serbia | #BRASRB | #BRASRB since:2022-11-24 until:2022-11-25 | 34278 tweets |
| | | | |
| --- | --- | --- | --- |
| Matches – 25 Nov. | Hashtag | Tweet search | Tweet count |
| Iran – Wales | #WALIRN | #WALIRN since:2022-11-25 until:2022-11-26 | 336643 tweets |
| Qatar – Senegal | #QATSEN | #QATSEN since:2022-11-25 until:2022-11-26 | 35547 tweets |
| Netherlands – Ecuador | #NEDECU | #NEDECU since:2022-11-25 until:2022-11-26 | 30483 tweets |
| England – USA | #ENGUSA | #ENGUSA since:2022-11-25 until:2022-11-26 | 84888 tweets |
| | | | |
| --- | --- | --- | --- |
| Matches – 26 Nov. | Hashtag | Tweet search | Tweet count |
| Tunisia – Australia | #TUNAUS | #TUNAUS since:2022-11-26 until:2022-11-27 | 20378 tweets |
| France – Denmark | #FRADAN | #FRADAN since:2022-11-26 until:2022-11-27 | 59185 tweets |
| Poland – Saudi Arabia | #POLKSA | #POLKSA since:2022-11-26 until:2022-11-27 | 128265 tweets |
| Argentina – Mexico | #ARGMEX | #ARGMEX since:2022-11-26 until:2022-11-27 | 92954 tweets |
| | | | |
| --- | --- | --- | --- |
| Matches – 27 Nov. | Hashtag | Tweet search | Tweet count |
| Costa Rica – Japan | #JPNCRC | #JPNCRC since:2022-11-27 until:2022-11-28 | 11405 tweets |
| Belgium – Morocco | #BELMAR | #BELMAR since:2022-11-27 until:2022-11-28 | 124876 tweets |
| Croatia – Canada | #CROCAN | #CROCAN since:2022-11-27 until:2022-11-28 | 22903 tweets |
| Spain – Germany | #ESPGER | #ESPGER since:2022-11-27 until:2022-11-28 | 63698 tweets |
| | | | |
| --- | --- | --- | --- |
| Matches – 28 Nov. | Hashtag | Tweet search | Tweet count |
| Cameroon – Serbia | #CMRSRB | #CMRSRB since:2022-11-28 until:2022-11-29 | 20624 tweets |
| South Korea – Ghana | #KORGHA | #KORGHA since:2022-11-28 until:2022-11-29 | 30684 tweets |
| Brazil – Switzerland | #BRASUI | #BRASUI since:2022-11-28 until:2022-11-29 | 22677 tweets |
| Portugal – Uruguay | #PORURU | #PORURU since:2022-11-28 until:2022-11-29 | 48850 tweets |
| | | | |
| --- | --- | --- | --- |
| Matches – 29 Nov. | Hashtag | Tweet search | Tweet count |
| Netherlands – Qatar | #NEDQAT | #NEDQAT since:2022-11-29 until:2022-11-30 | 29818 tweets |
| Ecuador – Senegal | #ECUSEN | #ECUSEN since:2022-11-29 until:2022-11-30 | 28235 tweets |
| Wales – England | #WALENG | #WALENG since:2022-11-29 until:2022-11-30 | 32240 tweets |
| Iran – USA | #IRNUSA | #IRNUSA since:2022-11-29 until:2022-11-30 | 612988 tweets |
#FIFAWorldCup teams Twitter trackers
Another unique feature that we are using for this World Cup is the Twitter Follower Tracker system. We have set up a tracker for the teams' Twitter handles. Thanks to this tool we are capable to check the Twitter accounts' growth based on: followers, followings, lists,… In fact, we have a complete list with all the teams' Twitter data and also a graphic that reflects it all: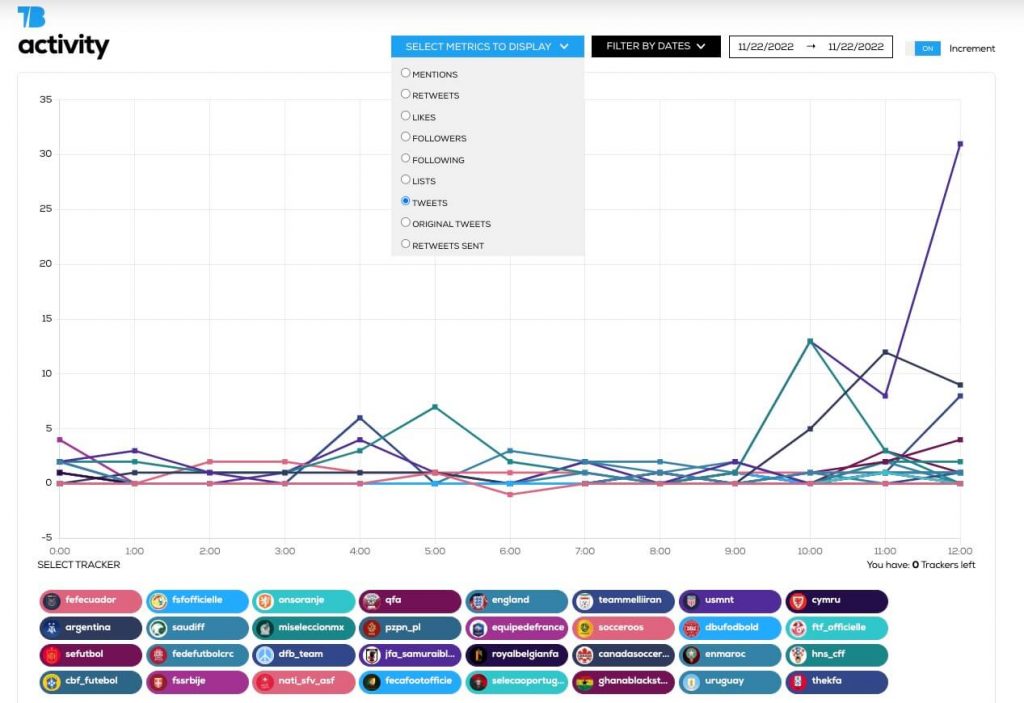 Conclusion
There are so many tweets being posted that it seems hard to keep up with them. However, we are your here to serve the data you are looking for. Not only with our complete Twitter analytics reports but also by updating this post with the main #FIFAWorldCup Twitter data. And remember, from this search box you can get free tweet counts: