This post is also available in: Français (French)
What is a Twitter chat?
Some people like to say that Twitter is dead, that this Social Network is no longer the same. And this last part is true, Twitter is not the same as it was 4 or 5 years ago. It is better! It is the main source where people go to read hot news or learn about new topics. Twitter chats are a great example of that. With an audience that can be counted by millions Twitter is the place where people express their opinions, share their joy or anger, but in the end it is a place where people talk and listen. Let's learn more about their Twitter analytics!
As we said, one good example are the Twitter Chats, they are basically Twitter conversations. People gather at a fixed hour every day or every week to talk about a certain topic. Twitter live chats have demonstrated to be very useful and very catchy for users, making Twitter a better place. Everyday lots of clients contact us asking for analytics on their Twitter chats.
Free Trial to analyze your Twitter chat
We have start by clarifying what a Twitter Chat is. It is difficult to know it if we haven't run one before. Twitter chats are public conversations focused around a hashtag. The organizer promotes the conversation about a topic that is interesting to the community. The real-time nature of the chat requires three actions to succeed. It is necessary to promote it, structure it well and, last but not at least, monitor the hashtag using a hashtag monitoring tool. With the Twitter report we will discover how it has worked. A good chat on Twitter will make people come back and join it again.
How Twitter chats work – How to tweet chat
A Twitter Chat has a very simple process but it is important to have a good moderator to coordinate the conversation. This figure is usually the host of the chat and he/she is the one in charge of inviting a guest to every chat or just of organizing the Twitter chat. The host has to send questions that the guest will have to answer. Typically these questions are about a field the guest is an expert in. The audience can choose between answering the questions as well or asking new questions to the guest. This is the most common structure, it can be different in some cases.
The questions and answers are tagged, so you can easily follow the conversation. Questions use the letter Q and the number of the question 1, 2 and so on. For example:
Q3: What is the best thing a parent can do to prepare their kids to enter your classroom next year? #ClassroomChampions #edchat #teachers #parents #summer #teacherlife

— Classroom Champions (@ClassroomChamps) June 3, 2019
Answers are also tagged, but instead of using the letter Q they use letter A (for answer).
How to join a Twitter chat
Joining a Twitter chat is the easiest thing to do, you will just have to use the hashtag and add content to it. If you are wondering how to participate in a Twitter chat and you think it is complicated, don't worry, it is not. Even though it is very easy, we give you these (obvious) recommendations for stepping into a Twitter chat so you do it just perfectly:
Say hi, people there usually love new people to join, say hello and introduce yourself
Read old tweets from the Twitter chat to guess what the tone is like and who participates
Do not spam, don't go there trying to sell your stuff or people will block you. Twitter chats are meant to make relationships and conversations, not sales
Follow the active people in the chat, they add great content during the week most of the times
Read the tweets, do not only try to send your message, but also read what other people have to say
Establish conversations but focusing on the topic. The host tries to address the conversation and they do not like people starting new conversations out of the blue
If you are sharing links with articles, read them first. Think that when you share a link you are asking people to read it, to invest their time on it, so it'd better be good
Don't avoid conflict, you don't have to please everyone, but be polite
Promote the Twitter chat in the previous hours, this helps more people to join
Use the A followed by the number to answer the questions of the host
Education Twitter chats, a
Twitter conversat

ion

on educational topics

There are many education Twitter chats and they are actually one of the most popular ones. You can find all the information about them in Twitter just by writing the hashtags. Let's see some of them.
#Edchat
This chat is one of the most popular ones, users even use the hashtag outside the hours of the chat it self. Every Tuesday you can see and follow the tweets, however, it is always a trending hashtag.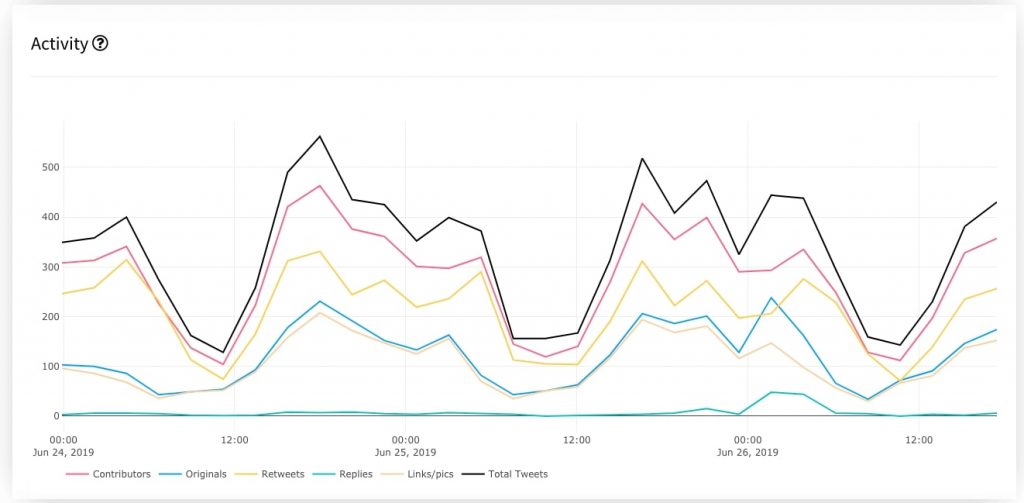 #Educoach
We like also this chat a lot. The participants in this chat try to improve education trough coaching. You can see it in action every Thursday.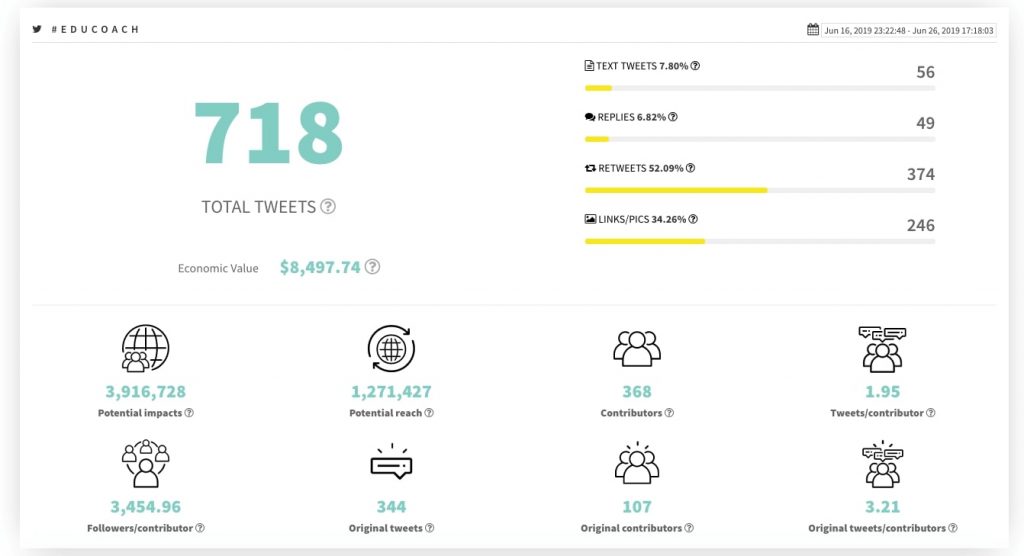 Twitter chats analytics
Nowadays it is necessary to choose a hashtag for any conversation or campaign on Twitter. That is why we have to choose a striking one for the chat. If we want to release a weekly or monthly chat, a general hashtag will be perfect. Important! You should check if the hashtag has been used before in order to avoid unrelated content. Choosing a hashtag is the first step; then, we need to select the topic, promote it and structure the conversation. All those things are important, but we can not forget to monitor in real time all the activity. Tweet Binder is the perfect hashtag monitoring tool for that aim. It analyzes any hashtag, term or account in real time so you will be able to monitor all the conversation live. Tweet Binder can be also used to track Twitter likes.
Tweet Binder is a powerful engine to get Twitter chat analytics, we don't like to brag but that's the truth. We love our Twitter analytics platform, what can we do? Twitter chats, also know as tweetchats, generate much information and sometimes in the "heat of the moment" you miss some important things. Using Tweet Binder you will be able to collect all the info, check the most important tweets and check the analytics of the tweetchat. If you have a Twitter chat or you have participated in one, pay attention because this is interesting for you. We will shows you how you can track the activity of the Twitter chat, to store that information and compare different Twitter chats.
When you organize a Twitter chat there are many Twitter analytics that you must take in consideration to improve it. We are going to make this example with the chat of our friends at Semrush, they organize the #SemrushChat which is a huge success. Let's see how to do this. Also, we will learn how to use these reports as a Twitter follower tracker.
Analyzing the hashtag of the Twitter chat
This step can seem obvious or even ridiculous, if every chat has a hashtag you will just have to type the hashtag into the search box of Tweet Binder and that's it, right? Not really. Let's see it with  the example of a Semrush chat. If we just type the hashtag into the search box of Tweet Binder we will get a report from the last 7/10 days of the hashtag, which can be great, but usually we'd like to have the stats only of the day of the hashtag.
The Time Chart of just the hashtag looks like this: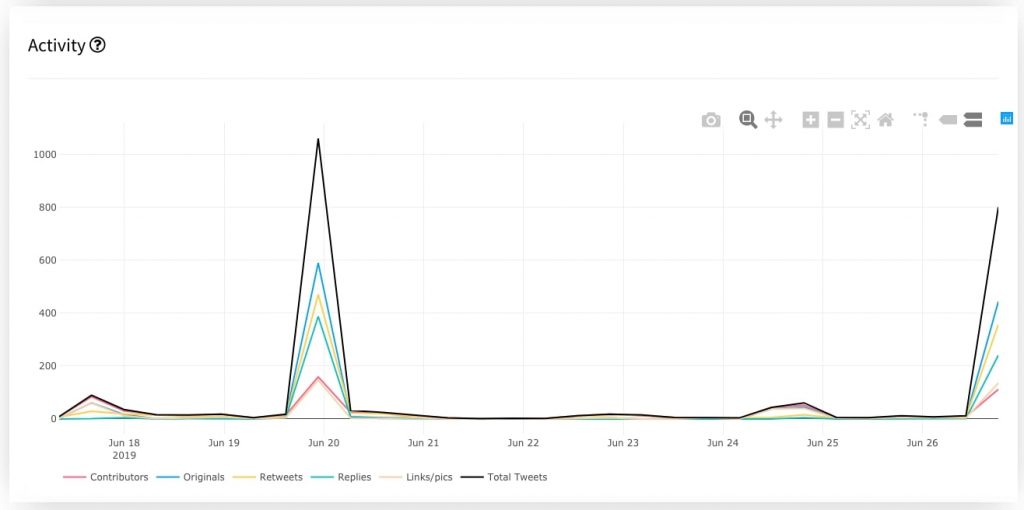 So, if we just want to track the day of the chat, we'd need to use the Twitter advanced search operators and narrow the activity. In this case, the chat took place on the 19th of June (2019) and although the hashtag of the Twitter chat was active after midnight, we are going to analyze only tweets from the 19th. To get stats since the 19th until the 20th (not included) of June we will have to type in the search box of Tweet Binder this:
#SemrushChat since:2019-06-19 until:2019-06-20
And we will get tweets only from the 19th. The activity chart will look much better, like this: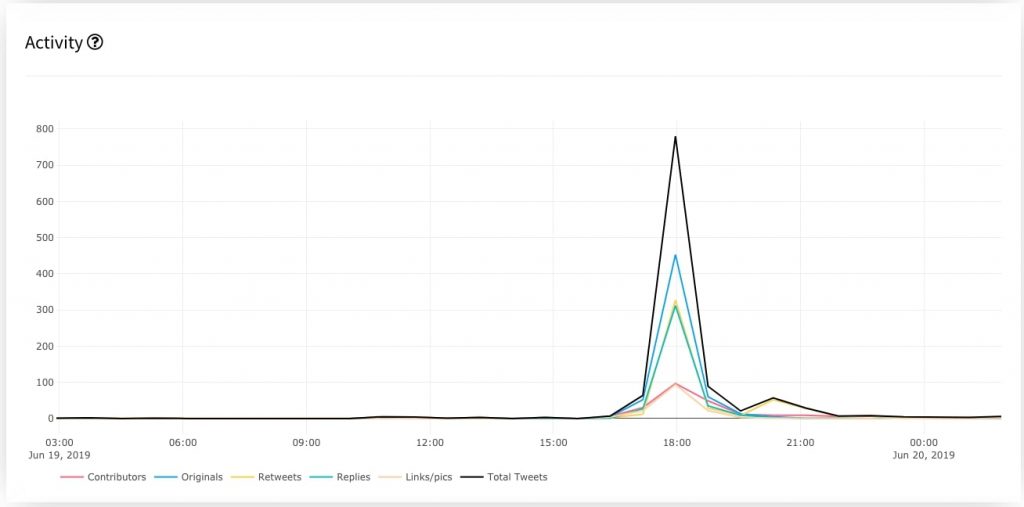 Twitter stats of the Twitter chat
There are many stats we can get from our of a chat if we are using Tweet Binder's Twitter analytics platform but let's focus on the main ones, so you can compare with other chats. A tweetchat generates many tweets and those tweets generate tons of stats. The main ones will be:
Number of tweets: here you have to differentiate between original tweets and retweets
Twitter Impressions vs reach: the more influential your users are the better for your tweetchat
Users rankings: this will show you what the people of your Twitter chat are like
Sentiment analytics: how do your users feel about the chat
What type of report do I need to track a Twitter Chat?
There are many reports you can use with Tweet Binder. These are:
Twitter 7-day reports: Up to 20,000 tweets from the last 7 days. If your report just happened less than 7/10 days ago use this one.
Live Twitter Campaigns: Track anything on Twitter in real time. This will be useful if you want to see how the Twitter stats grow during the chat.
30-day historical reports: Look for data on Twitter between the last 30 days, if you miss to create a snapshot report use this one.
Historical reports: These reports allow the user to analyze up to 140K from any date range. For example, you can get a report since 2016 or even 2009.
Twitter user analysis: get all the tweets shared by one Twitter handle and all its relevant data.
Everyday we received different requests to analyze Twitter chats. This way, the client receives a report where they will find every stats regarding their chat. But, what about having a yearly report with all the stats? With Tweet Binder you can do that! You can have a report that gathers all your yearly analysis. If you created your Twitter Chat in 2010 you can get a report for each year and compare results. A very interesting thing to compare between reports is the list of users that have contributed to the chat. You can find real ambassadors of your chats by doing this. You can also find those users that were very active one year but suddenly dropped out the conversation. It would be a good strategy to recontact them and ask them to come back.
Twitter chat tracking in real time
Creating a real time report is really easy with Tweet Binder. You can ask for your live report directly from here or you can create it by yourself if you are a PRO user. Once you create the report, you will have access to all the main stats and rankings of your hashtag. There, you will see the main stats (total number of tweets and users, impacts and reach and the tweets classification). We differentiate between Text tweets, RTs, Replies and Links and pics. The activity chart is displayed with all the timeline's information. You will be able to move the timeline markers to adjust the chart and select the period of time. Furthermore, you will discover the rankings of users, contributors' information, languages and extra rankings. Let's discover the Twitter report with an example.
There are a thousands of Twitter Chats taking place weekly. Organized and moderated by a host every week at the same hour and often developed with #Q (for questions) and #A (for answers) you can find a lot of topics and communities committed to discuss and share their ideas. It doesn't necessarily have to be about Social Media, there are Twitter Chats about education, healthcare, fashion… Almost any topic. Tweet Binder is the perfect tool to manage these Twitter Chats and their Twitter stats.
Real Experience by Philip Gleeson – The hours
In the case of Philip Gleeson, he's determined to improve and make known some towns (such as Dublin, Galway or Limerick)  and business around Ireland. His chats are becoming relevant overpassing the thousand of tweets nearly on every chat. Here's why he's using Tweet Binder to organize and manage the Twitter Chats that he promotes:
How did you discover Binder Tweet? Another business colleague told me about it. He used it a few times for Twitter Stats and liked it a lot.
How does Tweet Binder help you with your Twitter weekly reports? I find that the clients I work for all want accountability and want to see exact stats and figures.  They love these independent reports from Tweet binder.
How are the reports useful for measuring your weekly chats? I can see growth weekly. I can spot if campaigns are not working and can fix them immediately. Knowing the Twitter stats is incredibly useful for us.

Would you add or modify any data or information to what we already offer? I'd like follower lists in batches of 12 with commas between each follower so I can copy and paste them into Tweet Guru for Direct Messages.
Tweet summary: your experience using Tweet Binders (less than 140 characters) I value Tweet Binders very highly. I appreciate they are independent and prove that my business is working for my clients. Managing these Twitter Chats is really interesting and analyze the Twitter Stats, 100% necessary.
Experience by Akathma Devi founder of @RubhuSocial
The number of Twitter chats grows day by day and we find them really useful! We know the importance of stats and engagement and that's why our tool offers all the information in a very clear way. This time we have asked Akathma Devi, @RubhuSocial founder, about Tweet Binder and its importance for #RubhuSocial.
"You hold a weekly Twitter chat and every Tuesday you engage with your followers who tweet with the hashtag #RubhuSocial. Tell us about it, how long has it been active?"
"I have been hosting the #RubhuSocial tweet chats every Tuesday since September 2014 and in 8 more weeks, we will hit the century mark."
#RubhuSocial chat happens on every Tuesday morning at 9:30 GMT! Recieve a reminder tweet about the topic. https://t.co/WxHdO2dpCR

— Rubhu Social (@RubhuSocial) 13 de julio de 2016
Which topics are the most commented? How have you built a solid community? Thanks to the growing enthusiasm and ever changing digital marketing landscape, we always have plenty to discuss and learn. I think that building a strong solid community for tweet chats comes with consistency and interesting topics. We also have guest-host feature where once in a month we give an opportunity to fellow digital marketers who are interested in moderating a tweet chat.
Can you give any advice on how to launch a Twitter chat or on how to drive the conversation to promote your values? Two important things a host of a Twitter chat should have are Patience & Consistency. It might not turn out as expected initially, but if we stay consistent, the community grows and becomes stronger.
Analyze! After the chat, take out some time to analyze the chat. Not just the numbers, but also the responses and the audience. This will help you to come up with better topics and will improve your communication during the chat.
Why do you think Tweet Binder is a tool to keep in mind? How does it help you on your Social Media strategy? As I have said above, metrics help me to understand my community and its reach. Tweet Binder plays an important role here. The detailed report on who tweeted the most, who retweeted, how much impact their participation has got for my chat…etc. will help me to understand my community better.
Understanding how they are reacting or engaging within this 1 hour length chat helps me to change my approach whenever is required.
Ex: On the initial days of the chat, we used to announce the "star of the chat" at the end of every chat to the most active participant. Considering the number of tweets, RTs, Replies and the value they bring in. This helped us a lot. It encouraged many to join the chat as well as contribute more.
What data or information would you add or modify to what we already offer? In the reports we can see top 7 languages. I would also like to see countries where participants are tweeting. That would help me to understand more about our growing community.
Tweet summary of your experience with Tweet Binder (less than 140 characters): Tweet Binder is definitely a tool for tweet chat metrics that will help you to know more about your community.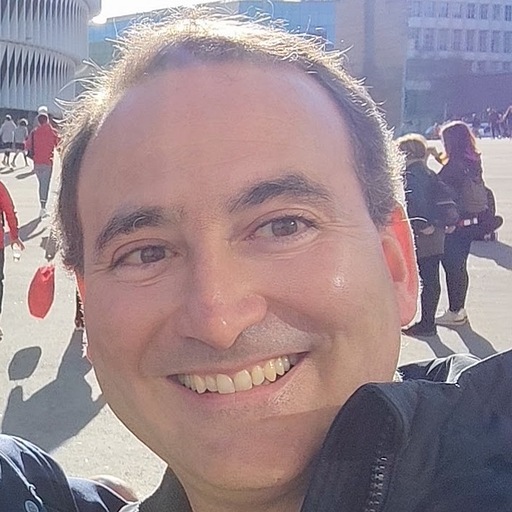 Javier is the founder and CEO at TweetBinder. With more than 10 years of experience in Twitter Analytics space, he is on the mission to build best-in-class Twitter marketing tools helping X community to thrive.