The next season is just around the corner and now you have the opportunity to stand out above all your rivals thanks to Tweet Binder. Tweet Binder will let you take the sport experience further than the match or competition. By creating athletes boards, social media walls and teams challenges you'll be able to increase your supporters' engagement during the season.
Social wall for sport events and colleges
Live tweeting analysis would become a part of your strategies with our solutions. We will customize Social Walls and widgets where you will be able to check the activity and the stats related to your university, team and players. We will include Instagram and Twitter content that can be moderated thanks to our moderation panel. On the other hand you will be able to find out who your real fans are and reward them, for example, via contest. Our users' rankings and data will open a wide world of opportunities to become a leader inside and out the campus.
Features:
Electronic scoreboard integration
Web integration and social media wall
Gamification actions
Real time Twitter Impact report on web and mobile
Ranking of players, teams, universities, etc.
Rankings of users: Most active, most popular, most retweeter, most photographer, most original and most impacts generated
Professional Stats: Languages, sources, frequency and influence
Social Media Wall
Here you can check some of our Social wallS for sport events:
360º cover for the season and social media wall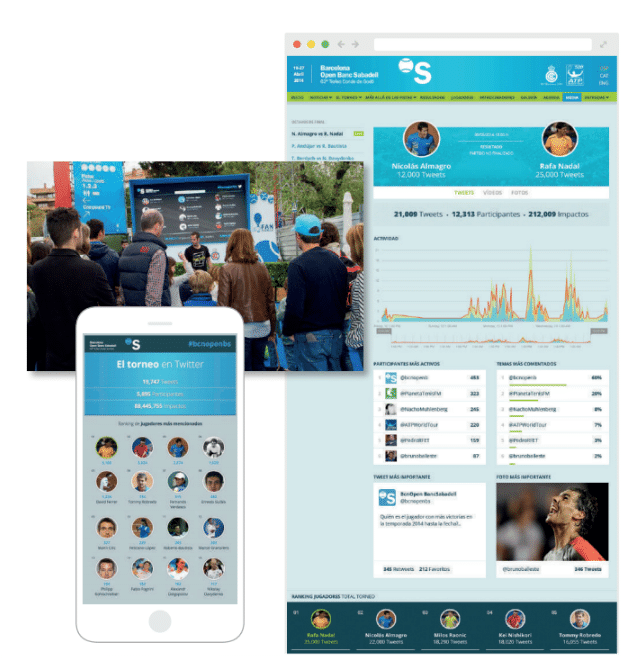 Landing page

Hashtag Battles
Social wall sport events
If you want to be part of the game outside the field feel free to contact us for more info about our Social Wall sport events. We will be more than happy to work together to make it real and take your University to the next level with the best results.