What was the activity of the Oscars on Twitter in 2019? 
That's a great question, to make it short we will say that during February 24th we registered 6,845,482 tweets (retweets included) using the hashtags #Oscars or #Oscars2019. Some users tweeted using different hashtags, but those were the main ones. It was a wonderful night at Tweet Binder, we started rolling the machines the morning of the Oscars and filled the data base with tweets about Rome, Green Book, Queen, Terelu Campos and many more celebrities. Analyzing the Oscars on Twitter is always a fun activity. This was for sure the award show that has collected the highest number of tweets, so far. For example, you can check here the activity of the #BAFTAs or the #BritAwards.
In the next lines we will describe some data about the 2019 Oscars winners and how their phones got overheated with mentions and replies. However, if you don't want to keep reading this post and you just want to start tracking hashtags, you can create your free Twitter report now. The following search box will give you a report of up to 500 tweets from the last 7 days.
Oscars on Twitter – The most important tweet
Besides the winners in the real show, the real winner will be the user @fkajack because one of its tweets got 100k retweets, the highest one of retweets with the official hashtag #Oscars. This is the tweet:
"i had a boyfriend who told me I'd never succeed, never be nominated for a grammy, never have a hit & hoped i'd fail. i said to him someday, when we're not together, you won't be able to order a cup of coffee at the fucking deli without hearing or seeing me."- lady gaga #oscars⁠ pic.twitter.com/oNfnzcDWhN

— jack (@fkajack) February 25, 2019
It was pretty amazing actually, 100k retweets! So we decided to create another report only for this tweet, to see why it go so many retweets (and likes! More than 400k likes). This user has 16k followers, so we should expect many retweets to its tweets, however to get 400k is huge for that many followers. 
The tweet created over 30 million impacts, specially because many "popular" accounts retweeted it. The Top 9 accounts retweeting the tweets were:
| | |
| --- | --- |
| Account | Followers |
| @gamthestar | 921,095 |
| @bryanboy | 519,422 |
| @realdenisewelch | 411,111 |
| @raymondarrieta | 331,574 |
| @alexisohanian | 261,093 |
| @natanaelrodrigs | 247,532 |
| @chimpsinsocks | 240,144 |
| @gagamonster96 | 223,660 |
| @applelapis | 164,571 |
Following with @fkajack, we also run a "Twego" analysis. Twego is a tool that will give us the economic value of the tweets of one given user, meaning how much in advertising the tweets of one user are worth. This tool will give us two values:
Market Value: the value of one tweet according to market variables
Engagement Value: the economic value having the engagement in consideration
Since this user got thousands of retweets, its engagement value has been increased dramatically (now it will be a good moment to ask for more money by the way):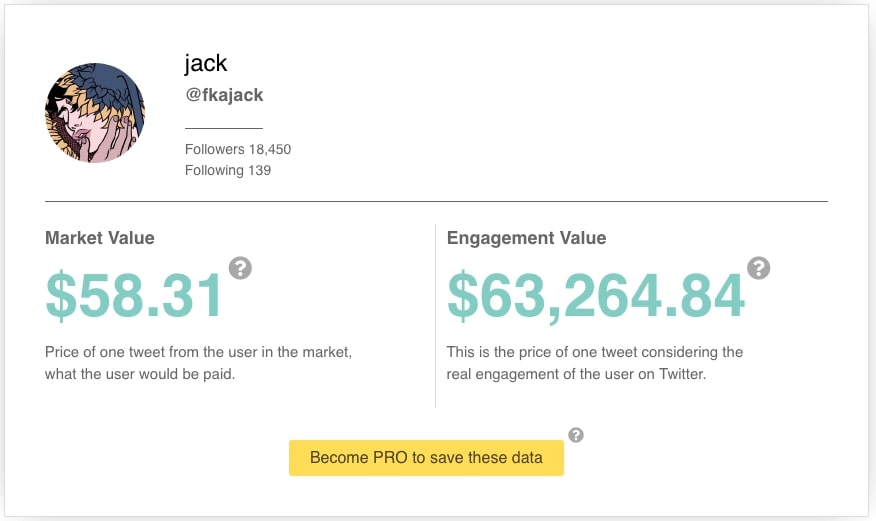 Best picture
The winner for best picture was Green Book. On Twitter it collected 1,199,525 tweets (along with the hashtag). That's a lot of tweets, however, Green Book was not the favorite, Roma was (for whatever reason) and Roma got even more tweets 1,332,550 to be precise. So we have a strange case where the winner gets less tweets than the other movie. 
Black Panther got 1,194,574 tweets as well and 1,104,770 Blackkklansman.  
Best director
For best director we had several candidates and Twitter got crazy about it (really?). We think Twitter gets crazy very often these days, but that's another story. 
Alfonso Cuarón got 1,108,095 mentions using the hashtag, imagine his cellphone if he had the Twitter notifications active (cra-zy!). His Twitter account is @alfonsocuaron and what he tweeted after getting the prize is… nothing, he hasn't update his Twitter account so far. The movie Roma sent a congratulations tweet to him:
Congratulations to @alfonsocuaron for winning the Academy Award for Best Cinematography. #ROMACuarón #Oscars pic.twitter.com/Vw7x5U0kOg

— ROMA (@ROMACuaron) February 25, 2019
In the case of @GhostPanther (Adam McKay) he got 1,055,217 mentions. The other candidates didn't have a Twitter account, losers.
Best actress
We have wonderful stars here: Glen Close, Lady Gaga, etc. Olivia Colman was the winner and she got 1,141,356 tweets. She doesn't have a known Twitter account, but we analyzed her name (she's the winner, what were we supposed to do? Nothing?). 
Yalitza Aparicio @YalitzaAparicio got 1,107,674 mentions and Lady Gaga @ladygaga 1,174,157 (she won another Oscar for Best original song). Melissa McCarthy @melissamccarthy 1,063,902 mentions (we forgive you for The Happytime Murders).
Best actor
We (also) have wonderful stars here. Like Christian Bale or Viggo Mortensen son of Arathorn. Those two folks do not have a Twitter account, so we won't talk about them anymore. Bradley Cooper, on the other hand… doesn't have an account either, what's wrong with you guys? We won't even bother to check if Willem Dafoe has a Twitter account. Rami Malek however DOES have a Twitter account and guess what? He's the winner! He got an Oscar, the only one with a Twitter account made it. He doesn't update it since Feb. 9th but that's ok, much better than the son of Arathon who is still using his Middle Earth Nokia 510. @ItsRamiMalek got 1,111,386 mentions. 
Let's analyze Rami's Twitter account using Twego, yeah, let's do it, why not? We will see if winning an Oscar affected the value of his tweets: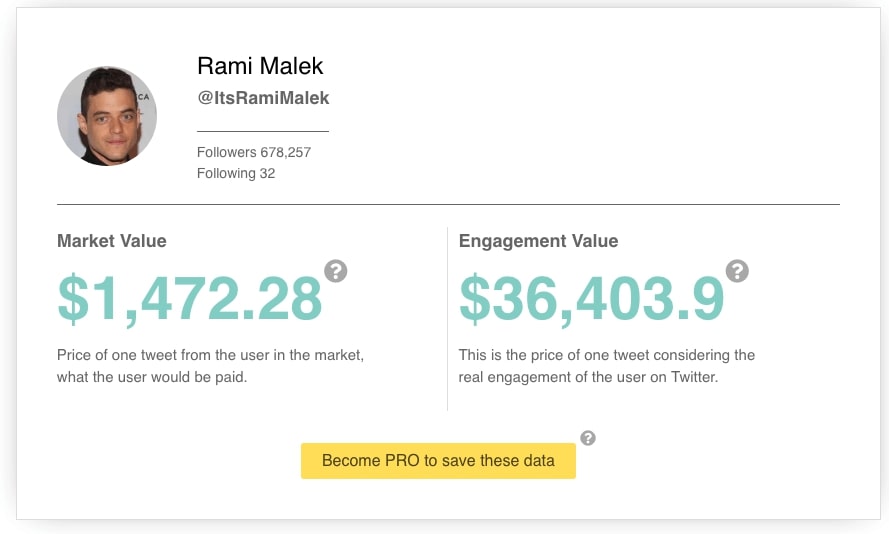 The engagement value of Rami is quite high! Maybe it has something to do with winning a freaking OSCAR, right?
The Oscars 2019 have been record breaking. This is our analysis of the day before, but we are sure that on the days to come we will hear a lot more about this great award show.
Conclusion
As you can see from this post and other posts we have posted about different award shows, with Tweet Binder you can analyze anything! The best type of reports to analyze these shows are the real time Twitter reports. By activating a Twitter streaming we will collect tweets while they are being posted.
Tweet Binder is more than just reports! Twitter real time content has endless possibilities. We can create Social Media Walls or custom microsites to engage with the audience and let them know they are being heard.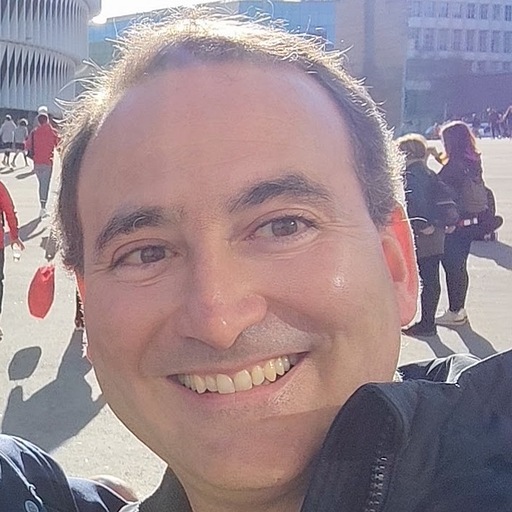 Javier is the founder and CEO at TweetBinder. With more than 10 years of experience in Twitter Analytics space, he is on the mission to build best-in-class Twitter marketing tools helping X community to thrive.