Social Media Statistics
The statistics are the starting point of everything. At Tweet Binder, we know the importance of creating fast and complete reports to know the Social Media Analytics. Now, it is much easier to create reports through our dashboard. We offer four kinds of Twitter reports and one for Instagram. It doesn't matter what campaign or event you are tracking. We have the best report to cover your Social Media Statistics needs.
In fact, Social media analytics is the method of collecting data from social media websites about a certain brand, product or service, and analyzing the data to make better, more informed business decisions. Insights derived from these analyses are often used to judge sentiments around a certain brand or product. In addition, to better advise marketing strategies. Metrics for social media marketing success are not always clear. From reach, to engagement, to impressions, proving social media marketing success is not a simple numbers game. Although numbers do provide some insight, the quality of those metrics is of higher importance.
Why do we perform social media analytics?
There is a large amount of information to be found in the social media data collected through analytics. Prior to the invention of software and tools for collecting this data, brands would employ market research agencies to perform manual polls of consumers through focus groups or mail correspondence.
Try Tweet Binder: Social Media Analytics
Though that information proved to be very useful, the same information is being posted to social media platforms willingly by customers and is much easier to obtain through a virtual platform.
More trustworthy sources
Social media analytics allows companies to gather information about how the public views their brand in a truly honest, reliable setting. Because consumers provide the information of their own volition, on their own profiles, without fear of backlash or judgment, businesses can get the most accurate picture of how the public perceives their brand, products and services.
Monitoring KPIs
Analyzing your business's social media presence and success is a vital component to successful social media marketing.  Key performance indicators (KPIs), such as reach, engagement, traffic, sentiment and competitive benchmarking, all play a significant role in determining the effectiveness of a campaign.
What do analytics measure?
It can be easy to base achievements solely on the number of likes, retweets, reactions and comments on posts, but analytics go much deeper than simply tallying data. Although tallying that data can be a great starting point for gauging success, the reasons people are interacting with your brand and what that means for business are far more telling.
Performance of posts
Social media analytics provide metrics that offer better insight as to how each post is performing, beyond counting likes and comments. These tools take things a step farther. They report on where leads are generated from, the best times to post for the highest chances of interaction and visibility, and how your posts stack up against similar ones.
Social listening and audience analysis
Analytics provide tools that evaluate user demographics like location, age, gender and time of activity. In addition to these metrics, social listening and psychographics give you a more comprehensive picture of your audience.
Social listening

helps you learn what is important to consumers. By monitoring and tracking what customers like and respond to, you can create content your customers will want to engage with.

Psychographics

go even deeper and analyze attitudes, opinions and sentiments surrounding each form of media customers engage with. They provide a fully dimensional customer picture. By using psychographics, you not only know

what

consumers are engaging with, but how they feel about the content and why.
According to tech industry CEO Mark Hurd, "the way to overachieve is to have better information, to know who you're talking to, and to know how to motivate that customer." Better audience analysis gives you the ability to create audience segments based on shared emotions and experiences. In doing so, you can directly align your content with the needs of your customers.
How do we do it?
The first step in creating a social media analytics strategy is to determine what a brand's particular goals are. There are numerous tools available that gather massive amounts of data. In fact, about any and all aspects of a social media page. However, not all of that information will be pertinent to every business. Setting goals will help you determine which data is important and which data is superfluous.
Types of data to track
Followers: Analyzing followers is particularly useful on Twitter and Instagram. It can be extremely helpful to know who is following your brand, what other brands they follow, who their followers are and what their overall interests are.
Impressions and reach: Impressions refer to the number of times your content — whether that is a Tweet, blog post, photo or something else — is seen. However, it's not differentiated by user, meaning the same user could account for several impressions. Reach, on the other hand, refers to the total number of individual users your content has reached. These metrics can be especially helpful for measuring brand awareness. Also audience growth in a more comprehensive way than just measuring followers.
Engagement: Engagement encompasses every interaction on each post — comments., likes, mentions and shares. This measurement helps determine which users are simply seeing your content and which are interacting with it. Those who are interacting are much more involved with a your brand and therefore more likely to respond to posts.
Sentiment:

Sentiment analysis takes things a step further in evaluating not only

who

is interacting with your content, but

how

they are interacting and how they feel about your company. Some social media analytics tools use AI to categorize and separate positive and negative sentiments. This helps you precisely target the most receptive members of your audience with advertisements and marketing efforts.
Competition: A competitive analysis can be vital for companies that want to ensure they are keeping up with the rest of the industry. It's important to know what other organizations are doing and how well they're performing. Not only does this show how your business stacks up against the competition. It can also provide ideas as to what kinds of marketing efforts are working for others and what kinds aren't.
Programs for every need
In order to properly perform social media analytics, you need the right tools. There are different tools depending on your needs, so it's important to research which ones will work the best for your particular business. Some businesses are focused on analysis of individual posts rather than their overall social landscape. Some want to track mentions as they come in, while others are looking to only follow specific hashtags. Other organizations are more concerned with how their campaigns stack up against the competition.
In-app analytics
For a few of the most popular social media apps, there is analysis software embedded in the platforms. For example, Twitter, Instagram and Facebook already have analysis tools built into their sites. These tools allow you to track performance and engagement without ever having to leave the app.
Third-party tools
For those who need tools that dive deeper into their social media analytics, there are third-party programs specializing in different facets of analysis. You can try paid tracking programs or the free Tweet Binder tool that evaluates hashtags and mentions. There is a program for every need. Analyzing social media is a complex process with many moving parts. Knowing what metrics to measure, why it is important and how to track them is vital to a successful social media campaign. There are many tools available, a multitude of metrics to track and endless insights to discover. Social media analytics are more complicated than surface-level engagement and are well-worth the investment.
Try Tweet Binder: Social Media Analytics
Why is it important to get social media statistics?
It's no news that digital marketing is the way to promote your business in this digital era. Nowadays all users spend most of their time on Social Media and on the internet. This has made companies turn their efforts and marketing strategies to these platforms as well. You get to see professional profiles of businesses on Instagram, Pinterest, Facebook and Twitter. Wherever you go, you'll find businesses and companies building their brand and notoriety online and offline to target all kind of users and that use hashtag tracking.
Therefore, social media statistics are key to succeed. Hashtags are one of the recent technological and social media statistics revolution . They that helped A LOT of companies build a name for themselves and get more recognition. Before 2007, hashtags simply meant and referred to the # symbol. However, since Twitter began using them in 2007. It started referring to any word preceded by the symbol #. Hashtags first appeared to facilitate search results and narrow them for users. But now they're one of the most important technics to raise social media awareness and to promote businesses.
Some hashtags trend quicker than others. In fact, the more trendy it is, the more it helped the user reach more people.
Reasons to use hashtags
There a lot of reasons for you to use hashtags, but here are three main ones:
Increase in reach: with the right hashtags. You'll be able to increase reach and awareness. Especially if you use hashtag tracking to choose the right one.
Build an online brand: every brand uses hashtags related to them. For example, Oreo uses the hashtag #Oreo, Coca-cola uses the hashtag #Cocacola, you get the idea. Using hashtags related to your brand might help them get trendy. Also, this way you'll be able to quickly build a brand online.
Attract the right clients and audience: Hashtags not only help your brand to grow online, but they also help you to attract the right audience. Those who search for the same hashtags you're using will be more likely to become the right audience for you. This way you'll raise natural organic traffic and they will be more loyal.
How to use a hashtag
Hashtags are quite useful as as was aforementioned, but now, how can you actually use hashtags and know which ones to use? Although hashtags are very effective, not every hashtag will get you the traffic and reach you're looking for, that's why using the right ones is key on every strategy. So here are these 3 pieces of advice to help you choose the right hashtags:
Check what your competitors are using: As a brand, you probably have so many competitors that are leveraging hashtags for their benefits as well. Maybe some even gained so many loyal followers and users just because of this tactic. If by reading this you've got one brand or two in mind who have great success on social media platforms, then you should use some of the same hashtags. This way you'll be able to follow the same tactic that helps them succeed and use it for your benefit.
Be specific in your hashtags: Sometimes when using hashtags, you might come across some that have more than 10M posts with them, these hashtags are probably too general, like #chocolate which has more than 70,4m posts. If you use this one your post will soon be engulfed by another one in a matter of seconds or minutes. This way, you should use specific hashtags that have a high search rate but don't have that many posts being published every minute with them.
Check what's trending: These days, there a lot of things that quickly go on trend, and the more trendy it is the more people will be looking for it. So, if you're looking for a way to attract more followers, then trendy hashtags are the way-to-go, look for what people are talking about and are searching for in each platform and which hashtags they use to refer to the trend, and use them when publishing a post. That way you'll be up-to-date on what people are looking for and raise some modest and great reach out of it.
What hashtags to use for each social media platform
Choosing the right hashtag is a difficult task. After choosing the hashtag, you need to decide whether you are going to publish it on one social media platform or another. In this post, we will be focusing on the two main platforms which are widely used around the globe: Twitter and Instagram. Their social media statistics are key to determine the success or performance of a brand or campaign.
Hashtags for Twitter
Twitter is certainly one of the first platforms to ever use hashtags and it certainly made a great success thanks to it. This has turned it into one of the best platforms out there where you can use hashtags and double your reach with them. Twitter enables its users to look for top posts using a specific hashtag which makes it a very good platform to leverage hashtags. Its data are key social media statistics in marketing strategies To make the best out of every post, you need to use only one or two hashtags that are 100% related to your message. If there's a trend out there that's related with your messaging then take advance of it and use it to extend your brand's reach.
How to create free Twitter reports
After logging in, you will be sent to the collections panel. This is where all the reports are located. The search box is always available. It allows you to create the free Twitter reports quickly. As a result, searches are much more comfortable. Once we have written the term that we want to analyze, we have to click on the "Create My Report" button. That's when our free report is automatically generated.

A FREE report includes basic Tweet Binder statistics. This means that they do not include as many metrics as the PRO reports. As we have already said, they include up to 2,000 tweets from the last seven days. Tweet Binder is a free hashtag tracking tool that provides all these Twitter data:
The data range of the report
Number of analyzed tweets
Typology of tweets
Users that have sent tweets with the analyzed term
The economic market value of our search
Potential impression
Timeline
Ranking of most active and popular users
Gallery of images
There are no limits if you want to analyze hashtags for free. As we have already said, you only have to log in with your Twitter account. Since then, you can create free Twitter reports. You can monitor multiple hashtags and use all the information as you need. It is really valuable to have all this information for free and manage it as needed. Don't you think?
Hashtag tracking for Instagram
Instagram is probably one of the most used platforms over this last decade, especially now with the new option of IGTV and stories. Instagram is here to beat all competition. So does its social media statistics. You can use hashtags in the caption of your post, in the comments, on your stories… so, basically, Instagram hashtags can be typed anywhere on Instagram. Since last year, you can even follow a hashtag that you like and see the updates and the new posts that keep showing up.
What's even greater is the fact that Instagram gives you the possibility to use a lot of hashtags on your post, so you can use 0 to 30 hashtags which gives you more exposure and reach by targeting all these different but related hashtags. It is important to keep in mind that all those hashtags need to be related to your brand. If the 30 hashtags don't seem enough for you, you can comment on your post with all the hashtags you want and find related to your post and even exceed 20 ones.
Instagram hashtag analytics
Tweet Binder also offers Instagram analytics for hashtags. This feature has not a free version but the paid version gives back a lot of stats.
Total posts
Type of posts ( photos and videos)
Potential impacts and reach
Total contributors
Impact and reach related stats
Economic stats
Contributor ranking
Media ranking
Graphs representing the statistic of the hashtag
Posts per contributor
Hashtags ranking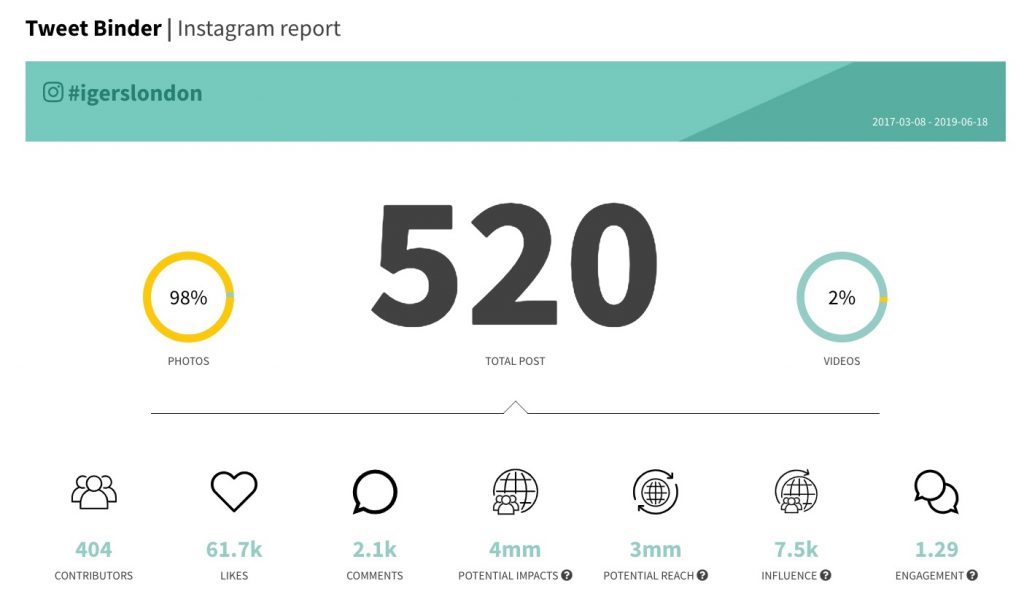 Hashtag tracking in 2020
Now that the importance and use of hashtags has become very obvious, it's time to understand how to track them. But first, why should you track your hashtags? Hashtag tracking is certainly a practice that is still in the dark and that a lot of people ignore. Hashtag tracking enables you to find out which ones work best for you. Also, which ones actually helped you gaining more audience and reach. By knowing which hashtags are working for you and which are not, you'll be able to get rid of the useless ones and concentrate on the ones that bring users to your social media page and profile.
With hashtag tracking, you'll be able to find out the trendy and the most researched ones that will help you creating useful and effective campaigns with the data you've collected. Hashtag analysis makes you understand the level of interest and attitude of your Instagram or Twitter users. This will help creating the most effective hashtag collection. Social media statistics are important for any marketing strategy. Hashtag analytics are no different, understanding the analytics means producing ads that are more effective. It's very  easy to produce useless marketing campaigns that cost a lot of money for nothing. So, why not maximize their effectiveness the best you can?
Creating a list of the most effective hashtags for each platform will help your ads, posts, stories and overall account find its way to the feed of thousands or even millions of people. For tracking websites, you'll need tracking tools whether it's apps or online websites. These tools will help you to track hashtags and understand them thoroughly with their highly detailed reports. Any professional marketer and social media manager knows this. Which is why tracking tools are the most valuable asset for social media managers who focus on growth and raising reach. According to a report that was done by Demand metric and Netbase, it seems that 60% of 125 marketers use social media statistics tools for campaign tracking, this is why Topsy was very famous amongst marketers. This social media analytic tools was used for customer care, influencer ranking, product launch, and so many other things.
Tweet Binder: The tool to get social media statistics
Twitter analytics is daily used by any company or advertising and communication agency. It is not enough to think and launch campaigns with a hashtag. We need to accurately measure all its impact to make decisions and improve. Frequently we get these questions asked: How many users have shared tweets about my event? How many times my hashtag has been used? Which has been the impact of my campaign? All of those questions find their answer easily if we use a tool to measure hashtags.
Thanks to Tweet Binder, not only you can analyze hashtags for free but you also have access to historical Twitter data with no time limit. As each campaign or event is something unique, we offer different types of analytical reports to get the best results. These reports are perfect for events or campaigns that extend over time. With access to the constantly updated data, we can assess the course of the campaign in question. They are also very useful for making decisions or for getting ahead of a potential reputation crisis on Twitter.
Conclusion
Regardless of how your campaign or event is, we have the answer to all of your questions through analytical reports on Twitter. In addition, you can check our Twitter hashtag analytics plan so your reports have no limits.However, if none of the above are what you need we can always make a customized plan just for you. Do not hesitate and contact us right away so that we can talk about our plans or anything you need regarding Tweet Binder and social media statistics!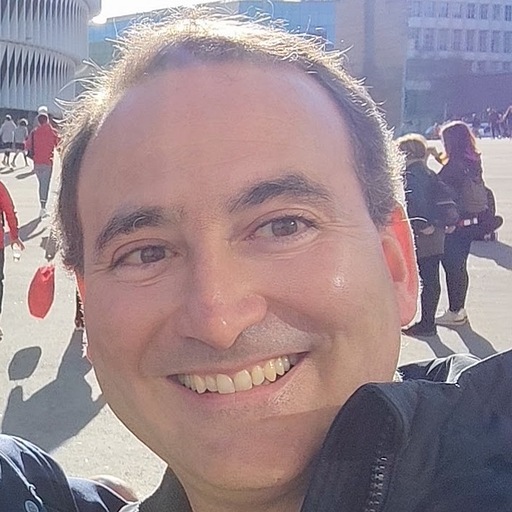 Javier is the founder and CEO at TweetBinder. With more than 10 years of experience in Twitter Analytics space, he is on the mission to build best-in-class Twitter marketing tools helping X community to thrive.