This post is also available in: Español (Spanish)
How to locate tweets in a map!
UPDATE: In June 2019 Twitter removed support for precise geotagging, this means that the tweets do not bring the exact location anymore. Does it mean that we cannot use the geolocation of Twitter content in a map anymore? No my friend, you can and Tweet Binder can do it with you. If what you want is to place in a map tweets matching certain keywords or hashtags or if what you want is to know what city/country is the most active tweeting we will help you with that. In this article we will explain what Tweet Binder does to locate tweets in a map and how our clients have use our technology.
Contact Tweet Binder to create your map
Geolocation on Twitter
It is very useful and interesting to locate Twitter content (pics and tweets) in a map. We offer activity location for marketing campaigns and the latest breaking news. It is essential for to tourism or institutional campaigns to know where people are sharing content from. We not only have the data but also the geolocation information. Tweet Binder can create a site to follow in real time all the Twitter activity and locate it into a map. Besides, if you want to see tweets by location in the Twitter feed, you can try with the Twitter Advanced Search. Geolocation tweets is a great way of increasing the Twitter engagement of your posts.
Twitter geolocated content: example
In the next picture you can see an example of an event we were tracking where we were placing in a map all the tweets about the Catalonia Referendum back in 2017. Each of the colors of the map represents a different hashtag since that day there were many hashtags for and against the referendum.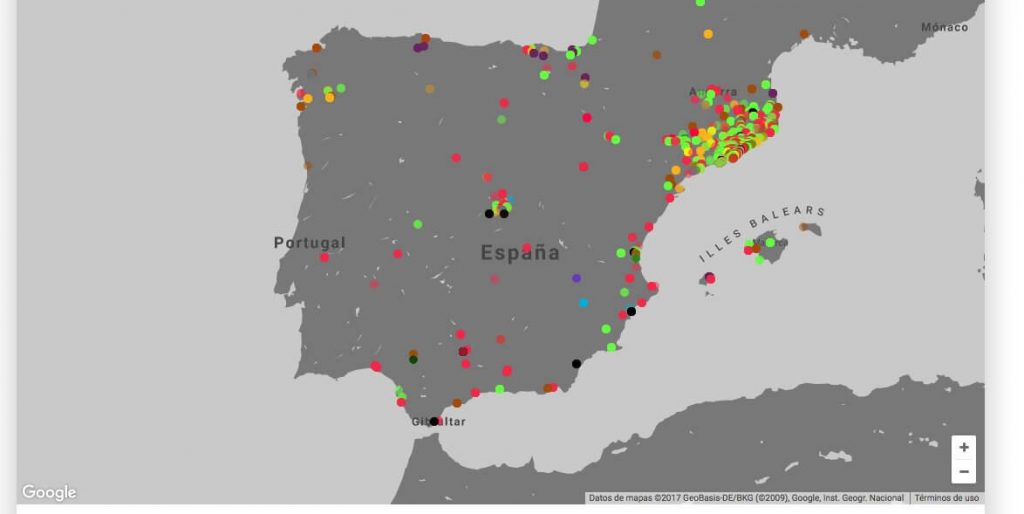 This site, developed along with eldiario.es, geolocates tweets that have been shared with different hashtags. The latest events in Catalonia leave us no choice but to keep an eye on what is being said and what occurs there. However, we can not only focus on Catalonia, it is also necessary and relevant to see what is being said from other parts of Spain and event the world. That's why this map is so useful. To get a global view and a global idea of which topics are more relevant in certain places is key to make up our mind about this issue.
This is just an example of how geolocation on Twitter can be used. It is one of the most demanded Twitter analytics features. There are many other ways and type of campaigns where this can be included. Do you have any idea on mind about how to use this map for a different action? Contact us! Also, if you not only want the location of the tweets but also a Twitter sentiment analysis, Tweet Binder is your place.
Creating a Twitter Map for a website
First of all, Google Maps and Twitter are our friends, if you know how to deal with both you can get great results, however there are a lot of maps online where you can place tweets, we have worked mostly with Google Maps and Twitter, but the possibilities are many. We ate Tweet Binder try to constantly innovate and improve, this is not an empty sentence, this is true. For that reason, we always try to listen very closely to our customers and users. Many of our services or new features have been developed thanks to received suggestions or comments.
As you may already know, our reports offer complete Twitter and Instagram stats. It doesn't matter if you need a real time tracking, an historical analysis or a PRO report. Every analysis is very complete and intuitive. Moreover, we try to adapt them to our customers needs. That is why we have launched a new feature. Do you need to geolocate tweets in real time? Your wish ir our command! We are happy to introduce the Geolocation on Twitter. From now on, you will be able to display Twitter activity on a map. To create a Twitter Map you will need basically two things:
An online map where you can pin each tweet (and retweet)
Connection to Tweet Binder's API to get the tweets and their locations
With these two things you will be able to create your own map. Of course you need to have some technical skills in order to code and host your map. Once created you can place it anywhere you can and create amazing things, if you don't know how, let us do all the work.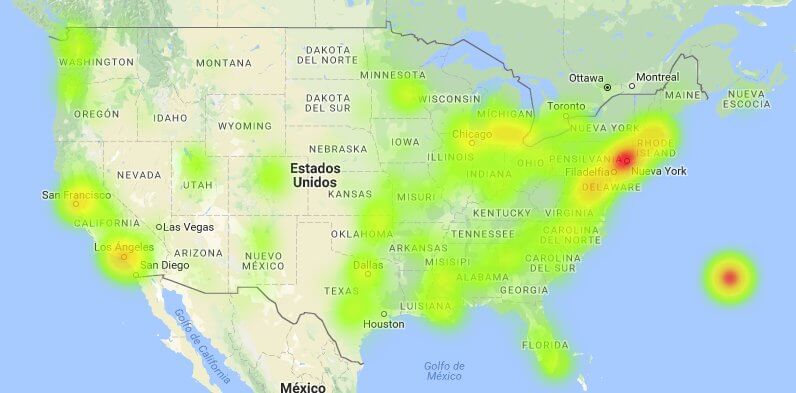 What can you place in a map?
Here you will need to define what your goals are, but basically you can place in a map anything coming from Twitter. You need to be creative here, of course that if you just want to place dots in a map we can do it, but try to think more outside of the box here. You can do many things:
Create a "Twitter Fight" between two rivals (Sports, politics, etc.) and show in a map the two hashtags in different colors
In election day, create a map with the hashtags of every political party's hashtag to see where people support them the most
When it comes to natural disasters, you can create your own map and see how the word and solidarity spread
A huge even like the SuperBowl or the Oscars with a Map placing the Twitter conversation or the teams/movies mentions
All the content being posted about your Twitter chat around the world.
Of course this list is open, you can add whatever comes out of your imagination. In Tweet Binder we have worked hard to give clients this feature and we must say it is awesome. This comes after a long time of study and development and we are happy to introduce it to you. Locating tweets on a map is very useful when launching global campaigns or when tracking an event that will affect to different parts of the world or a country. As you will later see, we have started by developing a map for the Referendum that may take place on the 1st of October in Catalonia (Spain) or the Bryan Adams' world tour. All these projects became Twitter trending hashtags but this was not a problem to analyze it. With Tweet Binder, anything can happen.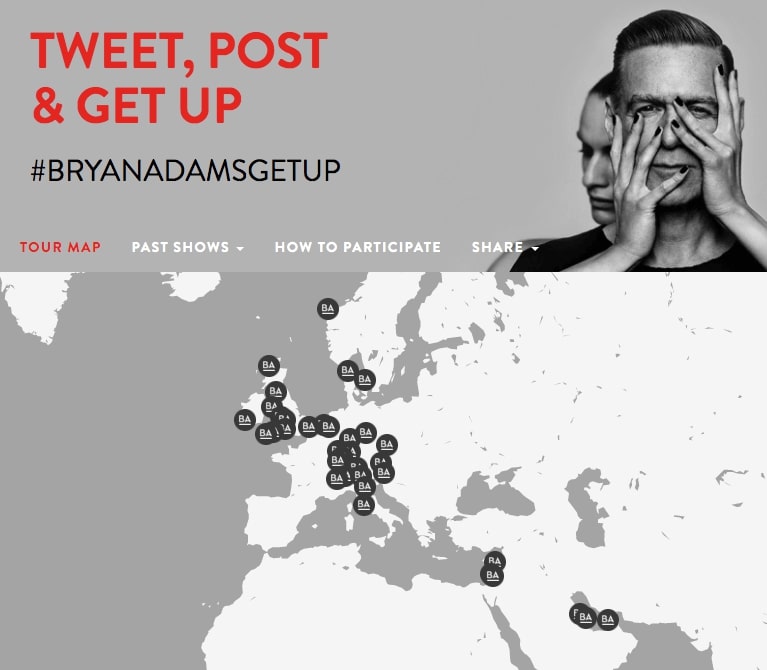 Display the content into a map – How can you place tweets in a map?
Once Twitter removed the exact location of every tweet, you have three ways of placing tweets in a map:
Using the location from the Bio of the user
The use of a unique hashtag per location: for example in a music world your where each city has its own hashtag
Using the context of the tweet: this uses the text of the tweet to place it in a map. It must mention a region/city.
One of the most important uses of geolocation on Twitter is to track breaking news and events. In the past, using the location of a tweet we could place a tweet exactly in the place it was sent from. However, Twitter removed that feature because only a few people where using it. In tweet Binder we had to develop a system to place tweets in maps since it was very demanded by clients. The possibilities of Twitter data charts is endless!
Contact Tweet Binder to create your map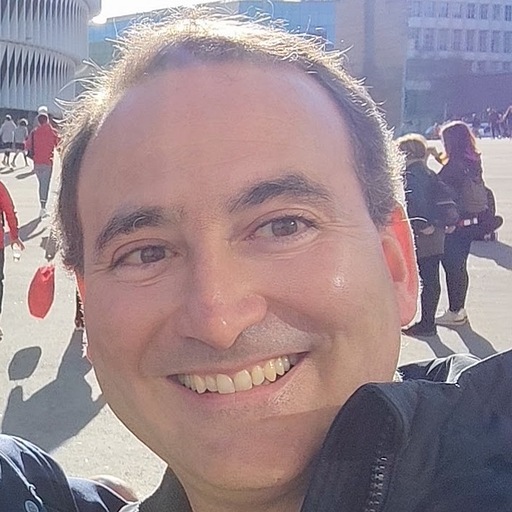 Javier is the founder and CEO at TweetBinder. With more than 10 years of experience in Twitter Analytics space, he is on the mission to build best-in-class Twitter marketing tools helping X community to thrive.