This post is also available in: Español (Spanish) Français (French)
Generate money with Tweet Binder
You might be wondering, is it possible to make money on Twitter? The answer is simple: yes! At Tweet Binder we have developed a system that will allow you to make profit out of Twitter content. As with everything else Twitter-related you have to be patient and know that this will require effort and persistence, however, you can start making money today. The Tweet Binder system to make money with Twitter is quite simple, it is based on the sales the users you bring to Tweet Binder do. This is what we call the "Tweet Binder Partner Program". Each partner can get a commission out of every purchase they generate. In this post we will go through the different ways of generating a commission with the partner program.
I don't want to wait – Become a partner now
Steps to make money with Tweet Binder
You need to follow these simple and fast steps to become a partner. Know that there are two ways of generating money, the first one is if you own a website, the second one is if you don't. Both are compatible. In both cases you just need to go to the Tweet Binder partners' page, fill in a form and follow the instructions you will receive in your inbox. You will see that if you own a website you have more ways of generating a commission.
Partner who owns a website
An affiliate who owns a website can embed on it two different modules:
Tweet Binder's search box to make reports on hashtags and reports

Tweet Binder's search box to make reports on Twitter Users.
The steps to make money with Twitter / Tweet Binder if you own a website are:
Go to https://www.tweetbinder.com/es/partners/ and click on "join", you will have to login using a Twitter account (this is mandatory).

Click on the JOIN NOW button to enter our partners program

Once you are logged in, under the video you will see a form, fill your name, email, and country and click "send".

Fill the new form you will see under the vídeo

Now your Tweet Binder Partner ID is generated, you will see it in the footer of the site. You can copy it. You will also receive an email in the next 30 seconds, with instructions.
Go to the email, you will see questions/answers and most important part: the link to the WordPress Tweet Binder Partner Plugin, download it. (If you don't own a WordPress site, you can copy and paste the HTML code you will see in the email as well). Download the plugin and install it, then go to the settings and paste your Partner ID into the box you will see on the top.

Paste the Partner ID you will find in your email.

Once you installed the plugin use the shortcode tb-partners using [] in all the posts and pages where you want to install the Tweet Binder search box. Once you do it, the users of your site will be able to create Twitter reports. And you will create a box like this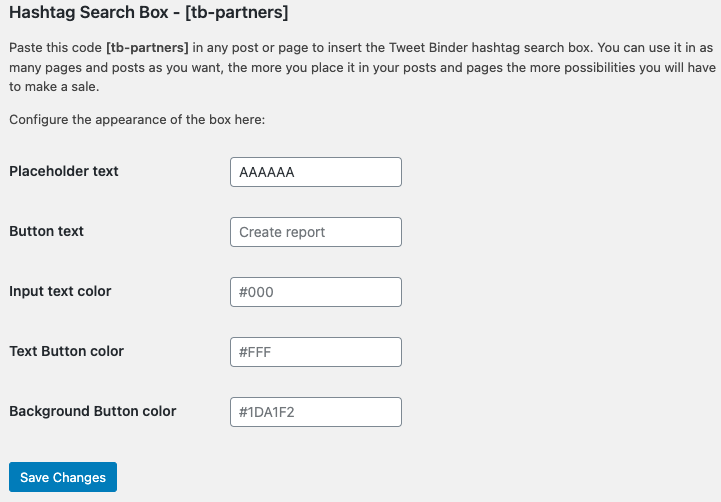 The Tweet Binder search box will allow your users to generate Twitter reports at Tweet Binder from your website. If this user makes a purchase at Tweet Binder it will generate a commission in your favor. If this same user returns to our site within the next 15 days and purchases a Tweet Binder report, you will generate a commission. Therefore you make money on Twitter thanks to Tweet Binder.
All those users who create reports from an affiliate's website will automatically be associated with that affiliate ID. This way, each purchase they make will be registered in the partners website. 
There are two ways to install the Tweet Binder search box:
Installing the WordPress plugin from this link: https://www.tweetbinder.com/public/downloads/TweetBinderPartners.zip

Pasting the code you receive in the email. In that code you will see your affiliate ID. In the following example you just need to change the XXX for your affiliate ID: <script src="https://cdn.tweetbinder.com/artifacts/tb-web-components.js" id="test"></script>
<tb-search-box affiliate-id="XXXX-XXXX-XXXX-XXXX-XXXX" custom-styles="–c-text-color:#000000; –c-icon-color:#FFFFFF; –c-button-color:#1da1f2;" lang="en"></tb-search-box>
Partner who does not own a website
If you don't own a website you can generate income with Tweet Binder as well. The way of joining the partners program is the same one as if you were to own a website. It has been aforementioned. You just need to go to www.tweetbinder.com/partners/ and fill in the form. Not owning a website is not a reason to not make money on Twitter.
Once you have registered, the way for you to attract users to our site is by generating and sharing reports. If any user generates a report from one that you have shared and ends up buying a Tweet Binder product, it will generate a commission for you. So, the more reports you share the more chances of generating income with Twitter.
The process is as follows:
Create a Tweet Binder report at

www.tweetbinder.com

with the user you have as a an affiliate

Share that report with your community (followers, partners, colleagues…)

As every Tweet Binder report includes the search box, every user that creates a Tweet Binder report from one of yours will be susceptible to generate a commission for you.

Whenever one of those users purchases a Tweet Binder product, you will get a commission
How to receive the commission
Commissions are liquidated each month and they need to be of at least $100. If you don't meet these requirements do not worry, they cumulate for the next month. You can exchange your commission for a Tweet Binder product as well. 
Tweet Binder Partners Club
The Tweet Binder Partners club will help you to stay up to date with any news there might be in the system. You will receive a newsletter each 15 days with tips and advice to make the most out of the Tweet Binder affiliate program.
We are aware that it is hard to start making money on Twitter. It is not something easy nor simple or fast. But we are also aware that it can turn out to be something really profitable. The most important thing is to not give up and keep trying.
Do I receive a free Tweet Binder plan by becoming a partner?
No, you won't automatically receive a Tweet Binder plan by becoming a partner. However, each case can be studied. At Tweet Binder we make a thorough analysis of each affiliate and the reports they generate. If you gain a high number of users and reports we could study the option of giving you a Tweet Binder plan.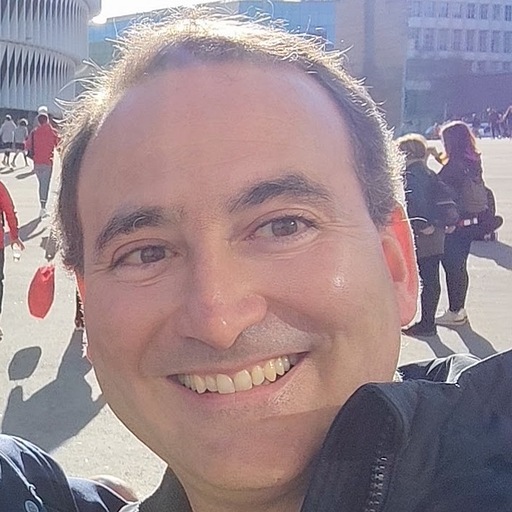 Javier is the founder and CEO at TweetBinder. With more than 10 years of experience in Twitter Analytics space, he is on the mission to build best-in-class Twitter marketing tools helping X community to thrive.