This post is also available in: Español (Spanish)
Classify your Twitter stats in binders
Tweet Binder allows you to track any hashtag, term or account with no limits but sometimes these reports have tons of information that you may need to classify. Tweet Binder is the only hashtag analytics tool that allows you to classify all the stats and information. Our Twitter tracking tool offers the opportunity to classify all your tweets easily in binders. Binder are like tiny boxes that you create inside a report (the big box) to sort all the report's info.
How to create binders
The process of creating a binder is really simple and comes in very handy when you have to manage tons of data inside a report. You only have to follow these steps.
1. Click on the classify icon on the left menu to start sorting tweets in binders.

2. Create the binder. A binder collects every tweet that mentions certain chosen filters. You can create a binder by clicking the new binder button (1) or by accepting any of the suggested suggested (2) by Tweet Binder.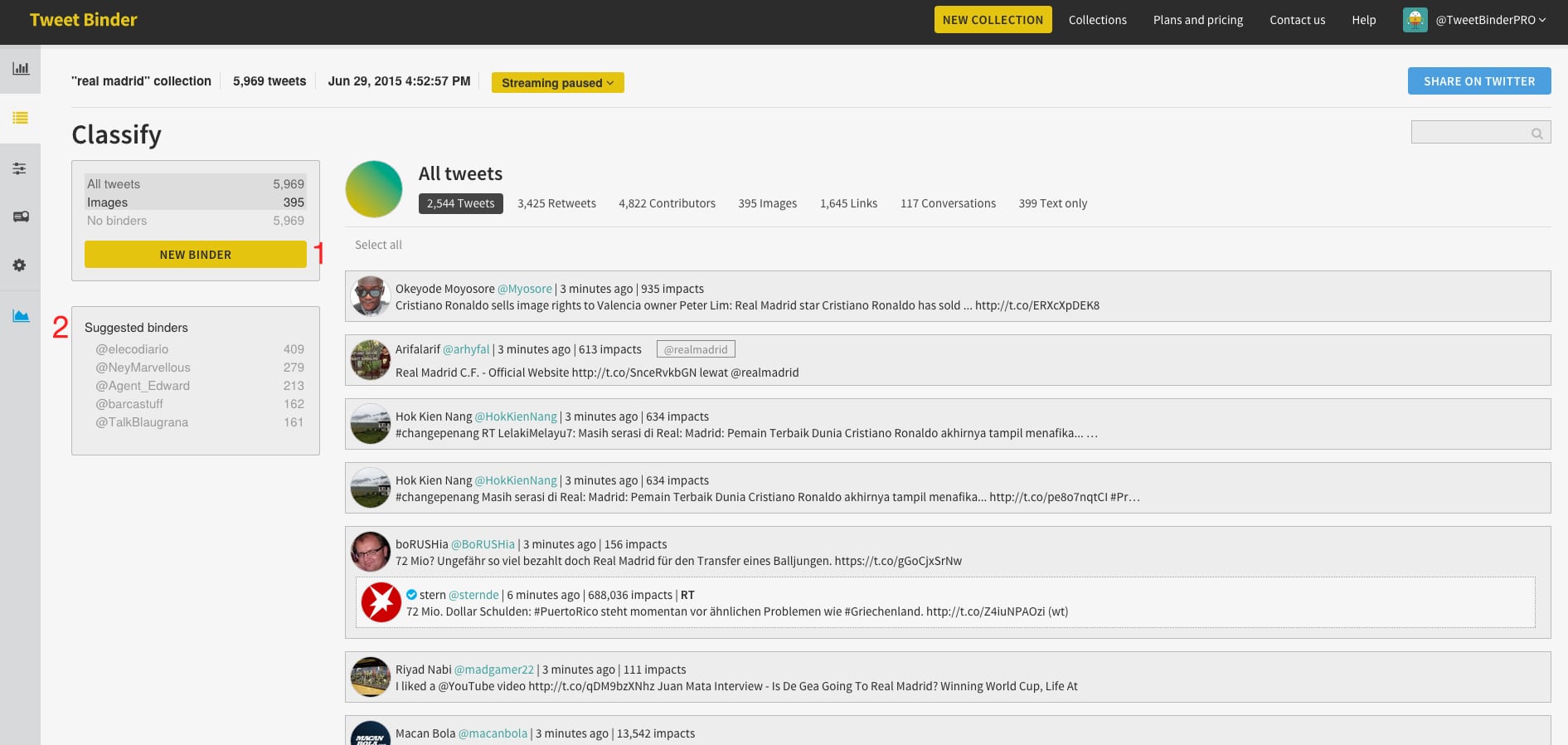 3. Edit the binder. You can create or edit binders anytime you need. You have to complete the gaps with the name and the terms or hashtags you want to include on it. It's better if you upload a binder image too.
Now, you can analyze the stats binder by binder. You will be able to check the original tweets, the RTs, contributors, links and images for each binder.

5. Show your binders in the final report.
All the binders' stats will be shown in your final report.

Now, it's your turn to try the binder option and optimize your reports with Tweet Binder. If you have any doubt, feel free to contact us at marketing(@)tweetbinder.com or write a message through our contact form in the home page.