TrackMyHashtag is a popular tool for tracking hashtags, keywords, and mentions on X / Twitter. But it's also one of the most expensive tools in this category, and it's missing some capabilities that competitors offer.
So what's a better choice for X / Twitter marketers, influencers, and brands? In this article, we'll cover five of the best TrackMyHashtag alternatives, including both free and paid tools.
Use the search bar below to get Twitter hashtag stats.
What is TrackMyHashtag?
TrackMyHashtag is an X / Twitter analytics tool that monitors hashtags, keywords, and mentions. It can create real-time trackers to help you stay on top of trends. It's also a hashtag history tracker that can analyze tweets dating back to 2006.

It works for use cases like:
Analyzing hashtag campaigns:

TrackMyHashtag automatically detects all tweets that feature the hashtags you track. It's helpful for measuring campaign reach, engagement, and overall success.

Finding X / Twitter influencers:

It automatically charts all the accounts that contribute to a hashtag campaign or that mention an account. It's good for finding and ranking influencers.

Monitoring competitors on X / Twitter:

TrackMyHashtag can track mentions for any account. It's helpful for seeing which customers, influencers, and partners are talking about the competition.
Use the search bar below to get Twitter hashtag stats.
TrackMyHashtag hashtag analytics for Twitter
TrackMyHashtag lets marketers, creators, and influencers analyze hashtag and keyword usage across X / Twitter. The dashboard displays total tweets and hashtag counts. These metrics can help you check hashtag performance.
The dashboard also shows the total number of contributors and charts their X posts over time. These metrics show whether popularity already peaked or if usage is consistent over time.
In addition, TrackMyHashtag offers CSV reports for in-depth hashtag, keyword, and mention analysis. These spreadsheets include the username, timing, and copy as well as the tweet type and engagement. They also reveal followers and following statistics for the account so you can easily assess their influence.
Downsides of using TrackMyHashtag
Although TrackMyHashtag is a decent choice to check hashtags, it won't work for every use case. Let's look at some of the tool's biggest drawbacks.
While some competitors offer X / Twitter follower tracking, TrackMyHashtag doesn't. If you need to analyze influencers, competitors, or your own account, you'll need a tool with more capabilities.
In addition, TrackMyHashtag is far from a free hashtag search tool. Pricing starts at $99 per month for five real-time hashtag trackers and one seven-day report. If you have a small budget, consider another hashtag monitoring tool.
Aside from historical reports, TrackMyHashtag doesn't have any one-time options to purchase dada. So if you need a single report rather than a monthly subscription, you'll be better off with one of the TrackMyHashtag competitors below.
How to replace TrackMyHashtag?
Do you plan to cancel your TrackMyHashtag subscription and replace it with better options? Need advice for purchasing your first hashtag analytics tool? Either way, make sure it has essential features and capabilities.
To find the right paid or free hashtag research tool, use this feature list as a buying guide:
Hashtag and mention analytics, including data on usage, contributors, and timing

X / Twitter account analysis, including data on followers, unfollows, and tweet activity

Real-time trackers that let you monitor campaigns and trends in the moment

Historical reports that let you view mention and hashtag counts over time
Is Tweet Binder an alternative to TrackMyHashtag hashtag tracking?
Yes, Tweet Binder is a good alternative to TrackMyHashtag. In addition to X / Twitter hashtag analytics, Tweet Binder also has follower tracking tools. Yet it's available for a fraction of the cost of TrackMyHashtag.
5 Best Free and Paid Alternatives to TrackMyHashtag
When you need to set up an X / Twitter hashtag check or manage an account analysis, which tool is best? Here are five of the best paid and free hashtag analysis tools to replace TrackMyHashtag.
1. Tweet Binder
Tweet Binder is an X / Twitter hashtag analytics and follower tracking tool. It's designed for Twitter hashtag analytics and Twitter monitoring.
Use the search bar below to get Twitter stats.
Our Twitter analytics reports are ideal for viewing Twitter hashtag, mention or ketword performance, as they show metrics like:
Tweet volume, reach, and impact

Total contributors and average engagement

Campaign sentiment

and economic value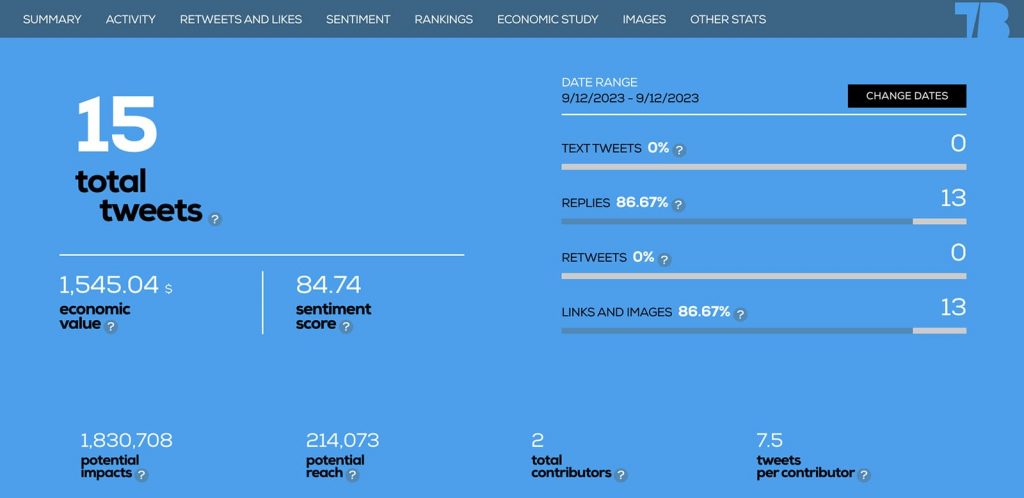 These reports also include dashboards with complete lists of all relevant tweets and top contributors. As a result, they're helpful for finding important influencers and measuring the impact of Twitter marketing campaigns.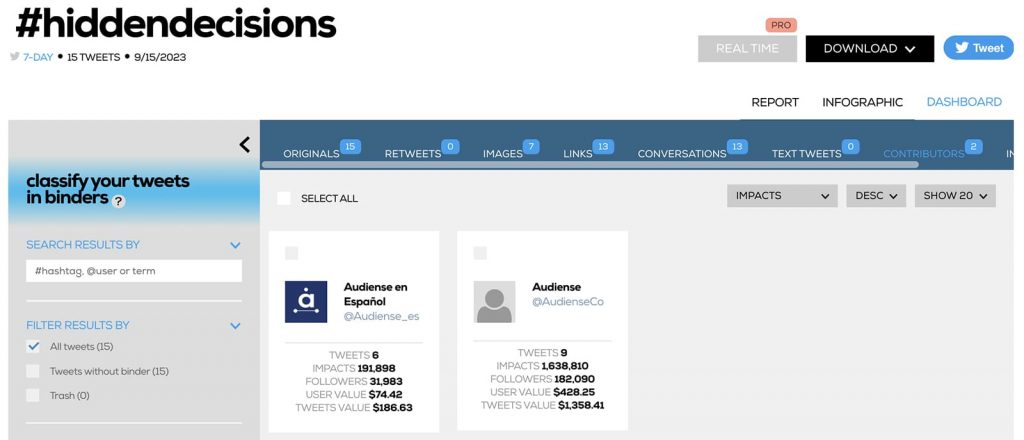 Tweet Binder offers 7-day hashtag reports for reviewing recent trends as well as live reports for tracking real-time activity and events. Both options include full reports, contributor dashboards, and infographics.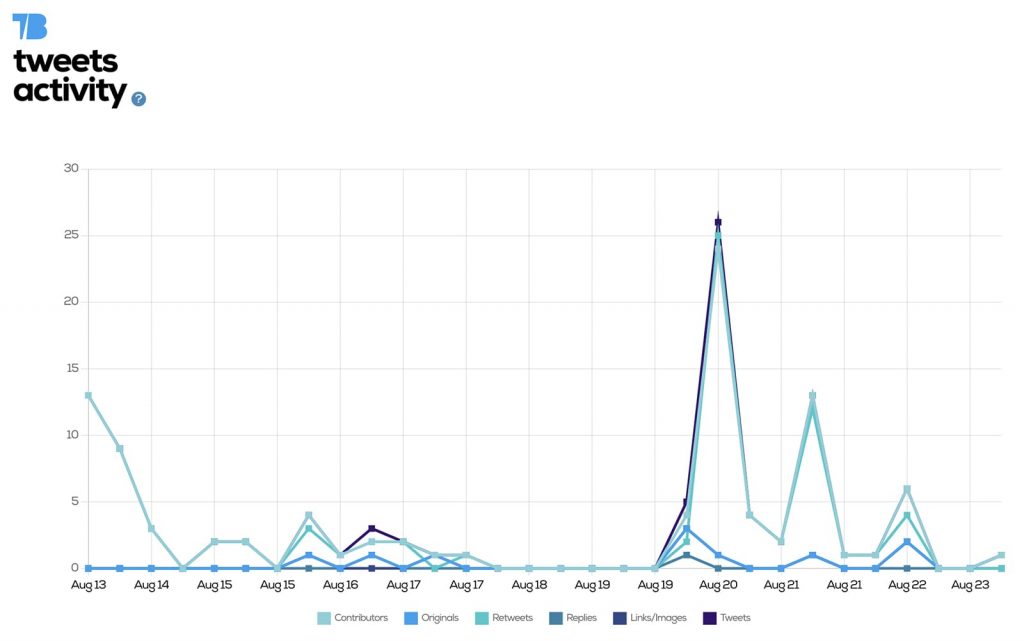 In addition to tracking hashtags and keywords, Tweet Binder also monitors mentions for your own brand or for any third-party account. Our mention reports are helpful for:
Seeing when brand mentions spike or drop (pictured above)

Tracking brand visibility and awareness over time

Finding top supporters, major influencers, and happy or unhappy customers

Determining customer sentiment based on current conversations (pictured below)
Start for free – use the search bar below.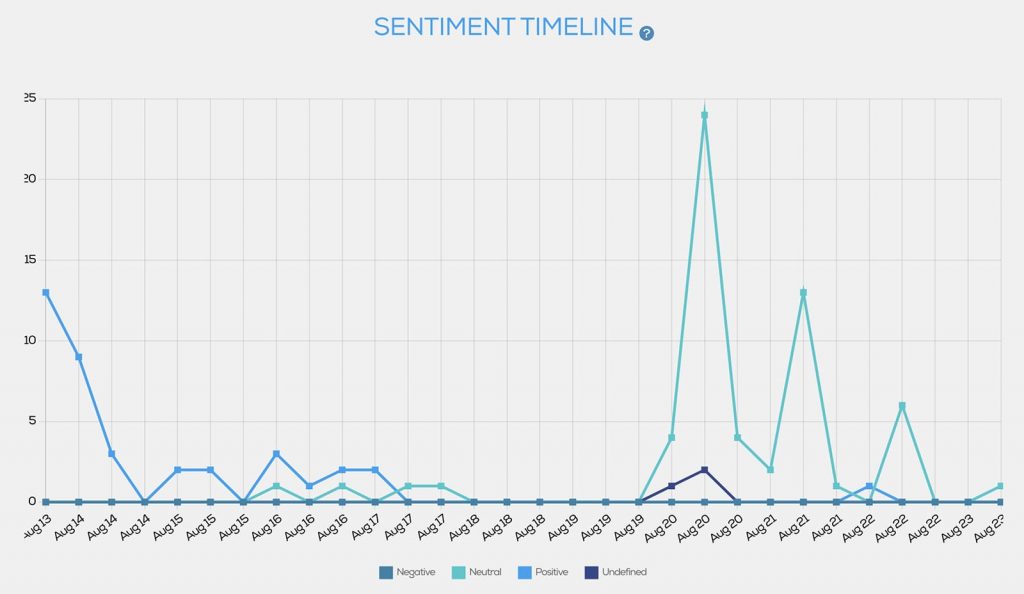 With Tweet Binder, you can even set up X / Twitter follower trackers to monitor account growth. Since you can create these trackers for any account, you can use them to monitor who followed or unfollowed your own brand, the competition, or your influencers.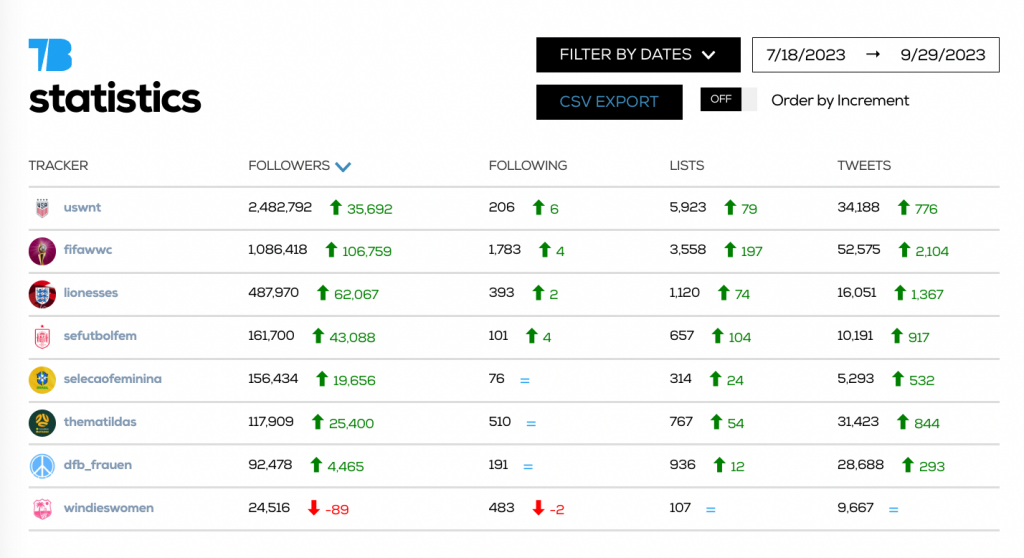 Networks: Tweet Binder is an X / Twitter-focused tool that works exclusively with this network.
Pricing: Tweet Binder offers a free trial with one hashtag report that includes up to 200 mentions. Paid plans start at $26.50 per month for unlimited reports with up to 10,000 mentions. We also offer one-off X / Twitter historical reports and real-time reports for a flat fee.
2. Keyhole
Keyhole is a social media analytics, listening, and reporting tool. It can track both X / Twitter hashtags and accounts, including third-party accounts.

It's best for analyzing account engagement and follower growth, spotting hashtag trends, and publishing social media content. With Keyhole, you can:
Track hashtags, measure campaign performance, and gauge success.

Benchmark competitor performance and compare it against your own.

Monitor influencer content to see how it contributes to your campaigns.

Listen in on conversations about your brand or industry.
Networks: Basic Keyhole plans support X / Twitter, Facebook, and Instagram. Higher-tier plans also support TikTok, LinkedIn, and YouTube.
Pricing: Keyhole offers a 7-day free trial. Paid plans start at $99 per month for 2 trackers and social analytics.
3. SocialTracker
Unlike TrackMyHashtag, SocialTracker isn't a hashtag analytics tool. However, it is a follower analytics tool that tracks audience size and engagement for any X / Twitter account.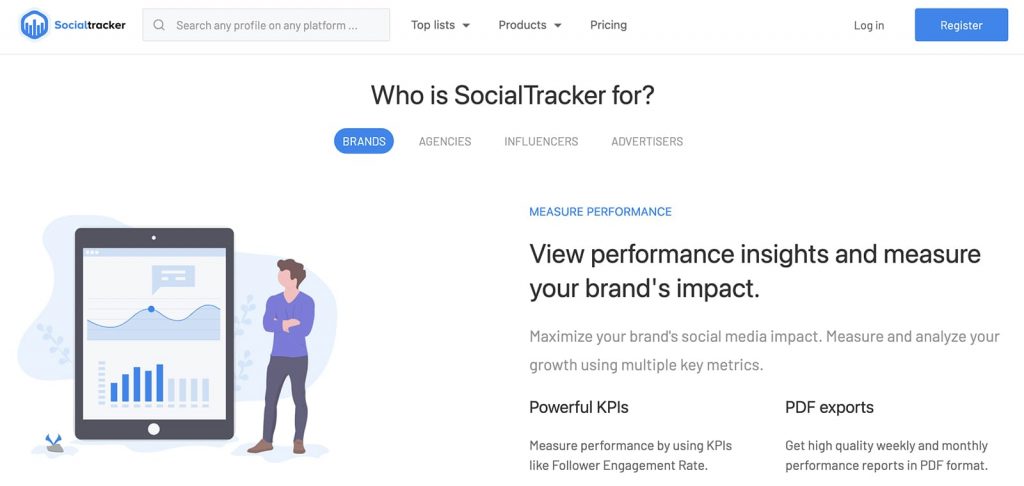 This tool provides analytics for average account engagement and follower growth over time. You can use SocialTracker to:
Benchmark your own account's performance and ensure you're reaching social media goals.

Monitor competitor performance, growth, and trends so you can stay ahead.

Track influencer account growth and engagement to find the ideal partners for your brand.

Find the X / Twitter accounts with the most followers or the most tweet activity.
Networks: In addition to X / Twitter, SocialTracker supports Instagram, TikTok, Twitch, and YouTube.
Pricing: SocialTracker offers one basic report for free and charges per report for advanced analytics. A single report costs $4.99, and five reports cost $22.49.
4. BrandMentions
BrandMentions is a brand monitoring tool that detects mentions on social media and across the web. Unlike some tools on this list, however, it doesn't track followers or account growth.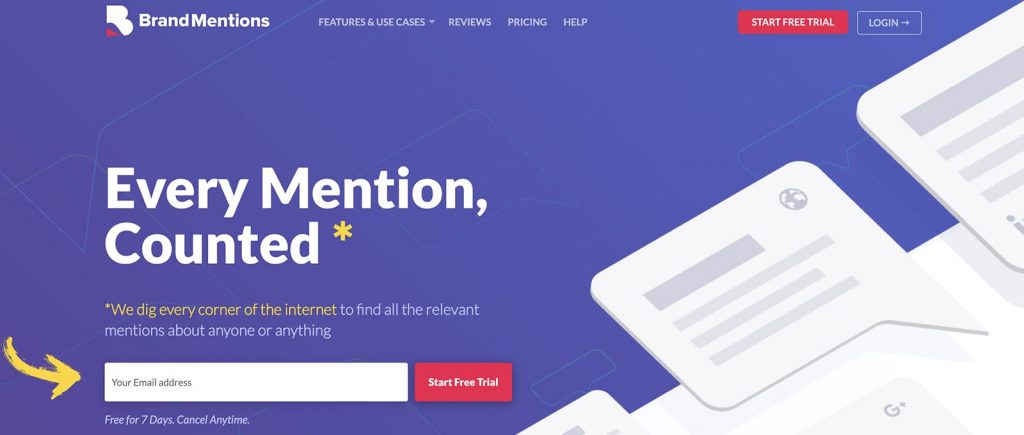 BrandMentions provides visibility and engagement analytics for accounts and keywords. It also assesses the sentiment of each mention and reveals the top influencers or contributors for each account or keyword you track. With BrandMentions, you can:
Monitor the visibility of your brand and the sentiment around it—including how these metrics have changed over time.

Track the reach, engagement, and overall success of a campaign, along with finding influencers who participated.

Assess the context around mentions so you can better understand how people perceive your brand or campaign.

Create an automated media wall featuring top posts related to the account or campaign.
Networks: BrandMentions works with all major social media networks. Along with X / Twitter, it supports Facebook, Instagram, LinkedIn, Reddit, Quora, TikTok, Twitch, and YouTube.
Pricing: BrandMentions offers a 7-day free trial. Paid subscriptions start at $99 per month for up to 15 keywords and 5,000 mentions, with daily updates.
5. Brand24
Brand24 is an AI-powered social listening tool. It finds mentions and hashtags across social media, on review sites, in the news, and on podcasts.

It's designed to monitor public relations (PR) coverage across the web to provide insight into visibility and sentiment. With Brand24, you can:
Monitor brand awareness by tracking reach and measuring the significance of mentions.

Listen to customer conversations about your brand and assess sentiment.

Use a hashtag history tracker to monitor reach and volume.

Access AI-powered insights to spot trends, crises, and other events.
Networks: In addition to X / Twitter, Brand24 works with major social media networks and on 25+ million sites, including  Quora, Reddit, Soundcloud, and more.
Pricing: Brand24 has a 14-day free trial and four paid tiers. Paid plans start at $99 per month for three keywords and 2,000 mentions.
Need an alternative to TrackMyHashtag?
TrackMyHashtag is decent for a hashtag tracking tool. However, Tweet Binder has much more complete features for monitoring and analyzing hashtags, keywords, mentions, and followers at much lower starting price.
Sign up for Tweet Binder and create your first X / Twitter report for free.
Anna Sonnenberg is a social media marketer for B2C CPG brands and a B2B SaaS writer specializing in product-led and strategic content marketing for martech, sales automation, and productivity platforms.