MTV EMA awards
Every year, people from all around the world sit down at the same time to either watch on their tv, or phone or laptop, the MTV EMAs. This year, the gala was on the third of November, and it was held in Seville, Spain. The MTV EMAs of this year had people biting their nails with stress, a lot of nominees didn't win, but it still was worth all of the hustle. In this posts we will go through the Twitter activity of the EMA awards. But, if you want to start creating your own reports, just type the hashtag in the search box below. This will give you a free Twitter report of up to 500 tweets from the last 7 days.
Nicki Minaj won the best hip-hop, best live-act was given to BTS, best pop artist was given to Halsey, and the best new signer was given to Billie Eilish. Ariana Grande, despite being nominated for a lot of titles, didn't win any of them. So, before moving on to the analysis, let's find out what are the MTV EMA anyway! 
What Are The MTV EMAs?
The MTV EMA or the MTV European Music Award is an award given by Viacom International Media Networks as a way to appreciate artists and music. The MTV EMA combines different performances of different artists. It is held every year in a different country, but it's mostly hosted in the UK. The MTV EMA was created as an alternative for the MTV VMA which is hosted every single year in the US. 
The MTV EMA presents artists that had had the biggest impact in that year with an award specifying what was the impact. For artists to win, they need to be voted for, and because of that, the viewers and fans were able to vote for the artists they're fan of. Because of this, the MTV EMA was able to show the changes and the diversity of the musical genre throughout the years. Each year shows how the musical taste of viewers changed.
MTV EMA Awards on Twitter
With Tweet Binder, you can run an analysis of anything on Twitter. In order to analyze big events such as the MTV EMA, you need a real time Twitter report. And since the MTV EMA was hosted just recently, we decided to track the hashtag #MTVEMA and see what we came up with. This report details many aspects that Twitter Analytics won't be able to show you. So, let's see what we found.
General Twitter analytics
The first section of a Tweet Binder Twitter report contains general Twitter statistics. And here's how it looks like. We've got more than 1M tweets about the MTV EMA from which more than 90% are retweets. As it's shown in the screenshot, there were 393,202 contributors. These are the users who tweeted, retweeted or replied a tweet containing the hashtag #MTVEMA.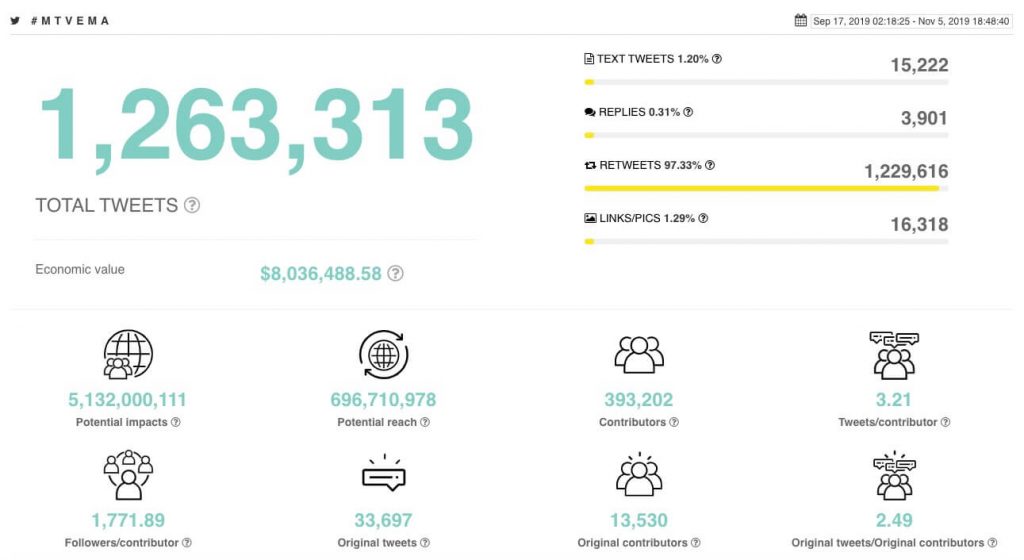 The potential impact of those total tweets amounted to 5,132,000,111 potential Twitter impressions. With a number of original contributors of 13K. The original tweets are as well 30K but look at how much commotion was created after those original tweets were tweeted. This is a really important detail. It means that the original tweets sent with the hashtag of the MTV EMA awards really engaged with the Twitter readers.
Twitter user rankings
Tweet Binder gives more than 8 Twitter user rankings. These rankings are perfect to know your audience and detect the top Twitter accounts. They come in very handy to detect who is posting more content about your event or campaign. In this case, these rankings show which users had the biggest impact in this hashtag. As usual, they're mostly celebrities or accounts related to the MTV EMAs. Here are the categories that you can have access to: 
Most Active

Retweeters

Original Tweets

Most Popular

Highest Impact

Top Photographers

Certified Users

Top Engagers By RTS

Top Engaged By Likes

Most Mentioned Users

Most Retweeted Users

The Most Liked Users
For the first three, the users are mostly fans and followers, but for the others, it's mostly certified accounts and celebrities. Niall Horan has the lead in 5 of those categories ( Most popular, certified users, top engagers…) other than that, then it's MTV, MTV_EMA, and NCTsmtown_127 that have the lead. 
If you want to try and create your own report you can do it in the following search box. Just type the term, hashtag or account you need to Twitter monitor and it will give you a report. A useful feature of it is that it allows you to use the Twitter advanced search on it. This search box will give you a free Twitter report of up to 500 tweets from the past 7 days.
Most popular pictures of the MTV Music awards
The term #MTVEMA became a Twitter trending hashtag very quickly. Tweet Binder classifies the pictures by the number of likes and the number of retweets they have received. In this case, then the pictures that have gotten the most retweets and likes are pictures related to the MTV EMA, whether it's an award or a celebrity. Here's an example of the pictures that are the most popular.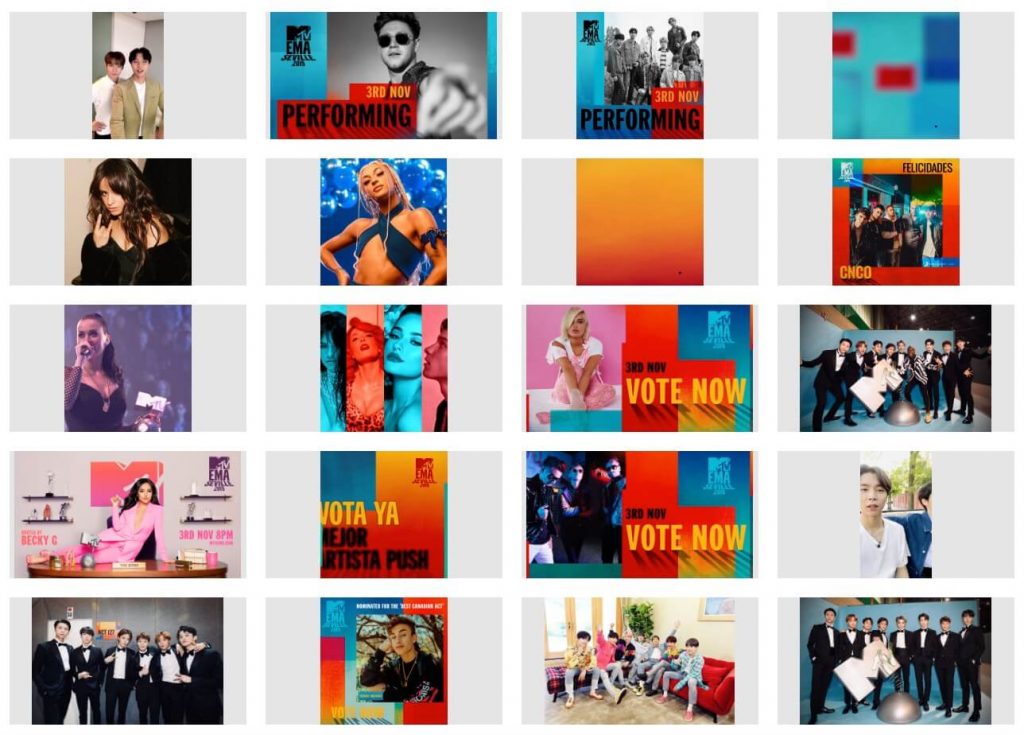 For the first one, the picture is posted by the @NCTsmtown_127 account which is actually one of the top engaged by RTS. This shows that the account probably was one of the top accounts only because of the pictures that they posted. Other pictures that have gotten the most likes and retweets are pictures sent by the MTVEMA account or BTS.
Twitter economic metrics
Tweet Binder has a unique metric that tells you how much a Twitter account is worth. The economic value of the hashtag stands for the amount of money you should have spent in the market in order to get that number of tweets with that number of Twitter impressions.  The total worth of tweets that are related to the hashtag amounts to $8,036,488.58. This means, that if you wanted to get the same reaction and commotion around your tweet or hashtag, you would have spent $8 B on it. 
The average tweet value is over $6K, and the average user's value is $3.77.  All in all, 76% of the tweets that were posted for the MTV EMA were worth $15 or more. Which is quite expensive. You also get the top 10 most expensive users and the top influencer's worth. For this hashtag, the most expensive tweet is that of Nial Horan, and here it is:
Performing at #MTVEMA on Nov 3rd , can't wait ! @mtvema pic.twitter.com/mg5ntPHvAz

— Niall Horan (@NiallOfficial) October 22, 2019
If you want to know how much your Twitter is worth or how much anyone's Twitter is worth, these are the stats you should be looking at.
Additional Twitter rankings
After having done a deep Twitter analysis of the hashtag, Tweet Binder reports goes beyond that. The aim of these reports are to give as much Twitter audience insights as possible. They provide seven additional rankings to know better your performance. Here there are two unique rankings that are the age of the Twitter accounts in the report and the length of the tweets. 
MTV EMA awards Twitter sentiment analytics
Tweet Binder also gives a twitter sentiment analysis of the analyzed tweets. This is a PRO feature that will tell you how positive or negative your report is. The difference between Tweet Binder's Twitter sentiment analysis and others is that we take into account the impacts generated by the users who have participated in the hashtag.
Tweets per contributor
This ranking is a distribution of the number of tweets and the number of users who have sent those tweets in the report. 
This one shows how many tweets were sent per person, and how many people send it, it's divided into 7 categories, people who have sent 1 tweet, 2 tweets, 3 tweets, 4 tweets, 5 tweets, 6 tweets, and more than 6 tweets.
Contributor influence
Classification of users in the report by the number of followers they have. The second one shows the users and how many followers they have. And it's divided into 7 categories as well. Users who have less than 10 followers, one who has less than 50, ones who have less than 200, less than 500, less than 1000, less than 5000, and more than 5000.
Age of the Twitter accounts
This metric tells you the number of years users who contributed to the hashtag have been on Twitter.
This one shows you how old is the account of the contributors, for the MTV EMA, the accounts that were less than one year old amounted to 111,915 contributors, in the second place, comes the account that was less than 2 years old with a number of 79,743 contributors, in the third-place comes accounts that are older than 6 years, and they amount to 73,829 accounts.
Length of the tweets
Want to know if people are tweeting large tweets about your event? Then this is your ranking. This tells you the number of characters of the tweets inside the report. It is a new ranking added to our tweet counter tool.
For this one, it shows the length of the tweets. The tweets that are less than 40 characters were more than 7K, the ones that are less than 80 were more than 11K, and the ones that are less than 120, were more than 6K. So, this means that most tweets were short and even impulsive. 
Top 10 hashtags
It is very common to post more than one hashtag in a tweet. With this ranking, you will get to know the hashtags that were used along with the one you are analyzing. For example, for this hashtag, here are the top 10 hashtags: 
#mtvema with a number of 1,263,313 tweets

#nct127 with a number of 575,645 tweets

#nct with a number of 553,512 tweets

#doyoung with a number of 75,066 tweets

#jaehyun with a number of 65,634 tweets

#nctinspain with a number of 58,533 tweets

#bts with a number of 44,417 tweets

#johnny with a number of 44,300 tweets

#mark with a number of 35,356 tweets

#nct127emas

with a number of 22,874 tweets
Top 10 languages
K-pop is everywhere. And this ranking proves it. The first two languages are English, and Spanish with 893,516 tweets and 132,754 tweets, and the fourth is Korean. It has more than 54,000 which shows how much Koreans are proud of their BTS boy band.
Top 10 sources
This one shows what devices twitter users use to post tweets. You've got Twitter for Android as the leader, Twitter for iPhone as the second, twitter for Web app in the third place, and twitter for iPad in the fourth place. 
Most retweeted tweets of the MTV EMA Music awards
K pop is everywhere. It is undeniable the popularity these groups are gaining among youngsters. This year, NCT 127 broke Twitter at the MTV EMA awards. They tweeted several tweets about their visit to Seville and their community responded. This account had the most retweeted tweets of the gala.
Amazing experience 💚#NCT #NCT127 #DOYOUNG#MTVEMA @mtv @mtvema pic.twitter.com/JKWDZLyt5i

— NCT 127 (@NCTsmtown_127) November 4, 2019
Amazing time in SPAIN🇪🇸
Gracias!!#NCT #NCT127 #JAEHYUN#MTVEMA @mtv @mtvema pic.twitter.com/GleI9Lx9wC

— NCT 127 (@NCTsmtown_127) November 4, 2019
🧡🧡🧡#NCT #NCT127#MTVEMA @mtv @mtvema pic.twitter.com/AS8O4NYTLh

— NCT 127 (@NCTsmtown_127) November 4, 2019
So, all in all, the Twitter Analysis with Tweet Binder shows everything you need to know to analyze a campaign and to understand a certain hashtag, its potential tweetreach and its users. So, what are you waiting for?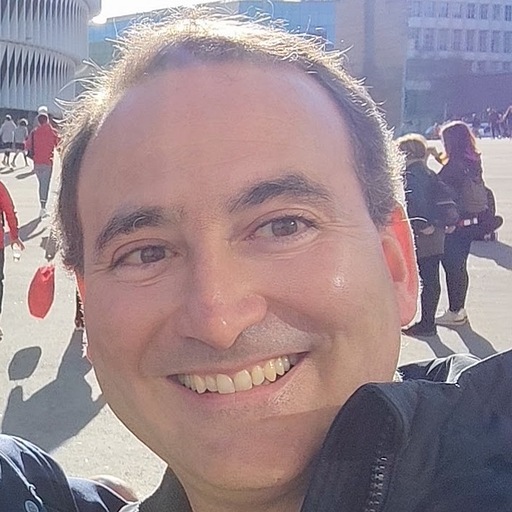 Javier is the founder and CEO at TweetBinder. With more than 10 years of experience in Twitter Analytics space, he is on the mission to build best-in-class Twitter marketing tools helping X community to thrive.