This post is also available in: Español (Spanish) Français (French)
How can I know who participated in my hashtag?
Often when we launch a campaign or an event on Twitter we use a hashtag (genius). The Twitter audience insights now are deeper. That's why our goal will be to create engagement between us and the people sending tweets with our hashtag (genius too). Back in the day by just creating a brand hashtag, people engaged easily but nowadays it is a bit more difficult due the huge amount of brands and events hashtags in Twitter. We have talked in other posts of this blog how to calculate the number of tweets of a hashtag in Twitter. Today will be the turn of knowing "who", we want to know who were the people who sent tweets using our brand or event hashtag. We want to dig in the Twitter audience insights with our users rankings. We want you to know your Twitter followers.
Our goal is to find out the contributors of our hashtag, those who added content or just retweeted. Once we know who they are we can contact them to create even more engagement. To contact users is a great way to make them loyal fans of our brand but be careful, contacting them in a bad way can lead to lose them forever. Just be normal ok?
Today we will see how can we the contributors in a hashtag by using Tweet Binder. The Tweet Binder analytics platform for Twitter comes with a great number of users rankings categorizing all the contributors of a hashtag in categories based on popularity, Twitter engagement, activity, etc. The solution to get Twitter audience insights? Yeah! As we always say, you can learn how to use Tweet Binder to know all that by just keep reading this article or you can just skip this process and go directly to Tweet Binder and start playing around with the tool which we hope you find useful (It is free by the way):
Get you Twitter audience insights now
Original users VS retweeters
First consideration when analyzing a hashtag on Twitter.  There are two types of content basically:
Original tweets: they add content, they can be pictures, links, just text or a reply.
Retweets: they do not add content. They just repeat another original tweet.
Although we know analyzing Twitter audience insights is really important. So is the content shared. This is important because if we are running a campaign, we would need to know who are the people who actually create the content who are those who just repeat the content of other. We are sure you're wondering: "what is better? To have retweets or original tweets?" there is no easy answer for that because it will always depend on the goals of the campaign. Sometimes you want visibility (retweets are welcome) sometimes you want original content, for example in a Twitter pictures contest.
Getting Twitter insights – Users rankings
As we said, users are key on our communication strategies and Twitter marketing campaigns. They add the content and the brand has to be aware of that, they have the power basically. Twitter hashtag analytics gives us the power to know who they are. We know that we'd be lost without our customers and followers. In fact, in our case, we have become what we are thanks to their ideas and support. Twitter Listening it's very important, in the case of Tweet Binder as a company we have always monitored all the tweets around our brand looking for new ideas, corrections or even inspiration. Conversation is necessary and, also, research. And here is where our Contributors rankings can be crucial. They can be you ally to obtain Twitter audience insights.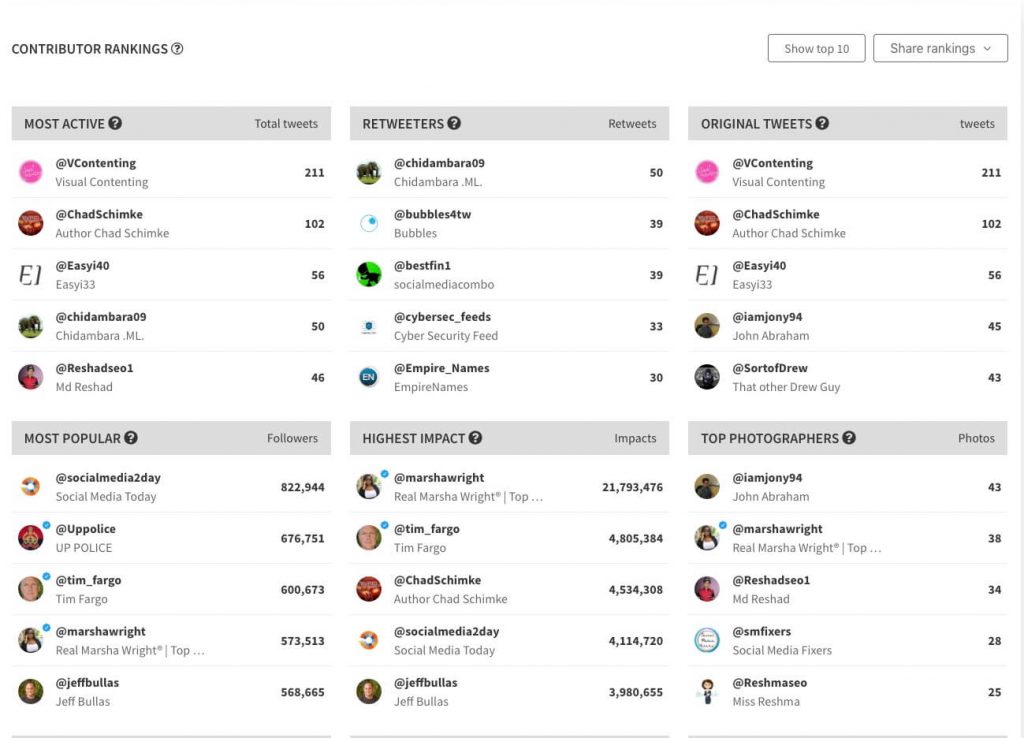 Creating a report on your brand, keyword or hashtags you'll be able not only to get to know your, detractors or potential customers but also you could detect different types of users. We will see now how many users rankings we can obtain with Tweet Binder, they can be classified by:
Activity: depending on the type of content they shared and the number of tweets they sent.
Impact: this will classify the users depending on the impacts they generated. Impacts, or impressions, are calculated by multiplying the number of tweets or RTs by the number of followers of the contributor.
Popularity: based on the number of followers and on the verification of the account.
Engagement: This will be a way to see, among the original users, those who drove more engagement in form of likes and RTs. Also Twitter mentions.
There are also rankings related with the economic metrics. Yes, with a Tweet Binder report you will be able to know how much a Twitter account is worth. You will be able to detect influencers or relevant accounts that have participated in your campaign. Let's see now how many users rankings are in a Tweet Binder Twitter report.
Twitter users rankings based on Activity
When creating a Twitter report the timeline is revealing. Being able to detect the activity and the Twitter audience insights that point out the top moment of the analysis too. There are several rankings here:
Most active users: these are the users who have sent more tweets using the hashtag. In this case, original tweets and retweets are mixed.
Retweeters: this ranking shows only the users who sent retweets, those who retweeted an original tweet which contained the hashtag.
Original tweets: contributors who sent the highest number of original tweets. These are the ones who added content, text tweets, pictures, etc.
Top Photographers: users who sent the highest number of pictures.
Twitter users rankings based on Impact
These are the users who generated more impacts or Twitter impressions. This will depend on the number of Twitter followers and the number of tweets (or retweets) sent with the hashtag. This is why it is so important to know your Twitter followers.
Highest impact: users who created more impressions of the hashtag (tweets x followers)
Twitter users rankings based on Popularity
In these case we have two rankings. Popularity on Twitter means followers, that's the most common way to measure. In fact, it is one of the top Twitter audience insights requested by clientes. But remember that the top Twitter accounts sometimes are not the most followed. The two rankings that Tweet Binder offers in its Twitter impact reports on a hashtag are:
Most popular users: based on the number of followers
Certified users: this indicates those users who are verified by Twitter (that mesmerizing blue ribbon)
Twitter users rankings based on Engagement
We ate Tweet Binder love engagement. We love it and we love the word, it sounds so good. Engagement on Twitter comes in many ways and in our Twitter impact reports we have created several rankings that order users based on it. Because Twitter audience insights are worth a special place in our reports. These rankings are:
Top engagers by retweets: these are the users who go more retweets per tweets. It is the average number of retweets per tweet.
Top engagers by likes: similar to the previous ranking but for likes. Users who got the highest number of likes per tweet.
Most mentioned users: users who got mentioned the most.
Most retweeted users: users who got the highest number of retweets; this is not the average number, it is the total one.
Most liked users: similar to the previous ranking but for likes. These are the users with the highest number of likes in their tweets, total number.
These rankings are great because if there is a case of one user who sent 1,000 tweets to the hashtag (too man, we know, but for the example is good) and it gets 200 likes in total, the average number of likes per tweet will be 0,2, so in the "top engagers per likes" it will be at the bottom. However, in the "most liked users" it will be surely in the top. This is very important and it is necessary to have it in mind when analyzing hashtags on Twitter: many likes (or retweets) in the ranking of total likes doesn't mean high engagement sometimes.
Know your Twitter followers
So, if you are an account manager or a social media manager or a regular user, you should know that you have in your hand a way to know your audience. Imagine now that in the previous example we don't use the hashtag #SocialMedia but your brand name, you will see who is talking about you and who is driving engagement. By doing a good Twitter analysis you will be able to:
Get to know your audience
Realize if the influencers you work with are really making a difference
Check who is helping you to grow and be known
Reward your brand ambassadors
Twitter (and Tweet Binder) makes no sense without the contributors who add the content. It's up to us to take advantage of the information they share and find out how to improve our relationship with them beyond a "follow". Getting to know our Twitter audience insights is relevant and possible with Tweet Binder.
The best thing is that you can know your Twitter audience from many years ago. If you are wondering how to search old tweets to see who your audience was back in 2009, you can do it with Tweet Binder. Just request a Twitter historical report and start analyzing your users and see what they had to say back then.
How to create a Twitter analytics report to know the contributors of a hashtag?
To know who participated in your hashtag you just have to follow some very simple steps. Of course we will be using Tweet Binder for this example.
Go to the Twitter analytics platform of Tweet Binder.
Log in using your Twitter account
Insert the hashtag you want to analyze in the big search box and click "create report"
Wait and you will be taken to the Twitter analytics report.
Scroll down and you will see the "CONTRIBUTOR RANKINGS" tag with all the rankings there.
Are we aware of the amount of Twitter dataset that we provide when we tweet? Do we know the potential of our tweets? We may think that we control what we share but reality is that every time that we click the Tweet button we are offering very valuable content and information. That's why using a Twitter analytics tool in order to obtain twitter audience insights should be mandatory. Your followers or Twitter users don't just tweet. Every tweet has a value. So do every Twitter user.
Twitter metrics to get to know your community
Twitter is one of the most popular social networks nowadays. What is more, Twitter has become one of the most used channels for information resource. On the one hand, because an incredible number of users share diverse information and content in real time. On the other hand, because authoritative users play an important role in it. Thanks to users, we have access to useful information in just one click. Such as Twitter audience insights.
For this reason, it is important to recognize our users and community. Understanding your audience is a necessary step when implementing any marketing strategy. Fortunately, Tweet Binder can help you with this task. Our Social Monitoring tool offers up to 8 user rankings per report so let's go into detail about these Twitter metrics.
Try Tweet Binder to analyze a hashtag
Social Monitoring tool for Twitter and Instagram
It is important to remember that Tweet Binder works with Instagram and Twitter metrics. For that reason, we offer information about users in both social networks. Every report on Twitter includes up to 6 user rankings and 2 extra rankings that display the most retweeted and most mentioned users.
Our Instagram reports also provide valuable information about our community. It shows 8 user rankings based on the activity and number of followers. Moreover, the excel documents will include all that information. You will have the possibility to delve into all this information. In addition, you will know the activity related to each user to analyze the level of penetration and engagement.
User rankings on Twitter
There are no limits if we talk about Twitter metrics. First of all, we can analyze any term, hashtag or account. Besides, there is no time limit because we offer historical data and real time campaigns. So, you have access to countless information to study and meet the users who take part in your campaigns or events.
For example, if you are analyzing an event, you can detect all the attendees who have shared content and are your target for future editions. If you are tracking your mentions, you will discover the complete list of the users that have interacted with you. Discover all the user rankings by reading the following list.
User rankings based on the activity
Most active: People who sent more original tweets or retweets.
Most retweeters: People who sent more retweets with the hashtag.
The most original: This ranking shows users sorted by the number the number of original tweets (those that are not retweets) they have sent. These users share original content and it is important to keep that in mind. For example, this ranking is really useful to assess the activity of our influencers. Are they sharing good content? We can find out in just one click.
Top photographers: Users who have sent the highest amount of photos.
User rankings based on followers
Most popular users: Big accounts that have interacted with us or our hashtag. It is important to have these accounts in mind for the future. Know your Twitter followers and get to the top of this list.
Highest impact: Users who generate the most impacts (potential number of times that the hashtag could have been seen).
We offer two extra user rankings that display the most retweeted accounts and the most mentioned users. Besides offering these user rankings, we also allow the use of the Twitter advanced search. For example, you can use it to search the tweet with most retweets of a hashtag.
User rankings on Instagram
Instagram is being more and more used by marketing professionals. In addition, it is the top social network for influencers or campaigns with clients. Companies and agencies have to know who their clients and users are. For this reason, it is also very important to analyze the user rankings in the Instagram report. The online report gives you the following rankings of up to 5 users.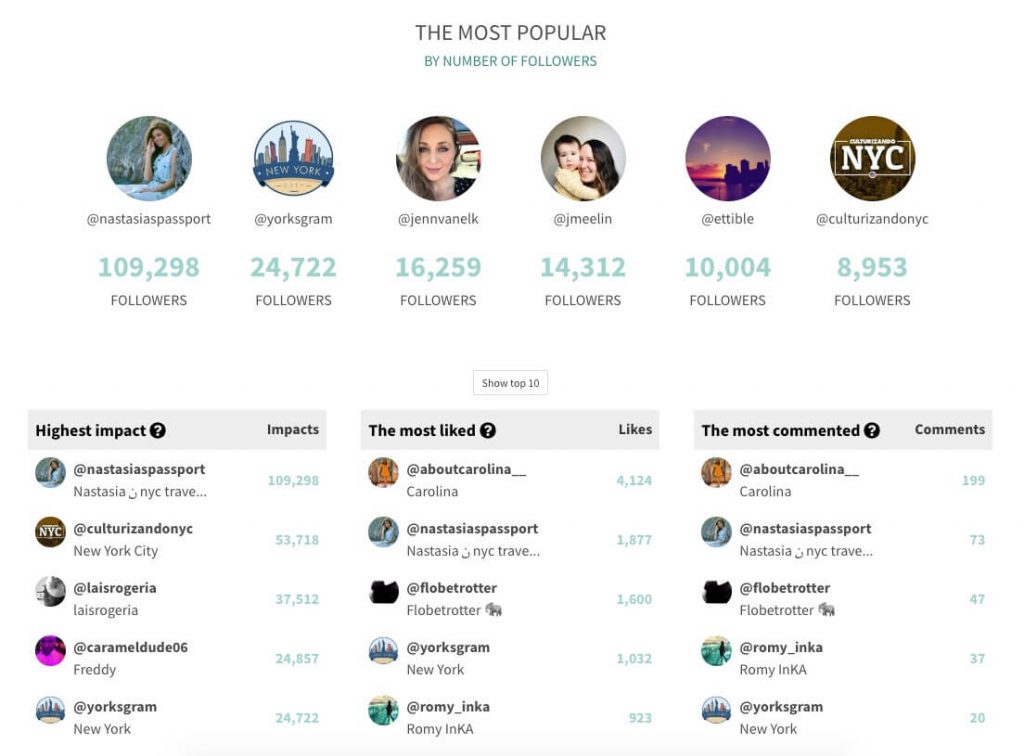 The most active: Users who sent the highest amount of posts (pics and videos)
The most popular: Users with the most followers on Instagram
The highest impact: Users who generated the most impacts (number of post x followers)
The most liked: Users who received the highest number of likes
The most commented: Users who received the highest number of comments
The top photographers: Users who sent the highest amount of pics
The most tagged: Users with the most tagged photos
The recorders: Users who sent the highest amount of videos
Do you need to discover your community? As you can see, our impact reports offer value information and user rankings. If you need more info, do not hesitate to contact us anytime. We are open 24/7.