This post is also available in: Español (Spanish)
It's hard to think about a campaign or a brand that has not recently worked with an influencer. It's even harder to believe that becoming an influencer is a thing now. The definition of influencer is very complex. You can like them or not, but they are a trend. In fact, Instagram influencers have become the best ally of well-known brands. One image posted by a top Instagram account may be worth more than a regular old marketing campaign. Times are changing and so is the influencers' world: microinfluencers have arisen to become the new trends! And we have the perfect Instagram analytics to help you to get to know them.
What is Instagram influencer marketing?
Recently, the influencer marketing has become one of the preferred online marketing strategy by brands and agencies. There is no doubt of its positive points. First of all, we can obtain more credibility from the message and there is also a more direct connection between the brands and the followers. Moreover, it is an easy way to show the product experience. The growth of influencer marketing has brought the increase of the influencers too. Identifying and, above all, analyzing their activity is a priority for agencies.
For this reason, measuring the activity of the influencers is a real necessity. Thanks to our tool, it is possible to have a look of, whether or not, the expectations have been fulfilled. Thanks to the analysis of hashtags on Instagram, we value it almost immediately.
Influence Marketing – Why is it so important?
Instagram is the favorite social network if we talk about the power of the image. Thanks to its growth, the advertising campaigns with hashtags on Instagram are becoming more and more common on Instagram. Moreover, influence marketing is one of the most used and successful strategies in any marketing campaign. The most important question is: Is it helpful to associate my brand to a relevant user on Instagram? No doubt, yes. It will help us to make our product or services known in an effective way. However, we can not forget that this strategy needs to be planed from the beginning. What's more, we will have to set up the appropriated Instagram hashtag analysis.
Hashtags on Instagram: How to launch the campaigns with Instagram influencers
First of all, we need to determine the goal of our collaboration with the influencer. We can be looking for a higher level of conversation, higher level of engagement … We can also be expecting to increase the community within the followers or to get a punctual impact. In any case, we have to decide what we want to achieve to determine which influencer is the best to represent our brand.
It is obvious to say that the person we want to work with must resemble to our 'potential client'. It is necessary to know our target in order to link our product to the perfect influencer. Whether by the lifestyle, tastes and hobbies or knowledge. Our ambassador has to feel connected with the brand (use it in his daily life and integrate it naturally). The marketing campaign will be more natural and won't seem like a traditional commercial if all explained before is aligned.
#sponsorizzatowarnerbros is a really good example of this type of collaboration. The Italian influencer and It girl published a pic using the Waner Bros hashtag. In this way, all her followers notice that she trusts the brand beyond the advertising campaign itself. The hashtags on Instagram help to label the conversation and promote the interaction between her followers.
https://www.instagram.com/p/B7_lECdIQow/
Some brands rely on Instagram influencers to boost their impact. To amplify their campaigns and become more known. But a Instagram campaign as any marketing campaign needs to be measured. Instagram offers its own metrics. However, there are Instagram analytics tool the add value to those statistics. In fact, Tweet Binder analyzes Instagram hashtags and includes: complete stats, users rankings (great to check the Instagram influencers post performance), top publications… As Chiara Ferragni's there are more publications with the hashtag. We have done the following Instagram hashtag analysis report.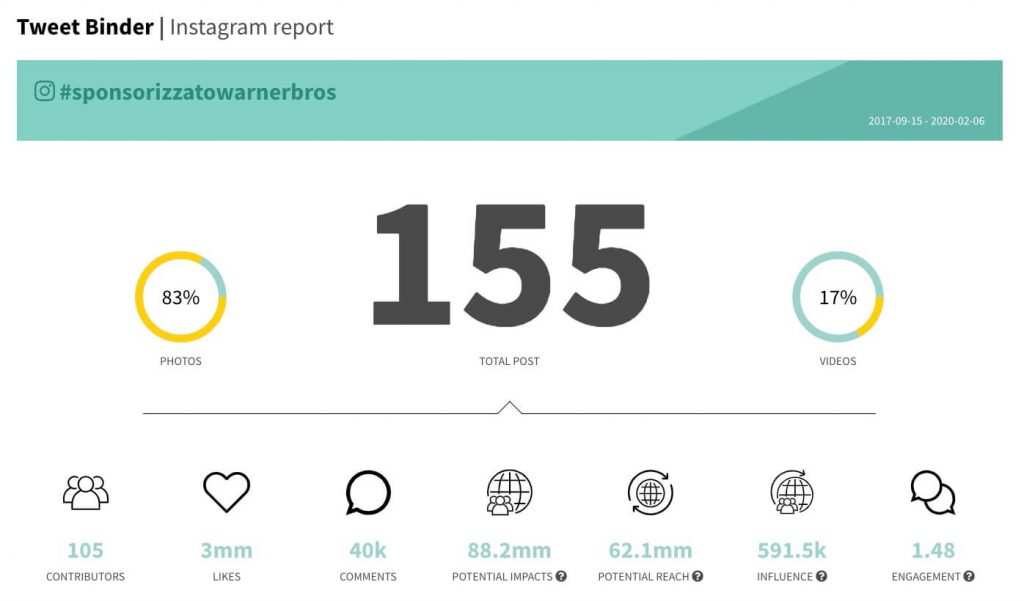 Number of post: 155 post of which 83% are images and 17% videos.
Users: #FantaByUs has been used by 105 users.
Amount of likes: 3,079,411 likes.
Impacts: The potential number of times the users have seen the hashtag 88,251,948 in total.
Reach: The potential number of people who have seen the hashtag. This campaign reaches 62,109,982 users.
Influence: Average of followers per participant. The level of influence is high: 591,524.
Engagement: Each user has shared an average of 1,48 post.
A campaign's Instagram microinfluencers
On the one hand, when we think about influencers we also think about money. Well, we may think about the budget that the brands and companies invest on Instagram posts. It is true that the revenues generated by a publication sent by an influencer are supposed to be worth it. But it is also true that not everybody is capable of working with Instagram influencers to boost its sales. That's why microinfluencers are starting to gain relevance. They are not enough "famous" but they can generate impact. With over five thousand Instagram followers microinfluencers are becoming the new trend.
On the other hand, Instagram has over two hundred million users. Thinking about finding out mircroinfluencers may be daunting. However, you can easily detect them if they participate on your campaigns. Tweet Binder Instagram analytics reports are going to become your best friend for that matter. We can analyze any hashtag and we provide complete data. For instance, a complete list of the most popular users that have shared content.
Yes, those may be influencers. But we also provide an Excel file that includes all the users that have published posts and its most detailed information. From its username to how many posts they have shared or, what's the matter here: how many followers they have.
Detect Instagram microinfluencers related to a topic
You may not be at the point of launching a campaign or Instagram contest yet. You first want to consider and discover those who may become your customers. Focusing on the right target is key to success. Tweet Binder can also help here. We have pointed out the huge amount of users that Instagram counts with. It's huge! However, once we have chosen our market, we can act accordingly to it. We can create Instagram reports for the hashtags related to your main topic. Then we can create a microinlfuencers data base according to your requirements. It may seem quite complex but it is totally factible. In fact, we can even locate where your potential microinfluencers post from.
Instagram hashtag analysis with Tweet Binder
Finally, it is important to analyze all the hashtags on Instagram launched to associate our brand with an influencer. Tweet Binder offers the most complete Instagram hashtag analysis. We include all the general statistics, up to eight rankings of users, geolocation and rankings of publications according to the number of likes and comments. All this information will help us to assess the success of our campaigns and to make smart decisions in the future. If you need to analyze hashtags on Instagram, do not hesitate to contact us at Tweet Binder.
Either way, Tweet Binder can be the solution to your nightmares trying to reach out microinfluencers. For a campaign or for a specific topic, we have a compete Instagram analytics tool to help you. It even allow to monitor Instagram hashtags in real time. From now on, we are sure we can become a trend for you when you think about finding microinfluencers.
Analyze you hashtags on Instagram!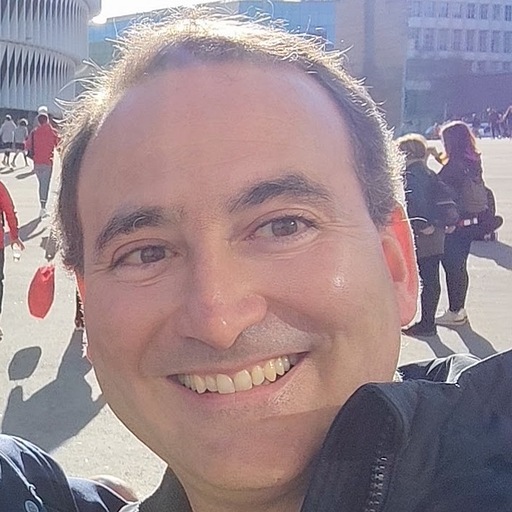 Javier is the founder and CEO at TweetBinder. With more than 10 years of experience in Twitter Analytics space, he is on the mission to build best-in-class Twitter marketing tools helping X community to thrive.