This post is also available in: Español (Spanish)
Are you looking to analyze Instagram likes?
If you're up-to-date with Instagram's news, then you've certainly heard of Instagram's decision to remove likes. Instagram has been testing since last July removing likes and how it would affect users, celebrities, businesses, and influencers. Only recently, Adam Mosseri who is Instagram chief, announced that this testing will no longer apply to Canada, Japan, Brazil, New Zealand, Italy, Ireland, and Australia, now it would expand even to the US. 
This means that users will no longer be able to see the number of likes on other users' posts. But will still be able to see the likes on their own posts. Not all users are a part of the test, of course, only some are selected. And when the experiment is over the user will be able to gain Instagram's old "like function" back. A lot of people are dreading this change, while a lot of people are embracing it and encouraging it.
Some people think Instagram's like grew toxic over the last years and made people do imaginable things just to feel accepted and valued. While other people believe that Instagram helped a lot of users gain their confidence back with these likes and feel that they're valued. Instagram on the other hand, believes that this is a positive change and the testing only revealed positive feedback that supports their decision. 
We'll be talking more about Instagram's decision later on. Also how people perceive it in more details. But first, let's take a look at Instagram's story.
Instagram likes: a (not so) long story
Instagram is a well-known social media platform to post pictures. At least, it was at the beginning when it first appeared. It emerged in October 2010 and was only available for iOS users, which means Android users didn't have access to Instagram in its early days. By April 2012 there already were 100 million active users in an app that originally was just released for iPhone.
Instagram is purely a visual social media platform, which means it only supports pictures and videos. It doesn't let users post texts as Facebook & Twitter do. Basically, an Instagram user's only able to post pictures whether they've squared pictures (original form and most common one) or rectangular pictures (a less common form). An Instagram user can post stories, post live videos, post videos, and follow accounts. The feed of every user is made of posts of users they follow, whether these posts are stories, pictures or videos. The feed is also made of sponsored posts that other accounts create, even if the user doesn't follow these accounts. When you come across a post on Instagram, you can like it, comment on it, save it, send it to another friend or follower on direct messages, or post it on your story. 
These actions lead to a new marketing and communication stage. A stage where people can gain force and become popular by the grace of likes and comments and turn themselves into influencers. A lot of users started gaining a full income by using Instagram and creating a business on it by the power of likes and follows. That is why Instagram and its analytics are a very powerful marketing tool.
In fact, Facebook couldn't miss the chance of taking advantage of it. Therefore, Mark Zuckerberg's company bought Instagram in April 2012. Now that users grew attached to the culture of like, it seems hard to imagine a world without Instagram likes. 
Instagram influence marketing 
We already have a post about influencers and their impact on marketing campaigns. Influencers changed every business's marketing game. They introduced a new way of communicating and interacting with a company's customers by using them as a façade. Influencers can make money by doing ads, being ambassadors, launching sponsored contests and so on for other companies to promote them and to engage with their own customers. How? Through likes.
In fact, Instagram's likes are the essence of influencer marketing. That is why is hard to imagine how companies and campaigns are going to work from now on if Instagram removes likes. How can a company now know how many genuine likes and genuine followers an influencer has? How can they make sure that influencer marketing will have a high ROI? A lot of questions are now making their way to oppose this Instagram's decision.
Especially since It is known that there are ways to gain and manage fake followers and ways to gain fake likes in order to fool followers, companies, and strangers. There are a lot of applications out there that promote fake likes and fake followers. So, how wise is Instagram's decision? Are we supposed to just like the content?
Now: Instagram starts hiding likes
It's been said before, Instagram recently announced that they are going to delete the option to like a post. Something pretty controversial. And, somehow, a risky strategy. Given that their market and value, somehow, reside in it. Imagine Instagram's account that shows no likes? How would it feel like? Very weird, right? At least, that's the opinion of a lot of people out there! Especially influencers. Influencers are probably the most people who'll be affected by this decision. Influencers out there, who are solely Instagram-oriented, make most of their income by promoting other businesses and making sponsored posts.
That means their income will be cut short and will be highly affected. So, what does Instagram profit from this decision?A lot of people argue that Instagram's decision to remove likes is based on making Instagram a purely visual platform again. Instead of seeing all those posts that fill out our feed, Instagram is trying to make the platform all about sharing experiences. Some other people argue that Instagram is doing this to protect the mental health of a lot of its users. Instead of comparing themselves to celebrities and influencers, they can finally rest by removing the like function so they can view these accounts like any other account.
Some other users, actually argue that Instagram is making this decision because they don't profit from all the money made on their platform. All those collaborations, ads, and so on, and they get nothing from it, so, instead, they've come up with this clever solution to stop it. Whatever their reason is, Instagram surely knew how to create a controversy, and we'll soon enough see the consequences of their acts. Will they be able to retain their users, or will they start losing them little by little, that is the question?
Analyze Instagram likes with Tweet Binder
Although Instagram's likes have started vanishing from some publications, Tweet Binder still analyzes Instagram hashtags. Our Instagram hashtag analytics tool analyzes Instagram likes and gives the number of users' rankings and general statistics. As potential impressions or the reach of the hashtag. So, if you're a company that is still trying to figure out if an influencer is worth the shot or not, then Tweet Binder is here to help. With our tool, you'll be able to figure out if an influencer will bring a high ROI or not.
Instagram hashtags reports are available through Tweet Binder's website. It is a complete way to analyze and discover what's beyond Instagram likes. So, let's a look at what our Instagram report will show you in order to understand how a hashtag or account works. 
For this example, we analyzed the #pradaforadidas hashtag. And here's what we came up with: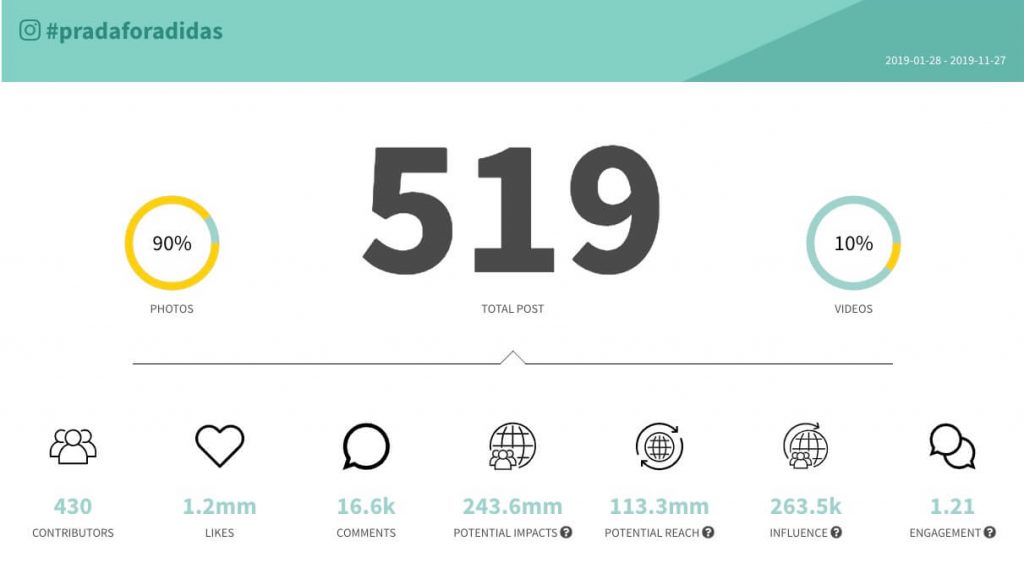 So, as you can see, 90% of the posts that used this hashtag are pictures. While the other 10% are videos. Why? Because based on statistics, photos work better on Instagram than videos on the contrary of Facebook. We can clearly see that the contributors are of 430 users. The total likes of posts that the contributors created amounted to 1.2mm likes. Even though Instagram removed the likes, our tool will still show you the number of likes a hashtag collects!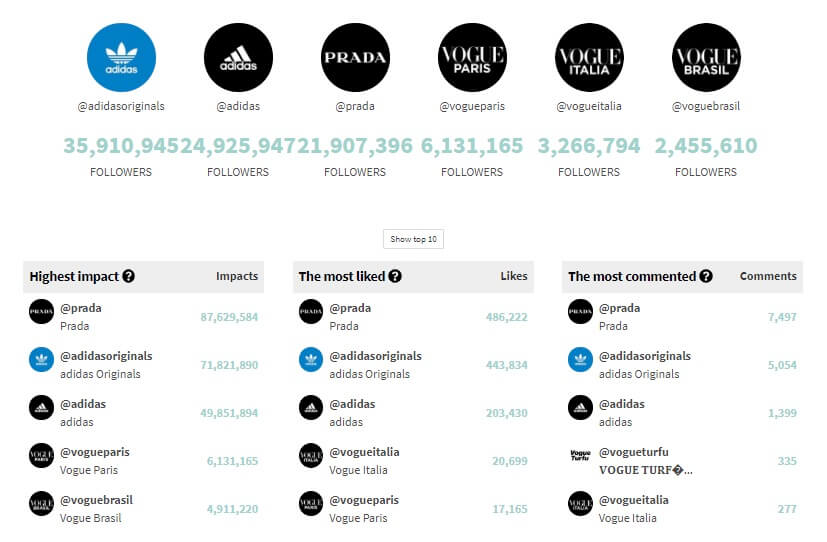 We also show you a list of ranking for the contributors based on a lot of criteria like likes. In the most liked section, these top 5 users out there are the users that got the most likes on their posts with the hashtag #pradaforadidas. And it's no surprise that these users are accounts of Prada, Adidas, and Vogue. These accounts are already very popular and have millions of followers, which explain this ranking.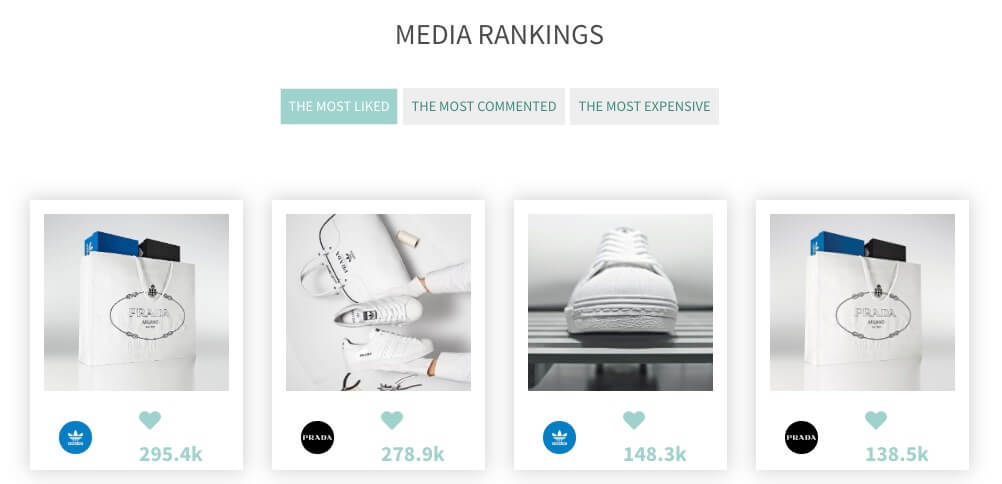 You also get access to media rankings. These show you the posts ranked by number of comments or likes. In this case, we chose likes as a criterion and here are the posts that ranked the best. All these posts belong to Prada & Adidas's accounts which reinforce the analysis we've shown earlier of the accounts that ranked the best for "the most liked users". 
Conclusion
You also can clearly see the number of likes these posts collected. Even though Instagram is now currently testing removing likes. So, no matter if this decision takes place or not. If you use our tool, you'll still be able to see the number of likes on a post. So, beat Instagram's decision, and choose Tweet Binder!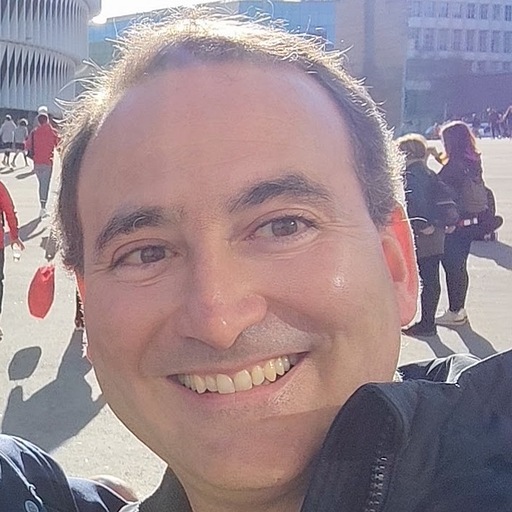 Javier is the founder and CEO at TweetBinder. With more than 10 years of experience in Twitter Analytics space, he is on the mission to build best-in-class Twitter marketing tools helping X community to thrive.