This post is also available in: Français (French)
What is an Instagram tracker?
Instagram is the most used Social Network nowadays. It is difficult to find someone who does not own an Instagram account. Same thing happens with brands. Every company has an official account to stay connected with they customers and potential clients. And this is the main reason that makes it important to keep track of what is being said. Hashtags, followers, likes and comments need to be tracked. If you run a campaign but do not analyze what is being published, later on you won't be able to make decisions. So, this leads to the aforementioned question: what is an Instagram tracker?
The term Instagram tracker can be related to any app or software which can keep track of Instagram stats. So, for example, Tweet Binder is a good Instagram tracker app to get analytics for hashtags. By creating an Instagram hashtag report you will get complete insights on any hashtag. There is no need to say how important this is for marketing and communication campaigns.
Try our Instagram tracking reports
There are other platforms out there that keep track of the instagram followers growth and drop. This another thing that is important to bare in mind because a brand needs to stay aware of their community. With a Tweet Binder report, a company can keep track of their followers because each report comes with an Excel exportation. In that Excel, there is a complete list of users that have participated in the campaign. Each user comes with its number of followers. So, if you run a report today and another report in two months, you can see if the number of followers has increase or decrease from one report to the other.
The power of Instagram
Instagram has become one of the most powerful tools to share and raise people's awareness. We are 24/7 exposed to that content. Any message arrives really quick thanks to its immediacy and closeness. As you already know, Tweet Binder can analyze any hashtag on Instagram. Thanks to this feature, you will obtain all the Instagram analytics. Our Instagram reports include all the Instagram stats around a hashtag. For that reason, they are really useful to analyze any campaign. What is more, reports display Instagram insights in a very attractive way.
Our reports are really complete and intuitive. Thanks to this analysis you will be able to discover how your campaign is doing on Instagram in just one click. First of all, you have to contact us with the main information about your campaign: Date and hashtag. Remember that Instagram reports are final reports although you can request your own updates during the time of analysis. Tweet Binder will contact you soon with your Instagram stats and the excel document with all the information.
What can be tracked on Instagram?
As was aforementioned, almost everything on Instagram can be tracked. The number of likes of a post can be analyzed. Same thing happens with the number of comments of it. Hashtags can also be tracked as well as Instagram followers and users. It is important to be aware of everything happening around our Instagram account or campaign. If we don't do so, we risk not having enough information to run later marketing campaigns.
As common Instagram users, we tend to keep track of the number of likes and comments we receive. But brands and companies need to step further. By setting an Instagram tracker for their campaign they ensure that they will have all the stats and details so see if the campaign has really been a success or not.
Instagram user tracker
One of the most important things for a brand is their community. A community is related to the people who interact with that brand. With a Tweet Binder report, a brand can keep track of the users in many different ways. For example, a good way of seeing if a brand is really connected with its community is to compare the Instagram impressions with the Instagram reach. These metrics help to have a good overview on how the campaign has evolved and the exposure it has got.
But the Tweet Binder Instagram hashtag reports also provide a wide range of user rankings which can help to detect influential users or accounts who have participated in the campaign. Our Instagram statistics app pays special attention to the information about Instagram users. That is why the report displays up to eight user rankings. Starting from their activity and analyzing their community. It is important to remember that these rankings of users are not simple lists. They include valuable information to get to know better those Instagram users who interacted with our campaign or brand. Here we summarize the rankings:
Most active users by number of posts
Most popular users by number of followers
Highest impact by number of impacts
The most liked by number of likes received
The most commented by number of comments
The photographers by number of photos shared
The most tagged by number of tags received
The recorders by number of videos shared
We have already stated that all these metrics can be exported to an Excel document. And, honestly, we have to say that there is where the magic happens. With the Excel document you can sort the list of Instagram users by the criteria that you need to and you will have the complete list of them.
Instagram hashtag tracker
Another important thing to have in mind when speaking about Instagram tracker, are hashtags. Instagram un the social network where more hashtags are used on each post. Whereas on Twitter you will find with tweets with two hashtags at most, on Instagram you won't see a post that has less than four or five hashtags. We are living the era of the Instagram hashtags fever.
With a Tweet Binder report, any client can have really interesting insights on any Instagram hashtag. Keeping track of them is a must for any marketing agency. First of all, the report shows the general statistics: Number of posts, users, number of likes and comments, impressions and reach. In addition, it displays the level of influence and commitment. It is important to pay attention at this point. We have to differentiate between Instagram impressions and reach. The impressions refers to the potential number of times that the hashtag could have been seen. On the other hand, reach makes reference to how many users may have been able to see the hashtag.
After these general stats, we have a unique Tweet Binder metric: the economic value of the hashtag. After months of study, we have developed an algorithm that analyzes Instagram users, gives an economic value to them and later gives an economic value to the hashtag and its activity. This is very useful as it gives us a good overview on the market we are handling.
Instagram statistics
Every year, we take stock of the most used Instagram accounts and hashtags. Which user has the largest number of followers? Which images have received the greatest number of likes? Music and sports celebrities occupy the top positions. The TOP 4 accounts have been Selena Gomez (over 130 million followers), Cristiano Ronaldo (over 116 million), Ariana Grande (over 115) and Beyoncé (more than 108). On the other hand, the most liked photos of 2017 belong to Beyoncé (11,214,332 likes), Cristiano Ronaldo (11,190,567 likes), and Selena Gomez (10,434,768 likes). The importance of metrics is unquestionable! It has become vital to study the Instagram stats that are behind the posts. There is no doubt! Instagram is a powerful marketing and sales tool. In this post, you will discover all the information about our Instagram analytics. What is more, you will be able to know the importance of using an Instagram Analytics app.
Tweet Binder's Instagram hashtag report comes in an url that shows all the Instagram insights in a very attractive design. We work really hard on giving the best Instagram stats so it is really easy to get the main insights and the users' information. On the one hand, the report shows the general stats such as total posts, contributors, number of likes and comments and impacts and reach. What is more, you will discover the level of influence and engagement. On the other hand, you will discover all the Instagram stats related to the users. Our reports include up to eight user rankings according to multiple criteria (activity, popularity, impact…). The reports also offer two media rankings with the most liked and most commented pics.
Best Instagram analytics app
There are several Instagram analytics apps out there. They are all very useful and provide different insights and metrics. Depending on the aim of the campaign you will need to choose between one app or another. There are apps that provide insights about followers growth or about how to increase the likes of Instagram posts. As this is Tweet Binder's blog, we will be speaking about our Instagram analytics app.
Our social media tracking tool started as a Twitter analytics platform. We provide a wide range of Twitter stats and with no date limitation. This means that any client can analyze anything on Twitter. No matter if it started two weeks ago or two years ago. However, these past years Instagram has experienced an increase of usage. This meant that company like ours needed to step ahead and develop a software to analyze Instagram content. And is how Tweet Binder became an Instagram analytics app.
We have become one of the Instagram Analytics app used by marketers and social media managers. At Tweet Binder, we work really hard to offer the most comprehensive coverage on any hashtag. Our reports are very appealing and intuitive. Even better, we can display all these stats and posts anywhere thanks to our custom projects. Analyzing a hashtag in Instagram is crucial but… Why not go further and take advantage of all that information? With our Instagram Analytics Tool it is possible and very simple.
Every digital campaign includes Instagram nowadays. There is no doubt about this statement. The total amount of users increases daily because it is the visual social network per excellence. It has also become the favorite one of young people.
Obviously, brands and companies are aware of this trend. For this reason, the resources used to enhance hashtags on Instagram are constantly increasing. Not only is it really important to get to know our Instagram users but also how the hashtag has been shared.
Fast Instagram statistics
Tweet Binder offers the most complete and fast stats for Instagram. It is possible to detect the general stats, user rankings and geolocated the posts. Moreover, our reports display the most liked and commented post. But that's not all. Thanks to our tool, you will have all the Instagram statistics about the most commonly mentioned users and hashtags. Our Instagram reports are final reports, but you can request updates during the period of time.
In a glimpse you can quickly see the general Instagram stats for the hashtag that is being analyzed. A client can see how many posts were sent with the hashtags, from how many users and how many Instagram impressions and reach were generated. This is what we call fast stats for Instagram. Once you receive the report you can have a general overview on the hashtag's behavior and evolution on Instagram.
Besides stats on the hashtag, the client also receives more than 8 user rankings that help to have good knowledge about who has participated in your campaign. Up in this posts we mentioned all the rankings that are included inside a Tweet Binder Instagram report. The report is completed with more media information (most liked and most commented post) and two extra rankings showing the top 10 related hashtags and the most used filters.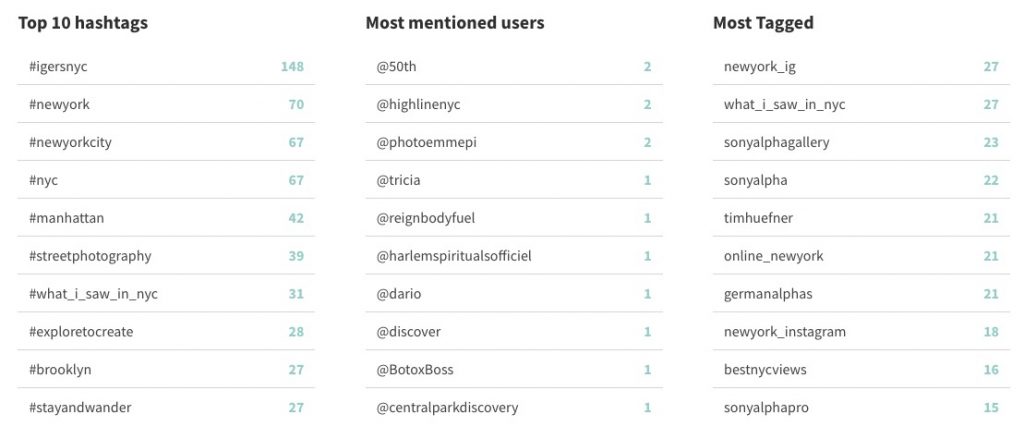 Instagram tracker app
As was aforementioned, Tweet Binder is an Instagram tracker app that analyzes hashtags. Tracking hashtags on Instagram is really easy with our app. You have different options if you want to purchase your own analytics. We actually offer single reports and packages of reports. This way, you can choose the option that fits better your needs.
Once you have purchased your report, you will be taken to a form where you have to type the hashtag you need track and the time period that needs to be analyzed. Once that form is sent, the Instagram tracker app starts working. In a few minutes, you will receive your report (online and Excel sheet).
The Instagram hashtag report is a final one. For that reason, you can ask for updates during the period of analysis. The Instagram statistics app will create the new report in a few minutes depending on the number of posts with the hashtag.
Instagram data visualization
Besides the information our Instagram statistics app provide, we can display the publications. This means, we offer custom solutions to visualize Instagram data. On the one hand, you can display Instagram publications on a Social Media Wall. That means you can display the publications from your hashtag on a big screen. This perfect for live event and retail solutions. It has been proven that installing a Social Media wall at the venue increases the exposure of the event and enlarges its lifetime value.
On the other hand, there is the possibility to include Instagram content on a website. Meaning that you can create a site to display the publications or just an iframe with Instagram posts. Besides, we also offer the chance to connect to our Instagram API so the client gets the data requested and displays it as needed.
Either options allow the client to moderate the content. This is a really important feature that Tweet Binder has. As we have written there are millions of Instagram publications shared a day. No matter the kind of campaign or the clever hashtag you launch with your campaign, trolls will be trolls. But with our content curation panel we give an easy and effective chance to the client of deciding the content they want to show on site or on screen.
Instagram API access
We just have commented that this is something we also provide. Not only an Instagram tracker app to analyze hashtags but also the access to the raw content. It's up to the client whether they need the final Instagram report or if a json to get the data is enough. The thing is that Tweet Binder is the solution to your Instagram demands. No matter how complicated or even crazy they may seem.
---
As you can see, Tweet Binder can really help you with your Instagram analytics. By requesting a report with us, you will receive the most complete insights and an excel document. Both documents will cover your client's needs in just one click and, what is more, they will give you the perfect shoot of how your campaign is performing on Instagram.
If you are running your own campaign, do not hesitate to contact us. We will be more than happy to help you. It is important to highlight that Tweet Binder also offers Twitter reports in order for the analysis to be as complete as possible. Do you want to try it?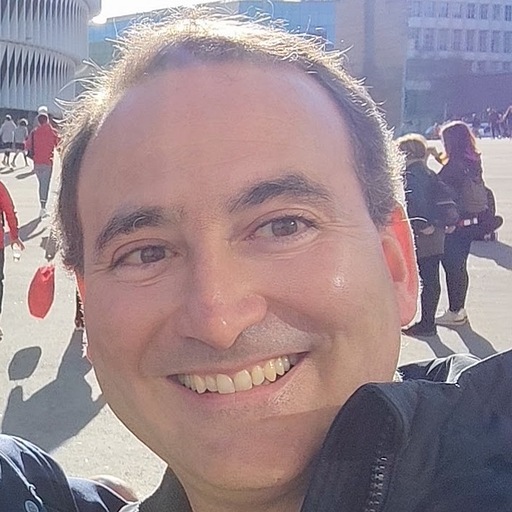 Javier is the founder and CEO at TweetBinder. With more than 10 years of experience in Twitter Analytics space, he is on the mission to build best-in-class Twitter marketing tools helping X community to thrive.