This post is also available in: Español (Spanish)
Instagram is one of the most used social media networks around the globe. There are thousands of users willing to post new content every day on this platform and there are is also millions of users that are willing to see what other users are posting. This last scenario usually happens with celebrities or artists. Instagram is a great way of keeping track of what your favorite singer is up to and what they're thinking of. In this post we are going to see a list of the top Instagram accounts in 2021.
But celebrities aren't the only most followed accounts on Instagram, you can also find online magazines with a hefty number of followers, there are some pets, like cats, squirrels, or even parrots that have millions of followers too. There's even an "Egg" on Instagram that has more than 1 million of followers, so, you should not be surprised by the fact that there are even some top Instagram accounts that are more culture-oriented just like the account of the National Geographic which is one of the top Instagram accounts in the world.
What to do on Instagram
Unless you've been living under a rock, then you certainly know what Instagram is. But, just in case, here is a reminder. Instagram is a social networking platform that was launched in 2010 for iOS users first. This platform was and still is about sharing photos and videos with your friends, family, or even strangers. The platform, later on, became available for Android users as well, and it's been successful ever since. Finding a good Instagram tracker is key for any campaign.
By accessing Instagram, you'll find out that you can follow people and be followed. And as any normal person would do, beginners on Instagram usually start by following the people they know, and the celebrities they're fond of, explaining why celebrities have the highest number of followers. Instagram is a very successful networking service, and it's always under improvement to give the best user experience possible.
Nowadays Instagram enables you to: 
Follow people

Be followed

Post pictures

Send videos 

Post on IGTV

Share live videos

Share stories that only last 24 hours

Send DMs
So, let's move on now to the most followed accounts on Instagram!
Who is the most followed Instagram account?
Instagram is all about visual content. Rather than having people expressing their opinion as on Twitter, users on Instagram expect to see great pictures, great videos, and great stories. It is inevitable that most of the top Instagram accounts are celebrities. But there are also brand accounts as well as magazines such as National Geographic. Following celebrities and magazines is one of the most common things any Instagram user could do. This way, they can stay up-to-date with what their favorite celebrities or magazines are doing or planning on doing. 
Most followed accounts in 2021
Instagram, @instagram: with 435M followers
Cristiano Ronaldo, @cristiano: with 359M followers
Kylie Jenner, @kyliejenner: with 280M followers
Lionel Messi, @leomessi: with 280M followers
Dwayne "The Rock" Johnson, @therock: with 277M followers
Ariana Grande, @arianagrande: with 274M followers
Selena Gomez, @selenagomez: with 194,129,169 followers
Kim Kardashian, @kimkardashian: with 262M followers
Beyoncé, @beyonce: with 217M followers
Justin Bieber, @justinbieber: with 202M followers
Kendall Jenner, @kendalljenner: with 198M followers
Khloé Kardashian, @khloekardashian: with 195M followers
National Geographic, @natgeo: with 191M followers
Taylor Swift, @taylorswift: with 183M followers
Jennifer Lopez, @jlo: with 182M followers
Nike, @nike: with 180M followers
Virat Kohli, @virat.kohli: 166M followers
Neymar, @neymarjr: with 164M followers
Nicki Minaj, @nickiminaj: with 162M followers
Miley Cyrus, @mileycyrus: with 151M followers
Instagram, @instagram
Yes, Instagram has an Instagram account. And it's actually the most followed Instagram account on this platform, isn't it confusing? Instagram has 333mm followers with 6,232 posts. They usually post pictures of Instagram users with a small description of what they do and what their Instagram account is about. Their bio is "Bringing you closer to the people and things you love." Which couldn't have been more accurate!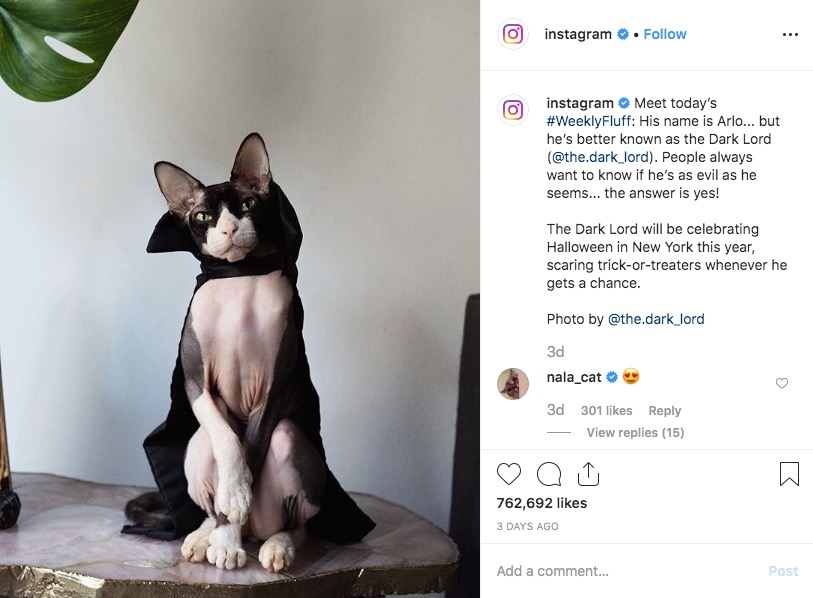 Cristiano Ronaldo, @cristiano
Cristiano Ronaldo comes in second place with 204mm followers. The football player is the most followed celebrity on Instagram and for a good reason. The celebrity keeps posting pictures of himself, his family, and his work, which keeps his follower's curiosity satisfied.
Ariana Grande, @arianagrande
This pop singer/star actually has more than 200 million followers. Ariana Grande has made history being the first woman in having more than 200mm followers. The singer likes to post about herself, her songs, and her journey.
Dwayne "The Rock" Johnson, @therock
Dwayne Johnson has 172mm followers on Instagram with more than 4700 Instagram posts. He shares all kinds of things on Instagram starting from magazine reviews to food.
Selena Gomez, @selenagomez
Selena Gomez has less of followers than Dwayne but 168mm stills a big number. She used to be number 1 on Instagram but due to not posting for a while, Selena has lost her place to all of the accounts above. However, she is back on track after releasing two great songs. We couldn't be more fans of  Lose You To Love Me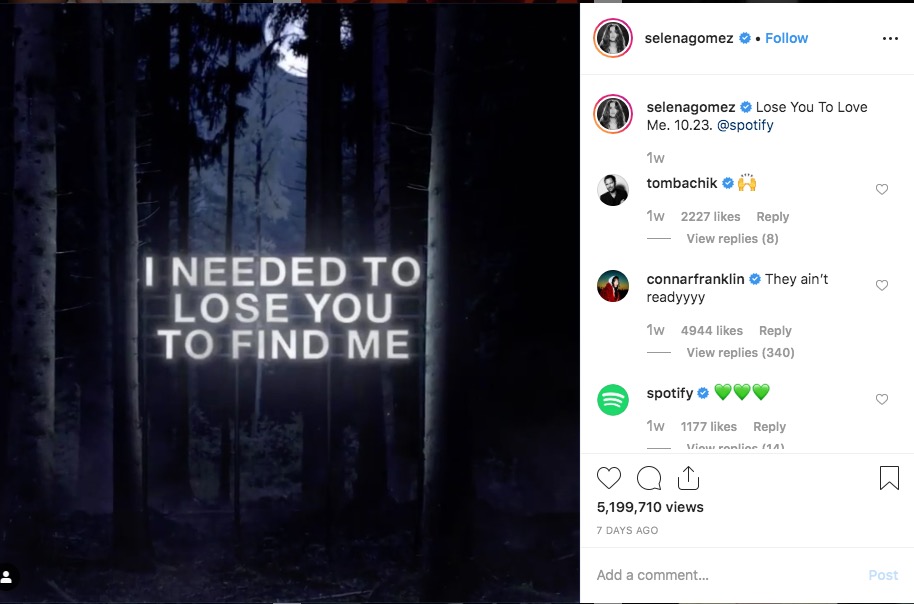 Kylie Jenner, @kyliejenner
The youngest billionaire in the world, Kylie Jenner, is the 6th most followed Instagram account with 162mm followers. The CEO of KylieSkin and KylieCosmetics shares her love for her family, daughter Stormi all the time on Instagram.
Kim Kardashian, @kimkardashian
Kim Kardashian, the lawyer, the CEO of @skims and KKWbeauty, has actually 160mm followers on Instagram. This celebrity shares posts of her family, herself, her businesses and even friends.
Lionel Messi, @leomessi
Sharing his love for food, and his love for family, Lionel Messi has gained as of now 143mm followers on Instagram.
Beyoncé, @beyonce
Beyonce has 141mm followers with 1869 posts as of now. Queen Bey knows how to rock Instagram.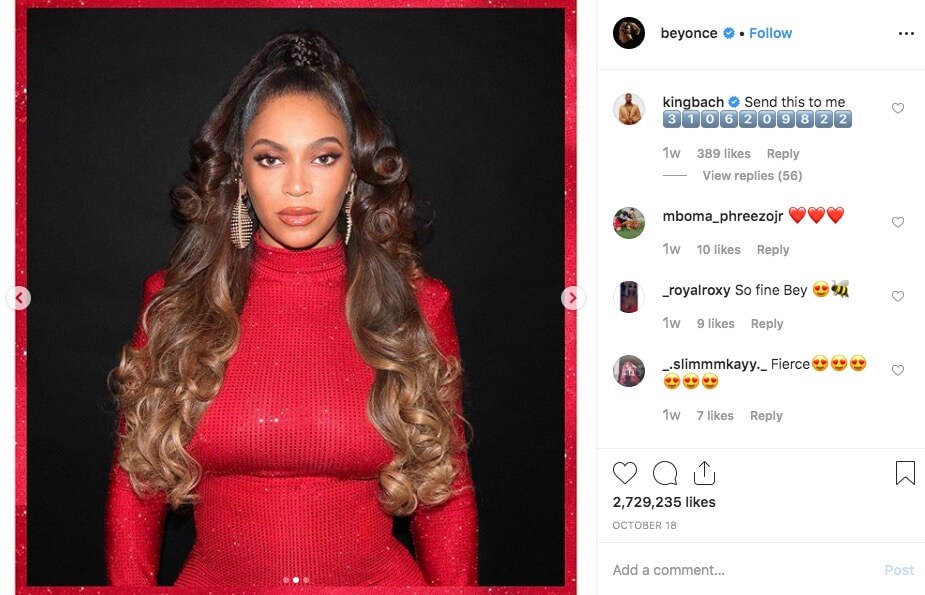 Neymar, @neymarjr
"I Love Football" is his bio on Instagram. This football player has 133mm followers on Instagram, and he's only growing more.
National Geographic, @natgeo
With 131mm followers on Instagram, National Geographic helps its followers experience the world through its eyes.
Justin Bieber, @justinbieber
Justin Bieber, the newly wed, has actually 127mm followers on Instagram with posts about his wife, his "drewhouse" and his career. 
Taylor Swift, @taylorswift
With 127mm followers on Instagram, Taylor Swift surely knows how to orientate the attention to her music.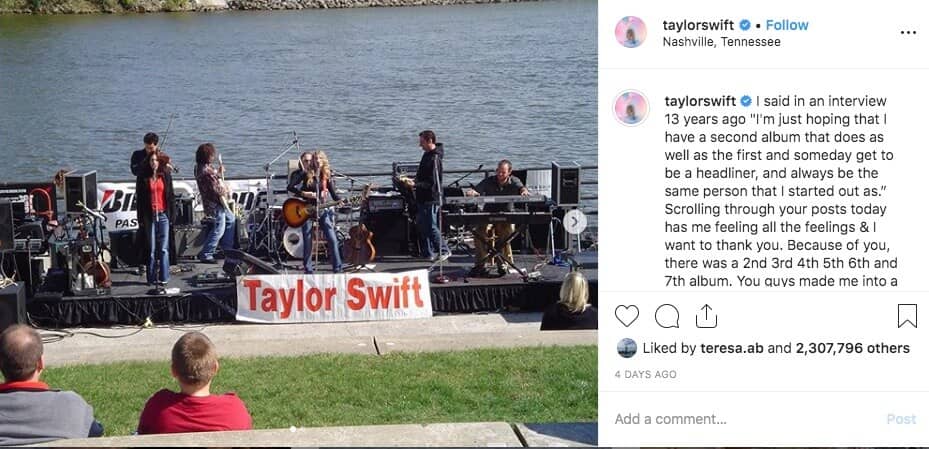 Image posted by Taylor Swift to celebrate her 13 years as a singer.
Kendall Jenner, @kendalljenner
This highest-paid model who is the sister of Kim Kardashian & Kylie Jenner has actually 123mm followers on Instagram.
Jennifer Lopez, @jlo
With 114mm followers, Jennifer Lopez sure knows how to keep up with social media.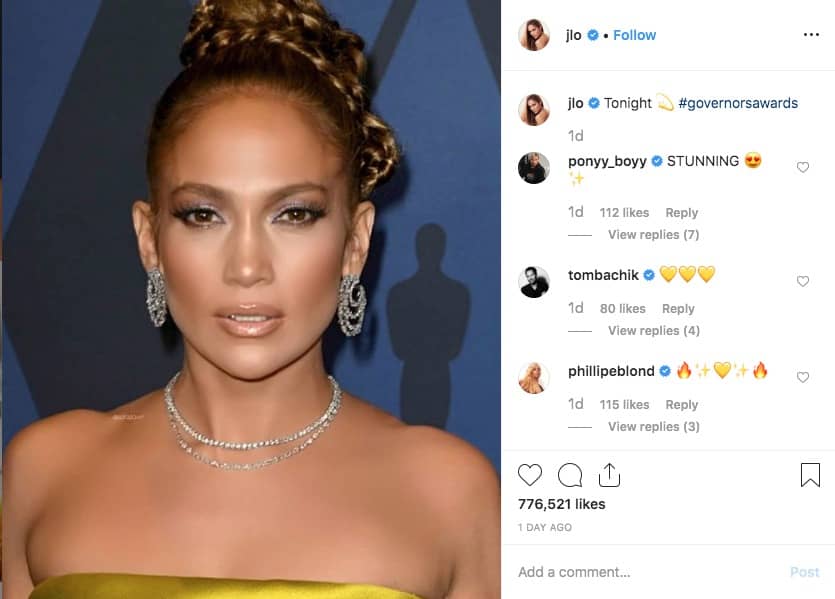 Nicki Minaj, @nickiminaj
Nicki has 110mm followers on Instagram and all of her posts are about music and herself.
Khloé Kardashian, @khloekardashian
You may already know it but the fitness guru has 105mm followers, her posts are all about her life, her family, and her daughter true. Khloé is just one of the most famous instagram accounts.
Miley Cyrus @mileycyrus
Miley has 104mm followers on Instagram and her Instagram feed is more fun than ever. The artist sure has a great sense of humor. 
Nike, @nike
Nike, the brand of the fitness gurus has 101mm followers on Instagram, if this isn't a success, then I don't know what is.
Katy Perry, @katyperry
A light worker who has 89,8mm followers on Instagram. Katy Perry is killing it with her posts on Instagram. 
Jennifer Aniston is on Instagram
Of course, we couldn't post this without mentioning the latest Instagram incorporation. Jennifer Aniston recently joined Instagram. She holds the Guinness record for the shortest amount of time to reach one million followers on Instagram. The actor who's known for her role as "Rachel" in Friends has officially broken the records after she shared a selfie with her Instagram "Friends" that has reached 14m likes. The selfie has the caption "And now we're Instagram FRIENDS too. HI INSTAGRAM". The actor wasn't expecting all these followers at all, she was very much surprised, and us too. As of now, she has 16,5m followers on Instagram.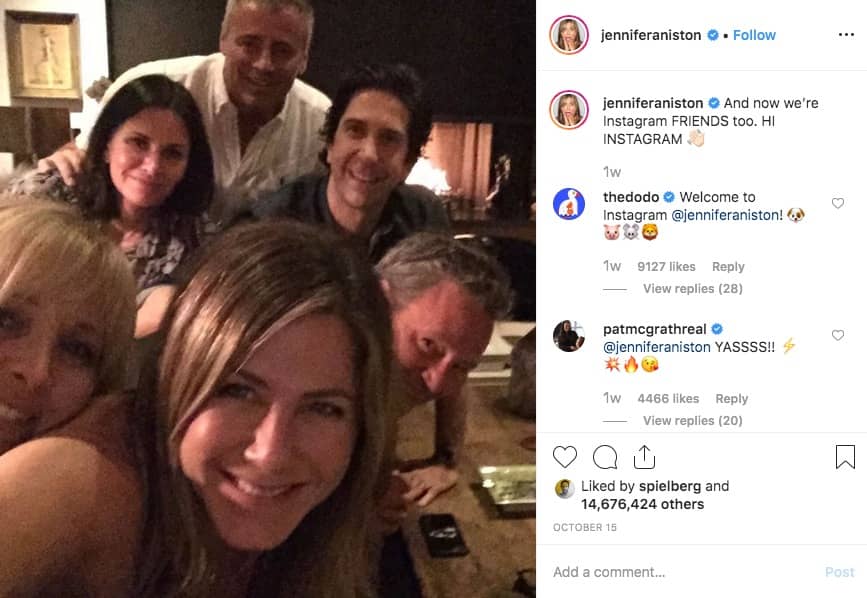 Top Instagram accounts Vs. Twitter accounts
As has been aforementioned, Instagram is all about visual content. Whereas on Twitter people expect to read other users' opinions, posts, and drama. On Instagram people want to see beautiful pictures, videos, artists and so on. If the account is from a singer, they want to see the information about their latest concert. When the account is a fashion brand, users want to see their latest products and trends. And if the account is of a dog, they'll want to see cute dog and puppy pictures.
On the other hand, on Twitter, we find that the most followed Twitter account is that of the former president of USA Barack Obama which clearly shows how Twitter & Instagram are different. Twitter is all about politics, news, and so on, while on Instagram people only want celebrities & famous people's news. 
How to analyze a top Instagram account
Instagram API can be a little bit tricky when trying to get stats. At the moment, the API is limited to hashtags. But this does not mean that we cannot see information about an account or user. Tweet Binder can generate Instagram reports on the hashtag and they give very interesting insights. Our Instagram analytics are very complete.
The Tweet Binder Instagram report can really give you an insight into how users are ranked thanks to hashtags. You can find out which users have the most influence, which users are the most active, and which ones have the highest Instagram impressions. Our Instagram hashtag report will give you an exact figure on how people are reacting to a certain hashtag on Instagram and if it's worth investing your time in or not. 
The report shows you the top 8 users ranking in that hashtag and lets you know their activity, their community and so much more. You'll quickly be able to find out the most-liked Instagram account, the most commented, the most tagged, and the recorders by a number of videos shared. Our report is thorough and very detailed.
Conclusion
If you're a business owner who's Instagram-oriented, then you clearly know the importance of Instagram in your strategy and how important it is to make it grow. Here we have sorted Instagram accounts by followers but you can sort them by any criteria you need to. A lot of businesses grew this big thanks to social media and especially Instagram, so why not invest in our Instagram report to grow your business? Choose wisely, choose Tweet Binder.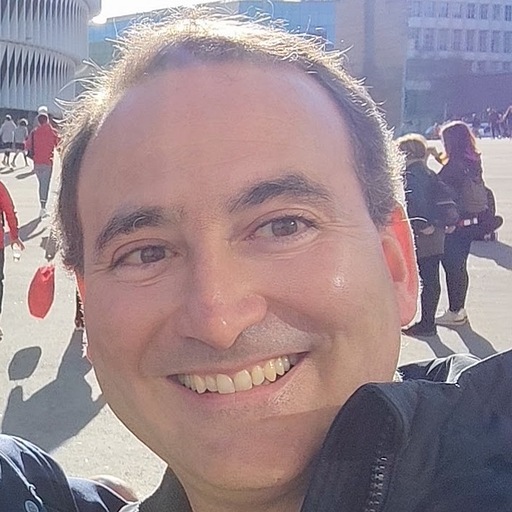 Javier is the founder and CEO at TweetBinder. With more than 10 years of experience in Twitter Analytics space, he is on the mission to build best-in-class Twitter marketing tools helping X community to thrive.