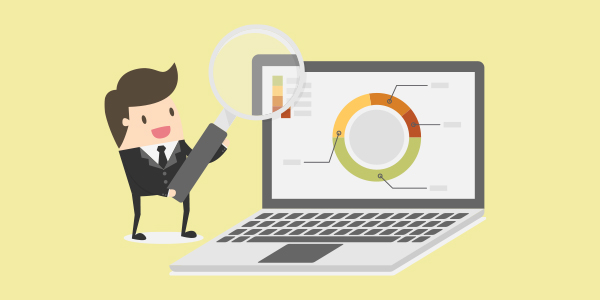 This post is also available in: Español (Spanish)
With its 315 million users and its conversational atmosphere, Twitter is one of the most effective digital platforms for marketing. That's why you should create a Twitter Marketing Strategy. Twitter marketing has several advantages, such as reaching a wider audience, establishing a brand identity or delivering better customer service. But as every social platform is different, it's very important to craft a strategy designed precisely for Twitter.
There are several options within which you can choose, although setting up a great Twitter Marketing Strategy requires some previous steps. Also a great Twitter analytics tool 😉
First steps of your Twitter marketing strategy
Before designing any action plan for your Twitter marketing strategy, it's essential to have a snapshot of our actual situation and the terrain in which we play. Knowing where we stand and where the competition stands will help us to know our strengths and weaknesses, as well as to detect new opportunities. First of all, does your organization have a Twitter business account? If not, check this post on how and why to create a Business Twitter Account.
Check your existing accounts
If you already have a  Twitter account, you should check if your company has more than one. Is the account handle the same among all the social media your company has an account on? Brand compliance is very important to establish a brand image, as well as having your bio and profile picture on brand. Make sure you link to your homepage, the landing page of a current campaign or to your blog. This will help you gain web traffic.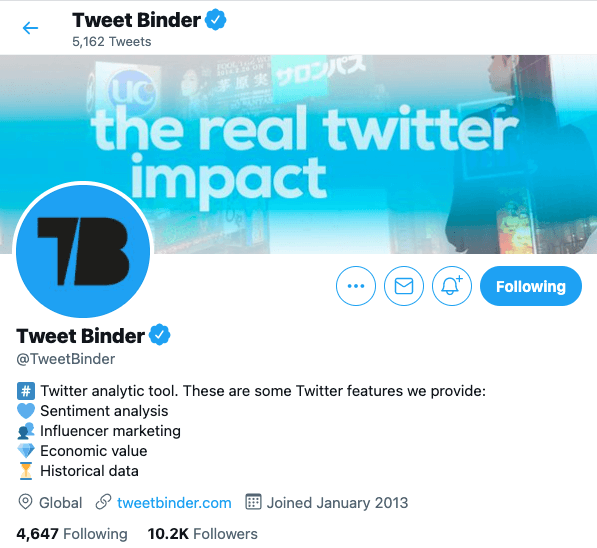 Analyze your competitors
Don't forget to review the Twitter accounts for your industry competitors. Analyzing their accounts will help you define your own, by revealing weaknesses or gaps in their strategy, and ways that you can distinguish yourself. Our Twitter Account Reports are the best way to perform the analysis of a Twitter user. With them, you'll be able to see all the original tweets published by any public account and download them in an Excel spreadsheet to work more efficiently with them.
Once you've analyzed your existing accounts, you'll have a reference line for your Twitter performance. This will help you with the next stage of your strategy: creating a content guide.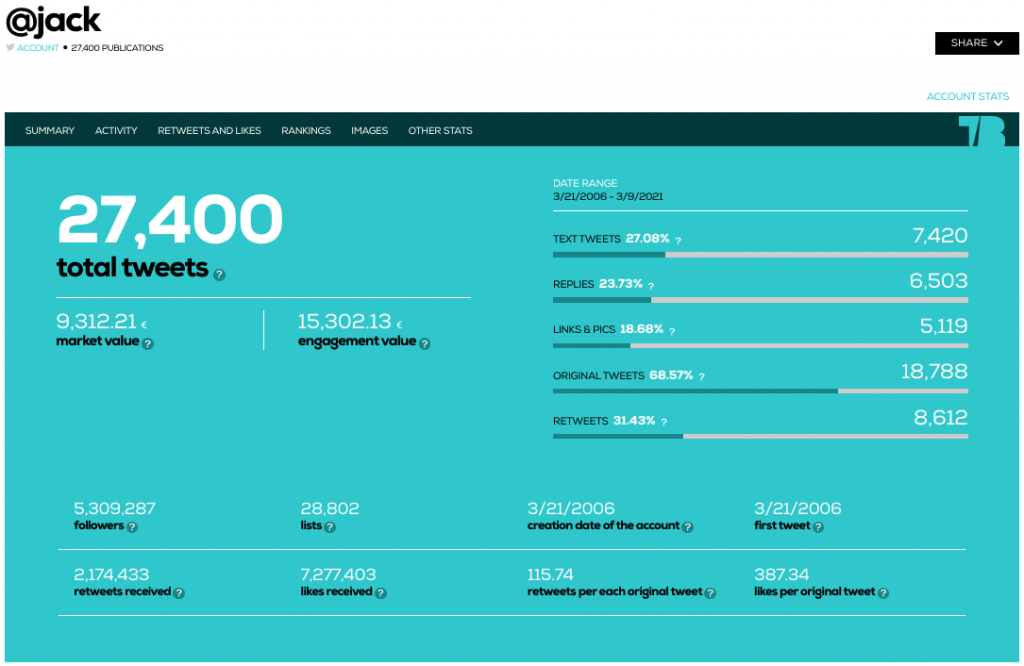 In addition, you can also create Twitter lists to find their content.
Create a content guide
Once you've identified your best posts, you should create a content guide for your Twitter marketing strategy. They will help you to keep your communication consistent and to prevent mistakes on social media. Think of all the topics your company can talk about, but also about branded hashtags (#appleiphone), your brand's tone and voice how and where to use emojis and how to format links. Take a look at Twitter's best practices for business for more inspiration.
Keep in mind that criticism can happen, especially the bigger your account grows. Plan also how to manage Public Relations crises or how to answer to trolls.
Schedule your content
Plan when are you going to post what. It'll help you save time in the long run and seize opportunities to post timely and interesting content. When creating it, consider:
How often do you want to post? Once a day? Or every two days?
Which times have worked better for your company or your competitors?
Don't post tweets exclusively promoting your business. Also share content or insights that your followers will find useful.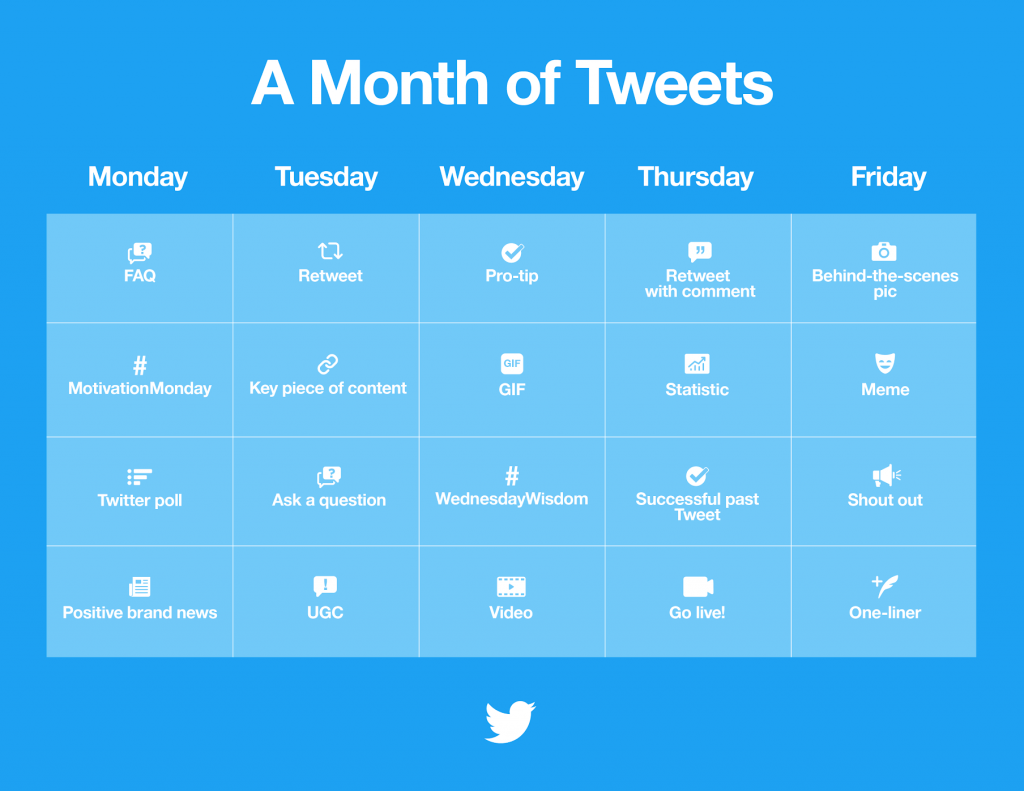 Twitter Marketing Strategies
Now that the basics are covered, you can focus on  building a strong Twitter Marketing Strategy. It will take some effort and brainstorming sessions, but the effort will be worth it.
Use Twitter influencers
Twitter is one of the best platforms for creating an influencer marketing campaign that will make an impact on your digital marketing as a whole. Whether you want to create an audience for your brand where you previously lacked one or promote a certain product, you should find influencers, established figures or brands and then leverage your connections in a way that helps you both.
The first step to influencer outreach is figuring out which influencers are available in your particular industry. Our influencer detector will help you find the best accounts for your campaign, based on their Influence Percentile or their engagement score:
Twitter moments
Twitter Moments enable users to stitch together multiple tweets into slideshow-like stories. Moments are a natural way to help brands increase visibility and join the wider conversation. You can use them to:
Comment on a current topic like industry insights, emerging trends, or global events.
Promote company news
Showcase positive customer stories and feedback
Tap into conversations happening on Twitter
Recap an event
A Moment that has a clear focus, includes interesting stats, thoughtful comments and great imagery will be followed, shared, and discovered. Check this one by Twitter:
It's not too late to add that "boo!" to your Twitter name. 👻 https://t.co/yXSQ2uqfh3

— Twitter Moments (@TwitterMoments) October 30, 2017
Create lists
Twitter lists are organized sets of Twitter accounts you've selected and structured into specific categories, which any user can create and browse. In other words, it's essentially a curated group of Twitter accounts that you can save and follow. Lists can be public or private. When you open a Twitter List, you only see tweets posted by the accounts on the list. You can use lists for your Twitter marketing strategy in three different ways:
To increase visibility: Public Twitter lists will show in search results. By creating lists that appeal to your target audience, you'll add value to your account and gain new followers.
To keep updated on your competence: Make a list of all of your competitors for quick access. You'll be able to break through the noise and discover what they're talking about or how they're interacting with followers. You won't miss anything, which is a great plus! Of course, there's no doubt that such lists shouldn't be made public.
To get inspiration: Likewise, you can create a Twitter list composed of your favorite accounts. With just a few clicks, all of their tweets will be right at your fingertips.
You might segment your lists into groups such as business inspiration, competitors, and target audience so you're able to easily review their posts, interactions, and content.
Twitter Cards
Twitter cards are a type of tweet that allows you to attach rich photos, videos and media experiences to Tweets, helping to drive traffic to your website. Users who Tweet links to your content will have a "Card" added to the Tweet that's visible to their followers. Using Twitter Cards has many benefits for your Twitter marketing strategy:
They help you get more visibility more followers on Twitter
They allow you to increase web traffic to your site and promote your brand image
Your Tweets become more attractive and visual, which increases interaction
Check out this example from @thehuffpost:
In honor of #NationalCoffeeDay, WalletHub compared the 100 most populated American cities in terms of coffee-lover friendliness. https://t.co/3D5lVvfAex

— HuffPost (@HuffPost) September 29, 2019
Twitter polls
Twitter polls are relatively new but very popular and they're one of the easiest ways to drive organic engagement. By using them, you could get vital (and free!) feedback from your followers, not only because people interact with your poll, but also because when the poll is over, all participants receive a push notification, which helps to bring them back to your content. You can use them to get your audience excited about an upcoming event, engage with fans, curate industry-relevant discussions and encourage feedback.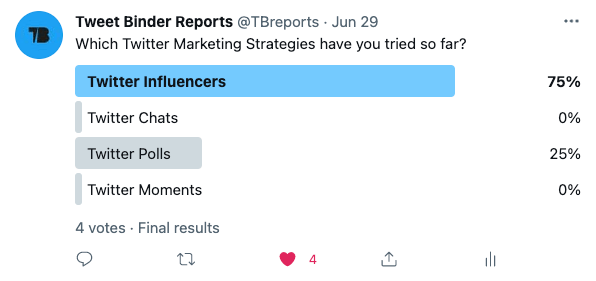 Host Twitter chats
Twitter chats are conversations that happen on Twitter at a specific date and time about a certain topic. Only a Twitter account is needed to participate in one. If you want to increase your followers' engagement and create a sense of community, you should host a Twitter chat. Just choose a topic, set a time and date for the chat to occur, and create a hashtag for the chat. Twitter Chats will encourage conversation on your profile, as well as getting people to discuss your business. It also fosters a more intimate relationship between your audience and your company and elevates your brand authority!
Twitter chats are easily analyzed with Tweet Binder Reports thanks to our "Classify tool", in which you can classify tweets in binders and analyze the results of your chat by questions, by answers or even by contributors.
How to analyze the results of your Twitter Marketing Strategy
If you have followed all the steps, you will have a sound Twitter marketing strategy. But a good strategy is useless if we don't analyze it to see the results and points of improvement. Twitter analytics provide key insights into how your audience engages with your content, what content performs best, and whether your brand's social media strategy is working. With our reports, you will obtain the most complete hashtag analytics. Our report include the main stats (total number of tweets, users, impacts and reach…), more than 8 rankings of users, top related hashtags, most retweeted accounts… as well as a downloadable Excel file so you can dig deeper in your results.
Getting a Twitter report is super easy, just try it out in the following search bar:
Feel free to contact us if you have any doubt!