This post is also available in: Español (Spanish)
One of the most followed sports competitions in the world is the Spanish Soccer League: La Liga. There may be no inhabitant in the world or, at least, in any country that has not heard something about Real Madrid or Barça. It is hard to come around all La Liga moves, it is huge. However, we can control what is published about it. Also, what would La Liga be without its teams? Or without the fans of each team who suffer or celebrate each match day if they manage to win or to get a point to gain places in the leaderboard.
This post is not about how La Liga works. Not its transfer market. Nor about which team has the most active fans on Twitter or what Twitter statistics they generate on average in each match game. We are going to talk about the other league, that of Spanish soccer teams on Twitter. The way their Twitter accounts dispute In La Liga Twitter paralel competition.
How does @LaLiga work on Twitter?
Although it is not an official competition, the @LaLiga teams on Twitter have their own dispute. Thanks to the Tweet Binder tool that allows us to analyze the evolution of Twitter accounts, we know it. Not only do we know it, we also have a proper Twitter classification. Thanks to this new system, we analyze every possible metric of a Twitter profile for each account to determine positions in the leaderboard.
You may wonder which are those KPIs that determine this La Liga teams classification on Twitter. It goes from the number of mentions received, to how many lists the account belongs to or if they have stopped following any Twitter account. But let's start by the beginning. To create this competition, the first thing we have to do is to register the Twitter accounts of the La Liga teams in the Twitter User Tracker. Afterwards, we create the tag: "Fútbol ES" to group them all. The exclusive system developed by Tweet Binder will update the data related to each account every hour. That way we can easily check how the data evolves.
Who wins La Liga according to Twitter data?
Just as it's simple in La Liga for professional soccer, points determine who is at the top of the leaderboard. In this Twitter League we can decide which metric is the one that has the most value. You can also choose the analysis period. That is, not only the accumulated but also by days.
The account tracking tool itself offers the main profiles according to the most demanded metrics. Let's see an example:

But, if you like soccer and you are fan of one team, you will want to know how it goes in the classification. Because of course, watching a match is exciting, although the best thing is the feeling of living that your team wins and is well on the leaderboard. This system includes its own classification, here is the recent data of the @LaLiga teams on Twitter: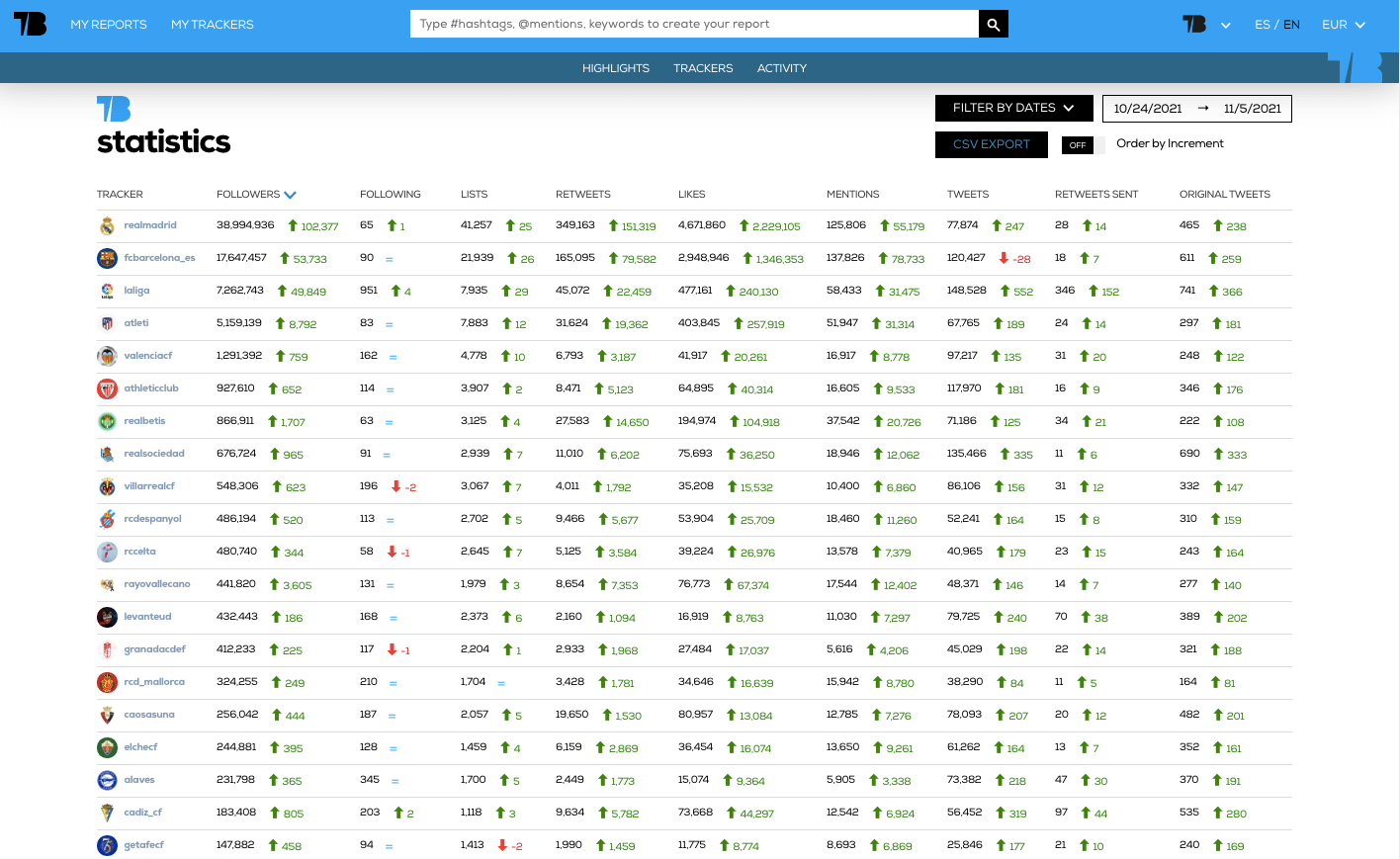 This is the classification of the official accounts of the La Liga teams on Twitter thanks to the exclusive Tweet Binder system. Remember, it allows you to sort it by selecting each parameter analyzed. So your team may still vary in position. Access to this tool is included in all Tweet Binder plans.
What else can I analyze about @LaLiga on Twitter?
On the one hand, on Twitter you can analyze everything. In fact, using Twitter's advanced search is a start to finding the top tweets or data. We can, for example, search for the tweets with the most retweets of an account. Also activate a tweet counter. Or, why not, with a Twitter report analyze any tweet both in real time and in the past.
For example, thanks to a historical report from Twitter we can analyze the original tweets shared by @LaLiga on Twitter since this season began in August 2020: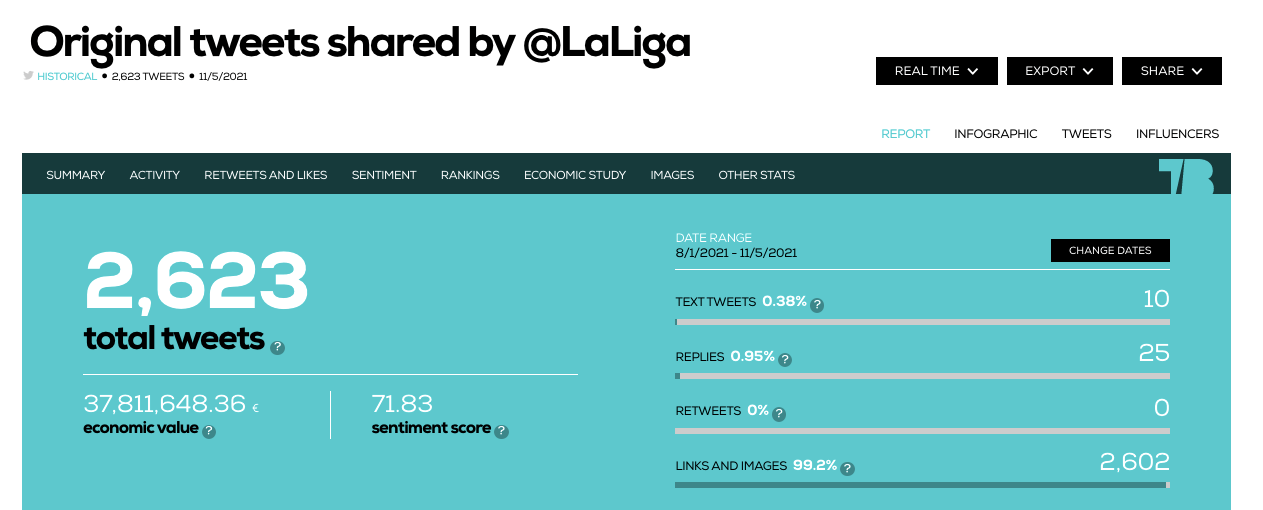 Tweet Binder to know everything about @LaLiga and Twitter
Both to analyze any tweet and for accounts Tweet Bider is your Twitter tool. On the one hand, it offers Twitter reports with complete and exclusive metrics. Like the economic value of a hashtag or the sentiment analysis of tweets. You can even get raw data with our API. On the other hand, it includes a unique Twitter profile analysis and tracking system. This allows to give a new value, for example, to the data of the La Liga teams on Twitter. Or, to compare data from companies, employees, speakers…
If one thing is certain, it is that Twitter analysis is synonymous with Tweet Binder. For any special need, we are always available. In addition, our search engine is always available for you to score a goal wanting to analyze Twitter: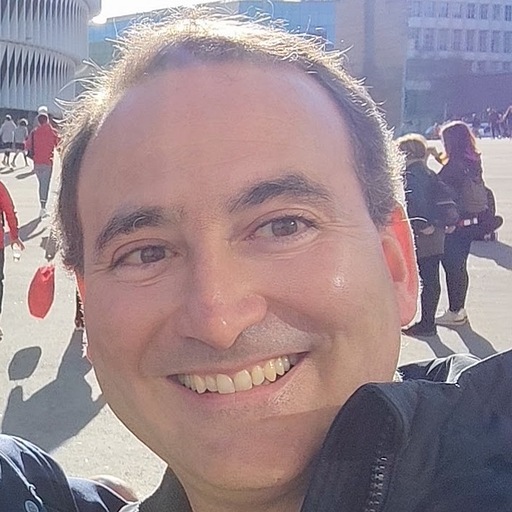 Javier is the founder and CEO at TweetBinder. With more than 10 years of experience in Twitter Analytics space, he is on the mission to build best-in-class Twitter marketing tools helping X community to thrive.