This post is also available in: Español (Spanish)
@carlosalcaraz: a Twitter account to follow
You have probably already heard about Carlos Alcaraz. If not, you may have been living in a cave or vacationing happily disconnected from the world in an island. However, most of us know by now that Carlos Alcaraz is a tennis player who has just won the US Open Tennis. The 19 years old Spaniard is breaking records. Inside and outside the tennis court. That is why we highly recommend you to follow Carlos Alcaraz Twitter account: @carlosalcaraz. He mixes tweets in Spanish and English and he regularly tweets, also mastering the emoji game.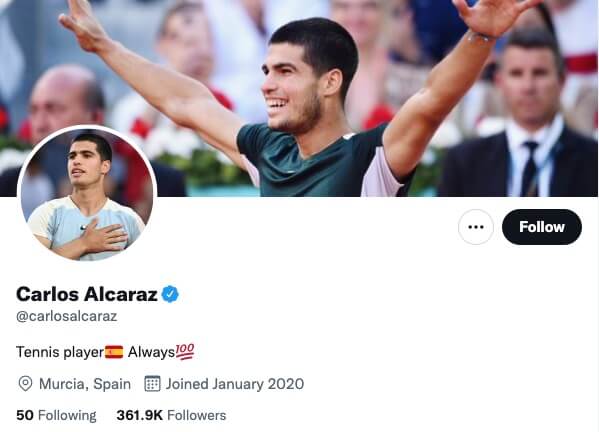 For instance, by checking the tweets he shares we can affirm that he prefers to tweet original tweets rather than retweets. We know it thanks to a Tweet Binder Twitter report created with the advanced search command meant for it. So, if you want to search it yourself write this in the search box below from:carlosalcaraz
Carlos Alcaraz Twitter data: #USOpen
Tweet Binder offers different services based on Twitter data. Firstly, we can easily know how many tweets there are with @carlosalcaraz and #USOpen. That is possible thanks to the free tweets counter we have. Because we know you probably have wondered several times: "How can I know the number of tweets with this term or another?" Well, save this post and check the Twitter counter information. This is what we get when we use the Tweet Binder tweet counter for @carlosalcaraz #USOpen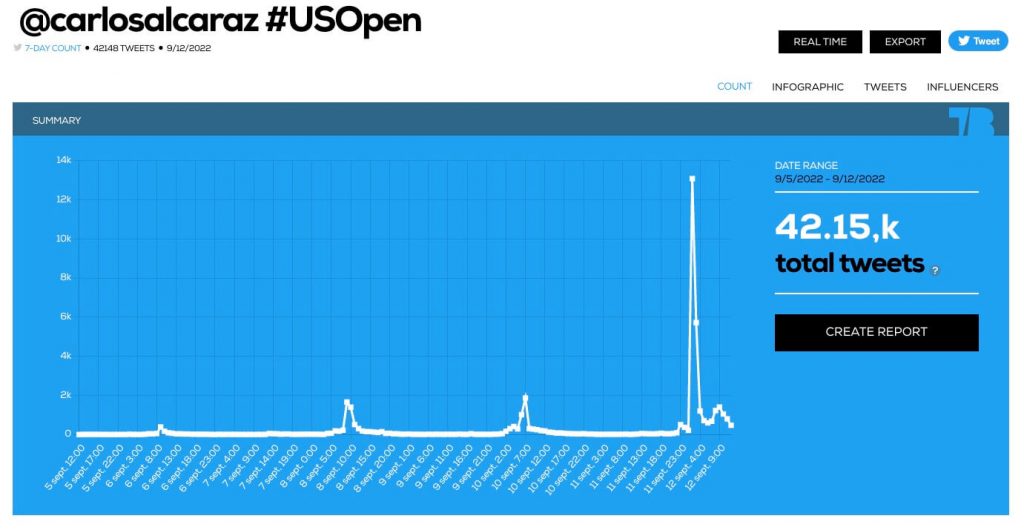 Secondly, we can also analyze the mentions the Carlos Alcaraz's Twitter account receives or even the ones that US Open Tennis does. That is also pretty easy to get thanks to Tweet Binder. We just have to write the Twitter handle in the search box and we instantly get the mentions they received during the last 7 days:
@carlosalcaraz Twitter account performance
Another important feature that Tweet Binder offers is the Twitter account analysis. The Twitter analytics tool not only monitors hashtags but also Twitter handles. In fact, we have two options to track Twitter users. On the one hand, Tweet Binder has the Twitter trackers. These are included in Tweet Binder plans. They are really easy to set up. We just have to follow these steps:
Click on the "New tracker" button
Write the name of the Twitter account you want to monitor and click "Add"
Click the "Save changes" option
Additionally you can add "Tags" to group trackers. That one is also a very handful feature. It is important to point out that trackers start collecting Twitter data the moment we activate them. That means that it is not possible to get information from before when we created the tracker. Nonetheless, in this case, we are Alcaraz's fans and we have his Twitter data up to date. In fact, thanks to a Twitter user tracker we created months ago we know how his Twitter accounts has been affected during #USOpen:
Over 42K new Twitter followers
Started following one Twitter account
It is now part of 90 new Twitter lists

On the other hand, we have a Twitter followers tool that let us know which are those Twitter accounts that have started following the Spanish tennis player. The Twitter followers tracker is an on demand tool but highly demanded and well known among marketers. This option allows us to serve the new followers via email and through Discord notifications. Contact us in case you want to know more about it.
Conclusion
Twitter data proves that Carlos Alcaraz is also a Twitter champion. He is a youngster that is gaining followers simultaneously to his tennis success. It is quite possible that is going to reach the 500K followers soon. But what is undeniable is that this tennis player is going to keep winning inside and outside the tennis court. This US Open tweet is here to remind us how powerful he is:
The call heard round the 🌍

How it sounded on US Open Radio when @carlosalcaraz won the #USOpen pic.twitter.com/aOB7c5fMqX

— US Open Tennis (@usopen) September 12, 2022
We are going to keep a close eye to Carlos Alcaraz's Twitter data. We are pretty certain that nothing but greatness is coming his way and we are here to monitor every game, set and match to come.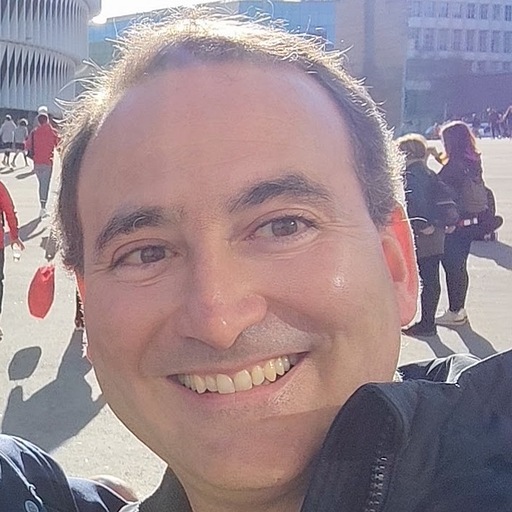 Javier is the founder and CEO at TweetBinder. With more than 10 years of experience in Twitter Analytics space, he is on the mission to build best-in-class Twitter marketing tools helping X community to thrive.