This post is also available in: Español (Spanish)
One of the two most frequently asked questions we receive is "How can I know how many tweets a hashtag has?" and "How can I see all the tweets of a Tweet Binder report?". These two questions are the key to analyzing Twiter marketing campaigns.
Here at Tweet Binder, we understand that analyzing raw data is tough, specially if the analyzed hashtag is a trending topic or we're handling a famous account, where there can be thousands of tweets. That's why we've developed a visual and intuitive tool to analyze all the tweets of a report. Our tweet binders are a great analysis tool and they are one of our most liked features.
How to see all the tweets of a report
First, we should've created a report. We have been working for many years in order to offer the best Twitter analytics service to our clients and we are experts in the creation of Twitter reports that will give you all the information about any hashtag, term, link or account. Our unique Twitter visualization tool has no time limit for the analysis and you can use it either in a live report (real-time data) or in a historical one. That means that you can check all the tweets for any time period containing your #hashtag, keyword or @mention from Twitter.
In order to see all the tweets of a report, you have to go to your Tweet Binder dashboard and select it from your list. Then, you'll be able to see an overview with all the statistics, including our own Economic Value and Sentiment Score. If you haven't created a report yet, you can keep reading this incredible post or jump to the Twitter mentions report by inserting your desired keyword in the following search box and follow the steps while you read:
Let's assume we are analyzing the Oscars. Here we must click the "Tweets" option: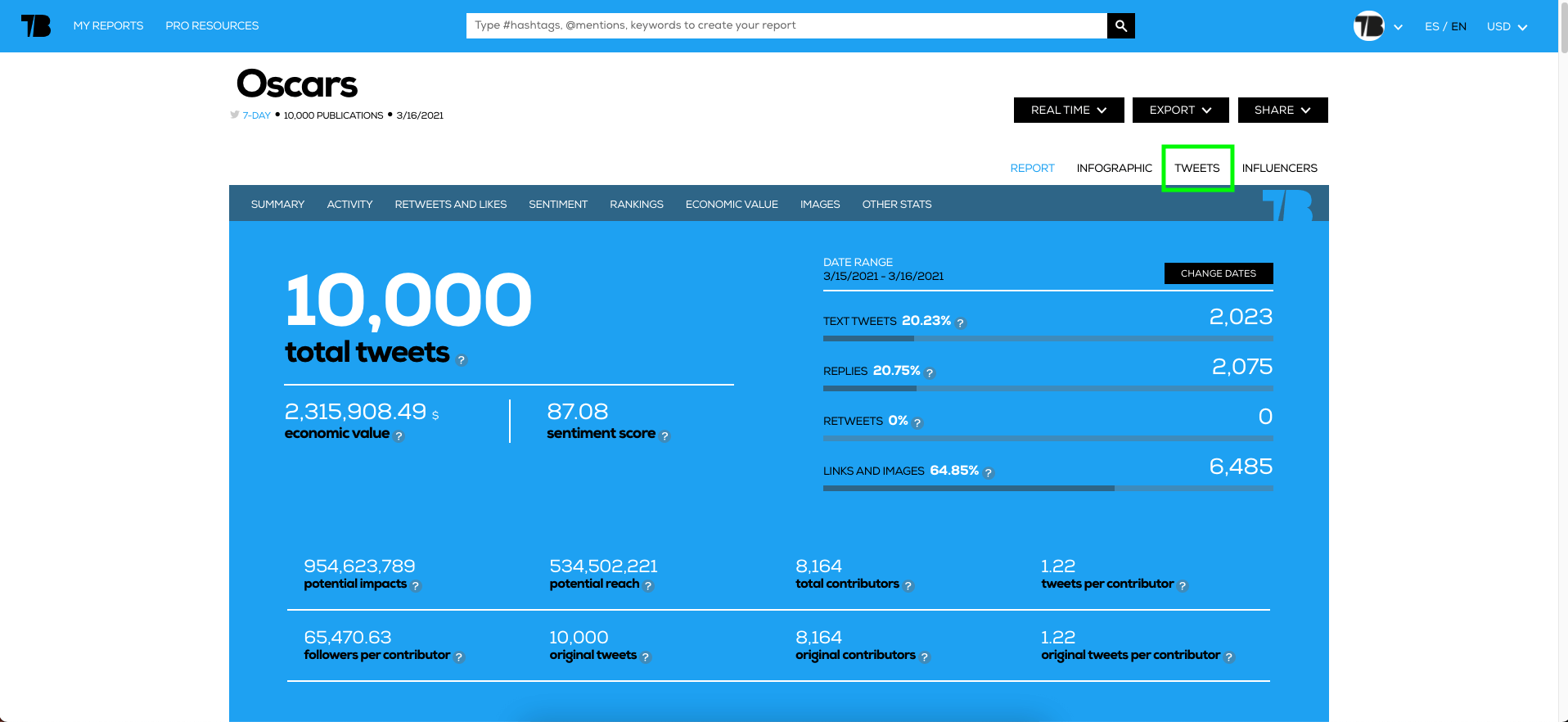 Here you'll see that you get directly to the Tweets visualization panel. There you can navigate through different tweet classifications such as original tweets, retweets, images, links, conversations or text tweets. You'll also be able to sort them by value, impacts or chronological order (ascendant and descendant). This gives you a full picture of the performance of your query: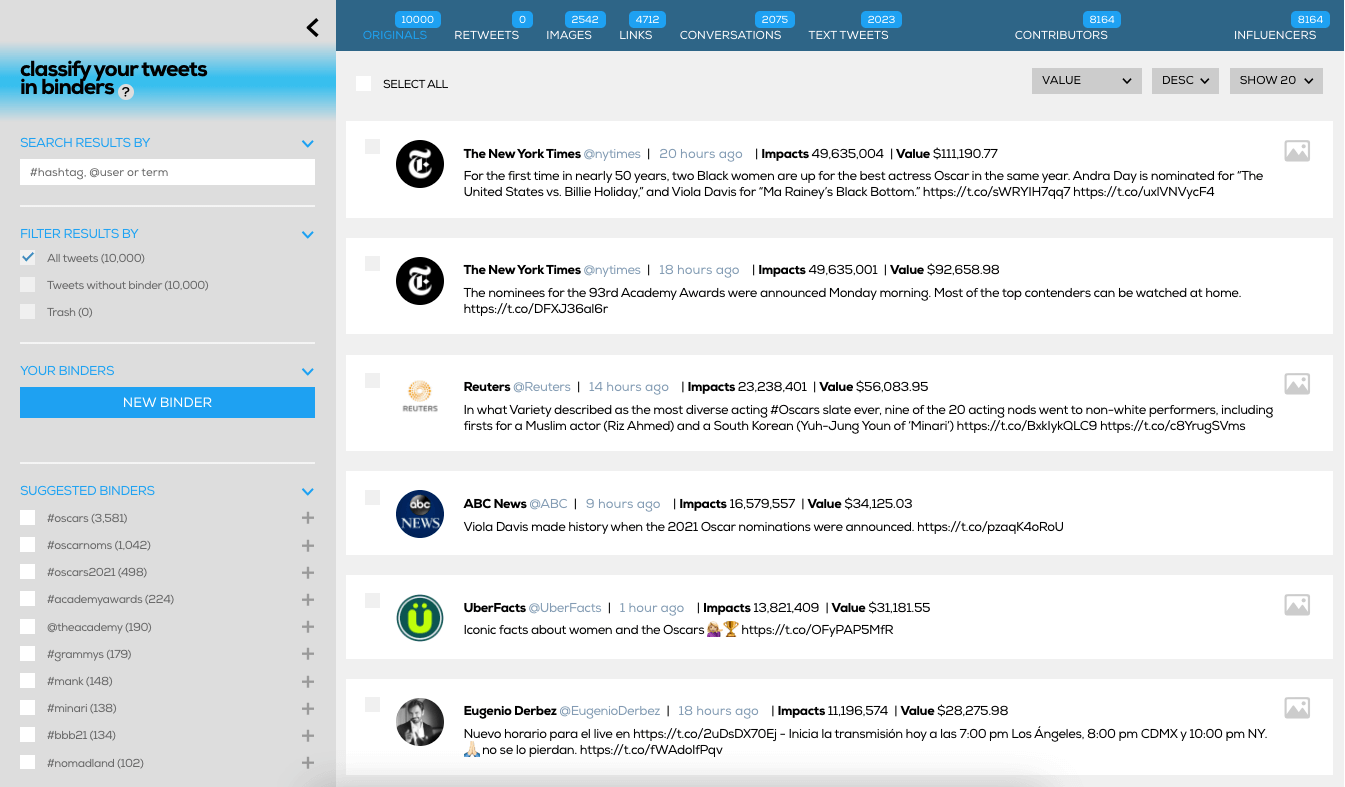 What information do these binders provide?
Our classification panel allows the user to create its own binders based on terms, hashtags or contributors, but it also suggests some. Suggested binders are hashtags, keywords, accounts… that have frequently appeared in our report and that our algorithm sees as useful.  As seen in the image above, not only do all the tweets appear but they also include the impact information as well as the tweet value, allowing us to see all the information at a glance or get a review of the tweet by simply clicking over it.
In which formats can I see all the tweets?
With Tweet Binder, you can get all the tweets of a report in two different ways. The first one is with the above-mentioned tool. Another option is to get the raw dataset in a file. This file provides a complete and thorough understanding of all the data collected and allows you to perform further personalized analysis with your own formulas and criteria. This includes very useful metadata such as the permalinks, the date the tweet was posted or the binders we've included the tweet in. If you are interested in knowing more about how to classify tweets, you can check a wonderful article about how to classify tweet with Tweet Binder.
The Tweets in this file can be found under the tab "Tweets", which collects data about the user that has published each tweet, it's username, the date, the number of likes and retweets and the tweet value.

It also provides us with the permalink for every Tweet, a unique and permanent URL that identifies each post and that you can bookmark, embed or share. Following the example above:
The nominees for the 93rd Academy Awards were announced Monday morning. Most of the top contenders can be watched at home. https://t.co/DFXJ36al6r

— The New York Times (@nytimes) March 15, 2021
This file also gives us information about the general stats, links to all the images of the tweets included in the report and rankings of contributors and most mentioned accounts.

What can I get from this feature?
As we have already seen, our binders are a very useful tool for data analysis. Through the new rankings, we can see and filter, on the same screen, those tweets have a higher value, a higher impact or simply the latest tweets of a certain keyword, as well as categorize them under your own criteria.
If you have any comment or you want to get to know better any detail about Tweet Binder binders, do not hesitate to contact us!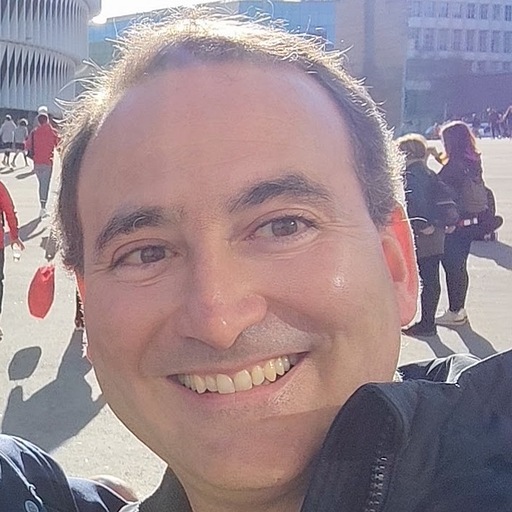 Javier is the founder and CEO at TweetBinder. With more than 10 years of experience in Twitter Analytics space, he is on the mission to build best-in-class Twitter marketing tools helping X community to thrive.