This 2022 Oscars are going to be remembered not for a cinematic moment. Just a tiny moment. One that has probably changed lots of things. And of course, one that is heavily addressed and tweeted about. Because, we don't talk about Bruno nor CODA or Liza Minelli. The world seems to be stuck with that moment.
And as a society eager to tweet and read about the so called trends lots of users are using Twitter to express their opinions. However, in the midst of all that is being said and written about Will Smith, those mentioning @willsmith are not really paying attention. The owner of the Will Smith Twitter account is not the actor's account. But, how does it reflect into the Twitter data?
@willsmith Twitter data evolution
An undeniable fact is that wether Will Smith owns or not a Twitter account users are quick to mention the account they believe is the right one. A verification mark may do the rest. But checking and reading bios should be required prior to mention anyone. Or at least expected, given how common the name is in this case.
Thanks to our Twitter analytics tools we have the data to determine the Twitter impact @willsmith Twitter account has received. Firstly, thanks to a Twitter user tracker we come up with the following. Since March 27th 2022 @willsmith Twitter account has:
gained 106,629 followers
received  141,539 mentions
been included in 44 Twiter lists
The Tweet Binder Twitter user tracker set up for Will Smith's Twitter account includes these interesting insights: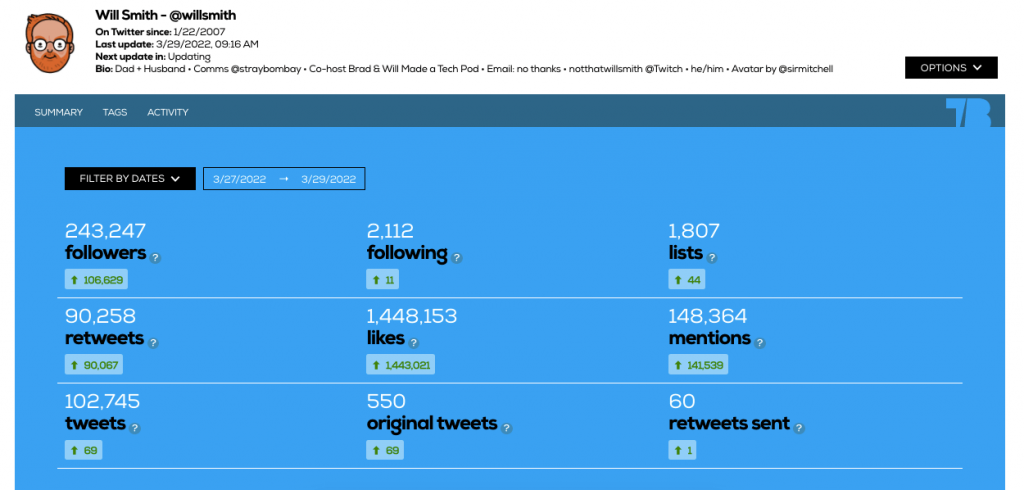 Tweets shared by @willsmith
We all know that we can not usually anticipate a crisis or an unexpected situation. That is not what really happened for @willsmith Twitter account's user. In fact, he was quick to react. But as the data shows, Twitter users did not really cared. They just keep mentioning and tagging the not Oscar winner Will Smith, @willsmith. This did not stop them:
Real talk, I'm not the person you're upset/happy with. I make podcasts and video games for a living.

At the risk of making people pissed off at me instead of that other guy, the world would be a better place if we stopped answering words with violence.

— Will Smith (@willsmith) March 28, 2022
The Oscars Twitter data
The Oscars this year have received millions of tweets. It is not a novelty. The first post pandemic gala may be remembered for a single act. However, we want to share the top #Oscars tweets in this post. The other moments worth to really share.
For instance, thanks to Twitter advanced search, we know this is one of the most retweeted tweets of the #Oscars:
.@BTS_twt share their favorite film musical moments at the #Oscars. https://t.co/YILAwH0cbk pic.twitter.com/tn1Yjg3D51

— Variety (@Variety) March 28, 2022
Also, thanks to a Twitter analysis based on the tweets posted by @TheAcademy we know this is the most expensive tweet that the account has shared recently:
Watching the 94th #Oscars? Enjoy an enhanced experience with American Sign Language (ASL) delivered by Deaf Interpreters.

Access it live at https://t.co/jxvktBuDRq and Oscars YouTube: https://t.co/UPTG2k0Fvx pic.twitter.com/uXwZi9qXGg

— The Academy (@TheAcademy) March 27, 2022
And, why not, an act of kindness that is really worth tweeting and be talked about:
This is like a lesson in how to facilitate older people while honouring who they are.
What a class act by @ladygaga with legend Liza Minnelli.
The conferred whispers of "I gotcha" "I know" picked up by the mikes make it especially touching.pic.twitter.com/2JOWyrTQxn

— Naomi O'Leary (@NaomiOhReally) March 28, 2022
Conclusion
So, we may all tend to react. That is a fact. However, there are different ways to handle situations. We may say Will Smith Twitter account has done pretty well so far. We know that tweets from Twitter heavy users will slow down, so just keep it cool. A great resume to it all, will be this fragment of a tweet shared by @willsmith: the world would be a better place if we stopped answering words with violence.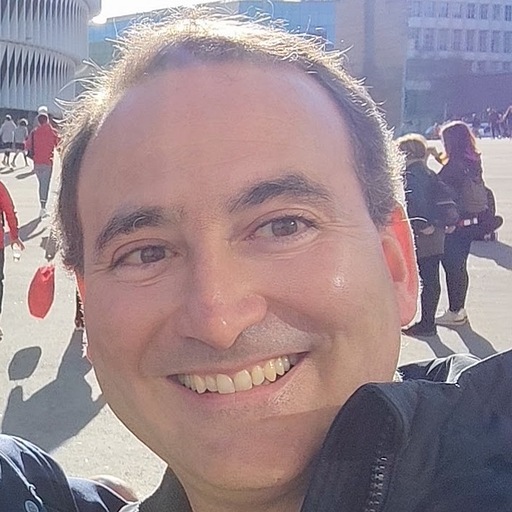 Javier is the founder and CEO at TweetBinder. With more than 10 years of experience in Twitter Analytics space, he is on the mission to build best-in-class Twitter marketing tools helping X community to thrive.