Twitter music
Twitter and music have been going hand by hand for many years now. It is a fact Social Media "rules" our daily lives. If we want to know the hot news, we go to Twitter. If we want to know the latest trends we check Instagram. And, if we are looking for a job, we visit Linkedin. And if anyone tells you the opposite, he is lying. Okey, we know that we might be exaggerating a little bit; but we are very close to reality. If you go for a walk you will see that 87% of pedestrians are holding their phones in their hands.
Brands and companies are not missing this opportunity of reaching millions of people by hitting a button. How many campaigns or ads do you see each day on Twitter, Instagram or Facebook? Countless! But this post is not to talk about how Social Media is ruling our lives but to point out its use by the music industry. Keep reading to know more about it! If you don't want to keep reading and you want to jump straight to action, you can create a report for your music band by clicking in the following button:
Social media as a Discussion forum
Before the invention of the Internet, the squares of the cities were the discussion forums. With the arrival of Internet, the first forums arrived and people shared their opinions. All this changes with the arrival of social networks. Nowadays, if someone wants to express their opinion about something, they do it through a simple tweet. A message of up to 240 characters can start an unparalleled conversation. On Twitter, the are opinions about all kinds of issues: political, social, musical … Singers are one of the groups that unleash the most passions in social networks.
Either because they have given a concert or because they have released a new video clip. There are always people commenting on it. This last case of video clips and cover images has unleashed the latest controversy in social networks. The singer Maluma, known for his summer hits, unleashes polemic by publishing controversial images with women. These photos have been shared by using the hashtag #MejorSolaQueConMaluma (Spanish words for "better alone than with Maluma"). Thousands of women from all over the world are sharing their disapproval with the singer through this hashtag.
Twitter analysis: #MejorSolaQueConMaluma
With our hashtag tracking tool you can analyze anything on Twitter. So, Twitter and music too, why not? No matter the date when the tweet was sent, we have historical reports and real time analytics. In this case, since the hashtag has already been used, we need to create a report to the past. For this post we have used a PRO report (report of up to 20,000 tweets from the last 7 days). Creating a PRO report is very simple, in this post we explain how. We only have to introduce the hashtag that we want to analyze in the search box and the system will create the report. Tweet Binder has a free version of up to 2,000 tweets from the last 7 days.
The hashtag #MejorSolaQueConMaluma has been shared a total of 5,841 times on Twitter by 3,798 users. This report is from August 19, 2018 until today August 29, 2018. In addition, it has achieved a potential tweetreach of 11,880,874 and 19,309,444 potential impressions. The new version of Tweet Binder offers economic valuation statistics. The market value of the hashtag #MejorrSolaQueConMaluma with that number of tweets and impressions is € 35,969. To learn more about the economic value of a hashtag check this post.
Instagram report: #MejorSolaQueConMaluma
With Tweet Binder you can also analyze Instagram hashtags. These types of reports are made on demand and can be purchased from here. The hashtag #MejorSolaQueConMaluma has also had an impact on Instagram. It has obtained, so far, a total of 177 posts that have generated 328,462 impacts. It is important to bare in mind that in these reports only posts published by public accounts are counted. If an account with activated privacy publishes a photo with the hashtag #MejorSolaQueConMaluma, it will never appear on the Instagram website nor will its API provide it.
Music and Social Media
Music industry is really changing thanks to Social Media. Brands and groups are taking advantage of Twitter and Instagram to throw contests. They let their fans win tickets to their concerts or even win a chance to meet them! Musicians use Social Media to connect with their fans. But also fans use Social Media to express their love about their favorite bands. They create what are called "fandoms". These communities are where fans gather to speak about the latest release of a singer or to talk about them just because. One of the most famous one is the fandom for The Script. This is a very famous fandom named #TheScriptFamily. This is a huge community that every day generates thousands of posts about The Script. Let's see the repercussion for the launch of their album #FreedomChild had.
@TheScript launches a new album
Social Media can be used for a wide range of purposes. You can be at a football game or at a corporate event and you will see tons of people using their mobile phones tweeting and posting their opinions. Twitter and Instagram have become very useful tools for communication teams to share news about their products or events. Having said this, it is important to highlight the importance of these Social Networks for the music industry. We wrote about how Taylor Swift erased all the content from his social platforms in order to promote her new album.
Today, it is the turn of The Script and their new album #FreedomChild. This group has a very faithful group of fans (in which we are included) who are known as #TheScriptFamily. When the Script does something on Twitter, his group of supporters tweets as there was no tomorrow (and we know it because we have analyzed several of their hashtags). We have analyzed the repercussion of the launching of their new CD #FreedomChild.
Twitter music stats for #FreedomChild
The period of time for this analysis is since the first of September, day they launched the album. With just an overview of the report we were able to jump to the conclusion that it was a total success; 7,417 tweets in just four days is an incredible amount. We have excluded the RTs from this analysis as we wanted to see the original content published with the hashtag.
Total Tweets
7,417
Potential impacts
101,827,824
Potential Reach
17,915,597
Users
3,157
It is important to notice that RTs have been excluded, if we had included them the impact, reach and number of users will increase. To know the difference between impact and reach you can check our Twitter analytics section in this blog.
A look into #TheScriptFamily
As we have said, and you may already know, the group of fans of this band is known as #TheScriptFamily and they are one of the most faithful group of fans that we have ever seen. Let's see who has tweeted the most using the hashtag #FreedomChild:
@haque_samina
68 tweets
@chrisElkhoury29
64 tweets
@julia_script1
60 tweets
@Sjames11James
59 tweets
@ProudFangGirl
56 tweets
@TS_Claudi
49 tweets
@Lisa_script7
46 tweets
@Fra_Script
43 tweets
@SikeyyOfficial
41 tweets
@louvedemetria
39 tweets
It is not easy getting a fan to tweet more than 30 tweets when you are not giving anything away. These fans are the real deal, they tweeted to express how much they loved the songs from the band's new album.
@AppleMusic
9,198,718 followers
@thescript
2,217,615 followers
@anghami
672,538 followers
@Shazam
518,113 followers
@sonymusicmexico
470,506 followers
It is also important to know which relevant users have tweeted with the hashtag. These are the users that help to increase the reach of the action.
To sum up, we can say that having this repercussion in such little amount of time is not easy and The Script has achieved great numbers. They have a faithful community that will follow them anywhere they go. We have already chosen our favorite song: "Wonders". Which one is yours?
Twitter music tours and Twitter musicals
So, how about if we put together all those messages that users share on Twitter on Instagram? This is what our team thought when they went to a Guns N' Roses concert and posted pictures about it. Can you imagine a place where you can check all the stats about your favorite band's tour? Your wishes are our command! We have created the Tour Manager. Do you know who has already tried it? Artists such as Guns N' Roses or the amazing Bryan Adams. They both have a really cool site which displays all the stats about their tours. As there is a lot to say about this, we will leave it for a different post.
Billy Elliot The Musical
When it comes to promoting products, campaigns or shows the options are countless. Nowadays, it seems complicated to surprise our followers. We receive too many messages everyday and we have access to too much content. For that reason, making our campaign out stand can seem tricky. Sometimes the easiest way is the most effective one. The best example: Photo contest on social media. There are many options: Asking to be followed and posting content, offering a reward… It doesn't matter what process we choose. We can give value to the content shared by making it visible. By creating the perfect social space, you will rock the scene as Billy Elliot The Musical did with Tweet Binder and #YoYaHeVistoBillyElliot.
What is #YoYaHeVistoBillyElliot?
The premiere of Billy Elliot The Musical was October the 5th, 2018 in Madrid. For that event, we created an action focussing on those that attended the previous shows. They had to share their experience in order to win an special pass for the big opening night. The campaign was really easy. Users only had to upload their photos to Twitter or Instagram with the hashtag: #YoYaHeVistoBillyElliot. You could even upload it to the Facebook page. To summarize, it is the social album of the assistants and fans who want their attendance to be rewarded. And, last but not least, they had the option of winning a VIP box for six people.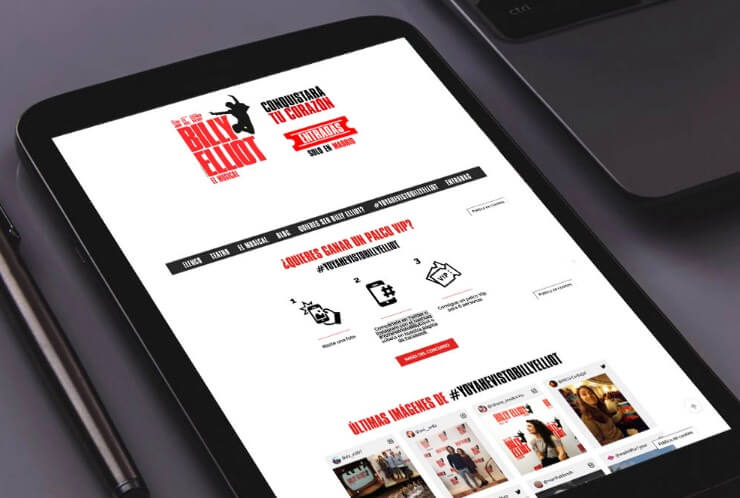 The power of images is unquestionable but in case it was not enough, we included the Tweet Feed. Tweets shared under the hashtag appeared in the feed. It is important to know that there are people who do not like appear in pictures. And it is as important to give them their space in actions and competitions. That is another success for the #YoYaHeVistoBillyElliot campaign, which included tweets and even allowed to interact with them.
Showing all the content of social networks helps users to easily share their experiences. In fact, many of the attendees were uploading photos and posting tweets during the show to express their opinion about the performance. As you already know, sharing tweets and pics is the best way to boost your event.
How #YoYaHeVistoBillyElliot works?
Our system to manage the publications is robust and reliable. Every publication shared under the hashtag was registered (with the exception of private accounts). The content was offered to the customer directly through an API. They designed the site for the action.
The design can be carry out according to the client's guidelines although Tweet Binder team also give advice. It is important to highlight that an essential part of our service is to moderate the content before it is published. The moderation panel is easy-to-use for the customer and we deliver it in periods that do not exceed 10 days.
If you think Billy Elliot's case could be applied to one of your campaigns or it has inspired you some ideas, contact us!.
Utopia Music festival
Music Festivals are known all over the world for gathering the best musicians with thousands of people to celebrate music. But, can you imagine that amount of assistants being able to see their faces on big screens next to their favorite artists? Well, the Havas Sports and Entertainment and Tweet Binder teams were able to picture this and, in order to promote the new Disney Pixar movie Finding Dory, two big screens were installed in the main stage of the Utopia Music Festival.
Those screens were customized with the look & feeling of the Disney Pixar movie and when a @user uploaded an image to Instagram or Twitter, it was displayed pretending it was under the sea with the message "Finding @username".
The outcome of this action was astonishing. Everyone wanted to see their pictures on those big screens. People went crazy when they realized that only by uploading a photo their faces could be seen next to Carlos Jean, Martin Solveig, Armin Van Buuren or David Guetta.
Conclusion: rock your stats!
As you can see, Music Festivals and Social Networks is a great mixture to combine with our social walls. So, if you want to rock your festival or your event you should definitely try our social walls to engage with your audience and let them be direct part of the event. As you can see, creativity has no limits! It doesn't matter how crazy your idea is, we can work together to make it happen and give your clients and unforgettable image!
What are you waiting for? Show must go on! Contact us now to display your event's social content with our awesome Social Walls.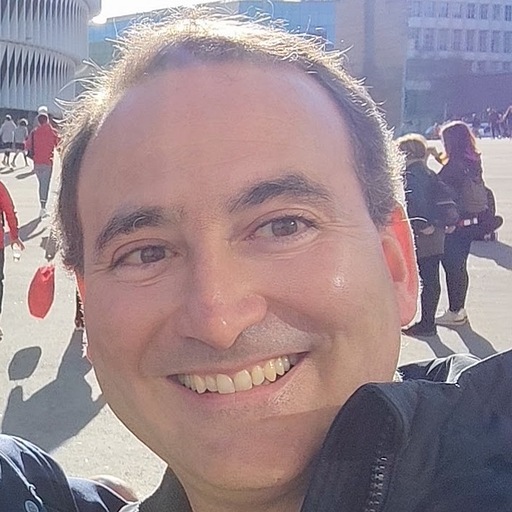 Javier is the founder and CEO at TweetBinder. With more than 10 years of experience in Twitter Analytics space, he is on the mission to build best-in-class Twitter marketing tools helping X community to thrive.