Taylor Swift is back! Almost two years ago we were surprised by Taylor Swift's Social Media blackout. It is no secret that at Tweet Binder we are huge fans of the artist. For the past two weeks she has been posting clues on all her Social Media accounts. All these clues were followed by the numbers "4.26". We were all hoping that this will lead to the release of new music, and it did! Taylor Swift even posted a countdown on her Instagram account which was being re-posted by fans all over the globe. If there is something we love more than Taylor's music is analyzing its repercussion on Twitter. So, are you ready for it? ?
Analyze Taylor Swift Twitter activity NOW
Folklore – Surprise from Taylor to the world
It is no secret that this COVId-19 situation has changed everything. We have had to learn to stay at home, be apart from our loved ones and wear a mask outside our homes. It's being a tragic pandemic. But is has also taught us good things. We have learnt the hard way that nothing is granted. Not even in this 21st century. In words of Taylor Swift:
Before this year I probably would've overthought when to release this music at the 'perfect' time, but the times we're living in keep reminding me that nothing is guaranteed. My gut is telling me that if you make something you love, you should just put it out into the world. That's the side of uncertainty I can get on board with. Love you guys so much ♥️ – Taylor Swift on Instagram
Folklore album announcement
As Swifties, we are used to receiving easter eggs before every album release. But not this time. Taylor has surprised us all releasing the whole album at once with only 12 hours notice. This is a new experience but we have all loved it. In these times we are living in, all surprises are welcomed. 
In isolation my imagination has run wild and this album is the result. I've told these stories to the best of my ability with all the love, wonder, and whimsy they deserve. Now it's up to you to pass them down. folklore is out now: https://t.co/xdcEDfithq

📷: Beth Garrabrant pic.twitter.com/vSDo9Se0fp

— Taylor Swift (@taylorswift13) July 24, 2020
The use of #Folklore on Twitter
As it couldn't be any other way, Tweet Binder has analyzed the #Folklore hype on Twitter. We have done a comparison of how the hashtag #Folklore was used before Taylor tweeted about it and after. And we have to say that the difference is remarkable. 
It is important to notice that we have only counted the original tweets. This means that we have taken out all the RTs made to tweets containing the hashtag #Folklore.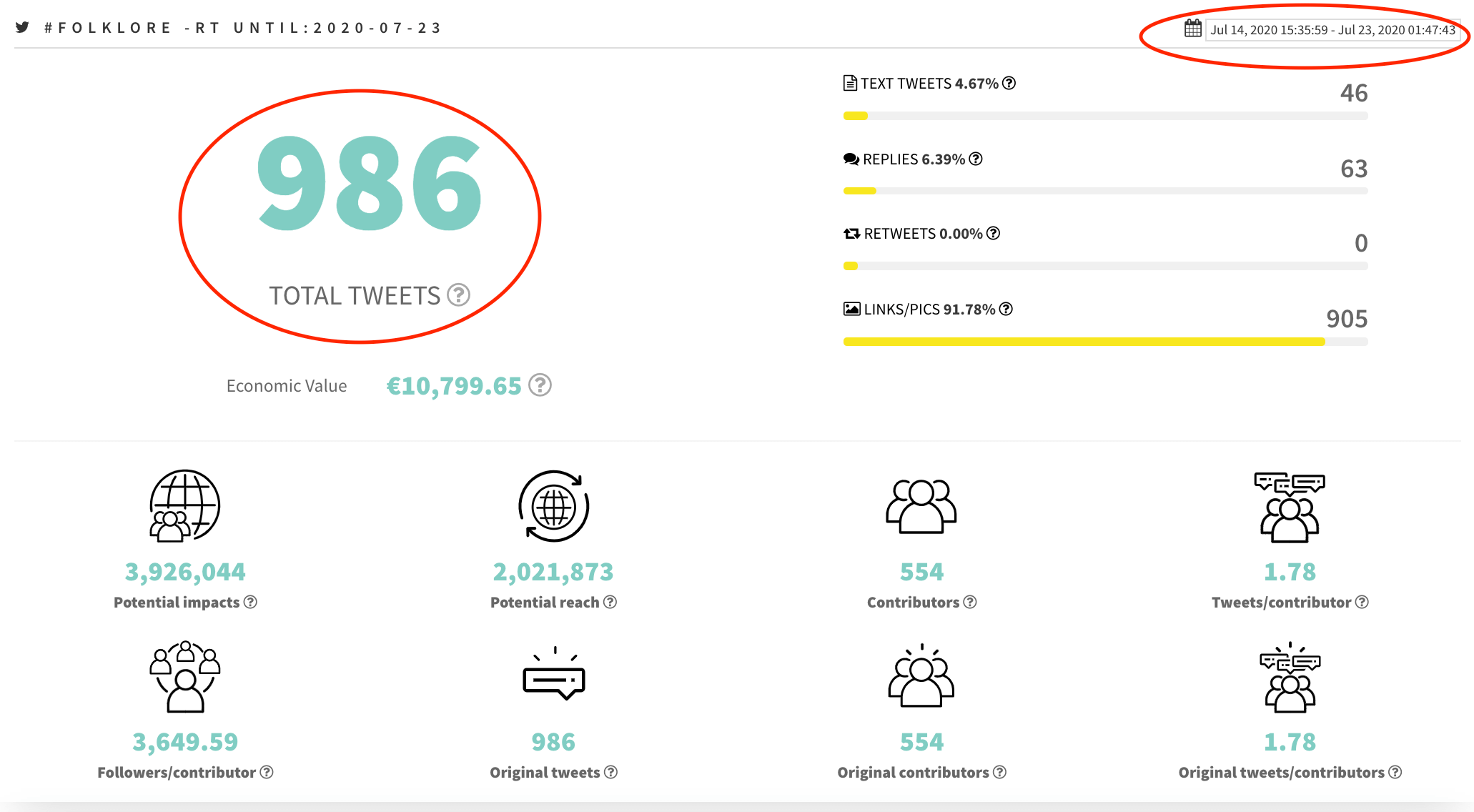 As you can see, the term was used just in 986 original tweets since July 14th. No one could see it coming that this term was suddenly going to be one of the most used hashtags of the month (maybe the year?).
#Folklore after Taylor Swift tweeted
We have generated a graph to see how many tweets the term #Folklore received after Taylor's tweet. And we have to say that the growth is huge. As was aforementioned, the term was used 986 times between the 14th and 23rd of July. Then, we can see how in just one day it was used over 300K times.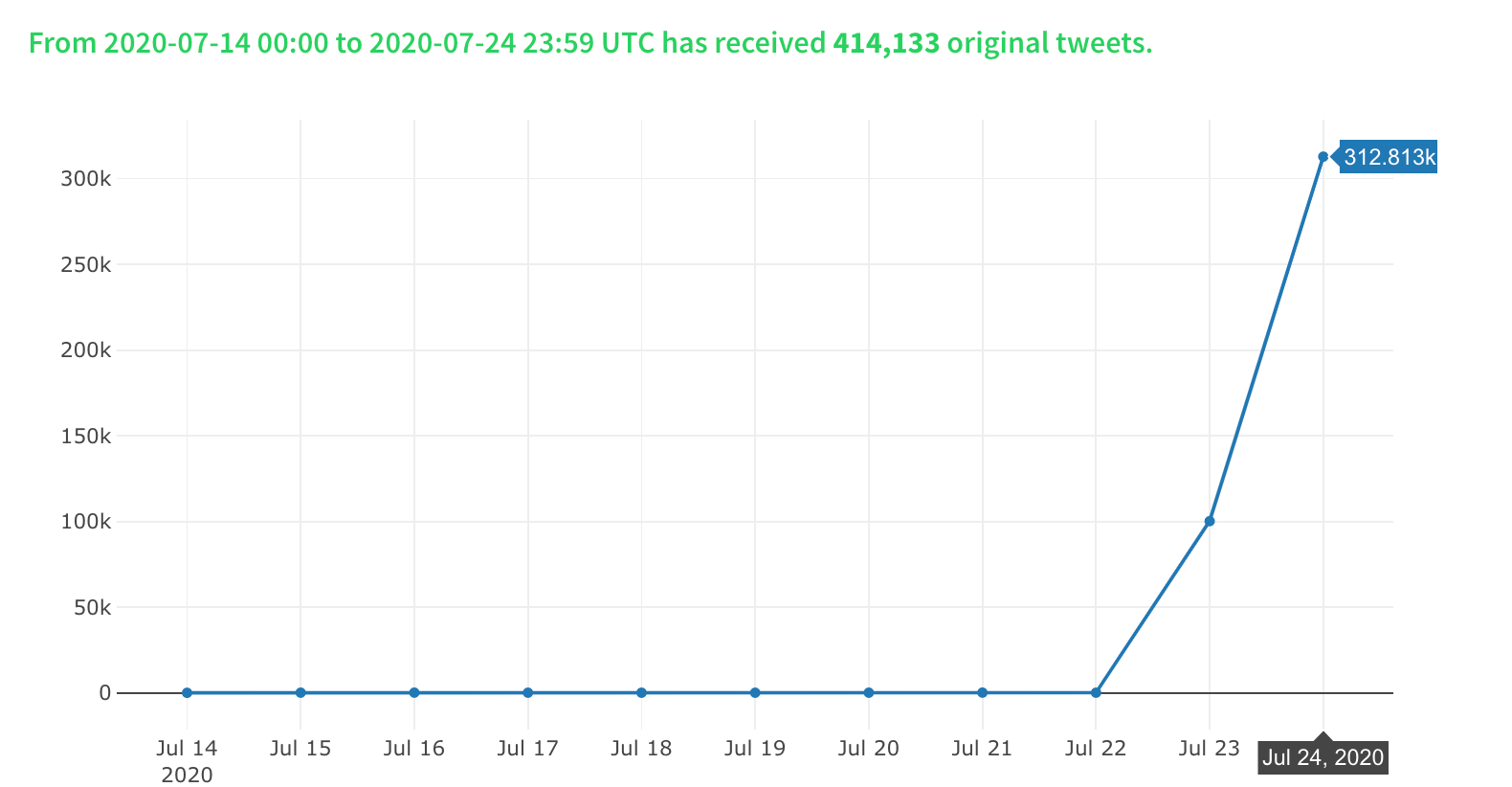 Right now, we can only put on our Cardigan and keep listening to this wonderful album Taylor Swift has given us. Enjoy #Folklore and tell us all about it!
Taylor Swift on Twitter – April Twenty Six
In 2019, it all started with three numbers "4.26". Everyone quickly jumped to the conclusion that this meant April twenty six. Actually, there was no need of being Sherlock Holmes  to unlock this first clue as the artist posted a countdown that ended on that day.
📷 | The 3 different aesthetics to Taylor's live countdown ☁️💖✨#TaylorSwiftApril26 pic.twitter.com/99mAw37veu

— Taylor Swift News 🧣 (@TSwiftNZ) April 22, 2019
The connection Swift has with her fans is one of a kind. She is always trying to run strategies in order to let them discover where her new music is going. Therefore the minute she posted the picture with a shinny heart on all her Social Media accounts, fans created several hashtags to express their excited about this new music. Tweet Binder has analyzed how many tweets have been sent with each of the hashtags related to this day:
| | |
| --- | --- |
| Hashtag | Tweets |
| #TaylorSwiftApril26 | 481,199 |
| #AprilTwentySix | 11,996 |
| #April26TaylorSwift | 6,548 |
Given the number of tweets shared, it is safe to say that this day will be remember by all the Swifties around the globe. Analyzing Taylor Swift on Twitter is a very fun activity, the artist has a huge fandom having her back.
ME! – Music Video
There were several clues that revealed that this video was going to include pastel colors. As a matter of fact the color range Swift has followed not only when she posted the Instagram posts but also when she performed at the #TIME100 gala. We must not forget the butterfly heels she wore to the iHeartRadio Music Awards! She has been teasing this moment on every public appearance she has had. And on April 26, magic happened: a new music video was released!
The music video for Me! featuring the lead singer of Panic! At The Disco Brendon Urie was released. And, well, what can be say about it? We absolutely loved it. The beginning with the snake turning into a butterfly really is a message. The music and theme has a resemblance with the old Taylor, but she can't come to the phone right now… So, are we witnessing a new Taylor era with some little touches of the old Taylor? Maybe, who knows? But we are eager to discover it!
So, what about Brendon Urie and Panic! At The Disco? We have analyzed how their mentions on Twitter has increased in the last days and the numbers are cra-zy: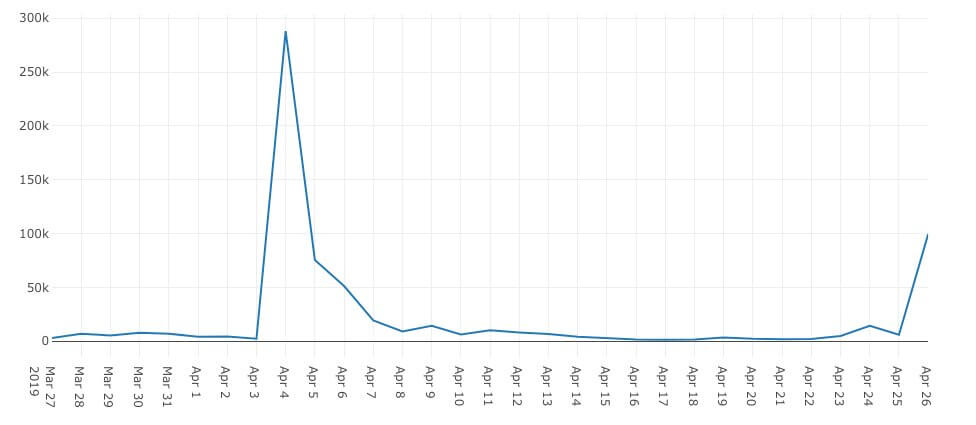 It is necessary to comment that the peak of mentions that can be seen in the upper timeline is because the group is nominated to the #BBMAs in the category Top Duo/Group along with @BTS_twt. We know that this K-pop group has an army of fans that tweet about them to give their support every minute of every day. So, when the Billboard Music Awards Twitter account posted the following tweets, the BTS fandom started replying the tweets, therefore they mentioned the @PanicAtTheDisco as well. This explains why the group has received 673,026 tweets in the past 30 days.
#BBMAs Top Duo/Group:
🔹 @BTS_twt
🔹 @DanAndShay
🔹 @Imaginedragons
🔹 @maroon5
🔹 @PanicAtTheDisco pic.twitter.com/8FEcvzTu5O

— Billboard Music Awards (@BBMAs) April 4, 2019
Therefore, having explained this, we can now compare this time chart with the one for Brendon Urie. The lead singer of the band has received 219,595 tweets in the last 30 days, lets see how they are distributed in time: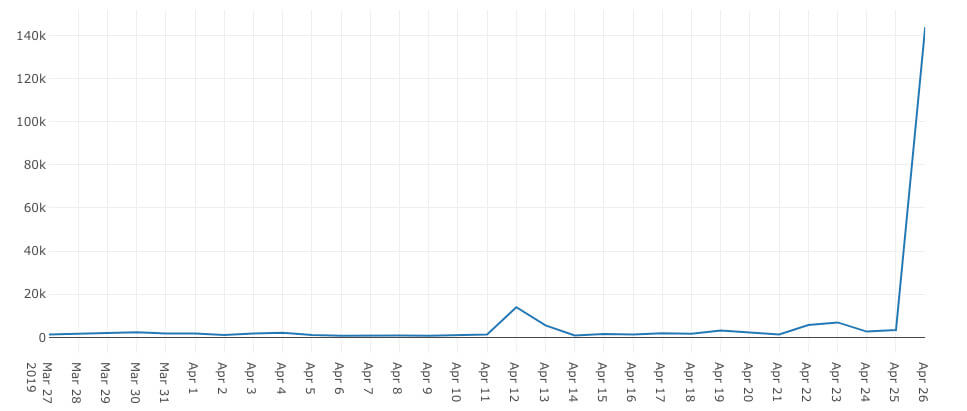 Here we see that, after the video was released, the mentions to his Twitter account increased rapidly. This makes complete sense. The combination of these two artist has had as a result a very complete song. We are playing it on reply over and over again, to be honest…
Taylor Swift's Twitter data
It is no secret that Taylor Swift is known for breaking every record on the Internet. And even when she doesn't break a record she ends up with very good figures on Social Media. We have analyzed the main hashtags of this new music along with the mentions the artists has received these past days.
Let's begin with the mentions @TaylorSwift13 has received within the past days as the graph is really interesting: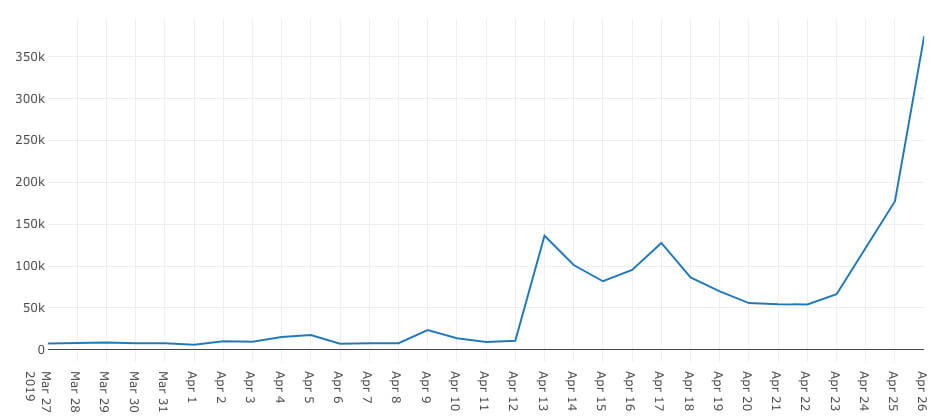 She has received 1,782,776 mentions in these past days! On April 13th she started posting clues with the caption "4.26" and that is when the fandom went crazy. We can see in the graph how she received an average of 130k per day. And as April 26 was closer, that number increases. But, what about the April 26/ME related hashtags? We have their hashtag tracking as well!
| | |
| --- | --- |
| Hashtags | Tweets |
| #TaylorSwiftTonight | 233,812 |
| #MeOutNow | 157,644 |
| #TaylorSwiftIsBack | 47,423 |
| #TaylorSwiftME  | 18,094 |
And what about Instagram? Well, the truth is that we'd need to write a whole new post only speaking about what she has done on Instagram. She has had her own customized filter that changed every 24 hour for the last three days, thousands of users shared stories mentioning her and using this filter. Some of these fans were lucky enough to have Taylor reposting their stories. It is really crazy how she engages with the fans, she is truly engaged with them and we love it!
Avengers End Game
The week of April 26 had some major releases besides the launching of this new music. The movie End Game was also released and fans have been waiting this moment for a long time. As it couldn't be anyway else, we have analyzed the main hashtag of the movie, #AvengersEndGame, on Twitter: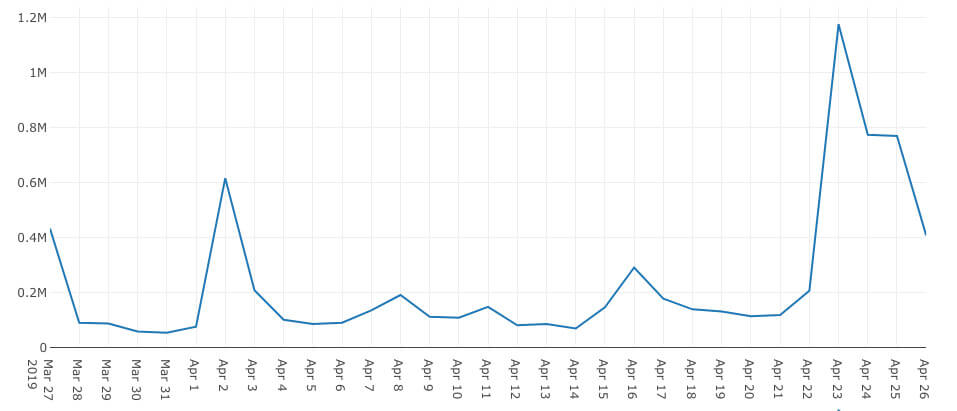 This hashtag has had 7,295,835 tweets in the past 30 days. Of course, we can not compare this figures but the ones Taylor-related hashtags have had because this movie has been promoted since long time ago. The marketing strategy surrounding this movie goes back to 2018. Whereas the Marketing strategy for ME! by Taylor Swift goes back to April 13th. Noticed the number 13 there? ?
Twitter will continue speaking about this song and Taylor Swift for months (or at least we hope so!). So, until the artist drops a new album, we can only keep playing this catchy song on reply, scrolling down Twitter reading opinions from users and analyzing all of it with Tweet Binder! These are happy moment for Taylor Swift Twitter fans. But, do you remember her Social Media blackout? Taylor disappeared for a while from social networks. It was a while back but this is how it happened and how Taylor Swift followers became crazy.
Taylor Swift intriguing Twitter strategy
It is true that, if you want to make noise, you should go to Social Media and publish that message you are eager to share. The main social network to obtain higher repercussion of your message is Twitter. Social Media is commonly used by artists and musicians to announce new movies, series or music records. For these releases they like to create intrigue among their fans. The last one to do so was Taylor Swift.
Taylor Swift suddenly vanished from Social Media. On August 18th the worldwide known singer erased all the content from her Twitter account, Instagram, Facebook, her official website and Tumblr. Suddenly everyone was jumping into different conclusions about what this could mean. Was she hacked? After the hackers' attacks to HBO, everything is possible. Does she want to disappear from the social radar? Being that famous may be tiring and maybe she just wants a little bit of peace.
However, the theory that seems hit the target is the belief that she might be releasing a new album. Taylor never does anything without meaning; she does not do anything unintentionally. After the black out, the artist posted an intriguing video of what seems so be a snake. The video has no sound and it just lasts for 10 seconds.  
21 de agosto de 2017
Twitter goes crazy
After the publishing of this video Twitter users went insane. Theories were multiplied by one million and everyone started tweeting to the artist asking what was happening. Lots of hashtags were created by fans as a result of the craziness such as #TS6IsComing. While writing this post, Taylor Swift has published a new tweet displaying again what seems to be a snake. At this moment the tweet has 39,823 likes and 19,862 RTs and numbers are growing minute by minute.
22 de agosto de 2017
Twitter analysis of #TS6IsComing
Well, it is impossible that what an artist with 82,375,424 followers publishes on Twitter can be left unnoticed. In fact, the hashtag #TS6IsComing has generated at this moment more than 200,000 tweets. What does this means? That Taylor Swift is more than alive than ever. The graph is actually quite revealing: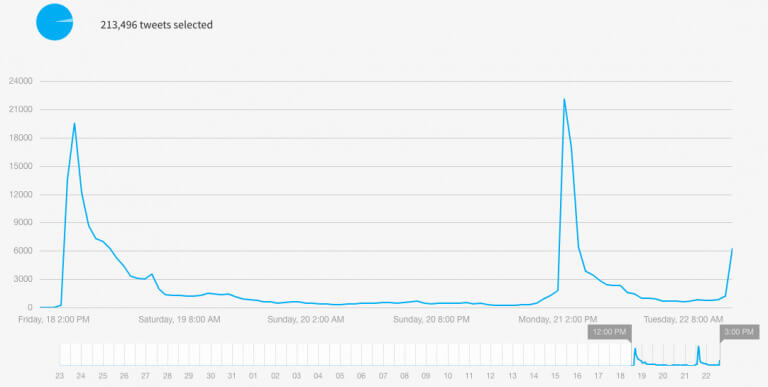 In fact, we can see two main peaks that refer to when the artist runs away from Social Media and to when she publishes that first video. Actually, we can see how another peak is going to form on the right side due to the tweet she has just sent with another intriguing video of a snake. What conclusions can we obtain after seeing what is happening and reading this?
Well, it is safe to say that the Taylor Swift fandom would be over the moon if the artist releases a new album. As a Twitter hashtag tool we are eager to see what else the singer has to say and to keep analyzing it on Twitter. We are sure she has much more to say than two snake videos. When you think Twitter analytics we hope you think of us! 😉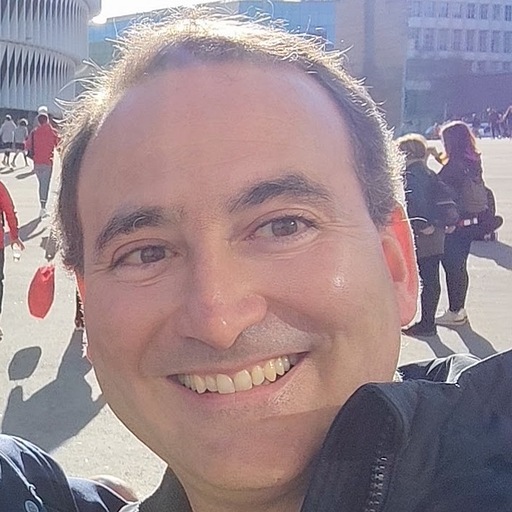 Javier is the founder and CEO at TweetBinder. With more than 10 years of experience in Twitter Analytics space, he is on the mission to build best-in-class Twitter marketing tools helping X community to thrive.