We all have been addicted to a TV series or a movie saga. Once we have devoured it we are eager to share our opinion. We talk about our impressions or feelings about the characters and the plot. But, what do we do afterwards? We go to Twitter and start spreading the word about the episode or movie we have just enjoyed. Why do we do that? Because we want to share our opinion, start a conversation with all the fans of the series that are out there in the tweetworld. In fact, because we can't avoid spreading spoilers.
Every TV series has, nowadays, its own fandom; this is a community of followers that watch each episode the moment it is aired in TV and they discuss it almost on real time on every social platform possible. What's the risk with this? Well, it is obvious; there are tons of people all around the world that are not able to see the episode when it is launched. Maybe because they don't have time or, the most common, because they live in a different country. That is why checking Twitter the day your favorite show launches a new episode will probably make you read a spoiler.
What is a spoiler?
If you ask anyone what a spoiler is they will say that is getting to know an important part of a book, series, film… before you know it. We could say it is something that bothers you because you wanted to learn it from yourself.
Also, as the word is quite popular and regularly used, we can rely on a dictionary to find our the actual meaning. This is what the Oxford Dictionary states for spoiler in this context:
Information that you are given about what is going to happen in a film, television series, etc. before it is shown to the public
#AndJustLikeThat spoiler
Well, if you are familiar with Twitter you must know by now that there is a 'Sex and The City' reboot. Rumors are always present when talking about 90's tv series that were a success. Some of them know that they fans from the past are still fans now with the ability to pay for their shows. Platforms emerge and they take advantage of it.
That has happened with And Just Like That which is in HBO's catalogue. Their Twitter account is active since January this year. We already published about it. And this was their first tweet (well, it is a retweet to one of the main characters tweet):
Anything is possible …
the story continues !@AndJustLikeThat
Coming to @hbomax #SATCNextChapter #AndJustLikeThat pic.twitter.com/ey7fr71MRQ

— Kristin Davis (@KristinDavis) January 10, 2021
However, the first episode was not aired until December 2021. The fans have had a year to spread rumors, theories and ideas abut Samantha (that is undeniable). Almost a year where Twitter has turned into a wild place full of tweets with predictions and also into a fountain of wishes. Nonetheless, the magic was broken fast with the first episode. A really expected one that who knew included a spoiler that lead to a crisis (you are warned, spoiler alert ahead!):
PELOTON'S SURPRISE ROLE IN 'SEX AND THE CITY' REBOOT: Spoiler alert! Fans were shocked from the first episode of #AndJustLikeThat… when a major character died following a workout on his bike, but Peloton quickly came out with a follow-up ad — the panel reacts. pic.twitter.com/4FizfrYBdD

— The View (@TheView) December 14, 2021
Twitter and spoilers
There are times when a tweets does not warn about its content. So, we read things we prefer not know (such as spoilers). Other times our mind is not fast enough to skip the tweet with the "spoiler" word in it. Well, we may also think that following the right accounts we can scape from reading spoilers. Sorry, a Twitter advanced search for "spoiler min_retweets:20000" proves it wrong: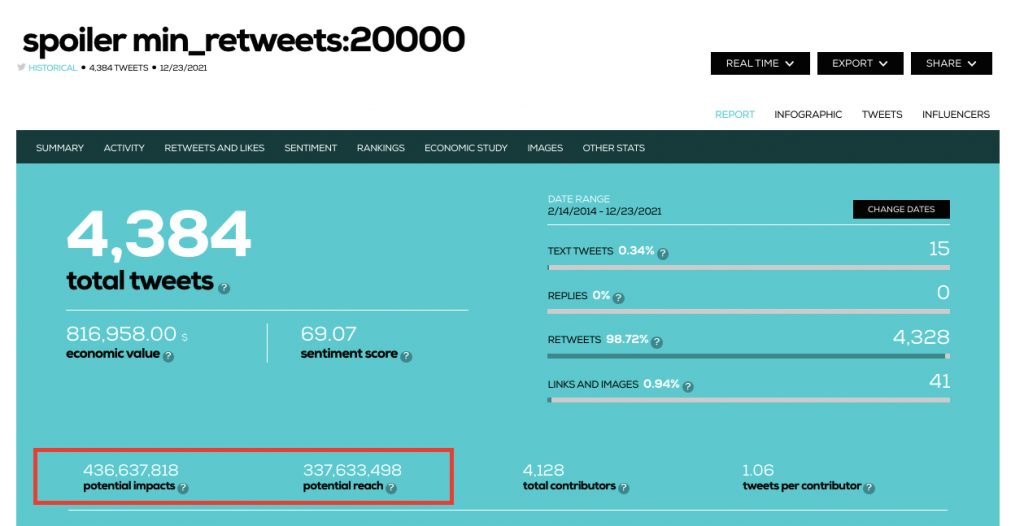 Watch out for spoilers
Our advice in case you have not had time to watch the latest episode of your favorite series is to not open any social network, specially Twitter. Lets s take as an example Game of Thrones. This series was followed by millions of people all around the world. The fandom created around it is absolutely incredible. Fans gathered together on Twitter to discuss live the episodes while they were watching.
But, what if you were not able to watch it? Well this can turn into your worst nightmare. The amount of tweets generated each day around Game Of Thrones was incredible. We calculated how many original tweets (excluding retweets) the account @GameOfThrones receives on a regular day (meaning those days when they have not aired an episode). On the 9th of August, the account received 4,471 original tweets from 3,616 different users. This means that, even though episodes were aired on Sunday, the conversation about this phenomenon never stops.
The dangers of #GameOfThrones and Twitter
As you can see, it can be a real headache to avoid tweets that talk about #GameOfThrones. Spoilers have become one of the worst nightmares for series addicts. And it seems that this particular series is susceptible of generating tons of spoiler alerts after every episode.
Users should be careful when tweeting about a show that has as much repercussion as Game of Thrones. When, the ones that should be more careful are the companies. As an attempt to obtain more followers and engage with them, brands send sponsored tweets mentioning the series. What's the danger with this? That some of the followers may have not watched the episode. This will cause that they tweet back to the brand most of the times using not appropriate content.
Conclusion
The truth is that series addicts are very sensitive when speaking about the latest episode of their favorite show. Our recommendation to avoid any spoilers is to try to avoid reading Twitter one or two days after an episode is public. For us, that is really difficult, so we are the kind of fans that stay up late to watch the episode the moment it is aired. At the end, you know nothing about riding dragons or about if or why any character dies.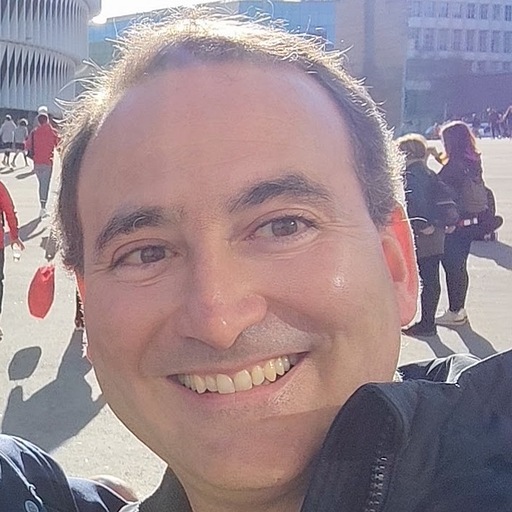 Javier is the founder and CEO at TweetBinder. With more than 10 years of experience in Twitter Analytics space, he is on the mission to build best-in-class Twitter marketing tools helping X community to thrive.