This post is also available in: Español (Spanish)
Twitter is the perfect place to share your opinion. Millions of users do it everyday. You can come to Twitter to talk about music, literature, politics… anything. A good thing about Twitter is that you can engage with anyone, from actors to politicians. JK Rowling is known for writing the Harry Potter saga. At Tweet Binder we are fans of that saga. The author has always been very active on Twitter. She recently launched a campaign for her book The Ickabog where children could post drawings of what they read in that book. However, the relationship between JK Rowling and Twitter has suffered a bit. At the beginning of June she posted a thread about trans people that was not well received.  As it couldn't be any other way, we have run Twitter analytics report for this.
JK Rowling and Twitter – The Ickabog
The Ickabog is the first children book JK Rowling publishes since the Harry Potter saga. The Ickabog is a fairy tale set in the mythical land of Cornucopia. She announced it launching on Twitter with a thread. The first thing she wanted to make clear was that this was not a Harry Potter spin-off.
I have a small announcement, but before I get started, I
want to head off one possible source of confusion.
********************************************
THIS IS NOT A HARRY POTTER SPIN-OFF
********************************************
1/13

— J.K. Rowling (@jk_rowling) May 26, 2020
Twitter analytics for #TheIckabog
With Tweet Binder any client can analyze anything on Twitter. It does not matter if the campaign was launched three years or three days ago. Tweet Binder can track it. With a historical reports we are able to analyze old tweets and with a 7-day report we can analyze more recent events. Of course, we can create reports in real time that will let us have a streaming running for our hashtag. With JK Rowling and Twitter, any report can work as she has been on Twitter since 2009 and plans to keep being an active user.
As we have said, for her book The Ickabog JK Rowling went all in for Twitter. She published the aforementioned thread and encourage children to send her their artwork of how they imagined tale and the world of Cornucopia. The campaign has resulted in a huge success. The hashtag #TheIckabog quickly started to be a trend and for a whole day was top on the TT worldwide charts.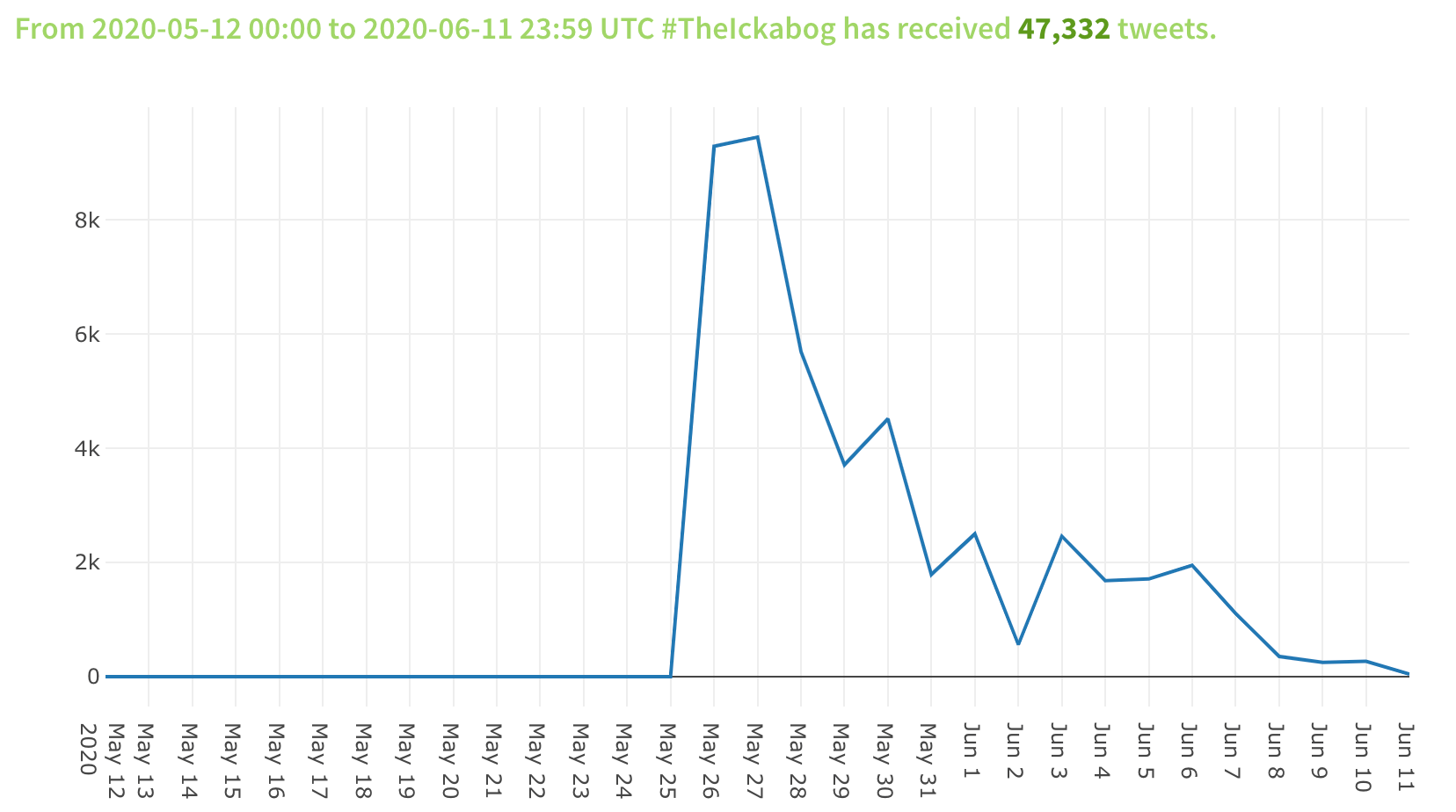 The first peak we can see in the image, is from the day the tale was published. Let's not forget that the book is being published in installments so it is normal for the activity to keep going on through the days. We can say that at the beginning people were more excited about it and then only the faithful ones remained.
J.K. Rowling's Twitter comments about transgender women
JK Rowling is one of those people who is not afraid to speak her truth. Even if her truth is something people are not going to like and might criticize her for it. Her last controversy is related to transgender women. Of course, she didn't publish a tweet, she did it with a thread. This was the first tweet of that thread:
If sex isn't real, there's no same-sex attraction. If sex isn't real, the lived reality of women globally is erased. I know and love trans people, but erasing the concept of sex removes the ability of many to meaningfully discuss their lives. It isn't hate to speak the truth.

— J.K. Rowling (@jk_rowling) June 6, 2020
As you can see, it was impossible for this tweet to go unnoticed. Not only because of the 14.5 million followers JK Rowling has on Twitter, but also because of the topic she was addressing. Some people support her opinion and some others don't. It is commonly known that those people who are against something, are the ones who make more noise. And that is exactly what happened. JK Rowling was immediately accused of making "anti-trans comments". Let's not forget that on December 2019 she also stood for a woman who was fired after sending "transphobic tweets":
Dress however you please.
Call yourself whatever you like.
Sleep with any consenting adult who'll have you.
Live your best life in peace and security.
But force women out of their jobs for stating that sex is real? #IStandWithMaya #ThisIsNotADrill

— J.K. Rowling (@jk_rowling) December 19, 2019
This COVID-19 situation has been the perfect reason to be on Twitter. The active users this social network had, has been multiplied by hundreds of thousands during this quarantine. So JK Rowling started to received replies to her tweet within seconds. People who menstruate: before sending her first tweet, she tried to coin the term "People who menstruate" to refer to women. And well, controversy was served. But we won't be going there.
Twitter's response to JK Rowling
There are some renowned users who have replied to JK Rowling's comments on Twitter. We are going to focus in those who are related to the Harry Potter saga. From Daniel Radcliffe to Eddie Redmayne, We have to say that everyone was very respectful to JK Rowling but they didn't support her comments. They quickly went out to defend the trans community. The aforementioned actors, express their opinions on two articles for Variety.
As someone who has worked with both J.K. Rowling and members of the trans community, I wanted to make it absolutely clear where I stand. I disagree with Jo's comments. Trans women are women, trans men are men and non-binary identities are valid.    — Eddie Redmayne, who plays Newt Scamander on Fantastic Beasts
We need to do more to support transgender 6 nonbinary people, not invalidate their identities, and not cause further harm. — Daniel Radcliffe, Harry Potter
#IStandWithJKR – Trending topic world wide
On the 10th of June 2020 the hashtag #IStandWithJKR began to trend. The hashtag was used before that day, but on the 10th it took off. Tweet binder created a 7-day report and a live report to track all the activity surrounding that hashtag. These are the results until June 11th at 10:43AM.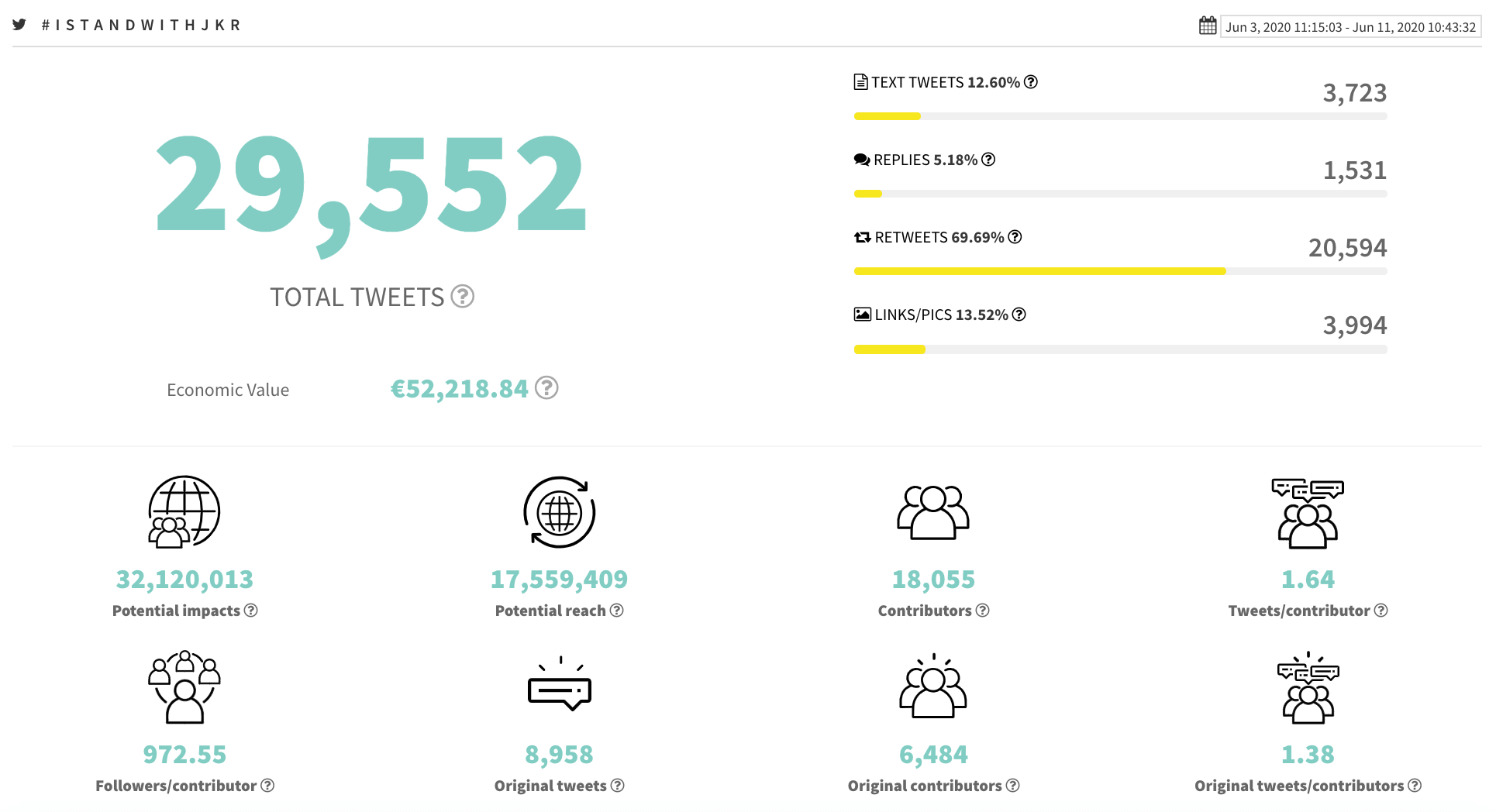 JK Rowling and Twitter – Tweet Binder reports
With Tweet Binder you can keep track of any Twitter account. By combining a Twitter historical report and a live report, you can see what an account has tweeted and hat it is tweeting at the moment. It is perfect to see what they have said and what they are saying. That is the good thing about the Tweet Binder reports, they are not limited to hashtags or keywords, they can track accounts as well. We have already done a study of Donald Trump on Twitter and of Obama's Twitter activity. We recommend you to have a look at them. If there is any account you'd like to track, contact us and we will gladly help you.