No matters if you are an Adele fan or not, you might know by now that she's back. The one and only Adele has comeback after years since her last album or appearance. We already have published about how artists can take advantage of Twitter data. There are plenty of popular hashtags related to albums, concerts or shows well known by now. Hello, #Coachella! 
Adele's albums always have a personal signature. It is undeniable that she is one of the most praised artists in the UK. Well, hold on, in the world. Her previous albums were named after her age, it is now time for: Adele's '30'. The world is eager to get to know more about this album and Twitter has made sure Adele knows it. Let's see how Twitter and Adele work together. Let's set fire to the rain in order to come up with 30 Twitter facts about @Adele.
30 Twitter statistics about Adele
So, let's focus on the main topic of the post. 30 is the name of Adele's new album, we are going to give you 30 Twitter data about Adele:
1. @Adele's Twitter handle is active since 08/30/2010
2. This is the very first tweet ever shared by @Adele:
Adele has a new blog up at her website. Check it out here: http://bit.ly/adeleblog1

— Adele (@Adele) October 13, 2010
3. The most retweeted tweet and most liked tweet shared by @Adele is
Easy On Me – October 15 pic.twitter.com/7HRvxAfEqy

— Adele (@Adele) October 5, 2021
4. 340 is the total number of tweets shared by @Adele
5. From those tweets: 305 are original tweets and 35 retweets
6. This is the most expensive tweet by Adele
73 Questions… or something, I've lost count! https://t.co/RSmWpXGDym pic.twitter.com/kVbrwfVDyJ

— Adele (@Adele) October 21, 2021
7. @Adele's tweets have received over 2.3M retweets in total
8. Ii is also remarkable the total number of likes her tweets have received: over 10M likes
9. 44,801.73 USD is the market value of @Adele's Twitter account
10. @Adele's engagement value is over 493K USD
11. The most used device to tweet from @Adele's handle is an iPhone (145 tweets)
12. @vevo & @drop4drop are the most mentioned accounts by @Adele
13. Adele's Twitter account only follows one user: @AdeleAccess
14. The @AdeleAccess account ​has over 80,000 followers
15. 185 is the total number of tweets already posted by @AdeleAccess
16. From those 63 are original tweets and 122 retweets
17. @AdeleAccess has already received 4,767 original mentions (no retweets counted)
20. Adele's comeback has been announced as the biggest debut of the year in the US:
.@Adele's '30' sold over 575,000 total units in the US in its first three days of release. It will earn the biggest debut of the year. #Adele30

— chart data (@chartdata) November 23, 2021
21. #Adele30 has already received nearly 18K original tweets
22. @MTV is the most popular Twitter user in the #Adele30 analysis
23. Whereas #AdeleOneNightOnly has now over 19K original tweets
24. This is the most liked and most retweeted tweet from the Twitter analysis of #AdeleOneNightOnly
.@adele had us at hello! @lizzo what concert are we going to next?! 🤣🤣🤣 #AdeleOneNightOnly pic.twitter.com/uLBWHGclkw

— Oprah Winfrey (@Oprah) November 15, 2021
25. Additionally, #AnAudienceWithAdele contains almost 15K original tweets
26. Those tweets generated nearly 147K potential impressions and reached more than 50M million Twitter users
27. Being this one the most liked and most retweeted tweet with that hashtag:
Adele was surprised by her English teacher and burst into tears. #AnAudienceWithAdele https://t.co/cBbh6ewbjX

— Adele Daily (@adeledailymedia) November 21, 2021
28. Adele's Twitter profile includes a link to https://www.adele.com/ and that link is present in over 20K original tweets
29. This is most retweeted ever tweet sent to @Adele:
happy bday today to two great entertainers – @OfficialAdele and @chrisbrown – show them love

— Justin Bieber (@justinbieber) May 5, 2012
30. That tweet reminds us that the original name of her Twitter handle was @OfficialAdele
Extra:  This is the top tweet about "Easy on me":
This week's top-selling songs:

1. @Adele Easy on Me
2. #JIN Yours
3. @PostMalone & @theweeknd One Right Now
4. @eltonofficial & @DUALIPA Cold Heart (@pnau Remix)
5. @edsheeran Shivers

— billboard charts (@billboardcharts) November 15, 2021
Adele and the power of hashtags
Thanks to Tweet Binder and its reports we can analyze everything. We know every data and number linked to a trend or a Twitter handle. That is why we have been able to get all those Twitter facts about @Adele. 
On the one hand, the magical concert Adele performed in LA backed up by #AdeleOneNightOnly was a total success. Not only for the amazing performances, the unique moments it implied (who does not want to be proposed to at an Adele's concert) but also thanks to the interview the artist did with Oprah. On the other hand, thanks to the recent #AnAudienceWithAdele outstanding event. Hometown glory or the UK glory what a night! The hashtag reached almost 140M potential Twitter users with nearly 14K original tweets analyzed (no retweets counted).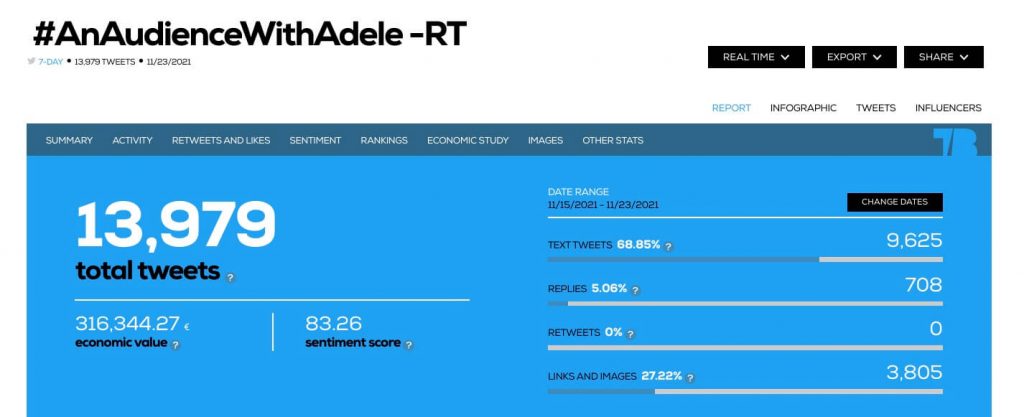 Adele's Twitter presence
In fact, Adele's Twitter numbers are quite impressive. She has almost 27 million followers. Her account is part of almost 29K Twitter lists and her Twitter market value is close to 45K USD. And all of that just by sharing 340 tweets: 35 from those are retweets and 305 original ones.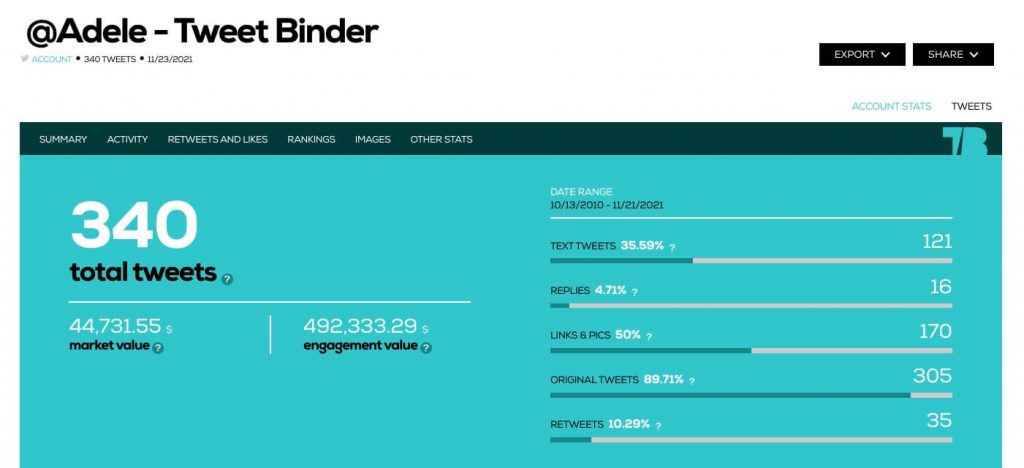 In fact, the new album was announced after a year of silence from Adele's Twitter account. Thanks to a short and clear tweet we all became aware of the great news: she was coming back. Not only with that tweet, but also with a kind of support Twitter handle. Thanks to a Twitter user report we know the @AdeleAccess was created the 2nd of February this year. However, it stayed silent until the 13th of October. Just with a "hello" (from the other side of Adele's secondary account) the account became noticeable: 
Hello

— Adele Access (@AdeleAccess) October 13, 2021
Conclusion
We can't stop, won't stop analyzing Twitter data as we listen  to '30'. Oh my God, how amazing is to analyze tweets about Adele and to read her tweets. As we do not know how to write you a lovesong, we await you in the search box in case you need any tweet or Twitter custom service: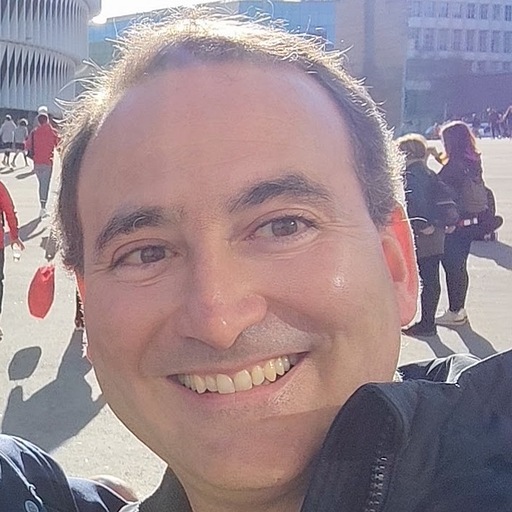 Javier is the founder and CEO at TweetBinder. With more than 10 years of experience in Twitter Analytics space, he is on the mission to build best-in-class Twitter marketing tools helping X community to thrive.