Social media has changed the way we communicate. There's no doubt about that. But it's also done something else. It has also changed how we get information. Now, not only do communication outlets inform us, we're informing them as well. We're informing them by letting them know our thoughts and opinions. And it's all thanks to social media. This is great for many brands, but it's especially great for TV.
Television and Social Media
In the last decade or so, social media has started seeping into yet another form of communication: television. We're now able to interact with the things we're watching in unexpected ways. One of those ways is through hashtags. They are everywhere. Your favorite TV show may have one. Sometimes even a specific hyped event in your favorite TV show may have one. Commercials sometimes have hashtags too. So do the news, especially if there's a major event happening, like a tropical storm or a widely followed sports event.
With how often they appear on our screens, it's hard to remember when there weren't hashtags on TV. And it makes sense since many of us are now multitasking when it comes to entertainment. We're often both watching the TV and are on our phones at the same time. Some of us are even livestreaming commentary on the shows we're watching in real-time.
HBO and Netflix are especially prominent in this trend, which just goes to show that their marketing departments are strong. They're creating prestige TV, which is ideal for viral social media market.
Make no mistake, the impact of TV hashtags will only keep growing. They're here to stay for sure. Thus the importance of hashtag tracking. And it's high time you started paying attention to them.
Why is TV Hashtag Tracking Important?
The new television ecosystem demands new metrics and innovative ways of getting to know the audience. With Twitter in the mix, we can now dig deep to see what users think, as well as gain access to valuable information. That's why TV hashtag tracking is so needed. It's an invaluable insight into TV viewers minds.
By tracking hashtags, social media managers can see what works and what doesn't. And they know how to capitalize on it. It's probably why when there's a special event in a show that a hashtag specifically created for it appears. For example, when the Red Wedding happened on HBO's Game of Thrones, a special hashtag was created (#RedWedding). Many of the show's loyal viewers took to Twitter right after the episode aired to share their grief and anger. The same thing happened in the final season, and especially the last few episodes.
Not only did the hashtags go viral, but they also snagged in more viewers. Do you think Game of Thrones would have been as big a success if it weren't for Twitter? It's possible, but Twitter and hashtags sure did their share of the work.
Another thing TV hashtags help with is gauging viewer sentiment. No doubt the creators of Game of Thrones expected a certain response during the Red Wedding episode. Thanks to the hashtag, they were able to see exactly what people thought. And how many people thought the same. Why was that useful? They quickly learned what made their viewers tick, what they wanted. It was a harrowing episode. It's still one people talk about even, years later. But it wasn't a disaster. It went viral because people were shocked. It only made them come back for more. Funnily enough, if you search for #RedWedding now on Twitter, it still shows up in recent tweets.
Wouldn't it be wonderful to have that kind of impact? Wouldn't it be great to be informed of your users' opinions, too?
Looking at the converse, when the final season came out, the tweets weren't as generous. People were unhappy. Things weren't going as they'd wanted them to. To some extent, the creators tried to right the ship where they could, based on feedback from Twitter. These corrections wouldn't have been possible at a time before the platform. So, whether good or bad, TV hashtags have an impact.
How Can We Analyze TV Hashtags on Twitter?
TV hashtag tracking demands powerful tools. That's because new hashtags are generated daily on a large scale. The more popular a show is, the more likely people will use that show's hashtags. Given that critics are saying this is the golden age of television, it's fair to say it's the golden age of the TV hashtag too. People are constantly using hashtags they see on TV. And it happens every minute. Therefore, finding the right way to analyze the tweets is essential to any social media manager. Tweet Binder is a tool you can use, and it offers a TV hashtag tracking service. With Tweet Binder, you can analyze tweets in real-time, generate reports, and use custom services to monitor old tweets.
Test it out by using Tweet Binder's free tool. Although the free tool only goes up to 500 tweets, you can see how active a TV hashtag is. For example, try #TheCrown. Even at just the 500 tweets, it has massive impact and reach. You can always go further if you need to. With a premium account, you can get all the details for a specific hashtag.
As a social media manager, knowing the impact of your hashtag is key to a successful campaign. So, don't miss out on the chance to analyze your TV hashtags.
Today Show Example
So, how does TV hashtag tracking work exactly? What can we really analyze? As we have pointed out previously, anything on Twitter can be monitored through Tweet Binder. When it comes to TV, Twitter analytics usually focus on two things: tweets made by a television program and tweets the program receives from Twitter users. These users could be stars of the shows, viewers, critics, news portals, and many others.
Let's see it how this works through a real-world example. Tweet Binder has tracked the Twitter account of the Today Show (@TodayShow) for October to see what the account has been sharing. At the same time, we also tracked all tweets from other users that mention the Today Show. The stats we gathered are available via a premium account. Here is what we found: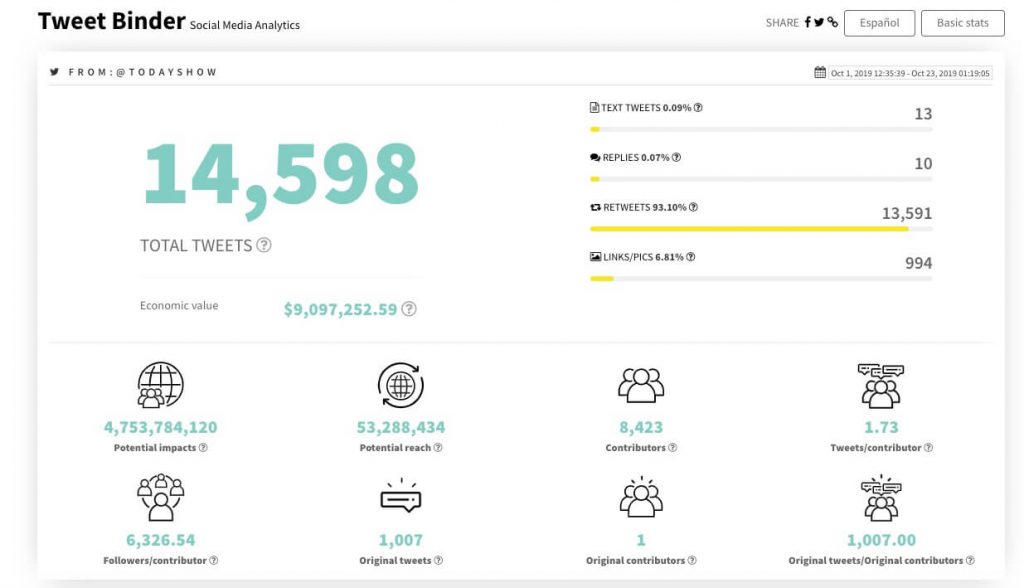 In October, the @TodayShow account shared a total of 14,598 tweets. These tweets had a potential reach of 53,288,434 and a potential impact of 4,7534784,120. All of that adds up to an economic value of $9,097,252.59. It's also interesting to note that of all these tweets, only 1,007 were original ones from the account. The remaining 13,591 are retweets. These retweets are from accounts that mentioned the Today Show account. That means that retweets outnumber tweets by a lot!
Now, looking at the user side of the statistics, the difference is staggering. There were 72,194 tweets in total. The potential reach was 5,498,366,814, and the potential impact was 330,862,618. That's more than half of all people on the planet! The economic value also skyrockets to $10,222,635.48. In addition, most of tweets that came directly from the account were in English. But, surprisingly, when looking at the other side, many more languages are in the mix. The Today Show clearly has a global impact.
If the above isn't proof enough of the power of hashtags, then nothing is. As important as it is for your brand to tweet, it's just as important to have an active following.
As part of the analysis, you can see many more stats, such as:
Contributors
Tweets/contributor
Followers/contributor
Most active users
Top retweeters
Most popular contributors
Contributors with the highest impact
Contributor influence
Top 10 hashtags
And much more
It's interesting to see what the two reports have in common and where they vary, especially since the user report shows how much activity there can be all over Twitter. It's great to know that with Tweet Binder not only can you see a report of your own tweets, but you can also see all those that mention your brand and use your hashtags most often.
Get Started on TV Hashtag Tracking Today
There's no denying that TV hashtag tracking should be a part of your social media marketing and communication strategies. Audience rates are no longer just measured by viewers. Twitter and its content are now a key part of television marketing. So, if you have a TV hashtag you'd like to track, start now with the help of Tweet Binder.
By tracking your hashtags, you will have better insight into what your audience wants to see. You will be more informed than you have ever been in the past. Television networks of long ago would have done anything to know as soon as possible what their viewers thought. Now you have that possibility. And it's not one that should be wasted. Get tracking!
Television hashtag tracking with Tweet Binder