We love to be part of our clients' great events, and it couldn't be less with Marketing Directo. They really like to make the most out of their events and they do that by listening to what users say on Twitter and displaying it on an amazing social wall.
Every event they throw turns out being a great success on Social Networks. And Enamorando al consumidor (meaning: captivating consumers) is also a good prove of it. Marketing Directo was the organizer. They brought speakers to the venue so that they could talk about the best ways to gain consumers' hearts in order to increase our sales. To encourage the participation, they installed 3 screens where the social wall with all the content was being displayed on real time.
Enamorando al consumidor & Marketing Directo
The projection of the wall demonstrated once again that assistants love to see their names on a leaderboard. It was obvious that this event was going to have high levels of participation, but these levels increased even more because of people tweeting only to see themselves on the big screens. Here we have an image of the lucky users that make it during the event, of course, these data were updated live so people on the leaderboards were constantly changing.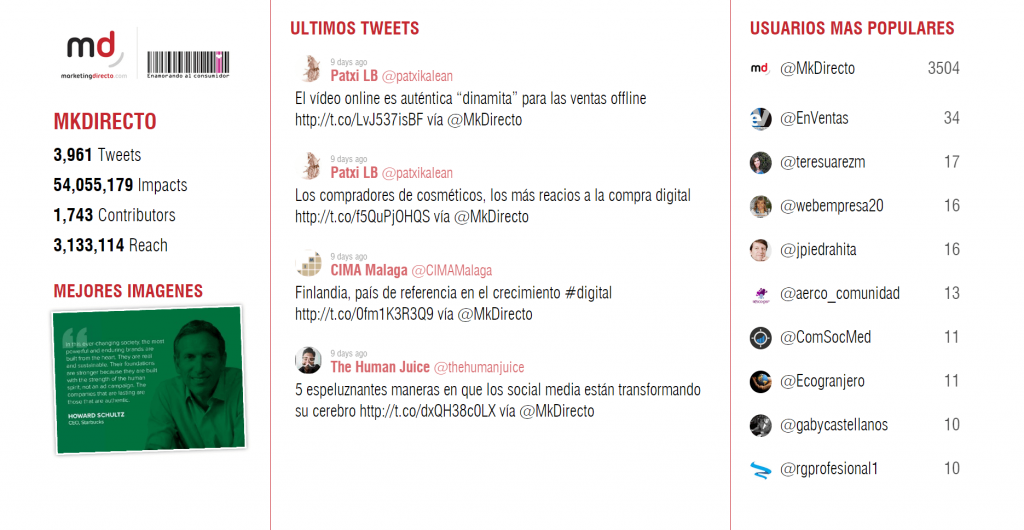 It has been proven that including a social Wall at an event increases the attendants interest and the exposure of what's being told by the speakers. Besides, being able to moderate the content before its shown makes Tweet Binder the perfect solution to display the content analyzed safely. Be sure to pick an engaging hashtag, to show it and to share with the attendees and your followers and encourage them to participate. Twitter stats and data would be the least worrying issue that you should take care of.
Conclusion
So, for your next event don't get left behind! Do as Marketing Directo and install a huge screen to interact with the assistants to your event. We can promise you the best design and results but we can also promise that you won't regret it! Contact us know and let's get started!