Nowadays, Christmas time is a synonym of "great ads time". It is true that during Christmas companies try to create ads that tell a story. They don't try to sell their products; they try to connect with the audience. Why? Because it's Christmas. Christmas is considered the best time of the year, and it's probably the best holiday. You've got Santa Claus, snow, hot chocolate, gifts, a Christmas tree, twinkling lights, bells, and so many other good things that make Christmas special. In this post we will talk about the 2019 best Christmas adverts. But, if you want to skip it and start creating your own Twitter reports, type your hashtag in the following search box. It will give you a free report from the past 7 days and up to 500 tweets.
['tb-search-box']
But most importantly, most families are gathered and it's a great bonding time in front of the TV. That's why a lot of companies and brands out there love Christmas. It's the perfect opportunity to get more exposure and recognition, and it's a great way for a brand to look humane and trustworthy. Companies find that Christmas is the perfect bonding time for them and their customers, they get to wish them a happy holidays and leave an eternal print of their goodwill in the mind of their customers.
What makes a great Christmas advert?
If you're a marketer, then you must wonder what makes a great Christmas ad. How can companies out there captivate the heart of their customers and make a good impression? Well, there are a lot of ways to do it, but here are the main tips to make your Christmas advert efficient and effective:
A great ad will communicate your brand's values. The most important thing about an ad is for it to communicate a message effectively, and that message should be your brand's values because it's what will make your brand look humane, and will help customers what your brand is about. Values are what makes a company a brand, without values and a message, a company is simply a company. You can present values that are close to the Christmas theme like family, caring, togetherness, and so on.
Your ad should have an emotional trigger. An effective ad is an ad that will make those who see it feel something. Whether it's happiness, nostalgia, or any other warm feeling. Your ad should make them feel something because it's that feeling that will make them remember your brand. So, make sure you concentrate on the feeling you're trying to transmit.
A great ad will include a call to action that is effective. Presenting your brand's values and your message is great, but what's even greater is when those values actually make the customer take an action. That's why it's important for you to include a call to action by the end of your ad, this way customers will more likely be able to get affected by that CTA. The CTA doesn't have to lead to a purchase, it can simply lead to more exposure to your brand, and that's about it.
A great ad will impersonate the brand's identity. That means your ad should actually be able to present your brand in the best image and present the personality of your brand. If you're a classic company, then the ad should be classic, if you're a fun brand, then the ad should be fun, and so on.
2019 Top 5 Christmas Adverts
To help our readers find out more about ads and what makes them effective, we've made our researches and found out the best Christmas ads of 2019. These ads that we'll list were the most loved ads of the year, and they'll even inspire you to make a similar, or a better concept. And, as it couldn't be any other way, Tweet Binder has done a hashtag tracking for each one of the ads.
So, here's the list of the top 5 Christmas adverts of 2019:
John Lewis: Excitable Edgar
John Lewis & Partners / Waitrose & Partners Brings us a story of a little girl and her friend a little dragon. His name is Edgar and he struggles to control his excitement, as he tends to set everything in flames because he breathes fire. Edgar melted a snowman, melted an iced water lake children skated on, and finally a Christmas tree. Full of shame, Edgar hides in his house and refuses to go out, until his friend, the little girl, helps him control his excitement and show to the village that he cares.
Tweet Binder has analyzed the Twitter stats of the hashtag #ExcitableEdgar and these are the results. It is important to notice that this analysis only includes original tweets. This means that we have taken out all the RTs done with the hashtag #ExcitableEdgar.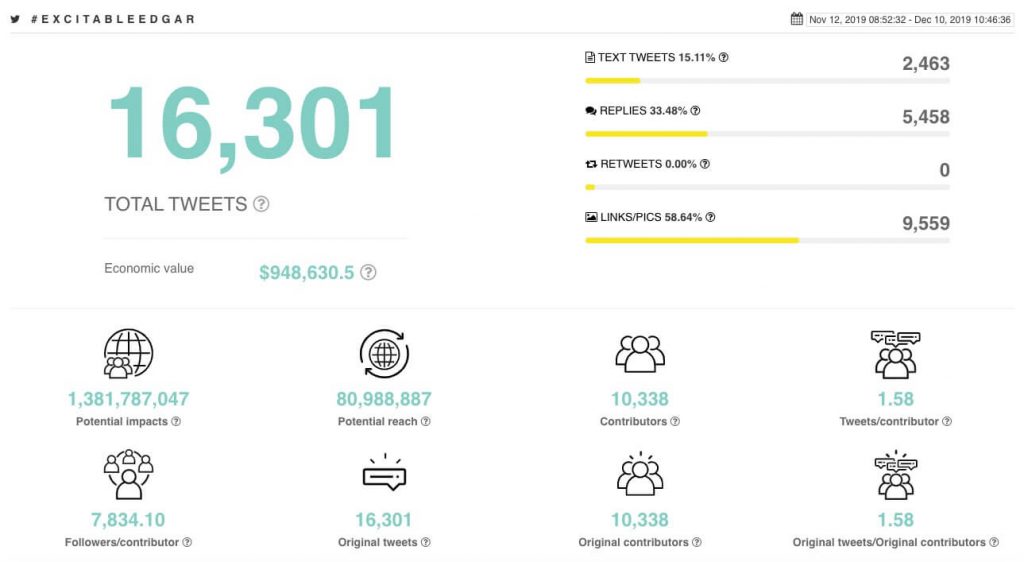 Can you believe that this hashtag has over 16 thousand original tweets? With over 80 million of potential reach and more than 10 thousands contributors? Some would say it's a Christmas miracle.

The most liked and retweeted tweets were those sent by "jlandpartners", and the reason why they've had the most impact is quite clear. The ad was very successful and the viewers were extremely touched.
Tesco: #DeliveringChristmas
To celebrate its 100th anniversary, Tesco launches an ad with the story of a driver who travels back in time. He travels throughout the past century delivering Christmas packages to a wide range of people including Winston Churchill on Downing Street. The ad shows how Tesco has been delivering packages throughout the whole century and how it's still up and running now in 2019. Tesco shows how happy customers are with their services, and how they're happy every time they see the Tesco van.
This is a clear example of how an ad can give feelings of nostalgia and how it can make viewers feel a connection with the brand. The ad wasn't about a CTA, but simply about the history of Tesco.
In order to analyze #DeliveringChristmas, Tweet Binder has created a Twitter historical report. These reports analyze anything in any time range. You can track tweets from months or years ago. In this case, we have also created it only for original tweets.

Here we see the most liked tweets and the most retweeted tweets and they're both those of Tesco, which clearly shows how much the brand affected viewers. There was a total of 431 original tweets related to the hashtag with over 120 million potential impressions which shows the impact that Tesco had.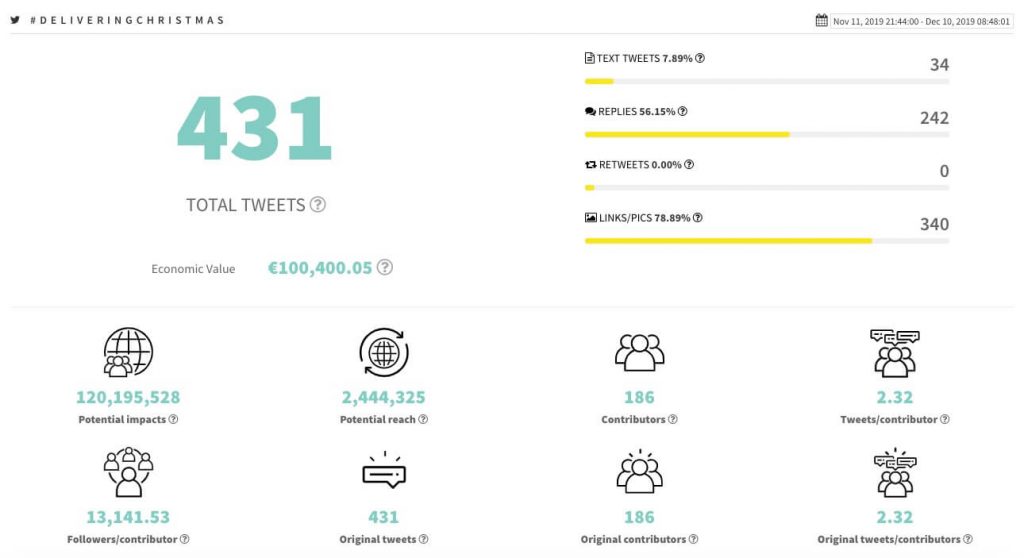 Peloton Christmas Ad
We couldn't write an article on Christmas Ads without speaking about the latest Peloton Ad. This ad has been mocked for being "sexist".  What we see in the ad is a woman receiving an exercise bike from her husband. This is her Christmas present.
People have called this ad "sexist" because they think that it is wrong for a man to give his wife an exercise bike as a present. It seems as if he suggests that he wants her to lose weight.
But, because of all the reactions this ad had, we decided at Tweet Binder that we have analyze the hashtag #PelotonAd to see the repercussion this ad has had on Twitter.

These two tweets basically sum up the reaction of everyone upon seeing the ad. Everyone grew furious at how much "Sexist" Peloton was for creating this kind of ad. There was a total of 1,603 total tweets sent by more than one thousand users generating 10,510,887 potential impressions.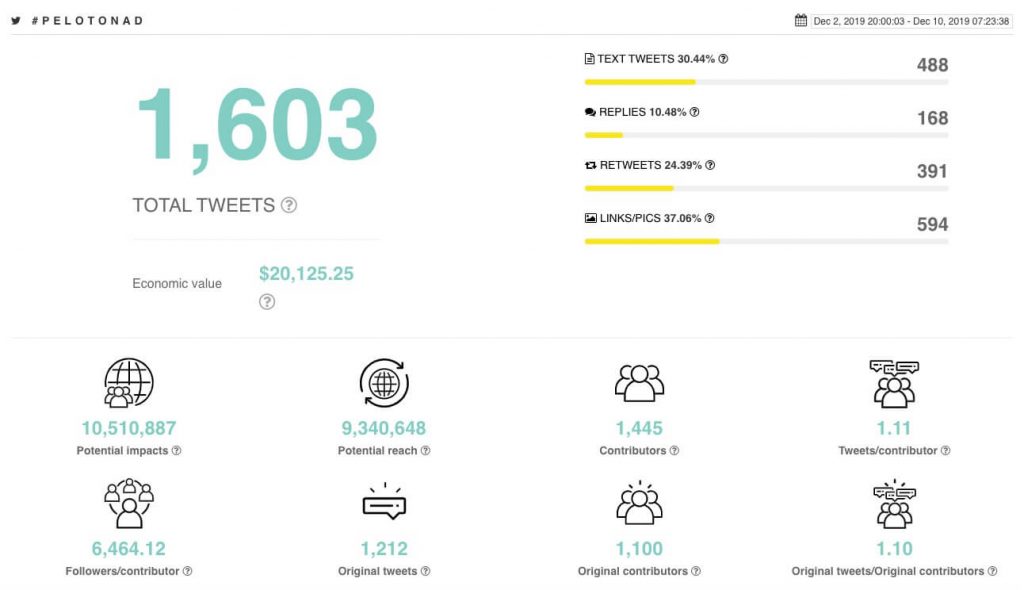 Sky Television: A holiday reunion
This ad is an incredible reunion between ET and Elliot. He introduces his children to ET as he learns everything about this new world. The children show ET what the internet is, what gaming is, and a lot of other things. The ad shows how ET bonded with the whole family and how he finally misses his own family.
ET takes the children on a bicycle ride in the air and finally goes home. The ad ends with "reconnect for the holiday" which is an incredible CTA.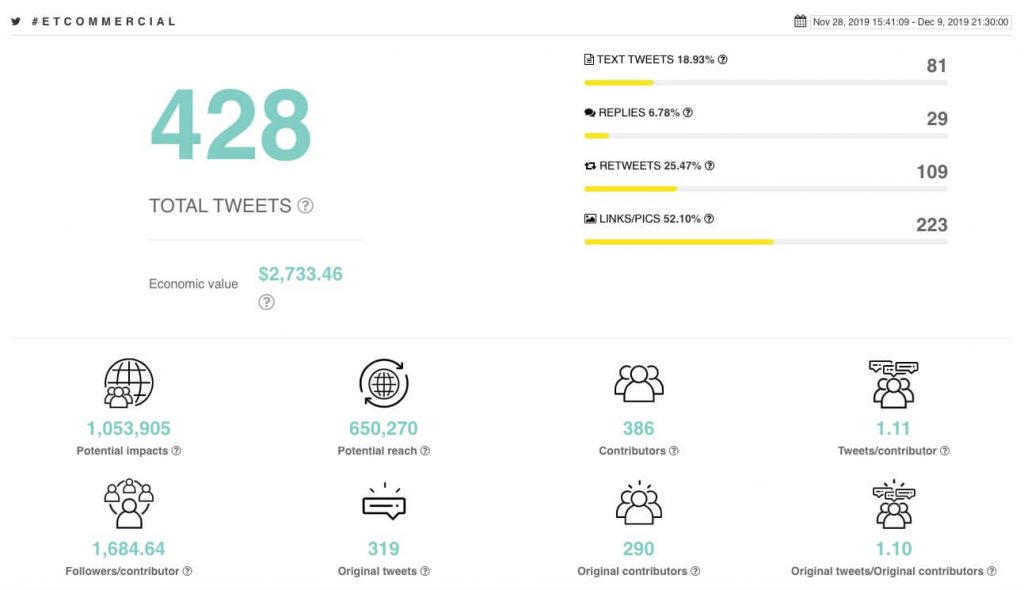 Even though it is not the official hashtag, Tweet Binder has analyzed #ETCommercial to see the reactions it has generated. Here we include all the tweets (original and RTs). Fans loved the ad which explains why this hashtag has over 400 tweets and over 1 million potential impressions.
Coca-Cola: 'Holidays Are Coming 2019'
This ad showed Coca-Cola in a new form. It showed Coca-Cola as a giving company for Christmas with "Give Something Back for this Christmas, please recycle". The ad wasn't even about Coca-Cola, it was all about recycling. As it's been said before, the ad doesn't have to about people purchasing your products, it can simply be about giving back, showing that you care, raising awareness about something, or any other theme that will go well with Christmas.
Conclusion
Great ads are hard to make, but if you get inspired by these ads then you can actually create ones that are this successful. In order to find out more about these ads and the viewers' reaction, you can take a look at Tweet Binder and use our hashtag tracking tool!
['tb-search-box']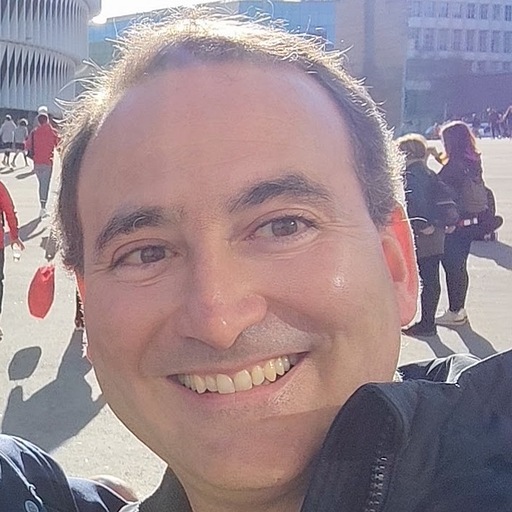 Javier is the founder and CEO at TweetBinder. With more than 10 years of experience in Twitter Analytics space, he is on the mission to build best-in-class Twitter marketing tools helping X community to thrive.