This post is also available in: Español (Spanish)
We have already published about the power of Twitter analytics. Some may think that a tweet is just a tweet. A message shared online with not much more to be taken into consideration. However, every tweet is an enormous source of information. In fact, there is almost nothing possible to analyze in a tweet. Think about it. The username, if the tweet includes a hashtag, the language, the date of publication…
All parts of a tweet and even a Twitter user can be part of a Twitter analysis. Tools like Tweet Binder generate complete Twitter reports with just one click. Nonetheless, this post is about how to implement the power of Google Data Studio and Twitter. Because not only Twitter data can be presented in one way, you can do it your way and really well.
What is Google Data Studio?
First things first. We have pointed out that Google Data Studio is a powerful data visualization tool. But, are you aware of what it really is? Well, based on Google itself a quick description to understand the value of Google Data Studio is that:
Data Studio is a free tool that turns your data into informative, easy to read, easy to share, and fully customizable dashboards and reports.
So, Google Data Studio is what you've always looked for to create custom data dashboards. Instead of figuring out how to add different sources of information, with this Google solution you can do it all. In fact, you may be thinking: ok, but what does Google Data Studio do with Twitter? Ok, among the hundreds of connectors that Google Data Studio we find "File Upload".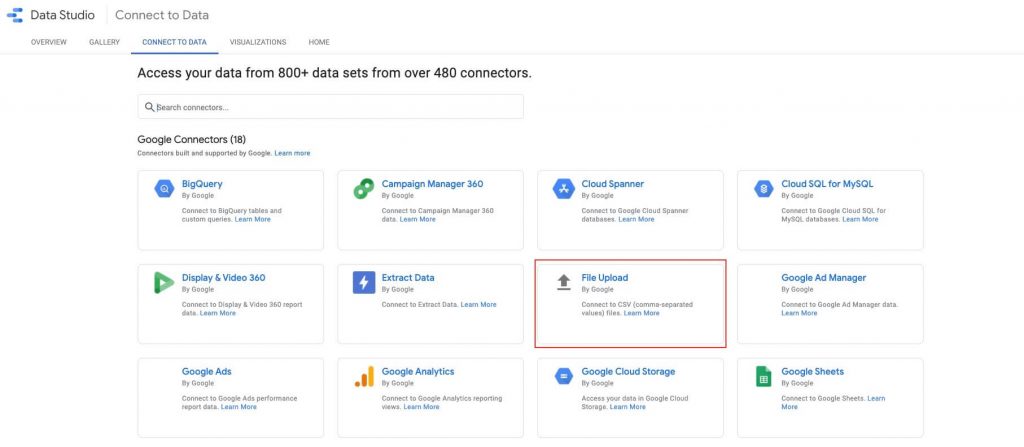 So, basically, if we download our Twitter statistics into a CSV file we can upload it to Google Data Studio. Easy, right? If you find it difficult to get along with Google Data Studio you can always enroll into one of their courses.
How to integrate Google Data Studio and Twitter analytics?
Ok, but how can I export Twitter data into CSV? We at Tweet Binder, for instance, offer the option to download a report's data into an Excel file. So, if we convert Excel into CSV it seems easy. Thanks to the "File Upload" we can combine Google Data Studio and Twitter insights. Let's see an example, this is how we can download the Excel file from our Twitter report: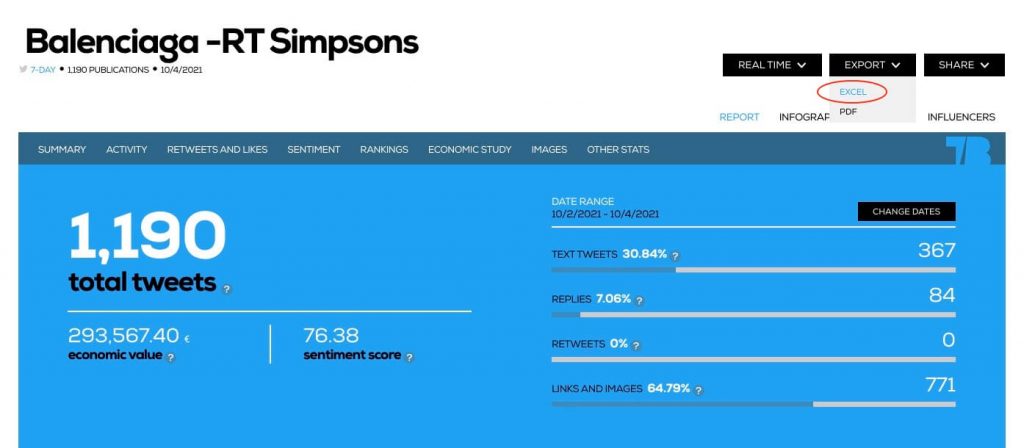 Then, once we are in Google Data Studio we can decide if we upload our files or we use any of the templates and connectors they offer. There are options that are from third party companies. Really complete templates and reports to take advantage of. As we are trying to make it work between Google Data Studio and Twitter analytics from Tweet Binder, we follow these steps:
First, we upload our Excel or CSV file. Or we do it directly from our Google Drive folder.
Then we select it through the connector's dashboard. We have connected our "Tweets" file through our Google Spread Sheet option.
After that, we decide what to create. For instance: a report.
We play around with the multiple options Google Data Studio offer.
We can share the results or save the document.
Twitter connectors in Google Data Studio
Tweet Binder offers the option to download Twitter data easily. Our example for the tweets is quite easy. But there are third party options that already offer Twitter options to include in your Google Data Studio task. In fact, if we go to "Connect data" and we search for "Twitter", we get almost 500 connectors.
We have tried some. We recommend you to use different sources of data and different connectors in order to get the information you need. Besides, if you are a good designer you can create your custom templates to boost your Twitter analytics with Google Data Studio.
Conclusion
There are Twitter analytics tools like Tweet Binder that can help you boost your social media analysis in Google Data Studio. There are lots of data and statistics worth or being played around in any format possible. If you are willing to explore Twitter insights and Google Data Studio, do not think twice: Tweet Binder can totally be your Twitter data partner.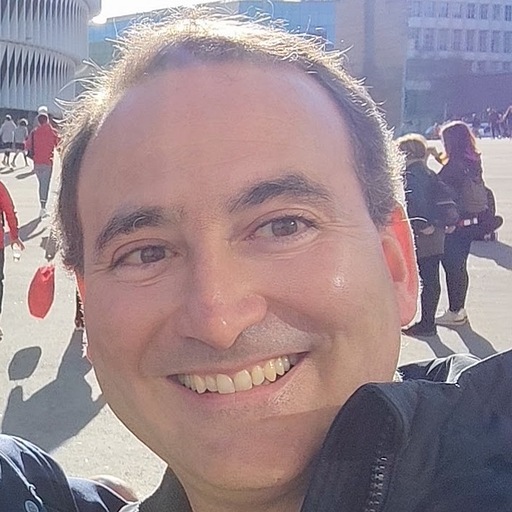 Javier is the founder and CEO at TweetBinder. With more than 10 years of experience in Twitter Analytics space, he is on the mission to build best-in-class Twitter marketing tools helping X community to thrive.