This post is also available in: Español (Spanish)
What is Eurovision?
Eurovision is an annual song contest where countries from all over Europe (and some outside Europe) send a representative to perform a song in front of a live audience and television viewers. The event has been running since 1956 and is watched by millions of people around the world. It is one of the biggest music events of the year. Spain has consistently competed in Eurovision since it first joined the contest in 1961. RTVE is always the corporation that has broadcasted the festival.
The distinctive format of Eurovision, which blends music, culture, and national pride, is one of the reasons it has grown to be so well-known. People of all ages appreciate the festival's extravagant performances, colorful costumes, and cheerful tunes because of these factors. Additionally, Eurovision has its own stage on Twitter. Hundreds of thousands of tweets are shared since the date of the festival arrived.
Eurovision and RTVE
According to Eurovision's website: Participating Broadcasters work hard to prepare acts that will qualify from the show's Semi-Finals, hoping for a ticket to the Saturday night Grand Final where they will join the so-called 'Big Five' broadcasters. The Big Five are the Participating Broadcasters from France, Germany, Italy, Spain and the United Kingdom – the group of countries who via their broadcasters make the biggest financial contribution towards the organisation of the Contest.
The Spanish broadcaster is RTVE. The corporation is in charge not only of producing and showcasing the Contest but also of amplifying its content. In fact, the Twitter approach that RTVE does with Eurovision comes with an official Twitter account and an official hashtag. Both, the account and the tweets, are carefully monitored with Audiense and Tweet Binder.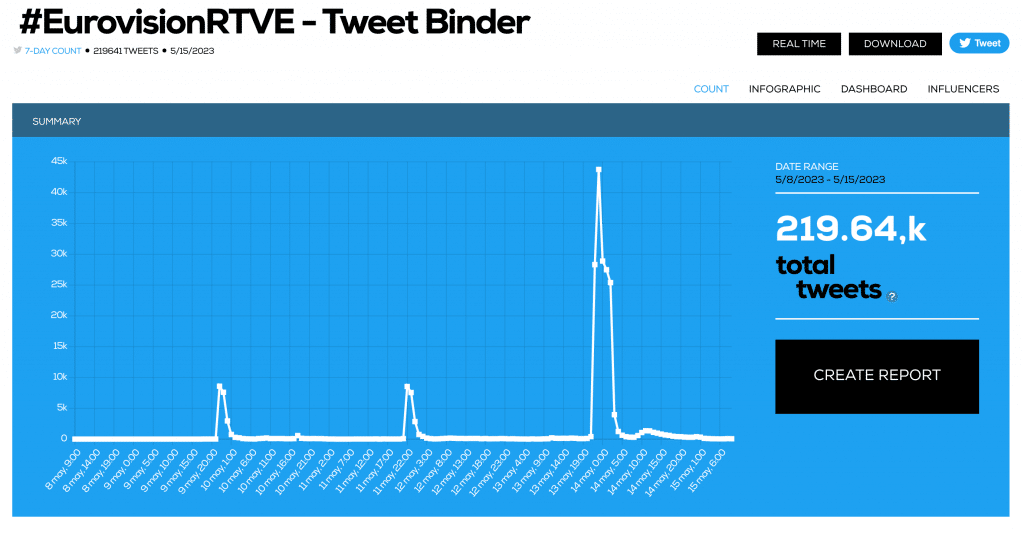 Eurovision Twitter data
In recent years, social media has played a significant role in promoting Eurovision. In fact, Twitter is one of the most popular platforms for fans to discuss and share their views on the competition. Marketing data on Twitter can provide valuable insights into the impact of Eurovision and how it is perceived by the public. A public that has tweeted almost 4 million tweets this year about Eurovision: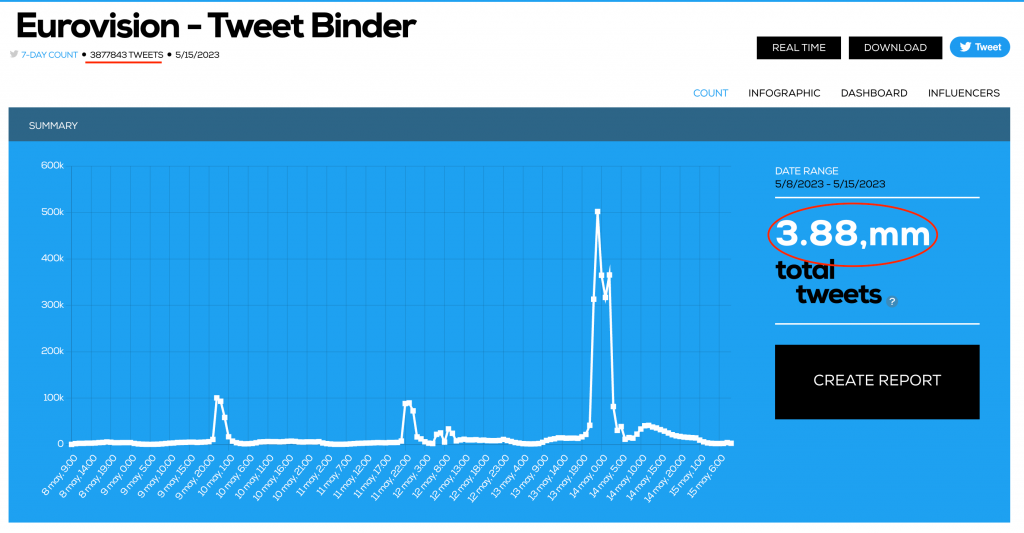 Some of the key marketing data to analyze on Twitter during Eurovision include: mentions, hashtags performance or influence engagement. All those KPI can be monitored with Audiense and Tweet Binder.
Audiense & Tweet Binder
Twitter marketing is the process of using Twitter as a platform to promote a brand, product, or service, engage with customers, and build relationships with target audiences. It involves creating and sharing content, participating in conversations, and leveraging analytics and data to optimize performance. That is something anyone can achieve and accomplish with tools like Audiense and Tweet Binder by Audiense.
Audiense is a comprehensive audience intelligence platform that provides a range of features to help businesses and marketers grow their Twitter presence. Some of its key features include:
Audience segmentation:

Audiense enables users to segment their Social audience based on various criteria such as location, language, interests, and behavior, among others. This allows businesses to create targeted campaigns and deliver personalized content to specific groups of users. Let's check a sample based on the Spanish contestant Blanca Paloma: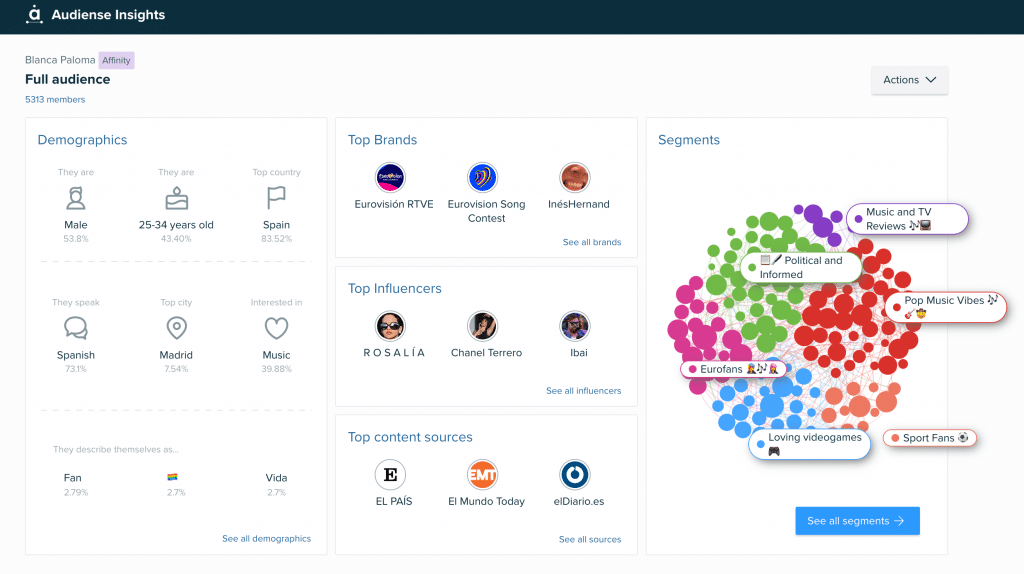 Social listening:

Audiense provides real-time monitoring of Twitter conversations, allowing businesses to track mentions of their brand, products, or services and respond to customer feedback or inquiries promptly.
We can even generate an Intersection report. This option allows you to get a snapshot of the current relative performance of the selected accounts, sources or monitoring queries. Also to check the number of exclusive and common users of each audience.
Whereas Tweet Binder by Audiense provides Twitter hashtag tracking. Tweet Binder enables users to track the performance of hashtags used in Twitter campaigns. It provides insights such as reach, engagement, and overall impact. For the Eurovision Twitter case we have set up Twitter reports where among all the data tracked we can easily find out:
The most like tweet of Eurovision is:
A #Eurovision surprise 🎹

A pleasure to join Kalush Orchestra in a special performance of last year's winning @eurovision entry.

Enjoy the show, Liverpool 🪩 pic.twitter.com/y4WDuWvOvb

— The Prince and Princess of Wales (@KensingtonRoyal) May 13, 2023
The tweet with the highest number of retweets published by @Eurovision is:
With a record-equalling seventh victory, Sweden are the winners of the #Eurovision Song Contest 2023 🇸🇪🏆 pic.twitter.com/qyxLF77iao

— Eurovision Song Contest (@Eurovision) May 13, 2023
Conclusion
As a unique music competition, Eurovision has been enthralling audiences for more than 60 years. Spain has consistently competed in the competition. In addition, social media sites like Twitter have been crucial in promoting and talking about the big events. Examining Twitter marketing data can reveal important information about the influence of Eurovision and how the general public views it.
Audiense Connect and Tweet Binder are two powerful Twitter marketing tools that are particularly effective in covering big events and social media campaigns. Their comprehensive features and detailed analytics provide businesses and marketers with valuable insights into their Twitter performance. They also enable them to optimize their strategy for maximum impact.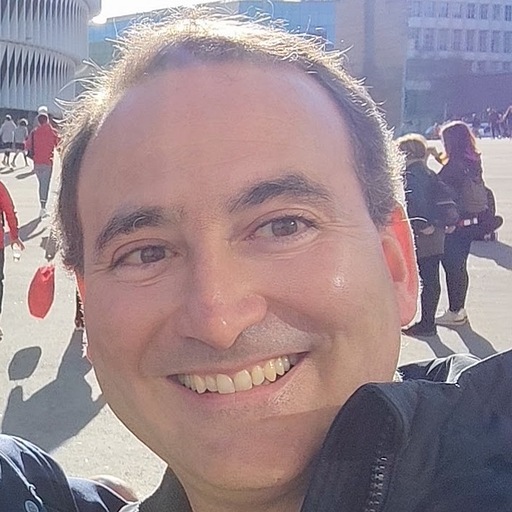 Javier is the founder and CEO at TweetBinder. With more than 10 years of experience in Twitter Analytics space, he is on the mission to build best-in-class Twitter marketing tools helping X community to thrive.